Today, I'll introduce you to 9 email marketing platforms that offer completely free automated emails and autoresponders.
Usually, email automation is considered a premium feature, and companies like Mailchimp charge $20/month for including it.
However, there are some generous email marketing platforms that provide automated emails for free. This is great for people still in the early stages of building an email list.
Out of the 30 email marketing companies I compared, only 9 offer automation on their free plan.
Here's the summary:
Feel free to scroll down to each section, where I highlight their best underrated features and things to watch out for.
Just for your reference, I've also compiled a list of email marketing companies that DO NOT offer free automation in their free plan.
💡
Before we continue

Email Automation is synonymous with these terms and can be used interchangeably with other email marketing platforms:

- Marketing automation
- Autoresponder
- Automated email marketing
- Event-based automation
- Automation workflows
Now, let's compare in detail these free automated email marketing services.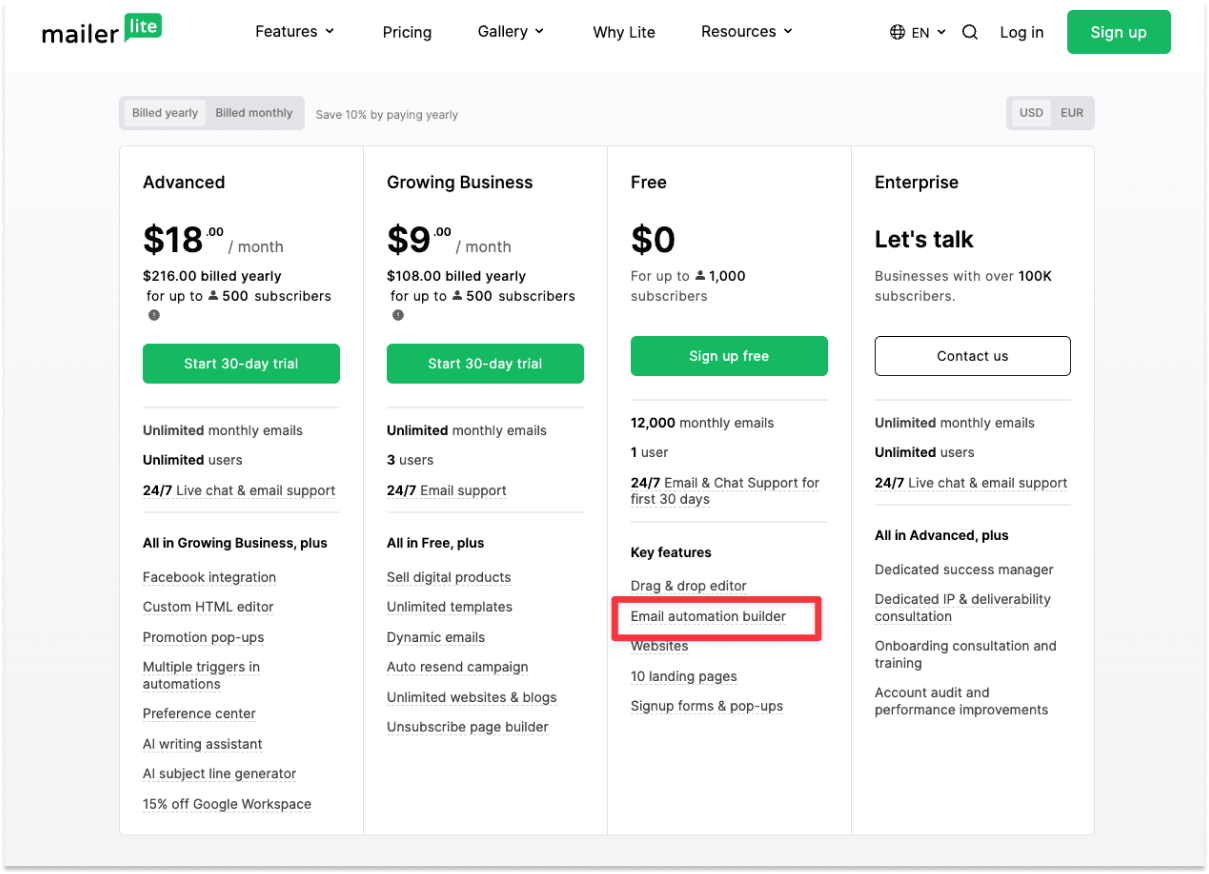 MailerLite is highly regarded in the industry as one of the most cost-effective email marketing tools for small businesses, and there's a good reason for that!
It's the only platform on this list that provides unlimited email automation on their free plan.
So, you can create as many automation setups as you need to nurture your leads.
Keep in mind that on the free plan, you get to send up to 1,000 subscribers and 12,000 emails per month.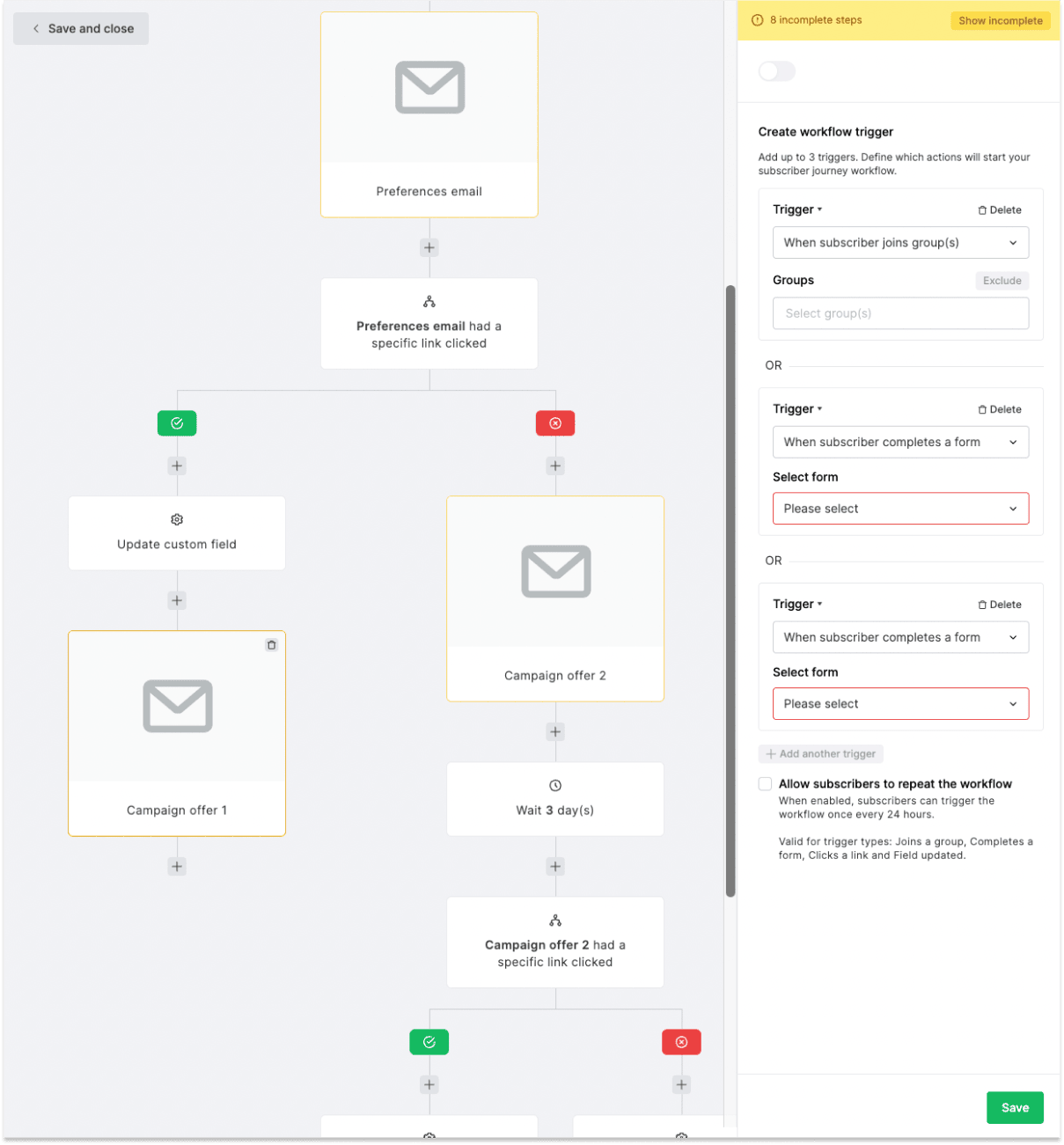 Like any email marketing software, setting up email automation may have a learning curve. But, MailerLite makes it easier for you by offering a variety of pre-made email automation workflows to get you started:
Welcome emails — Welcome new subscribers with a warm intro and free downloads.
Thank you emails — Send a thank you message to customers after purchase.
Abandoned cart — Remind customers about their abandoned cart items.
Retarget subscribers — Send subscribers a new offer based on events or interests.
Online course — Send weekly lessons or at a specific date.
Demo call invitation — Invite subscribers for a demo call
NPS Survey — Ask for feedback and improvements from subscribers.
Membership renewal — Remind subscribers to renew memberships on specific dates.
One underrated feature that MailerLite offers is 24/7 live chat (available for free in the first 30 days after sign up).
Very few companies can provide such a demanding feature to their unpaid customers. This shows that it's a valuable investment in resolving their customers' issues, especially in the early stages.
Plus, it doesn't hurt that MailerLite has a reputable customer support team :)
What I like about MailerLite's free automated email features
Pre-made templates (that are actually useful!)
Unlimited automation
Integrates with WooCommerce & Shopify (great for small business owners)
You can set up fairly complex automation with multiple events and triggers.
24/7 free live chat free for the first 30 days.
Bonus: One of the most comprehensive tutorial libraries as well as a free Email Marketing Academy in the industry.
What you should know about MailerLite
When you signup for Mailerlite, it takes 2-4 days (mine took 2 days) to activate your account, so you cannot use it instantly.
Cant easily modify steps in the middle of automation.
MailerLite will stop your automation when you hit the subscriber limit on the free plan (1000).
If you're creating a landing page on MailerLite, the design features are a bit limited, I would recommend alternative landing page builders like Carrd, SwipePage,
Overall, I find that MailerLite is best suited for small eCommerce businesses and solopreneurs like bloggers, freelancers, online course creators, etc.
The automations are specifically designed for these customers, and if you decide to upgrade to their paid plans for premium features later, they come at a reasonable price.
Learn more about MailerLite's automated email workflows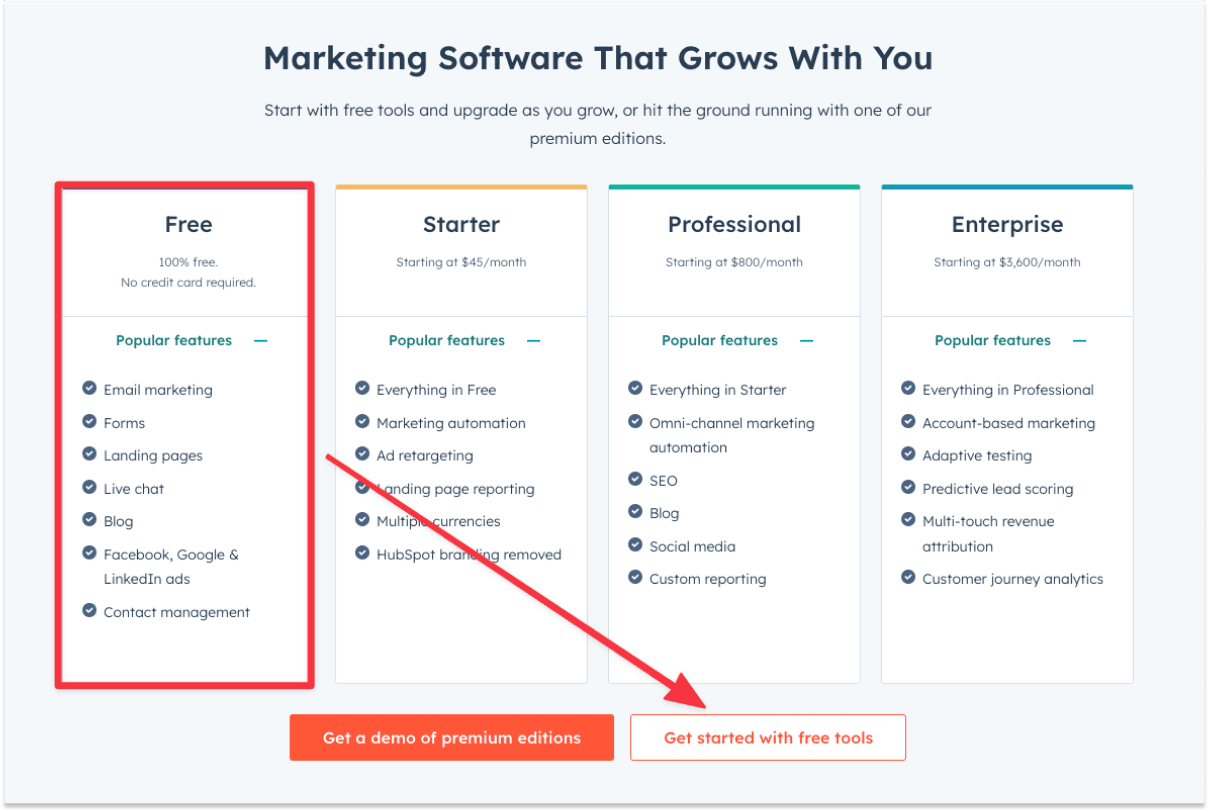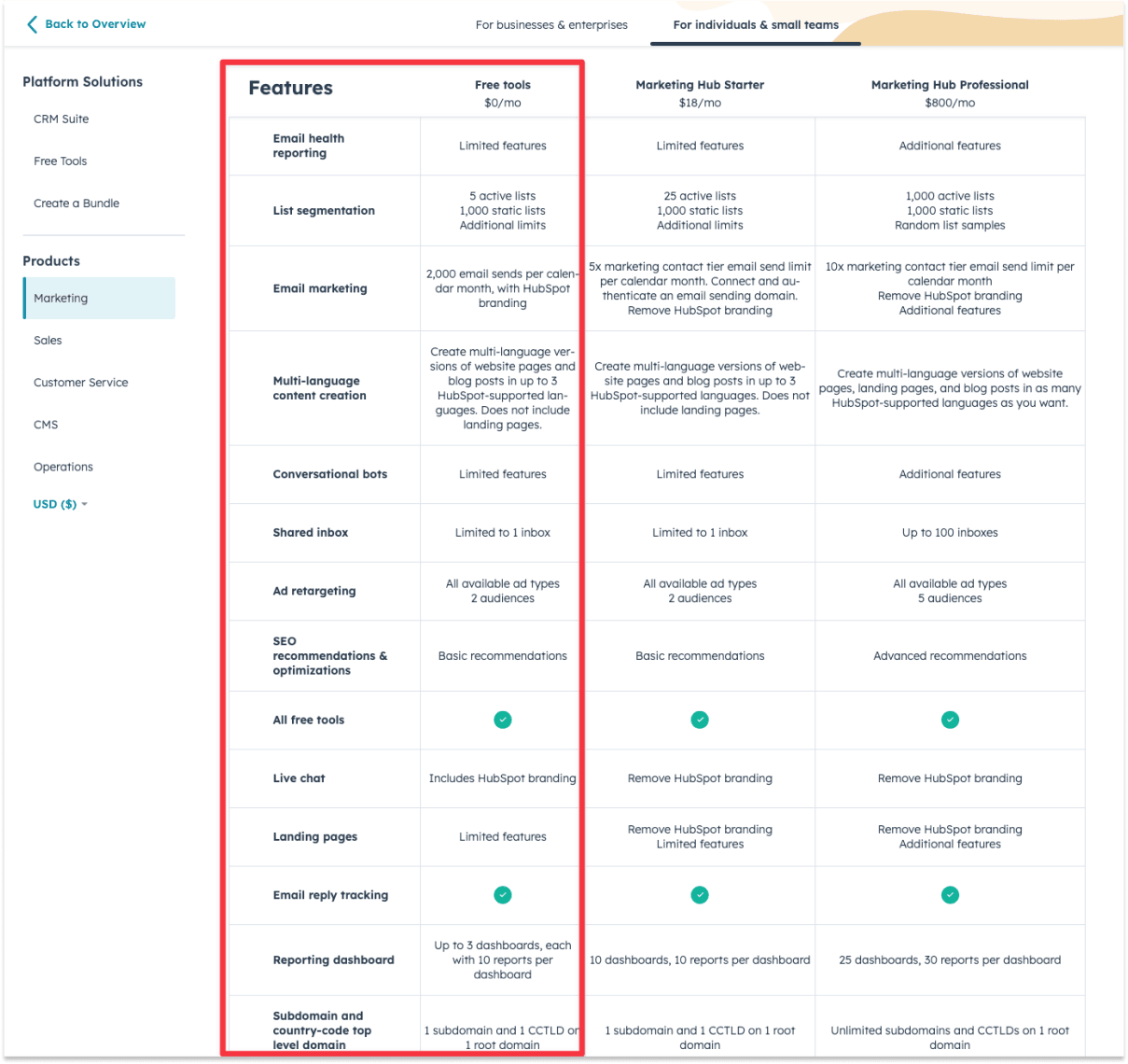 Hubspot started as a CRM tool in 2006 but has evolved into an all-purpose marketing software company today.
As a listed company, their strategy involves providing numerous free tools (as you'll see) to attract customers with the hope of potential upgrades in the future. A great example is their Free Marketing Hub.
The free Marketing Hub allows you to set up free email automated email system, AND you also get:
A dedicated team email (shared inbox)
Live chat
A chatbot to scale customer support
Email reply tracking a
The list goes on...
The way to set up free automated email campaigns in Hubspot is to create a form you can add to your site.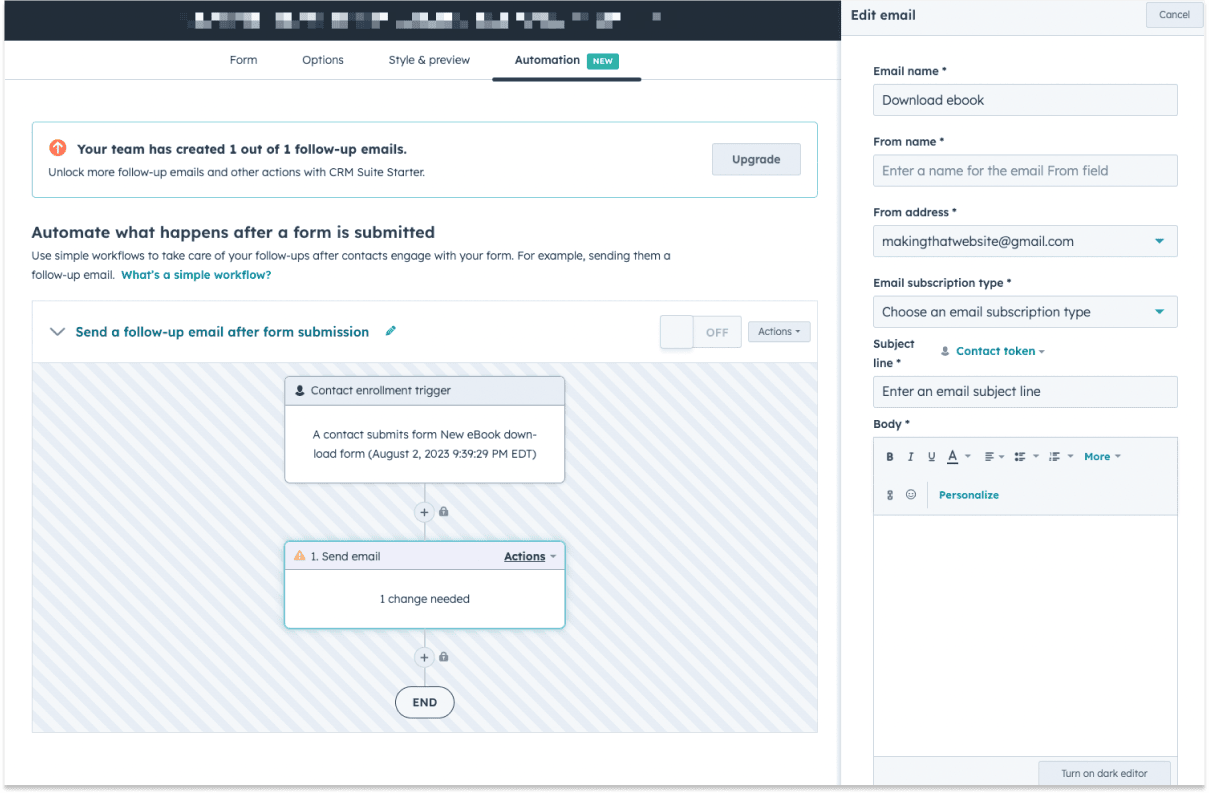 There are a few pre-made templates you can use, such as sending an ebook for your subscribers to download, registering for your events, and more.
Note these limitations on Hubspot's free plan:
2,500 free subscribers
2000 emails per month
You can only set up 1 automation
Hubspot branding on your emails
As you can tell, you don't get to send as many emails as other specialized email marketing tools (at least on the free plan) here. But it makes up by providing you with a ton of free tools that will help in other parts of your business.
It's hard to describe the value Hubspot is giving away because every free user automatically gets access to its Hubspot free tools as well.
Just to name a few:
Free CRM — Complete view of prospects' history of engagement with your company.
Free CMS — A website that lets you set up a custom domain (no cost).
Free Sales Hub — Customer ticketing, canned response for customers
Do you know the saying "killing you with value"? I think that's what Hubspot is trying to do.
Verdict on Hubspot
You don't get a lot of email capabilities from Hubspot's Free CRM, but I think small businesses looking to scale should take advantage of its other free marketing and sales tools. Looking at their feature sets, you can get far with pretty much zero cost.
Learn more about Hubspot's marketing automation
Sender is a relatively new email marketing platform, built in 2012 by Edgaras from Lithuania.
Some might argue it's the complete opposite of Mailchimp.
The user interface is basic but straightforward. It also specializes in email marketing features, unlike other email marketing platforms that have started offering website and content solutions.
The standout feature for me is that they offer the most generous free plan (2,500 free subscribers and 15,000 free emails per month) on this list, which includes unlimited free automated emails and autoresponders.
Talk about great value!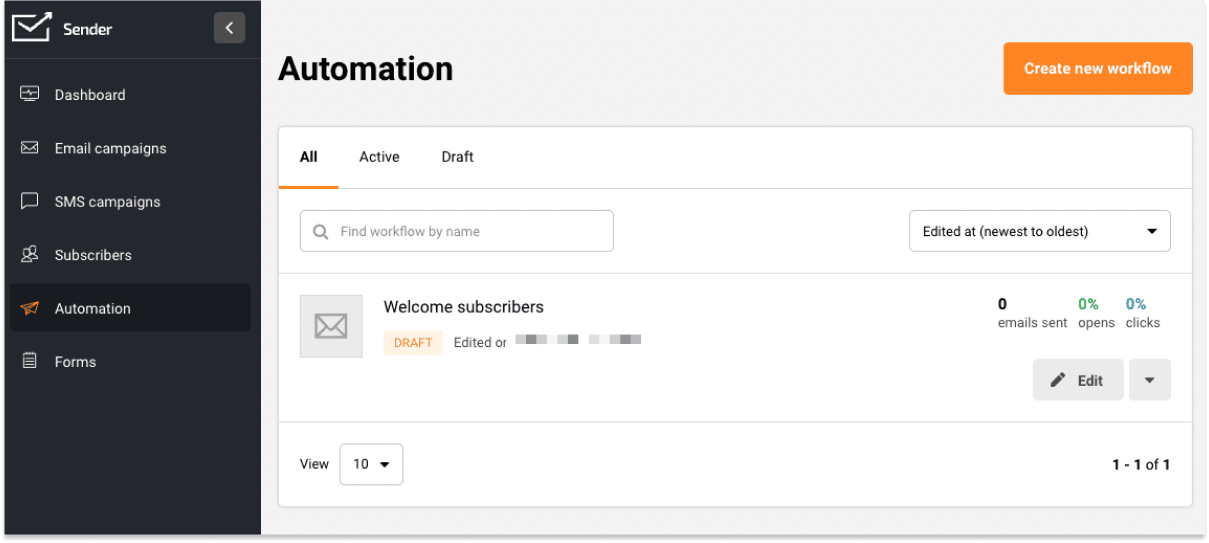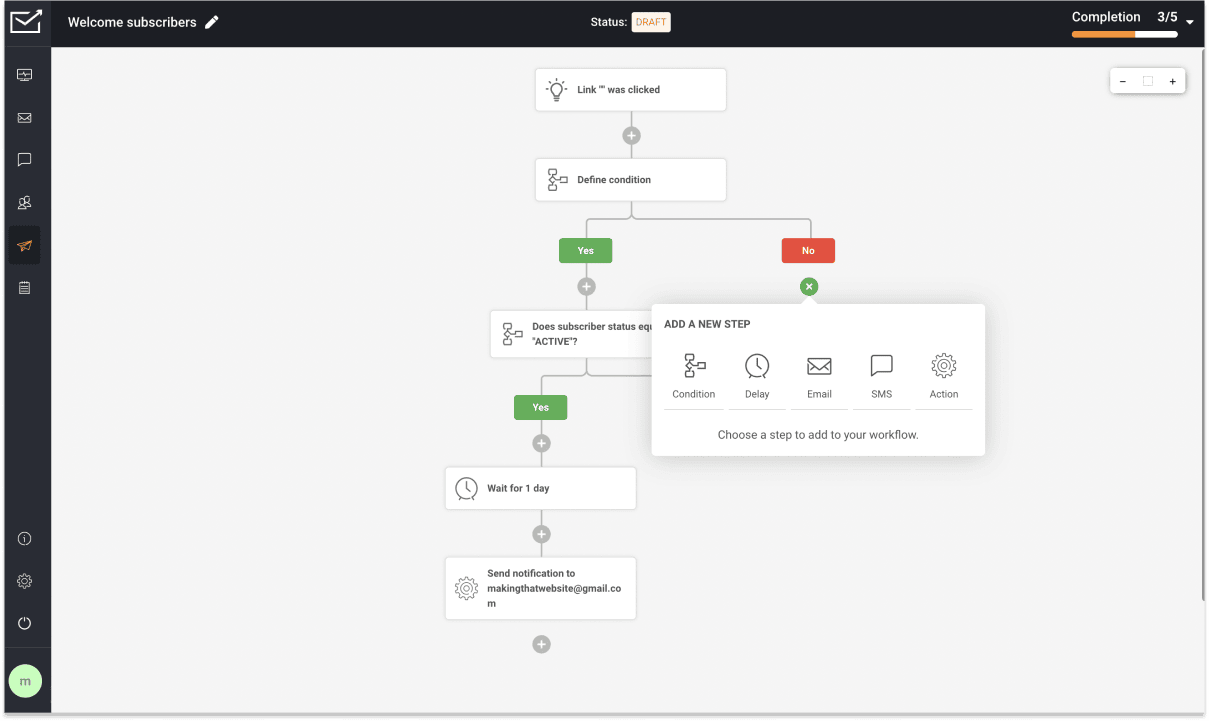 To set up an automated email or a drip campaign, you have to create subscriber forms and automation workflows separately and integrate them later on.
If I were to rate the ease of use for Sender's automation builder, I would rate it a solid 8.5/10.
A few reasons:
Uncluttered user interface — The screen doesn't have much going on except for the task at hand, which allows you to focus.
Helpful text — Most of the actions and buttons are labeled, where they explain what it does.
Helpful widgets — Occasionally, you'll find a small widget that enhances the user experience. For example, in the top corner of the automation editor, there's a button for you to enlarge and zoom in on the workflow.
What you should know about Sender before signing up
They don't have pre-designed workflows. You have to create every email automation workflow from scratch.
Only a handful of email layouts are available.
Should you use Sender?
Sender is great if you're a blogger looking to kickstart your newsletter or small businesses looking to nurture leads. It's simple to set up, no credit card is required, and you get to nurture your first 2,500 subscribers with free automation.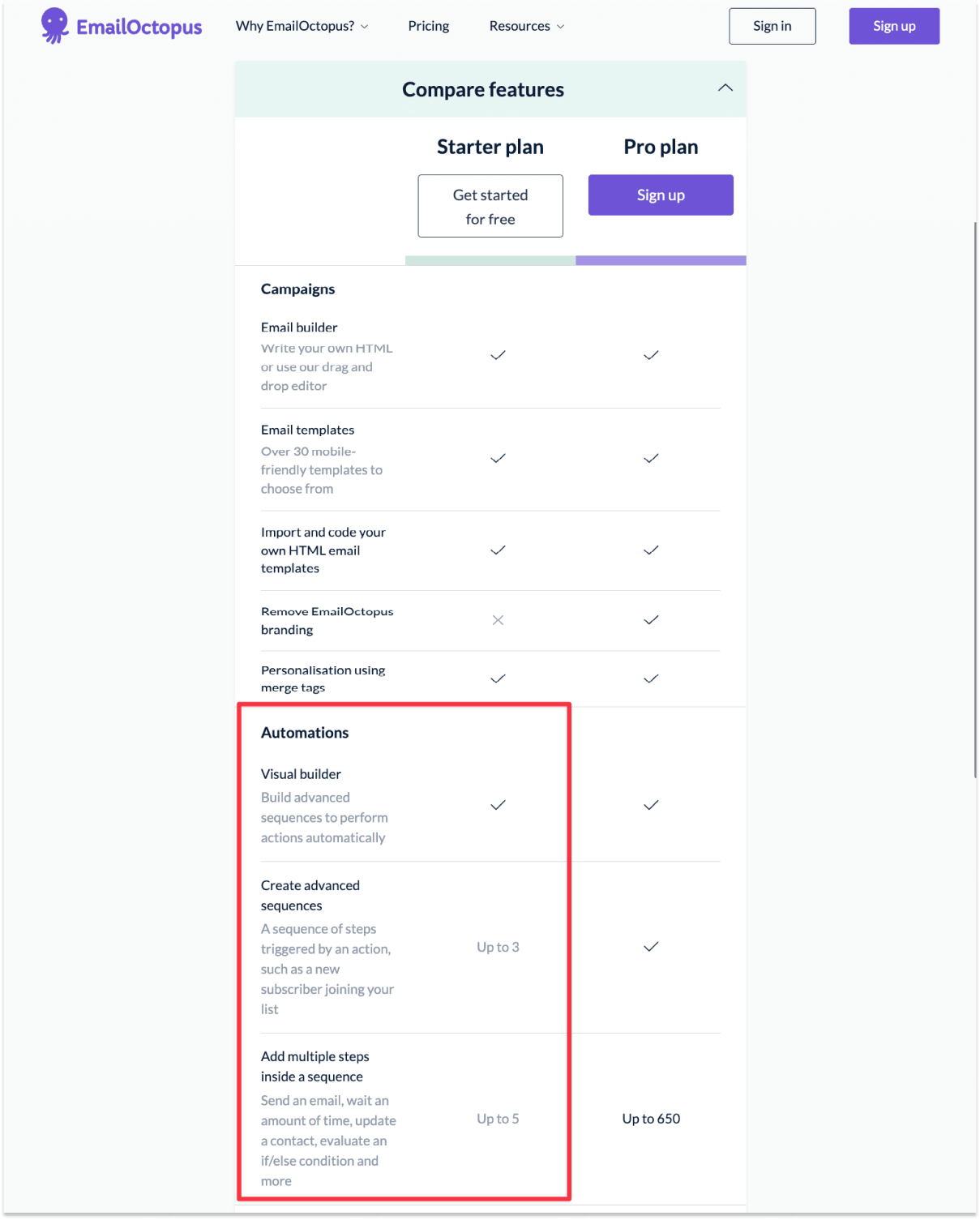 It's easy to recommend Email Octopus for its excellent value for money.
Here's why:
Generous free plan — You get 2500 subscribers and 10,000 emails, making it one of the more generous free plans compared to other email marketing software.
Abundance of premium features for free —Including full-featured email automation/autoresponder, email open tracking (find out who opened your emails and when they opened), personalizing customer's name in emails, and more.
Live chat support on the free plan — Unlike other email marketing platforms, Email Octopus offers live chat support even for free plan users, usually a privilege reserved for pro customers.
Email Octopus is the youngest email marketing company on this list, after all, so these perks may be subject to change.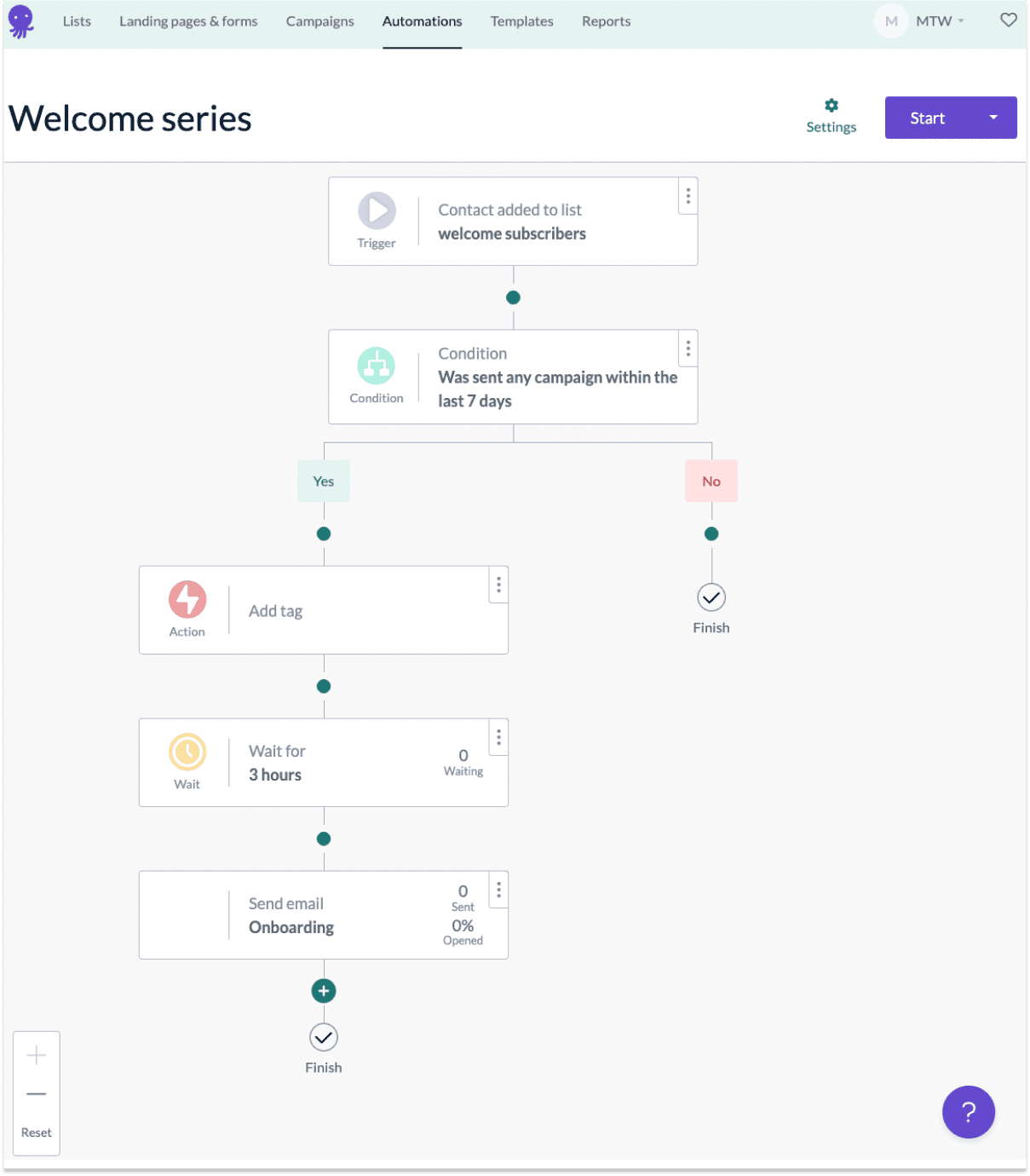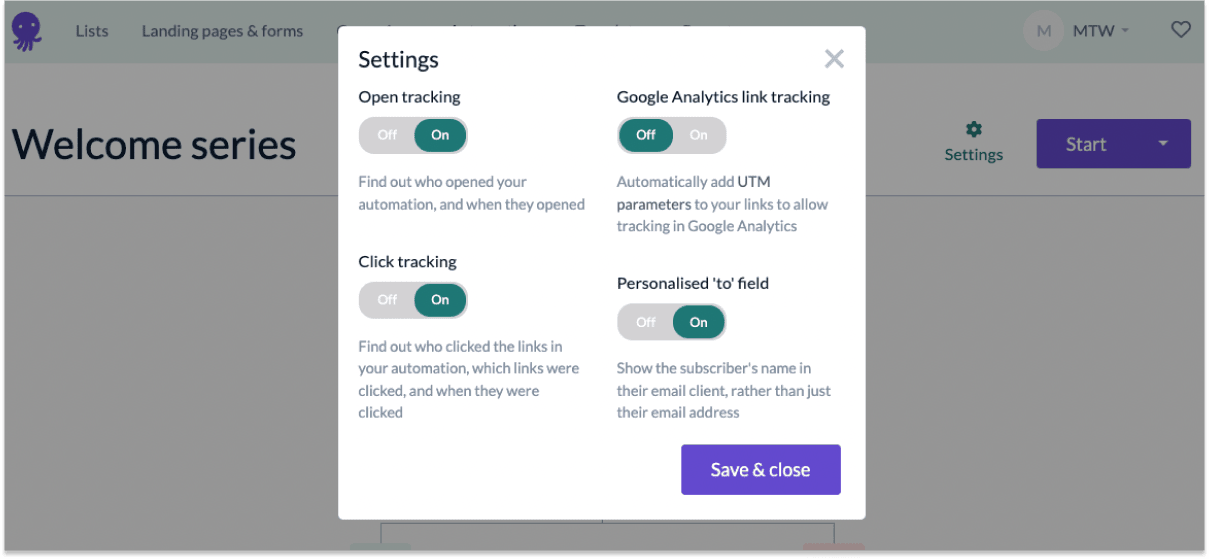 One underrated feature I noticed Email Octopus did that no other platform does, is the ability to set up Google Analytics link tracking for their automated emails.
This may be a trivial setup, but it actually saves a lot of time on the customers' end. If you've manually added UTM parameters to emails, you'll know.
That said, there Email Octopus does have its drawbacks
There isn't any email automation workflow template, so you have to set up every automation from scratch.
Email Octopus does have landing pages and opt-in forms (for email capture), but there are literally only 5 templates. And the ability to customize is very limited.
There is no autosave option while working on the emails!
💡
When creating an Email Octopus account, it has to be approved, though it usually happens within 24 hours. Mine took 2 hours.
Should you use Email Octopus?
If you don't mind the basic email templates and design, I personally find Email Octopus to be a great email marketing platform for all kinds of small businesses, whether you're a startup, consultant, or eCommerce store owner.
You get to grow and nurture a substantial amount of customers, and even when you hit the 2,500 subscriber limit on the free plan, their pro plan is at least 20% cheaper than other competitors.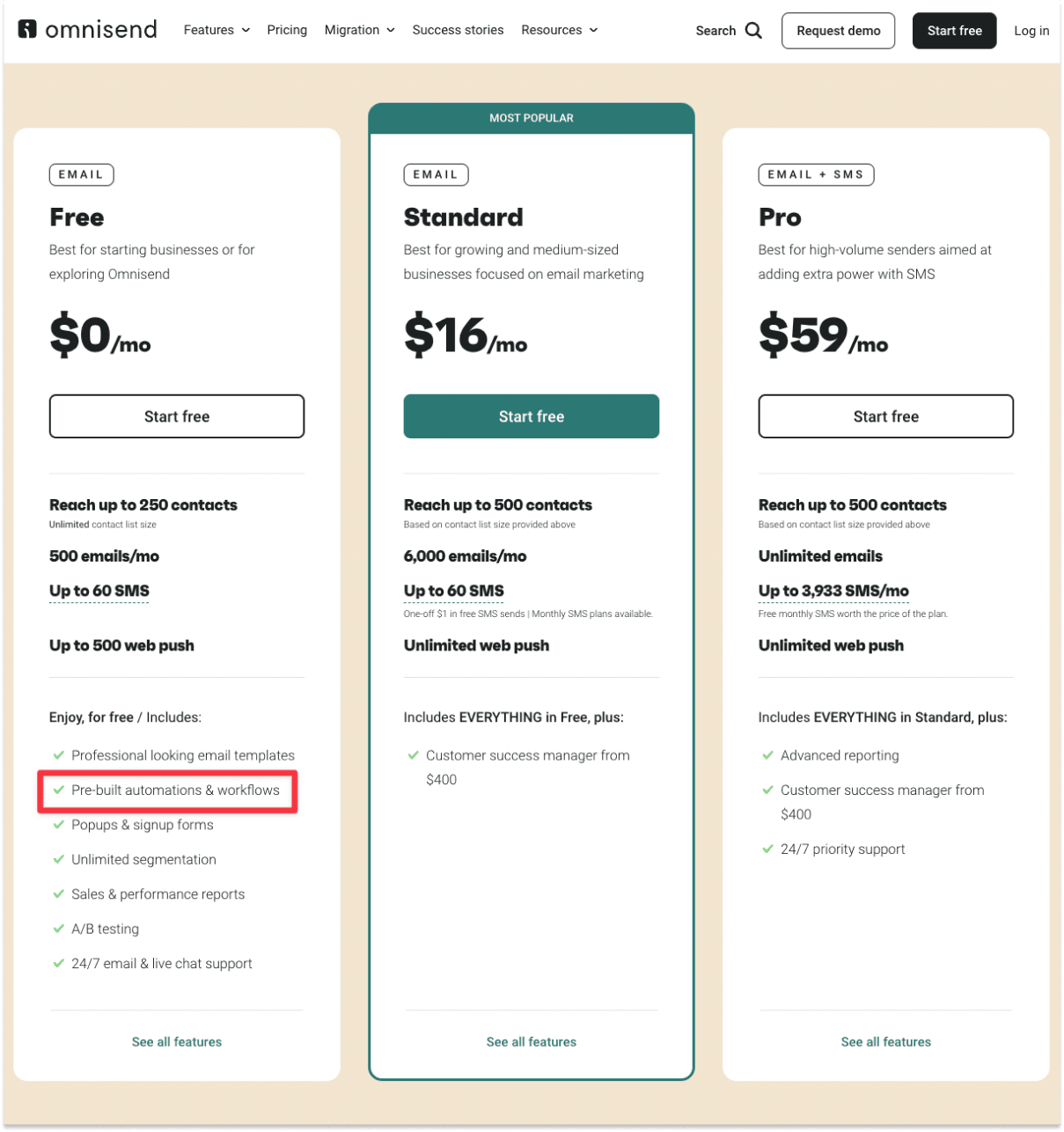 Omnisend is an eCommerce-focused email marketing platform.
After going through Omnisend's onboarding and setting up a couple of automated email campaigns, I immediately thought this was a well-designed product.
They're thoughtful in the user flow, and they made great efforts to reduce the initial setup friction as much as possible.
A couple of things stand out:
They encourage you to connect your store right away so they can sync your customer, order, and product data to their backend.
After connecting your store, they automatically create brand assets (Logo, color, fonts, etc) you can immediately use in your campaigns.
As for automation, you get to send 500 emails to a maximum of 250 subscribers on the free plan. Additionally, you will also get to send up to 60 SMS to your customers.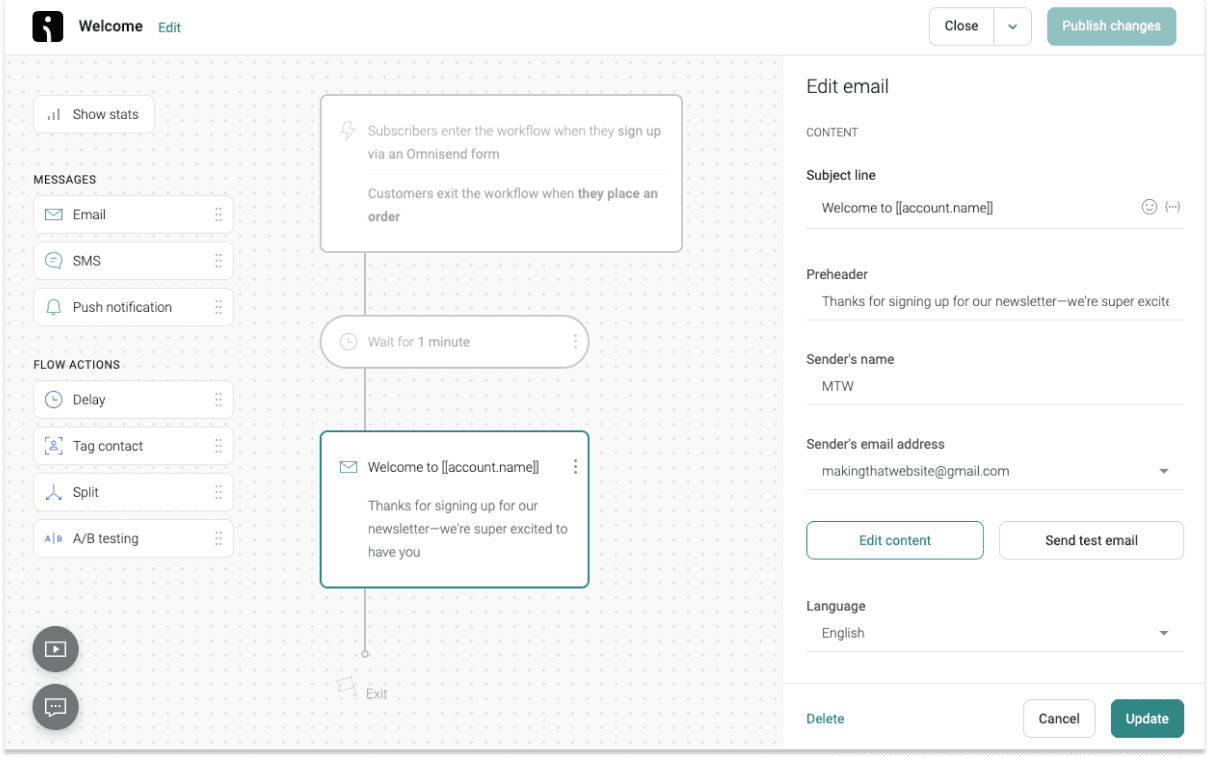 Omnisend has a bunch of pre-built automated email responder workflow specifically made for eCommerce:
Order confirmation after purchase
Abandonment cart with dynamic discount code
Cross-selling other products in your inventory
Shipping and cancellation confirmation for customers
Personal favorite: Automated celebrations like reminding customers of their birthday with a discount code!
Omnisend integrates with popular eCommerce platforms, like Shopify, BigCommerce, PrestaShop, etc., BUT they also integrate with custom stores built on Magento, Woocomerce, and OpenCart.
You can also connect multiple stores to your Omnisend account if you're managing several brands.
💡
Pro Tip

You get a dedicated account manager if you upgrade to their pro plan ($59/month). They can advise on your email marketing strategies and even set up the automation for you so you can get started right away.
Things to consider before signing up for Omnisend
Can only send to 250 subscribers on the free plan
Not mobile friendly. The UI leaves a bit to be desired.
The email builder has limited customizability — For example, there's only a handful of layouts to choose from when designing email.
Who should use Omnisend?
If you're an eCommerce store thinking of kickstarting email marketing for a while, or you just couldn't find an email marketing tool that fully connects to your store. Then you should seriously consider Omnisend.
Omnisend is also good for students or anyone who want to sell hobby projects to kickstart their entrepreneurial journey.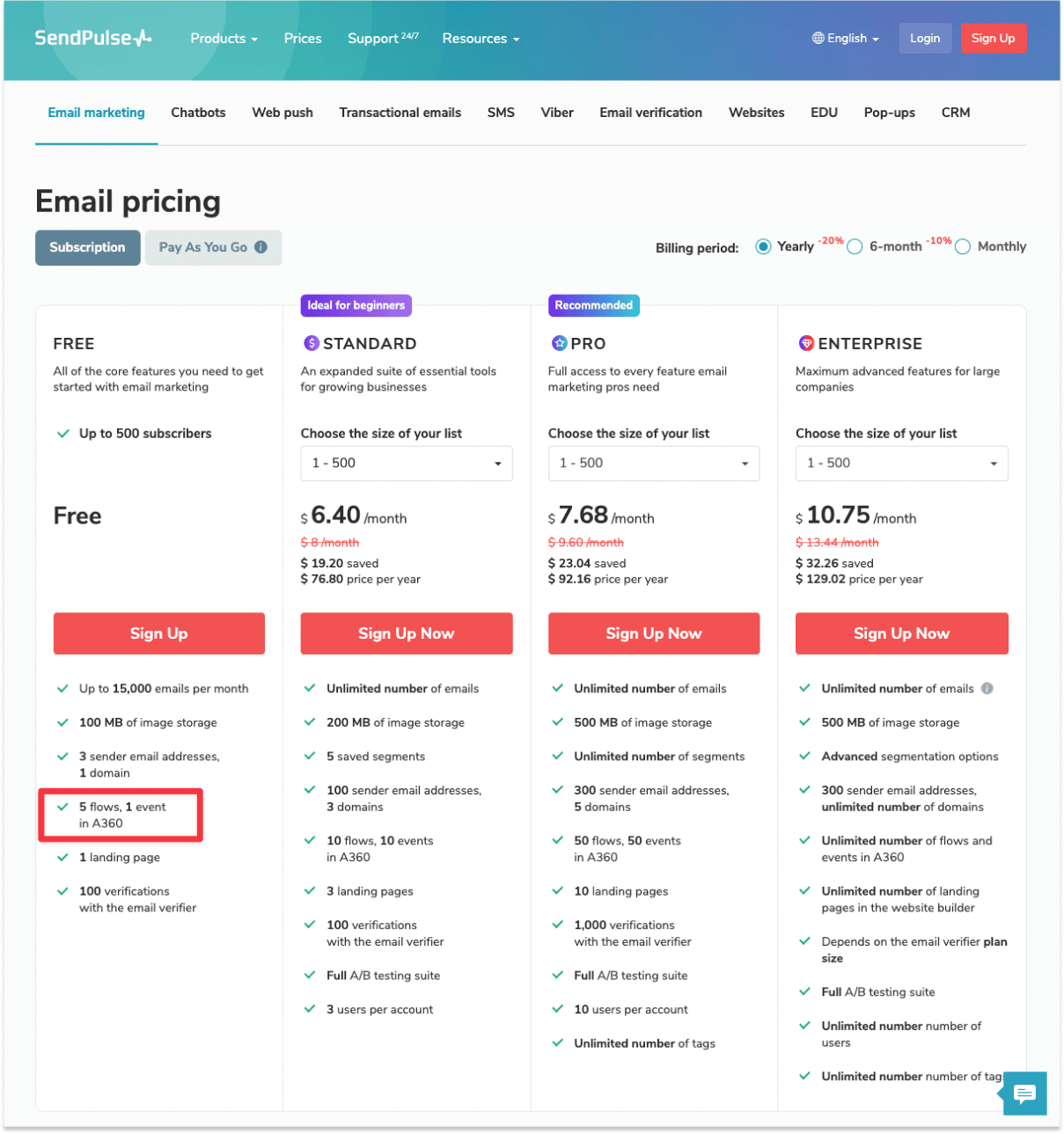 SendPulse was founded in 2015 to be an all-in-one marketing platform. They have a suite of products, including free email automation, landing page builder, online course builder, chatbots, pop-ups, and the list goes on.
As for their free email automation, you get to send 15,000 emails to a maximum of 500 subscribers per month on the free plan.
As you can tell, SendPulse doesn't specialize in email marketing, so their email marketing toolset may not be as comprehensive as other platforms.
For example, the email analytics report may not be as detailed, you can't resend campaigns, and you can't set multi-triggers for your automated emails.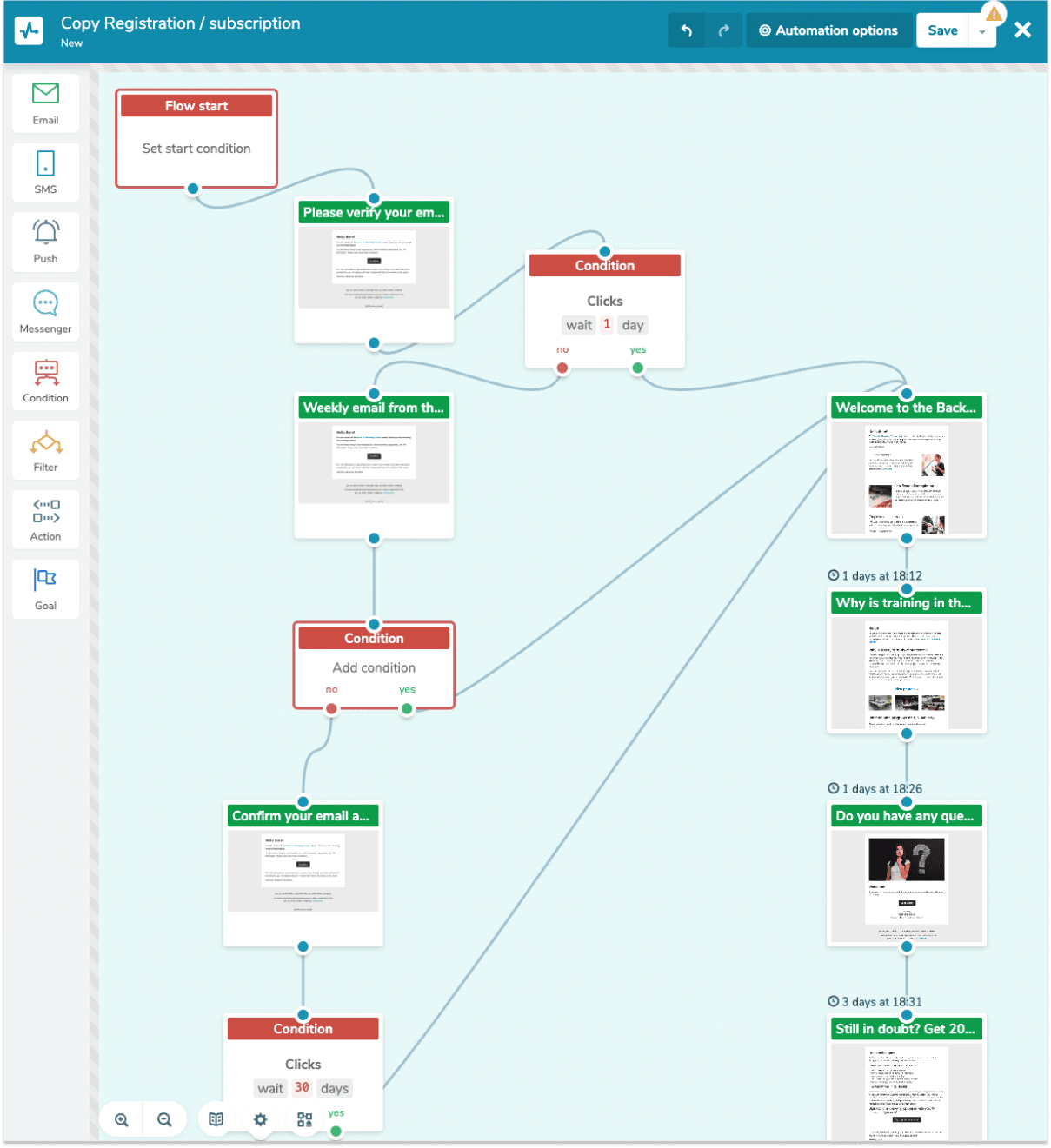 That said, SendPulse offers a great variety of other marketing tools to help you engage and nurture your customers, such as
Multiple free chatbot integration (FB messenger, Whatsapp, telegram, etc)
A complete learning management system (LMS) and online course builder for schools, teachers, and creators.
Send push notifications via browser with a generous limit: 10,000 subscribers
Create timely pop-ups to engage customers: also 10,000 subscribers limit.
Things to consider before joining SendPulse
You get to create 5 email automation workflows on the free plan.
The platform is noticeably slower, especially page load while navigating, than the other email marketing tools I've tested (I was on a 100mbps internet).
The user interface is more complex compared to other email marketing platforms on this list due to the sheer amount of products being supported.
Should you use SendPulse?
Although SendPulse is a general-purpose marketing platform, I believe teachers, course creators, and schools would find their toolsets more beneficial.
They provide a comprehensive course creation platform and numerous ways to engage students and customers, all at a fair price.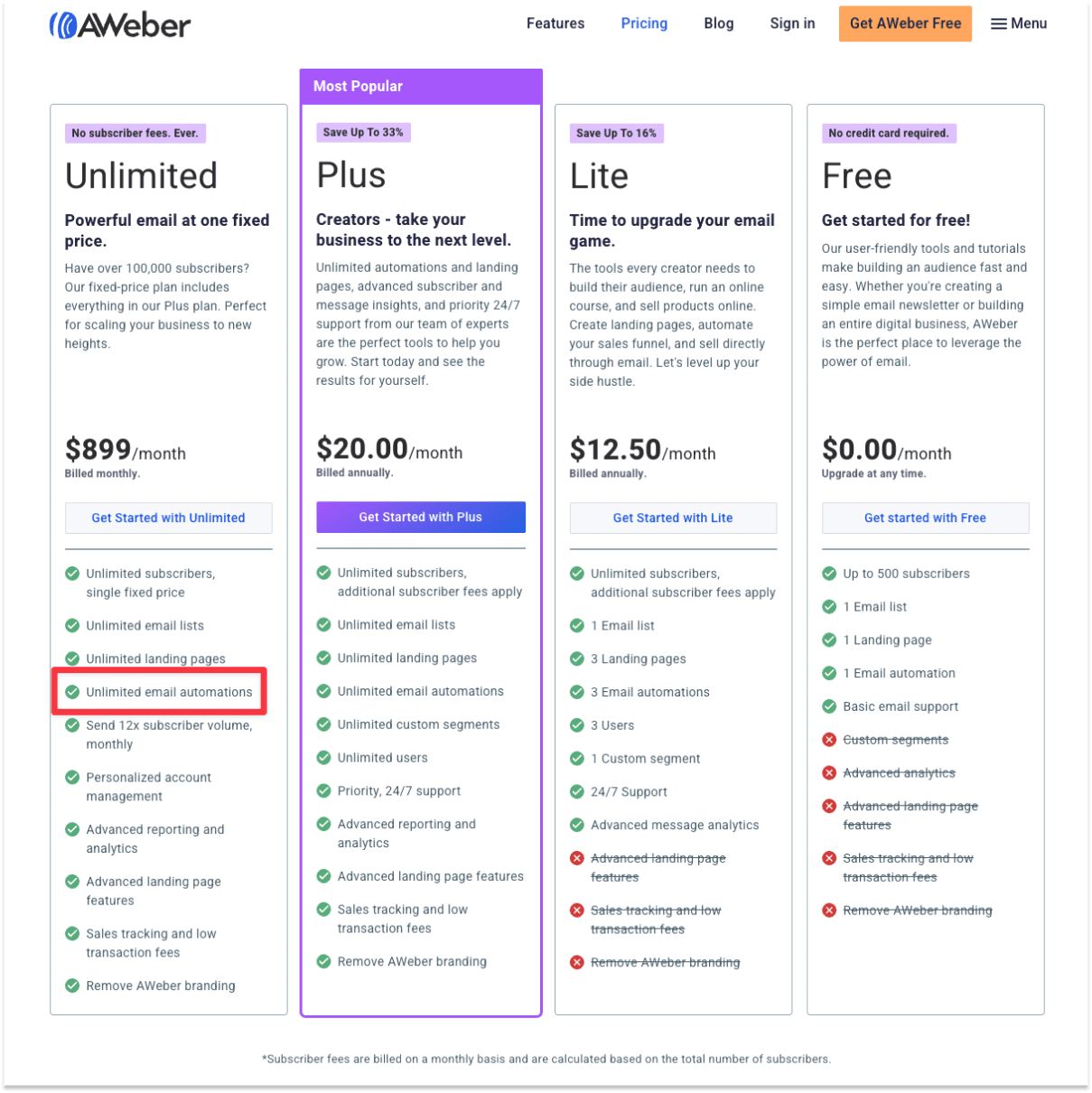 Aweber is the OG email marketing platform back in the early 2000s. I vividly remember they were the market leader then, and they have been able to stay relevant to date.
3 things that help Aweber stay relevant today:
Simple but effective toolsets — They've expanded their features over the years, but they didn't over-engineer these features. The UI remain fast and snappy.
High email deliverability — Part of being an effective email marketing platform is actually getting your emails delivered! Recent test placed Aweber in the top 5 ranking out of over 100 email marketing tools in the market.
Third-party Integrations — They've partnered with a wide range of leading online marketing tools on the market, now with over 700 integrations, from eCommerce platforms, payment gateways, to video hosting platforms.
On Aweber's free plan, you get to send 3000 emails to a maximum of 500 subscribers per month. However, You can create only 1 email automation for free.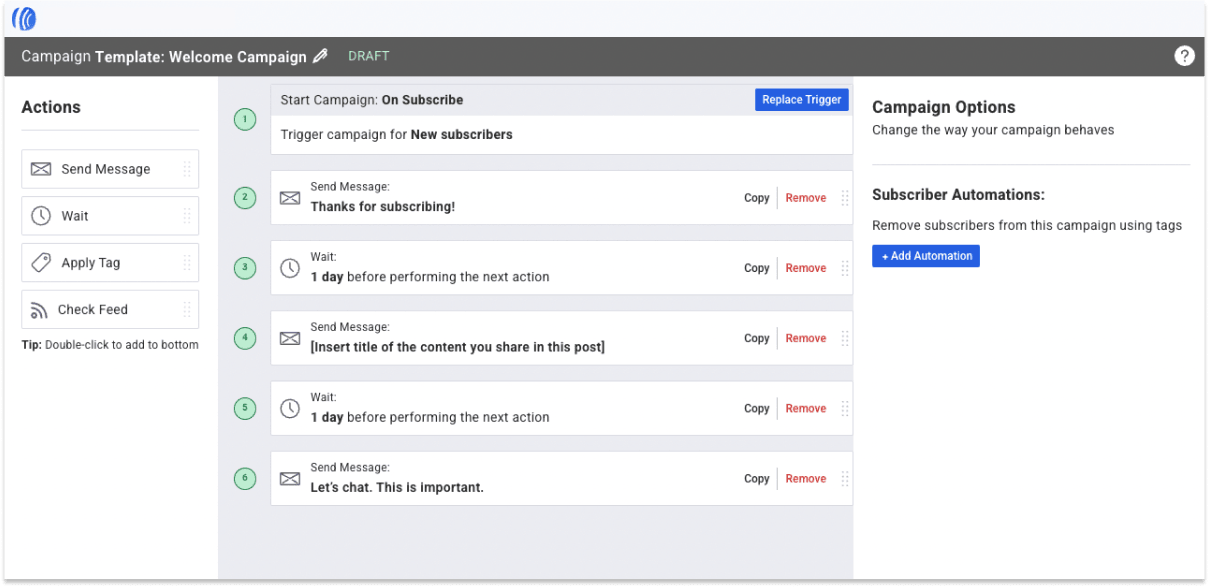 Interestingly, email automation in Aweber lacks some of the advanced features you'd find in other email marketing platforms.
For example, you set up the email workflow in a sequential order while other allows conditional workflow (i.e if subscribers click yes, then tag them. If not then remove them from this email flow).
You also cannot set up an email flow based on multiple trigger events.
What you should know about Aweber
Aweber branded emails on the free plan
Some email designs look dated in my opinion.
There are limited pre-made email automation templates (only 8), so most likely you have to set one up from scratch.
Some limitations in terms of customization for email templates. For example, the layout for images and text isn't very flexible, and it's also difficult to customize the borders, sizing, etc
Verdict on Aweber
Aweber is a solid email marketing tool for business owners who don't need complicated email automation flows or overly customized email designs.
It gets the job done. You don't have to worry about email deliverability, and it's easier to set up than its peers. But if automation is a huge driver for your business, then Aweber is probably not for you.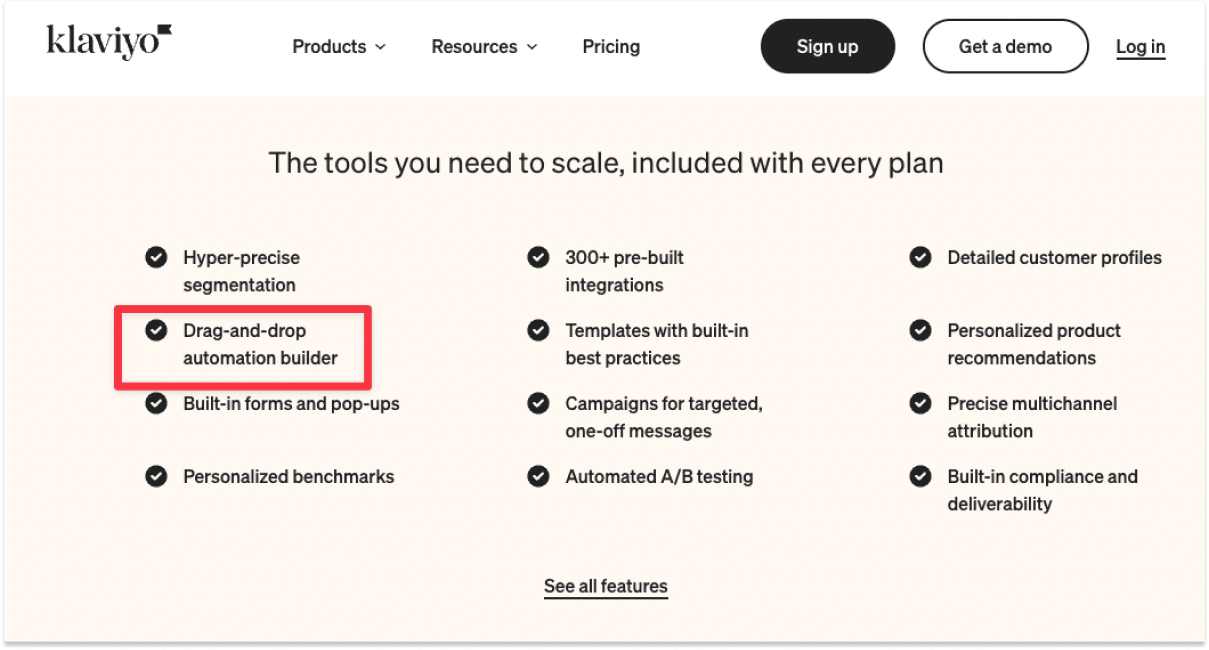 In a sense, Klaviyo is like the Apple of email marketing software. Their user interface is super polished, the email templates are the best designed (in my opinion), and it comes with a premium price tag :)
Klaviyo's feature sets play well into eCommerce/DTC marketing processes:
There are well-crafted email designs for every eCommerce holiday, including Black Friday/Cyber Monday, Easter, Thanksgiving, and every season of the year (Spring, Summer, etc), just to name a few.
Granular list segmentation — Able to target customers based on demographics, buying history, and even specific engagement behavior. This allows you to send relevant messages to customers at each point in the buying cycle,rather than sending an email to everyone on your list.
Wide integration for eCommerce — Mostly Shopify apps (over 200+ integrations), as well as tools for BigCommerce, Magento, and others.
One underrated feature I found on Klaviyo — Facebook integration which allows eCommerce store owners and agencies to automatically update their Facebook audiences as people join the list or make a purchase.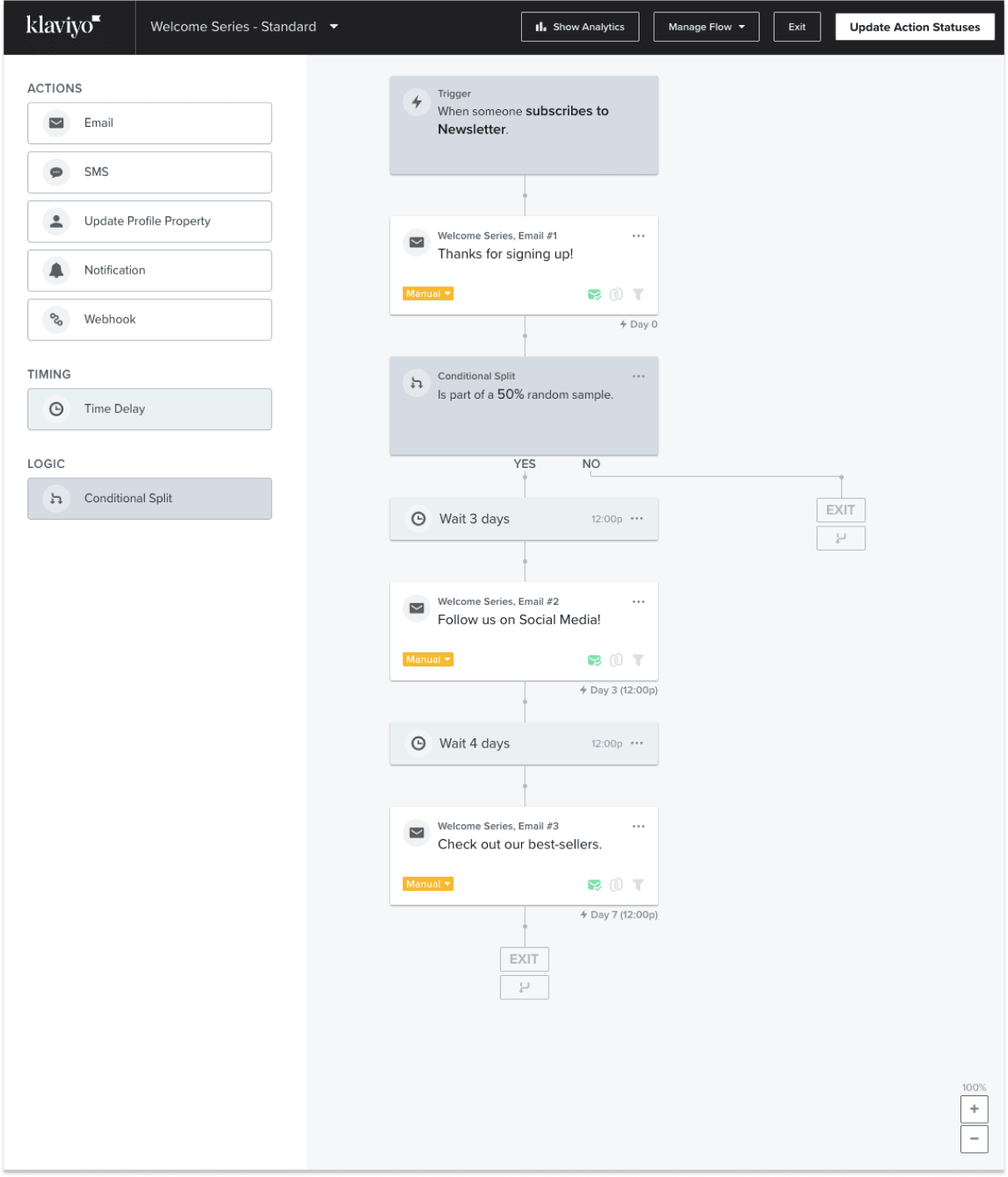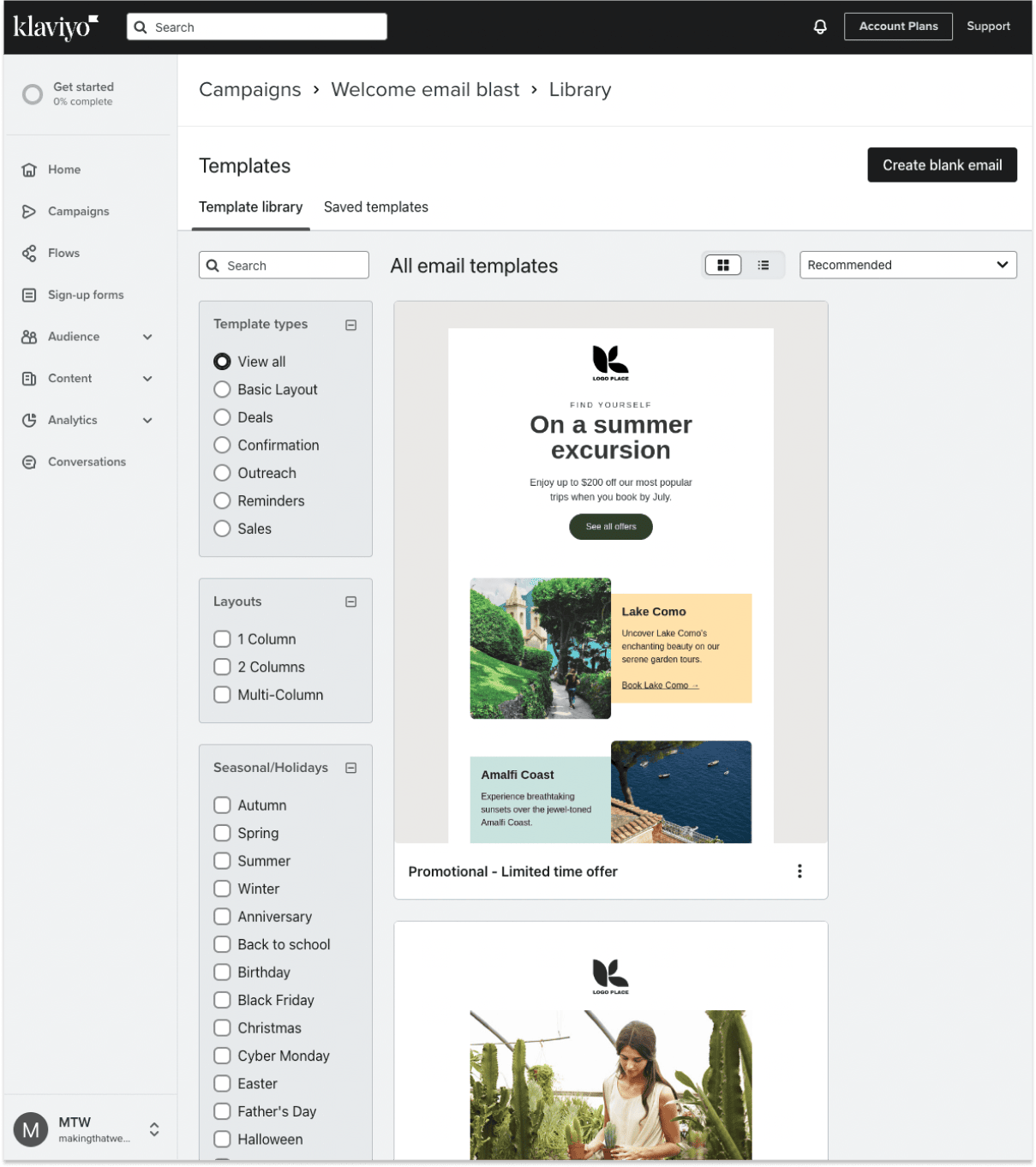 They also have Google Analytics integration available for every automation, where they apply the UTM tags to every link in the email.
That said, their free plan is the least generous, allowing only 250 subscribers and 500 emails per month.
It's good enough just to try out the feature sets, but if you're considering Klaviyo, you should expect to pay quite a bit down the road.
Know this before using Klaviyo:
Limited Free plan — Only 250 subscribers and 500 emails
No Live chat support unless on a paid plan.
Paid plans are about twice as expensive compared to their competitors. For example, you'd pay $100/month for 5000 subscribers on Klaviyo, while their competitor charges around $45-60/month.
Is Klaviyo worth using?
No doubt, Klaviyo is a premium email marketing tool catered to DTC brands. But they have the best in class automation and list segmentation features, both of which are worth paying for if you're running high-volume campaigns to your store.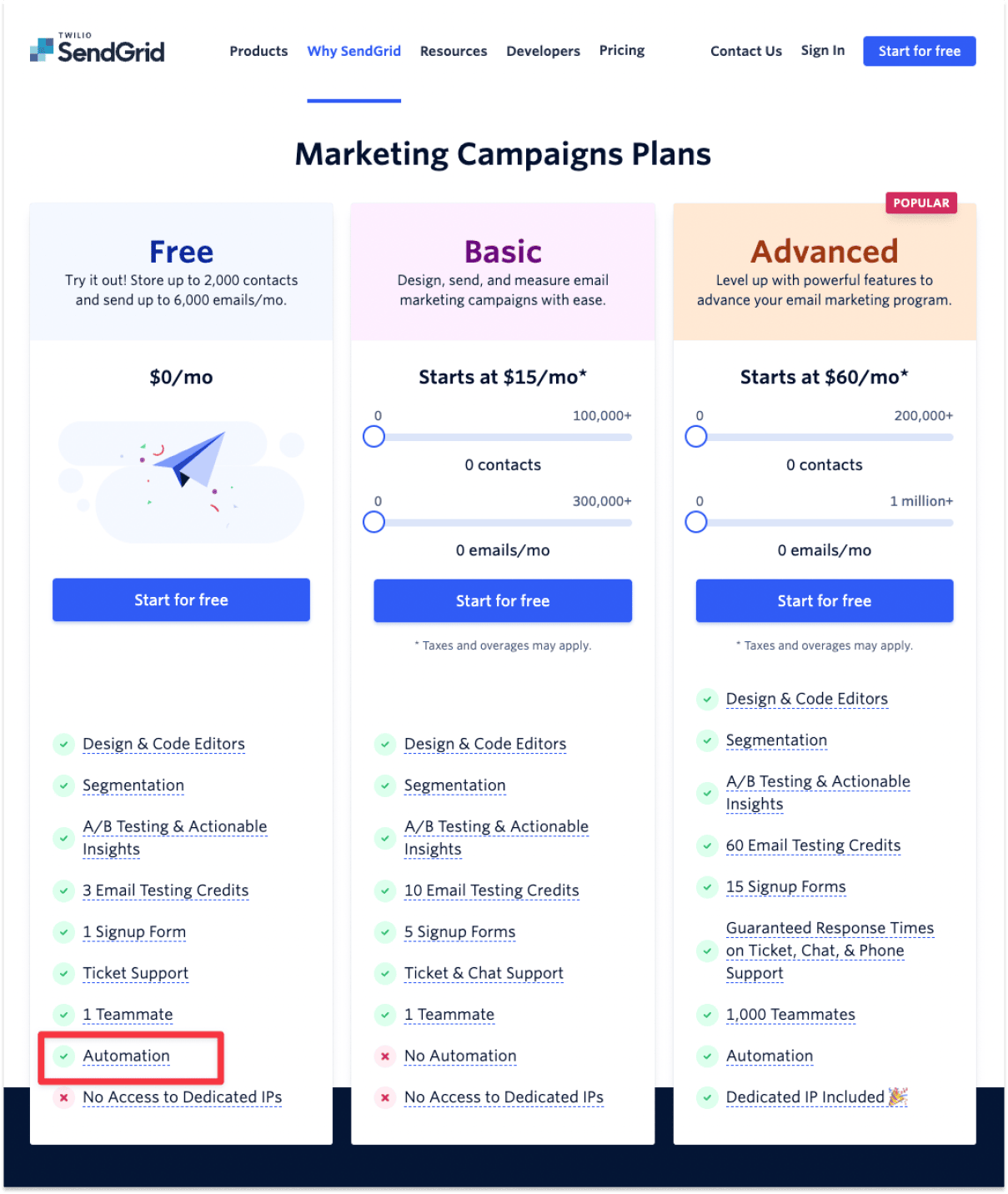 SendGrid is known for providing email API services for startups to help them send large-scale emails to their customers — think Uber, AirBnb, Spotify, etc.
But they also have more approachable email marketing toolsets for marketers, small business owners, and agencies.
The free plan allows you to send up to 6,000 emails to 2,000 contacts.
You can also:
Set up time-based email automation — Perfect for drip content.
Set up a one-off campaign — Email blast.
Design forms you can embed on your site to generate leads.
Design emails using templates or custom design one using HTML.
Manage contacts and segment list.
After personally trying these features, I find them pretty basic compared to other email service providers.
A lot of their email template designs are dated, and there aren't many options to set up automation except for delaying the timing of each email.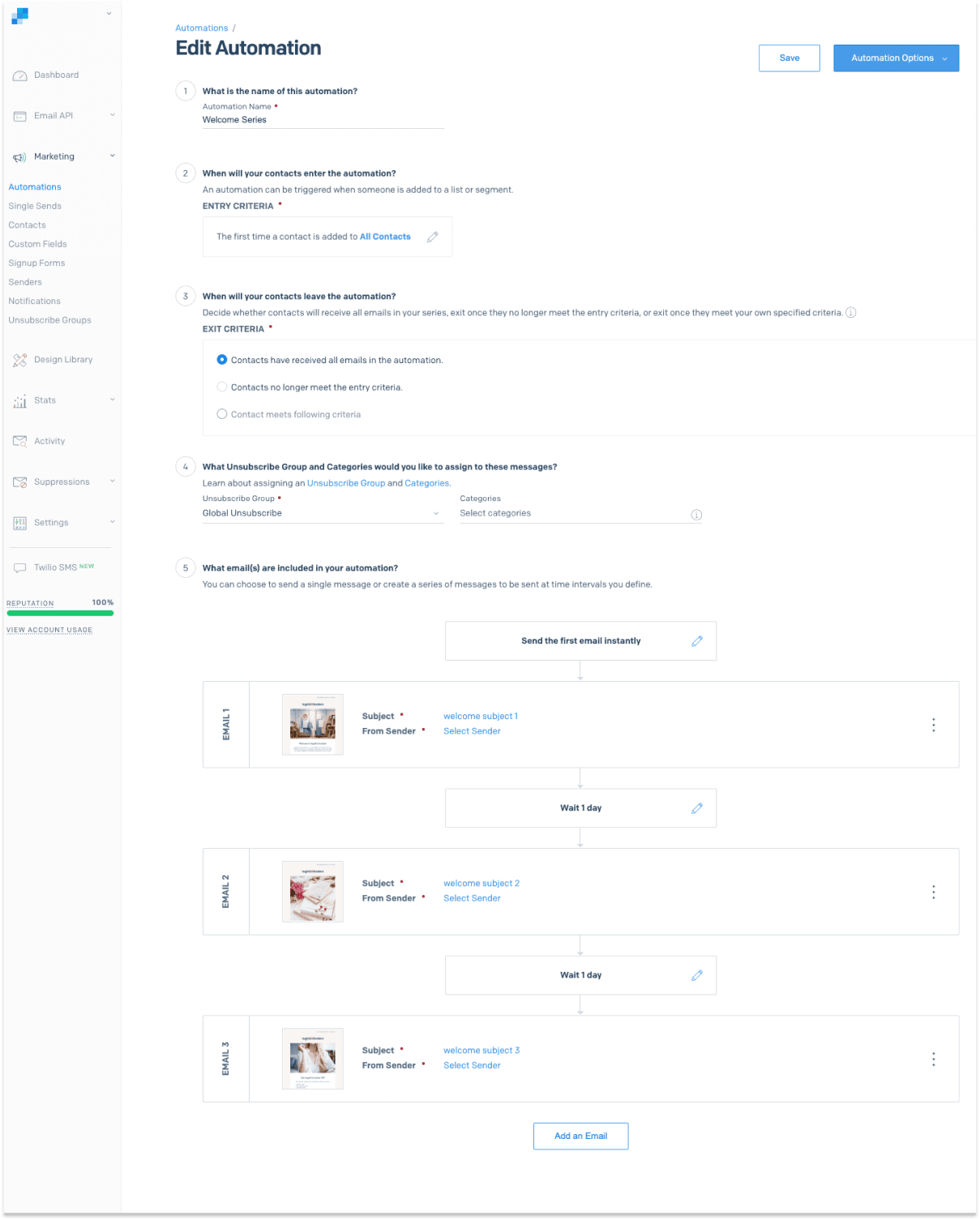 Note that their primary product offering is email API services, after all.
The biggest advantage they have over their competitors is pricing. They offer one of the cheapest pricing in the market.
For example, other email marketing tools (like Mailchimp, Mailerlite, and Aweber) charge $45 - $60/month for 5000 subscribers; you only have to pay $15/month for the same subscribers on SendGrid.
Should you use SendGrid?
The free plan is decent but nothing to shout about.
But if you want to save email marketing costs in the long term, SendGrid is your best choice. You can save more than 50% on each email and subscriber compared to other email marketing tools.
While its user interface may be clunky and its features relatively simple, it still gets the job done. If you can manage with that, it will lead to substantial long-term cost savings.
Email marketing platforms that DO NOT offer free email automation
Frequently Asked Questions
Which email marketing platforms allow you to set up free automated emails?
These email marketing platforms allow you to set up automated emails, drip campaigns, and autoresponders on their free plan:
MailerLite
Hubspot Free Marketing Hub
Sender
Email Octopus
Omnisend
SendPulse
Aweber
Klaviyo
SendGrid
Which platform is the best for free email automation?
Each email marketing platform has its strength and weaknesses, but here's a summary:
MailerLite and Hubspot are best for small businesses
Sender.net has the best free plan (most subscribers and emails in the free plan)
SendGrid has the cheapest paid plans (long-term savings)
How do I send automated emails for free
You can sign up for a free plan on any of the listed email marketing platforms. After signing up, find the "automation" tab to set up your automated email campaigns.
In most cases, you'll also need to create an email form to collect subscriber information for sending automated emails.
Can I automate emails using Gmail and Outlook?
Unfortunately, both Gmail and Outlook don't have a native feature that allows you to schedule automated emails. You will have to use the listed email marketing platforms instead.