Today, I'll introduce you to 11 website builders that let you create a free website and connect your own custom domain at no cost.
This means you can buy your own custom domain or get it free elsewhere, set up a website on one of these platforms, and connect a custom domain for free.
Usually, using a custom domain is considered a premium feature.
Many website builders, like Wix and Weebly, let you create a website for free, but if you want to use a custom domain, you'll need to upgrade to their premium plan, which can cost upwards of $5/month.
Otherwise, your website will be hosted under their subdomain, indirectly promoting their brand. For example www.yoursite.WixSite.com.
This list is the culmination of over a hundred hours of me personally trying & comparing website builder platforms and figuring out which platforms actually allow you to create a website and connect a custom domain 100% free.
So, no matter if you're building an eCommerce store, a personal website, a business marketing site, a portfolio, or a blog, I'll show you the cheapest way to build a free website with a custom domain.
Let's dive right in.
11 free website builders to create a website with your own domain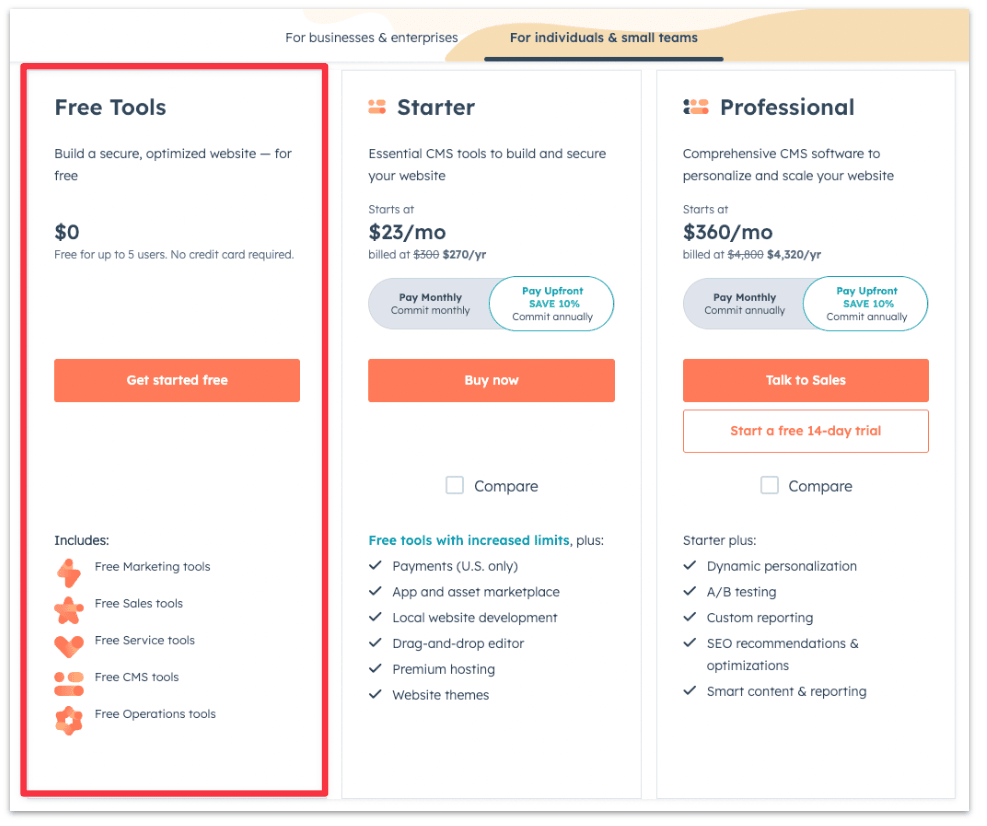 Hubspot started as a Customer Relationship Management (CRM) tool back in 2006 but has since grown into an all-purpose marketing software conglomerate today.
Their Free Marketing Hub is a combination of free tools like CMS, email automation, team inbox, etc you can use to power your business, like starting a website and then using a custom domain on it..
To get started with creating a free website on Hubspot, just head over to their Free Marketing Hub page and select "Get started free".

In my opinion, there's a ton of value to using Hubspot's free tools, especially if you're a small business that needs a marketing site :
It's free, and more importantly, you can connect to a custom domain.
They also partnered with Themeforest, and there's a great selection of professional website templates you can also use for free, check out this landing page that I created in Hubspot and see for yourself.
It's easy to maintain. HubSpot essentially hosts the website for you. No backup and management are necessary on your end.
There's also a blog included in the free plan.
The most underrated features on Hubspot are the free marketing and CRM tools to help you get traction: Email automation, sending up to 2000 emails per month, live chats, ads retargeting, and more.
Bonus: Built-in AI-powered content assistant, which you can use to easily generate ideas and create content across Hubspot tools, such as writing emails, social posts, blog posts, and landing pages.
Learn more about Hubspot's free marketing tools.
Being a listed company, part of their strategy is to offer a ton of free tools and resources to get customers in the front door in hopes they'll upgrade in the future. And that's what Hubspot is doing with their free Marketing Hub.
What you need to know before using Hubspot
Hubspot offers a ton of free value, but you should know what you're getting into before you get started!
Hubspot logo on your website pages — Like all free tools, you'll find a "Built on Hubspot" logo at the corner of your website (example). You will need to upgrade to remove it.
You get 2500 free subscribers and can send up to 2000 emails/month on the free plan.
It can get expensive after you upgrade — You will need to upgrade if you want to remove their logo and increase the limits of the free tools. Even though they have a relatively inexpensive starter plan ($18/month), the price jumps from Starter to Professional is quite significant, which cost upwards of $1,600/month.
Hubspot verdict
Small business owners who need a marketing site should take advantage of Hubspot's free website & marketing tools (while they're still free). Looking at their feature sets, you can get far with pretty much zero cost.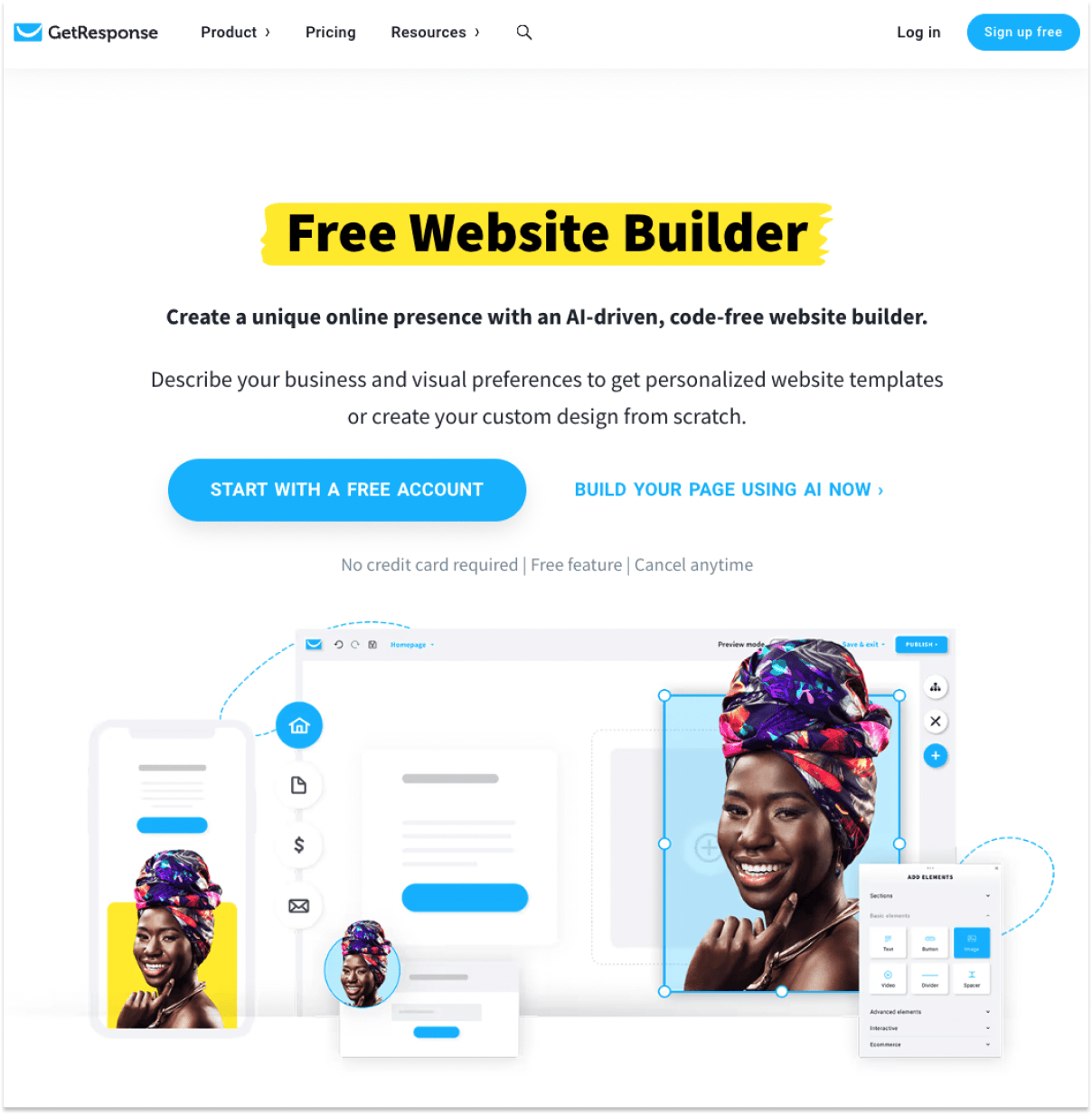 💡
Black Friday Offer
GetResponse is currently running a limited-time
Black Friday Offer (up to 40% off)
.
This offer expires on the 30th of November, so get it while it lasts!
GetResponse was one of the pioneers in email marketing for small businesses back in the early 2000s, but they've had multiple rebrands and expansions ever since.
Their latest product release?
A website builder that allows you to connect to a custom domain, even on the free plan!
I've tried the website builder myself, and to my surprise, it's relatively easy to set one up. Here's the website I set up with GetResponse in under 10 minutes.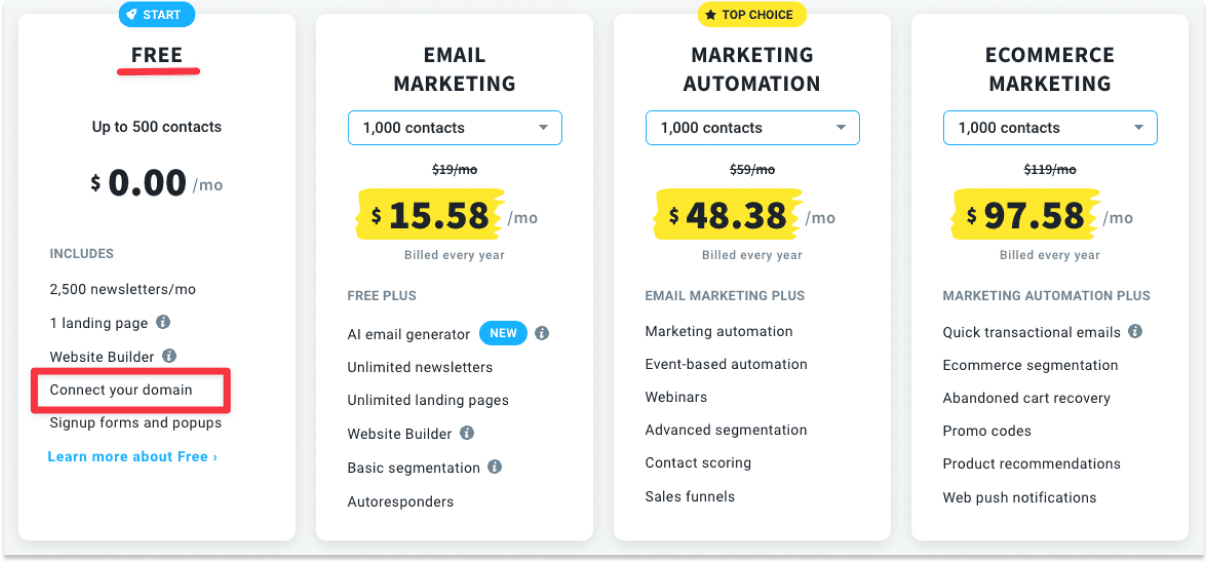 How GetResponse Website Builder works:
You start with a pre-made template (there are about 130 templates as of this writing) from a variety of industries, such as Auto, Beauty & Fitness, Business, Finance, IT, NGO, Sports, Travel, and many more.
You will then get sent to their drag-and-drop website builder, where you customize the site. In my experience, the intuitiveness of the editor is comparable to Wix.
Once you're done, you'll be asked to set up the URL of your new website. It uses the GetResponse (gr.site) URL by default, but you have the option to connect your own custom domain. You can even purchase a new custom domain right from GetResponse, though that's not free.
What you should know about building a website using GetResponse
You can connect to a custom domain on the free plan, but you have to set it up in the beginning when you publish the site, otherwise you need to upgrade to change the domain name.
Your website will have the GetResponse branding at the bottom unless you upgrade to a paid plan.
On the free plan, you can't add custom code to your site, but you can connect Facebook pixel, Google Analytics, Google Ads tracking code.
Should you use GetResponse?
In my opinion, GetResponse is great for small businesses that just need a simple branded website or landing page that collect leads.
The website builder is simple enough for beginners to set up, and you get to set up an email list leveraging GetResponse's existing email marketing tools.
Learn more about GetResponse's free website builder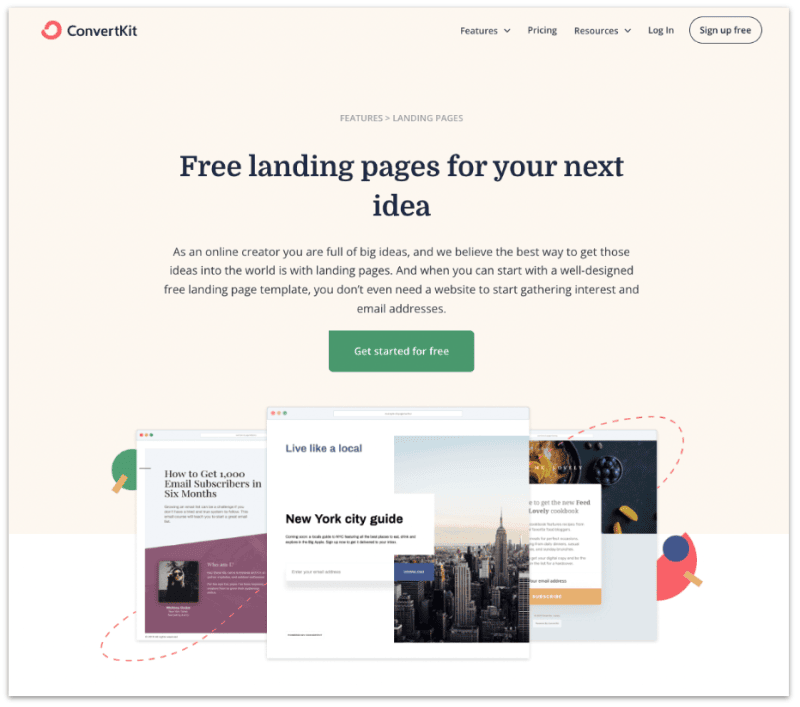 ConvertKit is an email marketing platform that has grown much more since its inception in 2013.
Their mission now is to become THE marketing platform for online creators and to help them grow and monetize their audience.
To do that, they've launched an indispensable free landing page builder to help online creators capture leads and interests for their expertise.
And yes, their landing page builder allows you to add a custom domain name for free!
You can create all sorts of landing pages with ConvertKit, such as a newsletter sign-up page, webinar sign-up page, waitlist for your product launch, ebook landing page, personal profile page, product sales page, and more.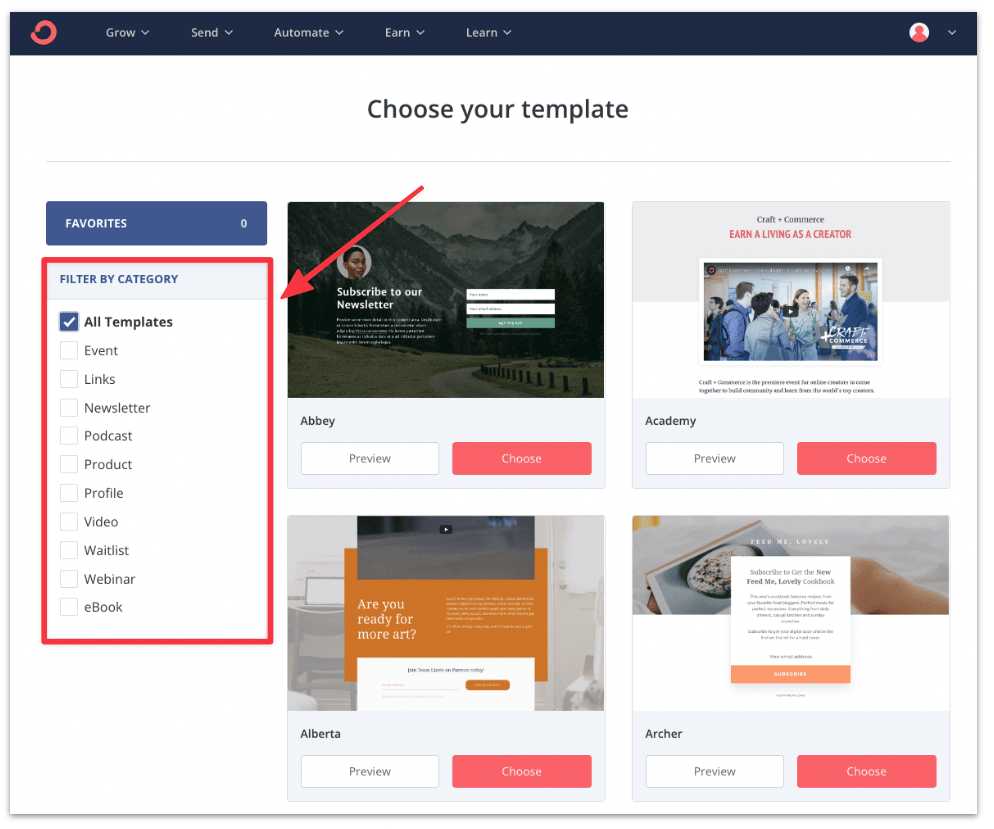 That's not all. When you sign up for Convertkit on their free plan, you also get to:
Sell digital products with their customizable sales page and easy checkout flow.
Run a paid newsletter and charge a monthly access fee.
Create unlimited landing pages (or use their professionally designed templates) to promote your projects
Send unlimited emails to a maximum of 1000 subscribers.
Join their creator community where they run monthly challenges and offer accountability to help you succeed.
Free courses to help you build a thriving online business.
And more!
It's a pretty sweet deal if you ask me. However, there are a few things you should be aware of before you sign up for a free ConverKit account:
ConvertKit can become costly as you grow your email subscribers, especially for indie creators with a limited budget.
No blogging feature.
Build single-page websites only.
All-in-all, ConvertKit offers a ton of value upfront. You can get started on your site easily and free of charge too. More importantly, you can start building a branded site early on with a custom domain name on a free ConvertKit account.
Just be mindful of the cost adding up as you grow your subscriber count. But if you're monetizing your audience (what ConverKit is intended for), it should more than pay itself in the long run.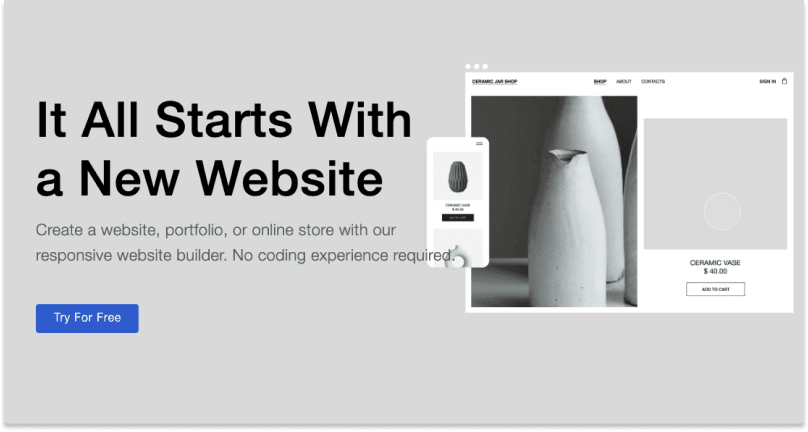 UPDATE: Ucraft no longer allows you to connect a custom domain on their free plan, but it is still a great free website builder plus, they have just updated their template library, and they all look sleek!
Ucraft is an excellent web design tool for anyone who doesn't have a lot of experience and wants an easy drag-and-drop website builder for their website.
While there are many features to learn, it's a pretty intuitive experience even for those who aren't tech-savvy. Their interface is full of explanations for every single button and function.
The free version has enough features to make a cool personal website. Best of all, Ucraft is one of the few website builders that let you connect your domain to your site for free!
Other Ucraft benefits on their free plan:
Unlimited bandwidth for your website (Unlimited web visitors)
Google analytics support
24/7 support
Password protected pages
Ucraft is also known to provide great customer service, even if you're on a free plan.
If you plan to add a custom domain to your site, which can be relatively complex for a beginner, there's a step-by-step video guide to show you how to do that.
And if you get stuck, there is a chat button to offer help whenever you need it.
Note: If you decide to sign up for a free Ucraft account, make sure you click on the "Get Started" link on the Free plan. The default Get Started link signs you up for a 14 days trial for the Pro plan, which you need to pay to keep the website online after the trial ends.
Ucraft free plan limitations
While you're on the Ucraft free plan, there are a few limitations you need to know.
Ucraft branding — Ucraft will add a watermark "This website is created with Ucraft" at the bottom of your site.
Limited customization — You won't be able to set custom fonts, customize sign up forms, and use advanced layouts for your site.
No eCommerce — eCommerce features are only reserved for paid plans (starting $10/month).
Limited SEO features — You won't be able to customize titles and descriptions for SEO.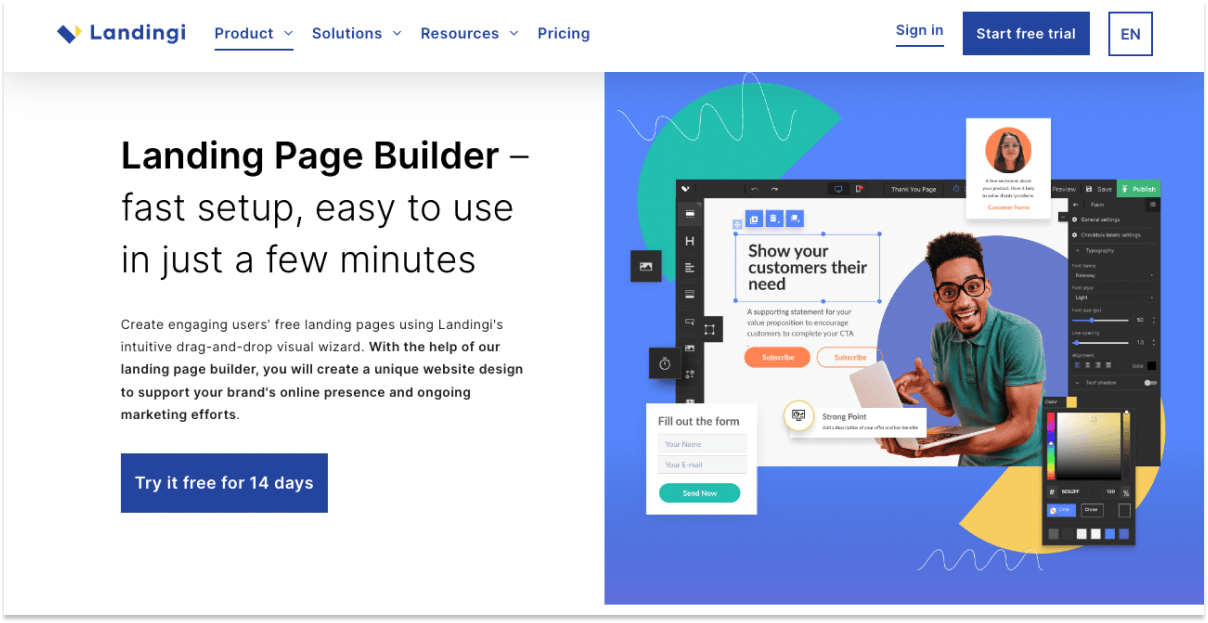 Landingi is more advanced than the average landing page builder mentioned previously, as they specialize in building landing page for lead generation efforts.
Some advanced features they have include (that their competitors don't) are:
Custom form design and layout on the landing page (they also have the most form design options)
You can create multi-step form fields to pre-qualify leads
You can connect multiple landing page that forms a "marketing funnel"
They have the most landing page templates in the market (over 400 as of this writing)
And yes, they do allow you to add a custom domain to your landing page on the free plan.

Note: you will have to integrate with an email marketing platform as Landingi only supports landing page and lead capture form. But they have over 100 integrations with leading CRM, email marketing platforms, chat groups, eCommerce solutions, etc.
What you should know before signing up for Landingi:
You can only create 1 landing page
The free plan only gets you 500 page visits per month
Your website will have the Landingi branding
You need to sign up with a credit card (for verification purposes) even though they have a free plan.
Verdict on Landingi
Landingi is great if you with the best-in-class tool and landing page design.
I believe Landingi is designed for marketing agencies, consultants, and freelancers who either work with clients or sell their own products.
It's great if you want to maximize your lead generation efforts. For example, you can use it to gather leads for event or webinar pages, encourage customers to sign up for ebooks or discount coupons, or secure pre-registered users for a new product launch.
Learn more about Landigi free landing page builder.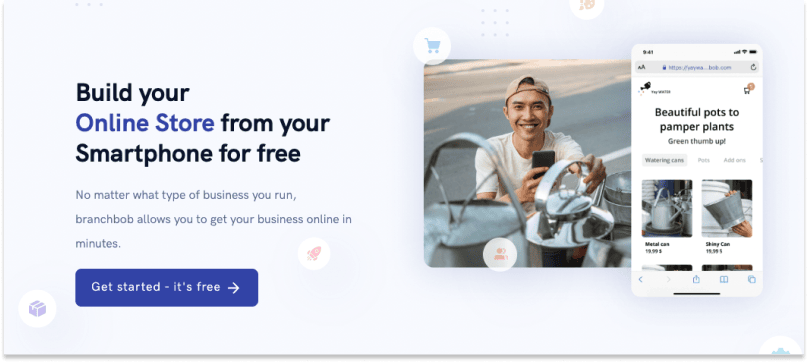 💡
Latest:
Branchbob has just released a new
AI online store builder
. You essentially describe what kind of store you want to create and it'll generate one in under a minute.
I've tried it. It's pretty neat.
See for yourself
.
Branchbob is a versatile eCommerce platform that comes with a generous free plan. One that allows you to use a custom domain for your online store!
Usually, adding a custom domain is an advanced feature reserved only on paid plans.
However, Branchbob is one of the few eCommerce platforms that allow you to add a custom domain for free while also giving you access to other advanced features, such as:
Sell unlimited products online (digital & physical)
SSL certificate
Third-party integrated tools such as Google Analytics and other social media platforms
Automatic inventory tracking
Automated emails for orders, invoices, etc
And much, much more.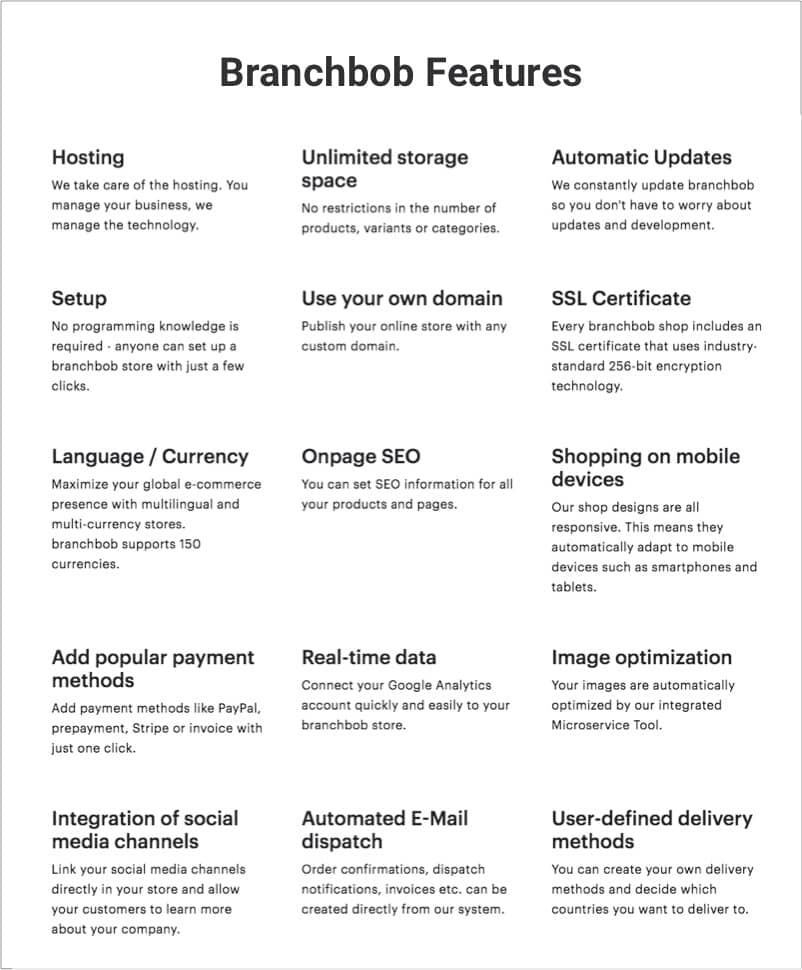 What's great about Branchbob is that you can build a complete online store free of charge and without restrictions.
You'll be able to set up unlimited products to sell, accept payments via popular payment methods (Paypal, Stripe, or invoice), add support for various currencies, languages, and yes, you can add a custom domain to your store.
Note: You won't be able to purchase a custom domain via Branchbob. Instead, you have to get the custom domain through a third-party domain name registrar (e.g., Namecheap, GoDaddy) and redirect it to Branchbob.
If all that sounds too technical for you, luckily, BranchBob has a step-by-step guide to show you how to add a custom domain to your store.
It also helps that Branchbob has a friendly and responsive customer support team. Based on my experience, you can expect a same-day reply to any questions you have about the platform.
Branchbob limitations
Basic theme design — Don't expect premium storefront design, and the options to customize are limited unless you feel confident about editing some code. Although, Branchbob intends to release premium themes you can purchase in the future.
Limited third-party apps — Sadly, there are very few integrations available to help extend your store. Fortunately, existing Branchbob features allow you to run a fully functional (and scalable) eCommerce store for free.
Branchbob branding — Branchbob includes their brand logo in your site footer.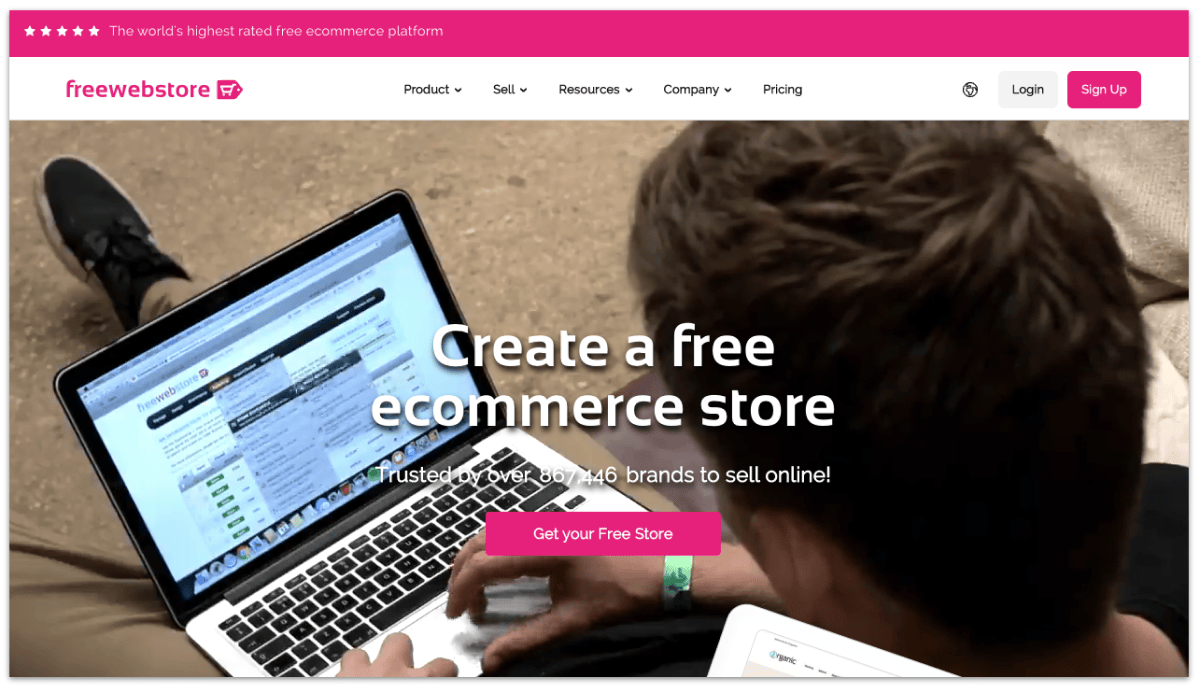 Freewebstore is one of those underrated online store builders that most people have never heard of until now :)
After messing around with the store builder and building a free web store on my own, I conclude that it's pretty decent for anyone who wants a fuss-free and cost-free way to start their eCommerce business.
I reckon it'll be great for students, mom-and-pop, and even some independent businesses because the onboarding experience is very beginner friendly (with a chatbot guiding you, no less), and they highlight each step you need to take to launch your store.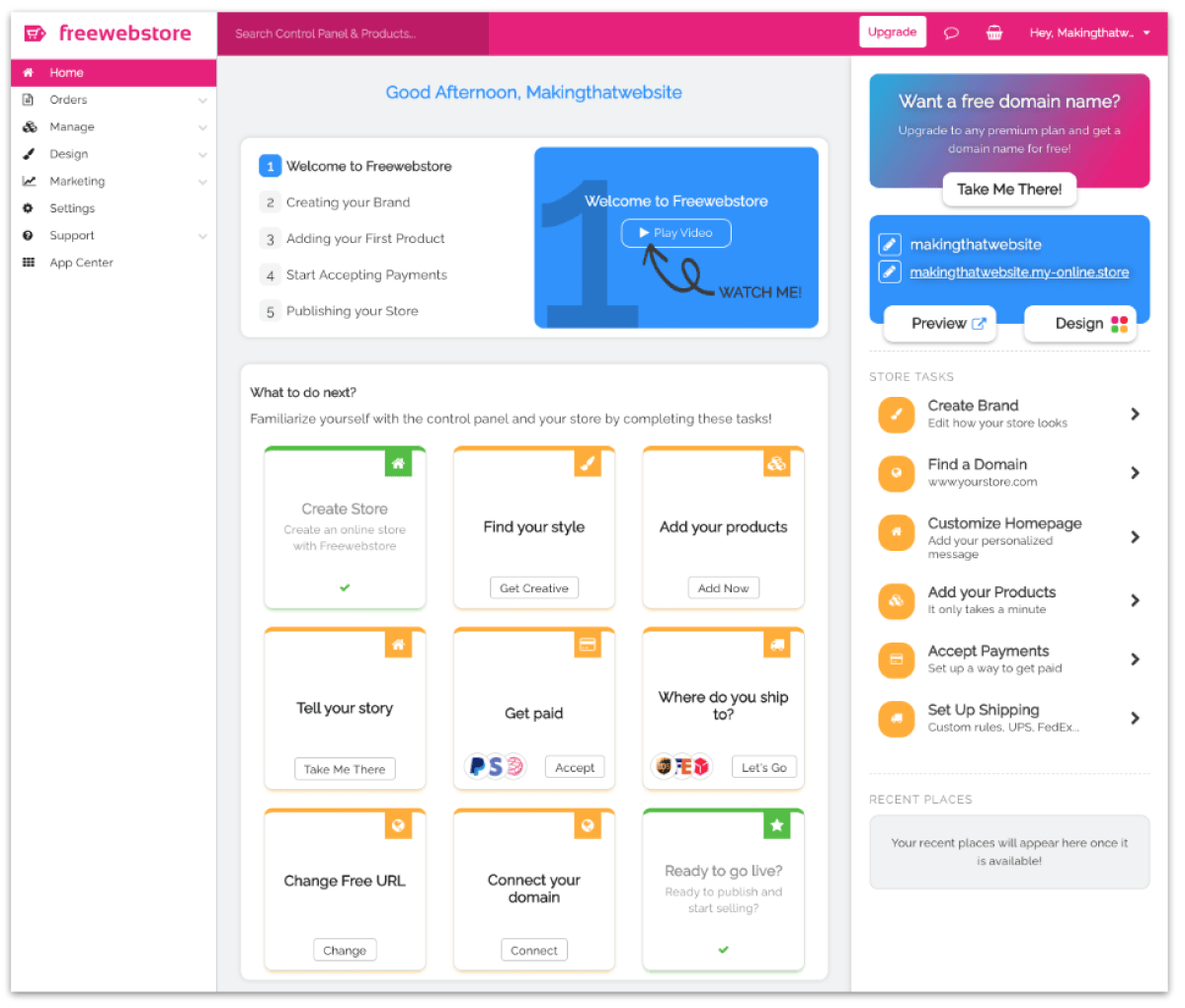 That aside, here are the main benefits of Freewebstore:
It's free — Yes, zero startup cost, no credit card needed to start selling. They also do not charge any fee (standard credit card fee still applies).
You can set up a custom domain on the free plan — This is usually a premium feature for other store builders, but Freewebstore allows you to connect your own custom domain. They won't give you a free domain but here's how to get one on your own.
Sell unlimited products with different product variations, which is rare on a free plan!
Hosting included - Just like Shopify, Wix, and other store builders, you don't need to manage the backend of your online store, back up your site, etc.
Accepts credit card and Paypal as payments from your customers.
Integrates with Google Shopping, Facebook Shop, and Instagram gallery so you can sell on other channels as well (Available on the free plan).
Tracking pixels (Google Analytics, Facebook Ads, etc) allowed for you to run advertising.
What you need to know before using FreeWebstore
FreeWebstore ad banner — Just like other free store builders, you will see a branded FreeWebstore banner at the top of your site. Check out my store to see how it looks like.
Annual turnover — The free plan allows you up to $30,000 annual turnover, by which then you have to upgrade to their paid plans starting at $20/month. More details on their site.
Layouts are not customizable — While you can change to a different template (for free), you won't be able to customize the individual page layout on your site.
No Blog, unless you upgrade to their paid plan.
Freewebstore review verdict
All things considered, it's a good online store builder that offers a ton of great value for free.
Sure, you won't be able to customize your site as much, but their templates are actually good.
Here are some eCommerce store examples built using Freewebstore: Cumbria Zoo, Designer Posh Watches for your reference.
You can sign up for Freewebstore for free here.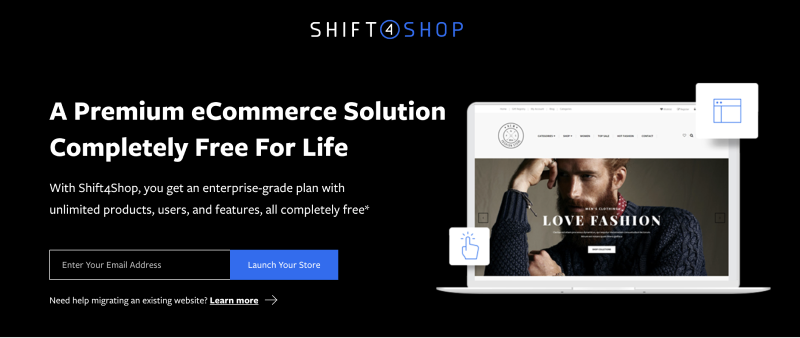 Shift4Shop is a complete and robust eCommerce platform known for providing outstanding technical support 24/7/365.
Their best offer?
A complete eCommerce solution to build your online store for free! The catch is that you have to reside in the US.
If you're not from the US, then, unfortunately, Shift4Shop isn't that great of a deal for you.
Otherwise, you get to use all of Shift4Shop's premium features for free. Included but not limited to:
Add a custom domain (You also get a free domain in the first year)
Sell unlimited products and variations
0% transaction fees
Inventory control
Bulk quantity discounts
Single page checkout
Upsell and cross-sell functionalities
A built-in customer relationship management (CRM) tool
Abandoned cart emails
Integrated sales channels like Facebook, Google, Amazon, eBay, etc
Drop shipping support

Since Shift4Shop is such a versatile eCommerce platform, you can build all kinds of stores, whether it's selling subscriptions, print-on-demand products, hardware, brand merchandise, event tickets, or even a dropshipping store.
The downsides of Shift4Shop
Unlimited Free plan for US customers only — If you live outside of the US, unfortunately, you have to pay upwards of $29/month to get access to all the advanced features.
Powered by Shift4Shop — You get to use all of Shift4shop's premium features for free, but the catch is they'll place a "Powered by Shift4Shop" branding at the footer of your site. You can remove this by paying a monthly fee (starting $29/month).
Compare other free and affordable online store builder alternatives.
Basic theme design — Shift4Shop has over 100 free online store themes, but most of them look slightly dated (you can check them out yourself). But they give you full access to all the files that make up your theme, so you're free to edit it if you have coding knowledge or you can hire someone to do it for you.
Shift4Shop Verdict
Building a free online store on Shift4Shop is as good as it gets, assuming you live in the US. You get all the advanced features other platforms charge hundreds of dollars per month for free on Shift4Shop.
What's more? They'll even migrate your current eCommerce website to Shift4Shop free of charge.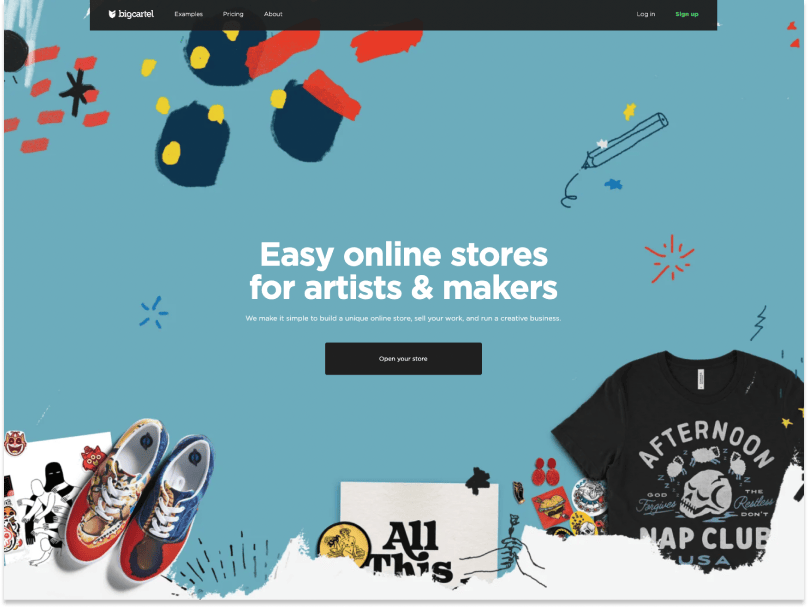 Don't be intimidated by the name. Big Cartel is a beginner-friendly eCommerce platform for makers, artists, and creative professionals to set up a simple store and sell their products.
Big Cartel is inexpensive compared to alternatives like Shopify and BigCommerce. Its free plan, in particular, allows you to create an online store with a custom domain.
It also gives you various ways to set up a store with a few clicks, and you can set up different variations of products to sell.
Design wise, you can tell by their website templates. They're unique, full of personality, and the layout is designed to highlight the artist's creative work.
Each built-in theme has its own available set of customization options. It's easy to upload a header, logo, or background image, add a slideshow, adjust color and font settings, and make other adjustments to your theme layout - no coding required.
Here are some great examples of Big Cartel stores:
Jose Roda sells his creative illustration via merchandise.
Ceramist Uno Ichi sells handmade ceramics behind her grandmother's house.
Abstract hand painting by The Feebles.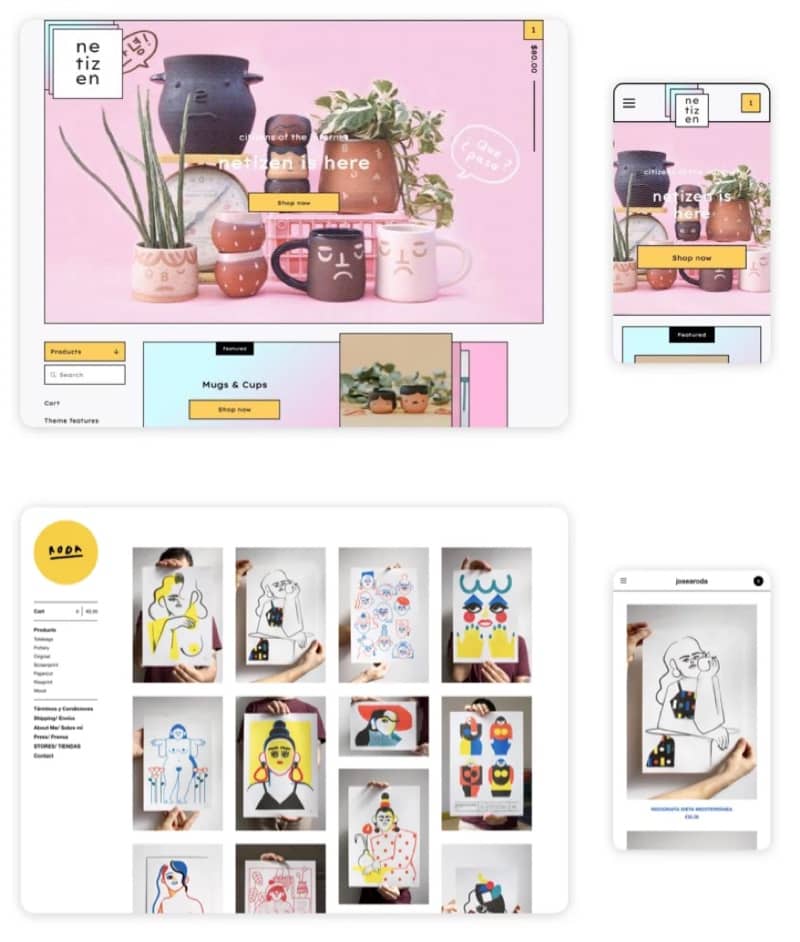 Click here for more examples of BigCartel themes
Note: You're only allowed to sell up to 5 products on the Big Cartel's free plan. It comes with free themes, real-time stats for your orders, custom domain, shipment tracking, discount & promo code, and auto-calculated sales tax.
Despite the limitation, Big Cartel's platinum plan ($10/month) is worth signing up for If you decided to upgrade. You can sell up to 50 products plus time-saving features such as inventory tracking, bulk editing, and advanced store customization.
Disadvantages of Big Cartel
Lacks integration — Big Cartel doesn't offer many integrations. So you will find yourself spending time copy-pasting info from your shipping service, social media pages, etc.
Lacks cross-channel selling — Big Cartel also lacks direct integration with other sales channels like Instagram, Facebook, Pinterest, etc. So there's going to more work involved if you want to set this up.
Summary for Big Cartel
If you need a simple online store to sell your work (physical, digital products, and services), Big Cartel is a great inexpensive platform for it. But if you need a large, multifunctional online store, you won't find enough Big Cartel features to support your business.

This may come as a surprise, but creating a Google Site is as simple as making a Google slide.
It's 100% free — there isn't a paid plan, and there's no plugin to purchase — you're also allowed to add a custom domain for free to your site.
Part of Google Site's appeal is that they've simplified the website design process as much as possible.
For example, instead of limitless customization, there are only a handful of layouts to use.
And there are only a few page elements for you to add to the site — Image, text, button, table of content, and image carousel.
Every element you add snaps and align neatly like a lego piece.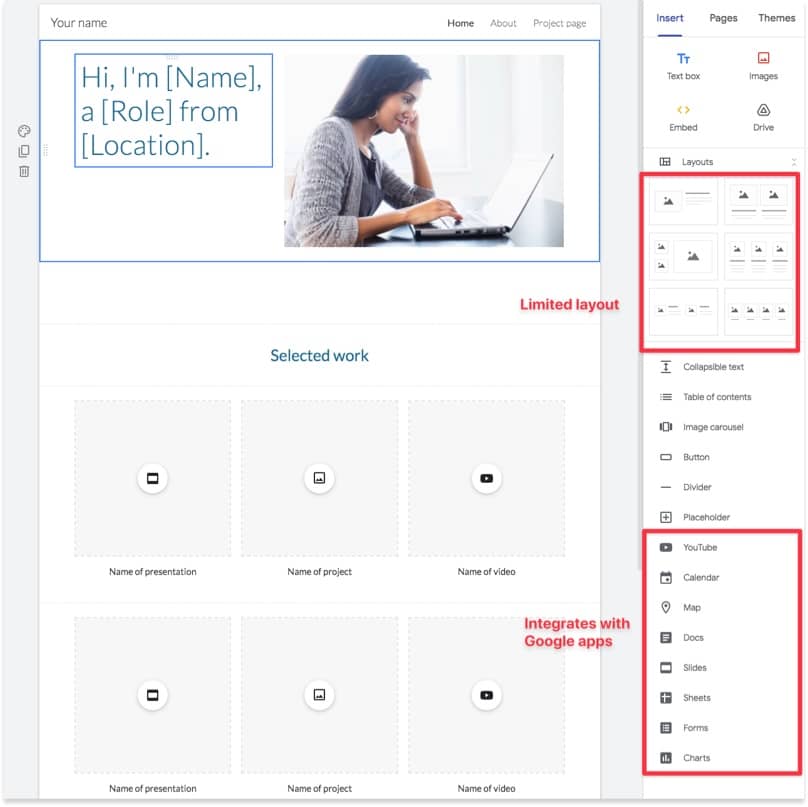 By placing these limitations, Google ensures your website will work on all screens and devices regardless of how you build it.
Once you're done, just hit publish, and you have a fully functional website with a link to share with anyone.
Other notable features that Google Site offers.
Set a custom URL for all your pages.
Integrates with other Google apps easily, e.g., Google docs, Maps, Forms, Calendar, Charts
Edit your site on all devices. You just need the link to edit, just like Google Docs.
Google Sites limitation
Limited themes. Only a handful of themes are available.
Limited apps and integrations. Only Google apps.
Limited customization.
No blog.
No eCommerce.
No membership site.
Google Sites summary
Google Site is great if you need to set up a free, simple, and practical website with a custom domain as fast as possible.
Design and customization are not a priority for you. You don't mind a basic-looking website as long as it works and displays all the information you need.
11. Wordpress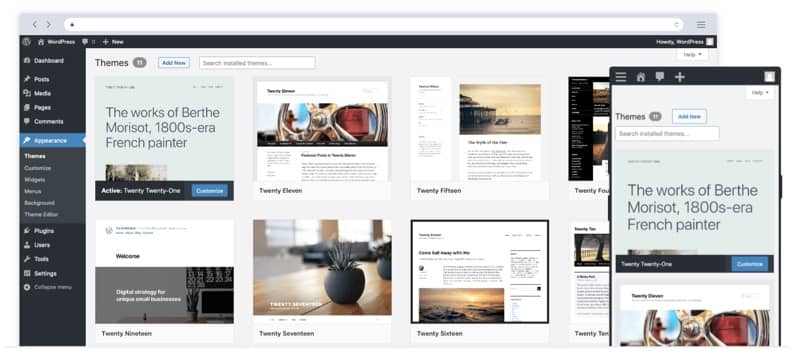 Wordpress isn't a website builder per se, but it is one of the most popular platforms for building a website.
To set up a Wordpress site, you have to get a custom domain and dedicated web hosting.
And since Wordpress is free, it is often the preferred choice for many web developers.
Pros
The best blogging platform — Versatile blog editor, schedule posts, easy to edit, built-in comments, search engine optimized (SEO), user management, etc.
Thriving plugins ecosystem — Wordpress is the most extensible website builder platform. Any feature you can think of, you can probably find in the plugins directory.
Vibrant and supportive community — Wordpress has been around a long time and has grown into a big community. You can easily ask and get help on the forum or hire a web designer or developer to build your website.
Easy to customize and DIY — There are popular tools that help users build web pages visually. Even those without design or technical skills can create a good-looking site without spending too much time. Popular visual page builders for Wordpress: Elementor, Divi, and Visual Composer.
Cost effective — If you're willing to spend time and learn to set up a Wordpress site, it'll cost you no more than $10 a month. About $5 a month for web hosting and $10 a year for getting a custom domain name.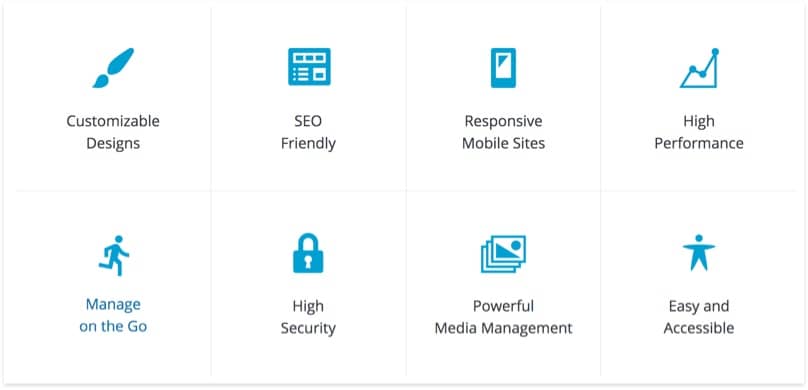 Cons
Learning curve —Setting up a Wordpress site is not a walk in the park. Sure, there are plenty of resources online (which can be overshelming). You'd still need to learn how to buy your domain name, compare and buy web hosting, connect your domain to your Wordpress site, and set up a Wordpress theme, among other things.
Time spent on managing the website — Once you have your site up and running, you need to regularly update and back up your site since Wordpress developers update the software frequently. Not to mention you have to keep your plugins updated and upgrade your servers when you get huge traffic. Published authors usually outsource this bit, but this would mean extra cost for the project.
Third-party dependency — If there comes a time when you need to customize, add features to your site, or when the site suddenly crashes or stops working properly (which happens to every Wordpress site), then you need a Wordpress expert or a web developer to help you out.
Also read: Wordpress vs Squarespace vs Wix vs Weebly
So which website builder should you choose?
If you need a general-purpose website for your business, then Hubspot is a great place to start. Tons of free templates (thanks to their collab with Themeforest) and marketing tools to help you get traction.
If you need a landing page for lead generation, then ConvertKit, GetResponse, and Landigi are good options. They all specialize in email marketing and dedicated landing page features.
If you're creating an eCommerce store, go with BranchBob, FreeWebStore, or Shift4Shop. They're all free and come with robust features for you to sell online for free. Although, if you reside in the US, Shift4Shop has a slight advantage as they have more advanced features built-in.
If you just need a beginner-friendly website builder to build a simple website for your business or personal site, then BigCartel, Ucraft, and Google Sites are great.
But if you need maximum customizability, advanced plugins, and blogging features, Wordpress is undoubtedly the best tool for it.
Frequently Asked Questions
How do I create a free website with my own domain?
Website builders such as Hubspot, BranchBob, and ConvertKit allow you to create a free website with your own domain.
These particular Youtube tutorials teach you how to set them up:
Can I get a free custom domain?
You can get a free custom domain from FreeNom and Github (if you're a student) and connect it to one of the website builders that allow you to add a custom domain for free.
What's the best free website builder?
Best is pretty subjective in my opinion, but after dozens of reviews, I can say Hubspot is best if you just need a free marketing site.
However, if you need an online/eCommerce store, then Shift4Shop and Branchbob come to mind.
If you want to create a personal website, then the best free website builder is Wix, Weebly, and Ucraft as they have a flexible web editor with well-designed templates.
If you want to create a free landing page, then the best website builder for it is ConvertKit. They have tons of pre-made, well-designed landing page templates that you can use to quickly kickstart your project or business.
Related Articles