Is there truly a free online store builder where you can run your business?
Yes, there is.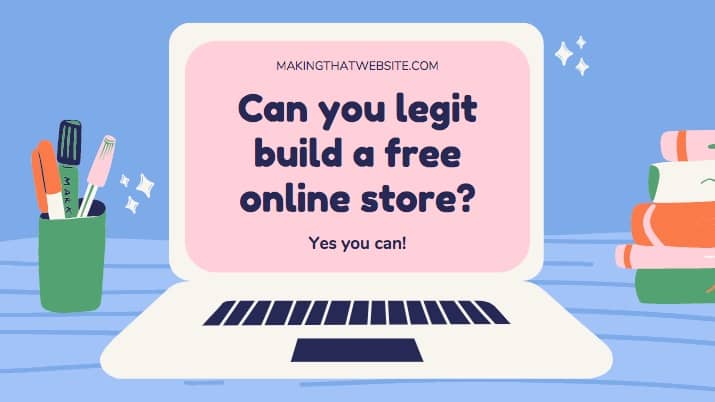 There are many eCommerce store builders in the market, most of them offer a free plan, but they are also severely limited.
Usually, they limit the number of products you can sell or restrict critical features, preventing you from running an eCommerce business.
After experimenting with dozens of eCommerce platforms, I've come to realize there are only a handful of eCommerce platforms that have little to no limitations and enough features to build and scale your eCommerce store.
For example, these website builders allow you to add a custom domain for free, which is usually reserved on the premium plan.
I'm going to show you exactly which free online store builder is worth your time.
But that's not all. I'm also going to tell you which paid eCommerce platform has the best value. These eCommerce solutions have some of the best customer ratings that can help you scale your business in the long run.
Here's a quick summary.
Best Free eCommerce platforms
Shift4Shop — Complete and robust eCommerce platform with 24/7 technical support.
Branchbob — Versatile eCommerce platform with one of the most generous free plans.
Square Online — Intuitive eCommerce platform built for local retail and professional service businesses.
Related: Find out which email marketing platforms that allow you to send automated emails for free, helping you build an email list, nurture customers, and retarget them with offers.
Best value eCommerce platforms for small businesses (under $30/month)
BigCommerce — Robust online store builder with advanced features built-in. Offers excellent customer support.
Shopify — One of the most popular online store builders with the largest app store ecosystem for eCommerce.
Squarespace — Website builder with some of the best online store designs.
WooCommerce — Customizable eCommerce platform built on Wordpress (Very low cost).
Big Cartel — Easy-to-use online store builder (with great designs) built for artists, makers, and creative professionals.
Ecwid — Easily add a shopping cart to any website. Extensive multi sales channel integrations.
eCommerce platforms price ranked (Sorted by cheapest entry price)
| eCommerce platforms | Starting price |
| --- | --- |
| Branchbob | Free |
| Shift4shop | Free |
| Square online | Free |
| Ecwid | Free |
| FreeWebstore | Free (Up to $30K in sales) |
| Big Cartel | Free |
| Mozello | Free |
| Websitebuilder.com | Free |
| Yola | Free |
| Strikingly simple store | Free |
| Site123 | $4/month |
| WooCommerce | $7/month |
| Ucraft | $10/month |
| Smoolis | $10/month |
| Sitebuilder.com | $10/month |
| Weebly pro | $12/month |
| Format | $12/month |
| Webnode | $13/month |
| Voog | $13/month |
| Webs.com | $13/month |
| Jimdo | $15/month |
| Tilda | $15/month |
| Wix | $17/month |
| Squarespace | $18/month |
| Ukit | $18/month |
| Duda | $22/month |
| Zyro | $25/month |
| Godaddy | $25/month |
| Bookmark.com | $25/month |
| Volusion | $29/month |
| Shopify | $29/month |
| Webflow | $29/month |
| Bigcommerce | $30/month |
View this table in a new window
Top 3 Free eCommerce platforms
---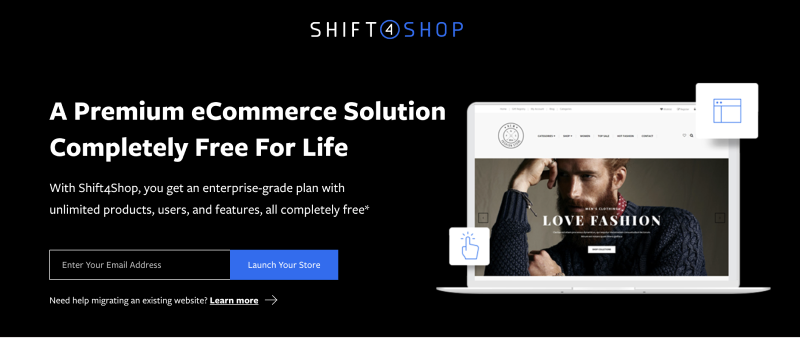 In 2020, Shift4 Payments, a public listed payment solutions company, acquired 3dcart and relaunched the eCommerce platform as Shift4Shop.
3dcart was already a complete and robust eCommerce platform known for providing outstanding technical support 24/7/365.
With the acquisition, Shift4Shop opened up its eCommerce platform completely free for everyone in the US.
So if you live in the US, you get to set up a zero cost Shift4Shop store with:
0 transaction fee
Sell unlimited products (physical & digital) and variants
Unlimited bandwidth
Inventory management
Advanced marketing tools and integrations
Real time shipping
Auto tax rates
Integrated sales channel
Over 50 plugins and apps
Plus more
And you'll have full access to the Shift4Shop support team 24/7 via email, chat, and phone.
Click here to view all Shift4Shop features
Shift4Shop Limitations
Unlimited Free plan for US customers only — If you live outside of the US, unfortunately, you have to pay (starts at $29/month) to get access to all the advanced features.
Basic theme design — Shift4Shop has over 100 free online store themes, but most of them are basic with outdated designs. They do plan to release premium eCommerce themes designed by experts in the future.
Shift4Shop Verdict
Building a free online store on Shift4Shop is as good as it gets, assuming you live in the US. You get all the advanced features other platforms charge hundreds of dollars per month for free on Shift4Shop.
What's more? They'll even migrate your current eCommerce website to Shift4Shop free of charge.
Branchbob is a versatile eCommerce platform with one of the most generous free plans for online store owners.
Most free plans on other eCommerce platforms limit the number of products you sell, impose high transaction fees, and reserve advanced features on higher-tiered plans.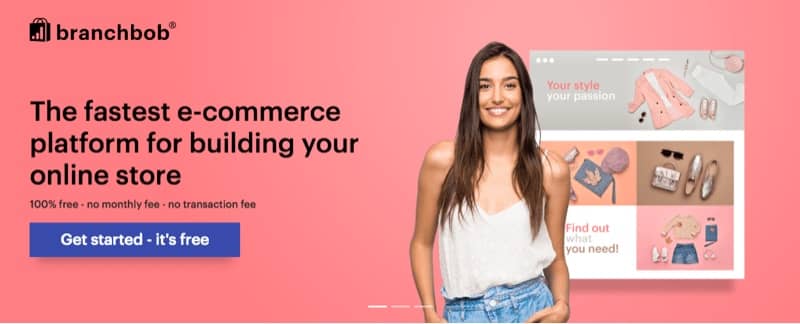 Branchbob, on the other hand, challenges the status quo. You get:
To sell unlimited products with unlimited variations
Pay 0 transaction fees
Get unlimited storage
Use your custom domain
Automatic inventory tracking
Multiple language support
All of that for free.
The value that Branchbob offers is hard to beat. But there are a few limitations to note if you think this is too good to be true (it almost is!)
Branchbob limitations
Basic theme design — Don't expect premium storefront design, and the options to customize are limited unless you feel confident about editing some code. Although, Branchbob intends to release premium themes you can purchase in the future.
Limited third-party apps — Sadly, there are very few integrations available to help extend your store. Fortunately, existing Branchbob features allow you to run a fully functional (and scalable) eCommerce store for free.
Branchbob logo — Branchbob includes their brand logo in your site footer.
Branchbob verdict
Suppose you want to run an eCommerce store for free. Go with Branchbob; you can't go wrong with it. You won't get the best-looking store (at least not for free), but it has all you need to run a basic online store. Check out all the features Branchbob offers if there's a deal breaking feature they don't have.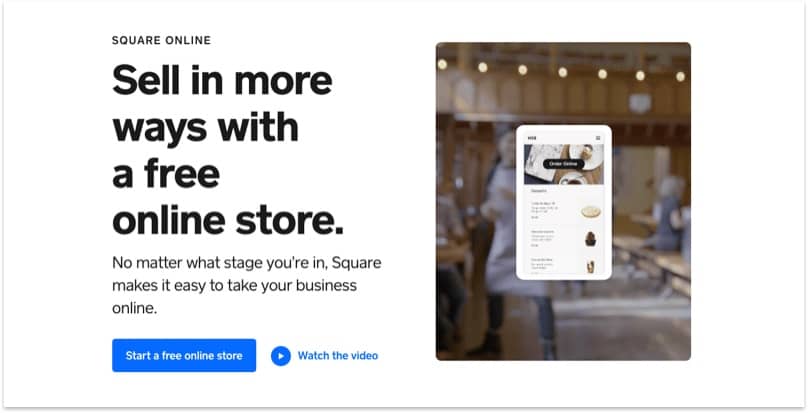 Square started as a digital payment company that helps businesses accept payments more easily. They have since built a lot more tools and eventually became an ecosystem that helps local businesses sell online.
One of those tools is the free online store builder.
While Square (at least on the free plan) doesn't offer as many features as BranchBob or Shift4Shop, it caters to a particular type of business very well.
If you run an offline business, whether that be a restaurant, retail business, or any professional services, then Square is the platform to choose to take your business online.
Why?
Square has built core features specifically for these businesses:
Professional website templates with advanced features dedicated to restaurants, professional services, and retail business.
An integrated POS system that syncs with product inventory.
Built-in appointment system (For professional services)
Flexible payment options (Online, manually entered payments, digital invoices, etc.)
Payroll, automatic tax filing, employee benefits
Curbside pickup, delivery, or shipping (add on)
Without paying any monthly fee, that's a pretty good deal.
One significant advantage that Square has over BranchBob and Shift4Shop is its app marketplace.
There is an abundance of third-party apps on the Square app marketplace that can help you sell more products, improve your inventory tracking, market your store to a bigger audience, and helps you manage the business more effectively.
On top of that, Square also has a more intuitive user overall, saving you precious hours and frustrations if you spend a lot of time setting up the store.
Square Limitations
Note: These limitations are only applicable on the Square Online free plan since we're comparing the cheapest eCommerce platform. You could remove these limitations if you decided to pay and upgrade to a premium plan.
No custom domain — On the free plan, your online store will have business-name.square.site as your domain name.
Ad branding — You'll find Square branding in the footer of your website.
6 Best value eCommerce store for small business (under $30/month)
While free eCommerce platforms like Branchbob, Shift4Shop, and Square are great, they do have limitations. And sometimes, it's better just to pay for the extra features to make your life easier or grow your business.
On this list, you'll find the best value online store builders (highly rated by customers) that are under $30/month.
1. Bigcommerce (Standard plan $30/month)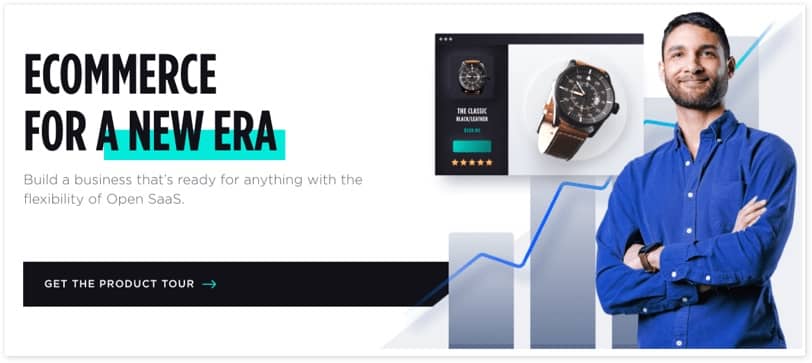 The one big thing that BigCommerce gets right is great customer experience — Making sure customers are taken care of, being helpful along the way, and provide convenience whenever necessary.
You can see It's all in the details.
Where other platforms charge you for advanced features and plugins, BigCommerce includes everything out of the box.
BigCommerce is also one of only few that allows you to import unlimited products (no limit) at scale.
Their customer support is responsive. If you have any questions or issues, you can connect immediately via 24/7 chat support. We all get tired of waiting for bots to connect you to a real person!
And if you need a grace period testing out the platform, they'll happily extend your free trial until you're ready.
Other notable BigCommerce features that stand out from the competition:
0 additional transaction fees
Value-added services (SEO consultation and business coaching)
Low credit card fees
Built-in multi sales channel (Amazon, eBay, Facebook, Instagram, Pinterest, Google, and more)
Recommended read: Best website builder for SEO
The downsides of Bigcommerce
It's hard to edit without coding — Unlike Shopify's drag and drop interface, modifying BigCommerce's store pages is quite challenging unless you recruit an engineer on your team or learn web development skills yourself.
Gets expensive quickly — BigCommerce is very quick on graduating you to their top $299 monthly plan if your business growth accelerates.
There are three paid plans on BigCommerce:
Standard ($29.95) — Sales up to $50,000
Plus ($79.95) — Sales up to $180,000
Pro ($299.95) — Sales up to $400,000
Once your sales exceed the plan ceiling, they'll automatically upgrade you to the next pricing tier.
Lacks major integration — While there are over 800 third-party apps on the BigCommerce app marketplace, it still doesn't come close to Shopify. And several users reported a lack of apps from major marketplaces to help distribution.
2. Shopify (Basic plan $29/month)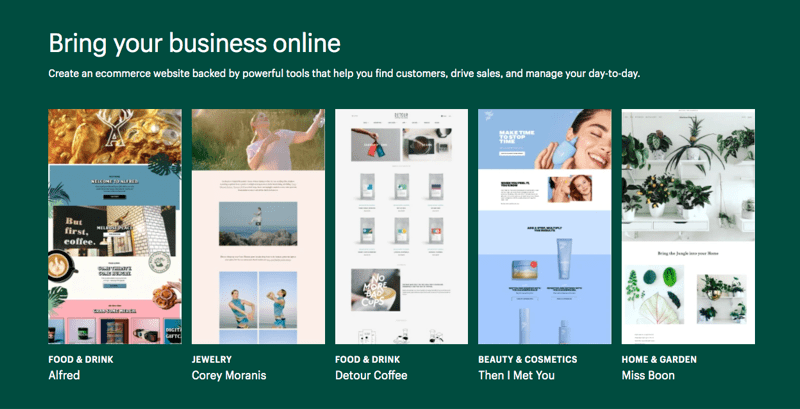 Shopify has become one of the most popular choices for building an online eCommerce store, for good reasons.
The Shopify team has invested a great deal in the platform's user experience, making it easy to set up an online store.  From marketing, payments, checkout to security, almost everything is being taken care of.
But what sets Shopify apart from its competitors is the app store ecosystem. The Shopify app store has a wide variety of free and paid plugins that complement everything Shopify offers.
If there's an eCommerce feature your store needs or a third-party integration needed, most likely there's an app for that in the Shopify app store.
The downsides of Shopify
App dependency - There is a considerable reliance on apps to fill the gaps where Shopify should already have the solution built-in.
Cost creep — Because there's a significant reliance on apps, it's easy to lose track of how many you have. You'll end up paying unnecessary monthly app fees if you are not careful.
Transaction fee — Additional 2% fee on top of the credit card transaction fee if you use third-party payment gateways (i.e., Stripe, Paypal).
Summary on Shopify
The potential cost for Shopify may be disappointing. And Shopify doesn't offer as many features out of the box compared to its competitors.
However, the ease of use and the website's simplicity makes it easy (and, dare I say enjoyable) to create a store.
If you factor in the time and frustration, Shopify will save you, investing your business future on Shopify might just be worth it.
Recommended read: BigCommerce vs Shopify vs WooCommerce (feature comparison)
3. Squarespace (eCommerce plan $26/month)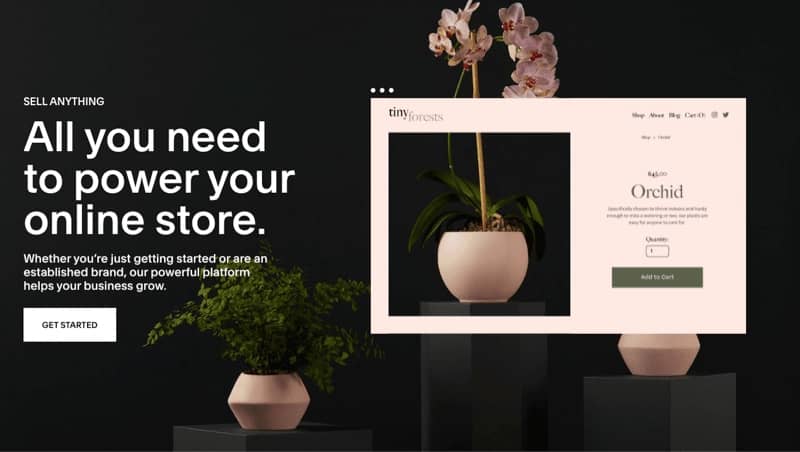 Squarespace is like the Apple of website builders. Everything is well-designed. The user interface is intuitive, they have world-class designers crafting their store templates, and it offers a powerful eCommerce platform to sell subscriptions, physical & digital products, and services.
While Shopify and BigCommerce are hard to customize (without technical skills), Squarespace is approachable, and it's easy for beginners to learn and customize.
Note that Squarespace won't allow you to change every aspect of the website, but every page element you do get to add or edit will fit the existing template perfectly, like lego pieces.
And they are guaranteed to work flawlessly on all desktop and mobile devices. That's how they maintain a minimum aesthetic benchmark for all its sites.
Other notable eCommerce features on Squarespace:
0 transaction fees
Unlimited products and variation
Rich product listings
Sell Memberships
Option to buy now and pay later
Built-in product reviews
Built-in blog
Social media integrations (Facebook, Twitter, Pinterest, Instagram, and more)
Gift cards
POS
Downside of Squarespace
Limited third-party apps — Squarespace doesn't have a plugin/widget/app marketplace like Wix and Wordpress. All third-party platforms have to go through Squarespace's official integration channel, i.e., they have to be integrated and approved by the Squarespace team.
Just a jack of all trades — Squarespace is a general website builder. Even though you can build an online store, a blog, and a membership site, it lacks advanced features for each of these use cases.
Summary of Squarespace
Squarespace is great if you're looking for an easy setup to sell online and not have to worry about managing/building the website. Just pick a design you like and set up your store in a matter of hours.
Squarespace's main benefit is that it allows customers to create a beautiful online store effortlessly. But as mentioned, it lacks advanced features (marketing, integrations, and customization) needed for a large scale eCommerce store.
Also read: Wordpress vs Squarespace vs Wix vs Weebly
4. WooCommerce ($5-10/month)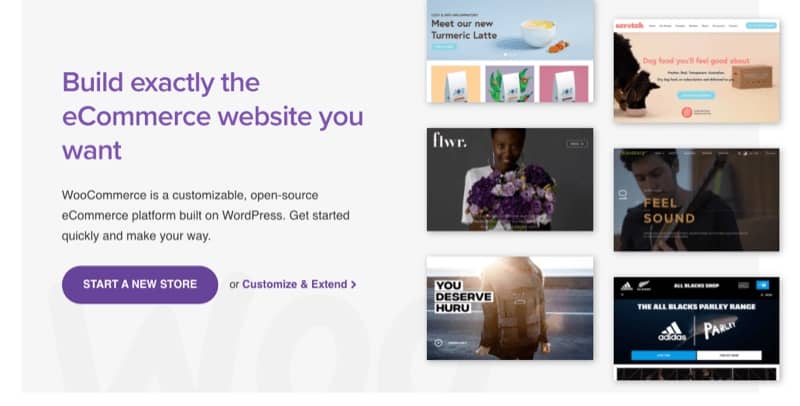 WooCommerce is a popular WordPress eCommerce plugin. Even though Wordpress is free,  you do need to get your web hosting ($5/month) and a custom domain name ($10/year).
WooCommerce is the platform to choose if you prefer to have complete control over your online store's functionality and design.
There are tons of drag-and-drop page builder plugins for WooCommerce and thousands of plugins available to extend your store.
Wordpress and WooCommerce's most significant advantage are their community — developers, marketers, and designers around the world who dedicated their careers to the platform.
Since Wordpress and WooCommerce have been around for such a long time (since 2003), there's no shortage of step-by-step tutorials, Youtube videos, and paid guides on how to set up.
If you're setting up a WooCommerce store today, you're guaranteed to find the support you need to build a successful online store. Even if you get stuck, you can easily find Wordpress developers and designers to sort you out.
WooCommerce Features that stand out:
Open source community
Affordable and scalable (100,000+ orders per day)
Best blogging platform for online store
Biggest app store marketplace with an abundance of free plugins
Extensive documentation
Has the most learning resources of any platform
Downside of WooCommerce
More to manage — Technically, you can set up a WooCommerce store all on your own, but it's also quite a bit to manage — managing domain name, SSL certificate, backups, and possibly hiring someone to keep an eye on security.
Integrations compatibility — While there's an abundance of plugins, not all of them are compatible with each other. If you run into an error (which you likely will), you will need to hire a Wordpress developer to fix it for you.
Lack of dedicated support — There won't be dedicated customer support agents (like Shopify and BigCommerce) around to help you. Instead, you have to rely on the Wordpress community to answer your questions or hire a Wordpress developer, which would incur extra costs.
5. Big Cartel (Platinum plan $10/month)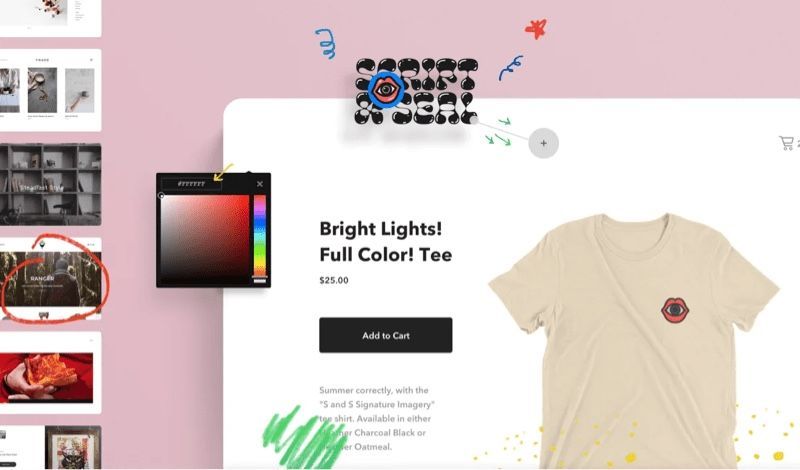 BigCartel is an inexpensive eCommerce solution for makers, artists, and creative professionals to set up a simple store and sell their products.
It's cheaper than alternatives like Shopify and BigCommerce; it gives you various ways to set up a store with a few clicks and offers flexible ways to set up product variations (e.g., color, sizes, format).
What makes Big Cartel unique for creatives is that they are made by the same people — independent artists who also run their Big Cartel stores. Some are musicians, illustrators, and filmmakers.
You can tell by the design of their website templates. They're unique, full of personality, and the layout is designed to highlight the artist's creative work.
Here are some great examples of Big Cartel stores:
Jose Roda sells his creative illustration via merchandise.
Ceramist Uno Ichi sells handmade ceramics behind her grandmother's house.
Abstract hand painting by The Feebles.
Big Cartel also offers a free plan, which allows you to sell up to 5 products. But the platinum plan ($10/month) is the one worth signing up for as you can up to 50 products plus time-saving features such as inventory tracking, bulk editing, and advanced store customization.
All Big Cartel plans come with
Free themes
Real time stats
Custom domain (even on the free plan)
Shipment tracking
Discount & promo codes
Auto calculated sales tax
What's cool about Big Cartel is that you can set your store on vacation mode when you're away or traveling.
Disadvantages of Big Cartel
Lacks integration — Big Cartel doesn't offer many integrations. So you will find yourself spending time copy-pasting info from your shipping service, social media pages, etc.
Lack cross channel selling — Big Cartel also lacks direct integration with other sales channels like Instagram, Facebook, Pinterest, etc. So there's going to more work involved if you want to set this up.
Summary for Big Cartel
If you need a simple online store to sell your work (physical, digital products, and services), Big Cartel is a great inexpensive platform for it. But if you need a large, multifunctional online store, you won't find enough Big Cartel features to support your business.
6. Ecwid (Venture plan $15/month)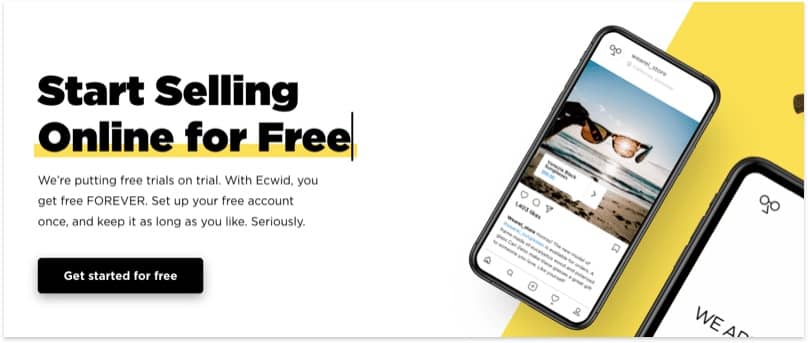 Ecwid (pronounced ECK-WID) allows you to easily add a shopping cart to any website, whether you're on Wordpress, Wix, Weebly, Squarespace, or others.
You can even add your Ecwid store on social media platforms and marketplaces such as Facebook, Instagram, Google Shopping, eBay, and Amazon.
The ability to sell on any platform is Ecwid's key value proposition. It's one of very few platforms that enable cross selling capabilities by default. Most other eCommerce platforms force you to buy third-party plugins to allow this feature.
On top of that, most customers praise Ecwid for how easy it is to set up an online store, even if you have limited experience. You can expect to set up a shopping cart over a weekend and plug it into your store without the help of experts.
Other notable eCommerce features that Ecwid offers:
Fast checkout for customers without having an account
Import unlimited products via CSV
Integrates with Square POS system
Accept payments via PayPal, Stripe, or offline payments.
Automatically create pages for shipping info, return policy, terms and conditions, and privacy policy
Add analytics pixel for Facebook, Google Analytics, and Pinterest
You can also build your store if you don't have one. Although, the designs are basic with limited customization.
After your store is set up, you get tips on making the store better, which is a friendly touch.
Disadvantages of Ecwid
Basic designs, limited customization — While Ecwid is excellent at helping you sell on other platforms, its design templates are basic at best with minimal customization available.
Only 100 products on the Venture plan — The Venture plan ($15/month) only allows you to sell up to 100 products. You can upgrade to the business plan ($35/month) that increases the quota to 2500 products.
It's still a good value option because you also get advanced features like a multilingual catalog, abandon cart emails, dimensional shipping rates, and more.
Ecwid Summary
Ecwid is great for medium-sized businesses with a sizable catalog and inventory. If you're an individual seller, you might find Ecwid a bit overwhelming. Either way, Ecwid has a reputation for responsive and reliable support who can certainly guide you on your eCommerce needs.