So you need a website, domain, and email combo for your business, but there's no shortage of website builders and email hosting companies in the market.
Which one should you choose?
In this article, I'll walk you through:
Which website builder actually provides email hosting
How much do they cost.
If they're easy to use and who should use them.
And the Pros and Cons you should look out for.
Let's dive right in.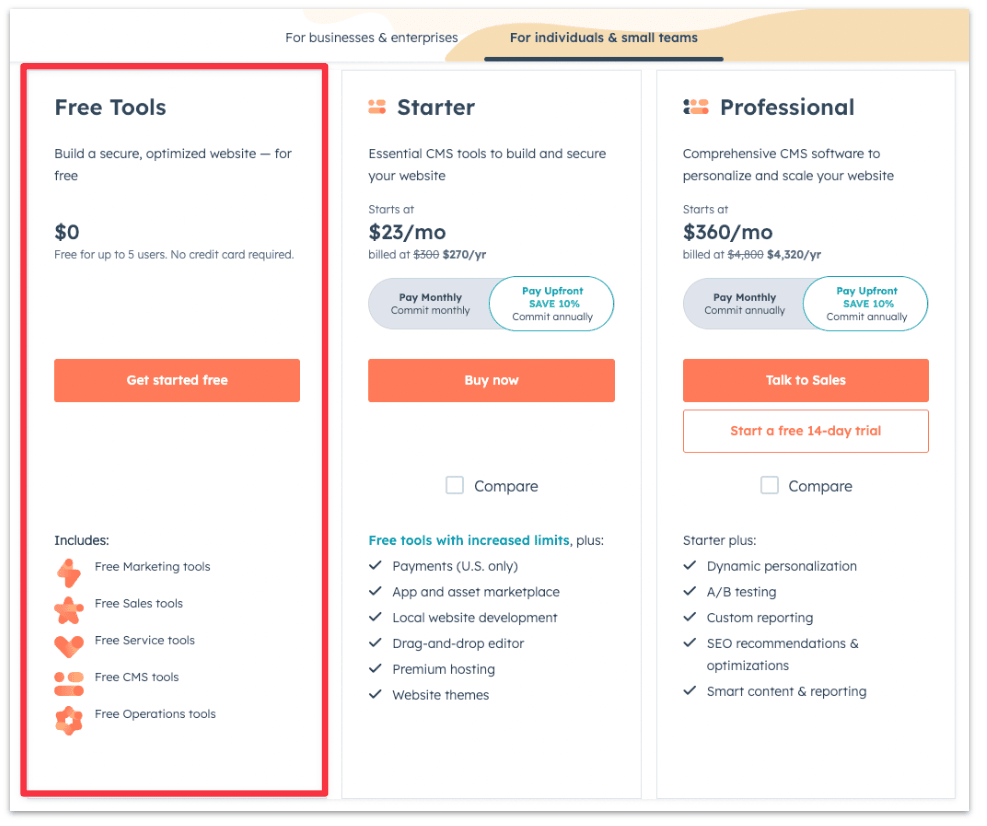 Hubspot started as a Customer Relationship Management (CRM) tool back in 2006 but has since grown into an all-purpose marketing software conglomerate today.
Their latest offer, the Free Marketing Hub, not only offers free CRM tools but also provides a free website builder, email hosting, and various other tools tailored for small businesses.
Part of their strategy is to offer a ton of free tools and resources to get customers in the front door in hopes they'll upgrade in the future.  And that's what Hubspot is doing with their free Marketing Hub.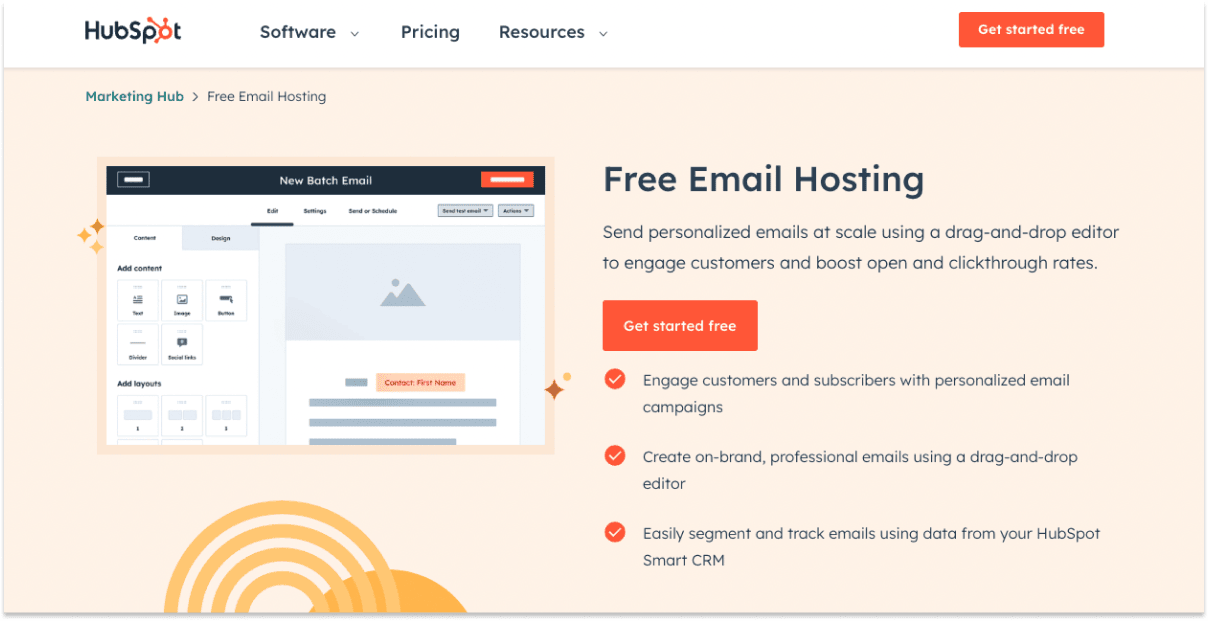 What's good about Hubspot's free Marketing Hub:
Free CMS — Create a free website or landing page (You can also connect a custom domain to the website for free).
There's also a blog included in the free plan.
They partnered with Themeforest, providing free access to a great selection of professional website templates. Check out this landing page I created using Hubspot.
Depending on your subscription plan (even on the free plan), you will receive a complimentary email address from Hubspot, which could be hubspotfree.net, hubspotstarter.net, or hubspotemail.net.
The most underrated features on Hubspot are the free marketing and CRM tools to help you get traction: Email automation, sending up to 2000 emails per month, live chats, ads retargeting, and more.
Cost of using Hubspot:
You can build a website, set up a blog, and connect a custom domain, all for free. Plus, you can use the provided free email address from Hubspot to send marketing emails.
But, if you want to send marketing emails from a custom domain you own, like person@companyname.com, you'll need to subscribe to their Starter plan, which costs $18 per month.
Learn more about Hubspot's Free email hosting.
What you need to know before using Hubspot
Before you dive in, here are some important considerations to keep in mind, even though Hubspot offers a ton of free features:
Hubspot logo on your website pages — Like all free tools, you'll find a "Built on Hubspot" logo at the corner of your website (example). You will need to upgrade to remove it.
It's NOT built for eCommerce — Hubspot is great if you need a landing page or a marketing site, but if you need a full-featured eCommerce store, you should consider FreeWebstore, BranchBob, or Shift4Shop instead.
It can get expensive after you upgrade — Hubspot has a pretty inexpensive starter plan ($18/month) when you decide to upgrade and remove their logo. But the cost will grow exponentially once you start using some of the advanced tools like omnichannel marketing automation (here's the full list).
Is Hubspot worth it?
If you're a small or medium business owner looking for an affordable website and email hosting, Hubspot is a good place to start.
You can make the most of HubSpot's free website and marketing tools (while they last). Considering all their features, you can go a long way without spending a dime.
Head over to their Free Marketing Hub page and select "Get started free."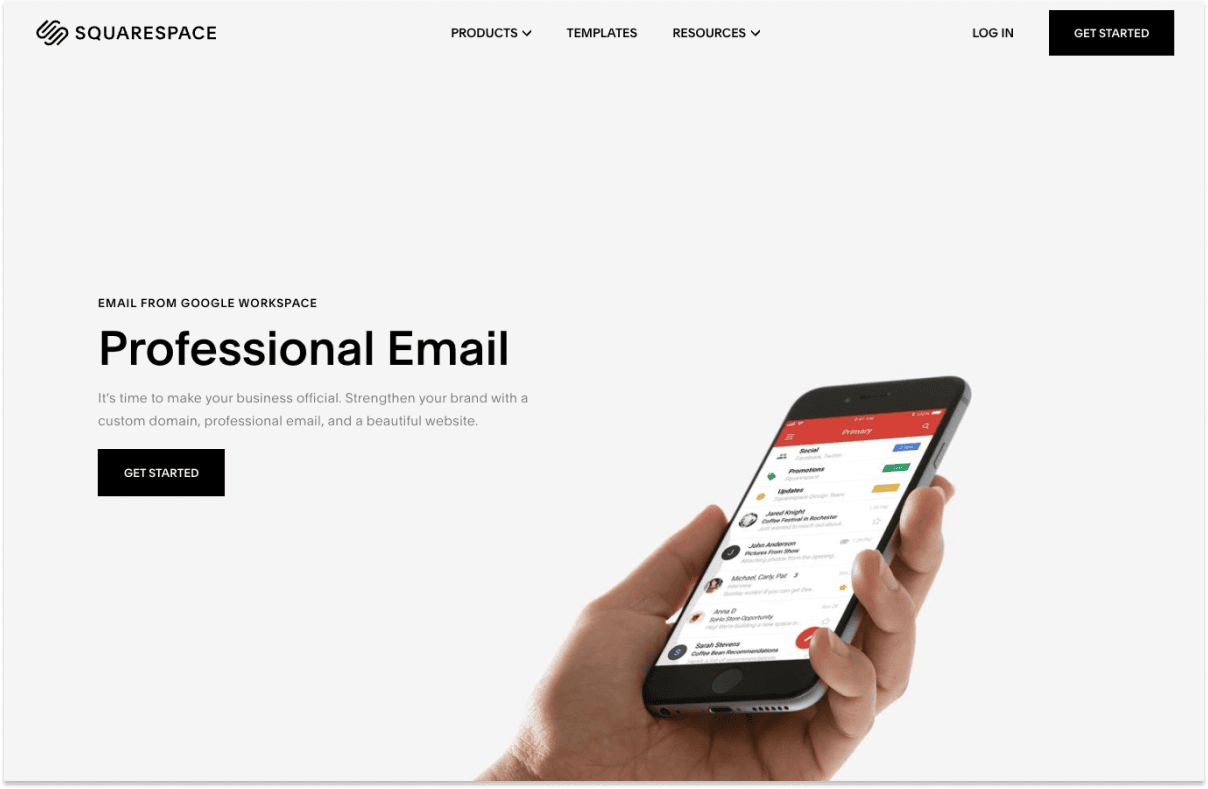 Using Squarespace feels much like using Apple products.
Their website templates are sleek and visually appealing —one of the best in the industry, and the whole website setup process is seamless.
From setting up a domain to designing it, managing email campaigns, blogging, and more. Squarespace has done a great job designing the entire user experience of website creation that makes it easy for beginners to set up a great-looking site.
Nevertheless, it's worth mentioning that SquareSpace comes with a higher price tag than its competitors, just like Apple. But more on that later.
As for email, Squarespace is a Google Workspace reseller.
When you subscribe to the Squarespace business plan, you'll get a free custom domain, a professional Gmail (i.e Gmail for business), and a Google Workspace account.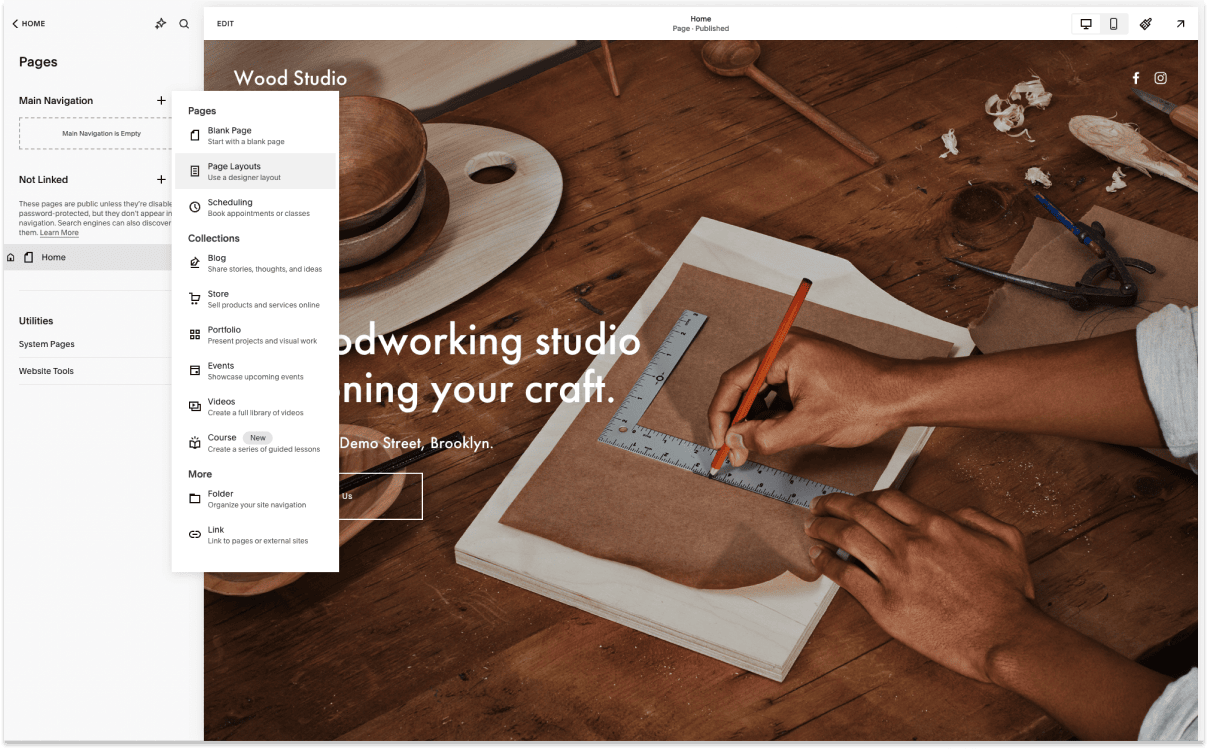 They're free for the first year, and after that, your custom domain and Google Workspace account will automatically renew at the regular annual or monthly rate.
Advantages of using Squarespace
Cost of using Squarespace, including email hosting and services :
Squarespace doesn't offer a free plan. While you can experiment designing your site and setting up a blog, you will need to upgrade to a plan if you want to publish your site.
And if you need a custom business email address (that's bundled with the Google Workspace), you'll need to upgrade to the Business plan, which costs $23/month.
Additionally, during the first year, you'll get the custom domain and Google Workspace for free. Following this, the domain renewal will cost $20 per year, and the renewal for Google Workspace will be $72 per year.
Learn more about Squarespace Business plan.  
Disadvantages of using Squarespace
No free plan — Squarespace doesn't have a free plan, unlike its competitors such as Wix, WordPress, and Weebly, where you can publish a website live at no cost.
Squarespace is more expensive —  Wix, for example, also partners with Google for Google Workspace offers a business plan starting at $17 per month, compared to Squarespace's $23 per month.
Limited extensions/integrations — SquareSpace doesn't have a plugin/widget/app marketplace like Wix and Wordpress. All third-party platforms have to go through Squarespace's official integration channel, i.e. they have to be integrated and approved by the team at Squarespace.
So, should you use Squarespace?
Squarespace is undeniably pricier than some of its competitors. However, if you're a beginner who prioritizes great user experience and simply wants an easy way to create an impressive-looking website, Squarespace strikes an excellent balance.
You won't have to wrangle with complex UI editors or manage third-party apps and backups. As Steve Jobs famously said, "it just works".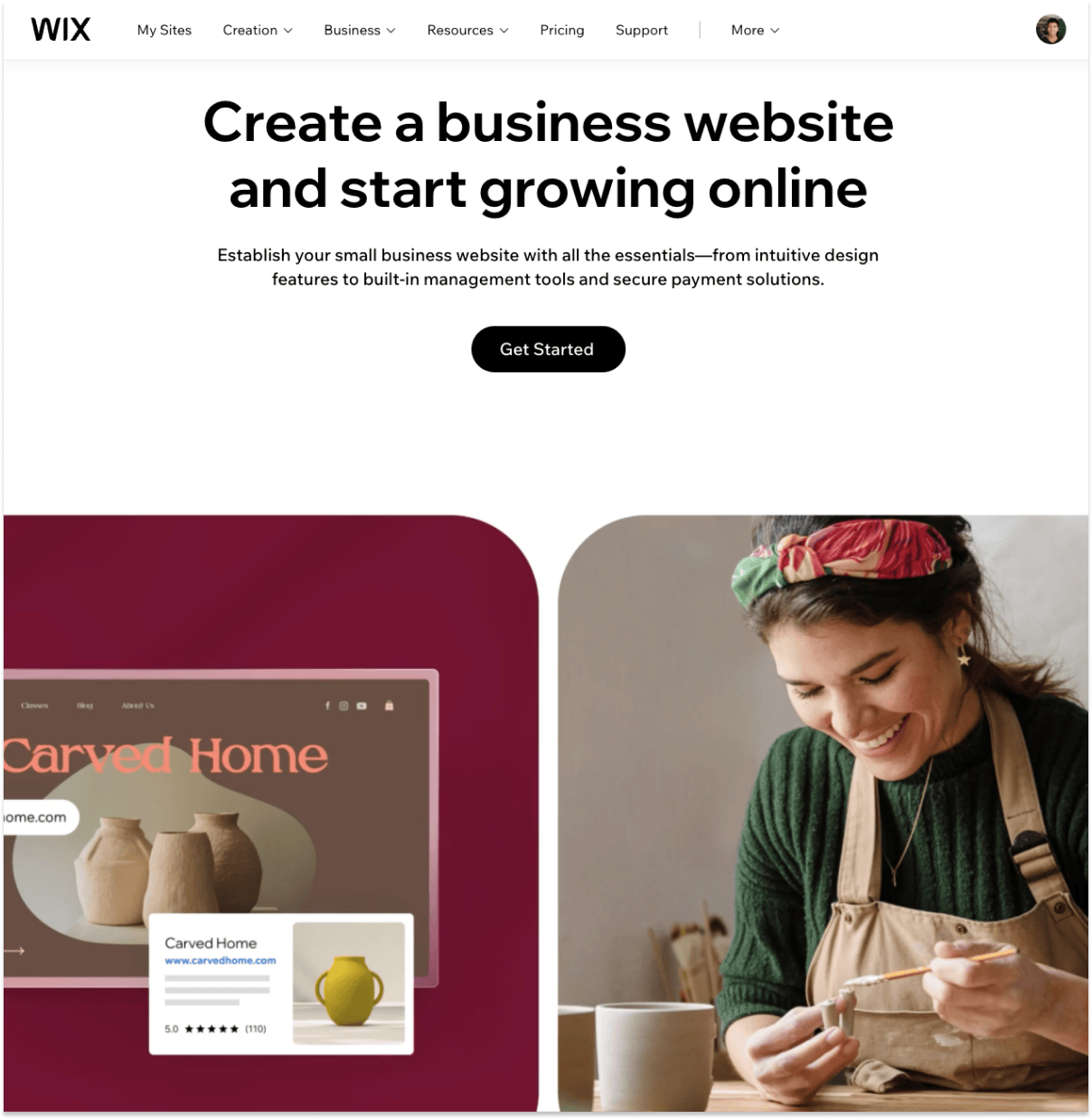 Web designers used to hate Wix for good reasons. Their web editor was slow and lagged all the time; they had a bad reputation for SEO (Reddit posts like this are common), and the whole website creation process was needlessly complex.
But I've given it a good spin over the last few months and was pleasantly surprised by how far they've come along, so much so that I can recommend it to build your own personal site and even for local businesses.
A few major updates that made the difference:
And just like Squarespace, Wix is also a Google Workspace reseller.
You can pick any premium plan on Wix (that allows you to connect your custom domain), and then you can purchase a mailbox, which is essentially a Google Workspace with a custom email address, as a separate add-on.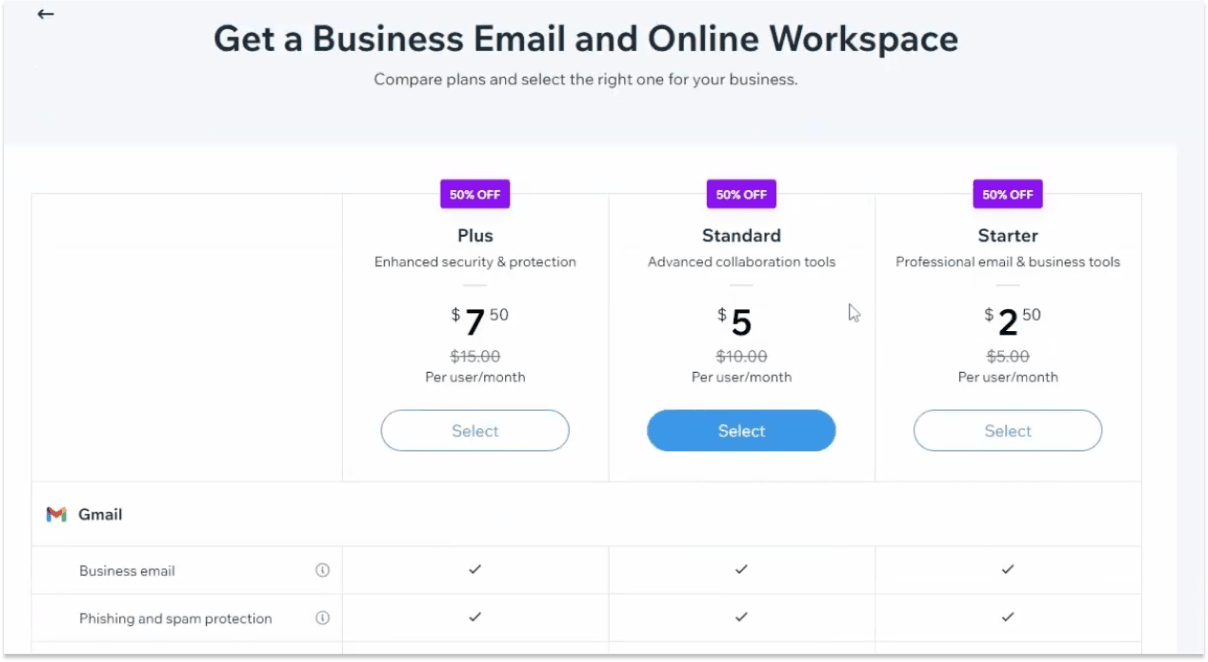 The cost for using Wix, including email services
Wix has a forever-free plan you can use to publish a live website, but you won't be able to connect to a custom domain unless you upgrade.
The cheapest Wix premium plan you can purchase is the Basic plan, which costs $4.50/month.
You can purchase the Google Workspace with a custom email address separately for as low as $2.50/month up to $7.50/month, depending on your needs.
What you should know before using Wix:
You can't export your wix site — Quoting Wix' help page: "Your Wix site and all of its content is hosted exclusively on Wix's servers, and cannot be exported elsewhere."
You can't change website tempalte — Wix doesn't allow you to apply a different template once the website is set up. However, there is a way around that.
Is Wix worth it?
Overall, Wix is good for small and medium businesses (SMBs) that don't have a dedicated web support team.
If you need an affordable custom website with email services like inbox and sending email campaigns from a custom business email address, you can get it done with Wix for under $10/month.
Learn more about getting a business email address on Wix.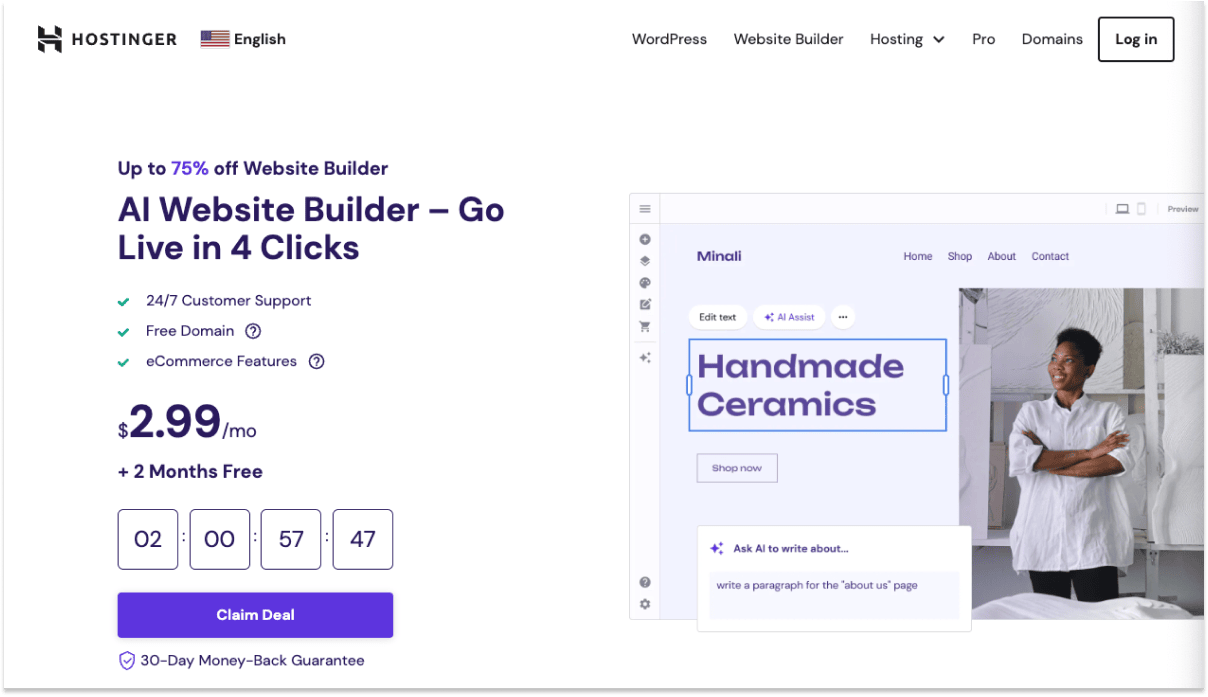 Did you know Hostinger has a side project named Zyro?
Back in 2019, Hostinger introduced Zyro, a simple website builder with AI features, to help users effortlessly establish their online presence with an elegant drag-and-drop website builder
In late 2022, however, they decided to integrate Zyro into Hostinger's main web hosting business.
Hostinger is known for being one of the most cost-effective web hosting solutions in the industry. Now, they can offer even more with their website builder services
Create up to 100 websites — This is an exceptional offer, considering that other website builders often charge more than $5 per website
Get a free custom domain
Get free email address and hosting — You can create up to 100 email addresses, and each inbox comes with 1GB of storage.
Note: You need to sign up for a paid plan to be entitled to these bonuses.

Cost of using Hostinger website builder
Hostinger's pricing plan differs from other website builders as it requires prepayment for access. You can select a prepayment option for either one month or extend it up to four years:
1 month — $11.99
1 year — $35.88 (which comes up to $2.99/month)
2 years — $71.76 (which comes up to $2.99/month)
4 years — $143.52 (which comes up to $2.99/month)
After the initial plan expires, it will automatically renew at a rate of $6.99 to $11.99, depending on the plan you had previously chosen.
Things to note before you use Hostinger
No free plan nor free trial — You need to sign up for a paid plan before you can use Hostinger's website builder. It's a shame, given most website builders let you try out the platform before committing. However, they do have a 30-day money-back guarantee.
Website builder still in its infancy — Hostinger fulfills most basic website needs, but it lacks a robust third-party plugin ecosystem and could benefit from some minor editor improvements. Nonetheless, it's reassuring to know that they have an impressive product roadmap in place for their website builder.
Verdict on Hostinger's new website builder
In my experience, Hostinger website builder is mainly for smaller projects like personal website or a marketing site for small businesses.
You can get by if you want to set up a basic store and sell a few products. Beyond that, I'd recommend a full-featured eCommerce store builder like Shopify, Shift4Shop, and BigCommerce instead.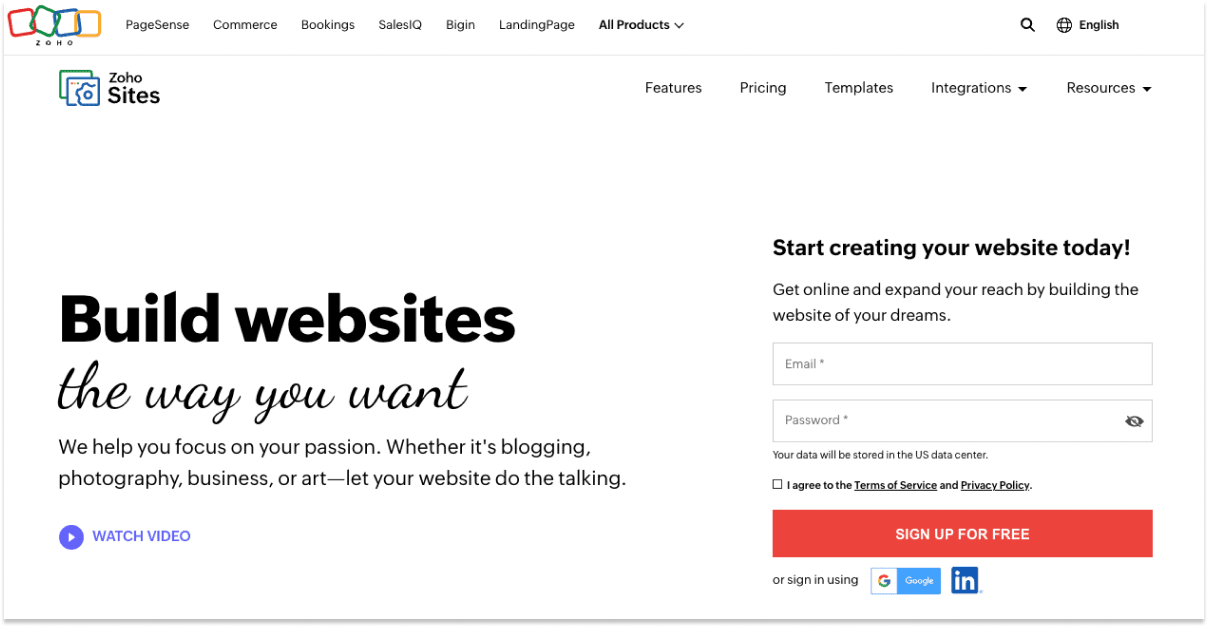 Zoho was a popular CRM tool back in the mid-2000s.
It now offers a range of products that directly compete with tech giants like Microsoft and Google. Their big-hairy-audacious goal is to provide all-in-one web solutions tailored for small businesses, and I think they have a good shot at that.
To date, they've released over 50 products that cater to nearly every online business task:
Website builder — With lead generation tools, one-on-one bookings, and eCommerce capabilities.
Mail — Inbox with email hosting for multiple domains.
CRM — Contact management, sales forecasting and pipeline management.
Bookkeeping and accounting — Generate invoices, bills, and estimates, as well as managing tax rates and porting.
HR — Document and employee database, time tracking, job, scheduling, and more.
Support desk — ticket management and live chat.
And a whole host of products not listed here.

Cost of using Zoho with custom email and inbox
Zoho offers two pricing types, and note that there is NOT a forever-free plan available.
Piecemeal pricing — You can subscribe to individual Zoho products. For example, the website builder is priced at $8 per month, while email hosting costs $1 per user per month.
Zoho One — Get access to more than 50 Zoho products for a flat rate, starting at $45 per month per employee. You get 20% discount if you opt for the yearly plan.
What you should know about Zoho before diving in
No free plan — But they do offer a 15-day free trial. You won't be able to publish your website online unless you opt for a paid plan.
Customization Constraint — Zoho's website builder primarily uses pre-made sections and templates to kickstart your design. While these layouts are mobile-responsive and adapt to various screens, you might find limited options for creating custom mobile layouts.
Limited documentation and online resources — Be prepared to learn as you go and learn on your own. Unlike more popular platforms like Hubspot, the documentation on how to set up Zoho products seems limited.
Should you use Zoho?
For smaller businesses that just need a website with email hosting, there are more affordable options like Hubspot and Wix.
For medium to large businesses with dedicated teams and departments. The Zoho One will save you in the long run. You get bundled access to various tools, including desk support, HR management, and the whole lot, all at a fixed rate.
Honorable mentions: Other website builders that offer email hosting
These website builders and platforms also offer custom email addresses, business mailboxes, and hosting services, but they are either relatively new or deliver subpar performance:
Frequently asked questions about building a website with a dedicated email address
Which website builder comes with an email and inbox?
At the moment, these website builders offer email hosting and inbox services:
Hubspot
Squarespace
Wix
Hostinger
Zoho
GoDaddy
SiteGround
Name.com
Namecheap
Is there any free website builder that lets me use my own domain?
Almost every website builder lets you use your own domain, but only a few do it without any cost, for example, Hubspot, ConvertKit, and Google Sites,
Here's a comprehensive list of website builders that allow you to add custom domain for free.
How to get a free domain?
You can get a free domain from Freenom, but it comes with a catch — you can only choose a select domain name.
Here are other ways you can get custom for free.  
What is the difference between web hosting and email hosting?
Hosting is a service that keeps your information online. Web hosting lets you create and store website content, while email hosting stores your email data.
Does web hosting include email?
Most web hosting companies allow you to you set up a custom domain and email address on their platform. However, not all website builders come with a website builder.
Some examples of web hosting companies that offer both website builder and email hosting are:
Hostinger
Namecheap
Name.com
SiteGround
GoDaddy
Related articles: