Check out these (lesser-known) top 5 lead generation website builders I would recommend to B2B, small businesses, and consultants.
This is based on my recent research into the most effective lead generation website examples and their conversion strategies.
I'll detail the specific lead generation features they offer, showcase businesses effectively using them for lead generation, and highlight important considerations before you decide to use these tools.
Here's the TL;DR version:
Now, let's get into the details.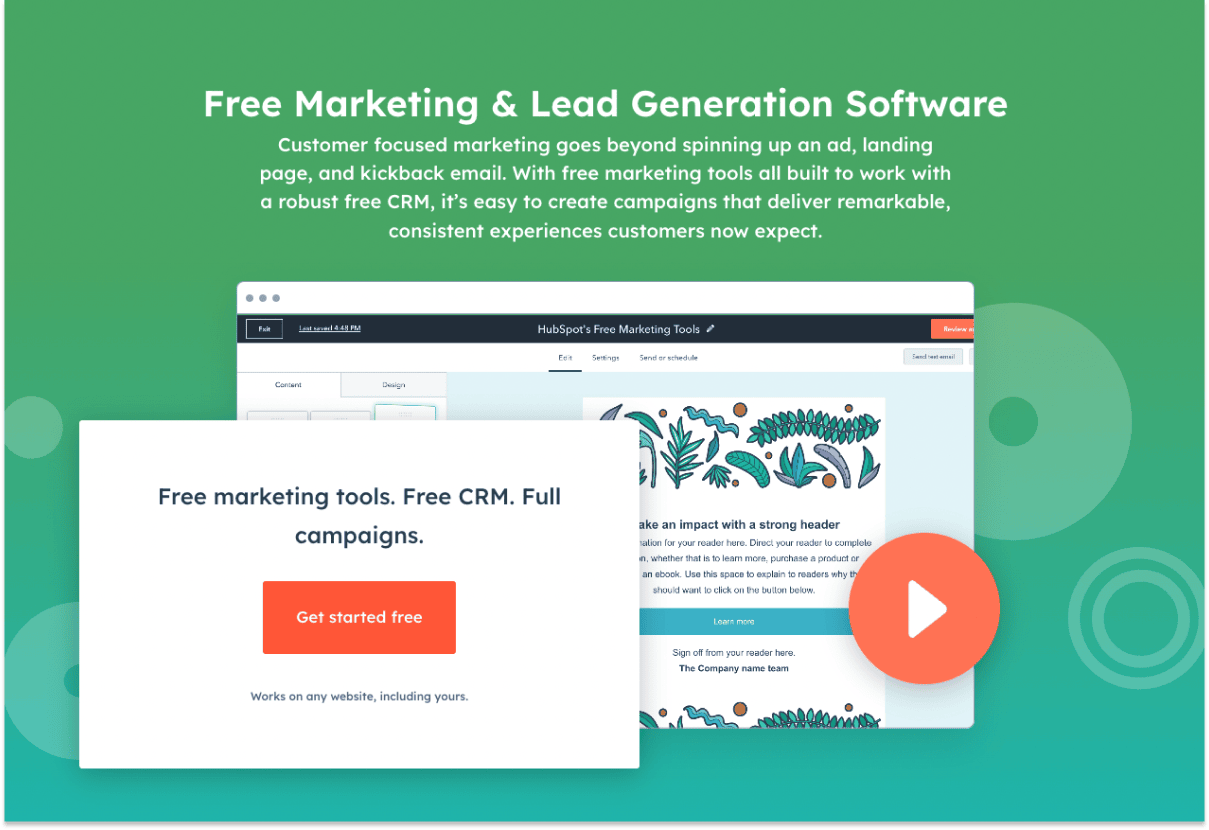 Guess what?
Not everyone knows about this, but HubSpot has an underrated set of free tools that B2B and small business owners can use to seriously boost their lead generation efforts.
Some of these include:
Create a free website or landing page with a customizable form builder.
Bonus: You can even connect a custom domain to your site for free!
Pre-made templates are available to collect business inquiries, event registration, ebook downloads, and even collect payment.
Free CRM tools (which is what they're known for) allow you to track each lead's journey with your business.
Segment and nurture leads with automated emails and targeted ad campaigns.
Automatically follow up with new leads!
And there's a boatload of free features not listed here.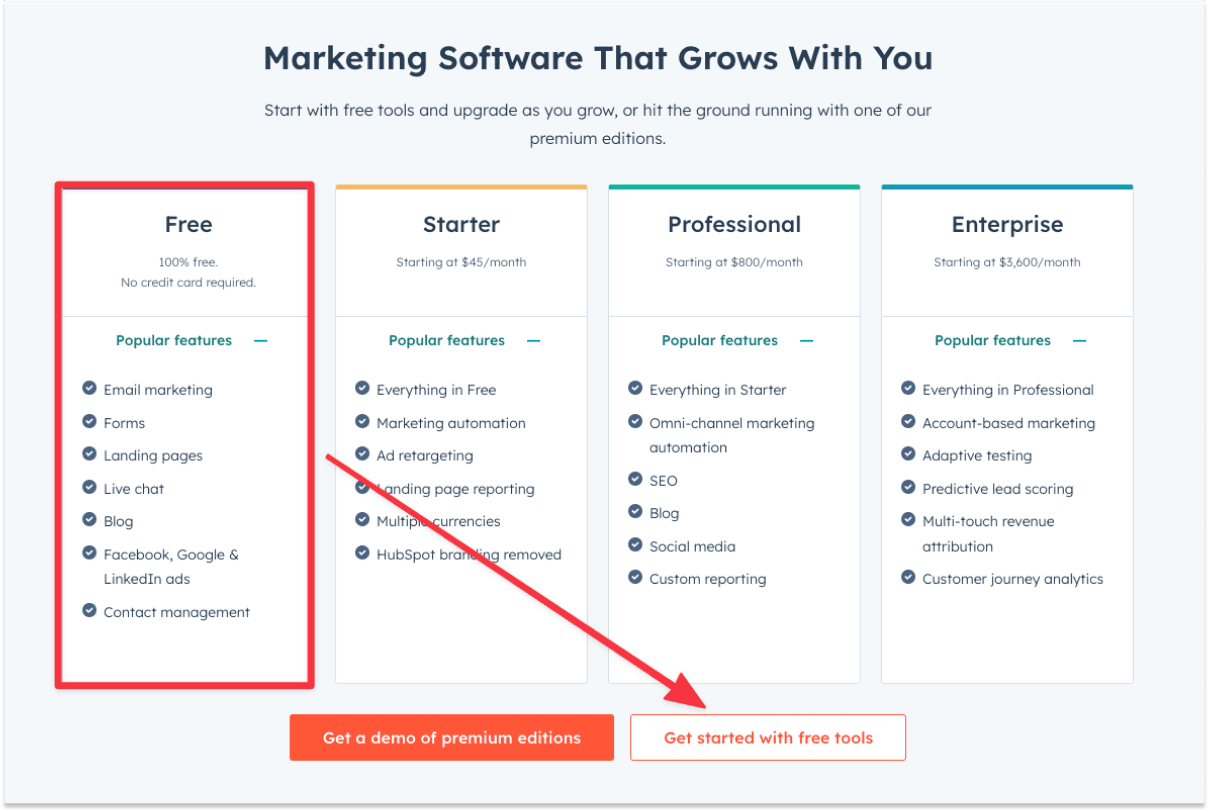 But that's part of being a huge publicly listed conglomerate. HubSpot's strategy is to give people a bunch of free tools and resources right from the get-go, hoping that these customers will choose to upgrade later on.
Check out these B2B and small business lead generation website examples built on Hubspot.
What you should know before using Hubspot:
Hubspot logo on your website — Just like with any free tools, you'll spot a "Built on HubSpot" logo hanging out in the corner of your site (example). You will need to upgrade to remove it.
It's NOT the best for eCommerce — HubSpot is great for landing pages and marketing sites, but for a full-on eCommerce store, check out Shopify, BigCommerce, or Shift4Shop instead.
Costs can ramp up after you upgrade — Hubspot has a pretty inexpensive starter plan ($18/month) when you decide to upgrade and remove their logo. But the cost will grow exponentially once you start using some of the advanced tools like omni-channel marketing automation (here's the full list)
Is Hubspot worth it?
If you're a B2B or small business owner looking to ramp up your lead generation efforts, Hubspot is a good place to start.
You can make the most of HubSpot's free website and marketing tools (while they last). Considering all their features, you can go a long way without spending a dime.
Head over to their Free Marketing Hub page and select "Get started free."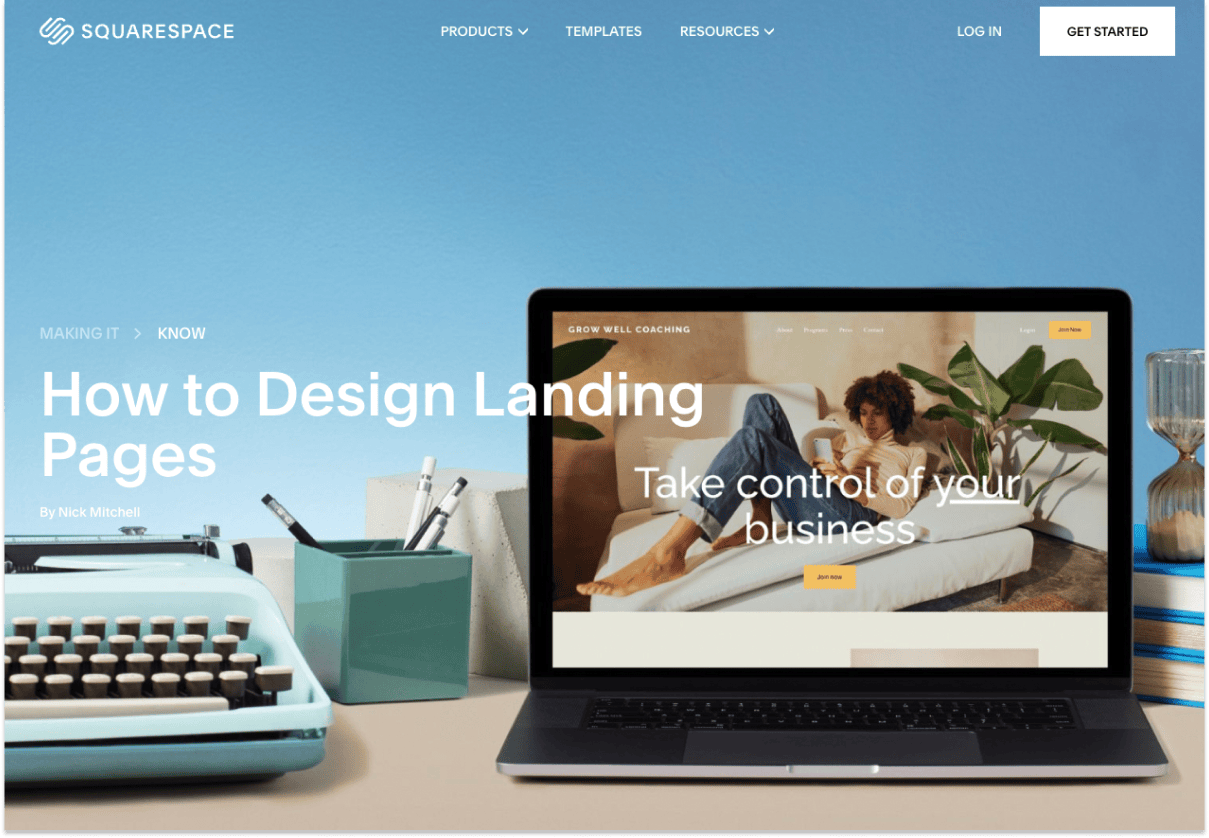 Squarespace isn't known for lead generation, but there's a surprising number of freelancers and consultants who'd use Squarespace to book with clients (a.k.a generating leads for their business).
Check out some of these examples.
Few reasons why consultants prefer to use Squarespace:
Squarespace templates incorporate a unique design language — Large, high-quality photos, clean design, and bold typography — most consultants prefer this aesthetic to build their personal brand.
Squarespace has also built a great community of designers and developers, offering courses and high-quality design services to build polished websites for their clients.
Like Apple, all features that Squarespace releases are well polished: Pre-designed form booking layouts and service pages that are ready to be plugged into their website. There are a ton of other pre-designed layouts too like FAQ, Privacy Policy, Reviews, digital product page, etc.
They also have an ecosystem of appointment booking, email marketing, and lead generation tools that work seamlessly with each other.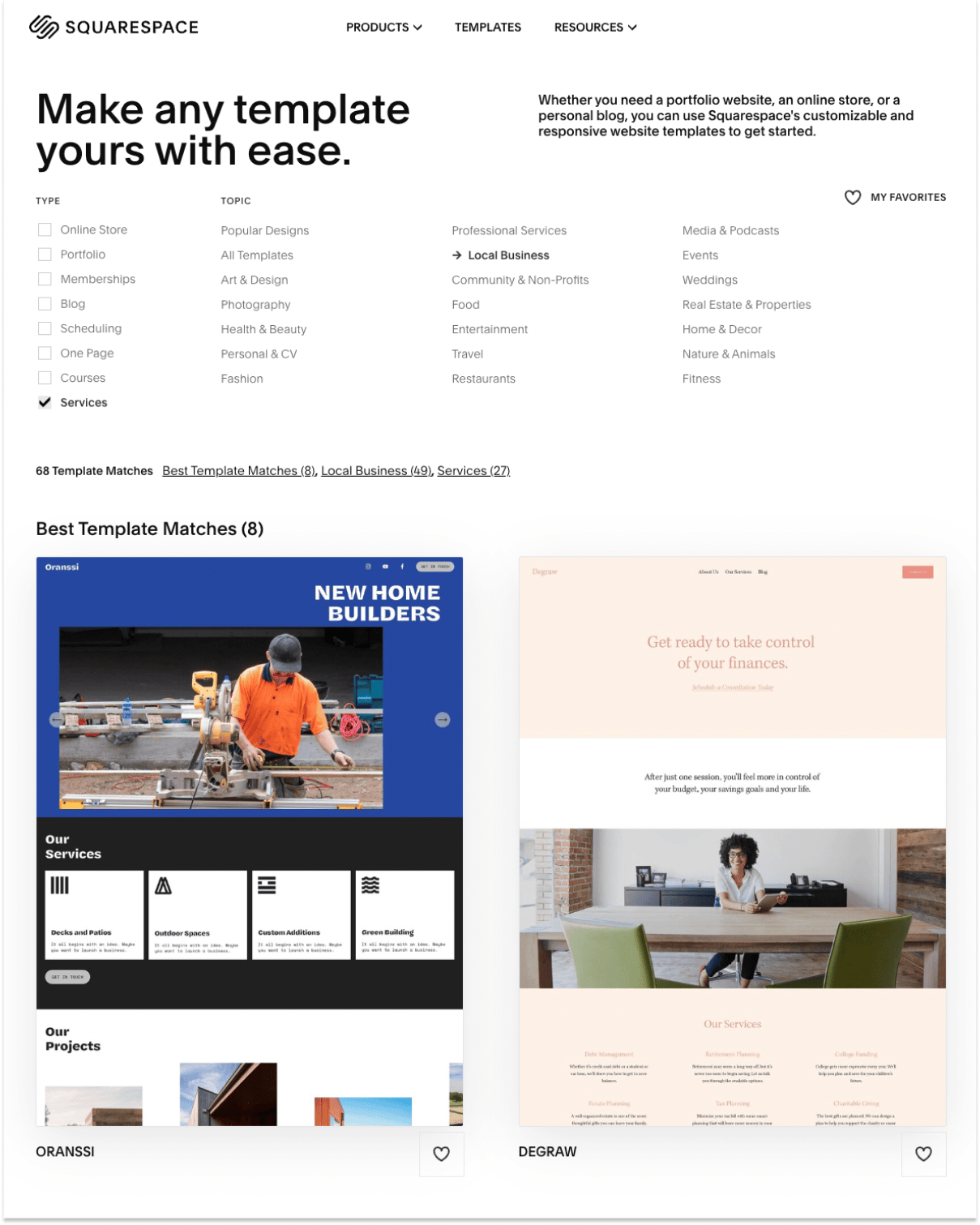 While Squarespace doesn't have the most advanced lead generation tool, it more than compensates with its user-friendliness, great customer support, and great design.
It's why most small businesses and individual consultants adore Squarespace.
It just works.
That said, other non-consultant-related businesses have used Squarespace to build landing pages and generate leads for their businesses too.
For example, here, I've listed the types of landing page other businesses have built, some of which includes landing page for short-term rentals, marketing services, webinar, conference, book launch, and more.
What to keep in mind before using Squarespace
Squarespace doesn't offer a free plan — Signing up for Squarespace is free, and you can design as many pages as you'd like. However, to actually publish your website, you'll need to opt for a paid plan.
Limited customizability — The reason why all Squarespace websites look great is because they impose limitations on their editor. You won't be able to create a free-flow layout like you can with other website builders (e.g., Wix).
Email marketing and lead generation tools are extras that come with an additional cost on top of your Squarespace plan. Keep in mind, these add-ons can accumulate and impact your expenses.
Verdict on Squarespace
If your main goal is ease, and you're okay with investing more for a site that's visually appealing, drives business leads, and needs minimal maintenance on your end, then Squarespace is a solid choice. This way, you can dedicate your time to your craft and business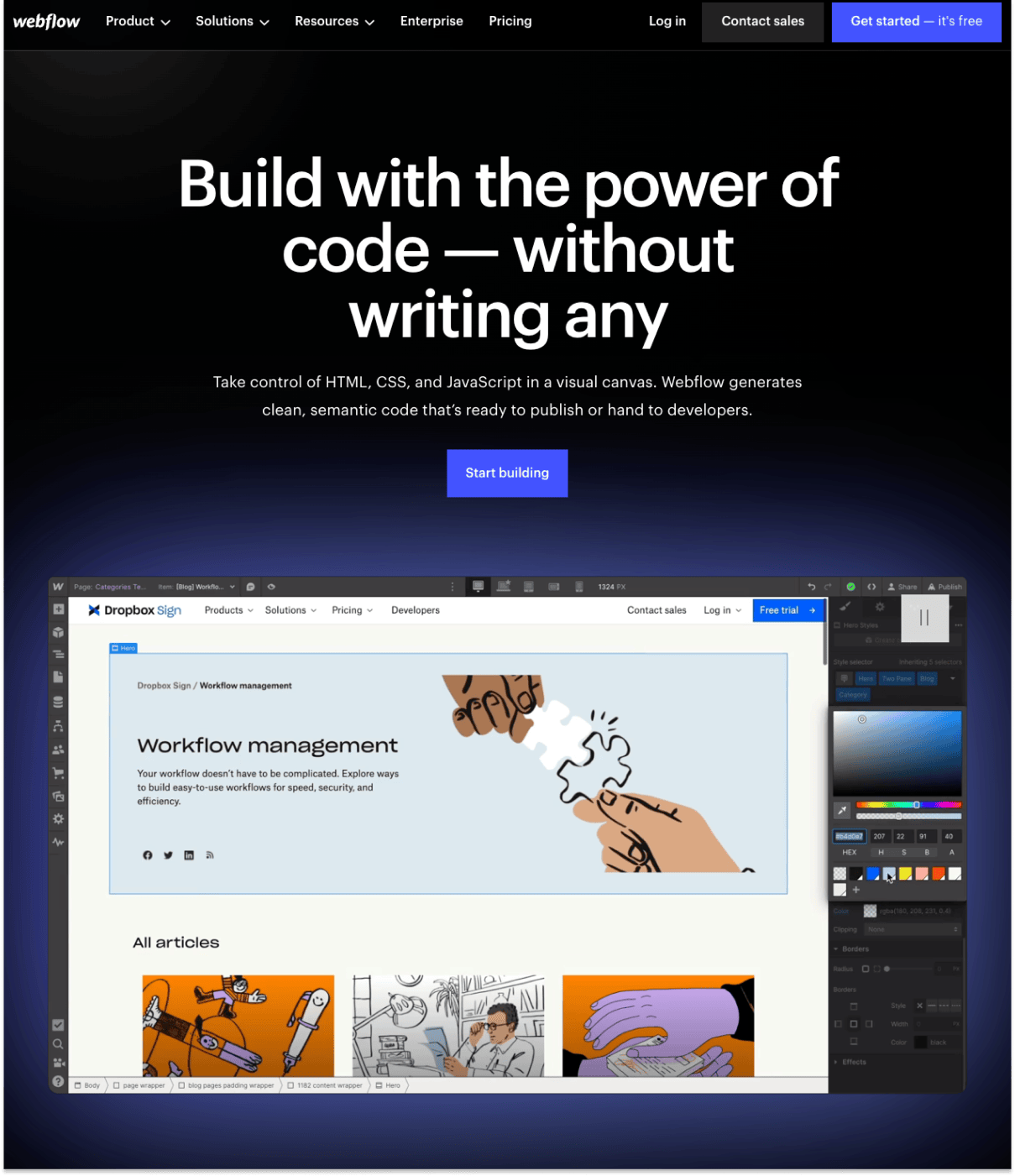 Webflow is the most advanced website builder on this list, and its most impressive feat is enabling you to create websites like a web developer, even if you're not familiar with coding.
Let me explain.
In the past, we'd create a website by manually typing out each HTML element, adjusting padding and font size using CSS, and implementing animations with custom Javascript code.
Although things have improved with modern tools and templates, a web developer may still need to work with the actual code when necessary.
In Webflow, you're essentially building the page from the ground up, but they've simplified the process using a user-friendly interface and a drag-and-drop builder.
This allows beginners to build complex websites even though they may not have coding knowledge.
What you can do with Webflow for lead generation? Some examples:
Create a personalized quiz landing page to gather various lead information.
Develop specialized tools such as a pricing calculator and send the outcomes as a lead magnet.
Create custom layout for your website and landing page.
Add custom animation to your lead generation website.
Integrate your lead information with just about any third-party platform using API.
You're really able to design just about anything in Webflow.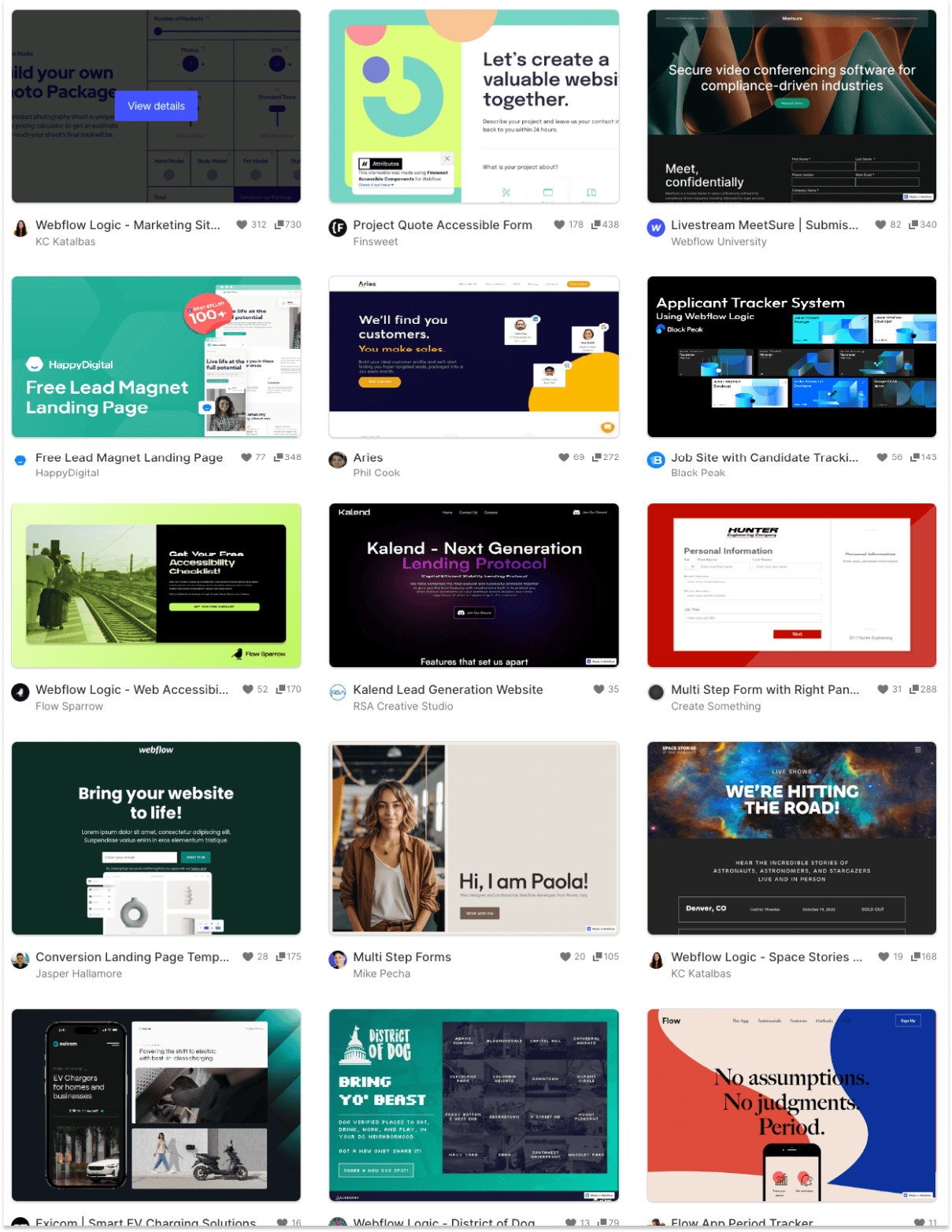 Check out this galore of lead generation website examples built using Webflow.
What you should know before using Webflow
Ala carte pricing — With Webflow, you're charged a monthly subscription for hosting each website. On top of that, a monthly subscription for the Workspace is necessary (Workspace is how you use Webflow). For instance, upgrading to a more advanced plan becomes crucial when you're adding new members to your Webflow account.
High learning curve — You need to dedicate time to learning the fundamentals of web design to use Webflow effectively.
You will need to integrate your Webflow site with a CRM platform (like Hubspot) or an email marketing platform to nurture the leads after sign-up.
Should you use Webflown for lead generation?
If you're gathering leads in unconventional ways, beyond the usual form-based lead collection. If you anticipate the need for a custom-designed website or unique landing page layout, or if you require an innovative method for gathering lead information, then Webflow is a great solution.
Keep in mind that learning Webflow will require a significant time commitment. Alternatively, you can always hire a Webflow developer from their active community.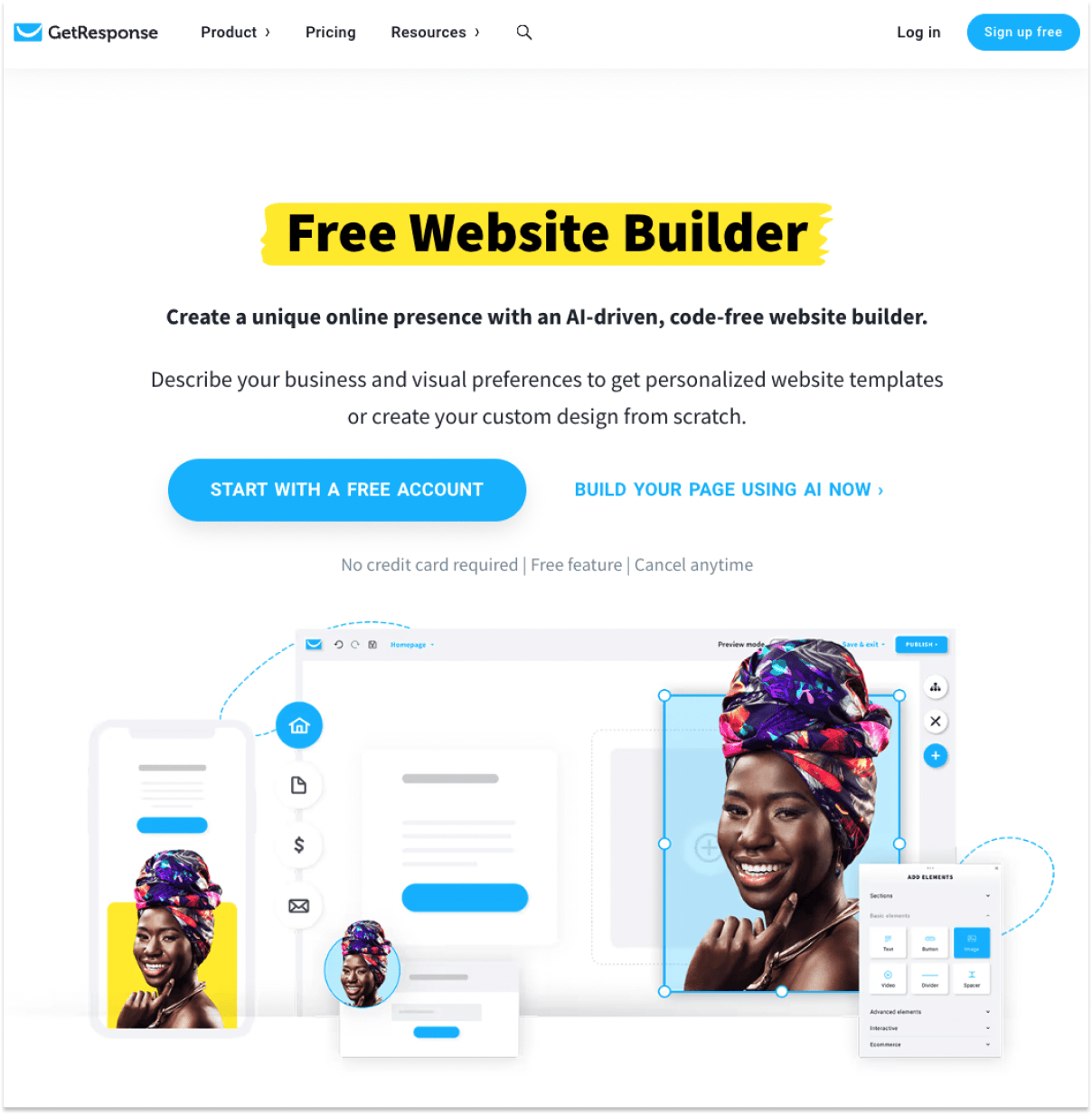 Did you know GetResponse recently launched a website builder?
They were once a pioneer (back in the early 2000s) in the email marketing space but have since expanded a suite of other tools for small businesses.
Today, small businesses are using GetResponse's recently launched website builder. This allows them to create lead-generation websites for their business, in addition to making use of the suite of email marketing tools they offer.
For examples:
Noteworthy lead generation features from GetResponse
Advanced list segmentation — you can track email data by countries, individuals, devices, and more. This enables you to categorize customers and subsequently send them customized campaigns.
A variety of high-converting landing page templates are available. For example, Opt-in Page with lead magnets, sales page for different services,  landing page for promotions, and more. Check the full list here.
Run A/B test on your landing page to boost conversion.
Pre-made lead magnets you can use for your business.
Funnel Designer to help visualize your lead generation effort.
All these on top of the email automation features that GetResponse is known for nurturing leads.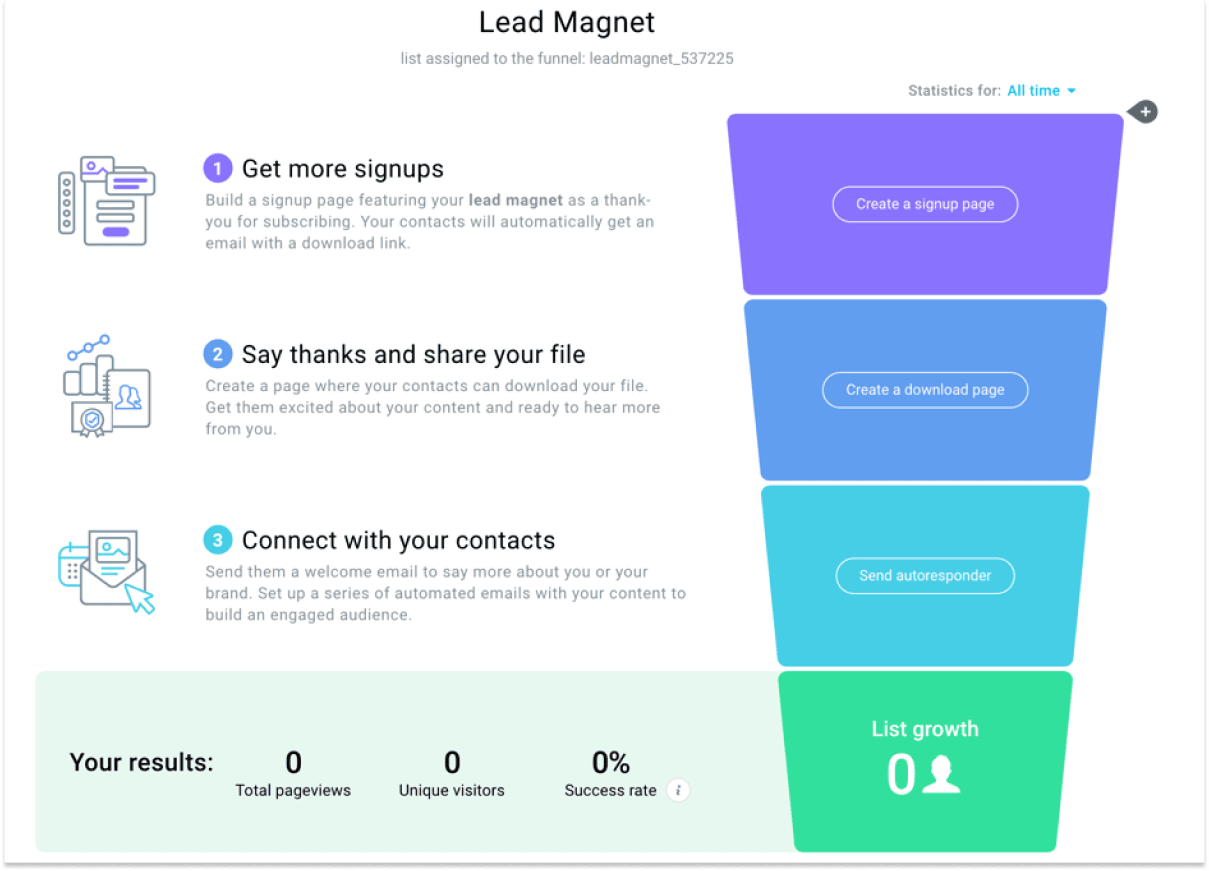 What you should know about building a lead generation website using GetResponse
You can connect to a custom domain on the free plan, but you have to set it up in the beginning when you publish the site, otherwise you need to upgrade to change the domain name.
Your website will have the GetResponse branding at the bottom unless you upgrade to a paid plan.
On the free plan, you can't add custom code to your site, but you can connect Facebook pixel, Google Analytics, Google Ads tracking code.
Verdict on GetResponse
I'd recommend GetResponse for small to medium businesses, as well as larger organizations with in-house marketing teams looking to ramp up their lead-generation efforts.
It's particularly well-suited for individuals who aren't very tech-savvy and need support when starting different lead-generation projects. Whether you're creating a new landing page to capture leads or setting up email automation to nurture them, GetResponse provides a helpful starting platform.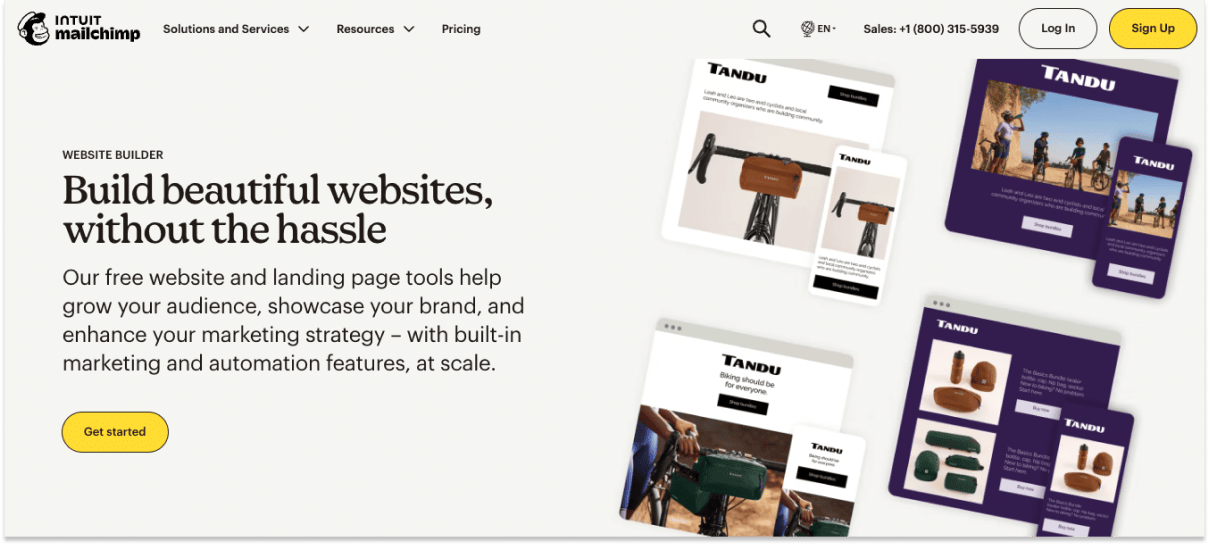 Mailchimp, another email marketing powerhouse, has introduced its own website builder with a unique twist for lead generation.
Unlike other website builders, Mailchimp can directly gather behavioral data from your visitors and seamlessly integrate it with its marketing automation platform.
For example:
You can create a segment for site visitors who have viewed your newsletter page.
Label your leads if they've signed up within a specific time period.
Trigger specific email automation sequences if they've clicked on a link on your landing page.
Bonus: You can also create a 1:1 appointment page, enabling customers to schedule your services for free. This is particularly beneficial as many appointment scheduling tools come with a cost.
Freelancers and consultants looking for a no-cost method to generate leads with a booking page for clients will definitely appreciate this feature.

And that's not all – they offer a collection of 100+ pre-built landing page templates designed for lead generation across various types of small businesses. Whether it's a yoga center or an eye care clinic, you'll find a landing page design tailored for every kind of lead generation campaign.  More details here.
Did I also mention they are the top #3 email marketing platform in the market at the moment?
What you should know about using MailChimp for lead generation

Lead generation website templates are only available on the paid plan.
Lack of customization — The default editor makes it difficult to change the templates around and customize them unless you have basic coding knowledge.
The landing page and form design are basic, in my opinion, compared to other lead generation tools in the market.
Should you use MailChimp?
Overall, I find that MailChimp is an intuitive website-building and lead-generation platform for small businesses.
Great for businesses with limited budgets but still want to utilize simple workflows and email marketing for lead generation.
However, if you plan to implement a more advanced email marketing or lead generation strategy, there might be better-suited tools.
Frequently asked questions about lead generation website builder
How to create a website that generates leads?
First, choose a website builder that suits your need.
Do you need a website that comes with a CRM? Then Hubspot may be a good choice.
Do you need a website builder that has the most flexibility? Then check out Webflow.
If you just need a simple website with email marketing capabilities then you can consider MailChimp or GetResponse.
Once you've picked a website builder, begin by selecting a template that aligns with your desired business outcome. Be sure to complete these points for a lead generation website that converts effectively:
Present a compelling offer – Craft something valuable to exchange for lead contact information. This could be a free estimate, a PDF guidebook, or video tutorials – anything enticing enough for customers to share their email.
Lead capture form — Include a straightforward and brief lead capture form on your website or landing page. Collect only essential information. The simpler the form, the higher the likelihood of customer conversions.
Create engaging Content: Provide high-quality content that addresses your audience's pain points and interests. This can include blog posts, videos, infographics, and case studies. Then, lead them to your landing page for sign-ups.

Is there a lead generation website builder that's free?
These website builders have a free plan you can get started with:
Is Wordpress good for lead generation?
WordPress is excellent for lead generation (it's the world's most popular CMS, after all). They offer an extensive array of website and landing page templates for virtually every kind of business.
However, handling WordPress involves substantial maintenance. You must start from scratch, including downloading the source file, securing your hosting, setting up a domain, backing up your site, and more.
Generally, it's not the best choice for small business owners unless you have prior setup experience or hire a WordPress developer to assist you.
How much does a lead-generating website cost
Many website builders offer a free plan, but the starter plan, which includes advanced features like a custom domain and premium templates, usually ranges from $18 to $30 per month. As you begin using more advanced functionalities, the cost will increase further.
Related articles