Here are 9 website examples of how these businesses use Squarespace Acuity Scheduling to book clients.
From Coaches, consultants, and small businesses like yoga and pet boarding, these businesses incorporated the scheduling tool on their site so their clients can book a session/slot with their business.
If you're considering Acuity Scehduling and not sure which plan to choose or whether it's worth it. Here's an article that might help:
Squarespace Acuity Scheduling pricing explained and which plan should you choose.
💡
Note: While Squarespace acquired Acuity Scheduling, you don't need a Squarespace account to use the scheduling and booking tool.
Let's dive right in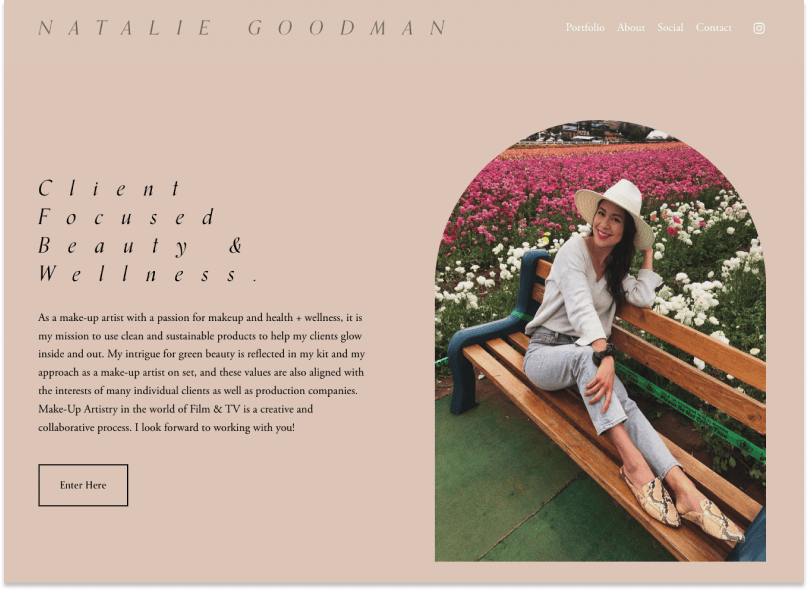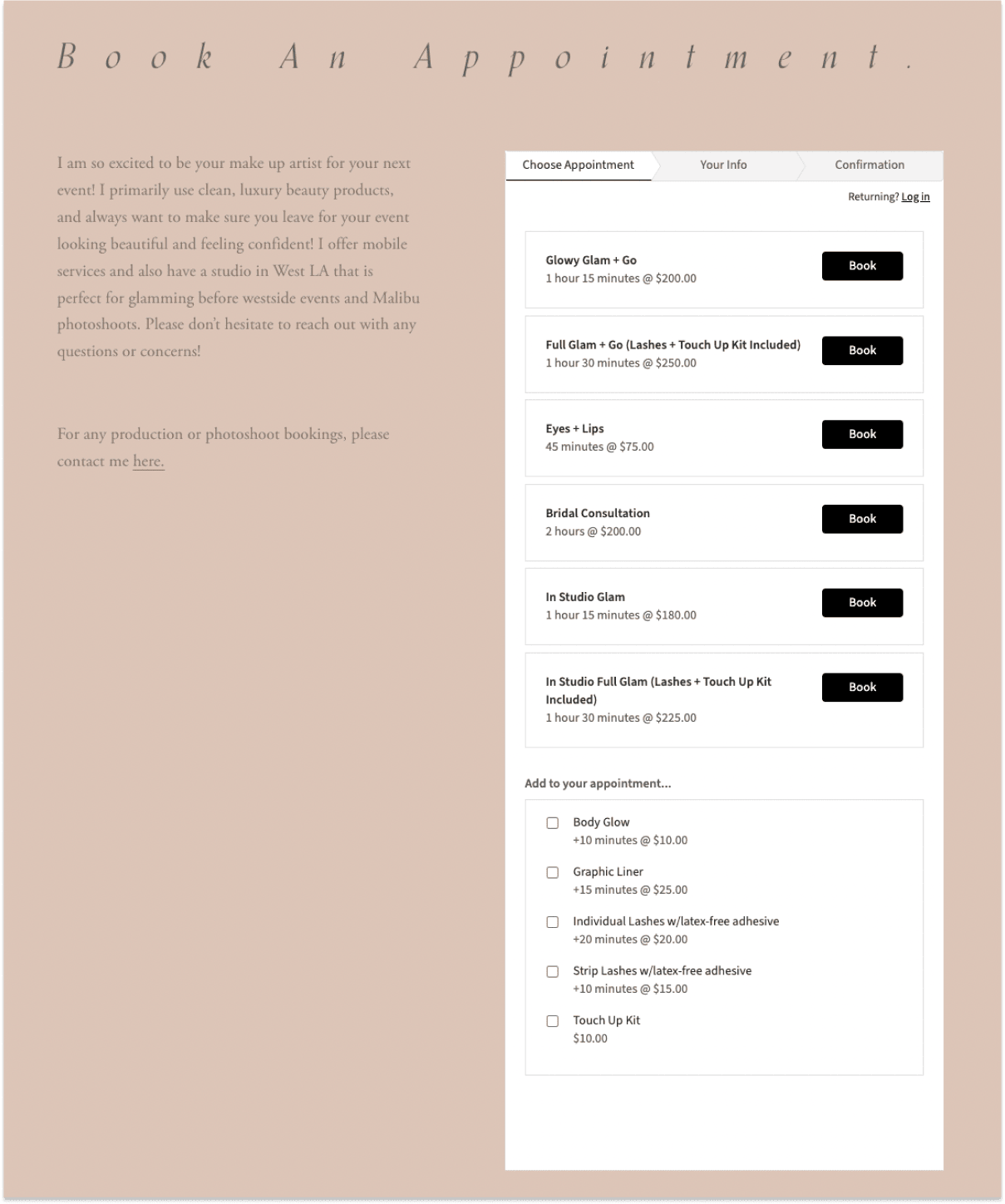 Natalie is an independent freelance make-up artist based in New York specializing in film and TV production makeup.
As a make-up artist with a passion for beauty and wellness, she exclusively uses clean and sustainable products to help her clients look great while also being considerate of the environment.
Clients can book directly on her website for services such as Bridal consultation ($200 for 2 hours), full studio makeup ($200/hour onwards), and more.
Side note, I like that she allows customers to select small add-ons like strip lashes and touch-up kits, which help increase her revenue.
Check out Natalie's client booking page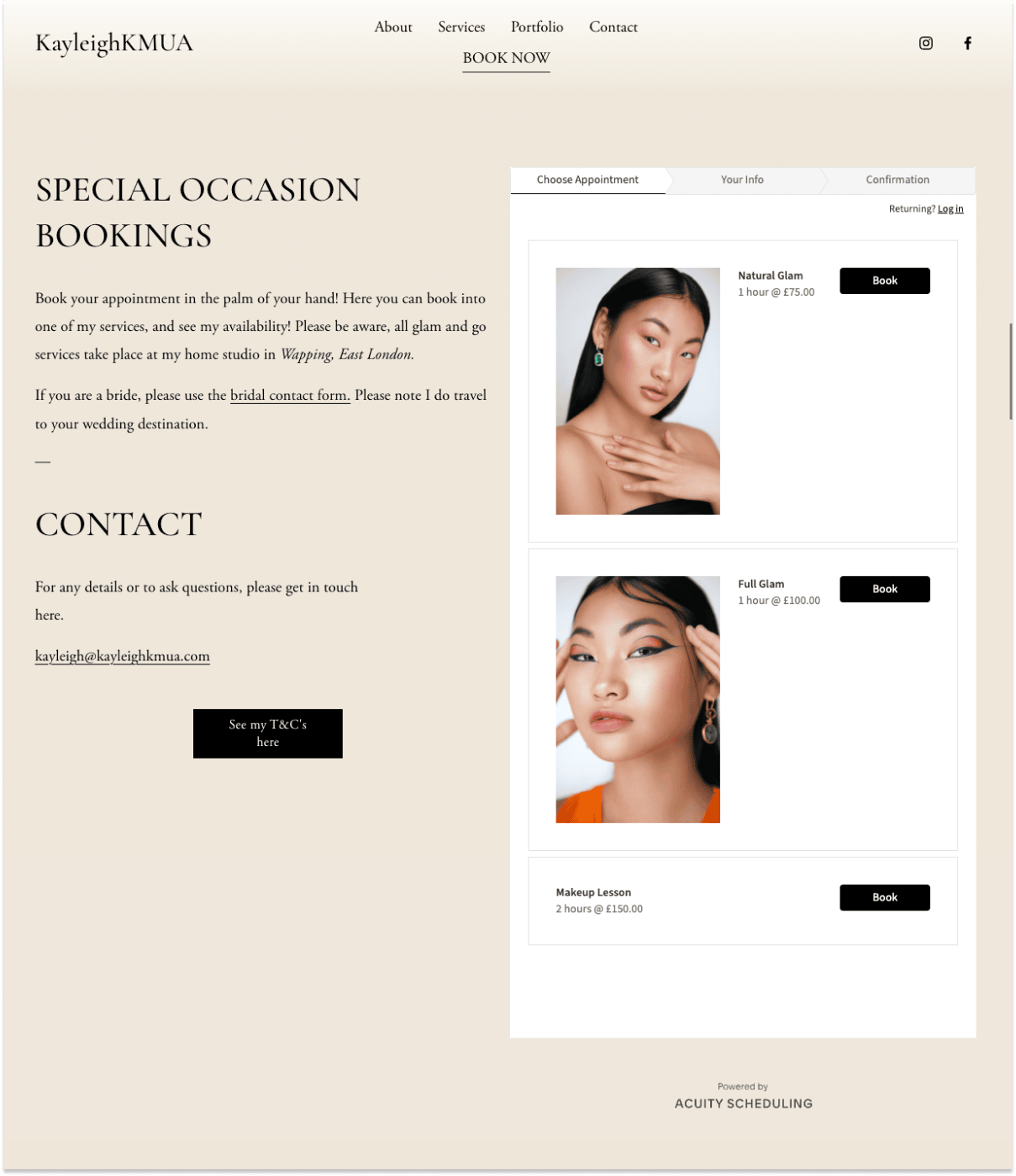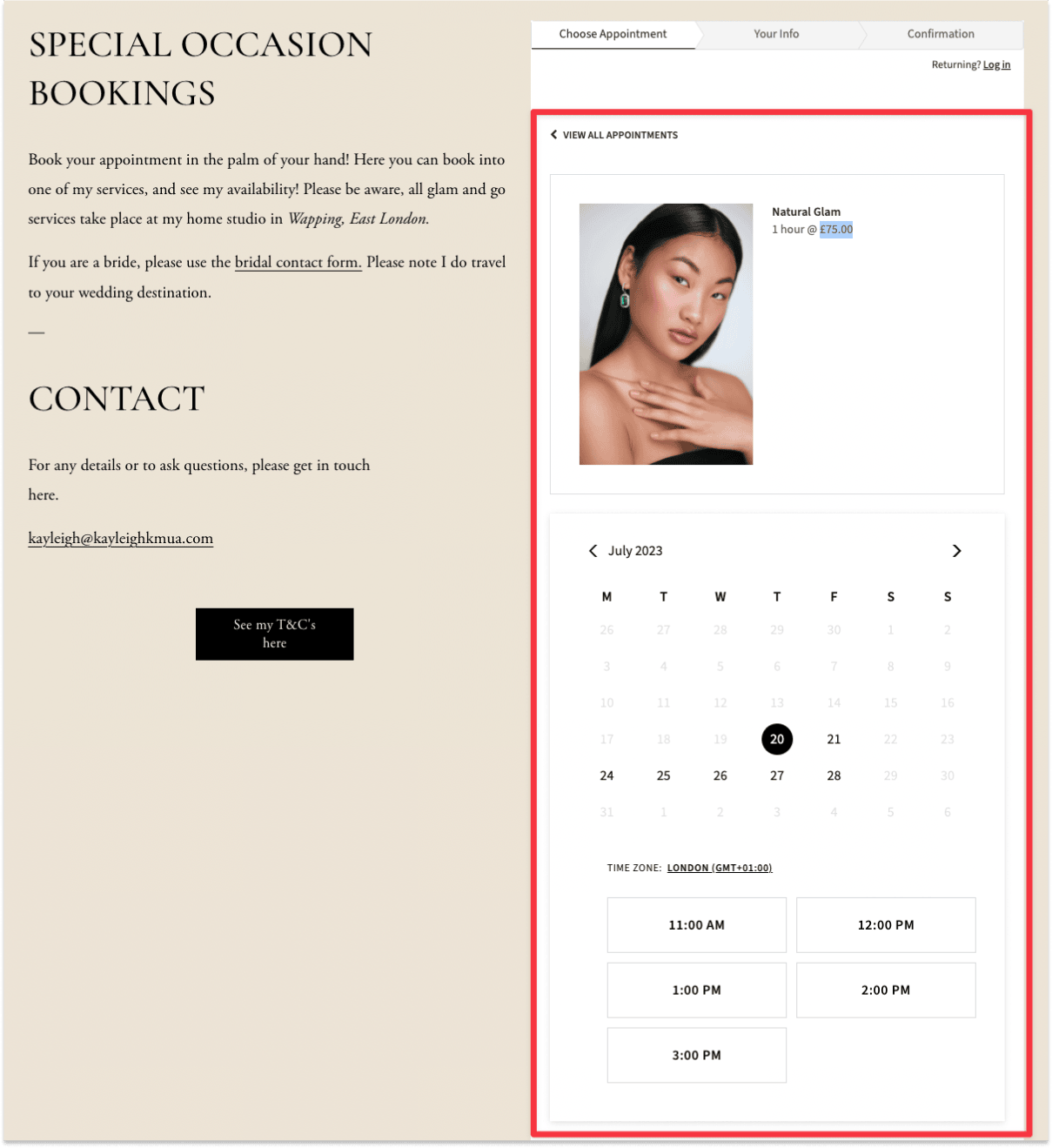 Kayleigh is also a makeup artist based in London with over 10 years of experience specializing in bridal and commercial makeup services.
She happens to be the mother of 2 incredibly adorable fur kids, who obviously are not good at makeup but make up by being great test subjects for lighting.
Customers can book an appointment for either a natural or full glam makeup session for £75.00 or £100.00 per hour, respectively.
Both credit card and Paypal payments are accepted on the check out.
Check out Kayleigh's client booking page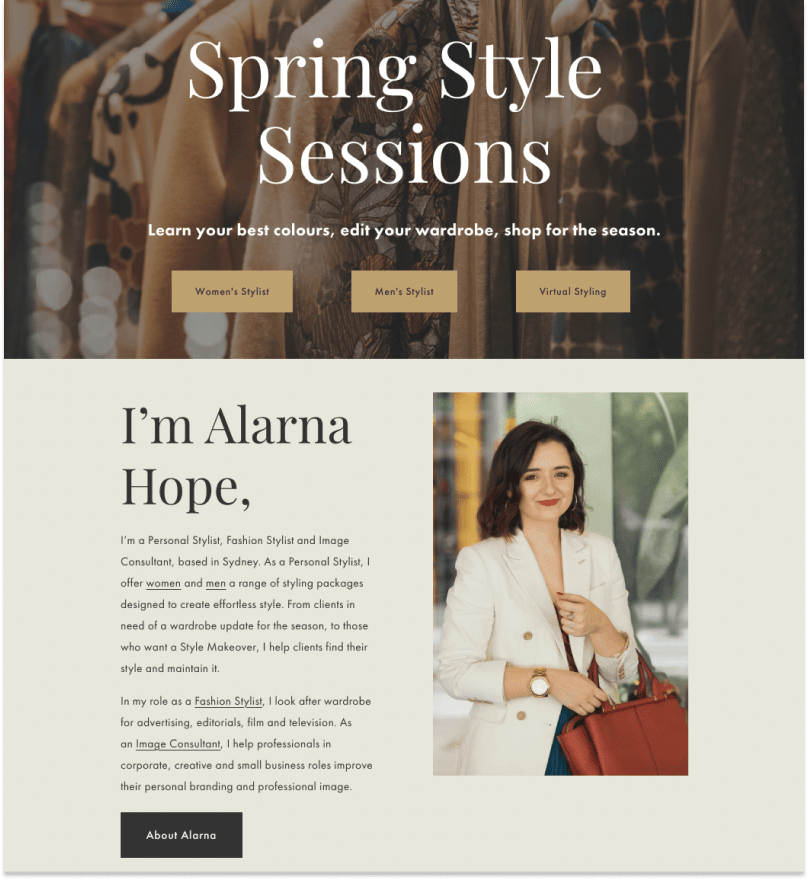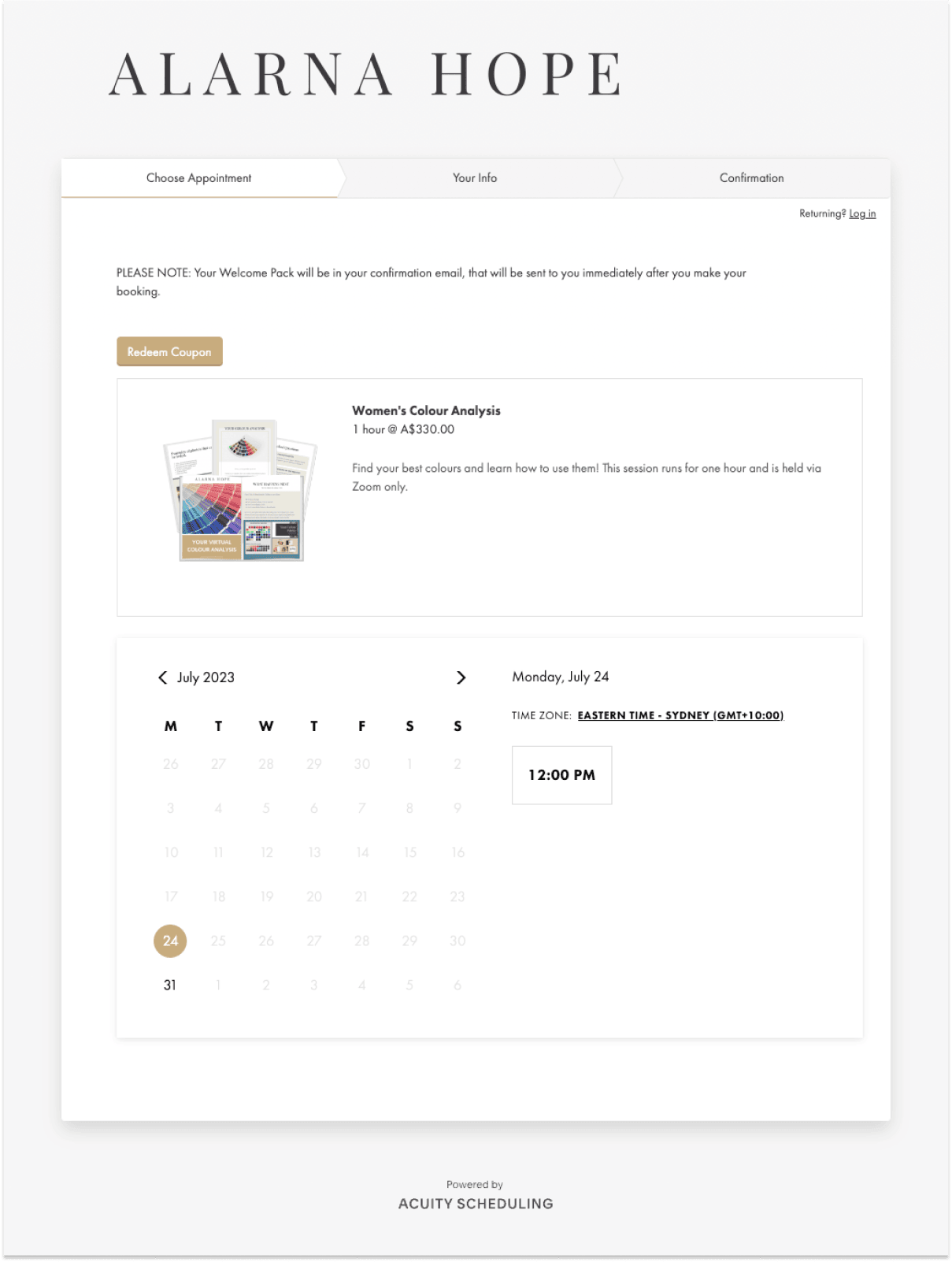 Alarna is a personal stylist and image consultant based in Sydney. She primarily consults professionals in corporate and small businesses to improve their personal branding and professional image.
She offers a unique service called Virtual Colour Analysis that helps her clients find their best colors with a personal color analysis online.
The service starts from AUD $330 (for both men and women), and clients can directly book an appointment on a dedicated booking page that she set up with Squarespace Acuity Scheduling.
Check out Alarna's booking page for the Virtual Colour Analysis service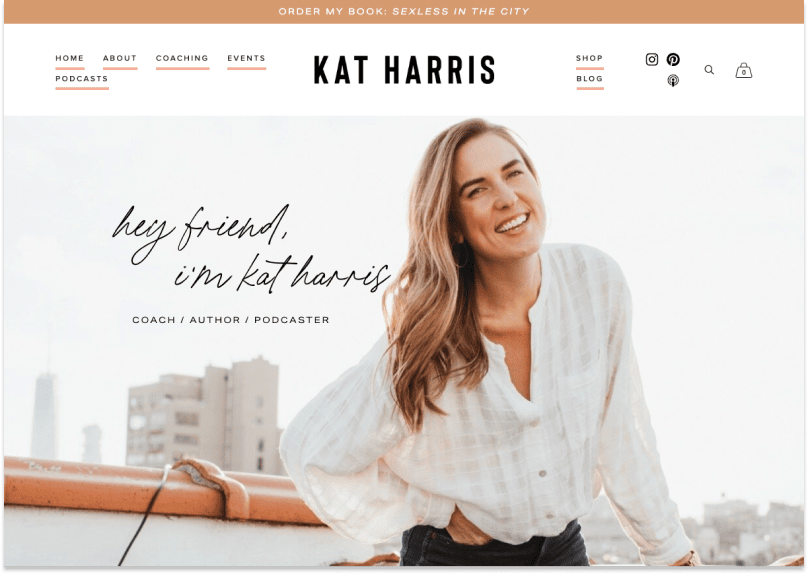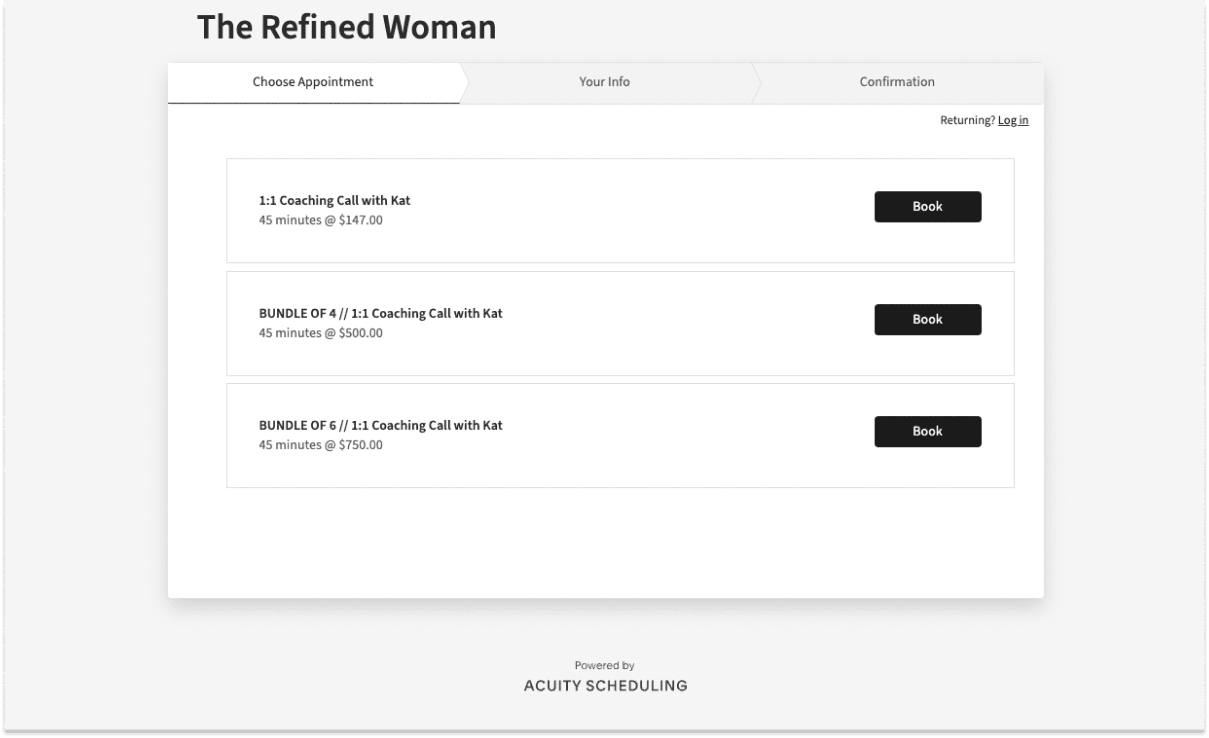 Kat Harris (The Refined Woman) is an online educator, author, and coach who consults women and empowers them to become the best version of themselves.
Clients can schedule a 1:1 coaching session directly on her site to discuss personal development, love and relationship, family dynamics, career direction, and more.
Kat has also set up a dedicated booking page for her coaching call sessions, starting from $147 for a 45-minute 1:1 coaching. Clients can also buy coaching calls in bulk which saves them at least 15%.
Check out Kat Harriss' booking page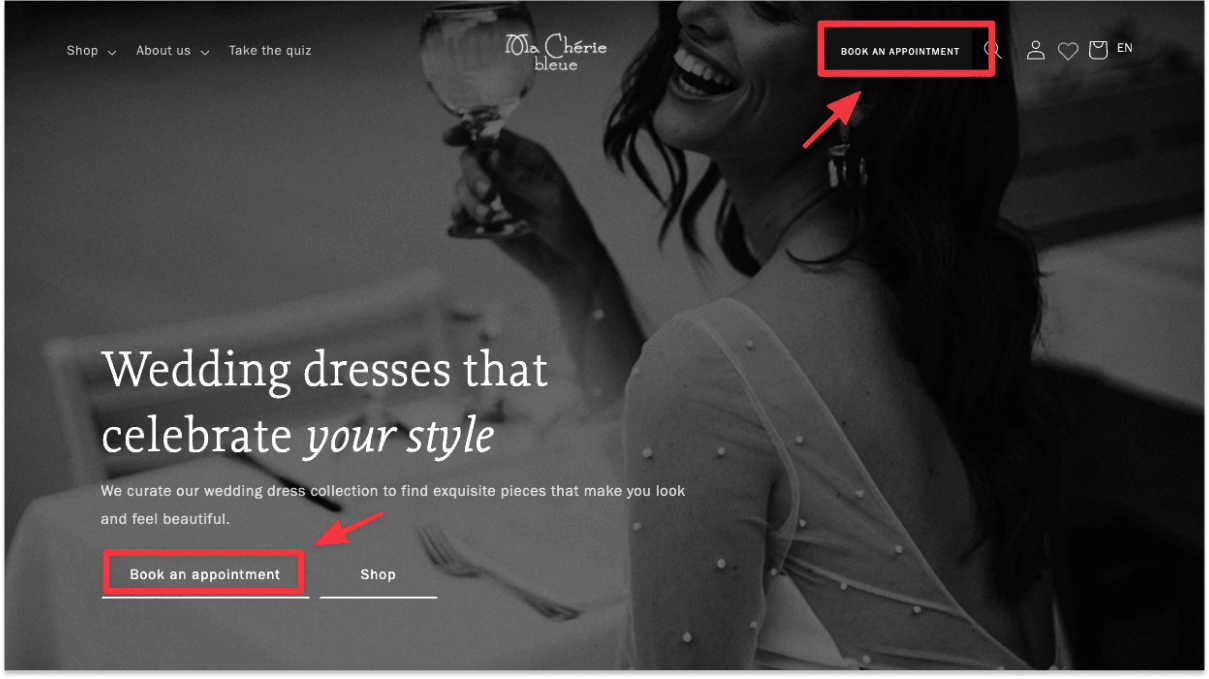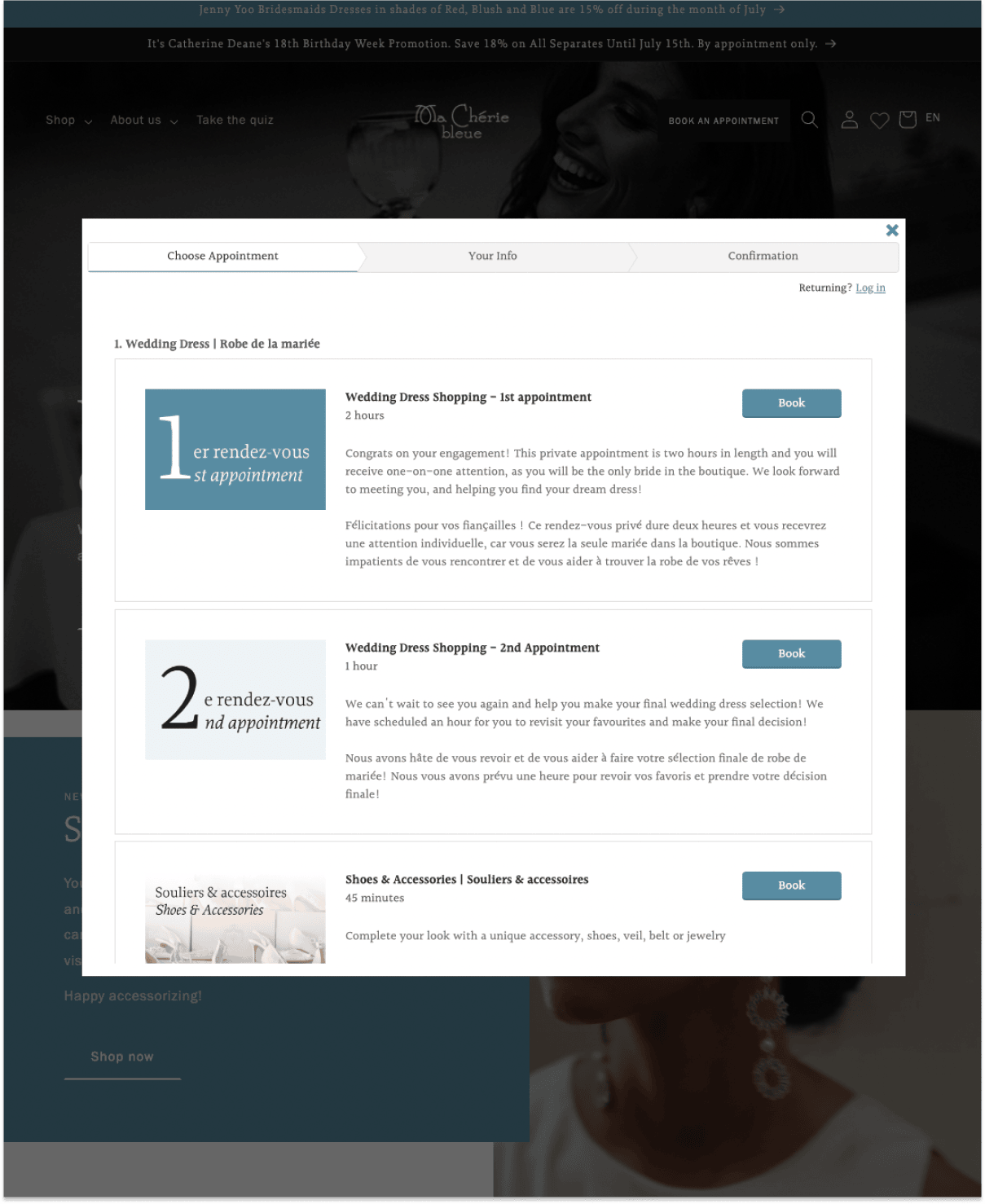 Ma Chérie Bleue is a Montreal-based wedding dress boutique founded in 2015 by Nathale with the help of her husband.
Before starting her boutique, she had over 28 years of experience in retail fashion and product development specifically for bridal dresses.
Nathale has made the booking (for wedding dress trial) pretty easy on her site. A pop-up will show once a customer clicks on the "Book an appointment" button.
It's free, and customers can view the date and time availability to schedule a wedding dress shopping appointment.
Check out Ma Chérie Bleue's booking on their home page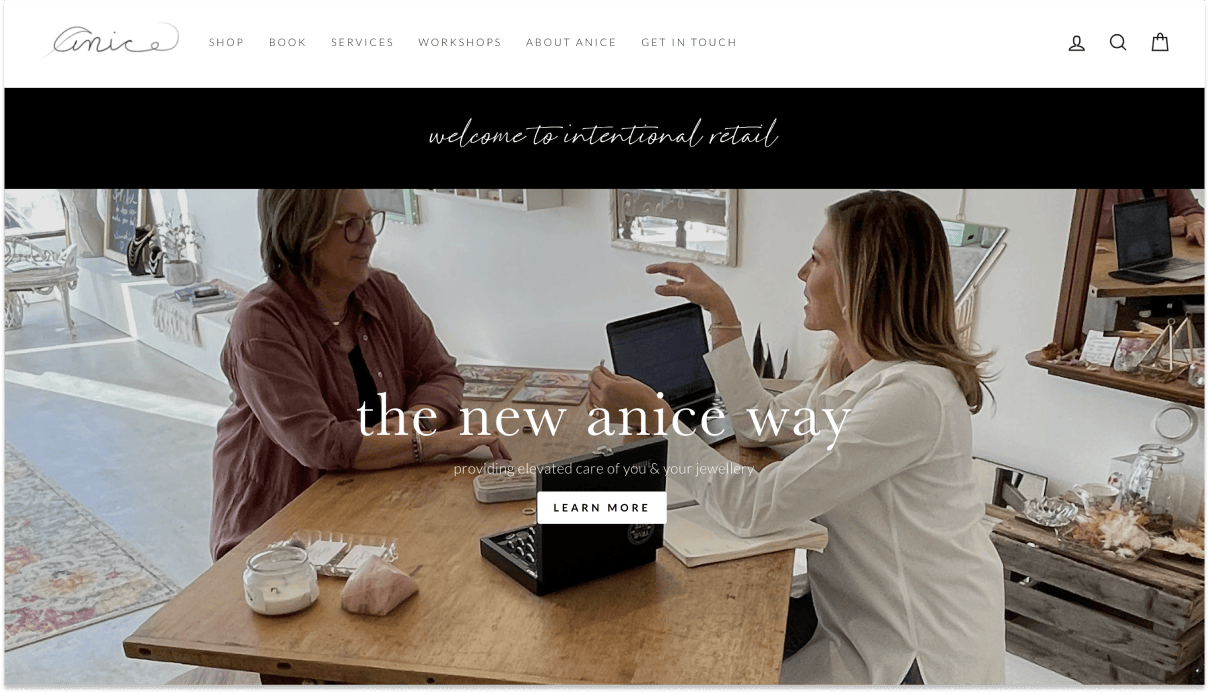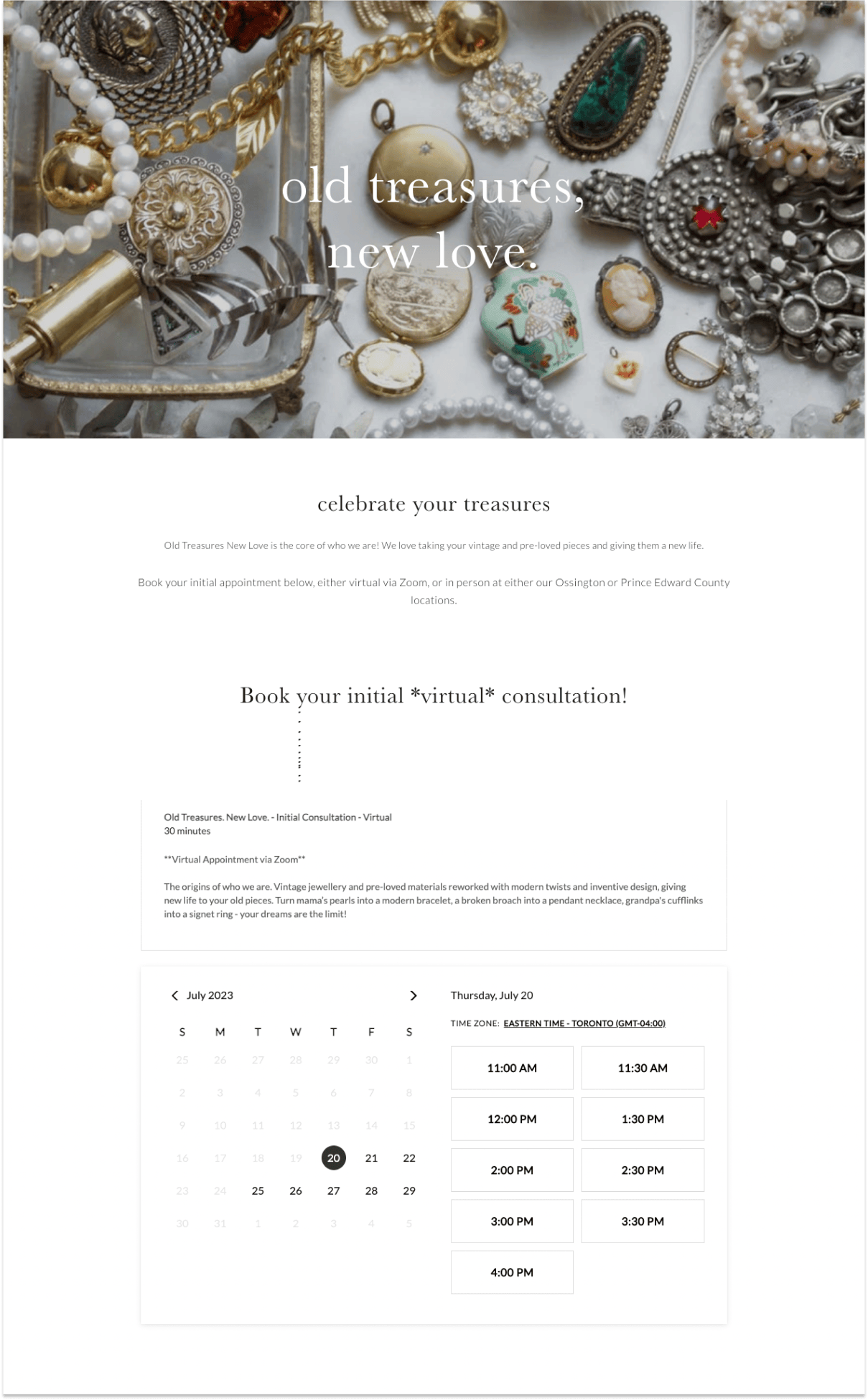 Anice Jewellery has multiple locations retail locations in Canada, where they make custom jewelry and re-store old jewelry for clients.
All custom jewelries are available by appointment, where customers can book a virtual consultation right on their site.
They also offer private in-store Workshops outside of store hours, where customers can create their very own one-of-a-kind jewelry.
Check out Anice's custom jewelry session booking page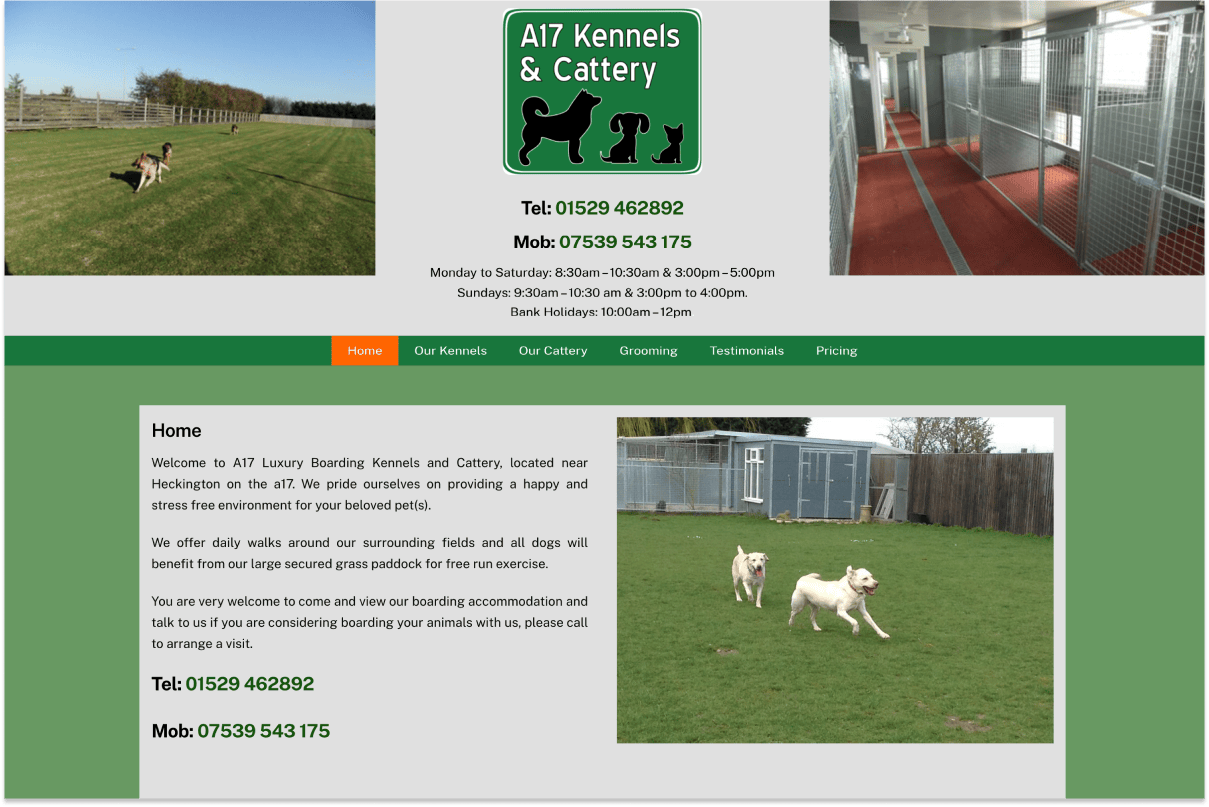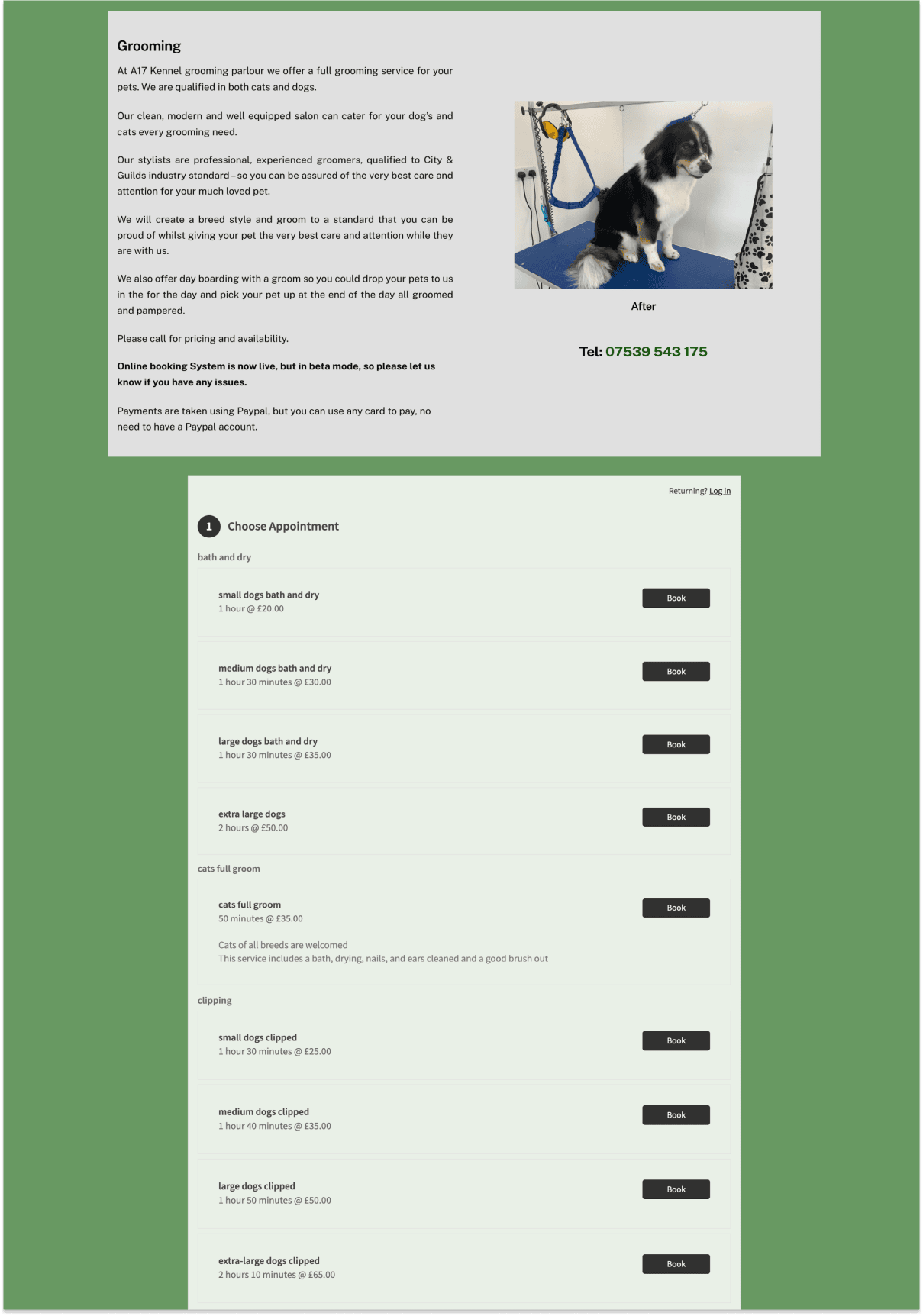 A17 is a boarding kennel and cattery located near Heckington, England. Their main focus is to provide a happy and stress-free environment for clients' pets.
Their services include daily walks in the surrounding fields, and all dogs can enjoy their large secured grass paddock for exercise, free of charge.
Clients who wish to send in their pets for grooming can do so by booking a slot on their calendar, ranging from £25.00 for a small dog all the way to £65.00 for extra-large dogs.
Check out A17 Kennels' booking page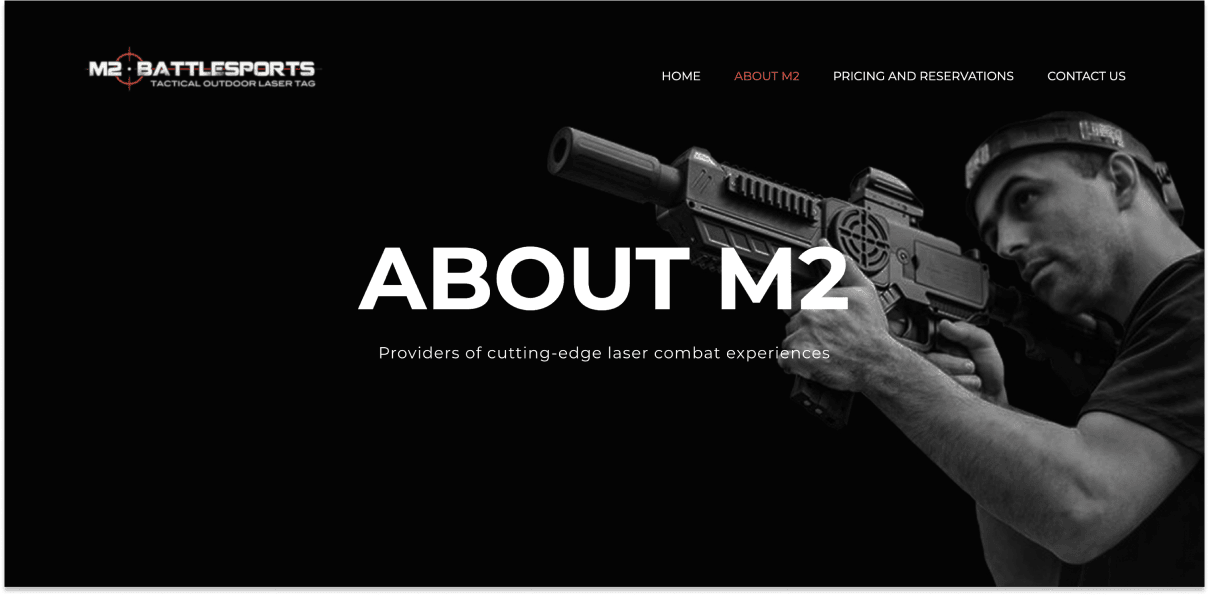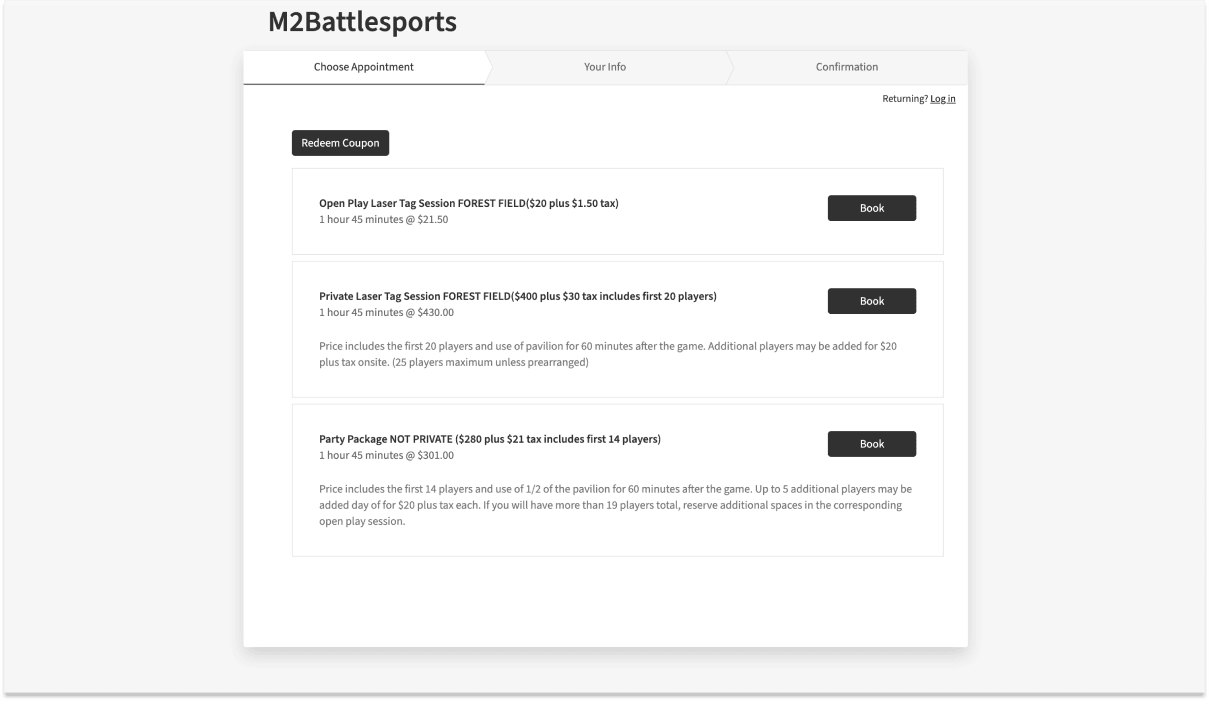 M2 BattleSports provides state-of-the-art outdoor laser tag experiences to people of all pages, newbies and pros alike.
Outdoor Laser Tag has become one of the fastest-growing battlefield simulation sports in the world, and they have incorporated some of the most advanced laser technologies in their facility.
Naturally, customers have to book a slot prior to coming in, and they've set up a dedicated page using Squarespace Acuity Scheduling to collect the bookings.
Price starts from $21.50 for an open field and up to $430.00 to book a private forest.
Check out M2 BattleSports booking page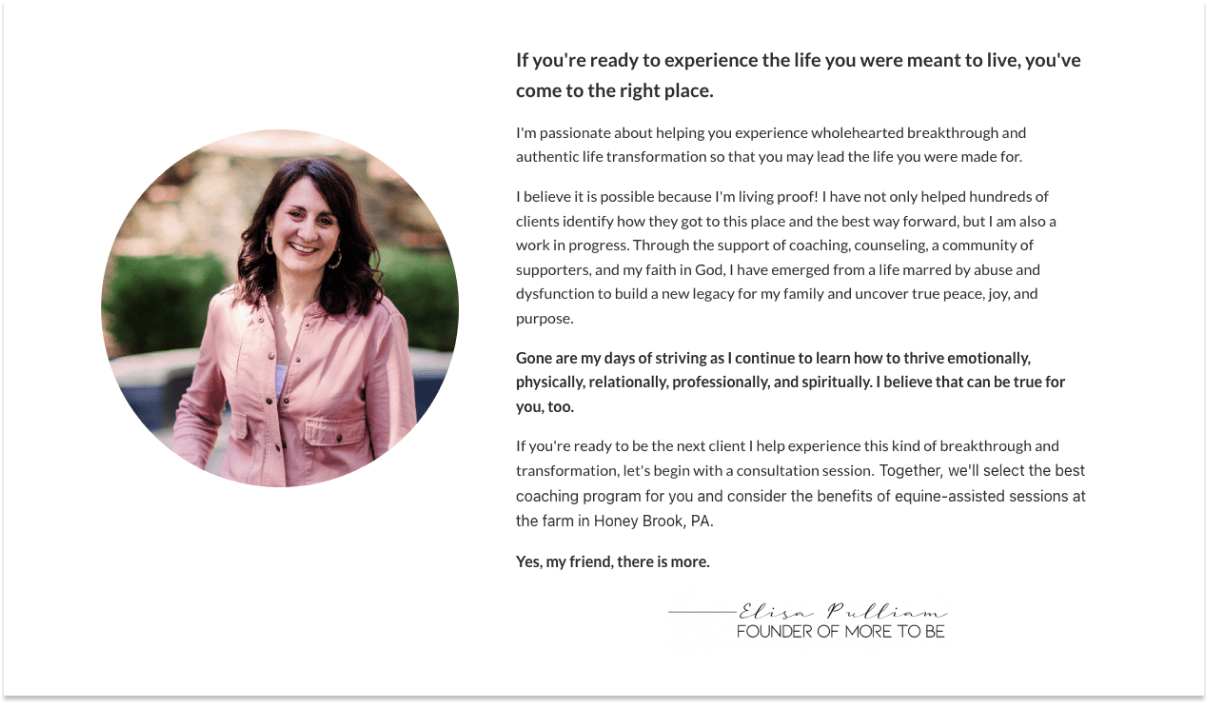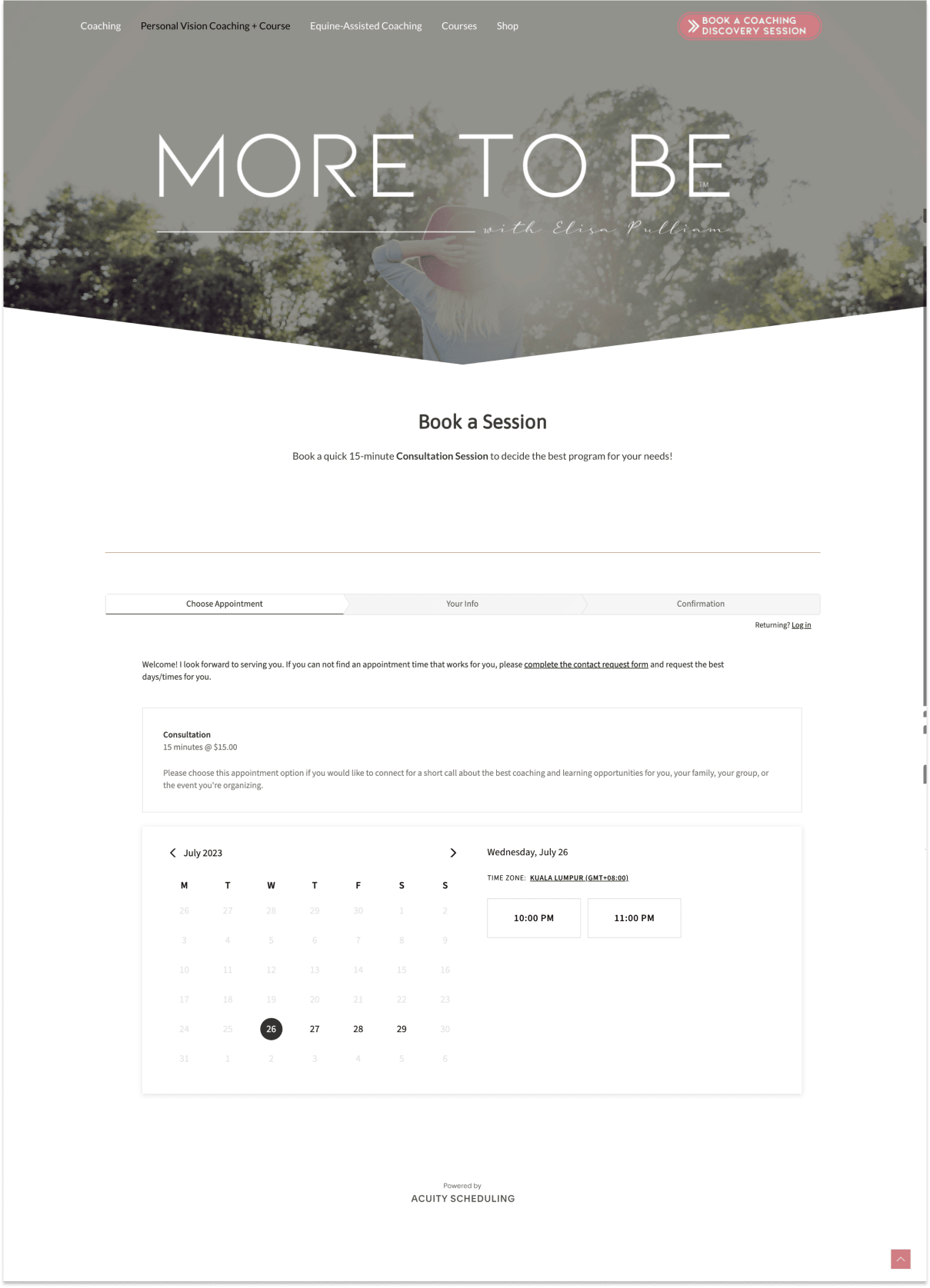 Elisa Pulliam is a life coach and the founder of More to Be. She offers one-on-one coaching and workshops for women, helping them explore their emotional, spiritual, and relationship growth.
Elisa has a number of programs and courses available, but clients can book a quick 15-minute (paid) discovery consultation session where she can help them decide the best program for their need.
Check out Elisa's page to book a consultation session
Related articles