Here are some of the best consulting websites I found online that are built using affordable website builder tools.
You will find examples from different consulting industries, such as financial services, healthcare, business, fashion, e-commerce, business & marketing, and more.
They are handpicked after scouring over a hundred individual consultant websites on the internet.
Most of these websites are built using affordable website builder tools such as Squarespace, Wix, Wordpress, Webflow, and Podia (which are highlighted above their profile description).
If you need more details, I've written an in-depth article comparing all the pros and cons between website builders like Squarespace, Wix, Weebly, and Wordpress.
Let's dive right in.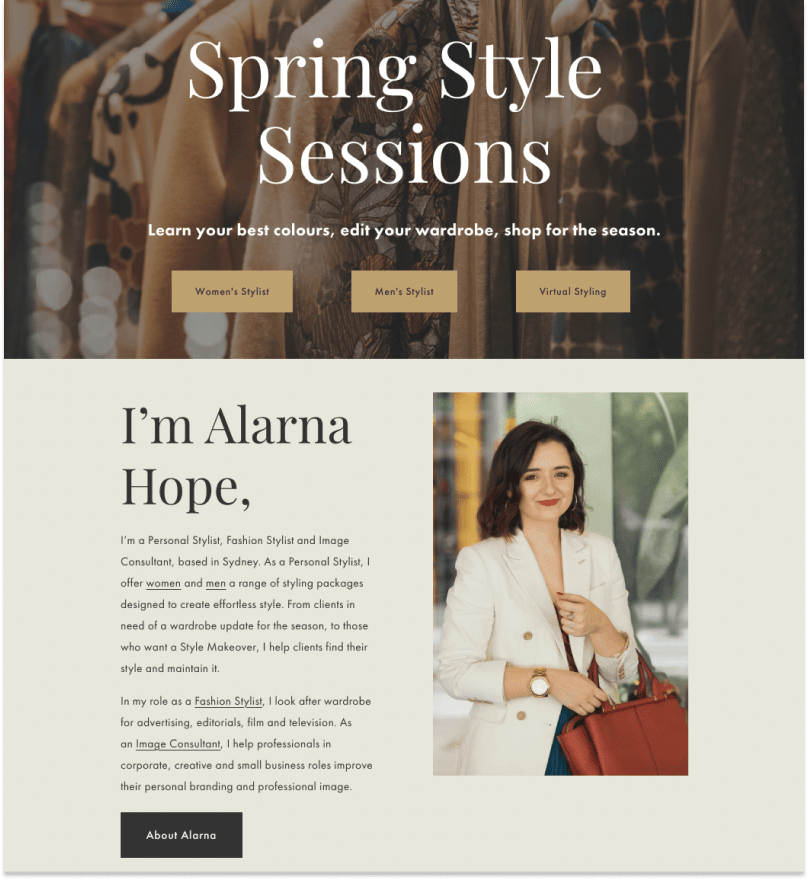 Alarna is a personal stylist and image consultant based in Sydney. She primarily consults professionals in corporate and small businesses to improve their personal branding and professional image.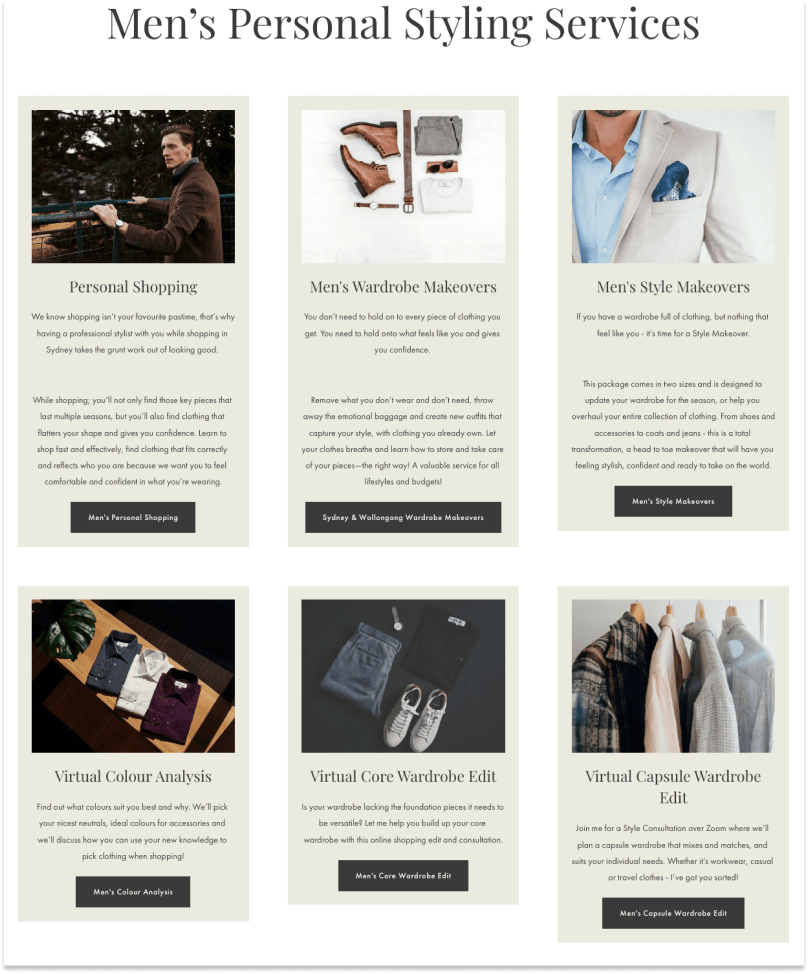 Her services include personal shopping, wardrobe makeovers, color analysis, and more. All of these are clearly laid out on her service page with a detail write-up for each process.
Related: Squarespace templates that were specifically designed for consultants.

Tim Huggins is a creative business consultant and CFO for hire who helps new entrepreneurs bring their ideas to life. He has over  20 years of experience in all facets of business, with specific expertise in leadership, process development, and financial management.
Tim's website design is personable, with a matching color palette for his profile picture and the rest of his site.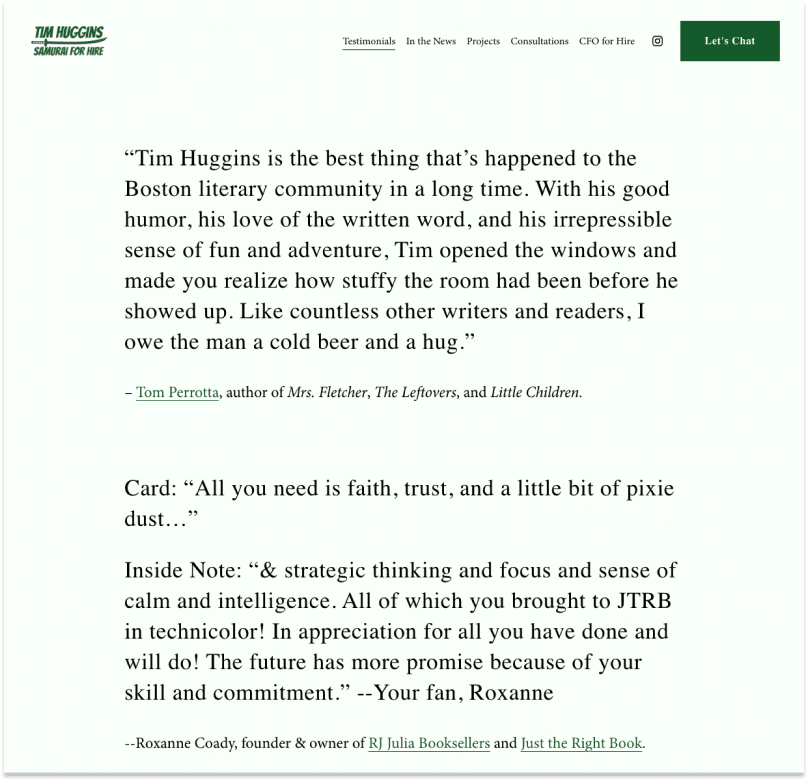 He also features plenty of testimonials on the site, from news publications,  personal recommendations from founders he worked with, and successful projects he collaborated on in the past.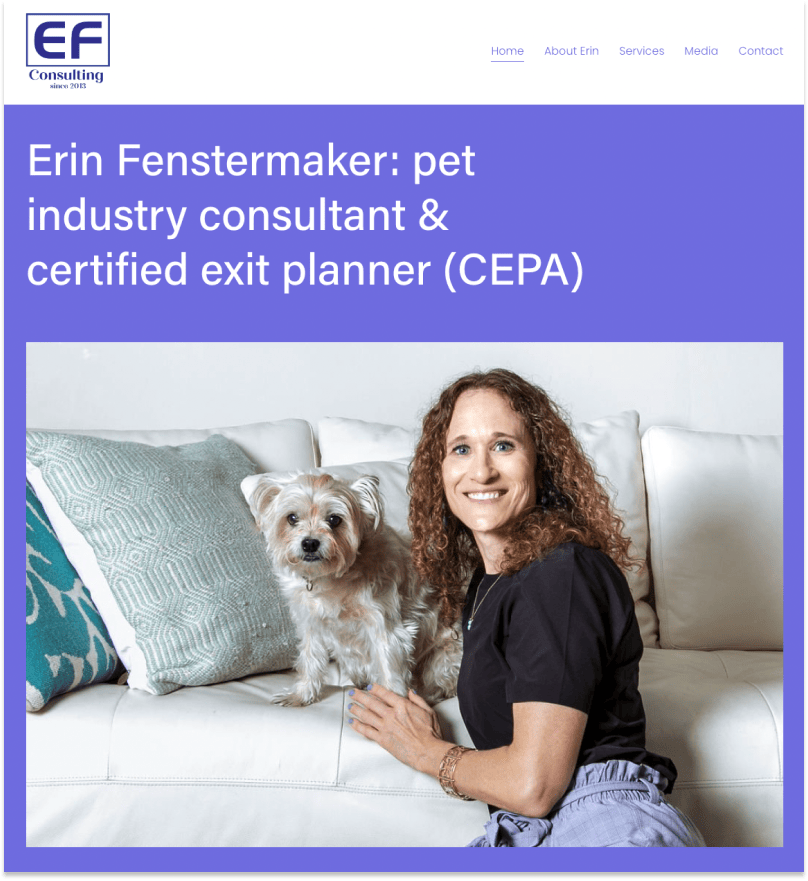 Erin specializes in mergers and acquisitions for businesses in the pet industry. As a Certified Exit Planning Advisor, she started EF Consulting to help service-based and hard goods pet companies plan their exit strategies.
Erin chose a professional purple-blue color scheme for her site. It instills a feeling of calm, confidence, and trust in her client, which is critical in her industry.
Moreover, she chose profile photos with blue clothing and accessories to complement the site's color palette.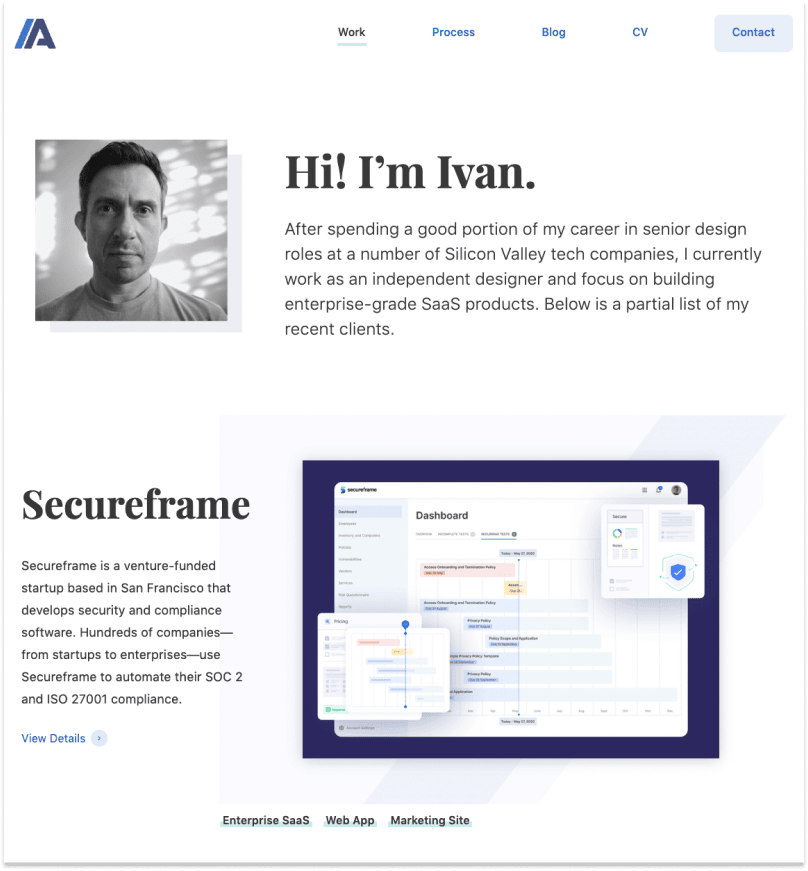 Ivan is an independent designer and consultant who has helmed a number of senior design roles in Silicon Valley tech companies. He primarily designs software interfaces, and user experience workflow, as well as manages the design team to solve design challenges for his clients.
While Ivan's personal site is well designed (as it should be!), he made great efforts detailing his design process to convey his value to his client as a designer.
Being a senior designer for over 20 years, Ivan also displayed a remarkable design portfolio comprising enterprise software, web apps, and marketing sites.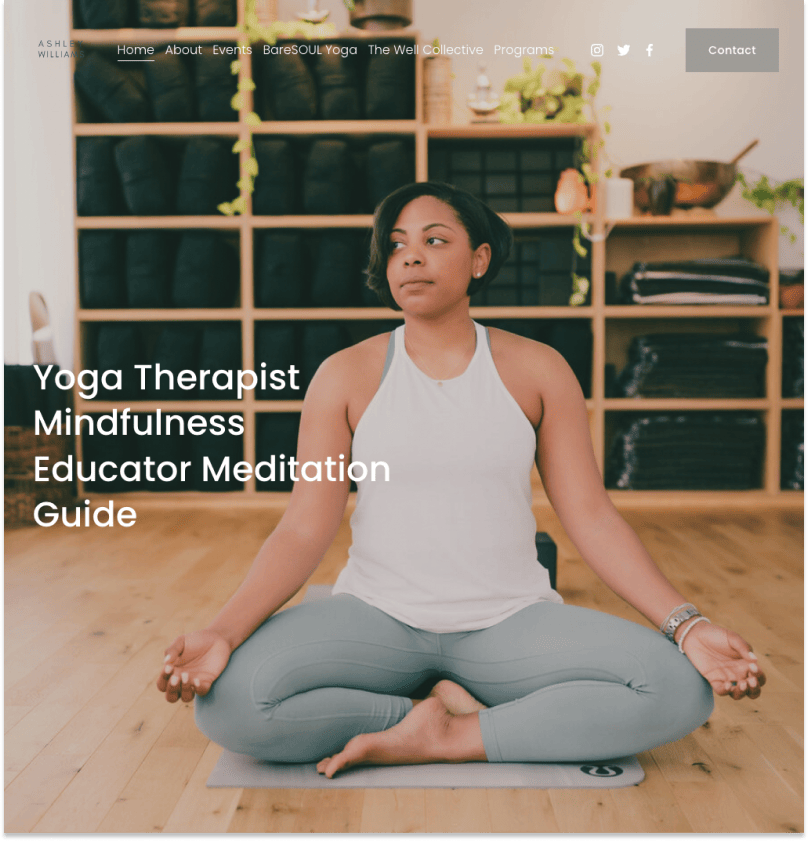 Ashley is a Certified Yoga Therapist, consultant, and educator from Richmond, Virginia. She is also the founder of BareSOUL Yoga & Wellness, whose mission is to make yoga and wellness accessible to the local black community.
Her website is simple and clean, with great photography from her studio. Clients get to schedule a free consultation with her via the site's contact form, but they can also reach out to her via social media platforms that she linked from her home page.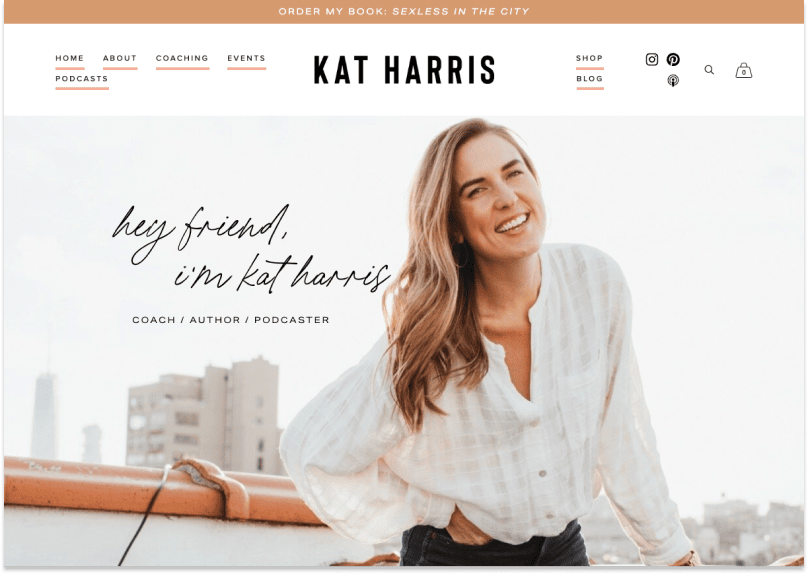 Kat Harris is an online educator, author, and coach who consults women and empowers them to become the best version of themselves.
Clients can schedule a 1:1 coaching session directly on her site to discuss personal development, love and relationship, family dynamics, career direction, and more.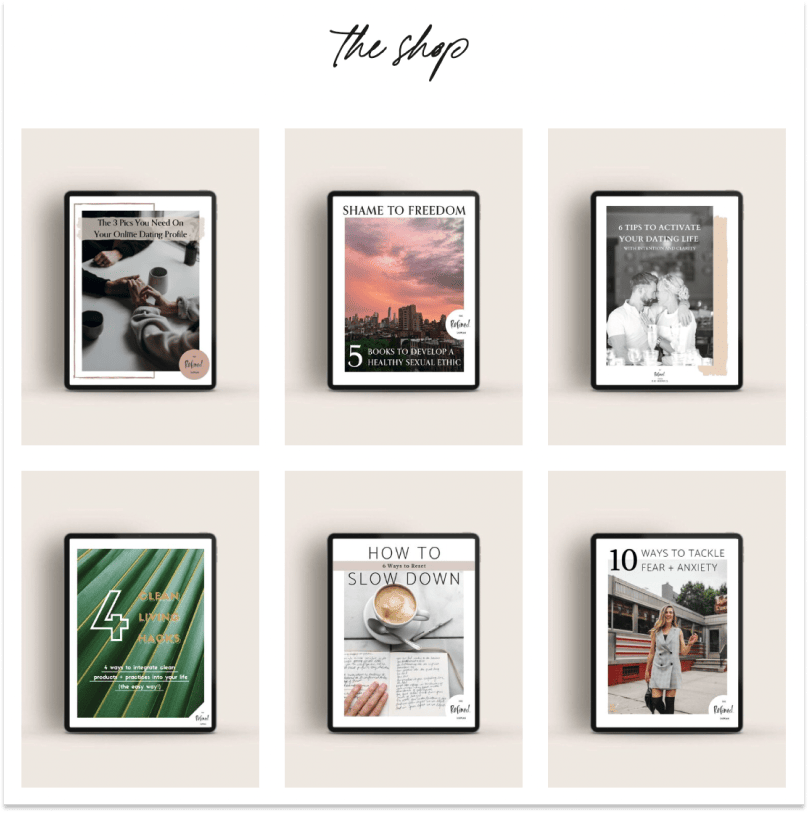 Kat has built a strong brand with her site, which is one of the advantages of using Squarespace (they make it easy). On top of that, she shares personal development tips on her blog and sells ebooks to boost her business revenue.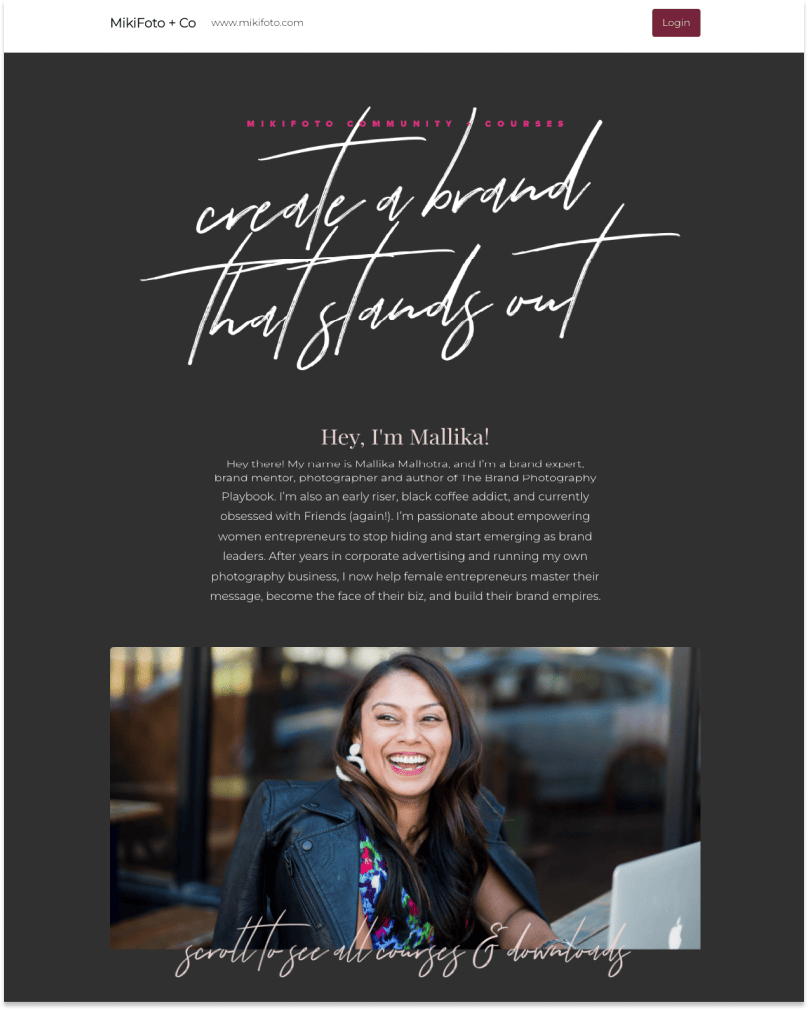 Mallika is a brand expert who helps entrepreneurs, coaches, consultants, speakers, and influencers to develop their personal brands and grow their businesses.
She provides private mentorship and runs a membership program dedicated to branding with astounding reviews!
Mallike runs her personal branded website on Podia with a built-in membership feature that allows her to sell courses.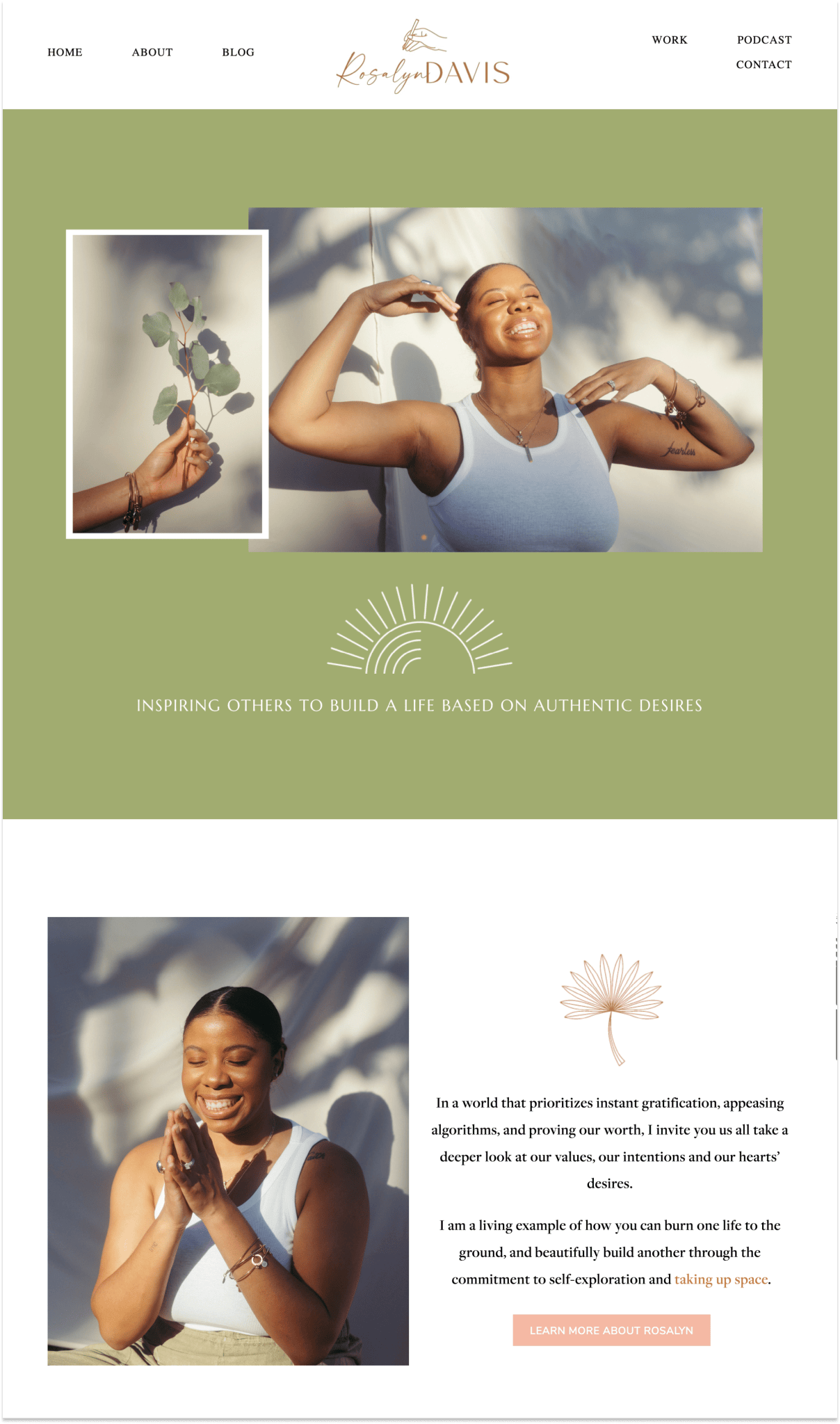 Rosalyn is a certified Revelation Breathwork Practitioner, a trained Sound Healing therapist, and the founder of "We Are Taking Up Space," a welcoming community and sanctuary dedicated to well-being.
Her website design exudes warmth and professionalism with clever use of typography, spacing, and a great color palette selection.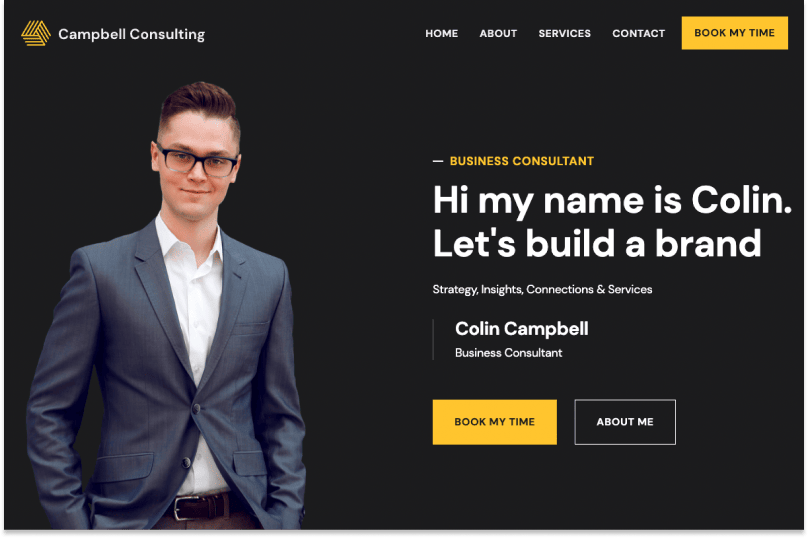 Colin used to work with Gary Vaynerchuck and led marketing at an American venture capital fund. Now, he consults businesses on brand strategy, social media management, content creation, and more.
Collin uses the Consultant Webflow template that features a high-end design sprinkled with smooth animation throughout the site. It also helps that the site is mobile responsive and 100% customizable.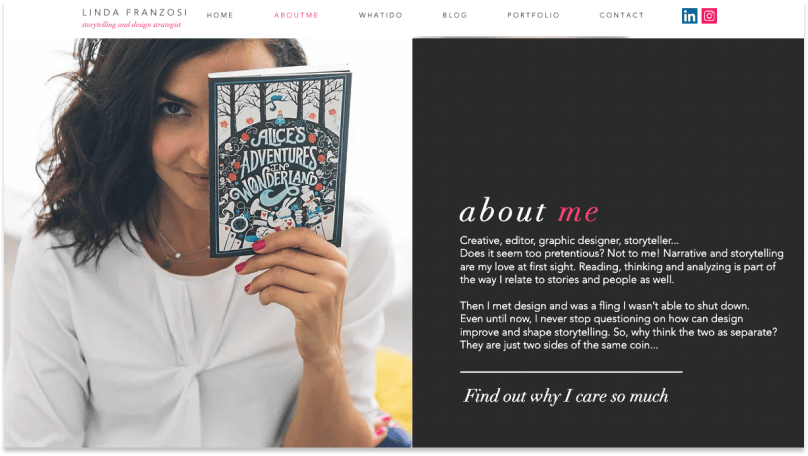 Linda is a creative graphic designer and storyteller who consults businesses on content management, visual communication, graphic, and web design.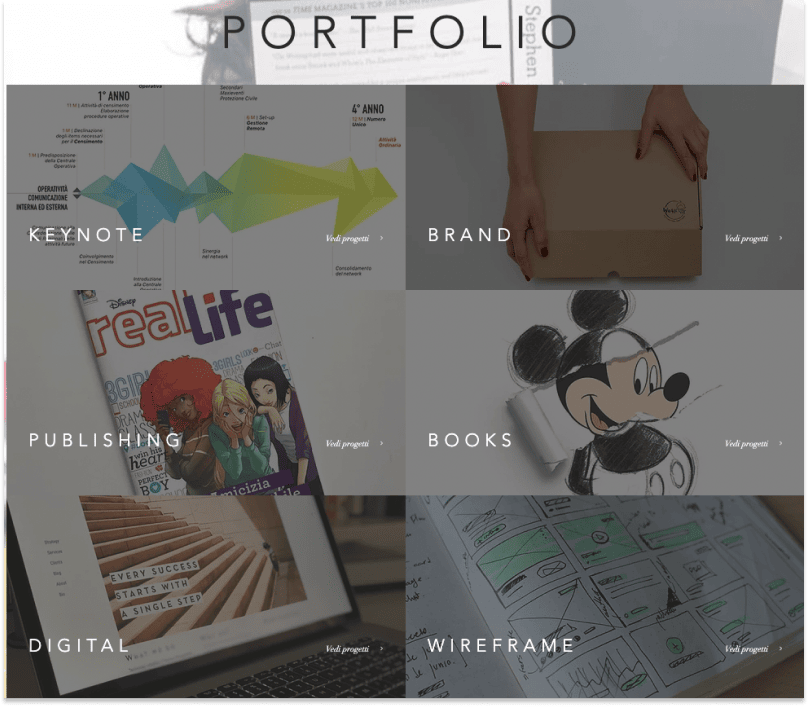 Her overall website design is playful, as is her personality. To help her secure more potential clients, she's prepared a variety of portfolios on her site to showcase her expertise.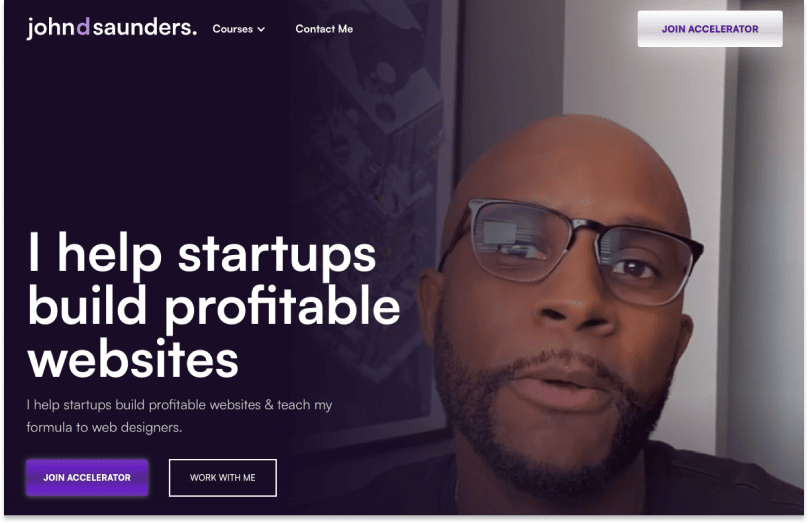 John Saunders is a web designer and creative director who provides not only design consultation but also full marketing service to companies on a high growth trajectory.
His services include illustrations, web branding, and creating systems and processes to scale his client's business.
Upon visiting John's website, he'll greet you personally in a video, which is a clever trick to engage his audience.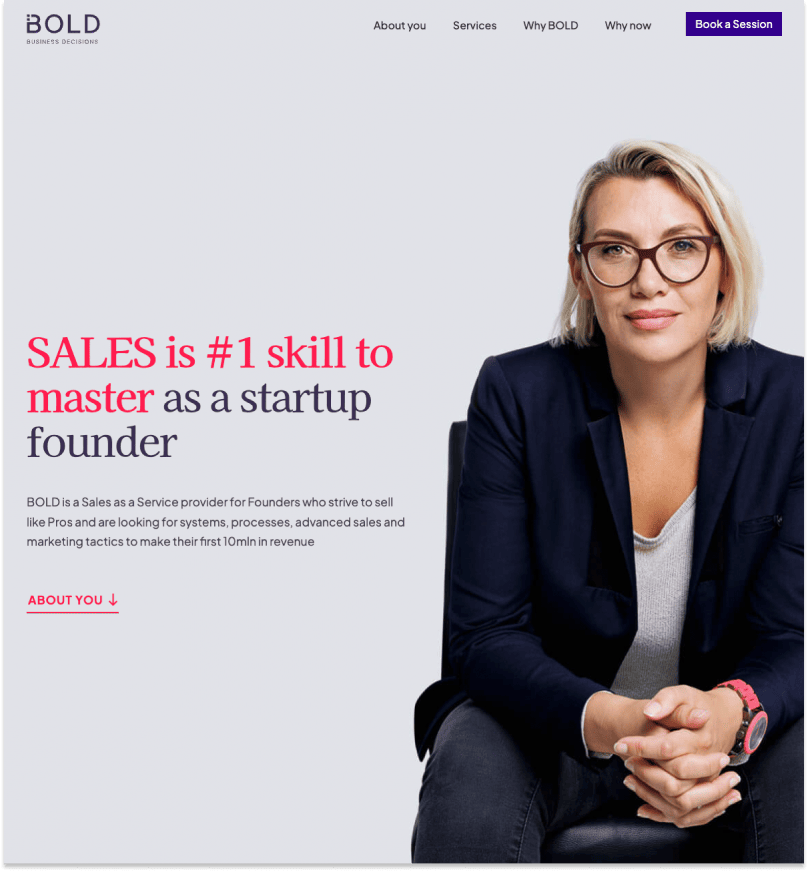 Monika has been a senior sales professional who helps VC-funded and bootstrapped tech companies grow from 0 to 10 million in revenue and beyond.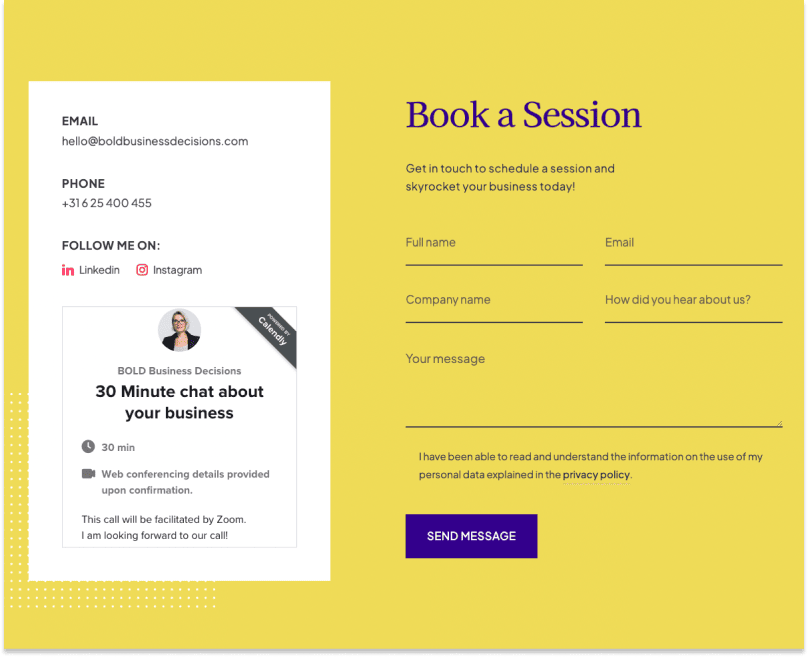 With 20 years of sales experience, she started Bold Business Decisions, a Sales as a Service provider where she consults founders on go-to-market strategy, sales leadership development, and sales exec recruitment.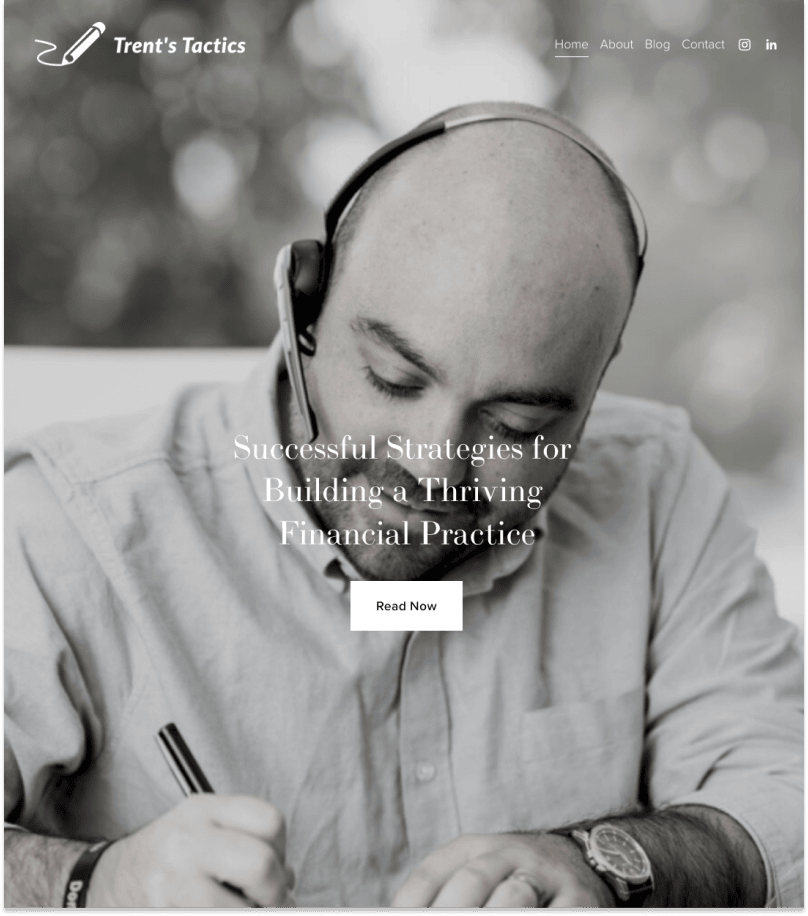 Trent Martin is an independent consultant who helps financial advisors build a thriving business by improving their marketing, sales, and practice management processes.
Trent is keeping it simple with his personal site. Despite that, he frequently shares financial tips and advisor management best practices on his blog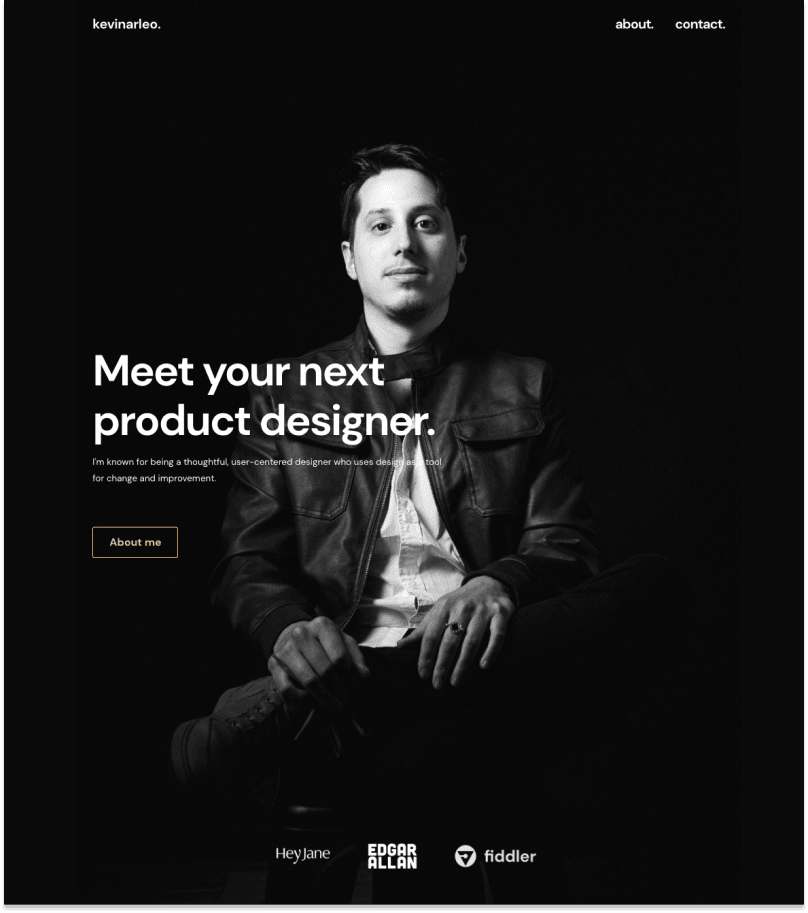 Kevin Arleo is a product designer who specializes in designing user interfaces for marketing websites, mobile apps, and web apps.
Kevin went for clean, minimalist aesthetics for his personal profile site, which he built on Webflow, a multipurpose website-building platform that he also uses for his clients.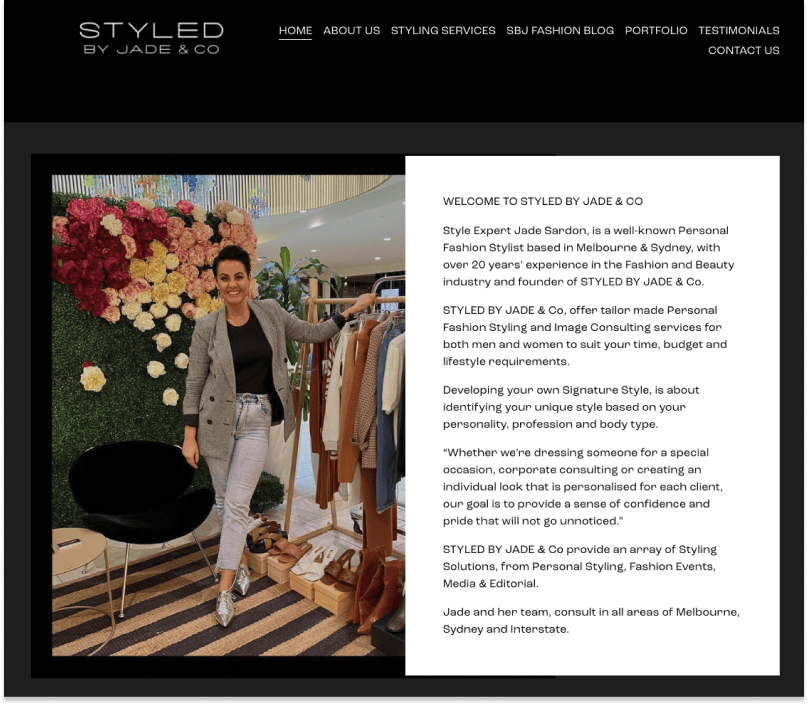 Jade is a personal fashion stylist and image consultant based in Melbourne & Sydney. She primarily helps her clients develop their own signature style based on their personality, profession, and body type.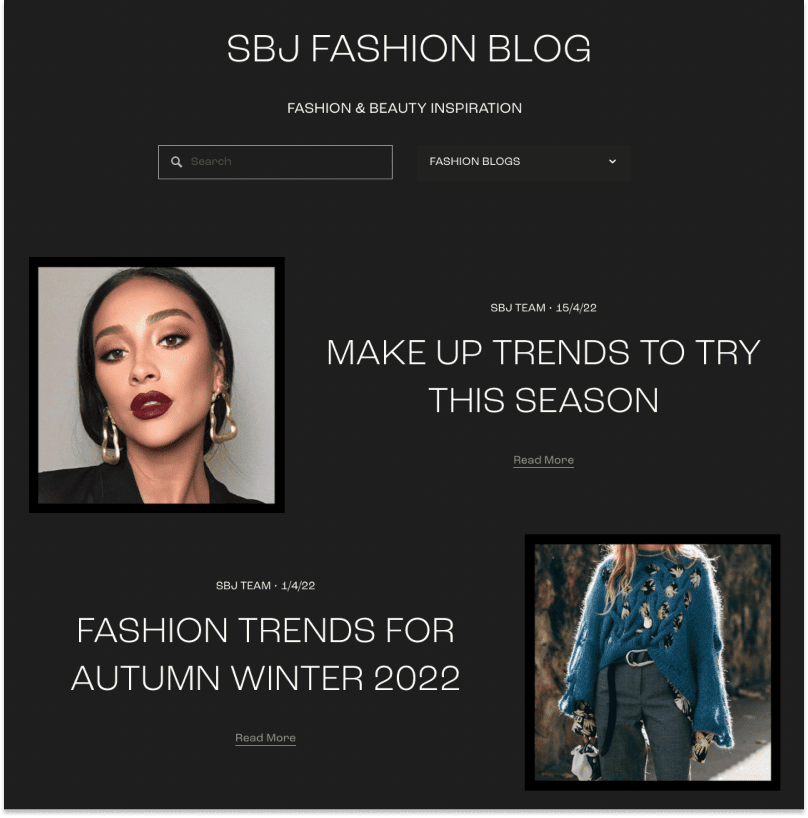 Despite having an extensive portfolio and being featured in multiple fashion magazines, Jade frequently provides value on her fashion blog, where she frequently shares the latest makeup and fashion trends, styling tips, and more.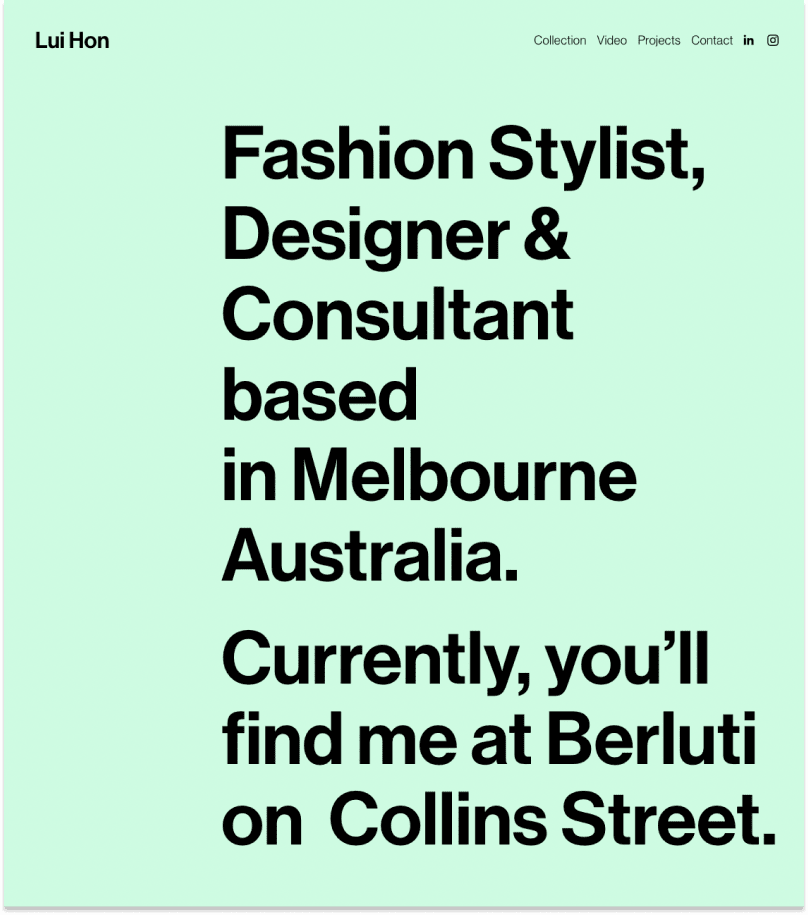 Lui Hon is a fashion stylist, designer, and consultant based in Melbourne who has over 25 years of experience in high-end luxury brands.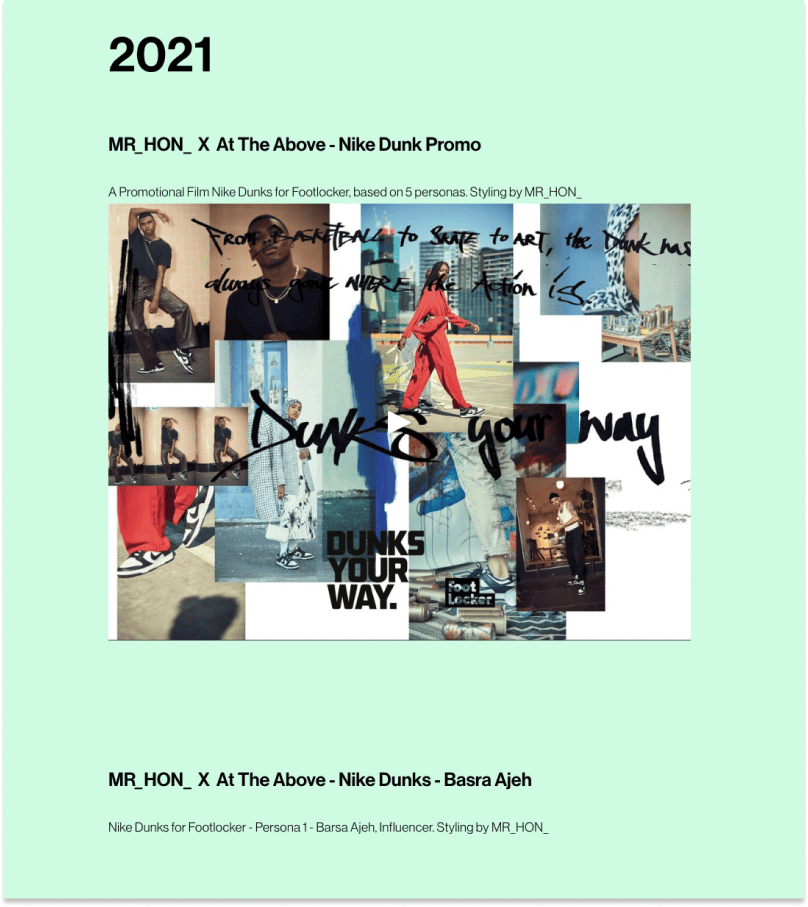 Despite her minimalistic home page, her portfolio is daringly creative, highly visual, and breathtaking.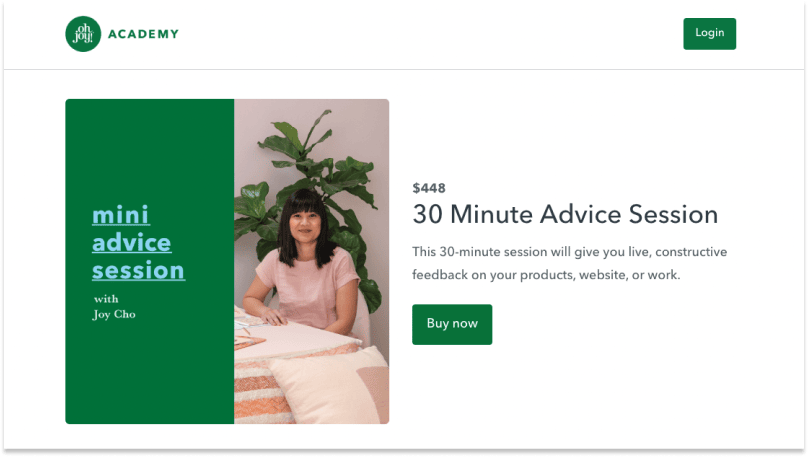 Joy Cho is the Founder and Creative Director of Oh Joy!, a lifestyle brand that sells designer home decor, trinkets, and furniture collections.
She also helps budding entrepreneurs in Los Angeles by providing paid consultations on art licensing, idea pitching, and business coaching.
Customers who are interested in a private 1:1 consultation can directly book a session on Joy's personal website.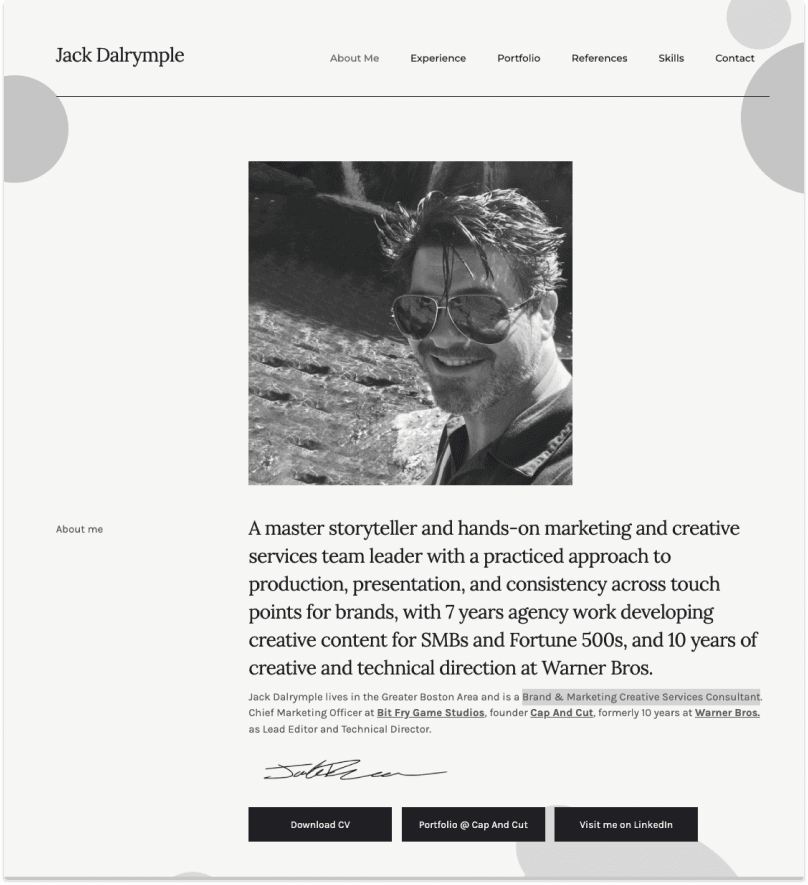 Jack Dalrymple is a marketing consultant who helps Small businesses and Fortune 500 companies with branding, growth strategy, digital content development, and growing their high-performing creative teams.
His personal site reads like a CV and is the perfect example of a well-balanced, structured portfolio that highlights his expertise.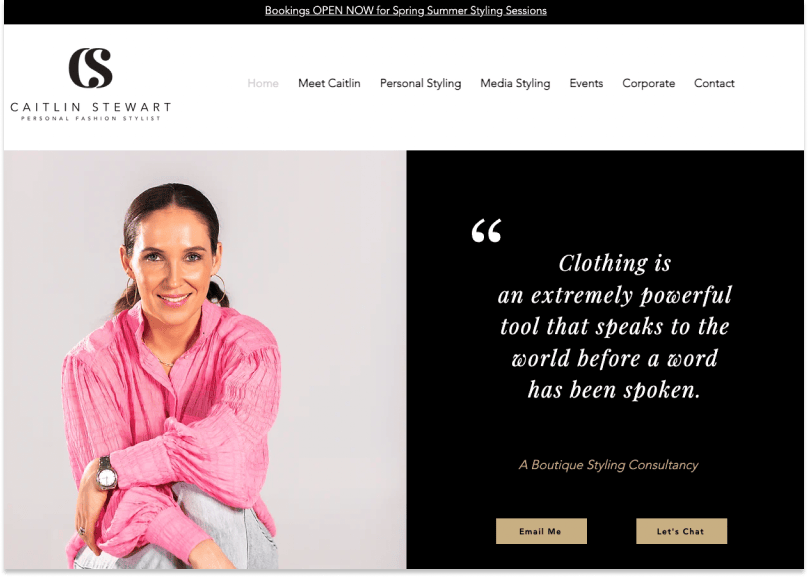 Caitlin Stewart is a personal stylist and image consultant with over 16 years of experience. She offers individual styling services and commercial styling for media personalities, bands, politicians, athletes, and more.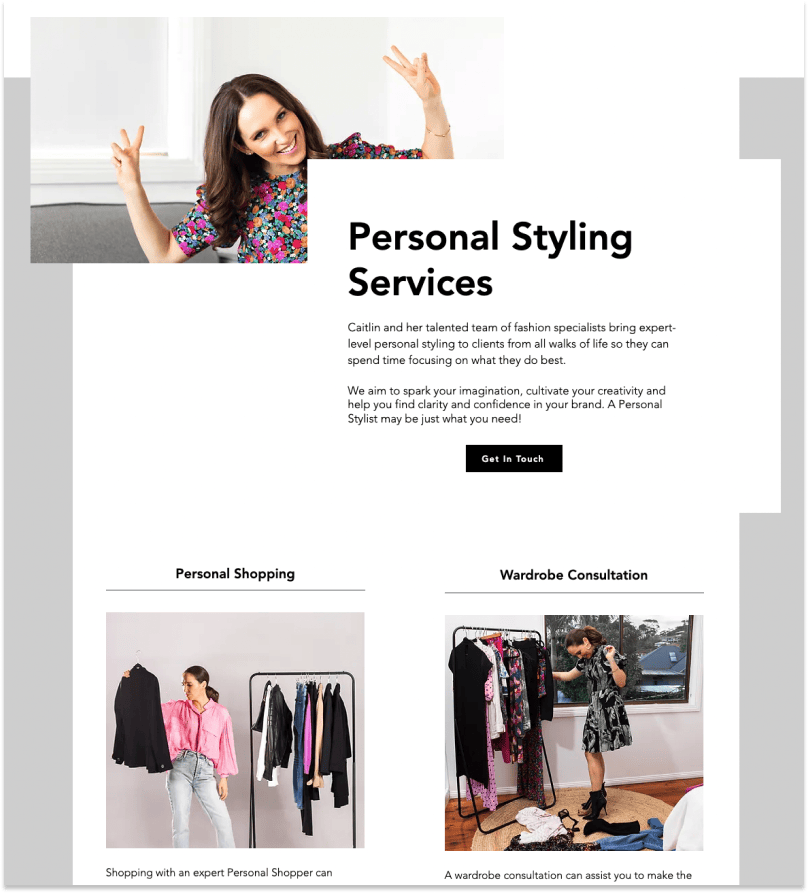 While Caitlin kept her website design simple, she provided detailed write-ups for each of her services, including pricing, key area of focus, the styling process, and booking info.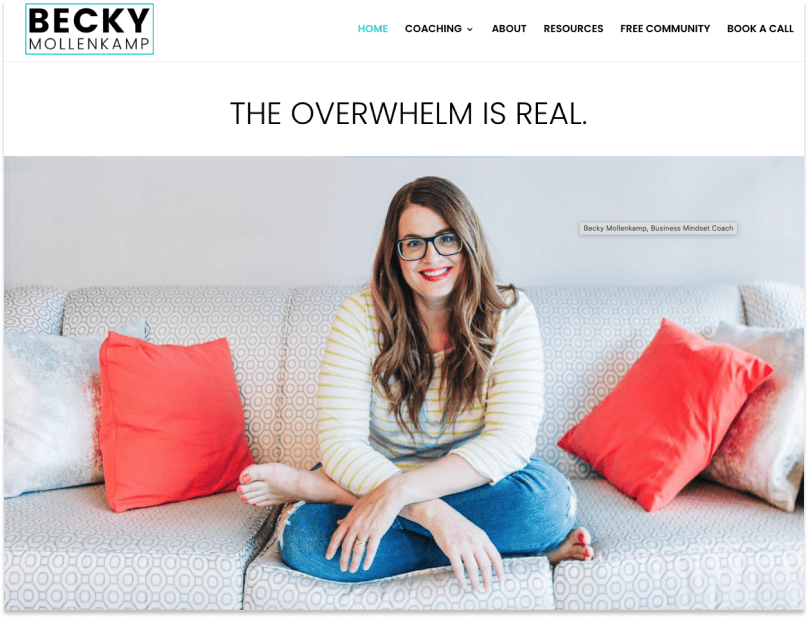 Becky runs a successful consulting and coaching business that helps CEOs and business owners think bigger, perform better, and work with more confidence in their business
Her website design is bold and fresh, incorporating a bright pink accent color throughout her site. Beyond that, she's built a free community for women where they can share, learn and grow with like-minded individuals.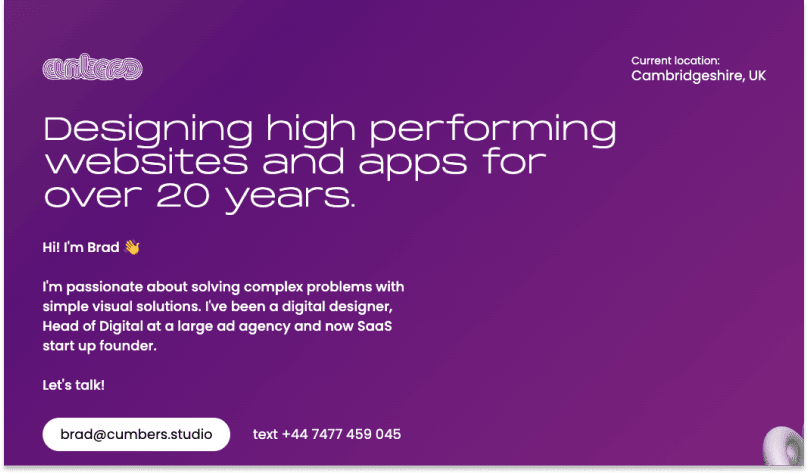 Brad Cumbers is a digital strategist and UX consultant currently based in the UK.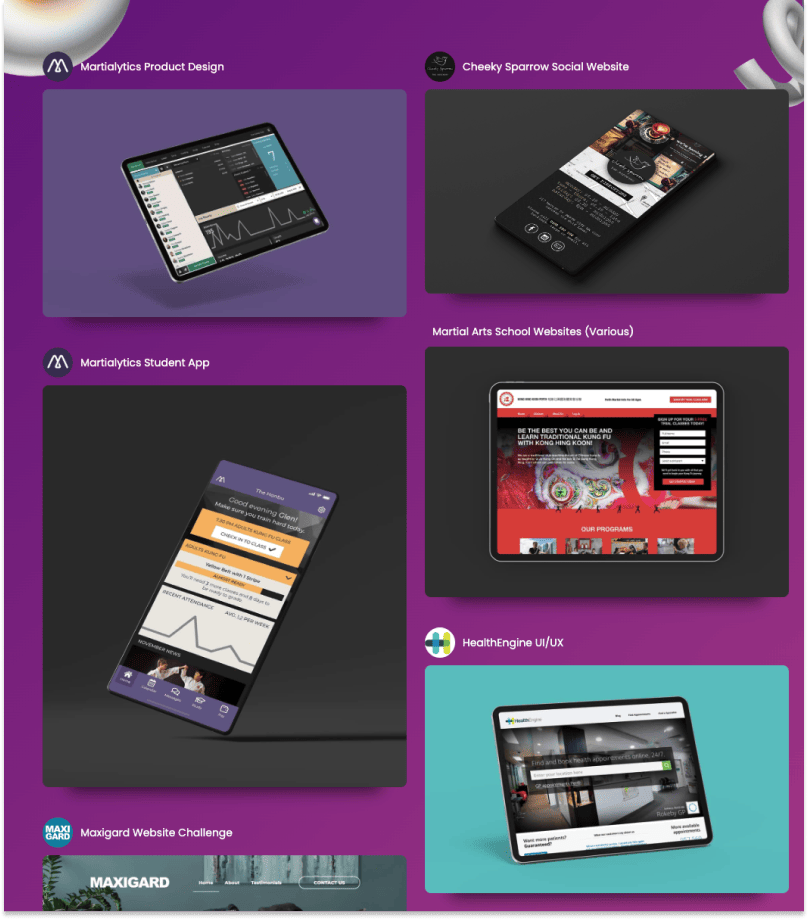 He started a design studio, aptly named Cumbers studio, and uses his website to showcase his portfolio, which includes UI/UX design for a small business coffee business website, healthcare software as a service, mobile games, and more.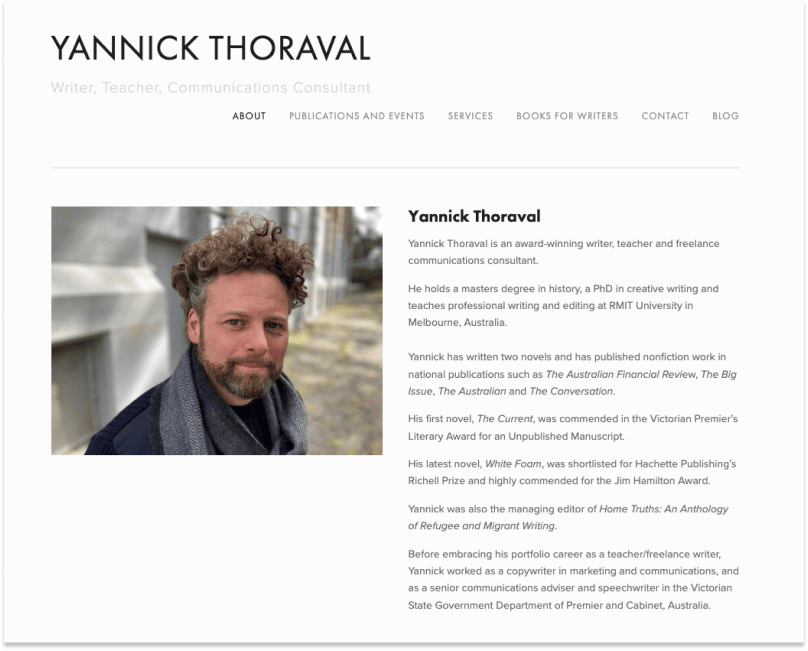 Yannick Thoraval is a writer, teacher, and freelance communications consultant currently based in Melbourse, Australia. He wrote 2 novels, The Current and White Foam, both of which earned him the Jim Hamilton National Literary Awards by the Fellowship of Australian Writers.
Yannick kept a minimalistic design for his website and mainly uses it to build an online presence for his fans.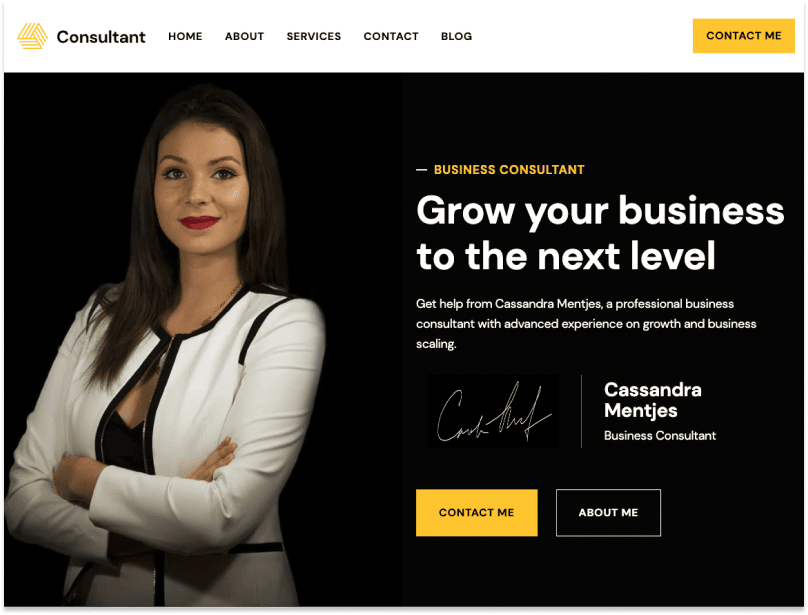 Cassandra is a professional business consultant specializing in scaling high impact businesses. Her services include business goal settings, operation and processes restructuring, KPI design, and more.
Cassandra also uses the premium Webflow consultant template that features a modern, high-end design. It also comes with a blog and e-commerce feature s should Cassandra plan to make use them in the future.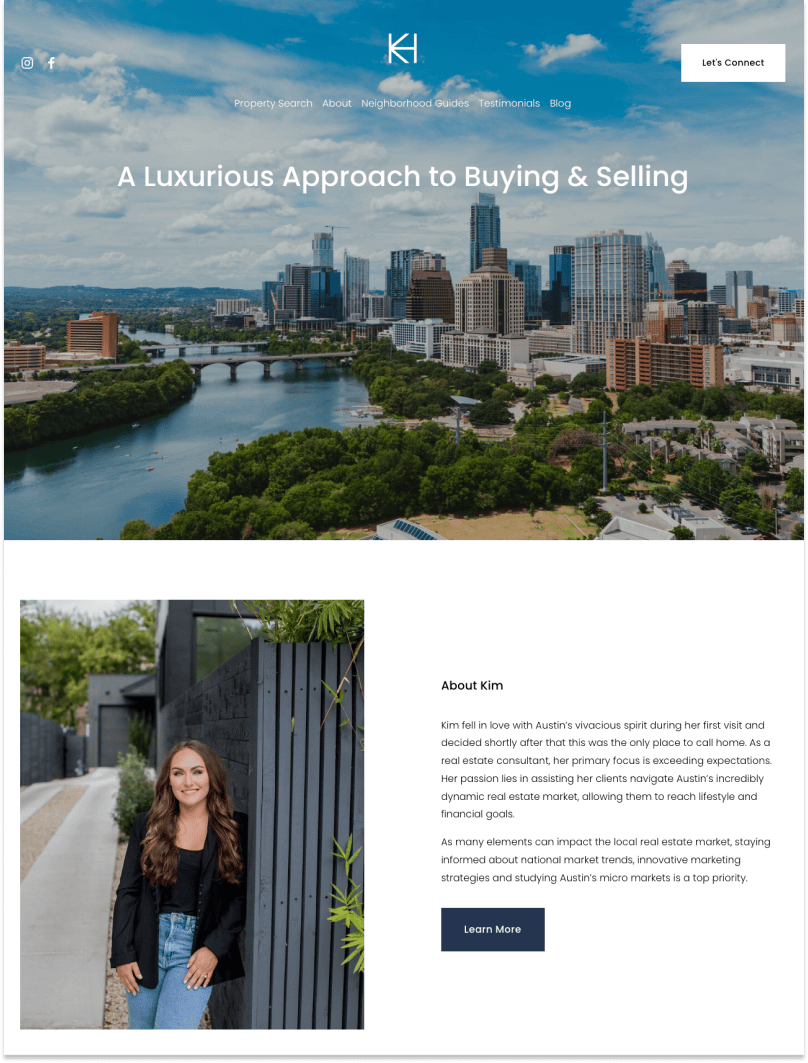 Kimberly Howard is a real estate consultant who mainly serves clients in Austin, Texas.
To help her clients navigate the dynamic real estate market, she prepared an Austin neighbourhood guide on her website which is a great way to add value and build rapport with her clients.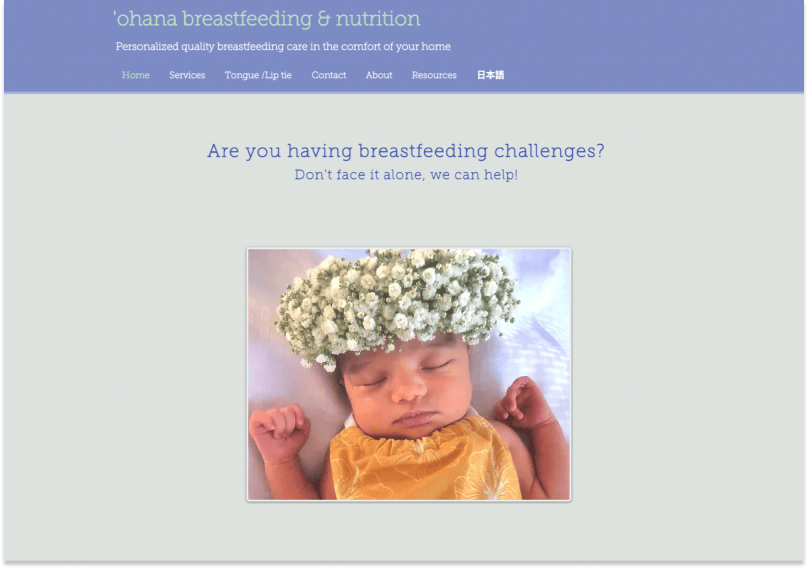 Mihoko is a certified Lactation Consultant and registered dietitian nutritionist who supports young breastfeeding families with their newborn. Her services include prenatal visits, lactation consultations, and nutrition education.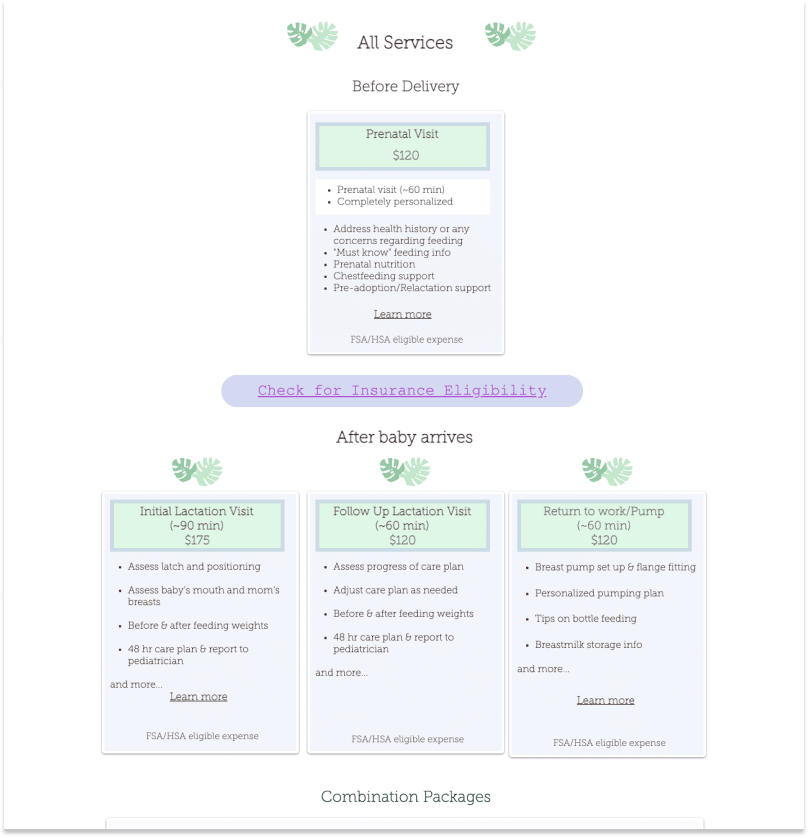 Mihoko's website features a gentle design color palette. Knowing breastfeeding can be a daunting process for clients, and she went into incredible detail describing how each of her services works, including custom illustrations, resources, and her personal contact number for inquiry.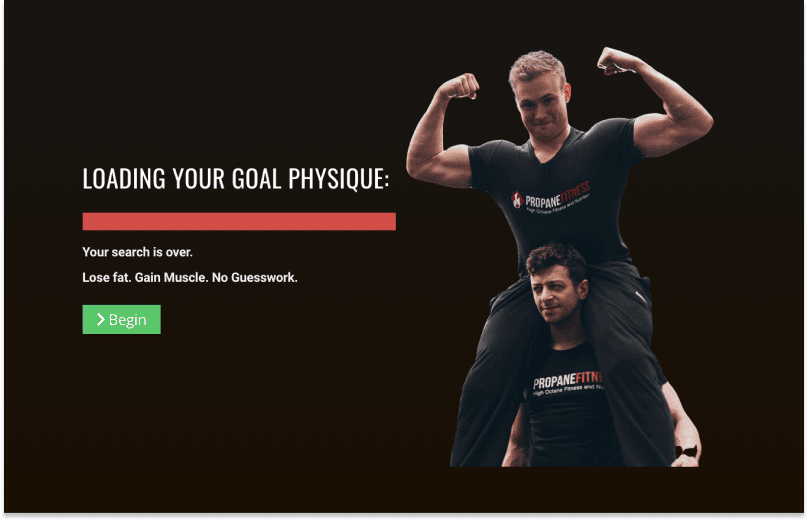 Jonny and Yusef are world level powerlifter and doctor who run Propane Fitness, a fitness consulting firm with over 2300 customers to date.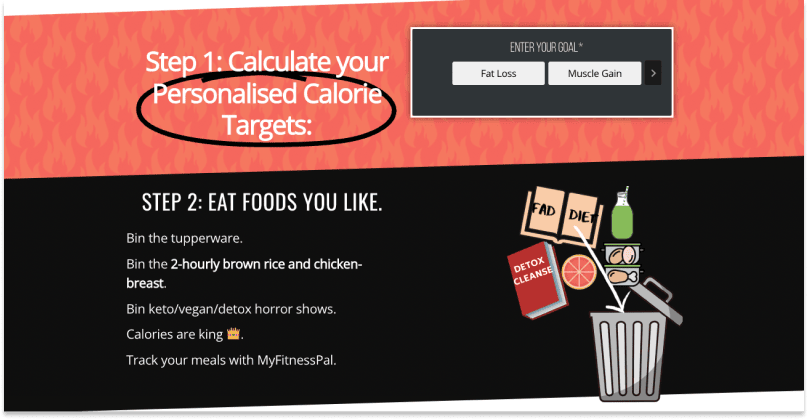 Lead generation is crucial for a consulting firm like Propane Fitness, so what they did to generate leads was they created a calorie target calculator on their home page where customers insert their fitness goals, body weight, and gender, and they will send a personalized calorie target to the customer's email.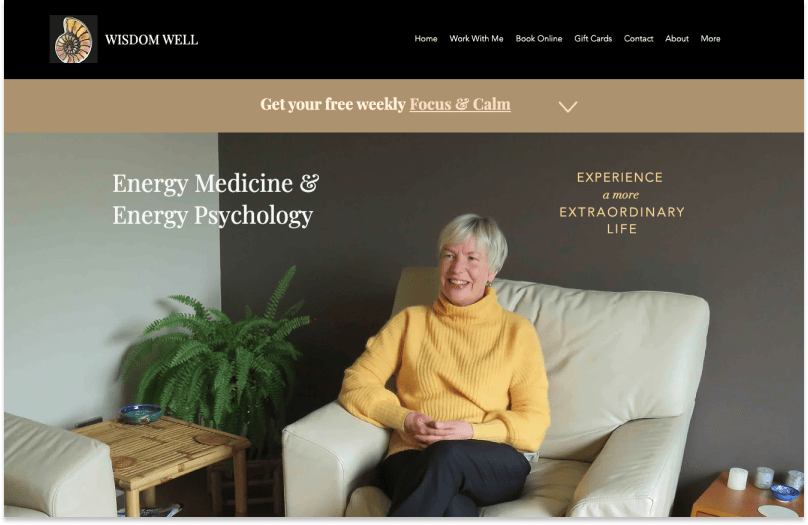 Lynne Saunders is a transformational coach who consults clients on achieving clarity, developing confidence, and manifesting abundance in life.
The website design for Lynne's coaching business, Wisdom Well, feels mature and professional. There's also a schedule calendar that allows customers to book a free or paid consultation on her site easily.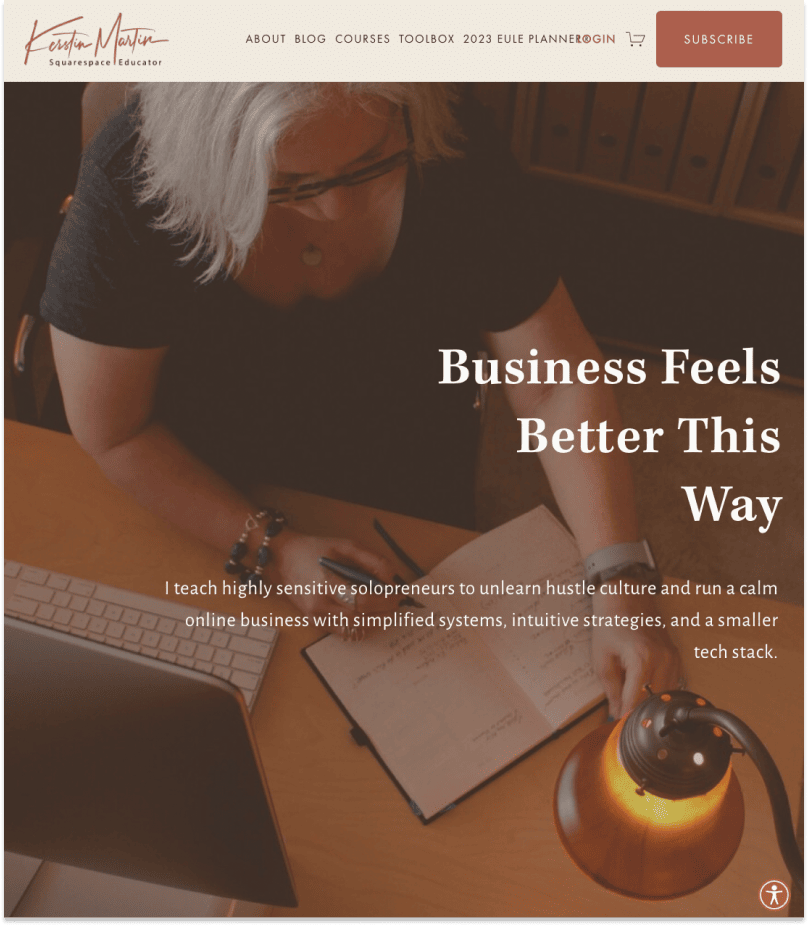 Kerstin is a web designer, blogger, and consultant who helps small business owners run a smooth and calm business.
She offers paid consultation and web design services, online courses, and sell physical products all on her Squarespace site, which also happens to be her  preferred website builder for her clients.
Related articles