This is not clickbait. Here are the legit ways to get a free custom domain on your website.
Most web hosting companies offer "free domain," but only if you sign up for their  (paid) web hosting services which defeat the purpose of trying to get a domain for free.
In this guide, we'll go over step-by-step how you can secure free domains that you can use for your website, email, and more.
Here's the summary if you want to jump ahead:
Let's dive right in.
1. Get a free domain from Freenom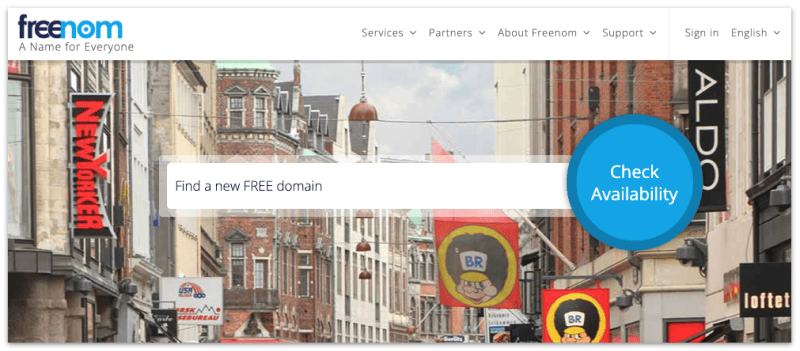 Freenom is the only domain name provider that offers free domains. The catch is you can only register domains with the following top-level domains:
---
What is a Top-level domain?
Top-level domain  (TLD) is the letters at the end of a website address. For example,  .com is the top-level domain for MakingThatWebsite.com and the most popular top-level domain.
---
When you get a domain with free TLDs on Freenom, they work like any other domain name. You can use it for your website, blog, email account, or even redirect it to another URL.
Free domain vs paid domain in Freenom
There's a difference between paying for a domain name in Freenom (or any other domain name registrar) versus signing up for a free domain.
Unlike paid domains where you hold the legal rights of the domain name, when you sign up for free domains in Freenom you are subject to their content policy.
Specifically, if you sign up for a free .TK domain, or any other free top-level domain from Freenom, your website should not have content related to:
Racism
Violence
Adult entertainment
Drugs
Weapons
Gambling
Viruses & Spyware
On top of that, your website shouldn't be empty or idle.
What happens if you violate Freenom's content policy?
Freenom reserves the right to revoke your free domain (example) if they deem you have violated their content policy.
Step-by-step on how to get a free domain on Freenom
Visit Freenom.com, search for your desired domain name, and click Check Availability.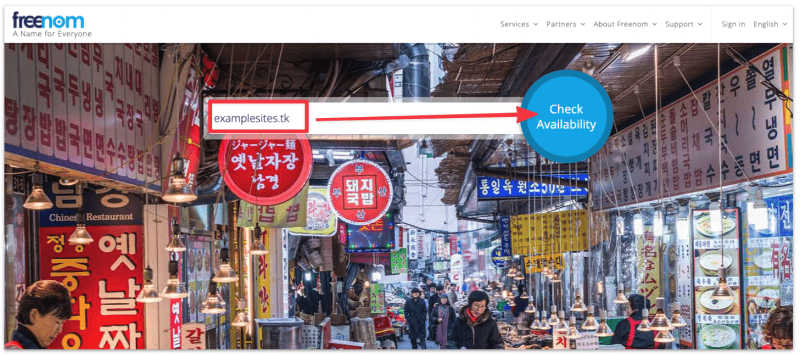 Important: Make sure to include one of the free top-level domains at the end (Example: .TK ).
2. Select checkout.

3. Select the preferred registration period and click Continue. The longest period you can register the domain for is 12 months. After which you can renew the registration again for free.
Technically, you can get the free domain for life if you keep renewing it every year.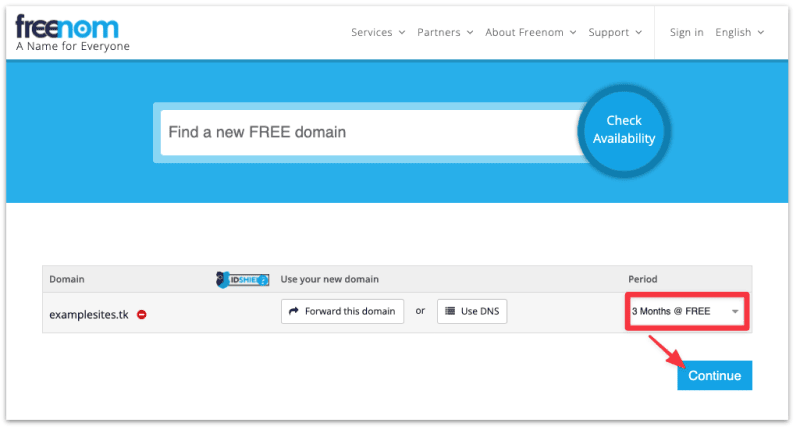 4. Enter your email address on the checkout page and verify your email address. Optionally, you can sign in using your Google or Facebook account.
5. Look out for the email verification email from Freenom. Then click on the verification link to verify your email.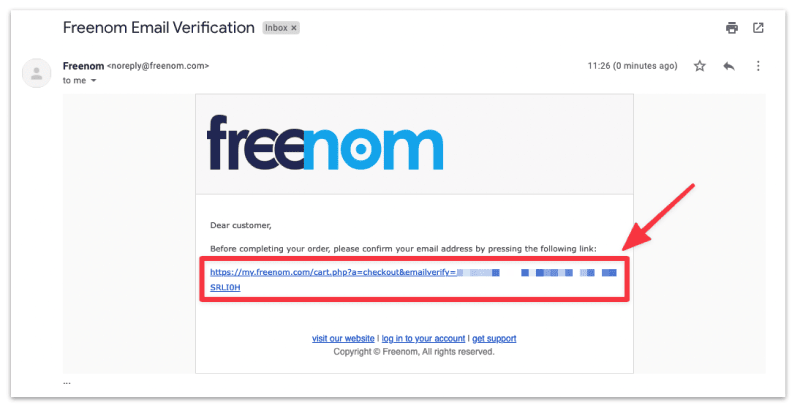 6. To complete the checkout, enter your personal details, set up a password, and make sure you've ticked the Terms & conditions checkbox. Then select Complete Order.
7. That's it! You've got yourself a free domain from Freenom :) You can now head over to the Freenom dashboard to set up your domain.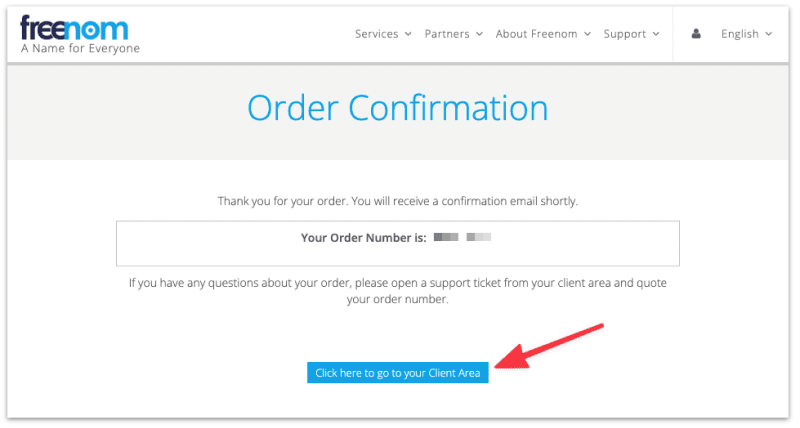 Once you've set up your domain, you can choose one of these website builders and set up an email and inbox as well.
2. Get a free domain from Github Student Developer Pack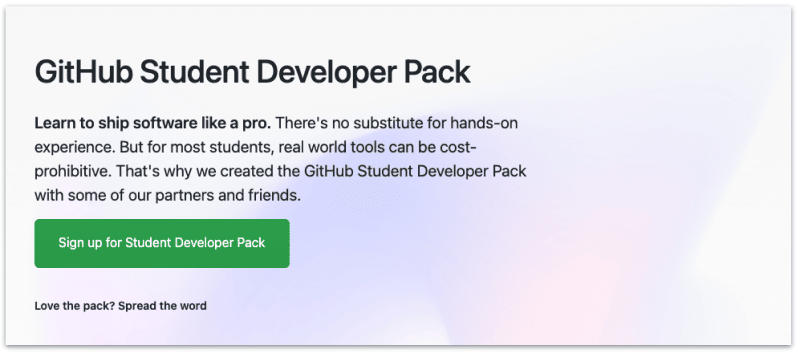 If you're a student, you are eligible to apply for Github's Student Developer Pack.
Github is one of the world's largest code hosting platforms. On it, you can find source codes from some of the most prominent companies, such as Facebook,  Microsoft, and Apple.
To encourage students worldwide to pick up software development, Github has partnered with several companies offering free perks to students. These perks include free domains, cloud hosting, design tools, and more!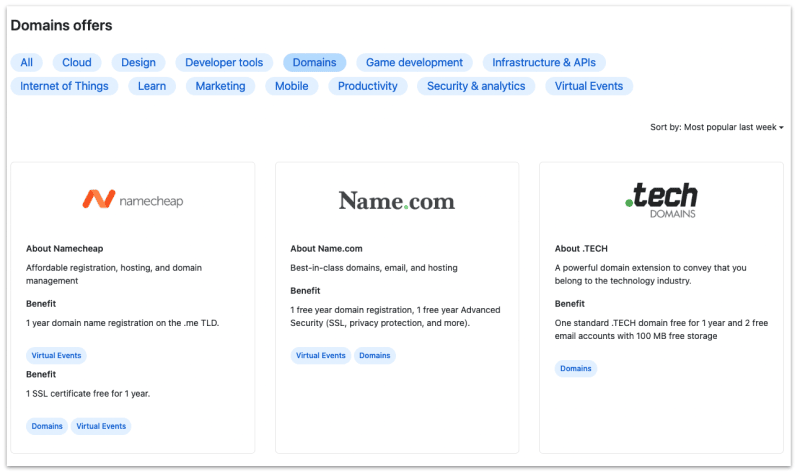 Specifically, you'll get:
One year free domain registered on the .me TLD from Namecheap
One year free domain (any domain) plus one year advanced from Name.com
One year free .tech domain from .Tech.
Click here to view all the perks in the Github Student Developer Pack.
Requirements to join Github Student Developer Pack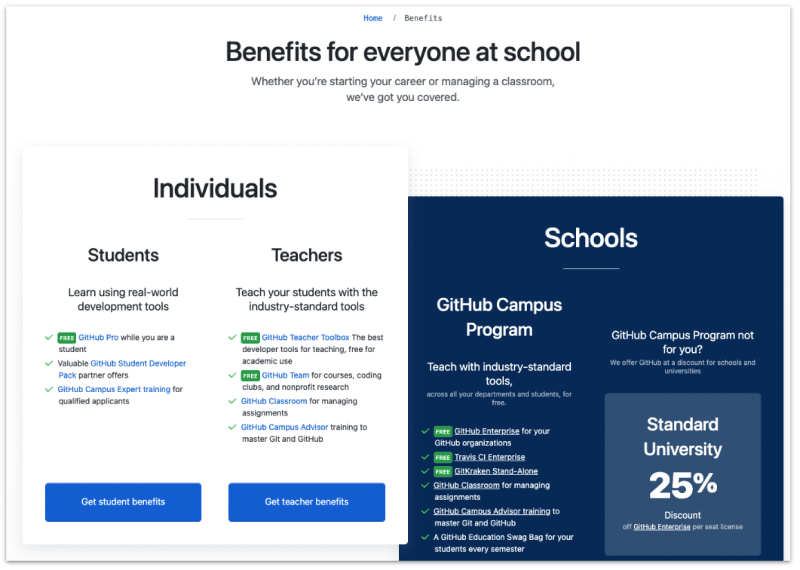 To be eligible for the Github Student Developer Pack, you must:
Be currently enrolled in a degree, diploma, or attending a high school, secondary school, college, university, homeschool, or similar educational institution
Have a verifiable school-issued email address. Otherwise, you need to upload documents that prove your current student status.
Have a GitHub personal account. Apply here.
Be at least 13 years old.
How to join Github Student Developer Pack
Here are the seven steps to apply for Github Student Developer Pack.
Visit the Github Student Developer Pack landing page and click Sign up.
Make sure you're logged into your Github account and select Get student benefits.
Add the email address you use for school. Ideally, you should add a school-issued email address to speed up the verification process.
Enter your school's name and describe how you plan to use Github.
Click Continue and wait for them to send you a confirmation email.
If your application is approved, you'll receive a confirmation email. This process typically takes a few days.
Click the link in the email to access all the free resources from Github partners.
3. Get a free domain from Name.com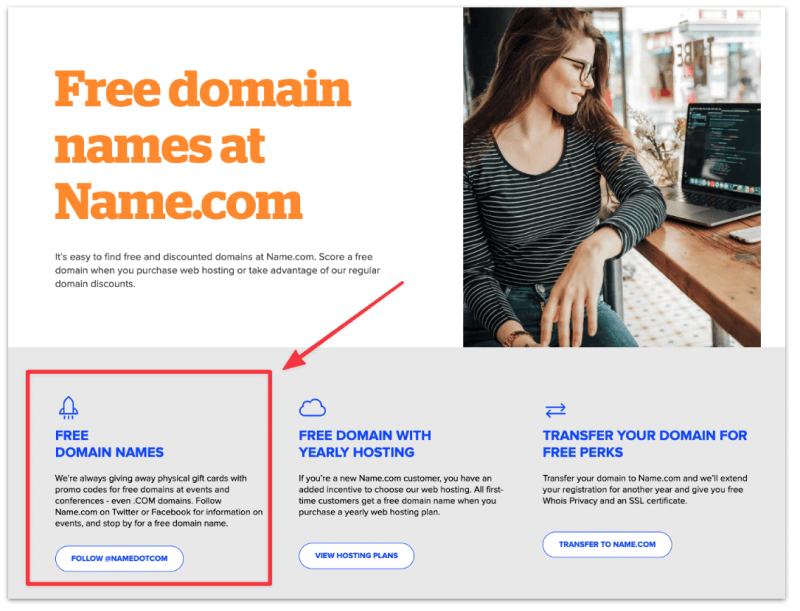 While you can't sign up for a free domain on Name.com, they do, however, give away gift cards with promo codes that allow you to redeem free domains at events and conferences.
The way to get these free domains?
Follow their social media pages (Facebook & Twitter) and be on the lookout for those free domain promo codes!
Here's an example of a local event to look out for to get those free domains!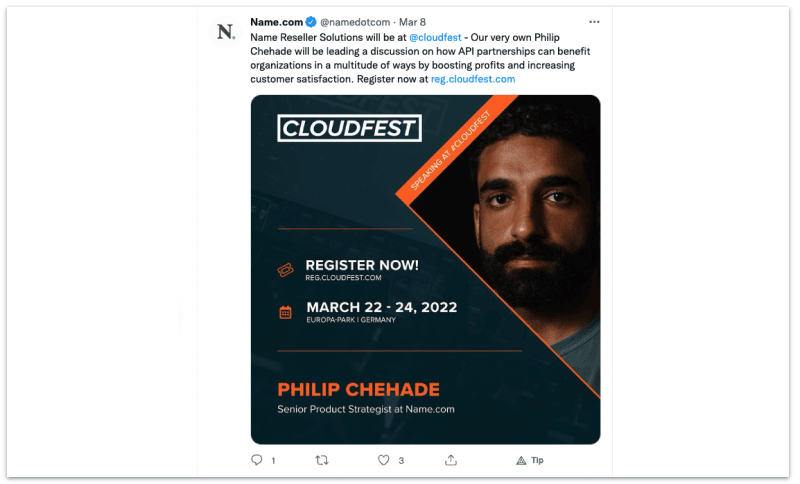 And if you're lucky, you might get a chance to spin for a free domain on their Facebook Live event.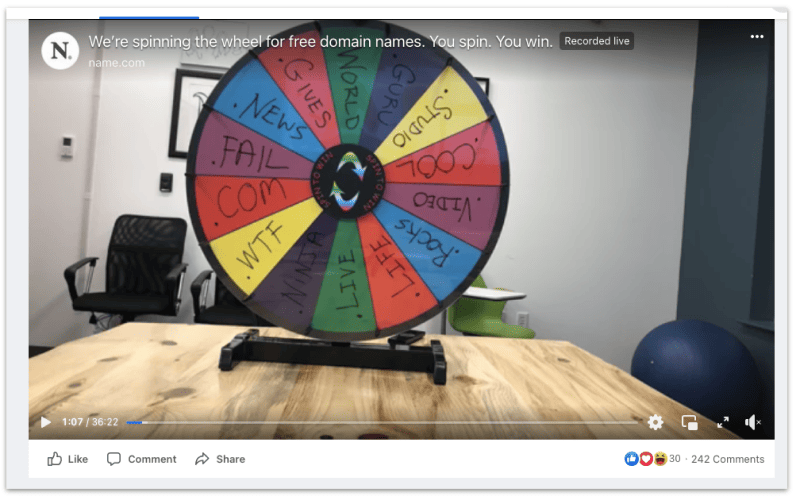 Bonus: Get a Namecheap domain for $1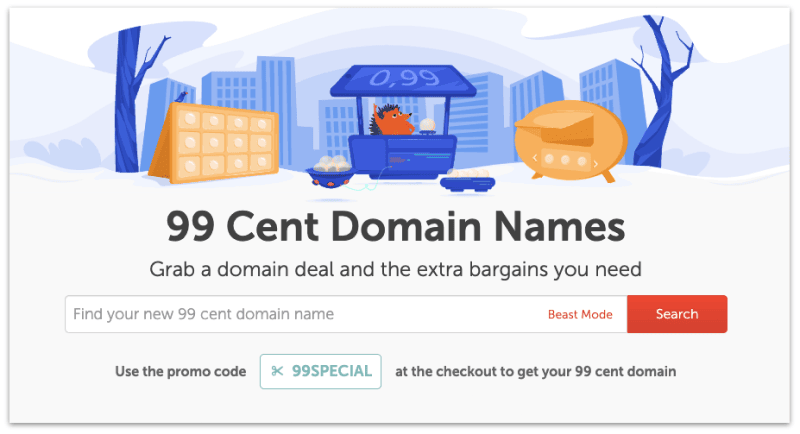 The next best thing to getting free domains? Getting them for just $1 :)
Here's a tip most people don't know — Namecheap has a perpetual promo where you can get popular domains for 99 cents.
Just apply the promo code 99SPECIAL at the checkout and you can get your domain for 99 cents.
If you're feeling adventurous, you can search for all the 99 cent domains that are available on Namecheap.

Frequently Asked Questions
Can I get a custom domain for free?
Yes. You can get free custom domains at Freenom. Although you won't be able to get popular .com domains, so they are recommended for personal use only.
How do I create a free website with my own domain?
There are several free website builders that allow you to use custom domains. These website builders are pretty easy to set up. So just get one of the free domains mentioned in this article and build yourself a website with a custom domain.
Is Freenom domain Free?
Yes, Freenom domains are free. However, you can only get domains ending in .tk, .ml, .ga, .cf, or .gq. You will also need to follow their content policy otherwise you run the risk of them revoking access to your free domain.
Is Freenom domain free forever?
Yes. You can perpetually renew Freenom domains for free two weeks before the registration period ends.
Related Articles