Is Squarespace Scheduling worth the money? In this article, we'll examine Squarespace's pricing and compare it with competitors.
We'll go over:
Let's dive right in.
Squarespace Acuity Scheduling vs other competitors
Here's a list of popular Squarespace Acuity Scheduling alternatives and thier price.
Cheapest plans from popular Acuity Scheduling alternatives that allow paid booking: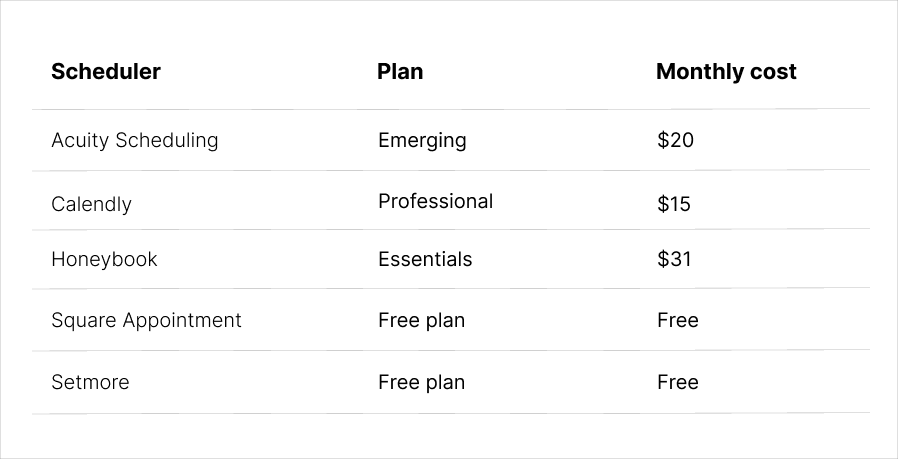 Note: This table does not take into consideration of yearly plan, which usually is slightly cheaper than the monthly plan (cumulative).
Squarespace Acuity Scheduling is fairly expensive compared to the other competitors.
However, there are a few reasons why these businesses decided to use Acuity Scheduling instead:
Deep integration with Squarespace — It saves a lot of time and hassle setting up appointments if you already have a site with Squarespace.
Great customer service — Squarespace is known to provide stellar customer support for all their products.
Better pricing for large team — Acuity Scheduling has a fixed cost for large teams while other tools charge per seat/team member.
Simplicity — Acuity scheduling is pretty intuitive. You can send a link to a client to schedule an appointment, and they can choose a time that works best for them; Once selected, it'll automatically be added to your Google Calendar or iCal.
Is Acuity Scheduling included in Squarespace?
Acuity Scheduling is NOT included in your Squarespace plan by default.
Back in 2019, Squarespace acquired Acuity Scheduling to expand its website-building capabilities and made it into an optional add-on (rebranded to Squarespace Scheduling) to the original Squarespace plan.
So if you need the scheduling feature to book clients, you need to purchase it separately.
Note: You do not need a Squarespace account to use Acuity Scheduling. You can purchase Acuity Scheduling as a standalone offering and add it on your site even if you're using other platforms like Wix or Wordpress, as shown in the examples here.
How much does Squarespace Scheduling cost?

Squarespace Scheduling offers 3 plans that start from $20/month.
Emerging — $20/month or $192/year (save 20%)
Growing — $34/month or $324/year (save 20%)
Powerhouse — $61/month or $588/year (save 20%)
The default pricing table on the Squarespace site shows the annual price divided by 12 months, which seems to portray a lower monthly cost. However, you're actually paying a lump sum upfront that saves you 20% of the total cost.
So, which plan should you choose?
Here's how you can decide which Squarespace scheduling plan to choose:
1. Emerging — This plan is for solopreneurs.
If you're a consultant, yoga instructor, or small business owner who only books clients for yourself, choose the Emerging plan.
With the Emerging plan, you'll be able to:
Allow clients to book a slot based on your availability
Sync your calendar (with Google, iCal, and Office 365)
Accept payments (via credit card, Paypal, and Stripe)
and automatically send invoice to clients based on your client's booking.
2. Growing — For business owners who need to set up calendars for their employees.
As soon as you need to set up more than 1 calendar, you'd have to opt for the Growing plan. You get to set up calendars for up to 6 employees or team members, and you get all the features from the Emerging plan plus a couple of premium features.
Premium feature #1: Sell bulk and recurring appointments. This is a feature worth upgrading for even if you're a solopreneur (e.g., consultant, yoga instructor, etc,) as it significantly increases your business revenue.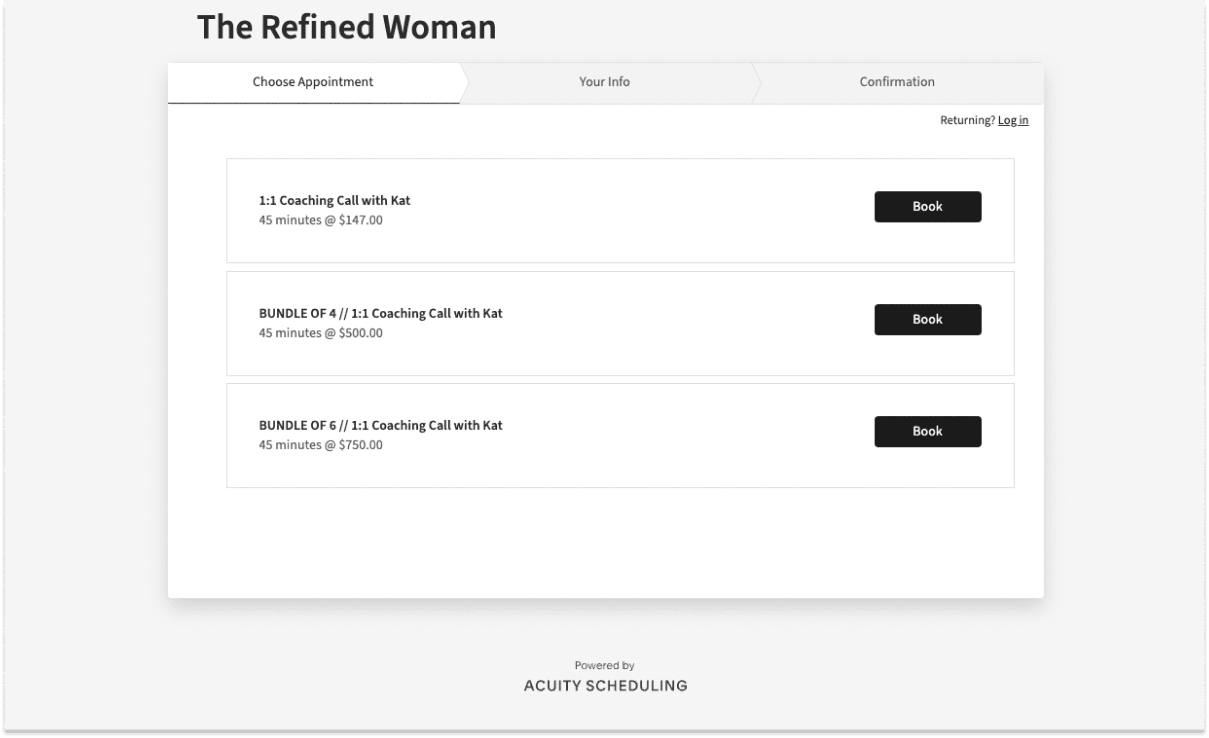 See other Squarespace scheduling examples here.
Premium feature #2: Automatic SMS and text reminders to clients before meeting, which is a nice to have.
3. Powerhouse — For established businesses with multiple staff and locations.
The Powerhouse plan allows you to set up a calendar for up to 36 employees or team members. This is great for large teams or established businesses.
For example, you're a gym owner who needs to set up a booking calendar for the 12 fitness instructors you hired.
It also comes with a few extra features that you don't get in the Growing plan:
Multiple time zones — Each team member will see appointment times in their own time zone
Custom API & CSS — For custom branding and integrations with your existing platform.
HIPAA — Sign BAA for HIPAA compliance (for businesses in the US)
Verdict: Is Squarespace Scheduling worth it?
Squarespace Acuity Scheduling is objectively more expensive than most of its peers.
If you want to get a scheduling tool at the lowest cost possible, then consider Square Appointment or Setmore, where they have a generous free plan.
However, if you value ease of setup (especially if you're a Squarespace customer), easier workflow customer, and better support when you run into any issue, then Acuity Scheduling by Squarespace could be a good option.
You should also consider Acuity Scheduling if you have a larger team (more than 7) since they don't charge per seat like other tools do.
Frequently Asked Questions about Squarespace Scheduling
What is the difference between Squarespace and Acuity Scheduling?
Acuity Scheduling is an appointment scheduling software, while Squarespace is a website builder.
Acuity Scheduling was an independent appointment scheduling software until it was acquired by Squarespace in 2019 to expand its website builder capabilities.
Squarespace has since integrated Acuity Scheduling with its website builder, where customers can purchase the appointment scheduling tool as an add-on.
However, Acuity Scheduling can also be purchased as a standalone offering where customers can embed the Acuity Scheduling calendar into their website.
Is Acuity Scheduling included in Squarespace?
Acuity Scheduling is not included in any Squarespace plan by default. It has to be purchased separately, starting from $20/month or $192 per year (20% discount).
How much is Squarespace Acuity Scheduling per month?
Squarespace Scheduling offers 3 plans that start from $20/month.
Emerging — $20/month or $192/year (save 20%)
Growing — $34/month or $324/year (save 20%)
Powerhouse — $61/month or $588/year (save 20%)
Is there a free version of Squarespace Acuity Scheduling?
Squarespace Acuity Scheduling doesn't have a free plan, but they offer a 7-day free trial.
You can sign up for a free trial without a credit card or an existing Squarespace account.
Learn more about Squarespace Scheduling trial here.
Squarespace doesn't offer any discount or promo code for Acuity Scheduling as of this writing, but you can sign up for Squarespace with our promo code MTW10 for ten percent discount off any Squarespace plan.
Related articles