Here are some of the best lead generation website examples from B2B companies, agencies, local businesses, and consultants.
I'll share exactly why these websites convert, some of the tactics they use to generate more leads for their business, and how they build their website.
I've categorized these examples into different segments (feel free to skip ahead):
Let's dive right in.
B2B Lead generation website examples
1. Power Framework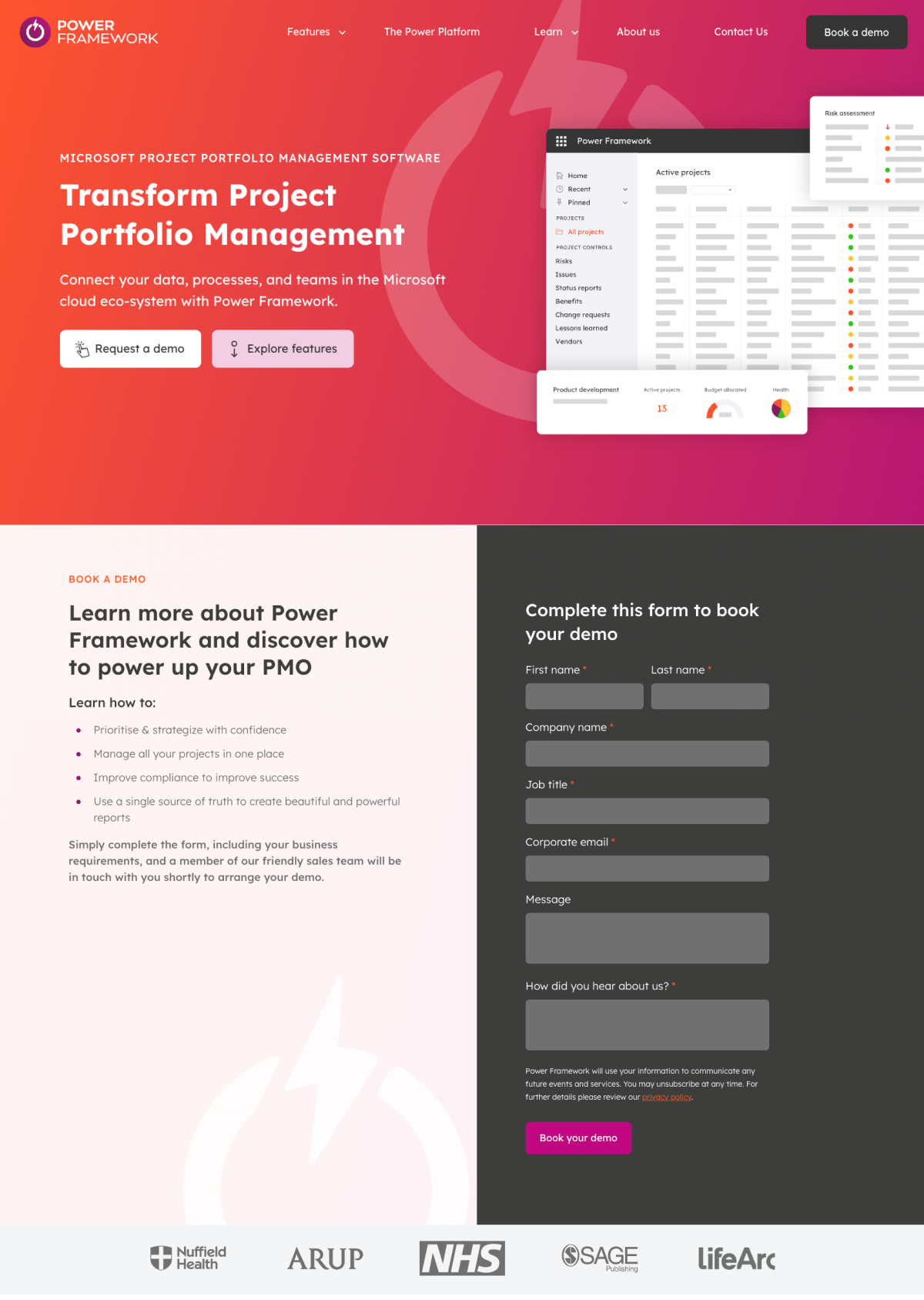 Power Framework is a Project Management Office (PMO) software that helps companies manage their projects and work more effectively using Microsoft's  cloud services
The nature of the business requires a hands-on sales approach, focusing on collecting leads to schedule website demos.
Here's what they're doing to convert more leads:
Highlight key benefits of using their platforms in bullet points.
Clear instructions to complete the form and what the prospect can expect later on.
They require a corporate email to pre-qualify leads
They also include a "How did you hear about us?" field so they can better understand and target their future prospects.
Check out Power Framework's lead generation page
2. Tillo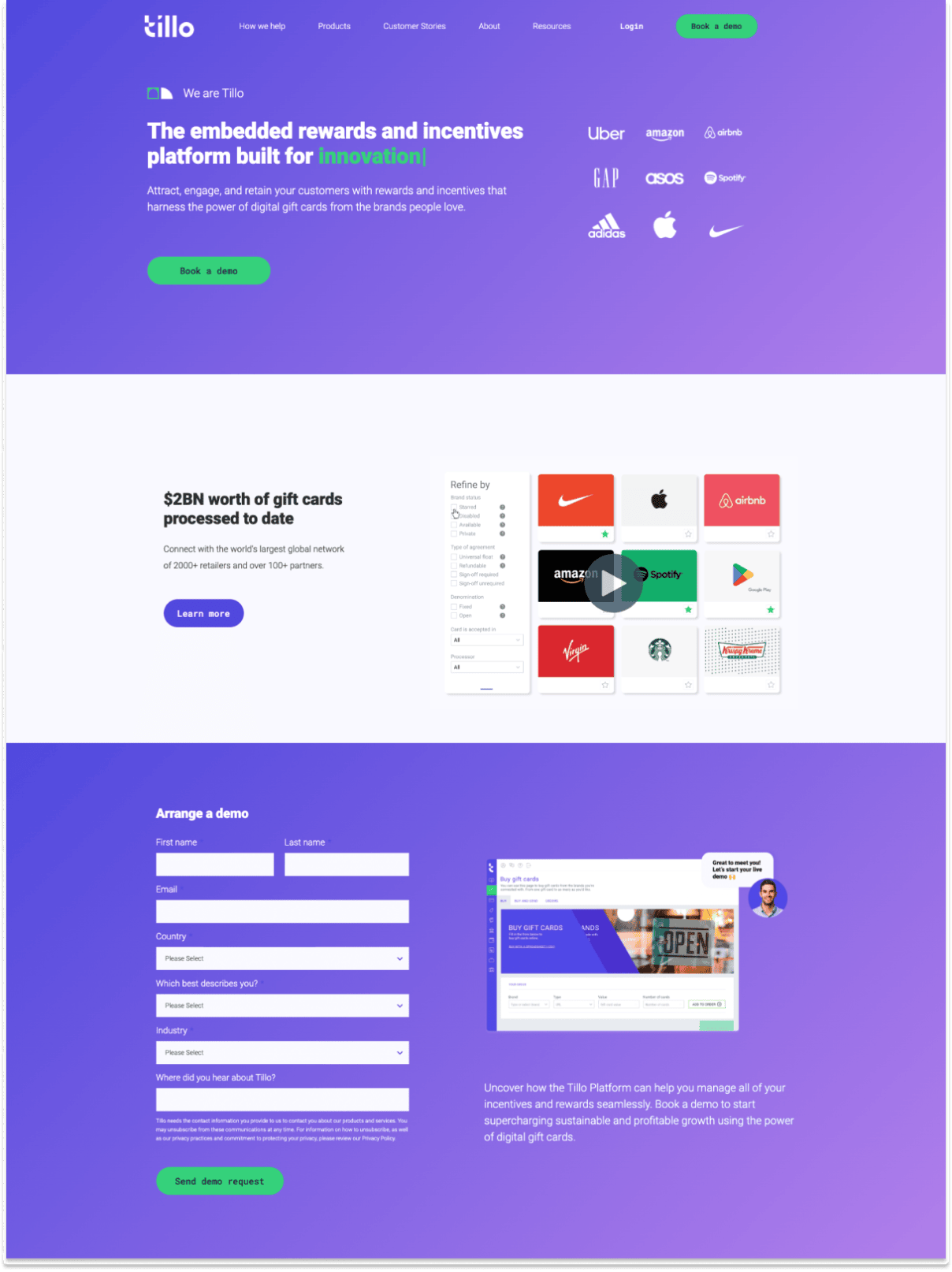 Tillo helps retailers grow by giving rewards and gifts to shoppers.
They have a big network of partners (famous brands like Airbnb, Adidas, Apple, Uber, Nike, Spotify, Virgin, Starbucks, and more), and they connect these partners to stores. This way, stores can give cool rewards to their customers, like digital gift cards.
They mainly find potential leads and customers through online marketing strategies. These strategies are aimed at getting store owners and retailers who have online stores to book a demonstration on their website.
How they're generating more leads from their website
Highlighting their biggest partners in their global network
Showcasing a video walkthrough of their platform
Featuring successful customer case studies
Pre-qualifying their prospects by asking about their goals and industry on the form
Check out Tillo's lead generation website
3. C2A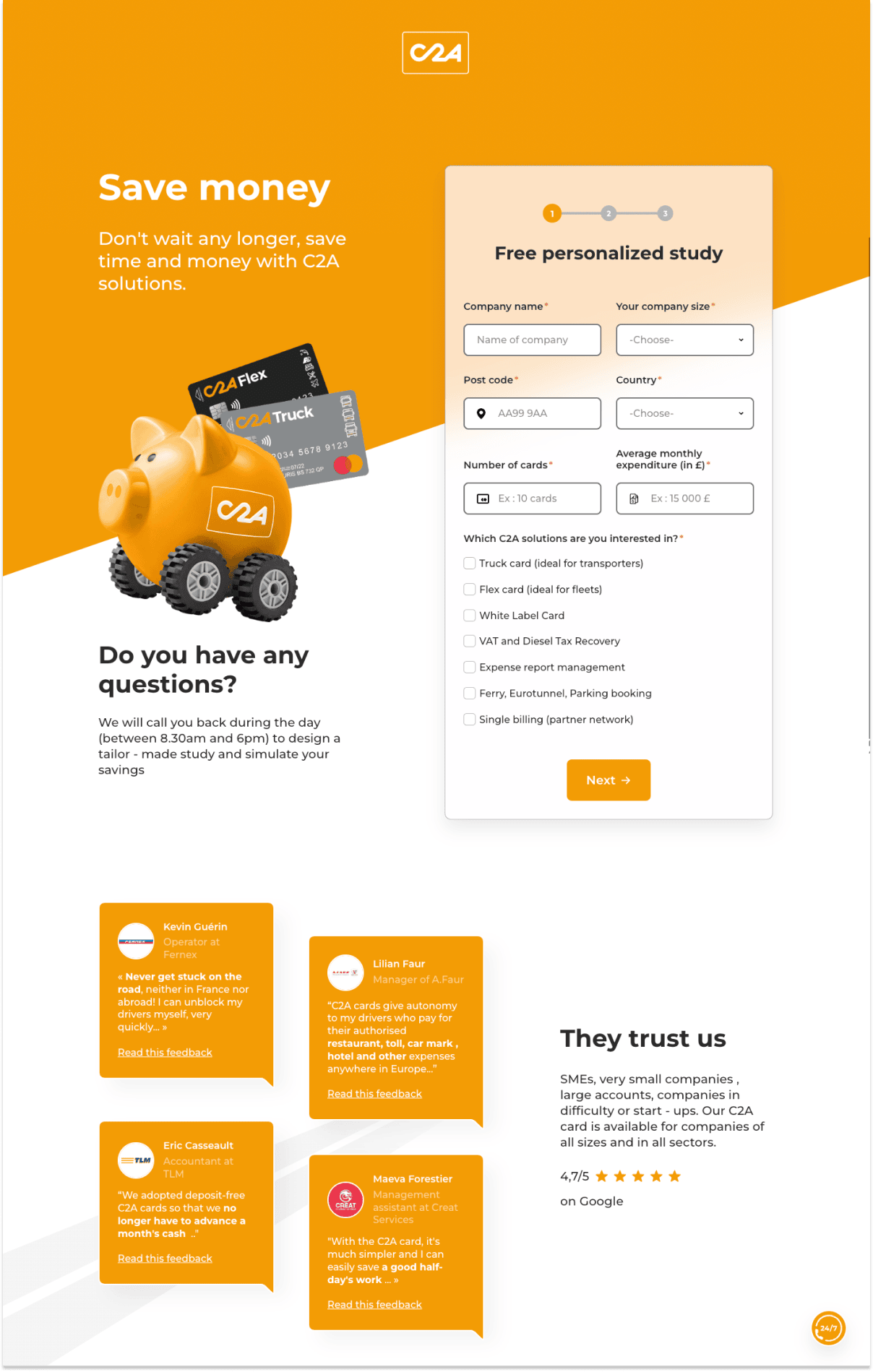 C2A offers special credit cards for businesses that combine the advantages of a fuel card and a bank card in one.
The card has different features that cover everything related to fuel and travel expenses for workers who are on the move. It's like a special payment card that can be set up in different ways based on what a company needs.
Just like most B2B companies, their primary sales channel is through lead generation (via demo) on their website.
How C2A is converting more leads:
They offer customized cost-savings simulations for companies as a lead magnet
Pre-qualify prospects by asking them to select the services they're interested in.
24/7 phone line available to answer any queries from customers
Real customer testimonials on the lead generation page as social proof
Highlight their near 5-star rating from Google
Check out C2A lead generation page
4. Tempo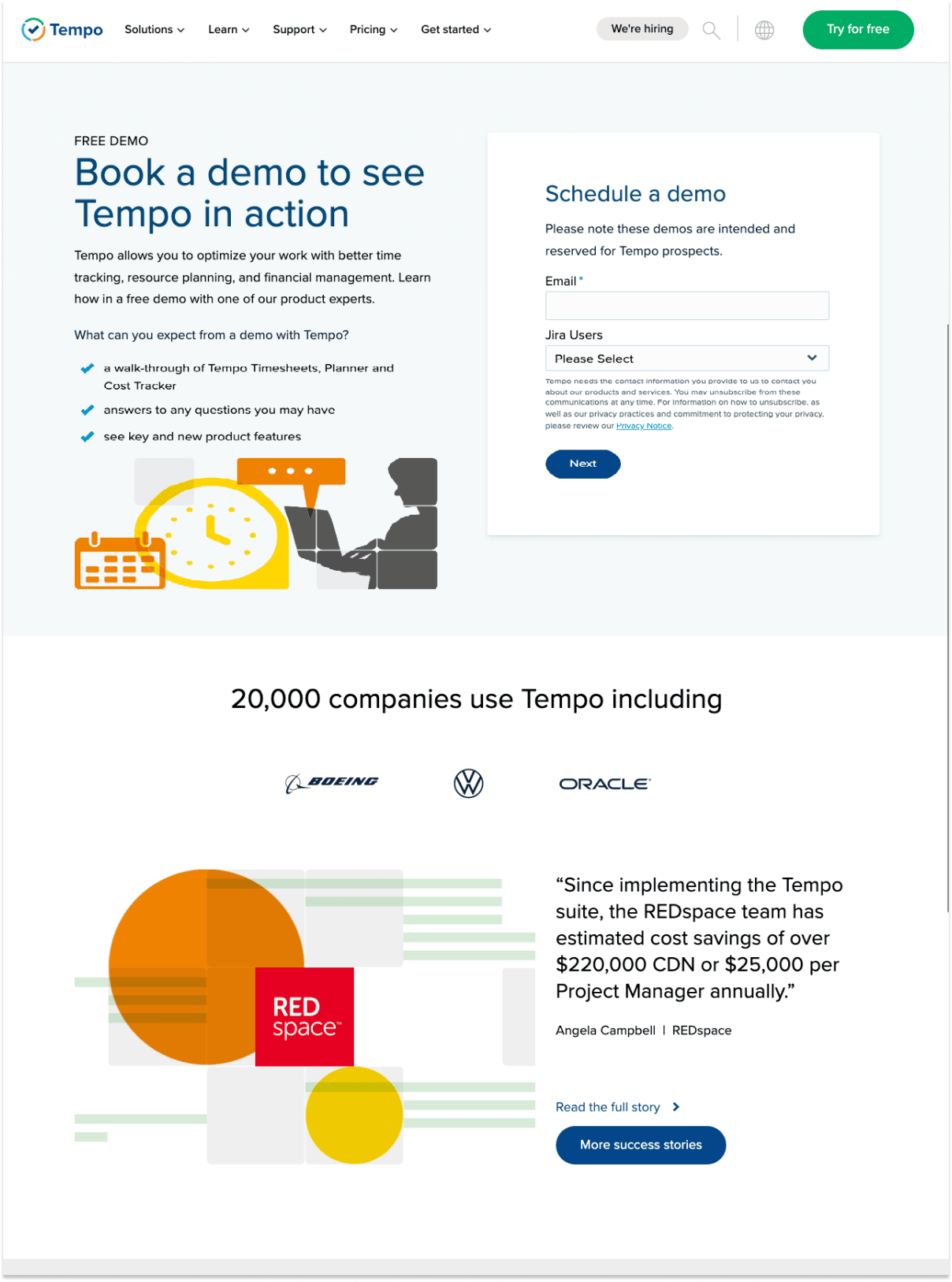 Tempo is a software as a service (Saas) company that created a suite of web applications for teams that work on software and products.
These tools (such as Timesheets, Planner, and Cost Tracker) primarily help teams with planning resources, managing budgets, and keeping track of time.
Customers can choose a free trial on their own, but Tempo also gets potential customers to request a demo. This way, they can explain the benefits and try to get them to sign up for a more advanced plan.
How Tempo is generating leads for their demo:
They provide a succinct checklist for the demo so they don't waste prospects' time.
Feature prominent customers who use their software
Featured customer testimonials and success stories
Check out Tempo's lead generation website
5. Room Unlocked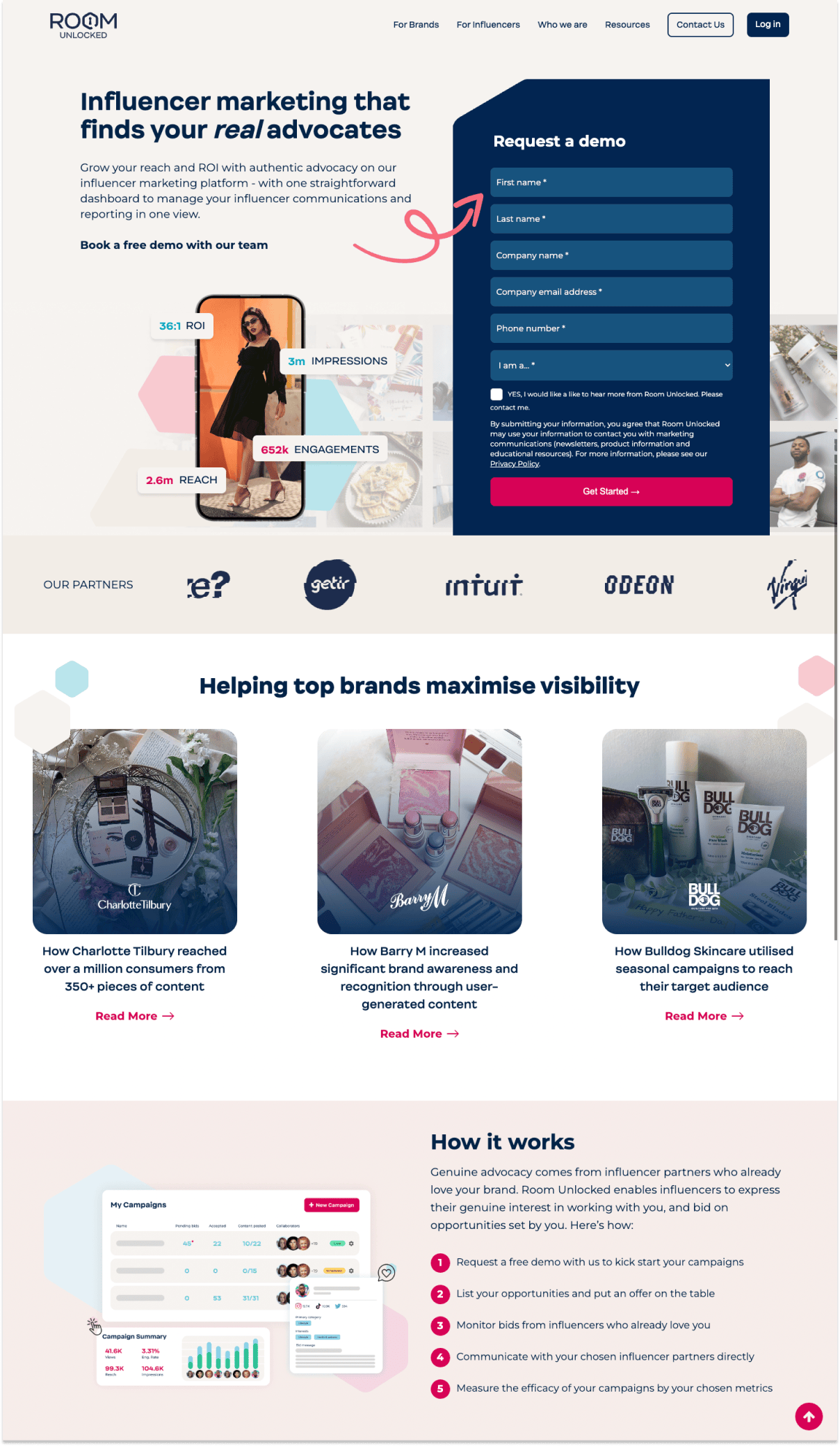 Room Unlocked is a platform that links brands with influencers who are excited to promote them. Basically, they offer a way for companies to connect and handle influencers to help advertise their products.
What I like about their demo page that's driving leads to their platform:
Demonstrate clear value in their headline
Straightforward form that prequalifies the prospects
Feature high-profile clients like Virgin, Red Bull, and Intuit
Real life case studies of how their customers successfully drive brand awareness and sales through their platform.
Clear step-by-step explanation of how the platform works.
Check out Room Unlocked's demo page
6. LawClerk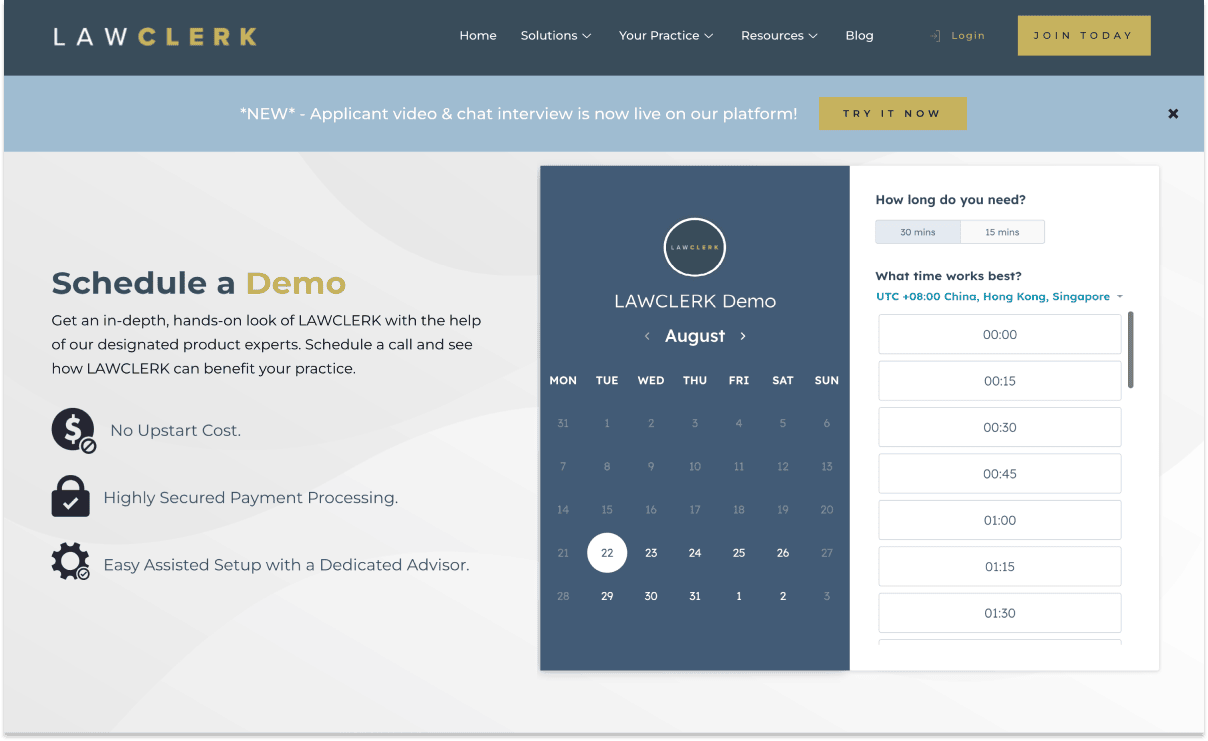 LawClerk is an online marketplace wher thousands of law firms hire talented freelance lawyers and part-time associates.
Basically, LawClerk connects their clients with a broad network of freelance lawyers and equips them with user-friendly systems to collaborate with their preferred on-demand attorneys.
How LawClerk is generating leads for their attorney marketplace:
Offer free demo from their designated product expert where prospects can choose a preferred time and date for their appointment.
Free resources such as webinars, podcast, and high quality ebooks to attract more leads.
Run an active Youtube channel where they share the latest news in their industry and tips to use their platform.
Check out LawClerk's demo booking page
Agency Lead generation website examples
1. BioStrata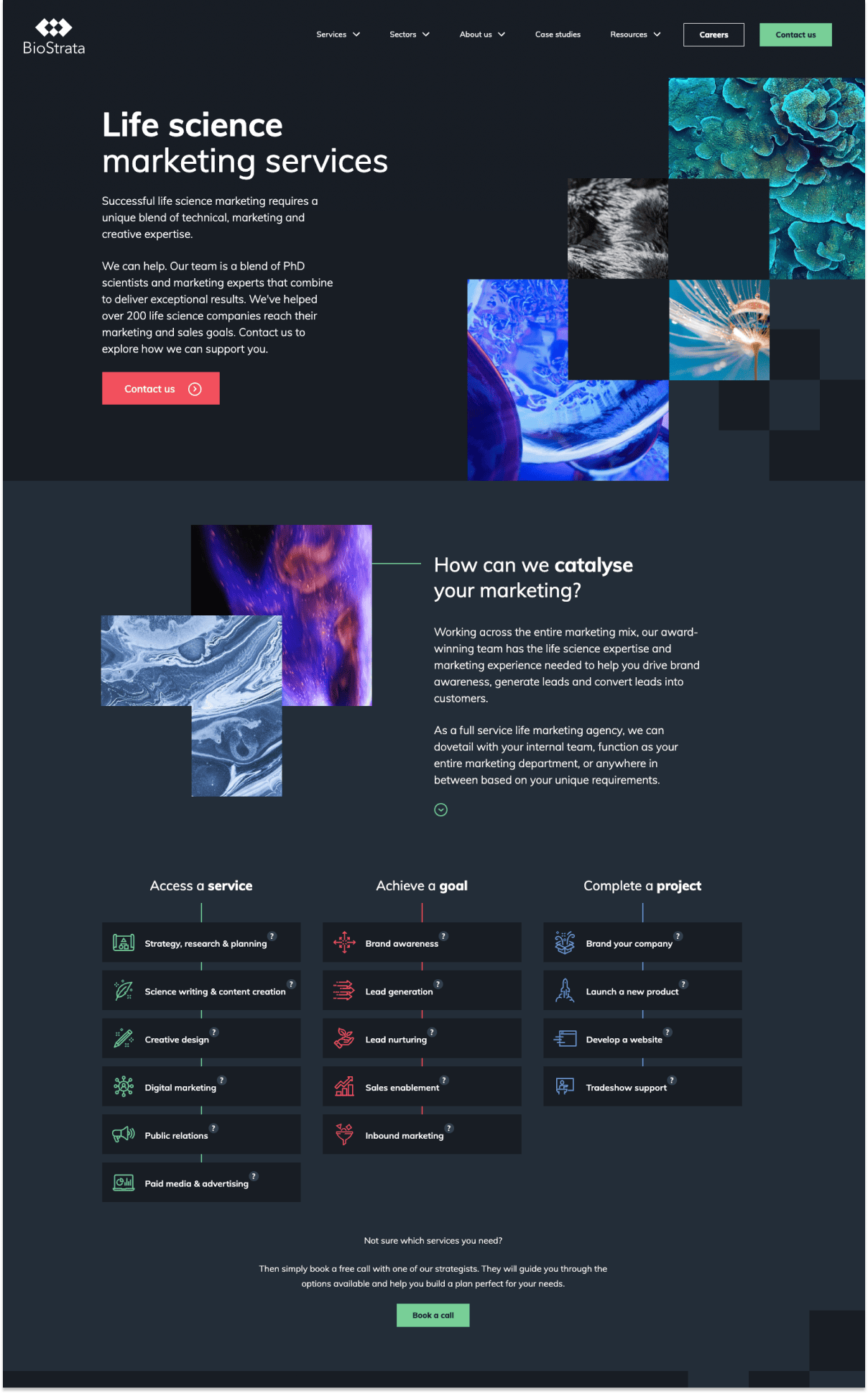 BioStrata specializes in helping life science businesses with their marketing.
Their team is made up of people who have PhDs in science and marketing experts. To date, they've helped more than 200 life science companies meet their marketing and sales goals.
How BioStrata is converting leads on their website
They provide a clear roadmap for marketing their clients' product.
They show their affinity for life science (their primary target audience) by featuring the different sub-industry they've worked on.
They use smart and simple writing to demonstrate that they really get their customers. For example, they claim they are the "natural selection" that can help life science companies market their product.
A list of high-profile clientele in the life science industry for social proof
Check out BioStrata's lead generating website
2. Epiic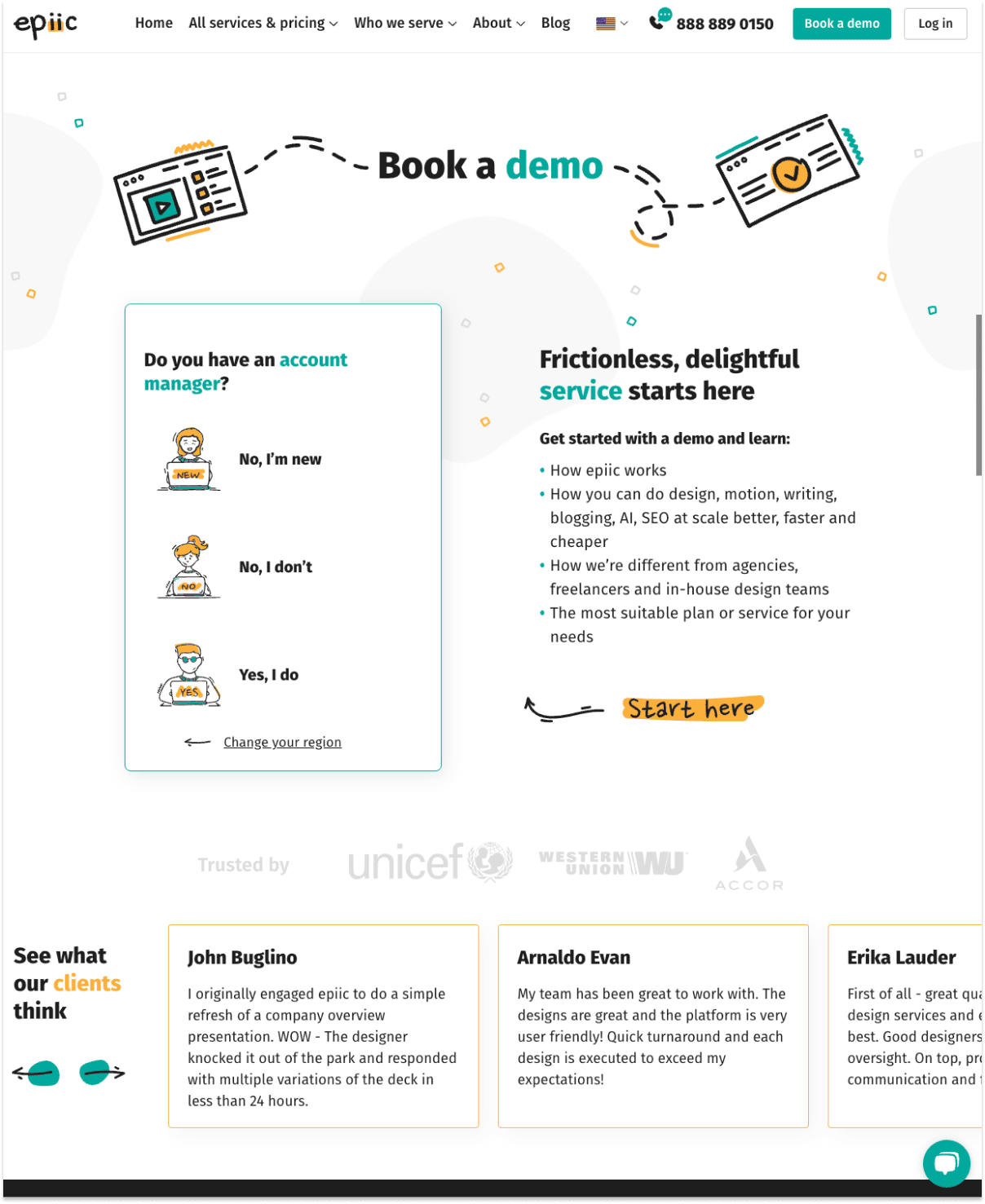 Epiic is a web design and marketing agency that has worked with some incredible brands, including McDonalds, Unicef, and the United Nations.
I like that they've incorporate a lot of custom illustrations (unique branding) and that they have a unique way of securing demo for their services:
Various call to actions to book a demo throughout the site.
A quick checklist of what prospect can expect from the demo call.
Implementing a unique survey to qualify their prospects, such as asking which region are they from and if they have an account manager.
Allow prospects to book a time slot in their time zone.
Unique customer testimonial and clientele for social proof.
Live chat feature on the site to speak with potential clients. They can even book a demo right from the chat
3. Vye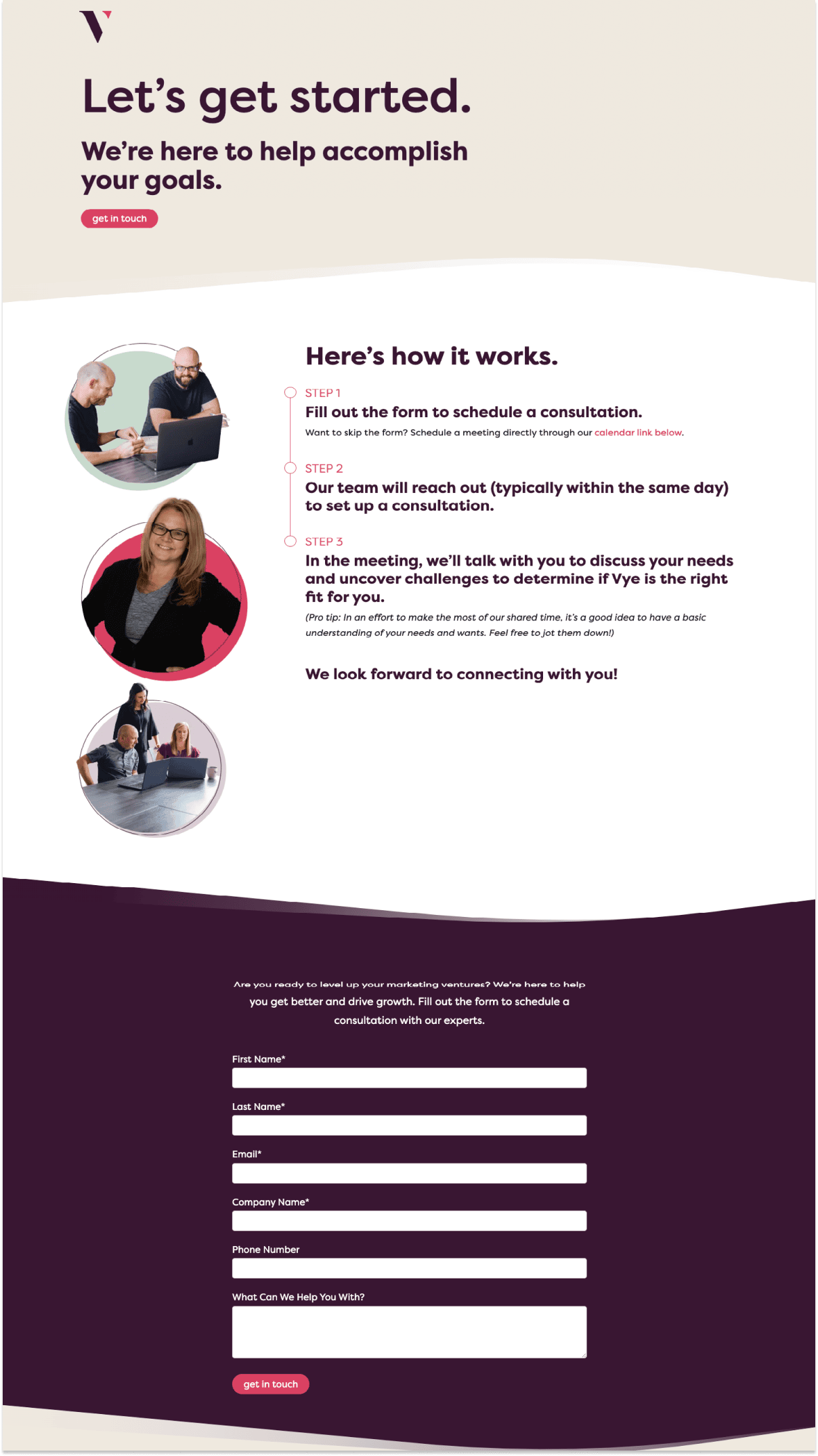 Vye is a marketing agency with offices in St. Cloud, Minnesota and Green Bay, Wisconsin. They are also a long-time Hubspot partner who can help businesses scale growth using the CRM platform.
Like most agencies, Vye funnel their lead generation effort through scheduling consultation on their website.
What I like about their lead generation page:
Explain exactly step-by-step what will happen after potential customers put in their email to schedule the consultation.
Featuring real employee photographs on the page.
A simple form that capture
Clearly explain how they differentiate themselves from other agencies
Include real customer testimonials (with source)
Feature brands they've worked with
Check out Vye's consultation scheduling page
4. Weblify

Weblify is a highly-rated web developement agency who had made news on NBC and Fox news.
They have a pretty unique way of generating leads for their business.
They'll design and send a custom homepage to their client with no strings attached. This is a quick way to  show the client that they can help before the client decides to work with them.
How Weblify is generating more leads from their website:
Offer free website design for potential client as a lead magnet
Allow potential client to schedule a consultation time and date via Calendly
Video showcase of their portfolio.
Showcase and highlight real Google reviews on their site.
5. Property Professionals of Australia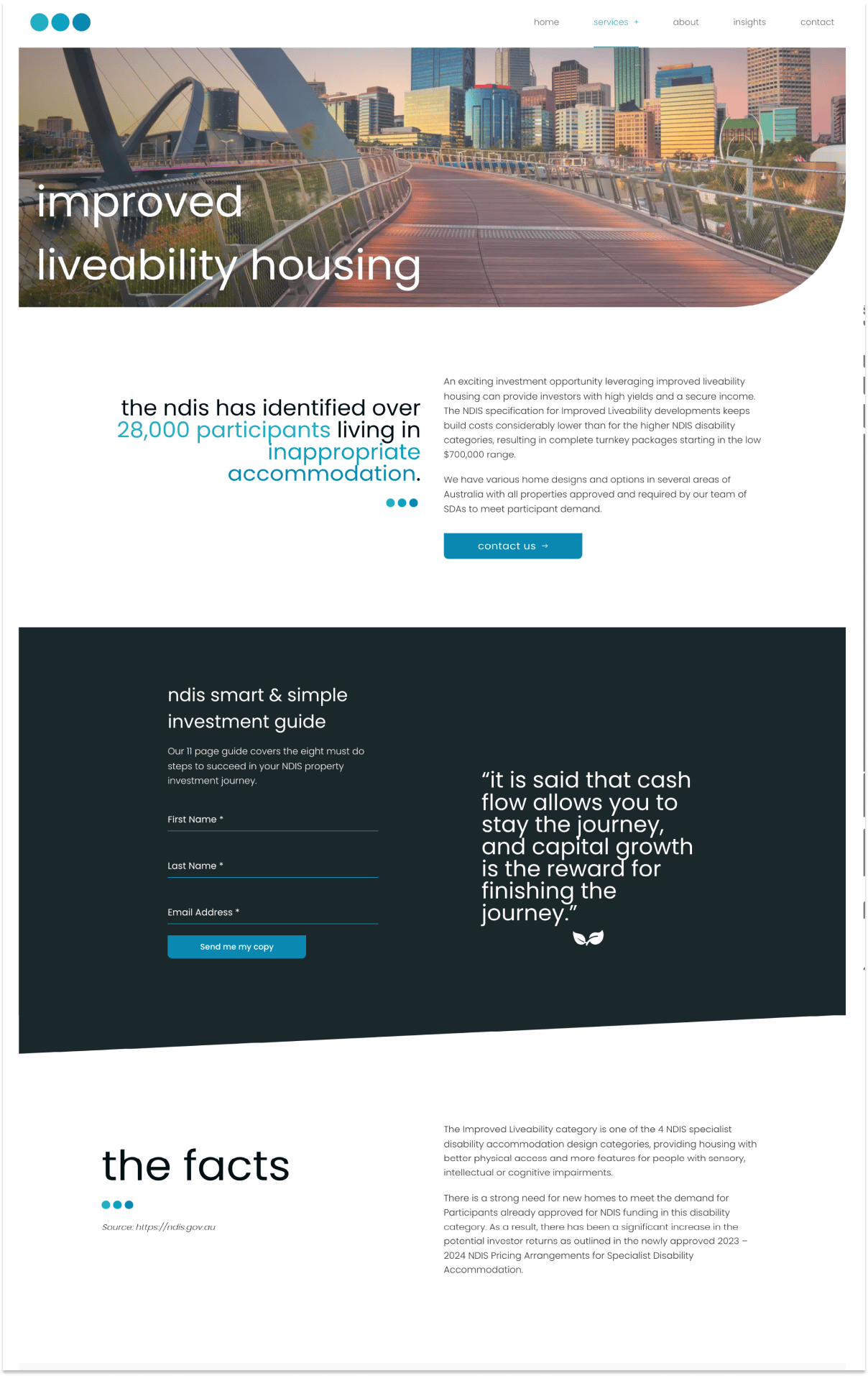 The Property Professionals of Australia  (PPA) is a real estate full service agency that help others get involved with investing and making buildings. They do so by talking about investment options to help you make money. PPA has over 50 years of combined experience.
How PPA are generating leads for their services:
Offer a free investment guide as a lead magnet
Detailed write up for each of their service page with a prominent call to action to book a consultation.
Provide a free real-world example of investment breakdown for a property in Australia
Check out Property Professionals of Australia'website
Local Business Lead generation website examples
1. CHI Overhead Door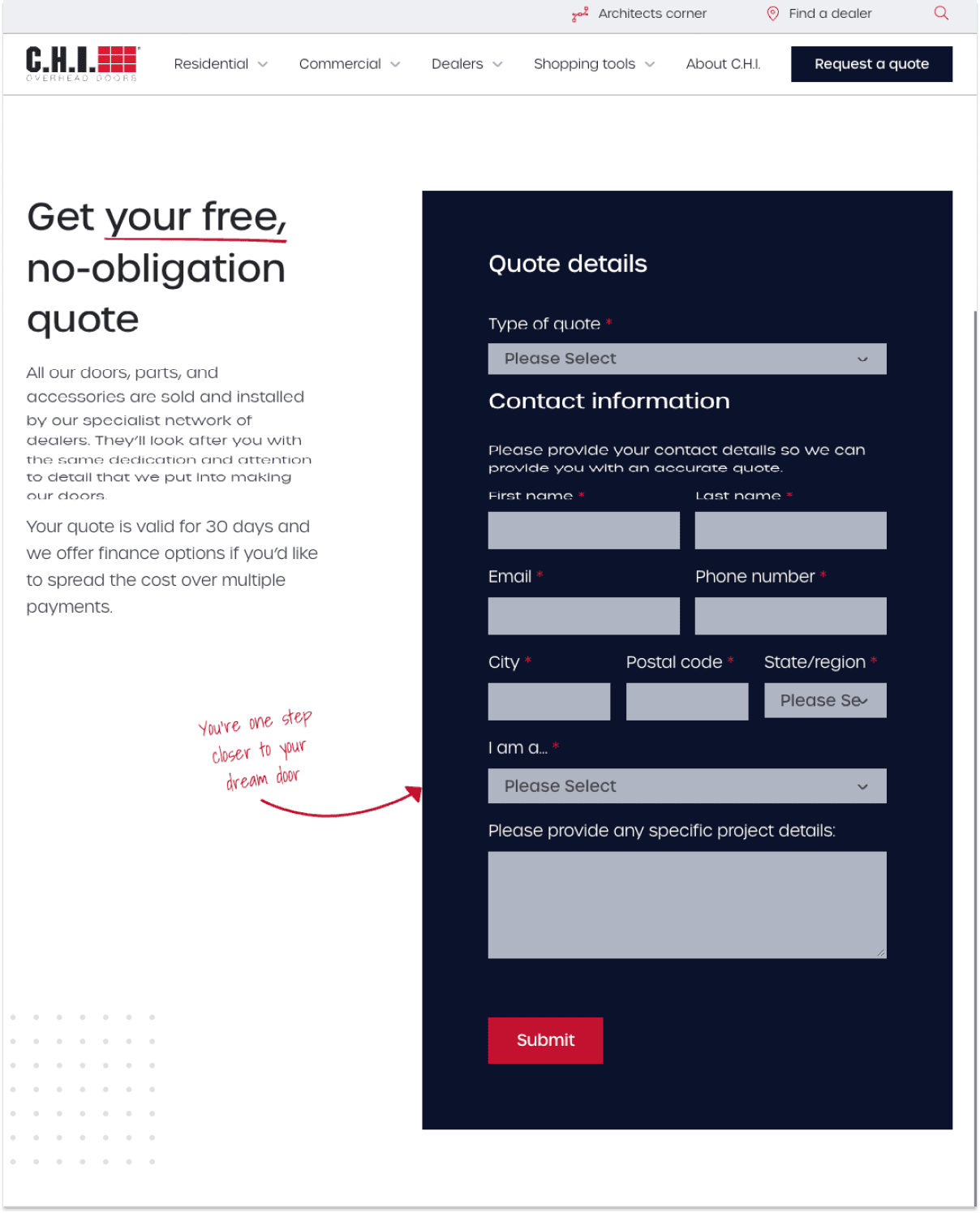 CHI Overhead Door started as a local business that supplied garage doors in 1981.
Today, they manufacture and install a wide range of top-notch doors for both homeowners and businesses all across the country through a network of specialized dealers.
Customers can request for a free quote before placing an order:
I like the emphasis on free, no-obligation quote for the prospects
The form pre-qualifies the prospects asking for project details prior.
Clearly explain what the quotation entails and what to expect.
2. Durdental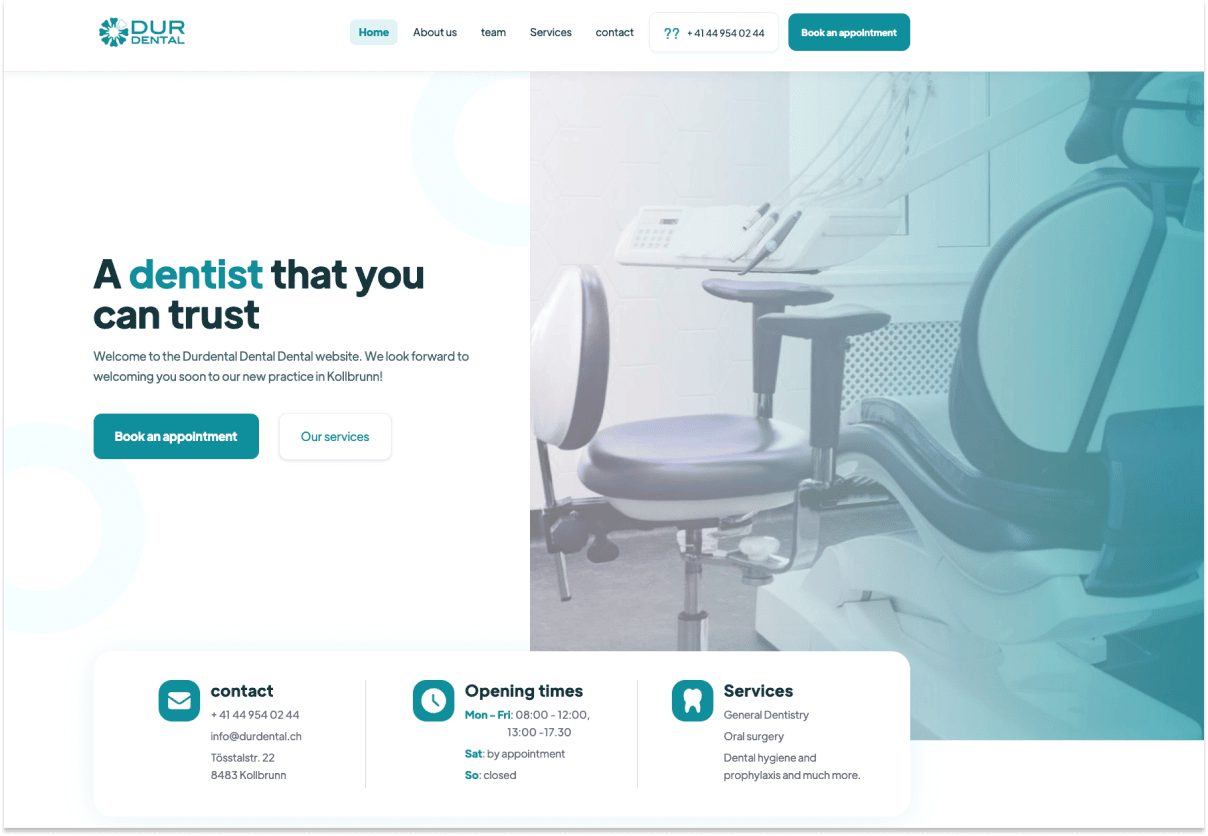 Durdental is a local dental clinic based in Kollbrunn, Switzerland, offering services such as teeth whitening, orthodontics, crown & veneers, etc.
Potential clients are either book an appointment via the website or call in to make a booking.
Here's how Durdental is booking clients from their website:
The booking button is is located prominent places such as in the header, footer, and on every service page.
They offer multiple options to make the booking, either via scheduling directly from the website, email, or by telephone.
Provide a clear instruction on how to book, reschedule, or cancel the appointment.
3. Vinewood Construction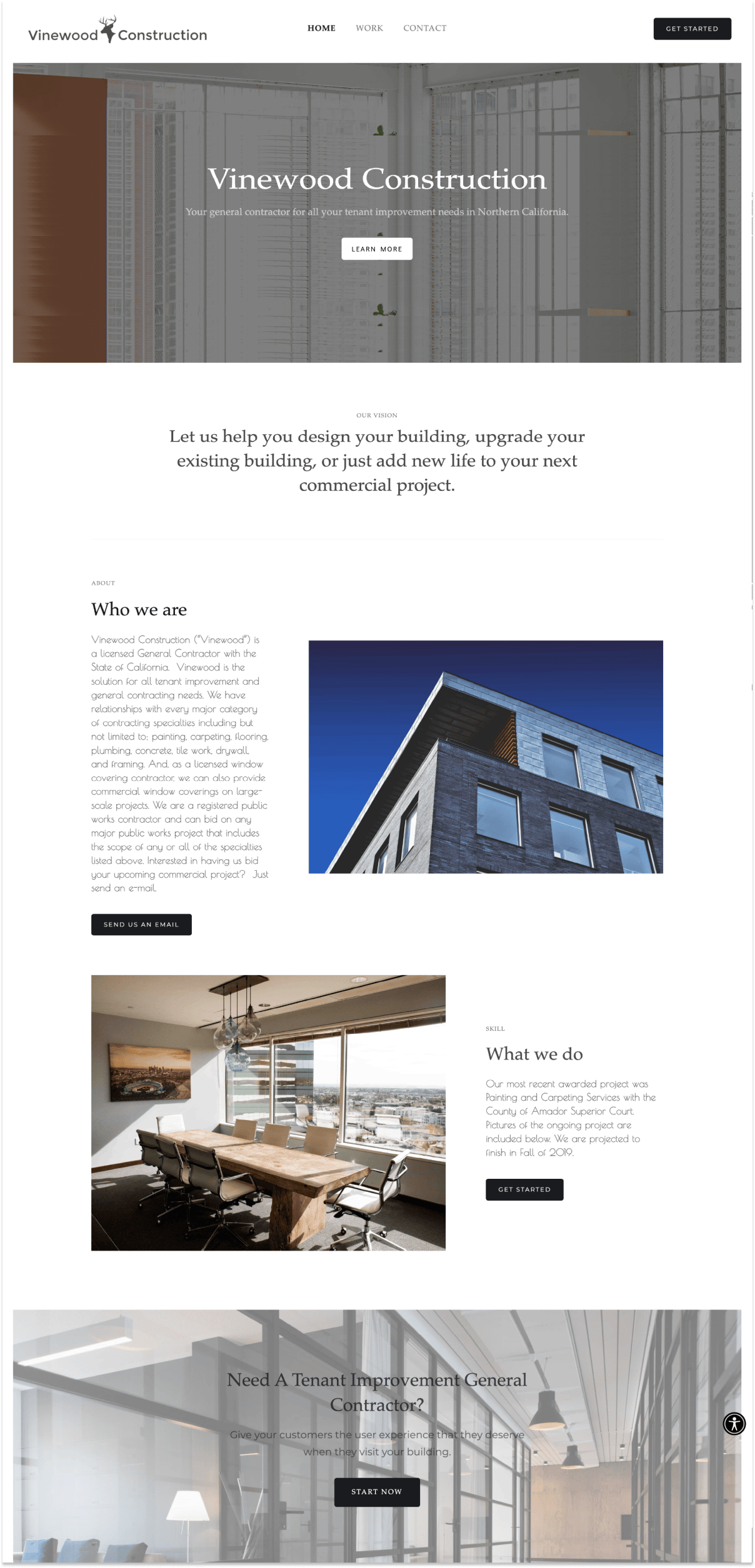 Vinewood Construction is a general contractor based out in the State of California. Clients usually hire them for tenant improvement or general contracting needs, but they do specialize in other areas as well, such as  painting, carpeting, flooring, plumbing, concrete, tile work, drywall, etc.
Their preferred lead generation method is via email or phone call through their site.
How Vinewood Construction is booking clients from their website:
Provide free estimate for commercial projects via email or call.
Embed a local map on their site so customers where they can locate their office.
Real life projects / portfolio showcase on their site.
Contact number, email, and office address (with working hours) readily available throughout their site.
4. Nua Construction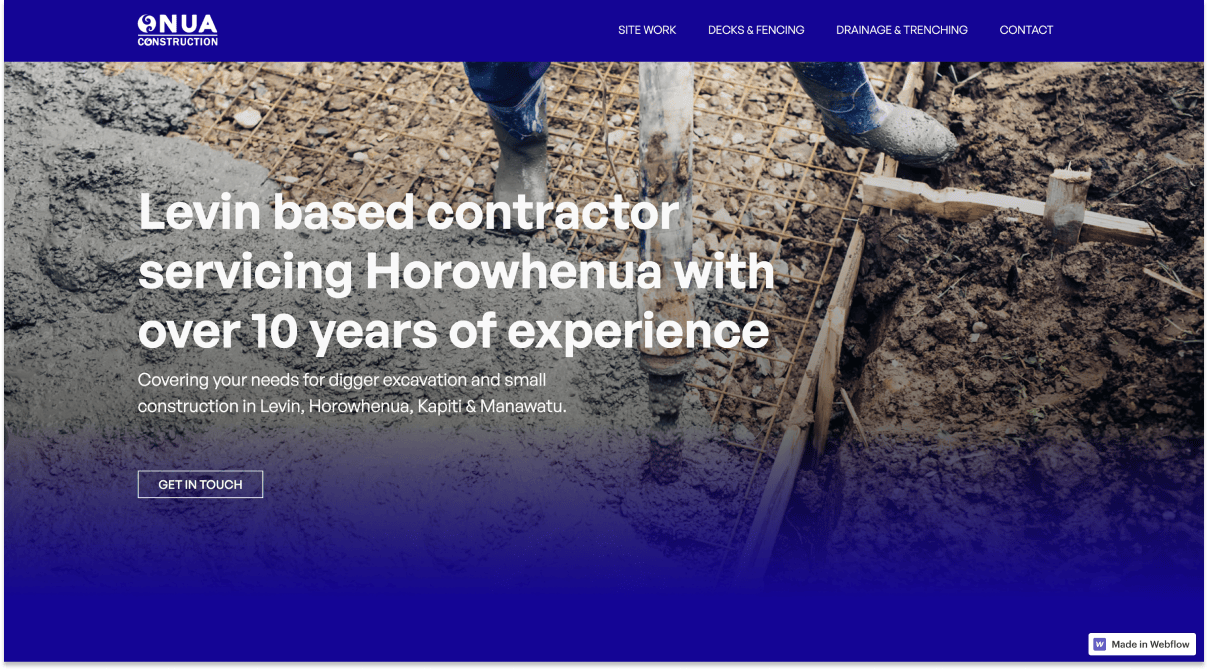 Jake, who started Nua construction in Levin, New Zealand, is a seasoned contractor with more than 10 years of experience. He and his team specialize in digger excavation and small-scale construction services, catering to the regions of Levin, Horowhenua, Kapiti, and Manawatu around New Zealand.
How Nua Construction is booking clients from their website:
They provide quotation with no obligation for clients via email.
Verified customer testimonials on the home page.
Feature past work and portfolio with real photos and videos.
Provide email address, phone number, and social media for contact.
5. Clapham Construction Service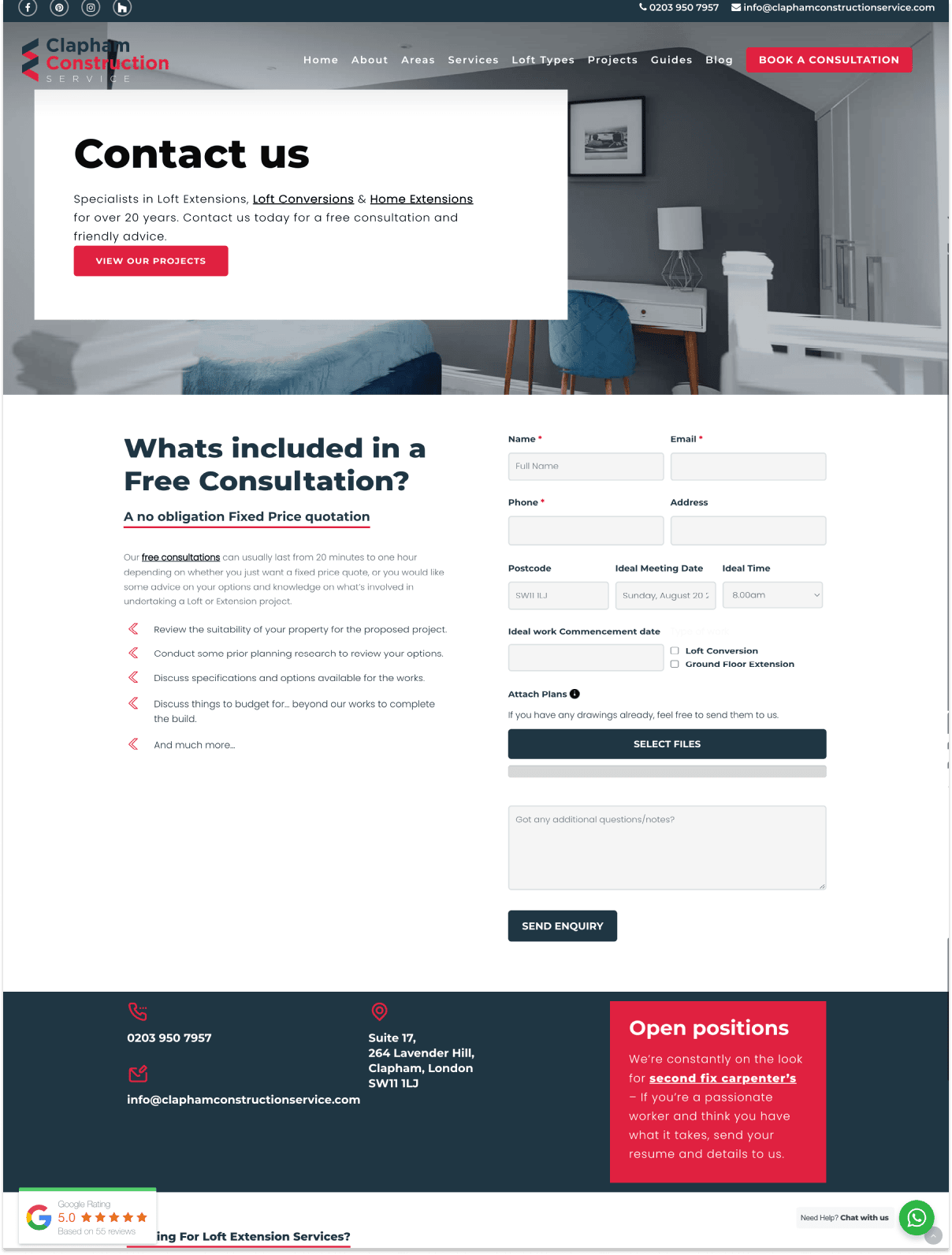 Clapham Construction Service is a  London-based building company specializing in loft conversions and home extensions.
They have over 20 years of experience within the construction and building industry, and they've completed every type of loft conversion imaginable.
How Clapham Construction Service is generating leads for their business:
They offer a free consultation for what's involved in undertaking a Loft or Extension project.
Clearly describe what prospects can expect in the short 20 mins consultation.
Highlight rave reviews they got from Google.
Showcase high quality loft and house conversion projects they've done in the past.
There are multiple prompts throughout the website encouraging clients to book a consultation.
Check out Clapham Construction Service's consultation booking page.
Consultants  Lead generation website examples
1. Jennifer Ferland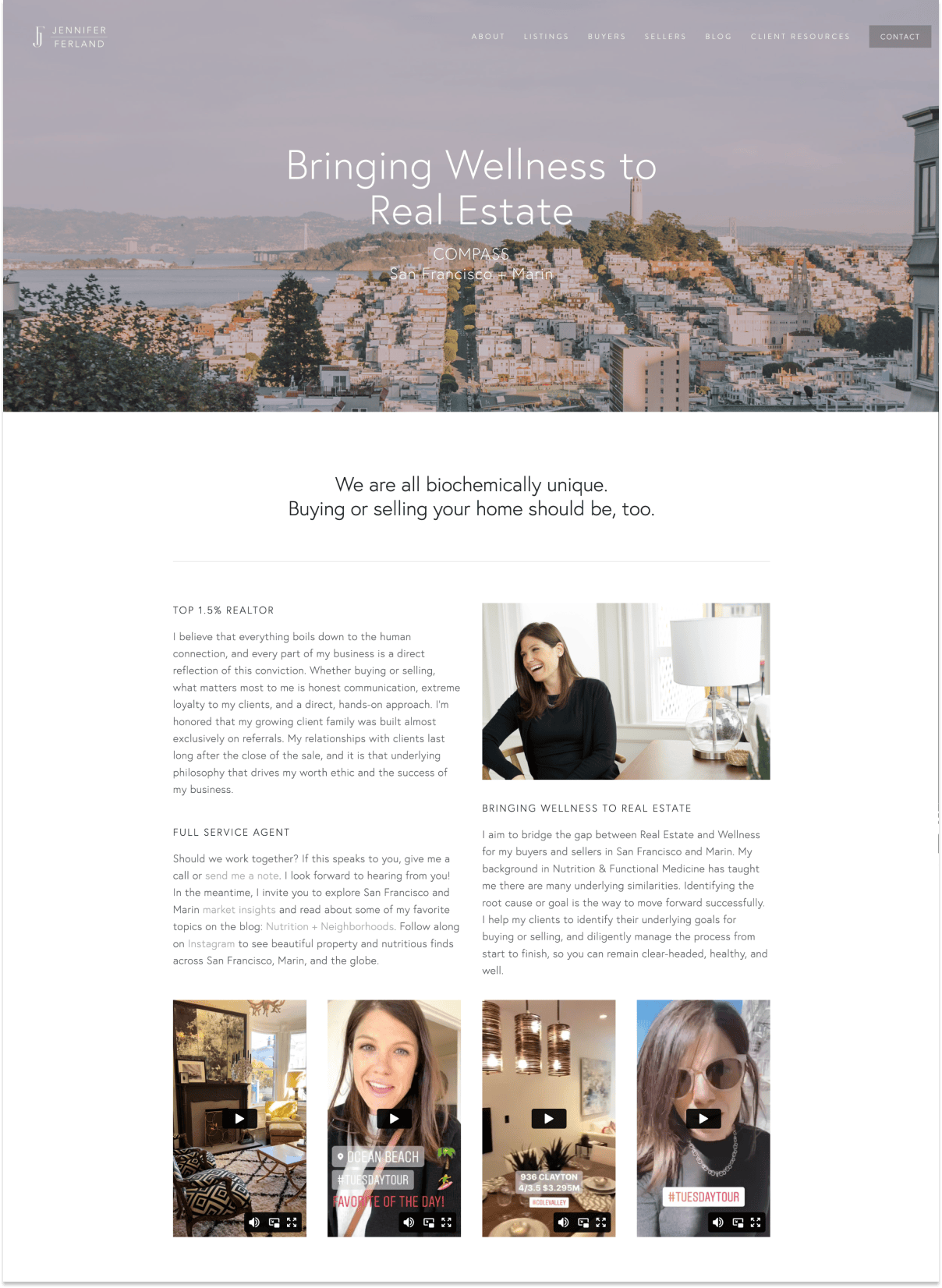 Jennifer Ferland is a top realtor in San Francisco with the goal to bridge Real Estate and Wellness for her buyers and sellers. She also part of Compass, the number 1 real estate brokerage in San Francisco.
How Jennifer Ferland bring in leads to her real estate consultancy:
Feature high-quality, active listings (with detailed write up) directly on her website.
A dedicated buyer and seller's guide for her customers in San Francisco
She frequently share value added blog articles and news that's relevant to her customers
Client resources page in the Bay Area (San Francisco) — Mortgage calculator, market updates, events, etc.
Video walkthrough of her listings.
Check out Jennifer Ferland's contact page
2. The Financial Knot

Stephanie Vokral is a Certified Divorce Financial Analyst practitioner with over 25 years of experience as a Financial Advisor in the Columbia area.
To dedicate her expertise to women going through divorce, she established The Financial Knot. This initiative provides a comprehensive array of divorce financial planning services tailored exclusively for women.
How Stephanie book clients for her consultancy firm:
Dedicated service page with call to action button to schedule consultation.
Free resources for her clients.
Comprehensive explanation of her consultation procedures
Provide email address, phone number, and social media for contact.
Check out The Financial Knot's consultation booking page
3. Campbell Consulting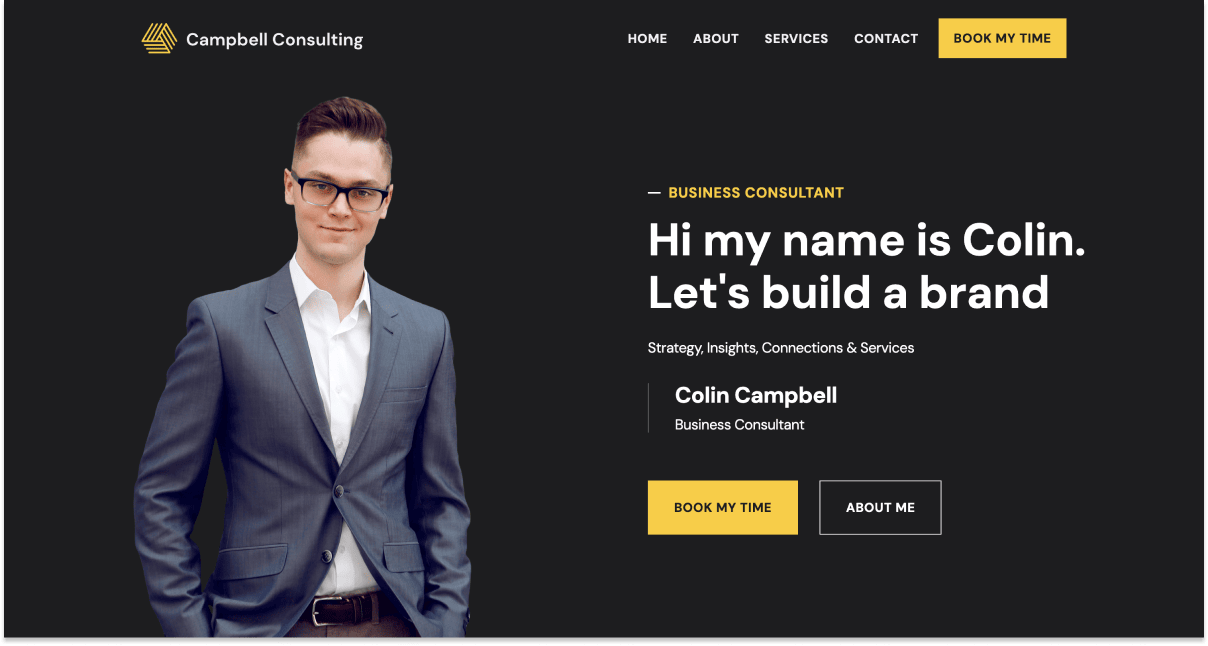 Colin used to work with Gary Vaynerchuck and led marketing at an American venture capital fund. Now, he consults businesses on brand strategy, social media management, content creation, and more.
How Colin is generating leads for his consultancy business:
Clear call-to-action buttons to schedule a free 30 mins introductory call.
Comprehensive portfolio for his services.
Featuring his most prominent clients clients, including Vaynerchuck media, 8 VC, and Village Global.
4. True Homes Property Group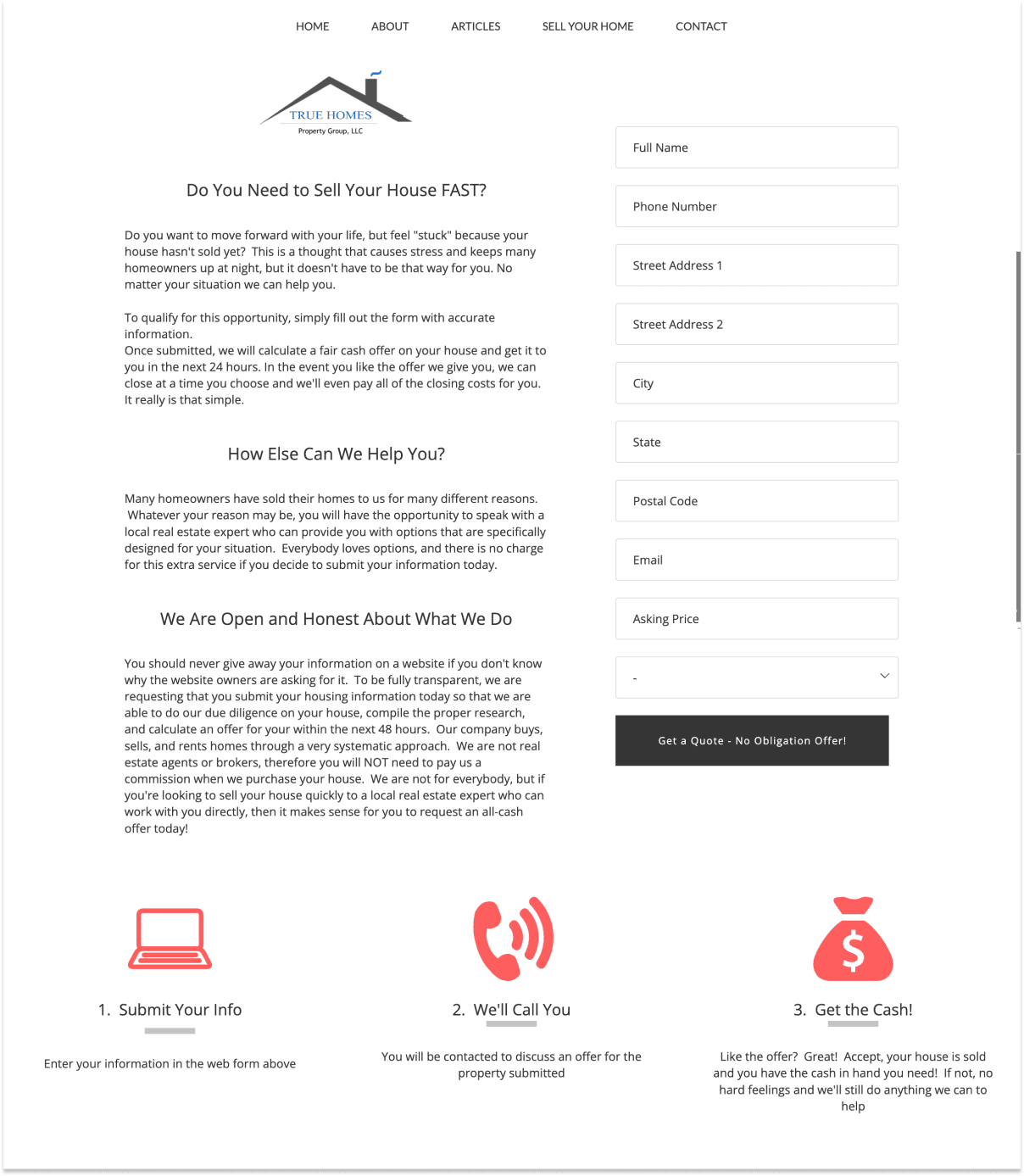 True Homes Property Group is a full-service real estate solutions company. They operate within Florida's Space Coast region, buying and selling properties.
Their expertise lies in acquiring distressed homes, restoring them, and then selling to regular home buyers and landlords.
How True Homes Property Group generate leads for their services:
They offer a free quotation for their clients' houses with no obligation.
Pre-qualify clients by asking their selling price and whether they're selling with an agent.
Highlight their key value proprosition on their home page, such as 30 days closing promise and cash offers.
Summarize the process after the prospects leave their email.
5. Wisdom Well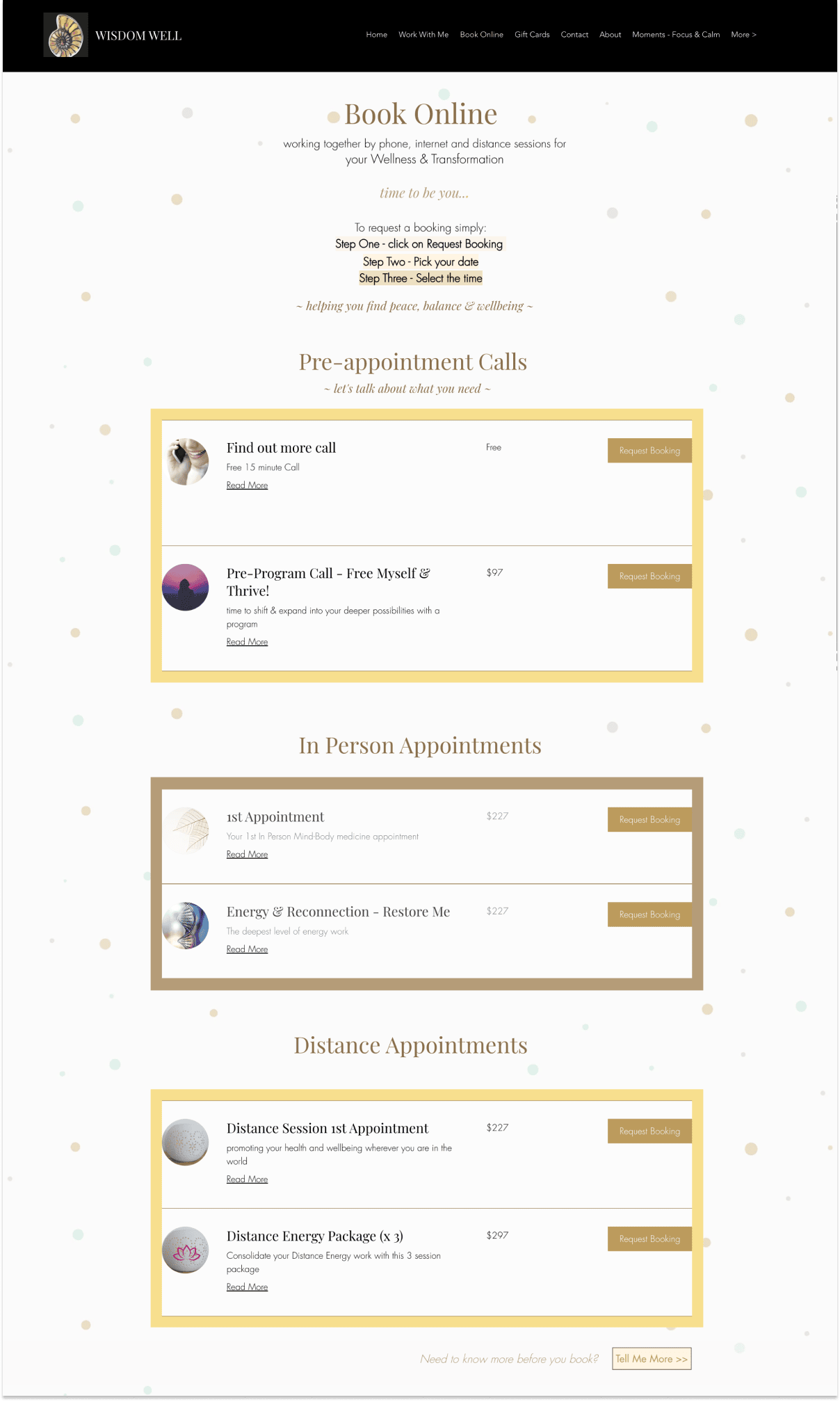 Wisdom Well is a coaching business started by Lynne Saunders to help individuals with their peace, balance, and wellbeings.
She mainly offer consultations and tailor-made programs, combining energy medicine and psychology to address clients' needs. The coaching business is well  established and she has partnered with various organizations across Australia.
How Lynne  generate leads for her coaching business:
Offers online booking directly on her site where clients can book a time slot (free and paid).
Offers gift card to incentivise clients to book a session.
Offers an easy way for clients to set up pre-appointment calls, in-person meetings, or distance appointments as they prefer.
Real customer testimonials throughout the site.
6. Gordon's Downsizing & Estate Services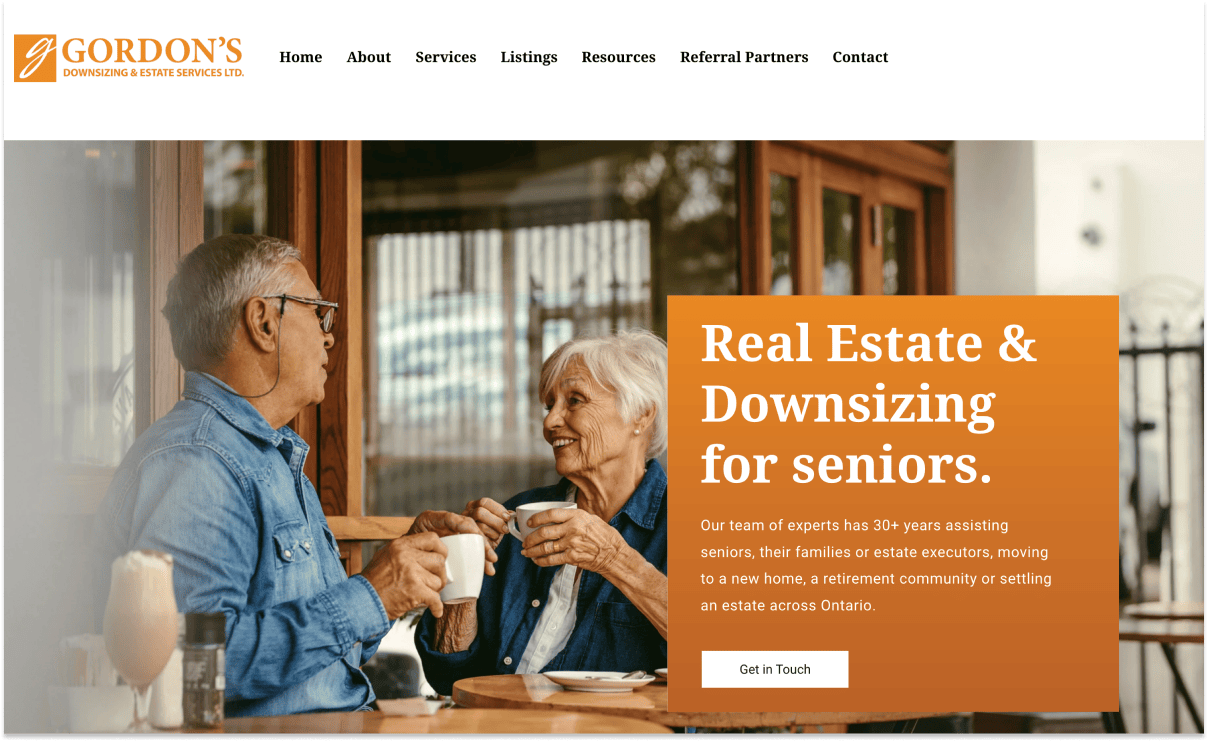 Gordon approaches the real estate market uniquely. Rather than solely locating properties for clients, they specialize in helping seniors with downsizing to smaller or retirement homes. The business was established in 1990 and even provided assistance with their transportation needs.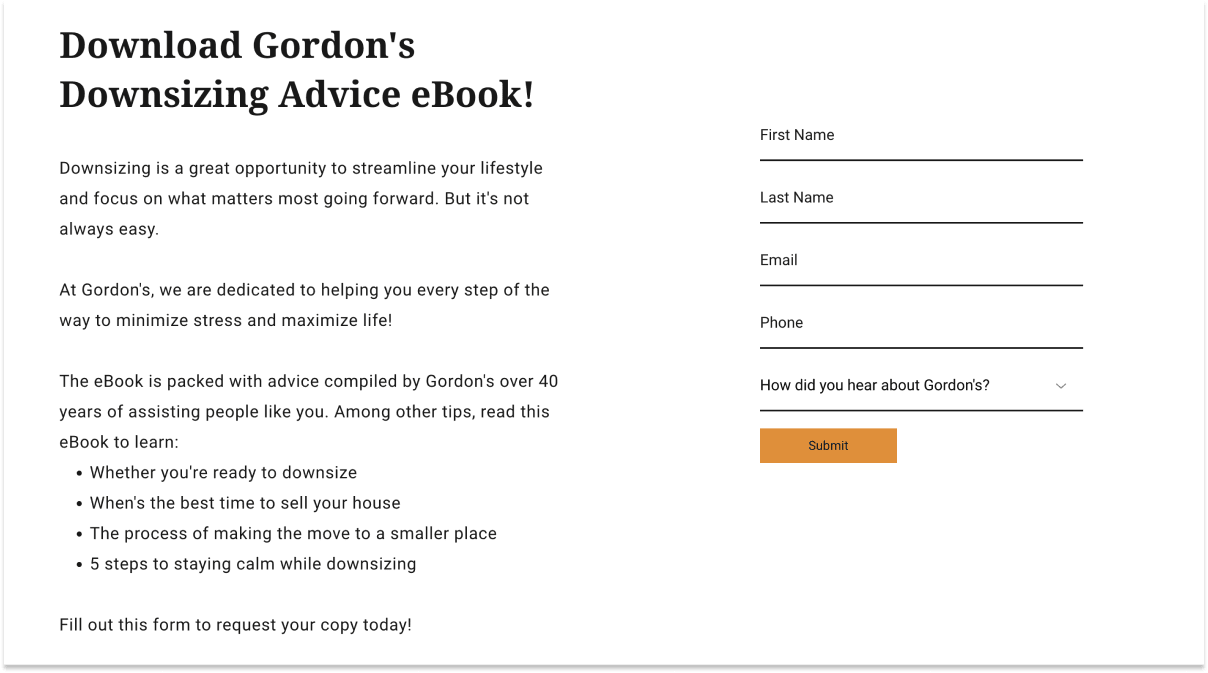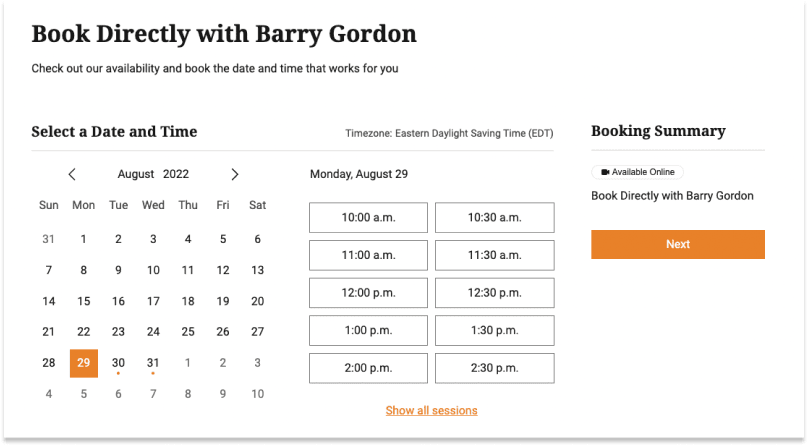 How Gordon generate leads for their business
A scheduling form to book a time directly with Barry Gordon, the founder himself.
Offer various ebooks (on downsizing, moving checklist, etc) as lead magnets.
Detailed write up on key services they offer and their unique selling proposition.
Set up incentives for referral partners.
The booking service for Gordon's not only lets them choose a time and date, but it books it with Barry Gordon, the owner. Few businesses will let people directly interact with the owner, so having that opportunity will stand out to various people.
7. Hush Little Darling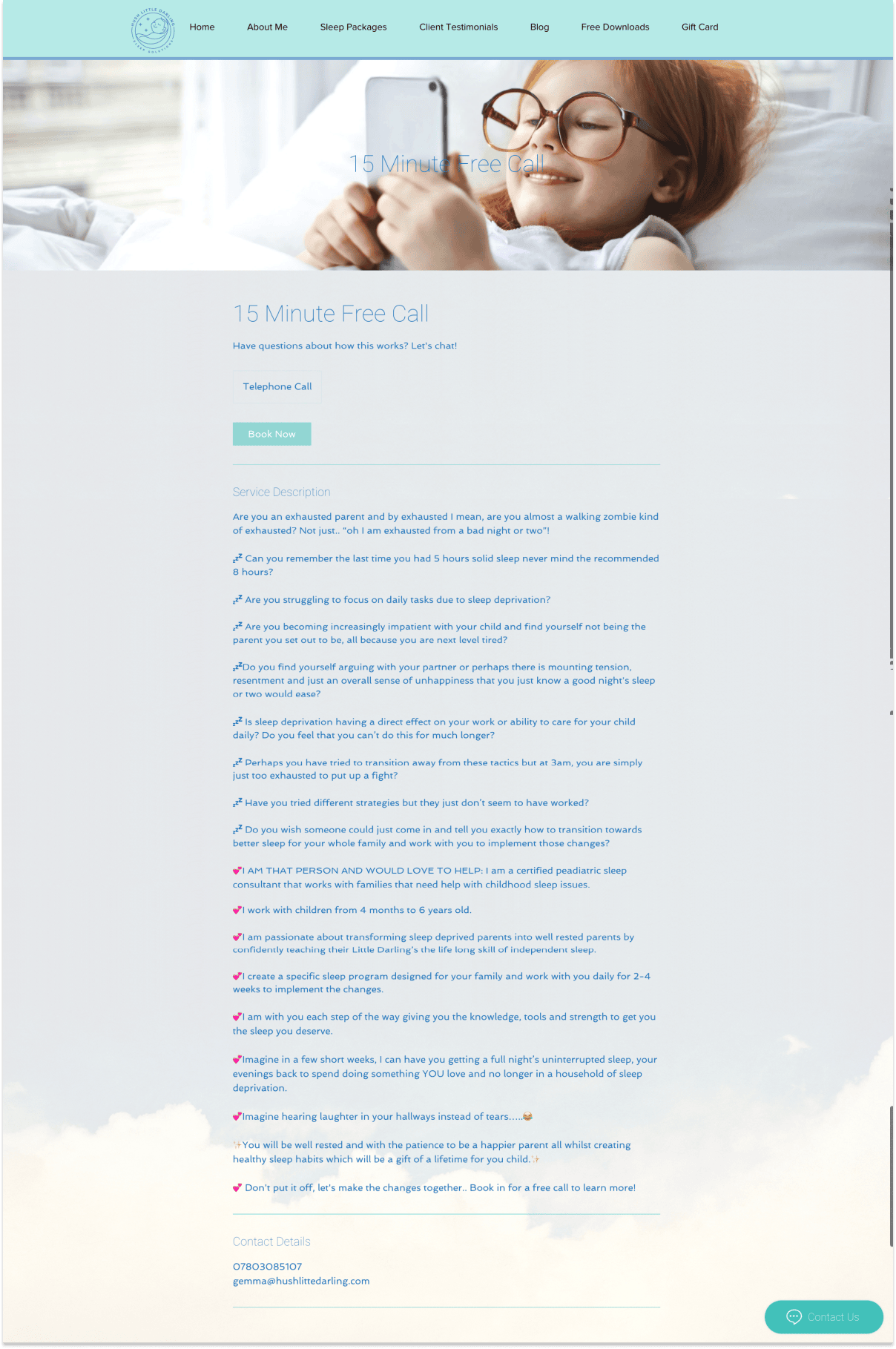 Hush Little Darling helps parents teach their children to sleep independently, ensuring everyone gets the rest they need. The company is led by Gemma, who values sleep because she has a family of her own.
How Gemma get clients for Hush Little Darling from her website:
Offers free 15-minute calls for potential clients to discuss their needs.
Offers free guides (Nap Guide, Newborn Guide, etc)
Dedicated testimonials page from her past clients
Offers live chat on her site to answer customers' doubt
Various call-to-action to book free calls throughout the site
8. Exponent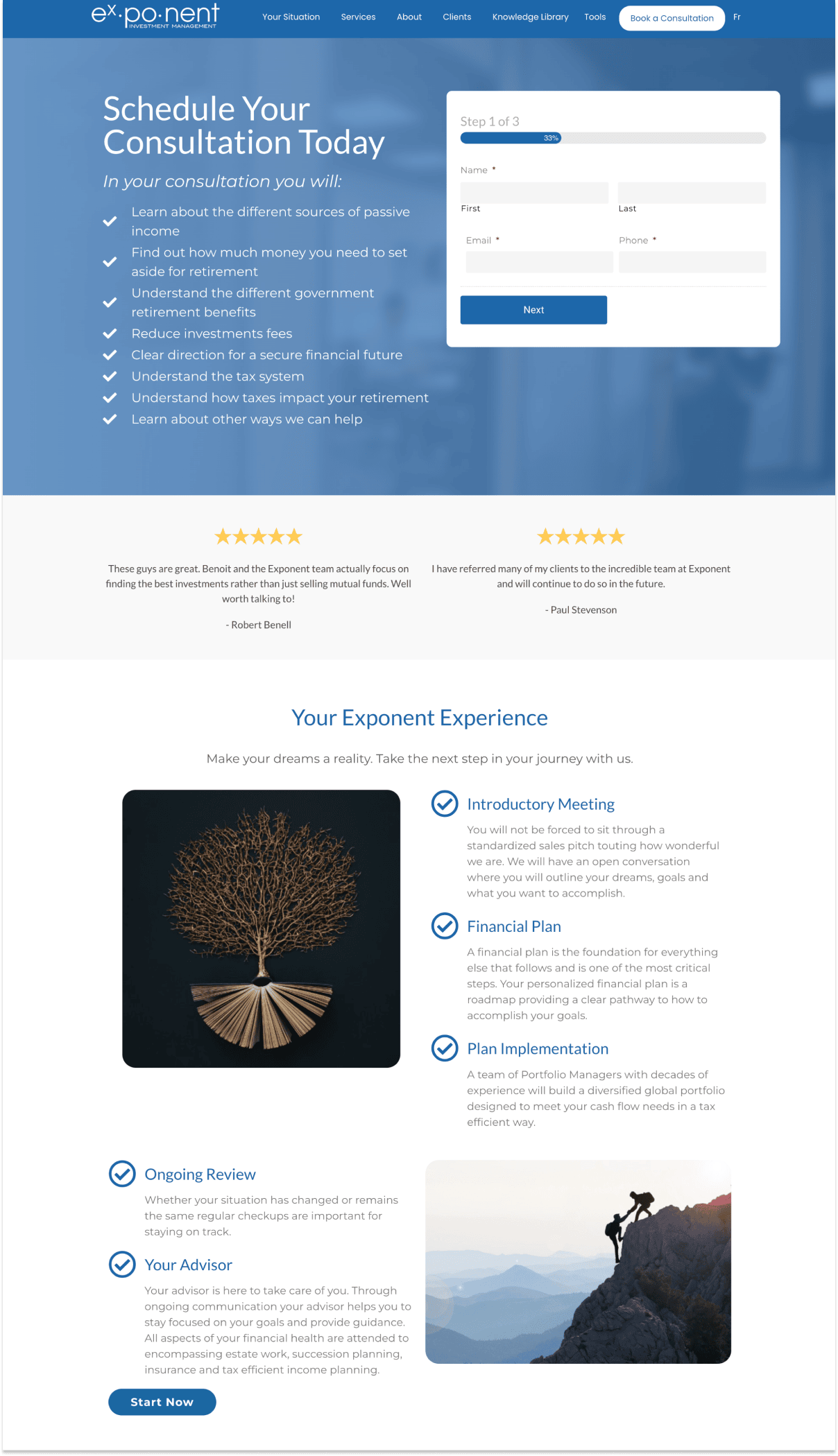 Exponent  specializes in personalized investment management with a unique  approach that revolves around growth & income.
Their main goal is to monitor portfolios that match clients' financial objectives and dreams.
How Exponent convert potential clients on their website:
They provide free personal finance consultation for clients looking for wealth management advices
Highlight exactly what clients get out of the free consultation
Pre-qualify prospects by asking them about their goals and asset range.
Offer free financial tools such as retirement calculator and financial gap analysis as lead magnet
9. City Tax Accountants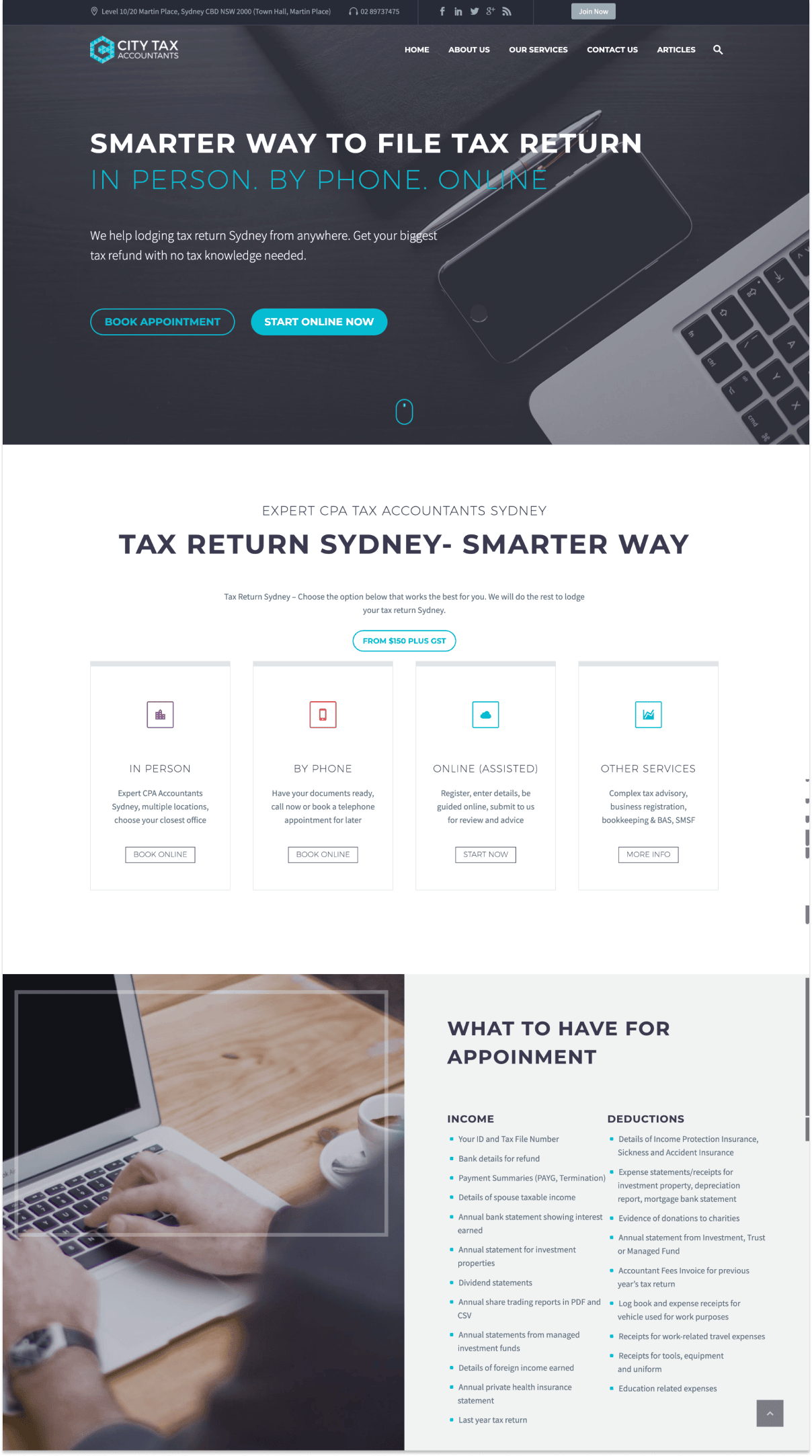 City Tax Accountants is a Sydney-based accounting firm offering a suite of services such as individual and corporate tax returns, bookkeeping, startup registration, forensic accounting, and more.
How City Tax Accountants are acquiring leads on their website:
A scheduling calendar for clients to book an appointment directly on their site.
Being active on various social media (LinkedIn, Facebook, etc) that drive traffic and potential visitors to their site.
Frequently share articles on accounting tips, business advice, and more.
Partnership with local industry leaders such as Xero, MYOB, and Reckon for further reach.
Check out City Tax Accountants website
Frequent asked questions about lead generation websites
What is a lead generation website?
A lead generation website is a type of website designed to capture the interest of potential customers and collect their contact information.
The goal is to generate "leads," which are people who have shown interest in a product or service.
These websites often offer something valuable in exchange for the visitor's information, such as a free eBook, free trial of their service, or consultation. The collected information allows the business to follow up with the leads and try to convert them into actual customers.
B2B companies, local businesses, consultants, and agencies are the usual types of businesses that need lead generation websites.
How do B2B companies, consultants, and local businesses generate lead?
B2B companies, consultants, and local businesses commonly generate leads using their websites and a mix of marketing tactics like social media, SEO, paid ads, and direct outreach.
In exchange for the leads contact information, they'll often provide free consultation, quotation, and free resources (like an eBook or small courses).
What makes a good lead generation website?
After looking at dozens of websites, I noticed these common characteristics for websites that convert well:
Make a compelling offer — Provide a strong reason for why potential customers would be interested in your product or service. This could involve showcasing how you can solve their problems or offering valuable extras like free quotes or designs.
Make sure the offer is hassle-free — Keep it obligation-free, free of charge, or even better, let them choose a convenient date and time from their schedule.
Include social proof — Display genuine customer testimonials with photos, their titles, or even better, video testimonials, to showcase how customers endorse your business or service.
Guide them through the consultation or trial process — Clearly explain what potential customers can anticipate when they register for your consultation or free trial. Describe the value they'll receive from the call and outline the subsequent steps.
More examples of websites for generating leads