So you're looking for a website solution for your business but also need a customer relationship manager (CRM) tool to manage leads and clients?
There are a handful of CRM tools that also allow you to create a website (and vice versa), making their integration seamless.
Let's compare:
What CRM and website features do they offer
Their pricing strategy
What are their pros and cons
And how do you decide if you should use their CRM?
Let's dive right in.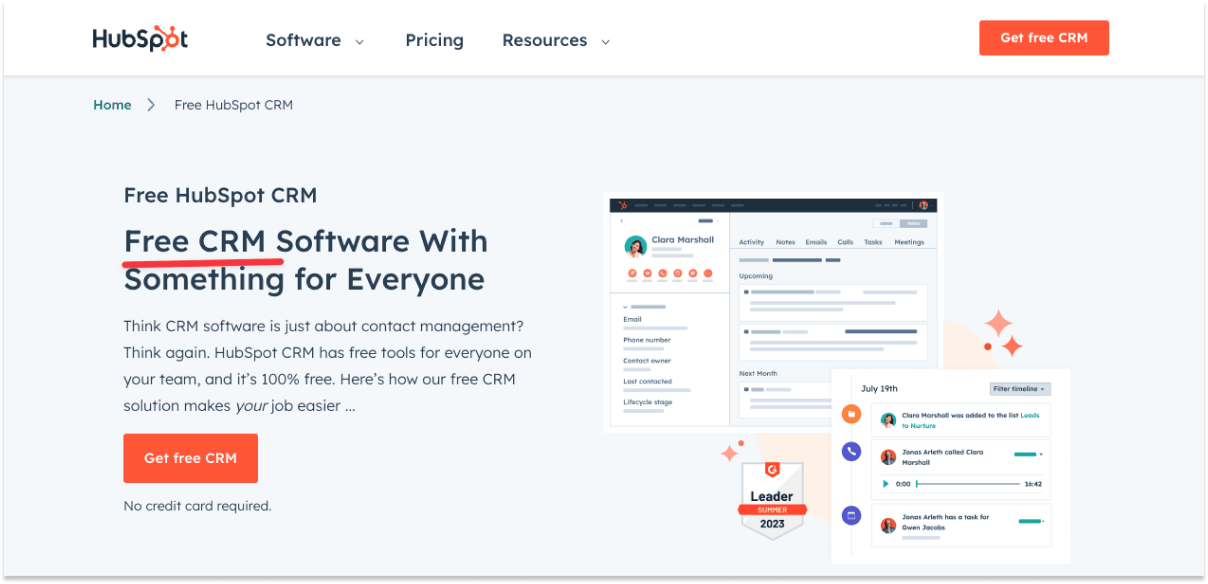 Hubspot started as a Customer Relationship Management (CRM) platform back in 2006 but has since expanded their product offerings to include a website builder (CMS), eCommerce solutions, email automation, and much more.
The great thing about Hubspot is that they're offering plenty of free tools to SMBs. That means you get access to:
Free CRM tools that allow you to create proposals and contracts, track deals accept payments, store client info, and communicate with clients via email.
You get a free website (web hosting included), and a blog. Bonus: you can even connect a custom domain for free. Check out this website that I created in Hubspot and see for yourself.
Free ticketing and live chat options for customer support.
Free team inbox and email reply tracking
And the list goes on...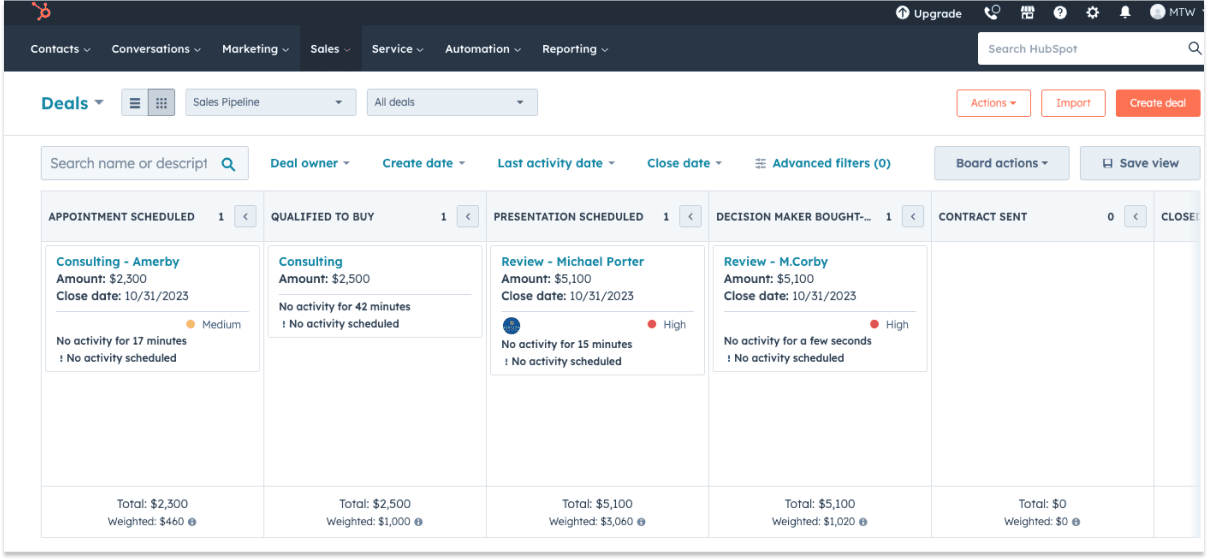 It's clear that Hubspot's strategy is to provide businesses with a comprehensive list of free tools hoping that these customers will choose to upgrade later on.
Things you should consider before using Hubspot
Costs can ramp up after you upgrade — Hubspot has a pretty inexpensive starter plan ($18/month), but the price jumps from Starter to Professional (next plan) is quite significant, starting at $1,600/month.
That's not all. The cost will also grow quickly as you manage more clients in the pipeline. For example, you can expect to pay an average of $15/month for every 1,000 increase in contacts you manage.
Limited customization — HubSpot's website builder, like many content management systems (CMS), has design limitations and leans heavily on pre-made templates for the sake of user-friendliness. This can make things quite challenging if you're determined to have a specific custom design.
Overall, Hubspot offers a ton of free tools that can take you a long way without much expenses. But they also have a complex pricing structure once you decide to upgrade.
You probably need to invest some time in planning how you want your systems to interact and finding the right balance between implementation and cost.
Learn more about Hubspot's free CRM tools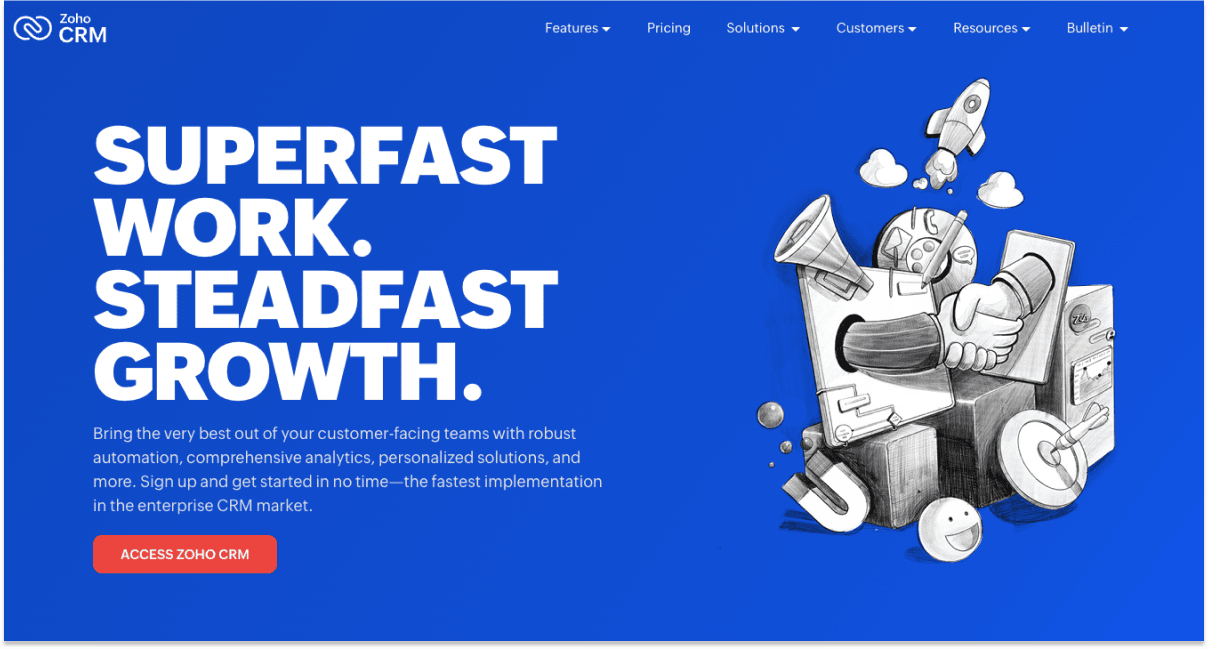 Zoho was also a popular CRM platform back in the mid-late 2000s, and they've expanded to offer an extensive product suite for small-medium businesses, which includes a website builder, online forms for booking, document signature, appointment scheduling, marketing automation, and a whole host of products not mentioned here.
Clearly, Zoho and Hubspot are in direct competition, as they provide very similar sets of features (with some nuances, of course). Both offer robust CRM and website solutions along with a variety of related products tailored for small and medium-sized businesses (SMBs).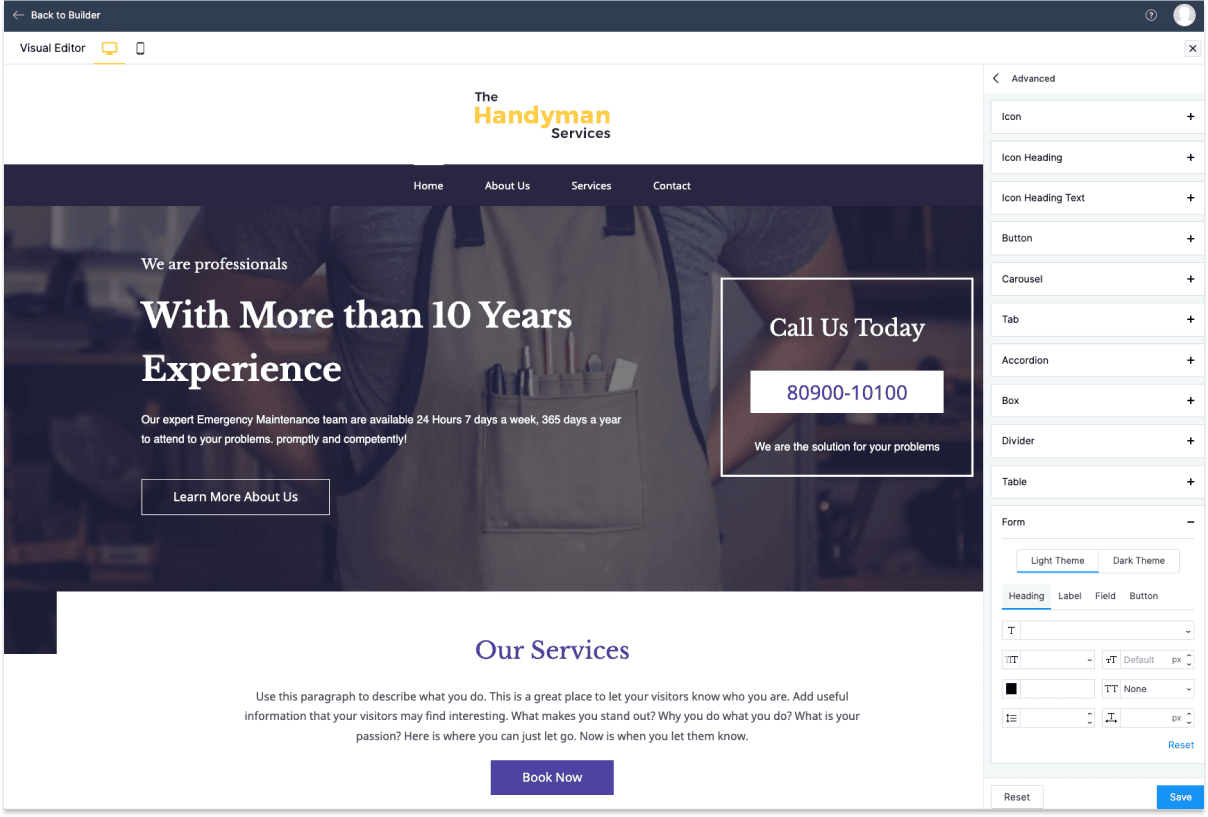 The biggest difference lies in their pricing strategies.
Hubspot offers free (but limited) CRM and website features, whereas Zoho opted for piecemeal pricing (you pay for individual features on Zoho). For example, the website builder is priced at $8 per month, and the CRM will cost $14/user/month.
Comparing Zoho and Hubspot in detail is beyond the scope of this article, but in short, Hubspot offers several free tools but comes with a complex pricing structure on the backend, which can make scaling more challenging.
On the other hand, Zoho offers transparent pricing, where you pay for specific features and per user, potentially resulting in long-term cost savings.
What to consider before using Zoho
No Free plan — But they do have a 15-day free trial for all their products.
Zoho One — Zoho one is a bundle option where you get access to more than 50 Zoho products for a flat rate, starting at $45 per month per employee. If you're convinced of Zoho's product offering, this is an affordable deal to save in the long run.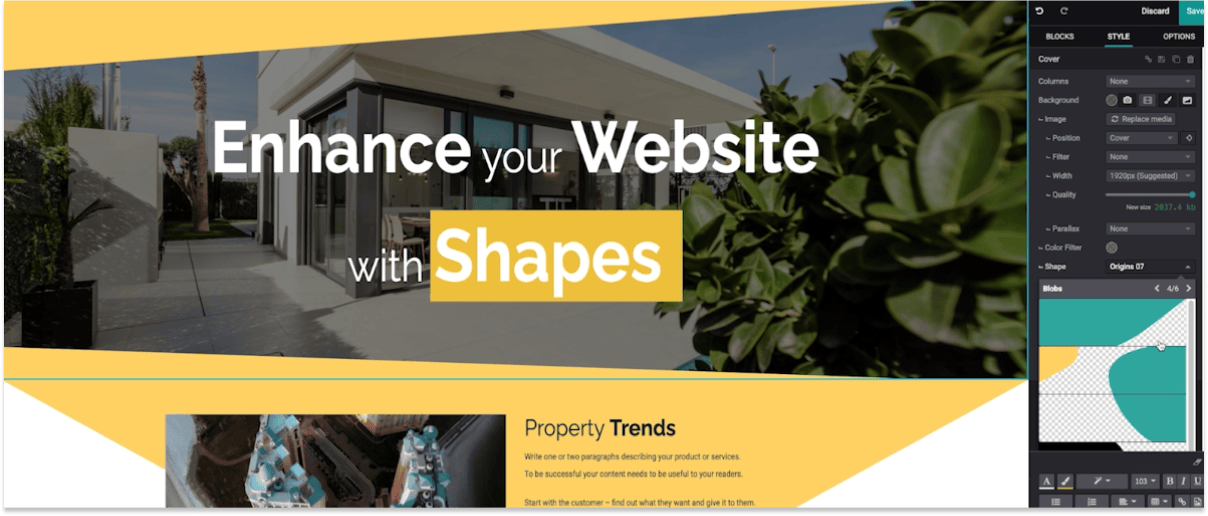 Odoo is similar to Hubspot and Zoho in that they provide a wide array of tools for businesses. These include a CRM, website/eCommerce builder, HR solutions, project management tools, marketing automation, and more.
But unlike them, Odoo is open source. This means you can freely download the CRM, website builder, and other software and host it on your own server.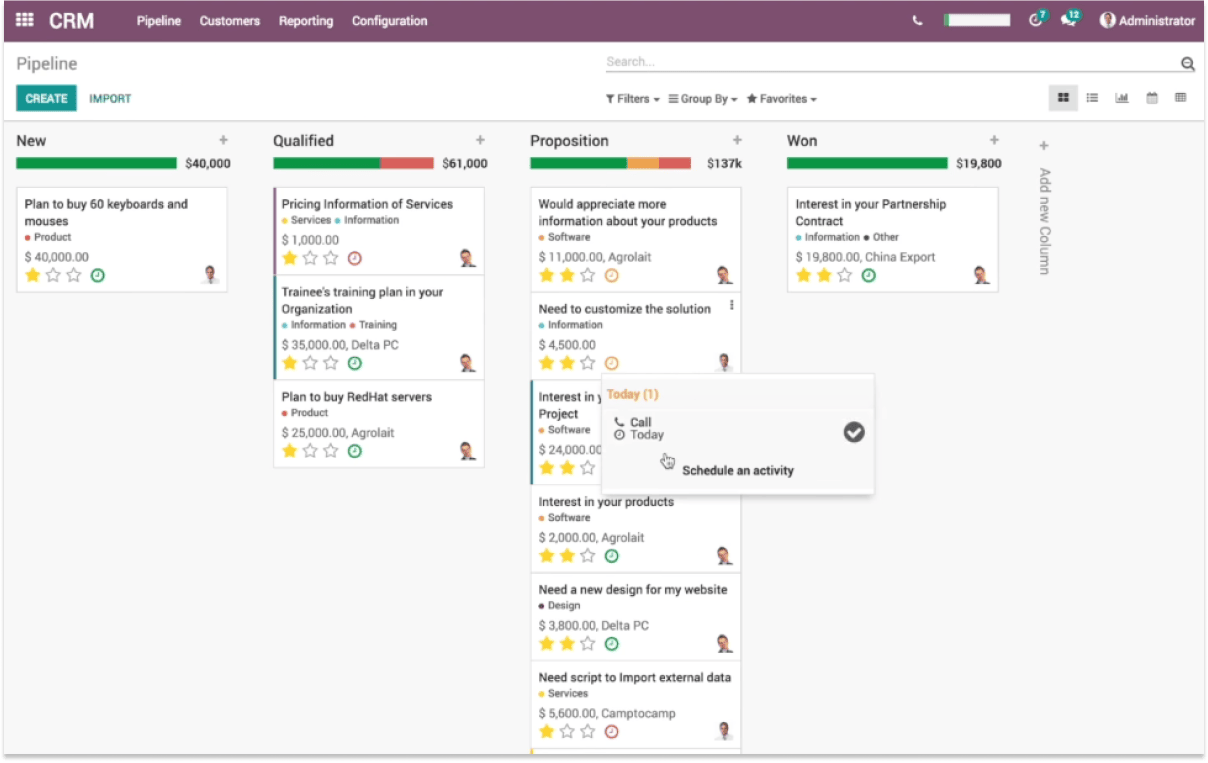 That said, they also provide a service package that covers unlimited support, hosting, and maintenance for just $13.50 per user per month (much cheaper than Zoho and Hubspot's paid options), and it comes with unrestricted access to all the app features.
That means you'll create an account and use all of the Odoo tools just like you'd sign up for Hubspot or Zoho.
Odoo's main pros
Affordable Pricing — Access to all Odoo apps for only $13.50 per user per month. User means employees and contractors who work for your company using those apps.
CRM — You can automatically create leads in the Odoo system whenever potential customers interact with your site. For example, signing up on a form on your site, register for an event, or even email you for questions. They can also schedule appointments directly on your site.
Website builder — Creating a site on Odoo is pretty straightforward. They ask you a few initial questions, and then you can choose a template to start. One cool feature I like is conditional formatting, where you can target specific visitors with custom content. For example, you can show a customized landing page header for people who come from different ads.
What I dislike about Odoo
The UI is pretty outdated in my opinion. It's reminiscent of using Windows 97 and it'll take some learning curve to "configure the apps" to suit your company workflow.
The documentation is somewhat lacking compared to other popular solutions like Hubspot and Zoho, which means you may have to rely on the community forum or hire an Odoo expert to resolve your issues.
Overall, Odoo offers great value for small businesses looking to implement a simple and affordable CRM system on their site. It will take some learning curve and configuration for your business, but you will definitely save in the long run. Plus, they have a very supportive and active forum to help.
Learn more about Odoo's CRM and website tools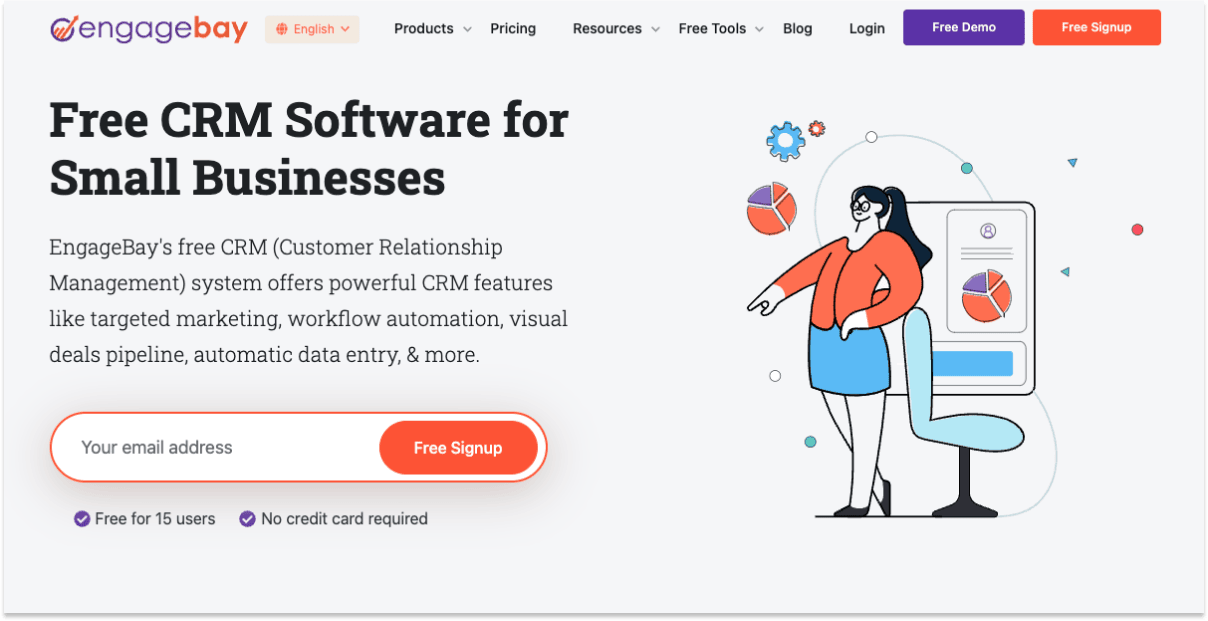 Engagebay is a relatively new all-in-one marketing platform founded by Sreedhar Ambati as an affordable alternative to Hubspot and Zoho. In fact, they have one of the cheapest paid plans for CRM alongside Odoo.
That's not all, you can essentially replace a ton of tools using Engagebay:
Lead generation funnel (replacing Kartra, Clickfunnels and other funnel tools).
Contact management and follow-ups (replacing Hubspot)
Lead nurturing with drip email campaigns (Replacin Mailchimp or any autoresponder)
Marketing automation (replacing Mailgun)
Appointment scheduling and tracking (replacing Calendly)
It also replaces other SMS and call integration tools as well
However, their pricing strategy is based on the number of contacts/leads in your system. It's free for the first 250 contacts; the cheapest paid option at ~$12 will get you 500 contacts and there are higher tier plans as well.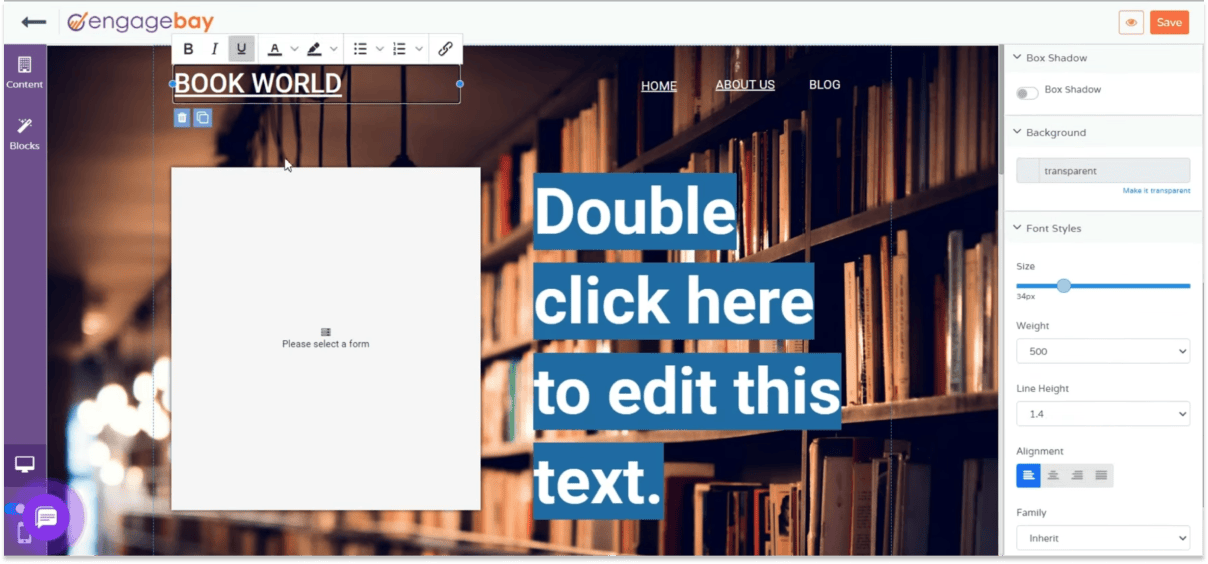 Pros
Price — EngageBay offers almost all features compared to other tools like Hubspot and Zoho, but for one-third of the price.
It's worth noting that Engagebay is entirely free for the first 15 users, unlike Zoho and Odoo, which charge on a per-user basis.
Cons
Free plan limitation — The free plan is very limited as you only have 250 contacts. Even the paid plan starting $12/month, only gets you 500 contacts. You have to pay up wards of $40/month to get you 5000 contacts.
Email capabilities — They are lacking in the email marketing department, like their email designs are quite limited and the navigation leaves much to be desired For example, to edit email autoresponders, you have to click into specific workflows and they're not editable elsewhere.
Note: You can only send up to 100 users for your first email.
User friendliness — Some CRM workflows can be improved. For example, if I want to reply to a message, I need to manually copy their email address and paste it into the "To" field. In contrast, other CRMs like Hubspot automatically populate the email address as I type the contact's name.
One page website only — EngageBay only has landing page templates (not a full fledged website), so that's something to take note.
Learn more about EngageBay and their affordable CRM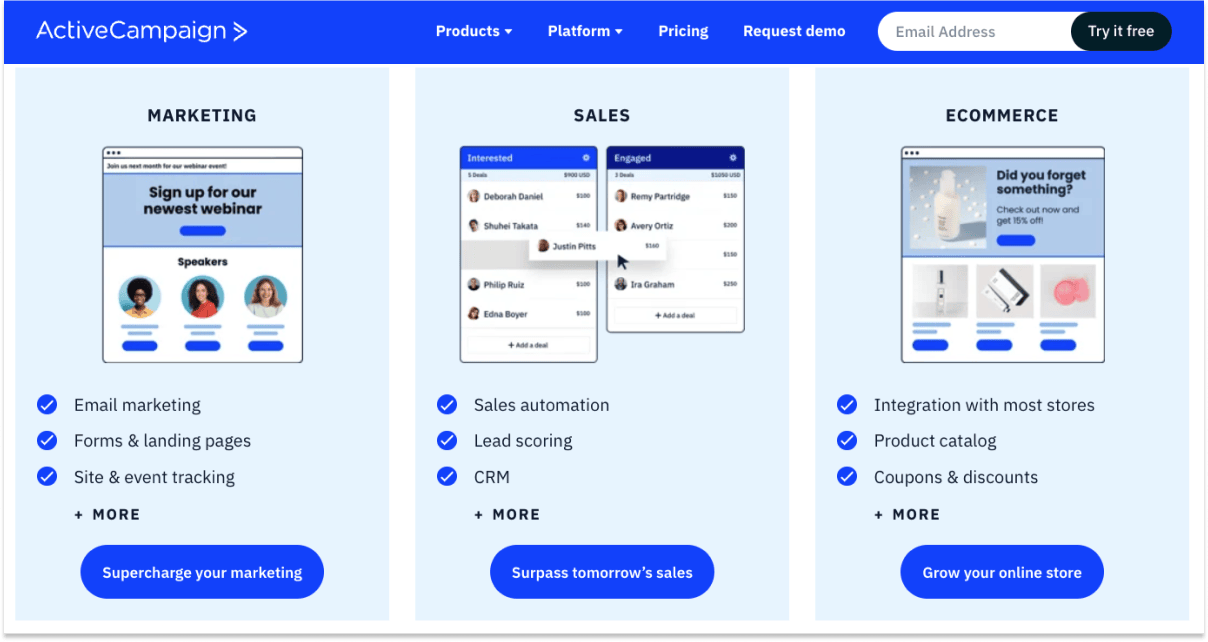 Active Campaign started as a popular email marketing platform back in 2003, but has since expanded to other high-value tools for small businesses. Some of these include landing page builder, sales automation, lead scoring, CRM, and eCommerce store solutions to sell online.
If you'd rather have a dedicated eCommerce solution, it can integrate with popular platforms like Shopify, WooCommerce, BigCommerce, and others as well.
I think the CRM part of the system could be improved with a more robust interface and the ability to customize to the exact needs of my business.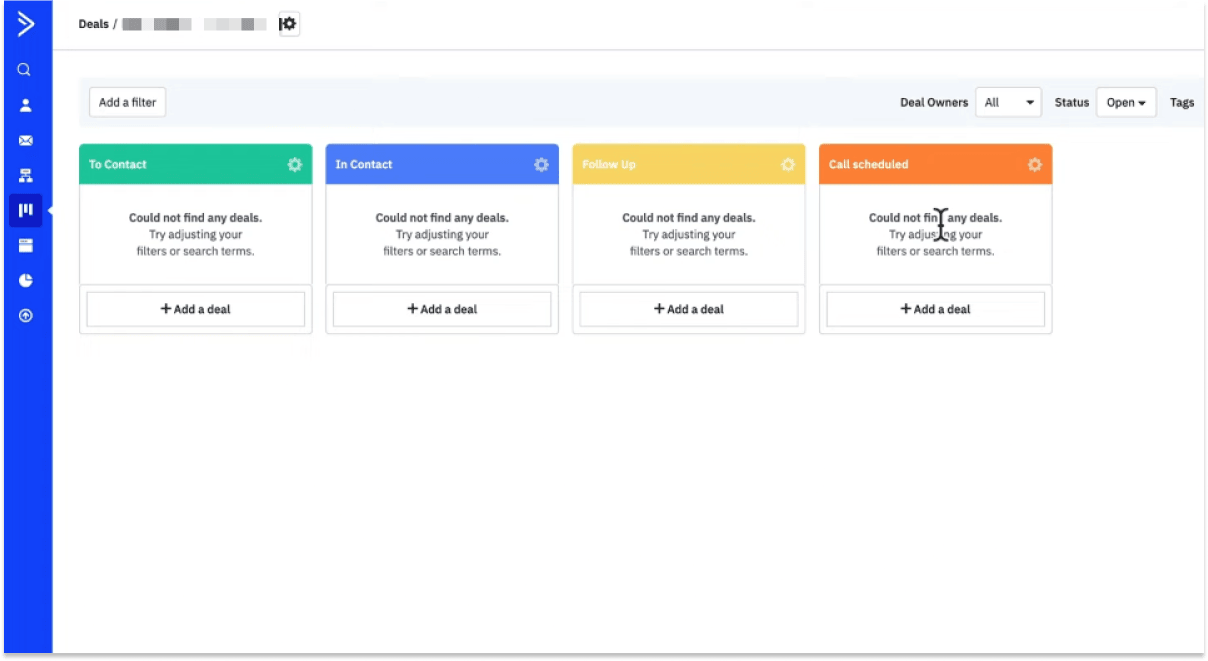 What I like about Active Campaign
Automations — The fact you can create any type of automation is great. They have tons of automation recipes that you can use right away with just a few clicks.
CRM — The added CRM and sales features are also useful for deal management and pipeline but they're not as powerful as dedicated CRM platforms like Hubspot.
Documentation — They have an extensive collection of tutorials, and their documentation is great as well. You can actually learn how to use their system and improve your business.
What I DON'T like about Active Campaign
Pricing — If you're building a website, whether landing page or eCommerce, store you need to pay $ 49/ month to start with and there's no monthly pricing. You have to pay yearly upfront.
Learning Curve — Personally I think Active Campaign can be a bit challenging to learn. It has a wide range of features and customization options, which might require some time and effort to fully understand and use effectively.
Landing page and form builder — There's limited styling available. To really customize them, you need to know how to code (CSS & HTML) to get them to look the way you really want.
Overall Active Campaign is primarily an email marketing and automation platform with some useful CRM features. You may need to subscribe to a dedicated website or eCommerce platform since their website tools are pretty limited.
Learn more about Active Campaign and their marketing automation tools
Frequently asked questions about website builders and CRM
What is a CRM on a website?
Customer Relationship Manager (CRM) are basically tools to help capture and nurture relationships with your customers or clients.
It usually starts with a sign up or booking form or on your website, and once a potential customer leave the contact details, you will have a variety of ways to track and interact with your customers, such as organizing their personal details, sending follow up emails, move them along in your sales pipeline, etc.
Do I need a CRM if I have a website?
Here are some businesses that can benefit from having a CRM on their website:
Retailers / eCommerce — Retail or and online businesses use CRM to track customer purchases, preferences, and behavior so they can offer personalized promotions and recommendations to increase sales.
Hotel, resorts and travel agencies — Manage guest reservations, preferences, and special requests.
Real Estate agents / agency — Keep track of property listings, client preferences, and communication history. It helps in matching buyers with suitable properties.
Wholesalers — Manage B2B relationships, track orders, and monitor inventory levels.
Banks, credit unions, and financial advisory firms — Manage customer accounts, track financial transactions, and provide personalized financial advice.
How to integrate CRM to a website?
You have two options:
Create a website that comes with a built-in CRM system like HubSpot, Zoho, or Odoo.
Alternatively, you can integrate their CRM systems separately into your website. Usually, you integrate the CRM by embedding a subscriber form or a scheduling calendar on your website.
Is HubSpot CMS a website builder?
Yes, HubSpot initially began as a CRM tool but has since grown to offer a range of other business tools. These include a CMS for website building, a service hub for customer service management, eCommerce tools for online product sales, and operations tools for HR.
Related articles