Wix is a versatile (did I mention Free too?) platform for building all kinds of websites  — a marketing landing page, a website for small businesses, or a professional site for an international organization.
Here, I have collected 12 landing page examples to inspire you.
From small businesses, non-profit organizations to international world organizations.
These companies have used Wix to build landing pages to acquire leads for their business, collect sign ups for partnerships, generate sales for their products, events, and more.
Wix is free to use, but if you need extra features such as adding a custom domain, I recommend getting the premium version since Wix has one of the cheapest Premium plans.
Plus, they always offer 50% off upon signing up, which is pretty generous of them.
Enjoy!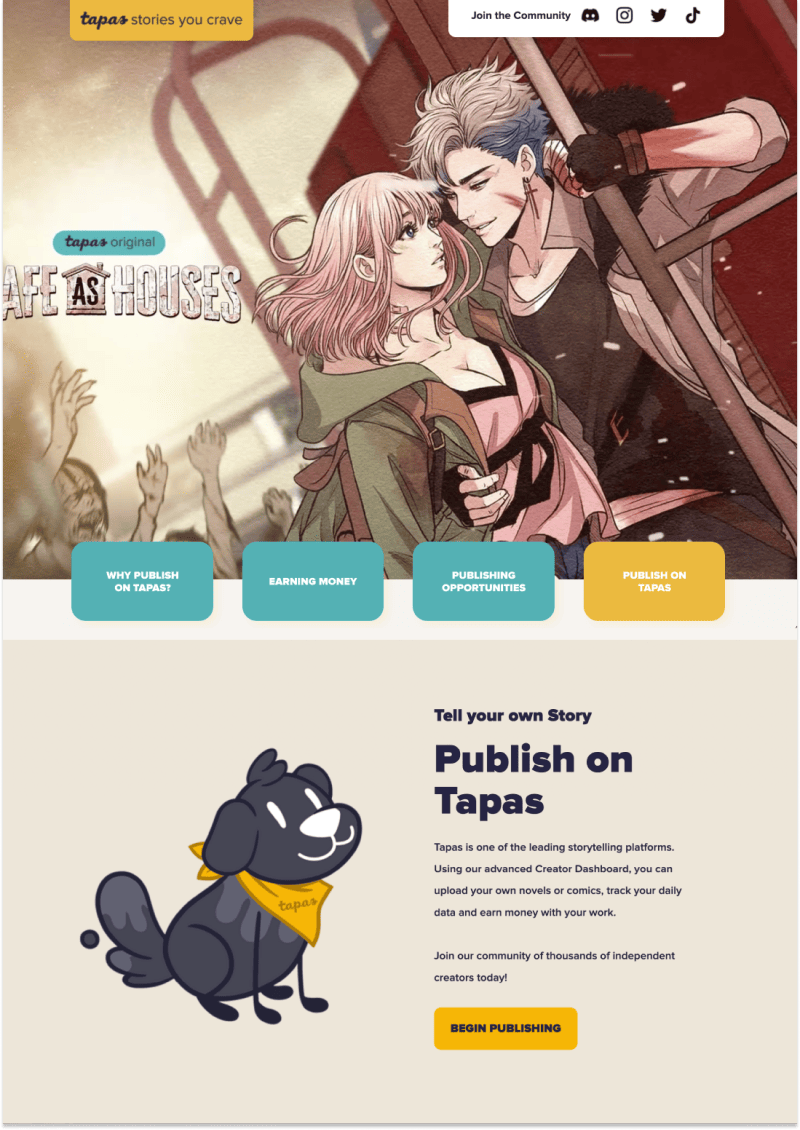 Tapas is a publishing platform that helps independent creators — comic artists, filmmakers, or novel writers — by distributing their comics to millions of fans and helping them earn an income along the process.
If you produce creative work in any capacity, you can upload them to Tapas and earn an income from the ad revenue generated on the site. You can even sell your merchandise at no cost and keep 100% of the profit.
Aside from having a great aesthetic, this landing page (built on Wix) does a few things well to attract independent creators to sign up on their platform:
They clearly explain their value proposition and how Tapas can help creators earn a living.
They show a variety of publishing opportunities to help creators distribute their work.
There's a call to action button asking creators to sign up on their creator program today.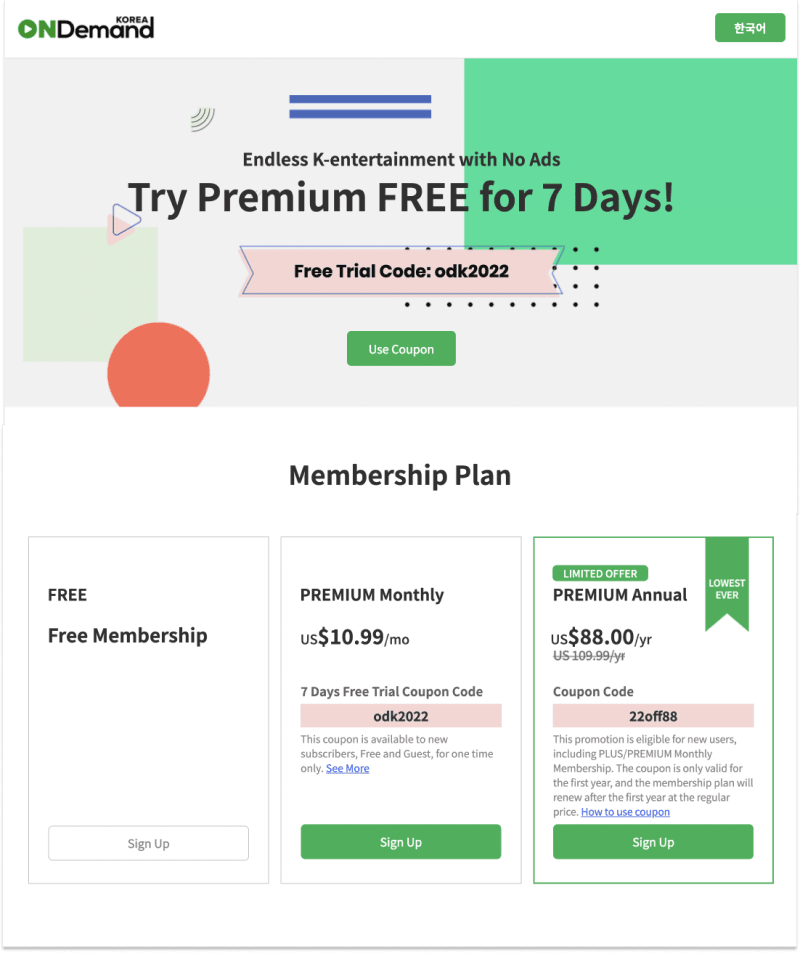 On Demand Korea is a streaming service that offers a wide variety of Korean dramas, movies, documentaries, news, and more. It's the Korean version of Netflix, if you will.
They have over 400,000 hours worth of content! That's 45 years of non-stop Korean entertainment, and they're aggressively adding more content by the day.
The landing page spots a fresh mint design; there are 3 membership plans you can subscribe to.
They'd like customers to subscribe to the premium plan, and to encourage customers to sign up, they offer a 7-day free trial to the premium plan. Hence, customers get to experience it before fully committing.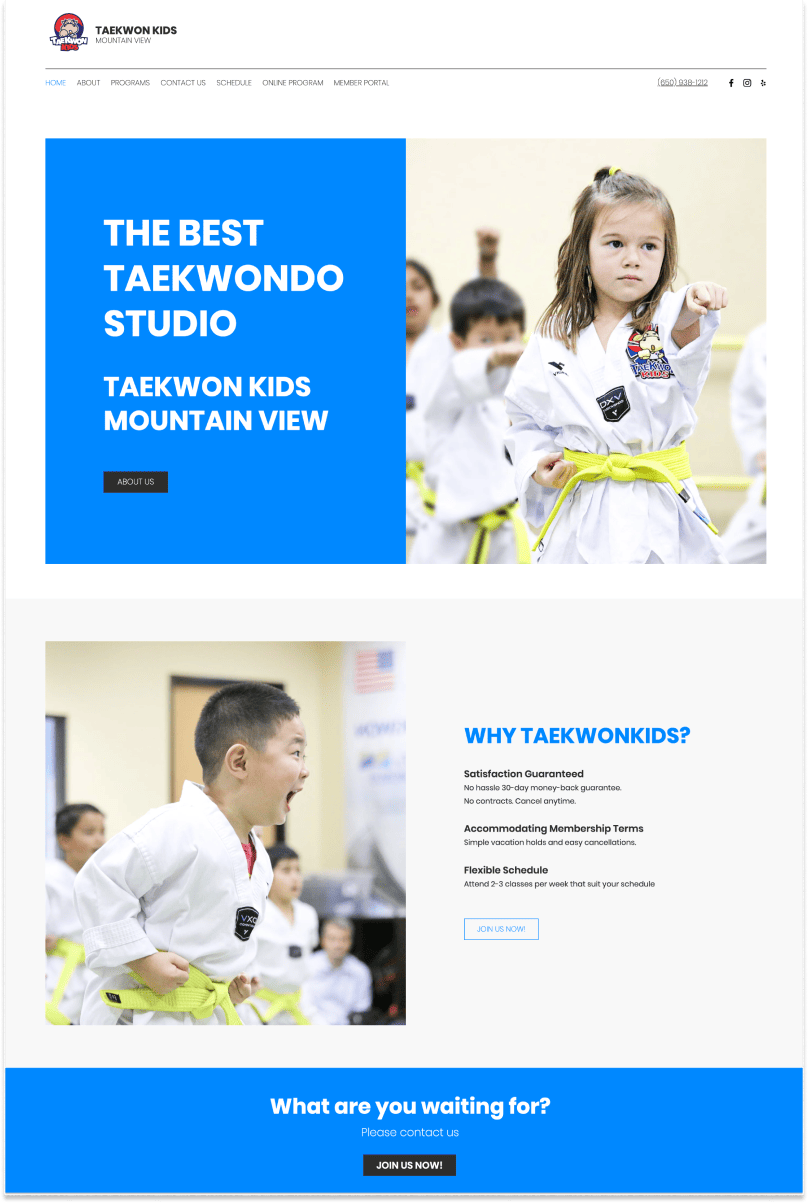 TaeKwon Kids is a family-oriented martial arts school that teaches authentic Taekwondo, Judo, and self-defense to children and youth.
They were founded in 2010 by master Chin Sonu who decided to pursue his dream of creating the best martial arts school. Master Scott joined him later as the head instructor to form a powerful partnership.
In just a few years, Taekwon Kids has become one of the largest Taekwondo schools in the Bay Area.
While the landing page design is simple, it showcases many photographs of their students going through the Taekwondo program.
This helps parents visualize their children's environment upon signing up, which would increase the signup rate on the landing page.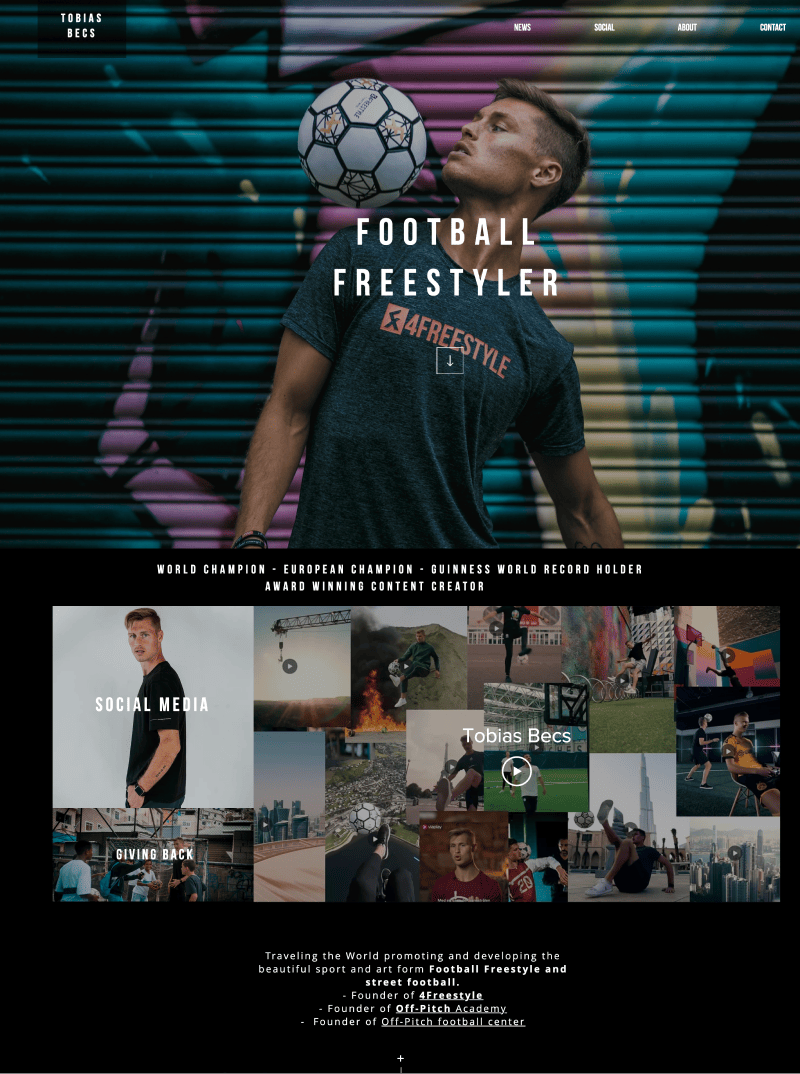 Tobias Becs is a professional football freestyle from Norway. What's a football freestyle, you may ask?
Freestyle football is the art of juggling a football and performing tricks while keeping the ball in the air. While the idea may sound funny, it's a serious sport, and Tobias has been going at it for years.
Tobias' home page showcases his freestyle reels and acts as a landing page for brands to contact him for sponsorship and collaboration.
When you're building a personal branded site, it's recommended to showcase your best work, which in Tobias' case,  is a collection of his most viral stunts to date! His team also did an excellent job of featuring brands and product placement to highlight the potential of brand collaboration.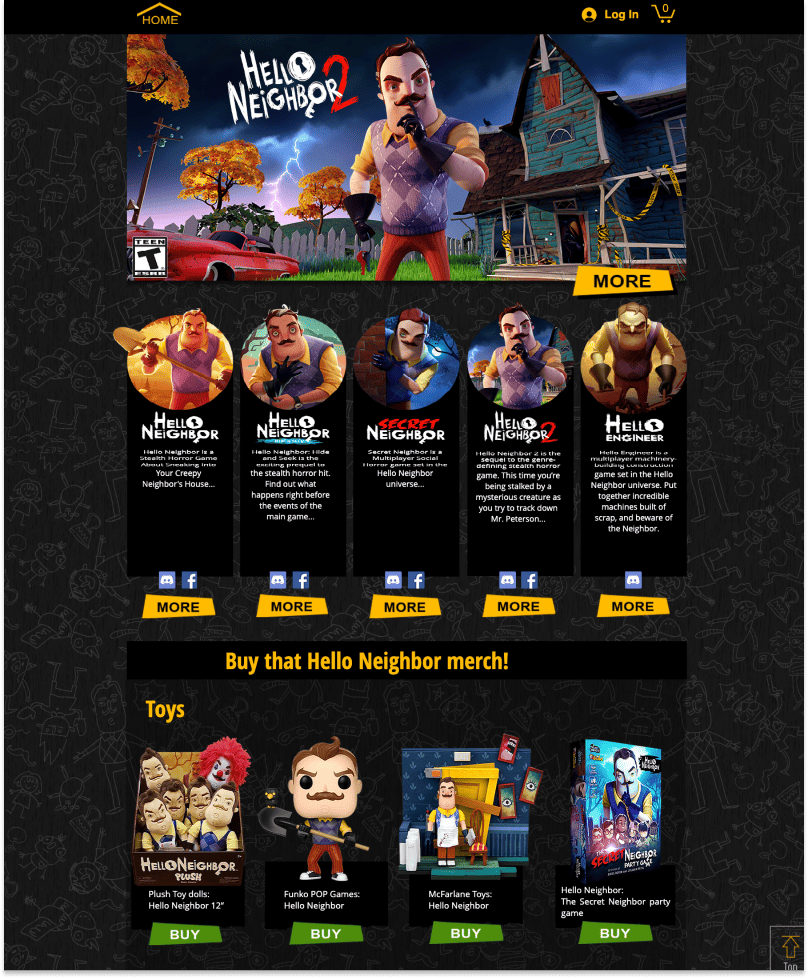 Hello Neighbor is a survival horror game about sneaking into your neighbor's house to figure out what horrible secrets they've been hiding!
In the game, you're playing the role of Nicky Roth, who investigates your mysterious neighbor by trying to sneak into their basement to uncover a dark secret.
First released in 2017 by tinybuild, they are now available on popular platforms such as XBox, Playstation, Steam, and epic games.
They have even expanded the franchise, which now includes Hello Neighbor 2, Secret Neighbor, Hello Engineer, and more.
This landing page featured the new games and allowed customers to buy popular merchandise such as toys and books.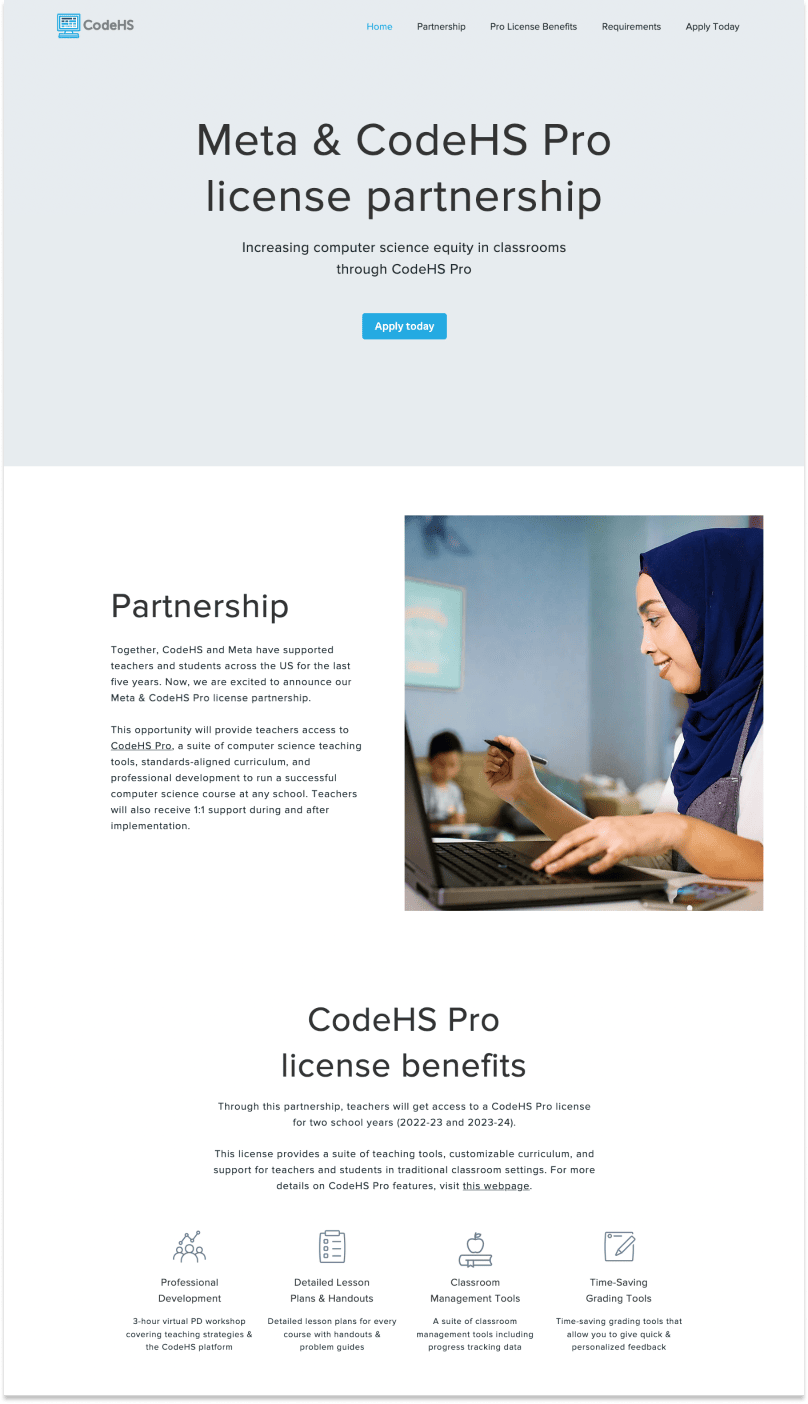 Jeremy and Zach, who met at Stanford, started CodeHS to give students from all walks of life the same opportunities as Stanford computer science students.
They provide curriculums, tools, and resources to teachers, students, and schools to implement high-quality computer science programs.
For example, they've developed classroom management tools specifically for the computer science curriculum. They've also developed an online independent development environment (IDE) where students can write and debug code from any browser.
This landing page was made to recruit partners in the education space to help further their mission.
Suppose you're a teacher in one of the K-12 education programs. In that case, you can sign up on this page to receive CodeHS license benefits such as lesson plans, management, and grading tools to help implement a computer science program in your school.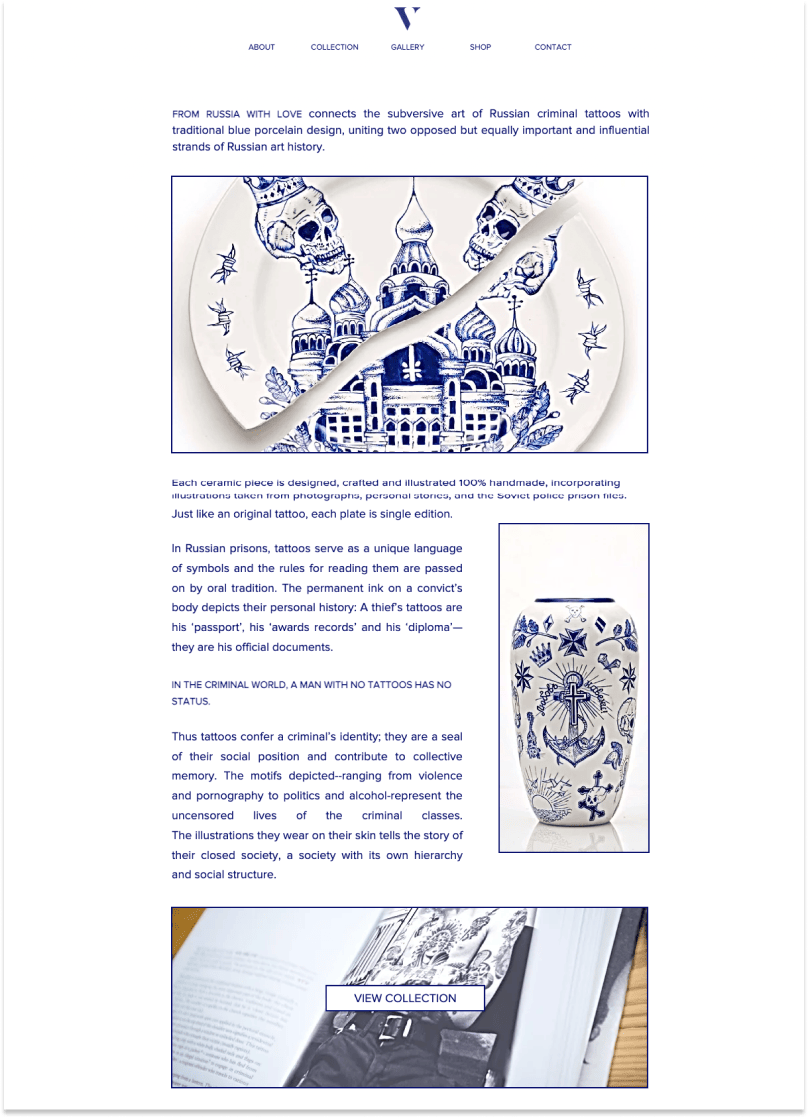 Valeria gives a fresh take to ceramic designs by incorporating the subversive art of Russian criminal tattoos with traditional blue porcelain designs.
Each ceramic piece is 100% handmade. From the initial design and crafting of the ceramic piece to the final illustration,  Each porcelain tells a personal story from the Soviet prison.
Valeria Monis, raised in Tel-Aviv, started MissMonis design studio to design everyday tableware with a new form of expression. Her aim is to create perfectly crafted products from which you can feel the love and attention they were made with.
This landing page features her unique ceramic collections (check out her tea sets!), which you can also purchase from her store. Unfortunately, some of her most popular designs are out of stock, so you better keep an eye out!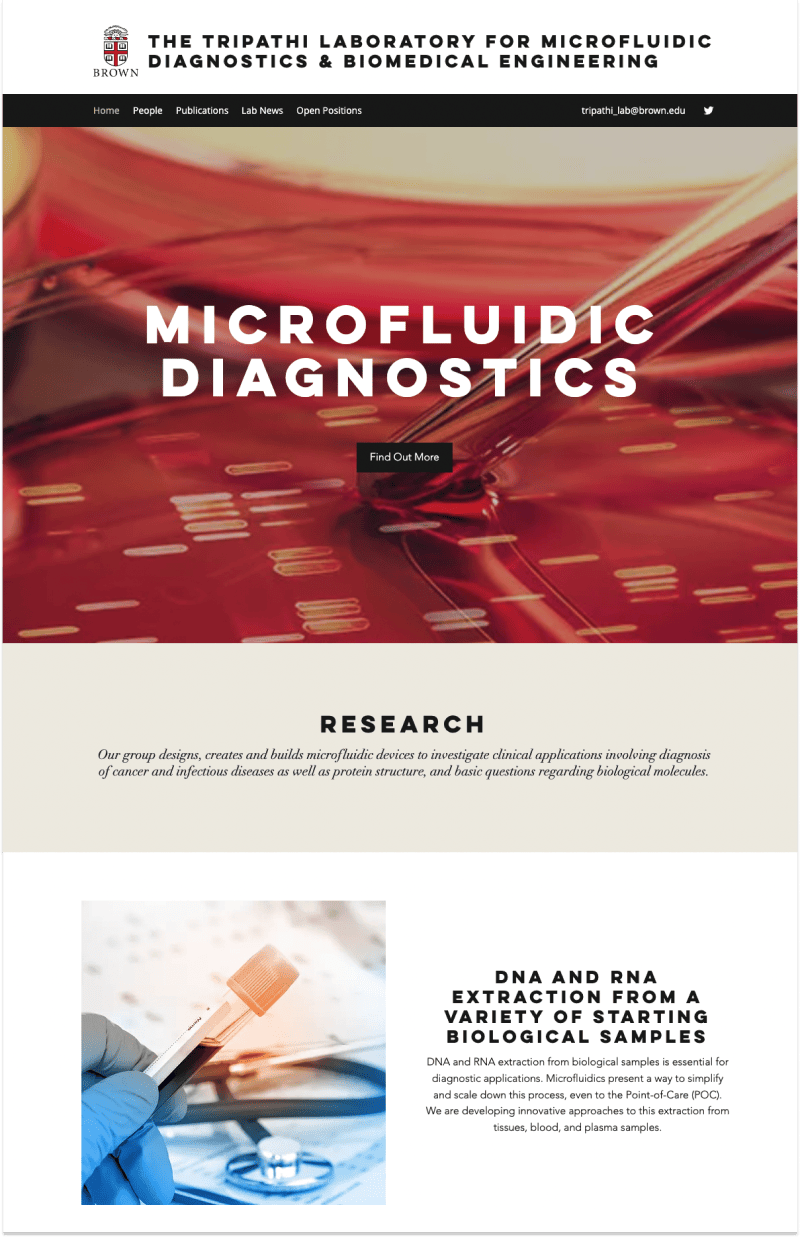 Dr. Anubhav Tripathi founded the microfluidic diagnostics & biomedical engineering laboratory at Brown University in 2017.
His team designs, creates, and builds microfluidic devices to investigate clinical applications involving cancer diagnosis and infectious diseases.
This landing page was built to showcase his team's research work, including DNA and RNA extraction from biological samples, non-invasive prenatal testing strategies, and next-generation sequencing sample preparation.
Should you be interested in joining or collaborating with Dr. Tripathi's research team, you can submit an inquiry via a contact form at the bottom of the page.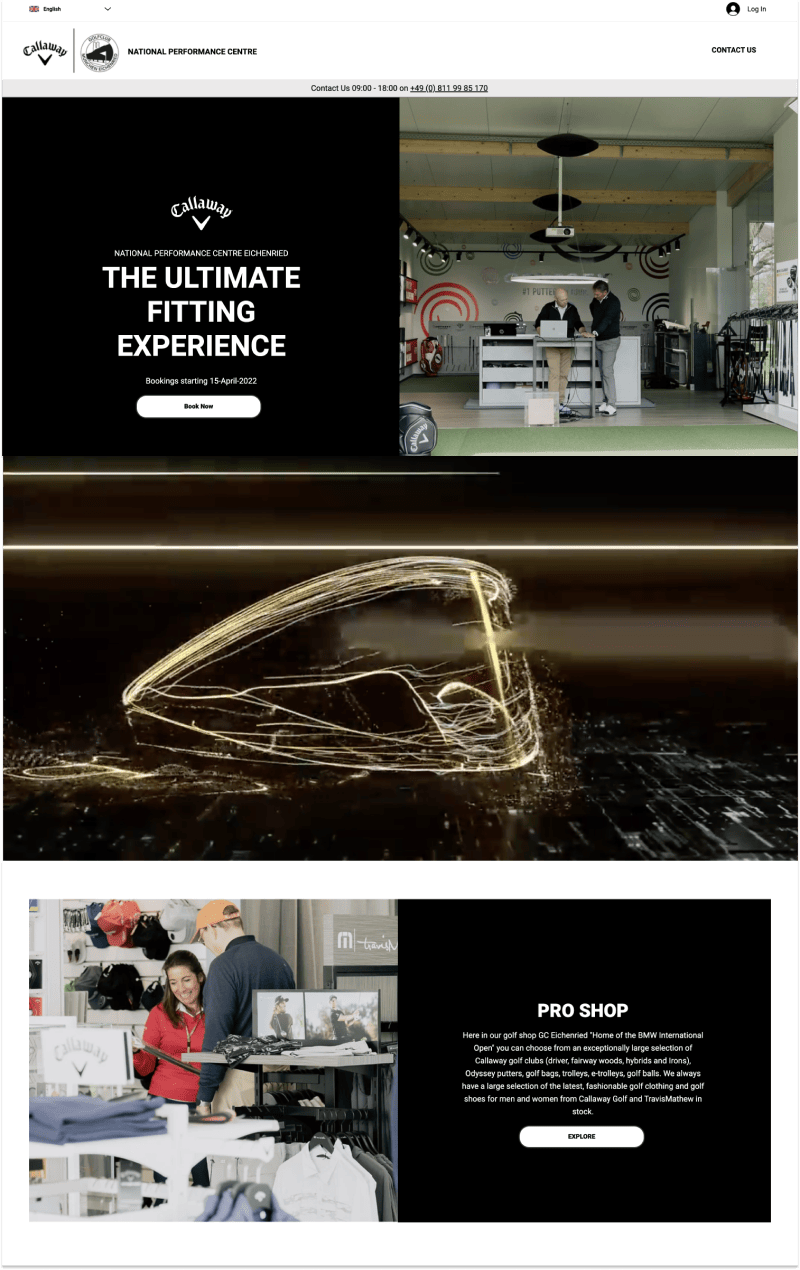 Callaway is a global sports equipment manufacturing company that designs, manufactures, and markets golf equipment.
They have local chapters worldwide, and this particular Callaway performance centre is located in Eichenried, a suburb just outside Munich, Germany.
Besides selling Golf equipment and accessories, they also provide custom fitting experiences for professional golfers.
This landing page highlights the workmanship to help you improve your game by finding suitable head models, lofts, flex, and shafts customized to your game.
If you're interested in getting a custom fitting, you can sign up at the top of the page.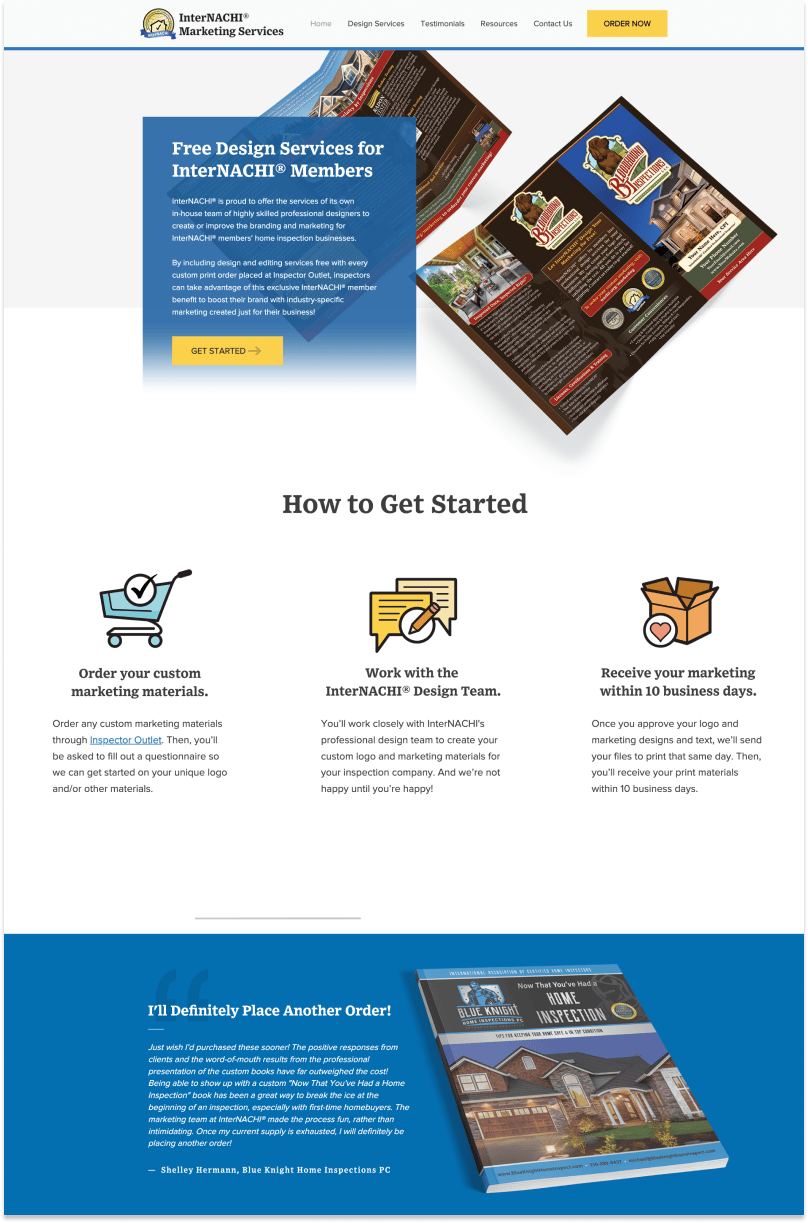 InterNACHI is the world's leading association for home inspectors.
They provide free training, business development, marketing support, and licensing to home inspectors to help them grow their business.
They even run lead-generation websites that give members thousands of home inspection opportunities daily.
Beyond that, they've created the InterNACHI Marketing Services landing page to provide custom marketing materials — business cards, door hangers, pop-up banners, and more — to improve the branding and marketing for fellow home inspectors.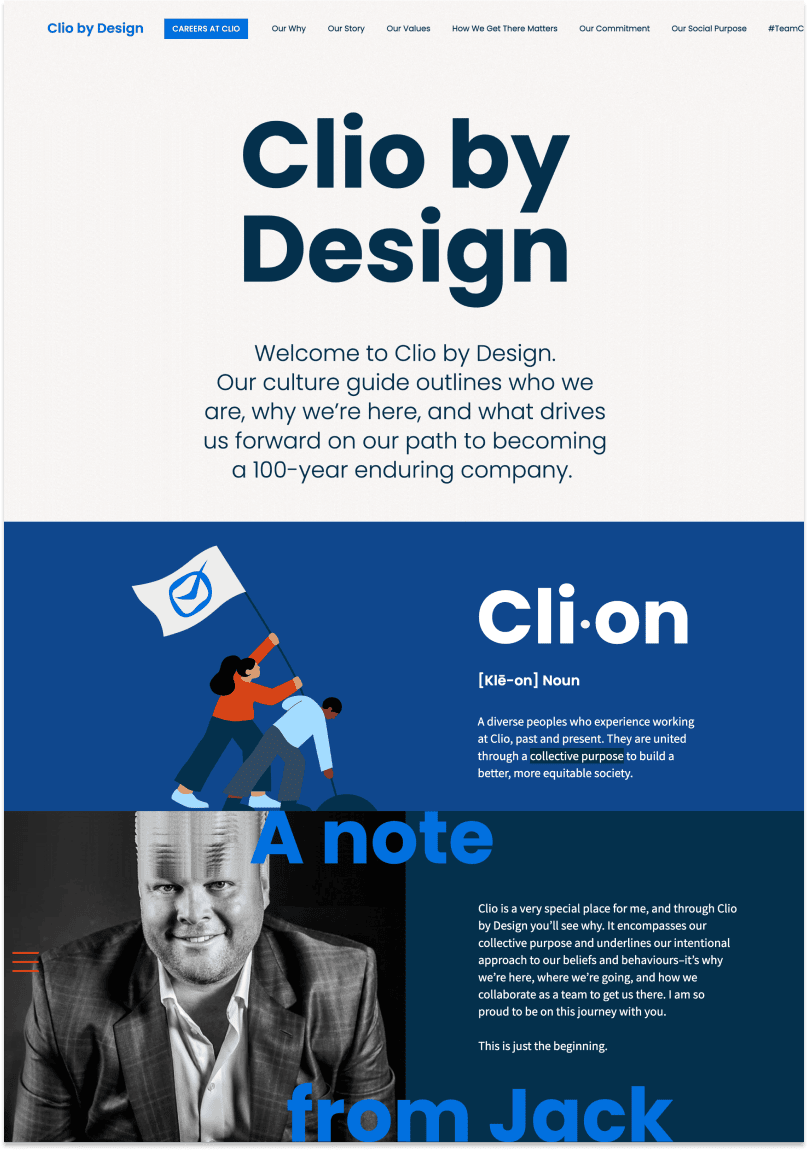 Clio is the leading legal software company currently headquartered in Burnaby, British Columbia.  
They help law firms and other businesses in the legal industry with automated billing, client intake, document management, and legal calendaring, among other things.
Over the years, they've grown much more than just a legal software company.
They've started Clio Academy, a comprehensive training program to help clients get up to speed with the software and industry.
They've also started an incubator program to help newly-qualified attorneys start their practice.
Now they've created Clio By Design, a dedicated branding site to highlight their story, milestones, and social purpose for the next decade.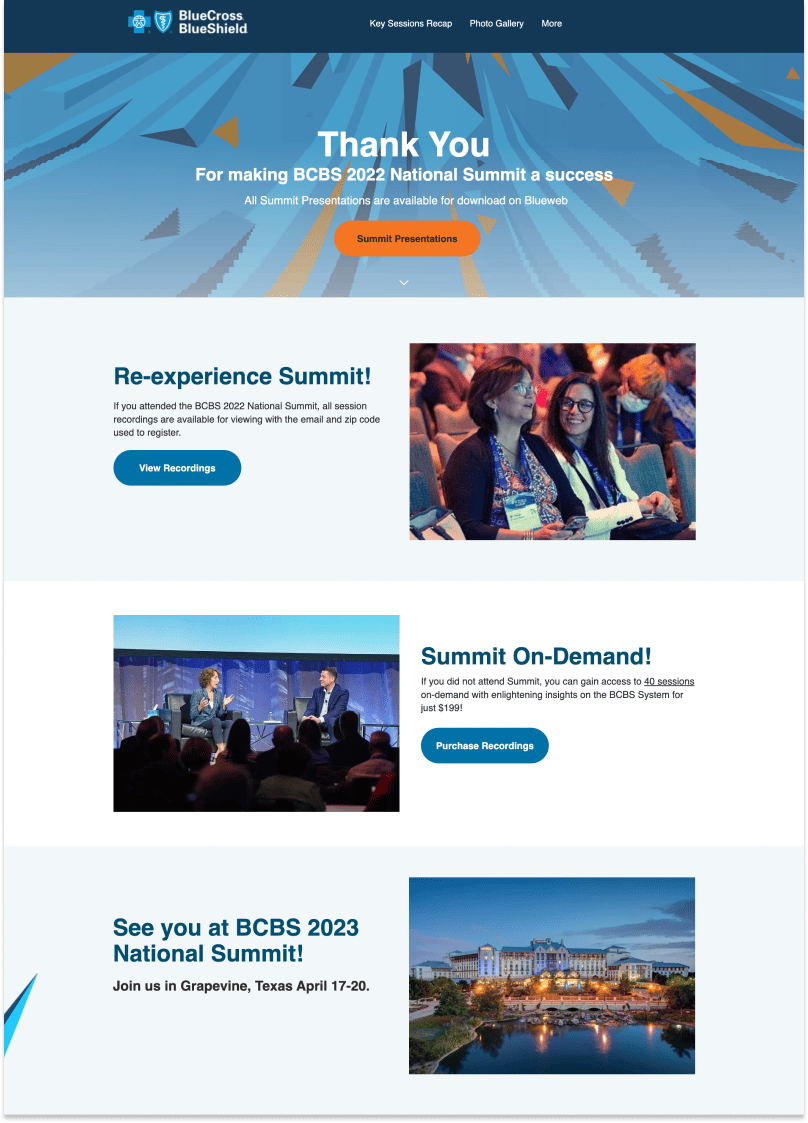 Blue Cross Blue Shield (BCBS) is a federation of 35 separate United States health insurance companies that provide health insurance in the United States.
The BCBS association controls access to the Blue Cross and Blue Shield trademarks across the united states and in more than 170 other countries.
Every year BCBS holds a national summit that brings together professionals from BCBS companies to connect and share how they're shaping the future of healthcare.
They've created this site in Wix to house all content and agenda related to the event.
The site is practical and professionally designed. You can read the key session recap and highlights. You can also purchase recordings from the event if you didn't make it.
Related Articles