Here are 5 Free landing page builders that you can use to connect with a payment gateway and accept payments for your business.
Usually, creating a landing page with payment gateways (e.g., Stripe or Paypal ) is considered a premium feature, and companies like Wix charge upwards of $17/month if you want to accept online payment.
Luckily, these website and landing page builders are generous enough to offer this feature for free. We will also consider other these factors while evaluating:
Monthly cost
Transaction fees
Accepted payment methods
How many products or products can you sell
Notable features
Drawbacks you should be aware of
Whether you're a small business needing a payment-enabled landing page or a consultant seeking eBook payments via PayPal, these lesser-known builders can assist your goals.
Here's the summary:
I've also added a secret landing page builder that you should definitely check out, as it offers the best value in the market.
Let's look at them in more detail.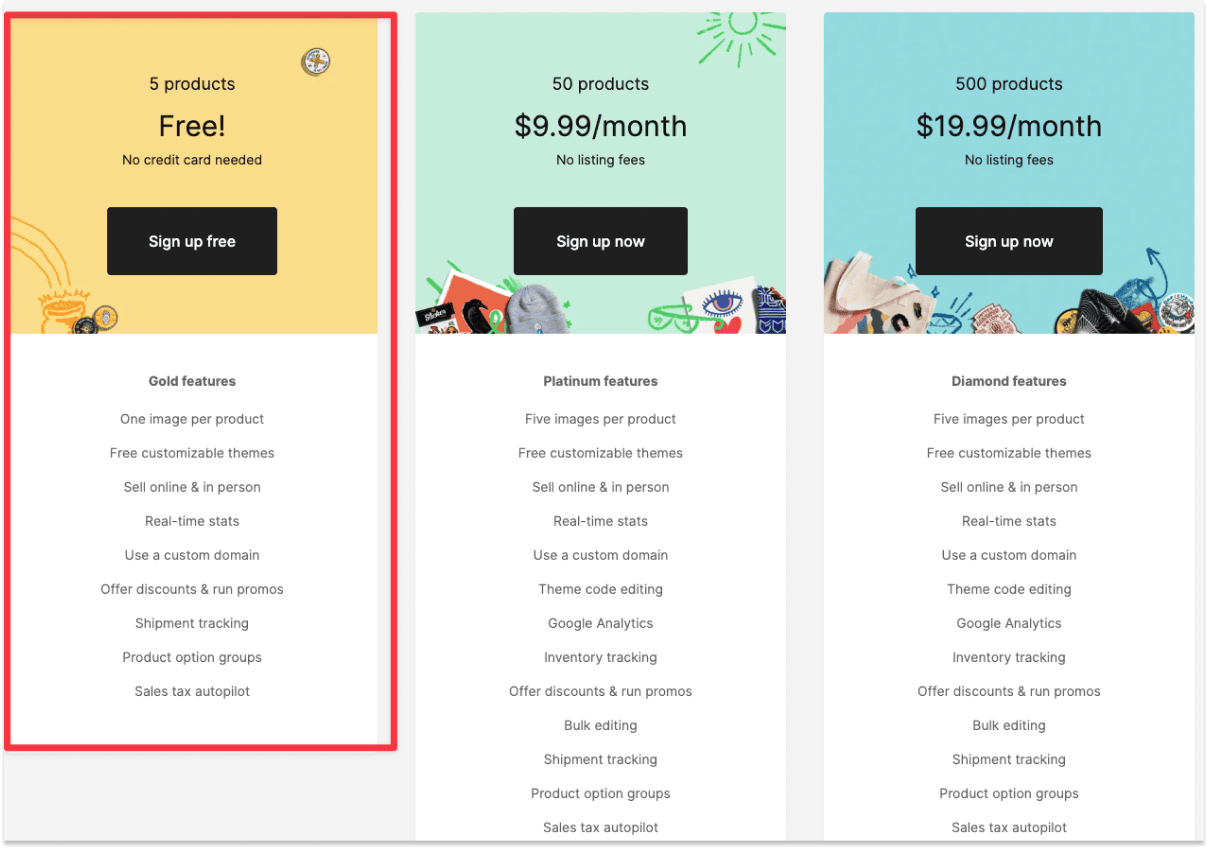 Despite its name, BigCartel is actually a beginner-friendly website builder designed for artists, creatives, and small business owners like us. It's perfect for setting up uncomplicated stores and quickly diving into the world of selling.
How so?
You're guided every step of the way. You start off with a pretty neat landing page and store template (they have about a dozen templates, each with a unique personality and design); there aren't a lot of complicated options.
Once you've set up your product and connected to a payment processor, you're ready to launch your site! I've tried setting up one for myself, and it took about 20mins to get it up and running.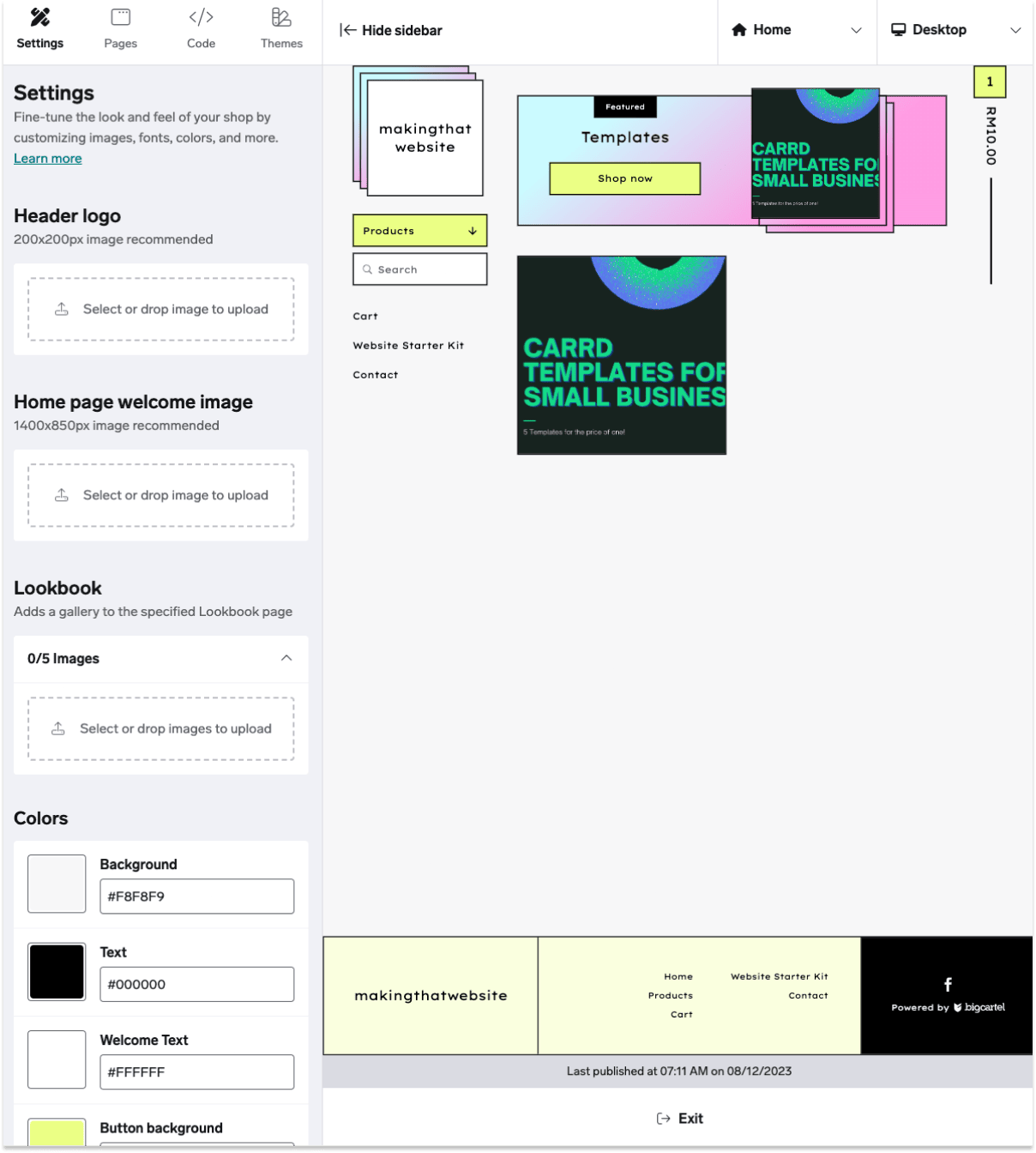 It's quite uncommon to find a platform that allows you to sell products without any cost. But the free plan on BigCartel has a few nice perks too:
You can set up a custom domain for your store for free!
Accept payment via Stripe or Paypal
0 transaction fees from BigCartel, but standard credit card, Stripe and Paypal fees apply.
Sales tax is automatically calculated if you reside in the US and Puerto Rico
💡
You're only allowed to sell up to 5 products on the Big Cartel's free plan.
Should you use BigCartel?
BigCartel is great if you're starting out and you need a quick, simple, and, more importantly, free online store to sell your work.
There are some limitations when it comes to the customization of your store and the number of products you can sell, but if you get to a point when you need to scale, you should probably look to migrate to a more established eCommerce platform like Shopify and BigCommerce.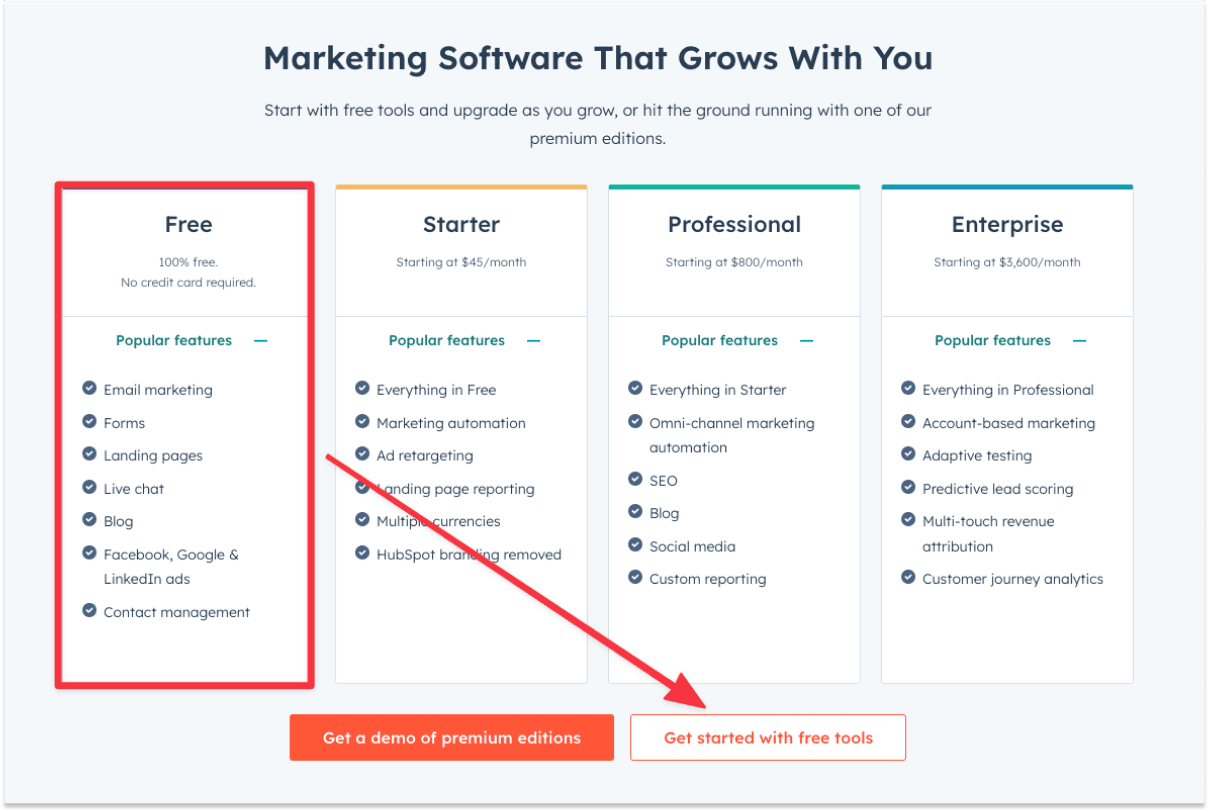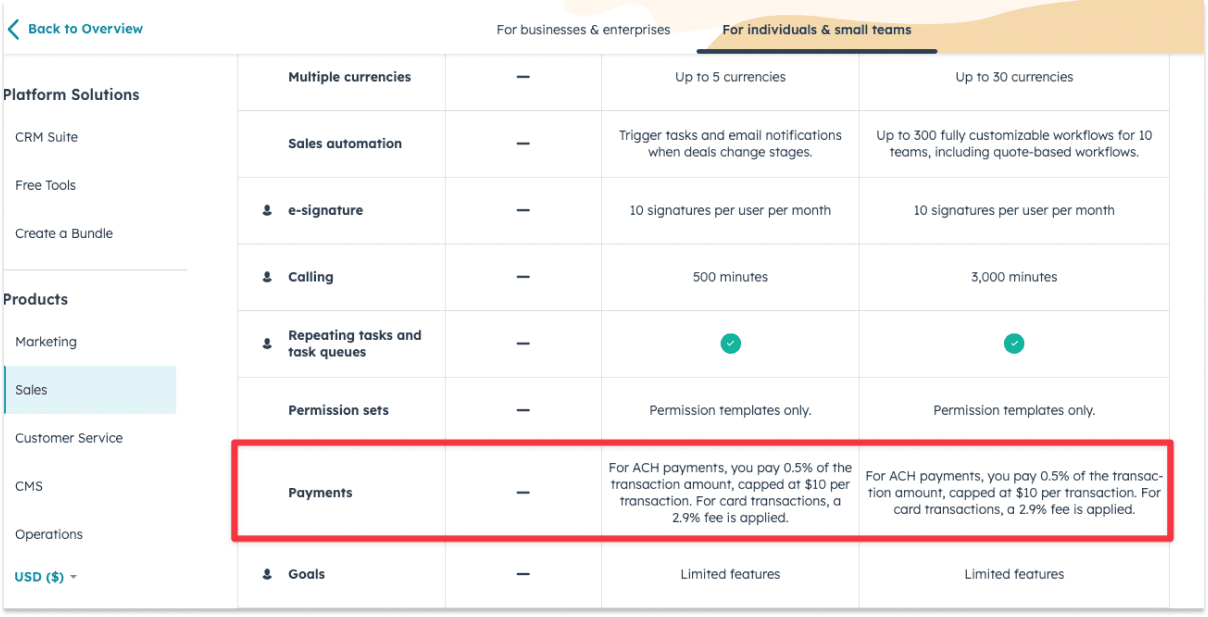 Not many know this, but Hubspot has an underrated suite of free tools for business owners.
Some of which include:
A free website and landing page you can connect a custom domain to at no cost!
Set up automated emails for your customers (great for sending customers their products and nurturing them)
A free team email and shared inbox
List segmentation for your customers
Live chat
And a boatload of free features not listed here.
But that's part of being a huge publicly listed conglomerate. Their strategy is to offer a ton of free tools and resources to get customers in the front door in hopes they'll upgrade in the future.
You get to sell unlimited products and accept payments via ACH, credit card, and Paypal, all on a flat 2.9% transaction fee.
💡
Hubspot doesn't have the best-designed landing page template, but they partnered with Themeforest, and there's a great selection of professional templates you can use for free.
Check out this
landing page that I created in Hubspot
and see for yourself.
Is Hubspot worth it?
Hubspot is worth it if you need to also manage and nurture your customer. Hubspot has the best-in-class CRM tools, after all.
But small business owners who need a marketing site should take advantage of Hubspot's free website & marketing tools (while they're still free). Looking at their feature sets, you can get far with pretty much zero cost.
Learn more about Hubspot free marketing hub.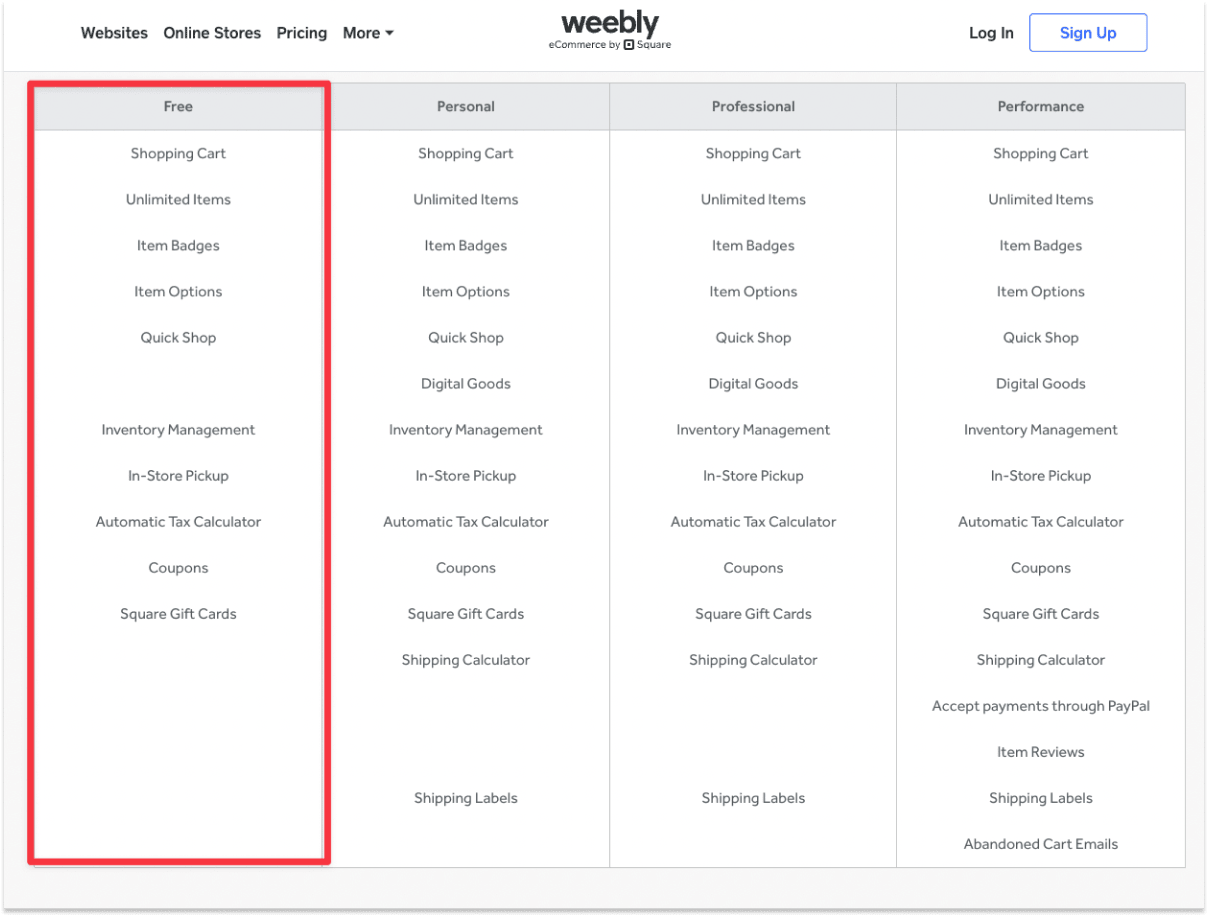 Weebly has been around for quite a while, along with trailblazing website builders such as Wix and Squarespace.
While it doesn't offer as many features as Wix and Squarespace, it stays popular due to its easy website setup and generous free plan.
For example, the ability to set up a page that accepts payments for free.
Here are a few perks you should know of accepting payment on Weebly's free plan:
0% transaction fee (but credit card fees apply)
Sell unlimited products
Inventory management
To accept payment on Weebly, you can either use the native eCommerce features (i.e setting up a store and selling products), or you can just set up a simple landing page and embed a Stripe or Paypal checkout on the page.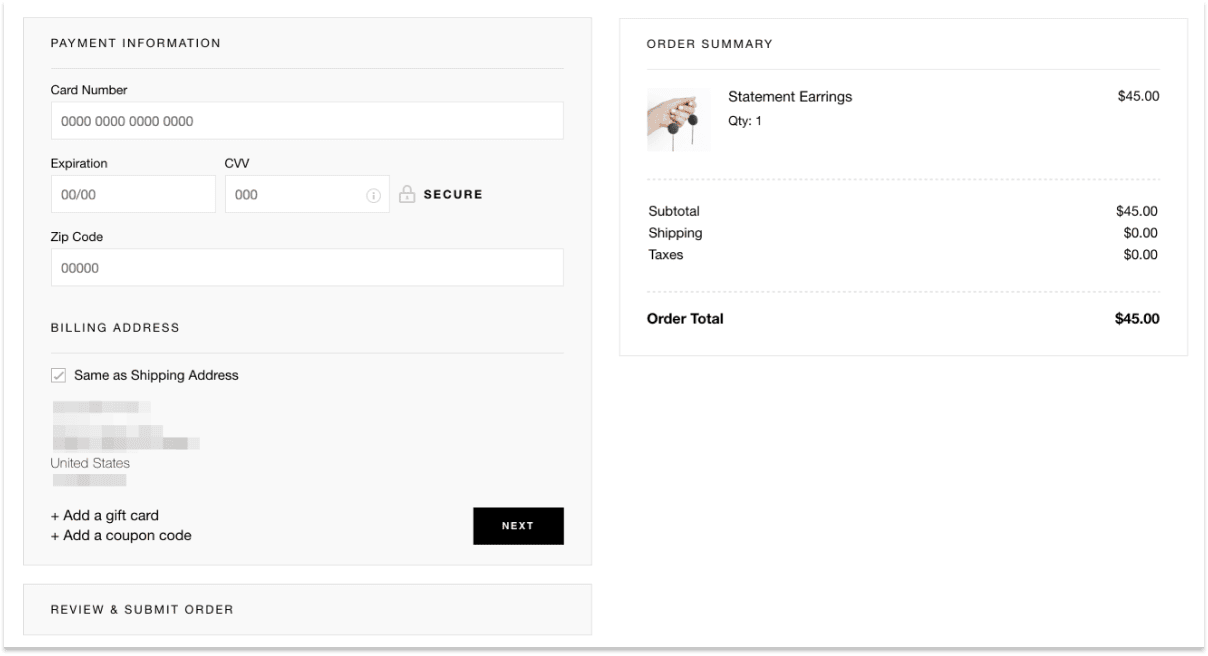 Here's a step-by-step tutorial I wrote on how to set up payment gateway like Stripe, and Paypal on Weebly.
Note that Weebly does have some drawbacks:
The templates are basic at best (also dated I must say) but you can customize the site to some extent.
Weebly community forum isn't as active as others, so getting help might be a challenge.
Verdict on Weebly
Weebly is good if you need to set up a simple landing page or a basic website for your business (restaurant, yoga studio, personal instructor, etc). You can accept payment for free or set up a simple eCommerce store.
If, however, you're thinking of setting up a permanent online store and it's your main business driver, you can start with a Weebly site to test some ideas, but eventually, you'll have to move to other (eCommerce-focused) platforms such as Shopify, BigCommerce or even Wordpress (with WooCommerce) to grow your business.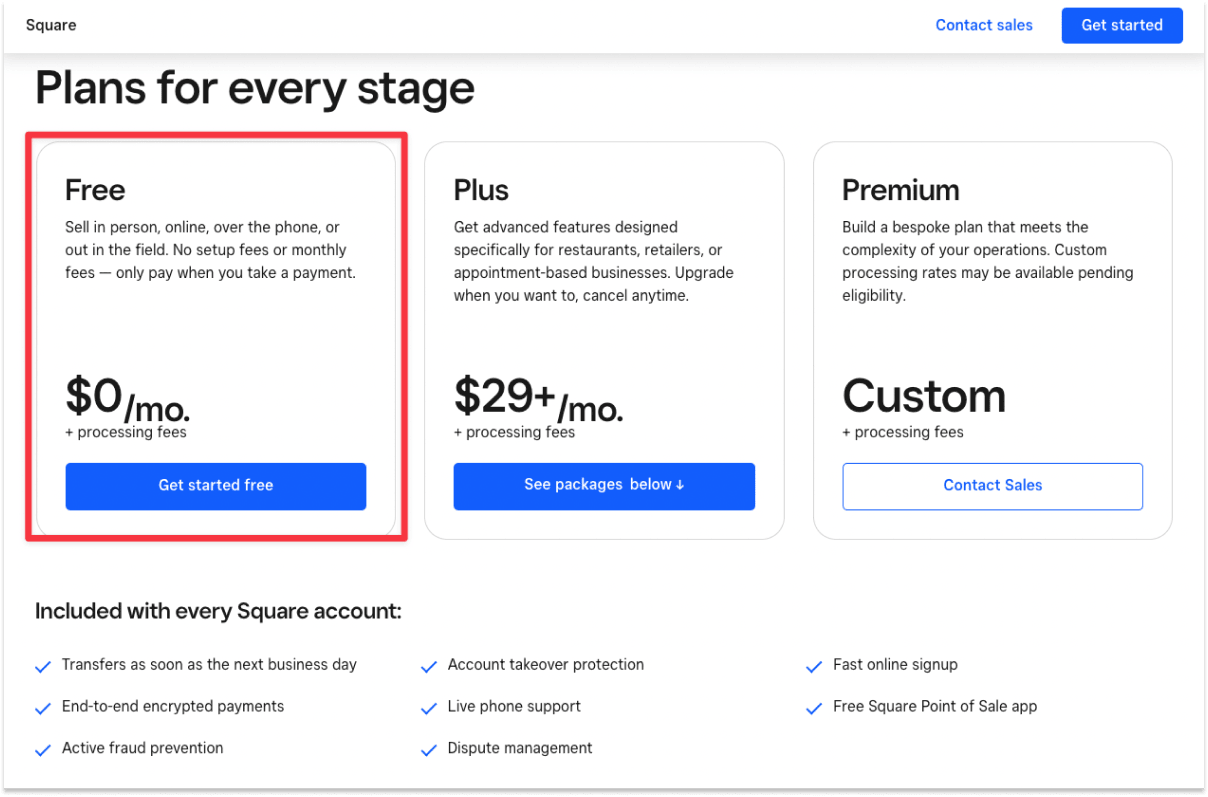 Square initially began as a digital payment company, simplifying payment acceptance for businesses. Over time, they expanded their offerings, evolving into an ecosystem that assists local businesses in selling online.
One of which is a site editor that allows you to create a landing page that accepts payments. Here's a tutorial on how to set up a Square landing page that accepts payment.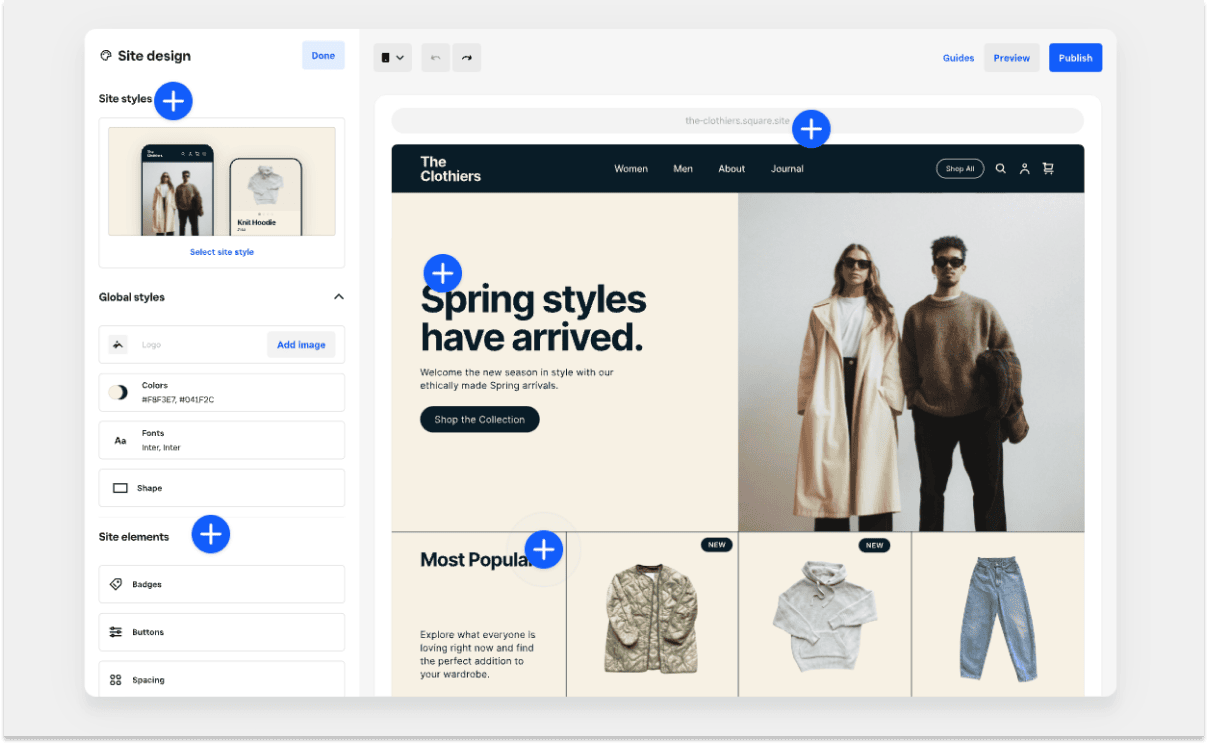 Here are a few details you should know about creating a free landing page on Square:
All landing pages are eCommerce-focused; check their templates here.
Transaction fee: 2.9% +30¢ for every transaction
Sell unlimited products.
Accepts payment via Visa, Master, Amex, Paypal
It also accepts pre-paid card
Create payment links via QR code
Supports Buy Now, Pay Later
One advantage Square has over other landing page builders here is the abundance of third-party apps on the Square app marketplace that can help you sell more products, improve your inventory tracking, and market your store to a bigger audience.
Should you use Square?
If you own a local business and you're interested in setting up a landing page that can handle payments, then Square has a few advantages.
Their primary target audience are eCommerce store owners and retail businesses; naturally, they've built their core features specifically for these businesses. For example, website templates specifically for restaurants, professional services, and retail businesses, an integrated POS, built-in appointment system (for professional services), just to name a few.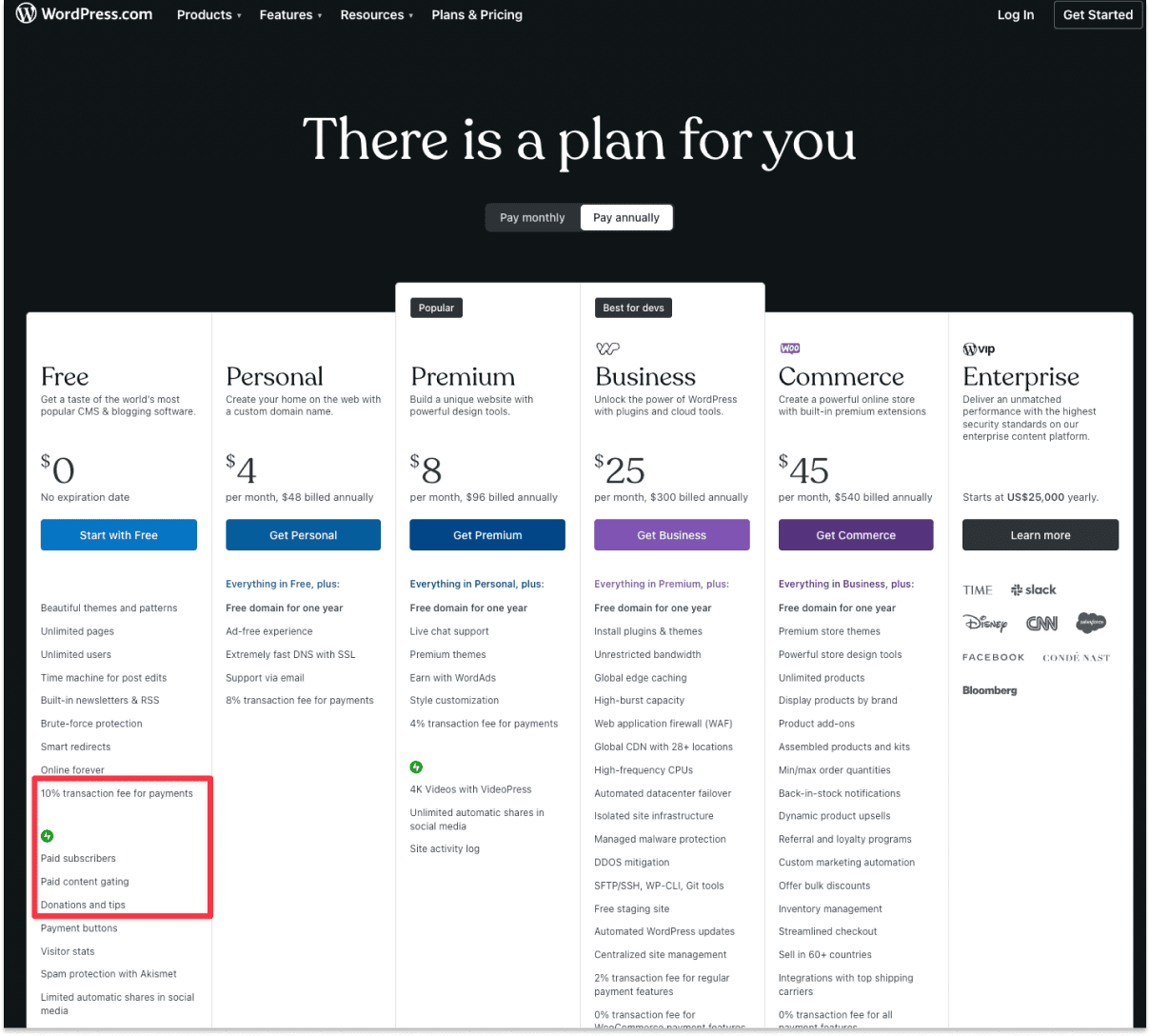 Wordpress.com is another website builder that allows you to accept payment for free.
However, it comes with a hefty 10% transaction fee. That means every time you accept payment from a customer, 10% of that revenue goes to Wordpress.
💡
Did you know?

There are 2 versions of Wordpress:
- Wordpress.org: The most popular free website platform in the world.
- Wordpress.com: A website hosting solution provided by Automattic.

Their difference?

Wordpress.org is a self-managed solution. That means you have to download the Wordpress software, set up web hosting, buy a custom domain, back up the site and more.

With Wordpress.com, they will manage these processes for you.
Important: Aside from the hefty transaction fee, there's also a limit of 1GB of storage space for all your uploaded files and images. And you won't be able to upload audio or video files unless you upgrade to a paid plan.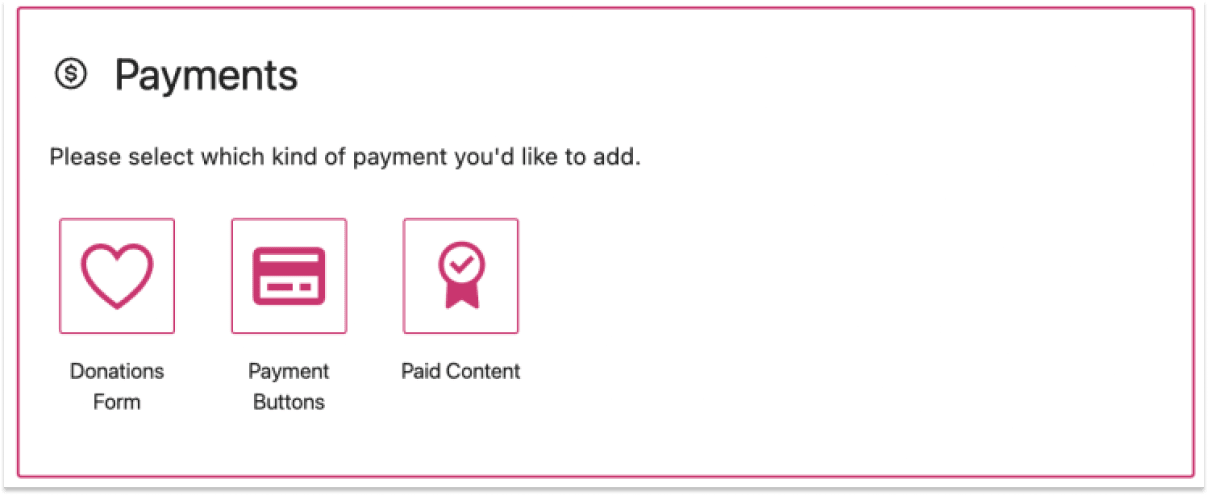 If you can get around that, then you get to:
Turn your site visitors into paid subscribers. There's a built-in subscription tool within Wordpress.com
Sell gated content. i.e.  Access to premium content (PDF, Google Doc, Notion, etc.)
Collect donations and tips from your subscribers.
Collect payments from credit or debit card via Stripe.
PayPal isn't available in the free plan. To accept payments through PayPal, you'll need to switch to the premium plan, which costs $8 per month.
Here's a tutorial on how to create a landing page with payment processing on Wordpress.com
Should you use Wordpress?
Despite its limitations, WordPress is actually the most user-friendly website builder in this lineup. Moreover, it boasts the largest community of developers and designers, which helps you if you run into any challenges.
Learn more about Wordpress.com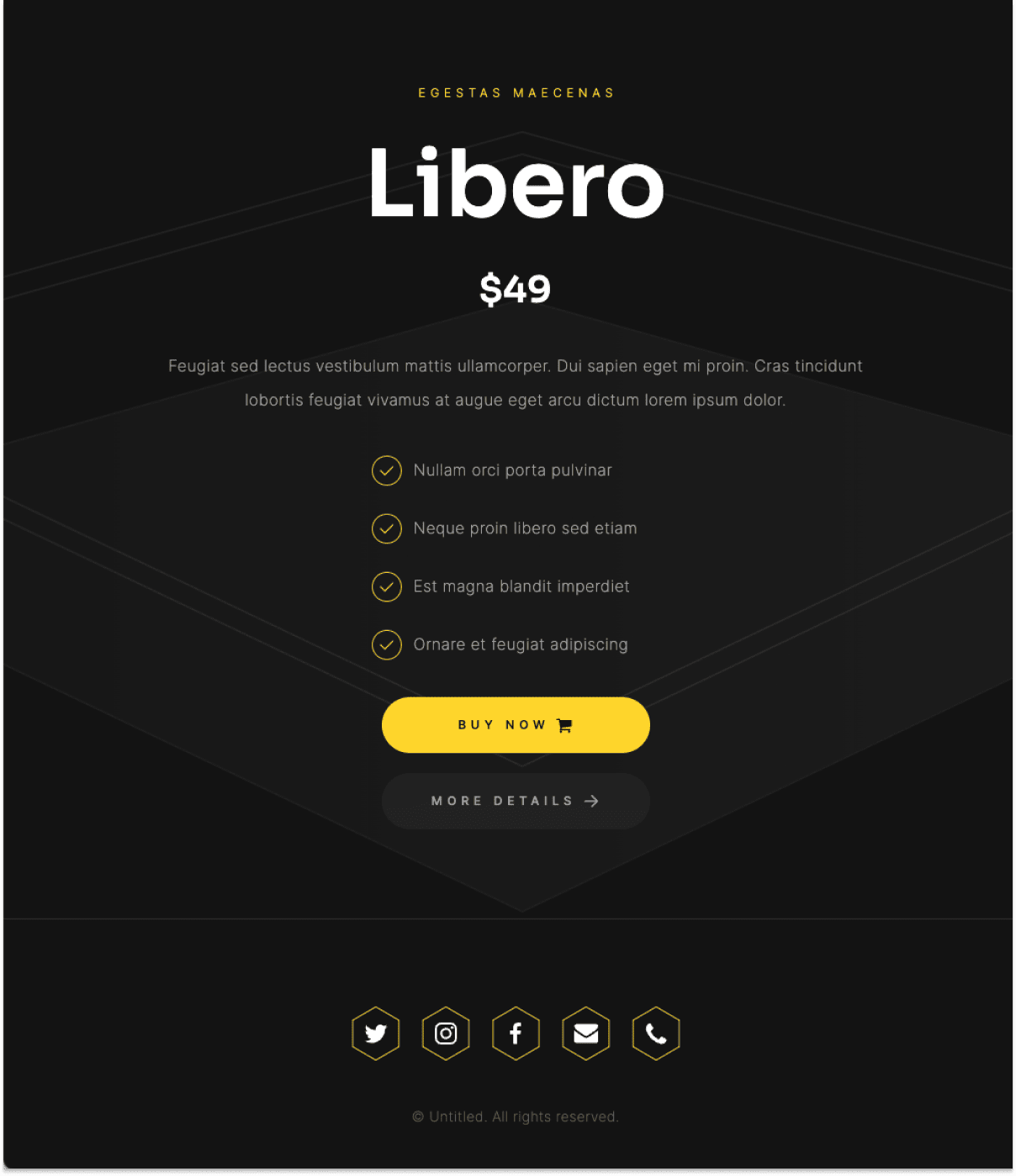 I suggest Carrd because, even though you need a pro plan for payments, it's by far the cheapest landing page builder (that offers the most value) in the market.
They have a forever-free plan, which allows you to create up to 3 landing pages, but in order to accept payment using Carrd, you have to get on their Pro Standard plan, which costs $19 per year.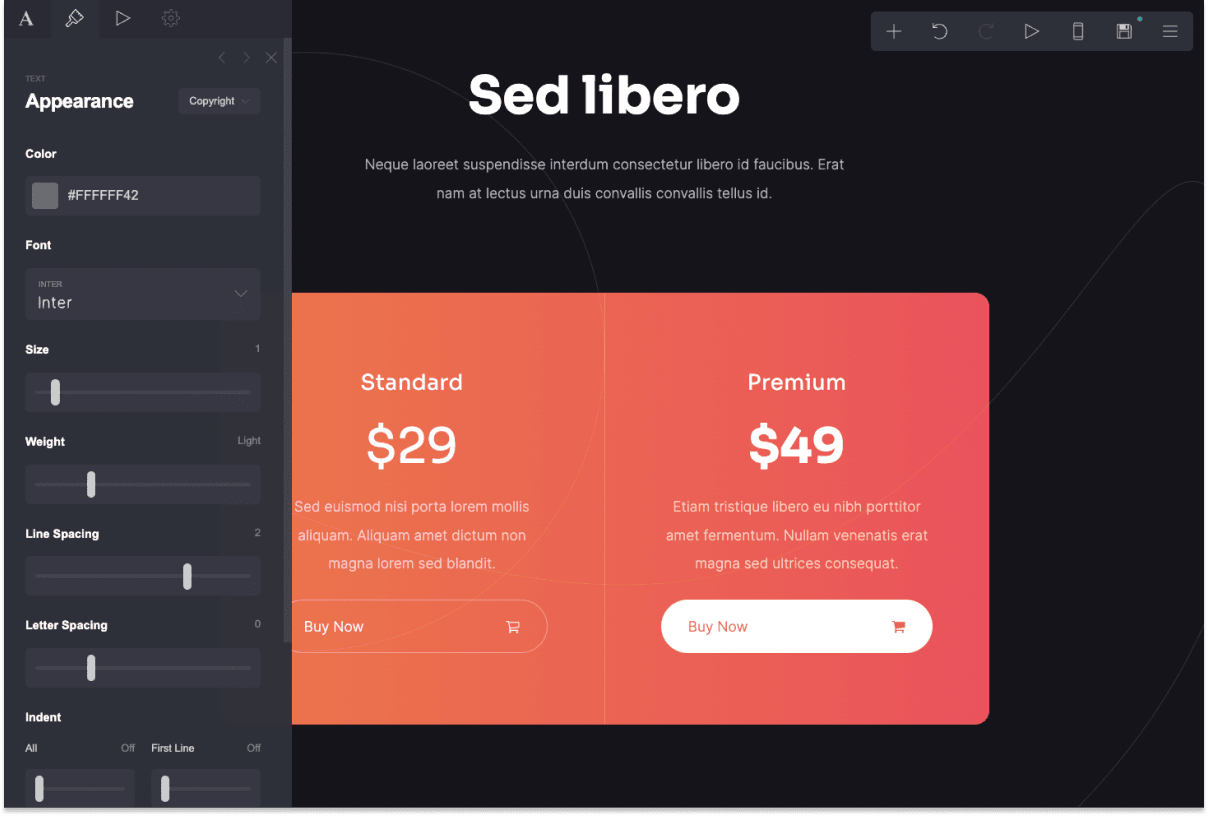 $19 per year is very cheap, considering you're paying, on average, $15-$25 per month for the same feature on other website builders.
Related: Is Carrd Pro worth it?
With the Pro plan on Carrd, you get to
Accept payment using Stripe, PayPal, and Gumroad
0 transaction fees from Carrd, but standard credit card fees apply.
Set up a custom domain for your site
Access to pre-made landing page templates with payments setup.
Upload high-quality images and videos of your products
Did I also mention Carrd has one of the slickest landing page design templates in the industry? I followed AJ (the founder) and his incredible portfolio of landing page designs before he worked on Carrd.
So I was stoked to find he personally designed all these templates.
If you're looking for a simple, cheap, and easy-to-manage landing page builder to sell your products, Carrd is at the top of my list.
Frequently asked questions about creating a landing page that can accept payment
What's the easiest way to collect payment on a landing page?
The easiest way to collect payment on a landing page is to use a popular payment gateway like Paypal or Stripe on your landing page.
The majority of well-known landing page builders work with PayPal or Stripe, although many of them demand a paid subscription, with only a few exceptions.
Which website builder or landing page platform provides free integration with payment gateways?
BigCartel, Weebly, Hubspot, Wordpress.com, and Square, just to name a few.
What are the different types of payment gateway available?
These are some of the established payment gateways in the market:
PayPal
Stripe
Authorize
Square
Braintree
3Checkout
While these payment gateways are gaining popularity:
Apple and Android pay
Shopify Pay
Ali Pay
Skrill
Which payment gateway is the best?
Lately, Stripe, PayPal, and Authorize have emerged as the leading payment gateways globally; they're accessible within major website builders.