In this article we'll go through Carrd's pricing structure and its Pro plans in detail.
In the process I'm going to analyze what are the main differences between each Pro plan, which one should you choose and whether they're worth paying for.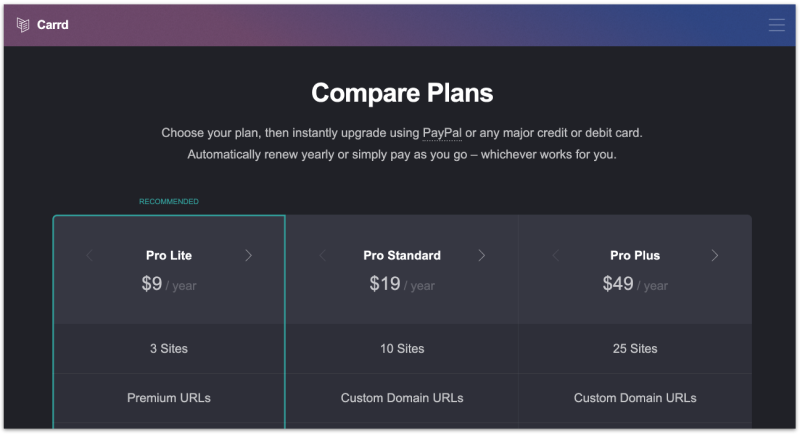 Here are 4 important things to know:
Bonus: Frequently asked questions that people have with Carrd's Pro plans.
Free Plan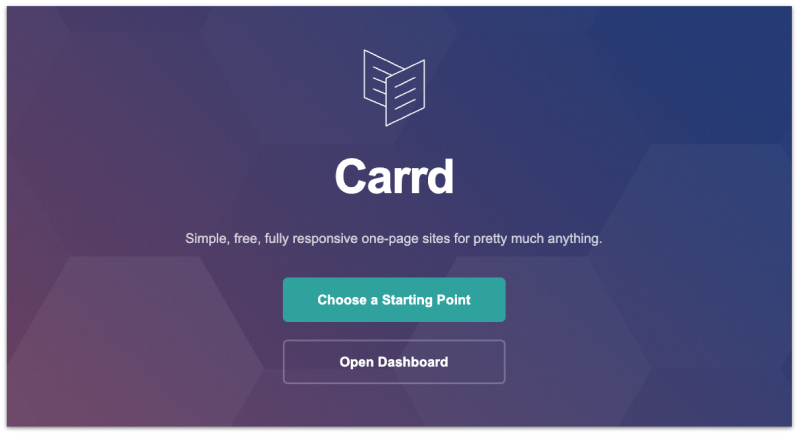 Carrd offers a pretty decent free plan that allows you to build a one-page informational website — It could be a small business website, a personal profile page, or even a K-POP fan page, which seems to be a popular Carrd trend nowadays.
Here are some Carrd website examples where people build interesting sites — from personal sites, small business page, portfolio links, music band page, K-POP fan pages, and more.
Limitations on Carrd's free plan
If you intend to use Carrd for the long term, here's what you should know about the free plan:
Maximum of 3 sites — You can build up to 3 websites on Carrd's free plan.
No custom URL — Custom URL is reserved on Pro plans.
Advertisement — Carrd includes a small advertisement (Made with Carrd) at the bottom of your website.
Lack advance features — You won't have access to premium features such as adding a signing up form, embedding third party content such as  Soundcloud, or add tracking code, among many others.
Is Carrd's free plan good?
The free plan is great for personal use. Tons of people use it to create a personal website or a directory that links to their social media profiles. If you're in music band, a consultant, or a small business who just need a simple one page website to display some content and a few links then you probably don't need most of the premium features.
However, if you build websites for a living or if you plan to run ad campaigns on your website then it's good idea to upgrade to a Pro plan where custom domain, larger site limit, and premium features are going to make a significant difference to your business.
Pro Plans
Carrd offers 3 Pro plans. The Pro Lite, Pro Standard, and the Pro Plus.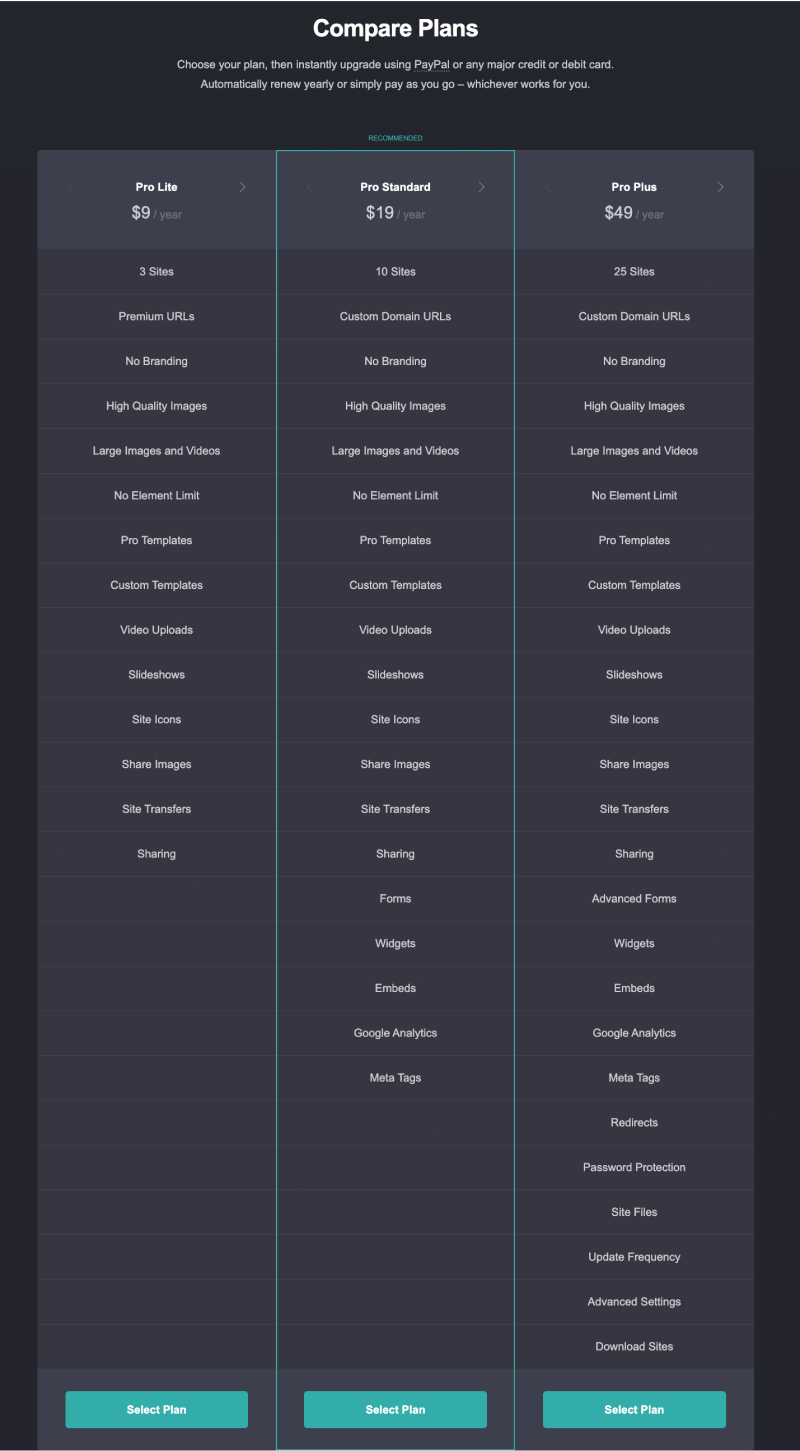 The cheapest Carrd Pro plan (Pro Lite) starts at just $9 per year, which is of incredible value given the premium features you have access to.
It is also the cheapest website builder in the market in terms of premium features offered. The closest free website builder competitors that is Weebly and Wix priced their pro plans at $5 per month.
Differences between Carrd Pro plans
The main differences between Pro Lite, Pro Standard, and Pro Plus are the price, the number of sites you can build, and the type of premium features you have access to.
Here's the breakdown.
Pro Lite
$9/year
3 websites (Upgradable to 25 websites at $29/year)
Custom URL
Remove Carrd Branding
Increased image upload size from 2mb to 16mb
Access to 40+ pro templates
Video uploads
Create your own custom template to reuse or resell.
Site transfers (useful for agencies or freelancers)
Pro Standard
Access to all Pro Lite features
$19/ year
10 websites (Upgradable to 500 websites at $339/year)
Tracking code (Google Analytics, Facebook pixel, etc)
Checkout button (Stripe, Paypal, Gumroad) to accept payment
Sign up form
Slideshow
Custom code embed
Meta tags (for SEO)
Pro Plus
Access to All Pro Standard features
$49/year
25 websites (Upgradable to 500 websites at $469/year)
Redirect your website
Password protection
Add custom CSS style and javascript
Download your website in HTML, CSS, and Javascript along with all the images.
Custom mobile design for your website
Is the Pro plan worth it?
If you find yourself needing a branded website with a custom domain, then the Pro plan offers tremendous value.

At $9 a year (less than $1/month), you simply won't find a cheaper website builder that offers you custom branded website and domain.
Granted, there are free website builders that allow custom domain but they come  with downsides as well, such as adding an advertisement on your site. You could remove the advertisement but that would mean you'll need to pay at least $5/month to maintain your site.
Pricing aside, the biggest advantage you get from upgrading to the Pro plan is access to over 40 premium themes on Carrd. They were personally made by the founder AJ himself who was a designer prior to building Carrd and has a reputation for building high quality sites.
The cherry on top would be the ability to create custom templates and sell them yourself! Carrd has a seller program that allows you to sell custom templates directly to other Carrd users which you earn an ROI from your investment.
All you need to join Carrd's seller program is to get the Pro Lite.
Which Pro plan should you choose
Here's a quick guide on how to choose the right Pro plan for you.

Carrd Pro Lite
Choose Pro Lite if you need a branded website with a custom domain.
Whether you're a small business owner, a consultant, employee, or even a student. Getting the Pro Lite instantly get you access to all premium Carrd templates that you can use to easily set up a professional looking website with practically no effort.
Note: Pro Lite allows you to create up to 3 websites. If you need more website quota, just click the right arrow in the pricing page and you can choose different website packages for Pro Lite: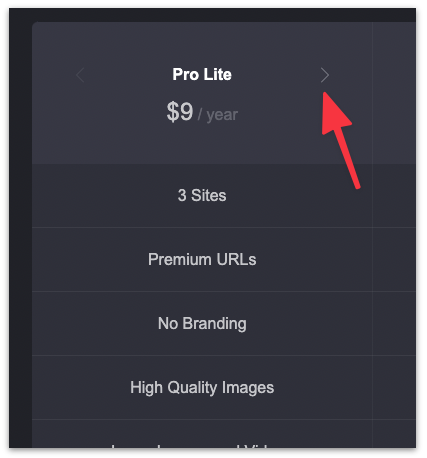 Pro Lite (regular) — 3 websites — $9/year
Pro Lite 10 — 10 websites — $14/year
Pro Lite 25 — 25 websites — $29/year
Carrd Pro Standard
The Pro Standard is recommended for startups, small businesses, agencies, or consultants/freelancers who build various websites and frequently run marketing campaigns to generate leads or sales for their business.
The main features that Pro Standard gets (on top of Pro Lite) are sign up forms, checkout buttons (Stripe, Paypal, etc), and tracking codes.
These features combined allows you to quickly generate marketing pages to test ideas, collect leads and payments, or simply build a pretty one-page website for clients.
Like the Pro Lite you can customize the plan based on the amount of website quota you need:
Pro Standard (regular) — 10 websites — $19/year
Pro Standard 25 — 25 websites — $39/year
Pro Standard 50 — 50 websites — $69/year
Pro Standard 100 — 100 websites — $119/year
Pro Standard 250 — 250 websites — $219/year
Pro Standard 500 — 500 websites — $339/year
Carrd Pro Plus
The Pro Plus is recommended for agencies or freelancers who build high volume , bespoke marketing websites for clients.
The main features that Pro Plus has (on top of Pro Standard) are advance setting to add custom CSS and Javascript to the site. This allows you to customize virtually every aspect of the site, including how the site looks and behaves in mobile or tablet devices.
You also have access to advance search engine optimization (SEO) features such as customizing the robots.txt file, setting the cache for user, set a redirect, and add a password.
If you need to hand over the website at some point, Carrd allows you to download the site in HTML, CSS, and Javascript along with all the assets (image, video, etc).
You can select a custom Pro Plus package depending on the amount of website quota you need:
Pro Plus (regular) — 25 websites — $49/year
Pro Standard 50 — 50 websites — $89/year
Pro Standard 100 — 100 websites — $159/year
Pro Standard 250 — 250 websites — $299/year
Pro Standard 500 — 500 websites — $469/year
Frequently Asked Questions
Here are some additional info that will hopefully help you decide if choosing Carrd  is right for you.
Is Carrd a good website builder?
Yes. Carrd is a beginner -friendly, low-cost website builder that allows even a non-designer to produce professional looking website. The drag-and-drop interface is easy to navigate, so much so that you can even design a Carrd website using a phone!  
Compared to other website builders in the market, Carrd's Pro plan offers the best value in terms of premium features you'd usually pay for.
How much does Carrd cost?
Carrd is free to use but if you need a custom domain and use their premium templates then the cheapest Pro plan costs you $9 per year and can go up to $469 per year depending on your usage.
What payment method does Carrd accept?
Carrd accepts payment via PayPal or any major credit or debit card. You have the option to set the payment to auto-renew, which is a nice touch. Most website builders automatically renew your payment by default.
Does Carrd have a monthly plan?
No. All Carrd Pro plans are paid yearly.
Can you get Carrd pro for free?
Yes. Carrd offers a 7 trial for all of its Pro plans to test drive top features like custom domain, sign up form, and premium themes. No payment or credit card required.
To try any of the Pro plan, just head over to Carrd, select any premium theme, and click Select + Start Free Trial.
Who uses Carrd?
Glad you asked! Carrd is used for social movements, personal website, K-POP fan site, marketing landing page, and more.
Click here to view more Carrd website examples/inspirations.
Conclusion
Carrd is affordable to say the least. The free plan could you get very far. But if you foresee yourself building more than 3 websites and need a custom domain, then Carrd's Pro plan is hard to beat!
You also have the flexibility to choose different website quota package if you're in the business of building websites for other people.
All in all, Carrd is a great value tool (their words) and plenty of online builders recommend it.
Related articles: