Ever wonder how successful Squarespace bloggers make money with their sites and how much they make? Me too.
In this article, I'll share some real examples (with real numbers) of how Squarespace bloggers monetize their sites.
In short, they:
If you've decided to set up and monetize a blog on Squarespace, here's a step-by-step guide on how to set one up.
Let's dive right in
1. Sell Digital Products
Here are 2 great examples of how entrepreneurs sell online courses and ebooks via their Squarespace site.
How Kerstin Martin made over $100,000 with online courses
Kerstin Martin is a certified Squarespace expert and is a great example of someone who's run a successful online business mainly through her Squarespace site.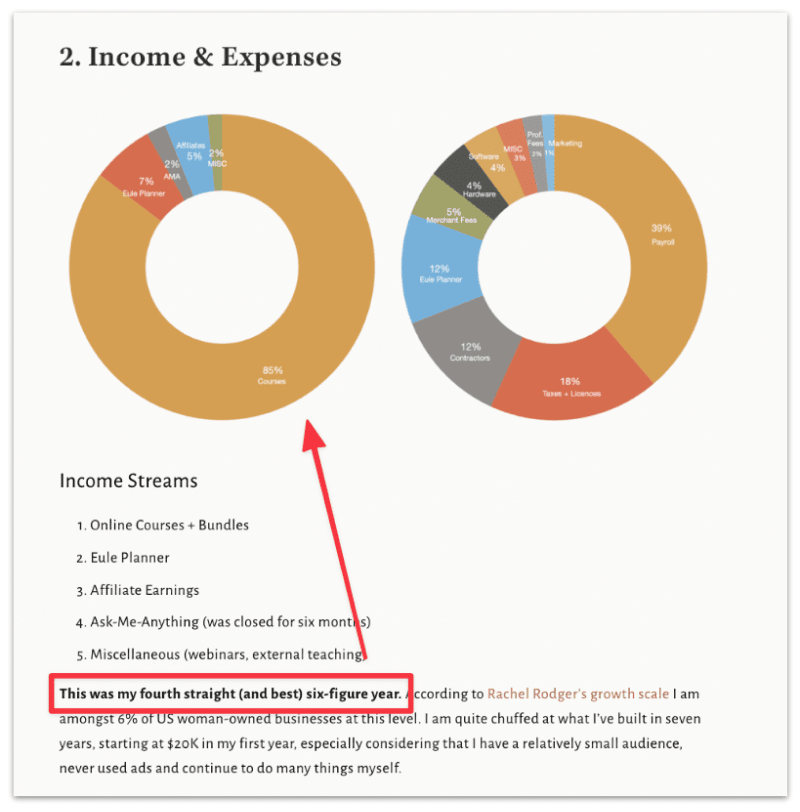 In 2021, she shared that her business has made over $100,000, and 85% of the revenue came from digital products such as online courses and bundles.
Mind you; this isn't an overnight success. Far from it, Kerstin started blogging, became a web designer in 2005, and has worked her way up since.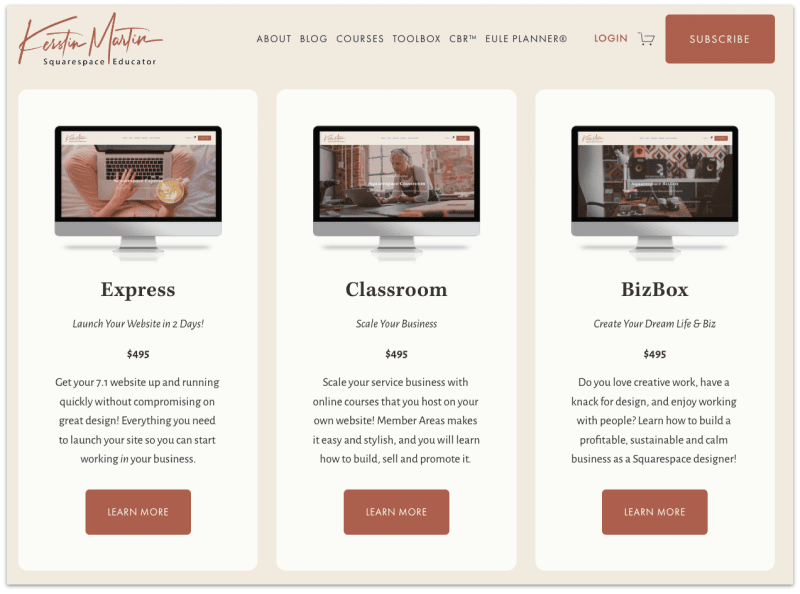 As she shared, the key to her success was a deep passion for web design, teaching, and working hard.
All of this led her to become an expert Squarespace web designer, where she now offers courses on creating a website from scratch and building a sustainable business with it.
The Daileigh sells high-value, low-cost ebooks on fashion advice
The Daileigh is a fashion and lifestyle blog with an estimated 37,000 monthly visits that packages fashion advice into digestible ebooks ($25 - $29).
Ashleigh, who runs the blog, has been sharing fashion advice for women for just about any occasion.
From the best shoes in the fall season to jewelry essentials, there's a recommended ebook to purchase below every fashion article.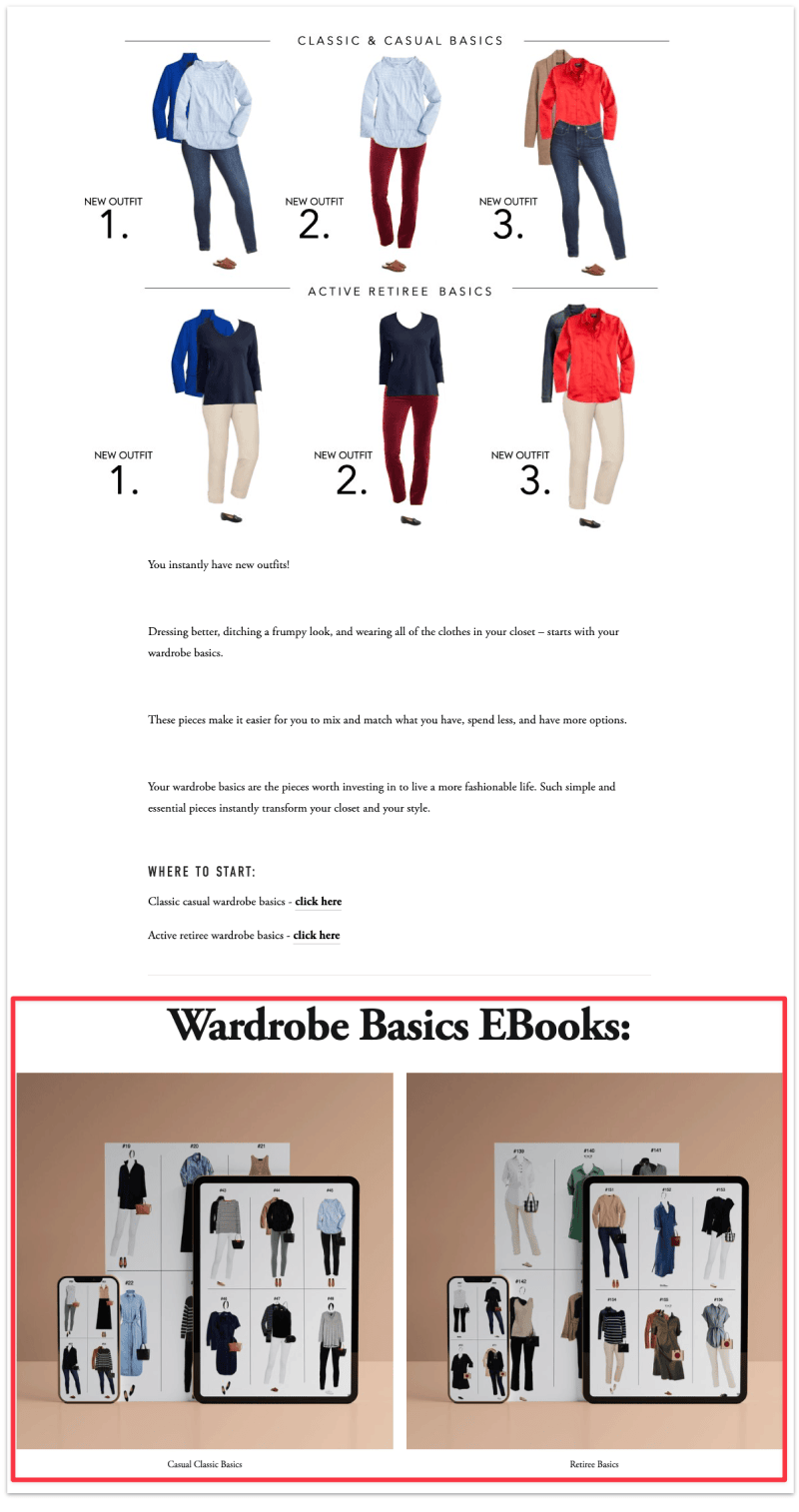 With over 100 five-star reviews on the ebooks, I'm willing to bet her ebooks are selling fairly well.
While Ashleigh doesn't share the site revenue, a quick back-of-the-napkin calculation shows that if 0.5% of the visitors who visit the blog buy 1 ebook, Ashleigh would've made a cool $5,000 every month.
And that's not all, Ashleigh also monetized her fashion blog via display ads. More on that below.
How to sell online courses, ebooks, and other digital products with Squarespace
Selling digital products on Squarespace is possible thanks to the recently released Member Areas that allow you to add membership to your Squarespace site.
I've written a quick (but comprehensive guide) on Squarespace membership site to help you figure out if it's worth it.
In short, you can now sell digital products such as ebooks, video courses, and digital downloads (i.e photographs, slides, templates) with Squarespace membership.
I've also written a step-by-step guide to set up a membership on your site. Thanks to Squarespace, they've made it fairly simple to do so.
Related: Landing page builders you can use to accept payment for free
2. Display Ads
Displaying ads is another popular way to monetize a blog.
This is not limited to Squarespace sites, of course. Any website with high volume traffic can be monetized via display ads, whether it's built with Squarespace, Wordpress, Wix, or others.  
Ashleigh, who runs The Daileigh (on Squarespace), runs display ads on her fashion blog on top of selling ebooks.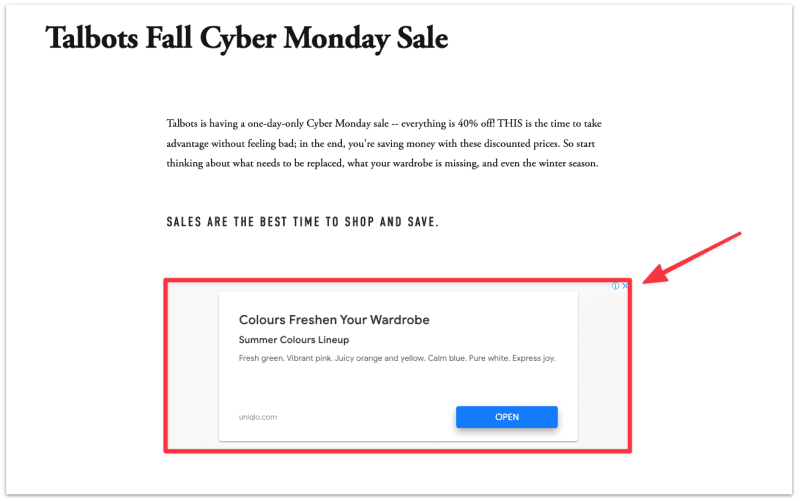 Mitch, whose traveling site (also built on Squarespace), runs similar display ads on his site.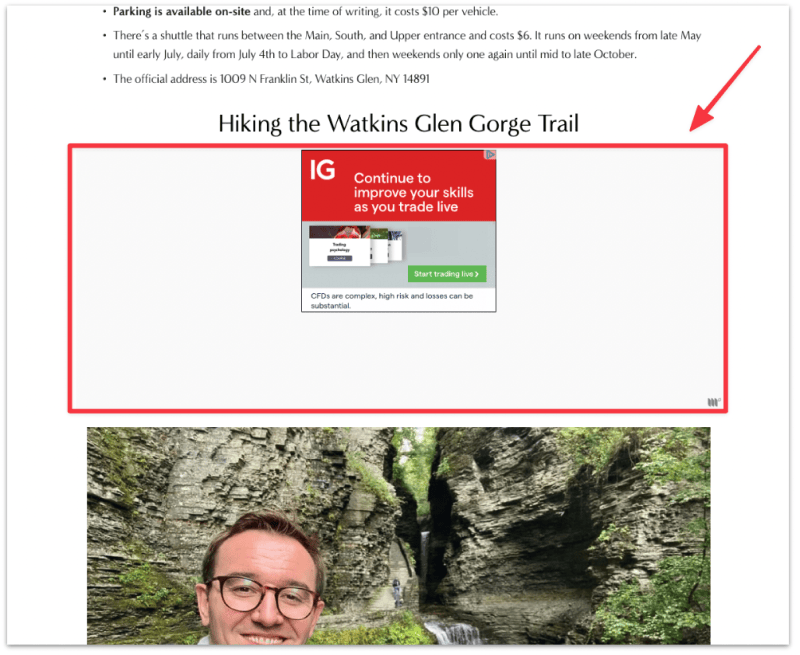 How much money would a blog make from display ads?
Ad revenue is calculated using Revenue per thousand impressions (RPM).
If your site gets 1,000 visitors per month and the RPM is $30, your site will earn will $30 per month.
RPM varies depending on the type of content your site produces and the ad network that runs the ad. A blog in the finance space has a wildly different RPM than a travel blog.
Jon, who runs several blogs with monetized ads for a living, shared the different RPMs across different blog genres:
Fashion: $25 - $30
Home/Garden: $33-$39
Parenting: $19 - $23
Tech: $11.88
Travel: $25.53
Entertainment: $14.12
So theoretically, The Daileigh, with an estimated of 37,000 monthly visits, could earn $925 - $1100 per month from display ads alone.
Similarly, Mitch's travel site, with estimated 15,000 monthly visits could potentially earn about $400 from display ads every month.
Disclaimer: I have not spoken to Mitch or Ashleigh, and they did not share any revenue figures about their site. The figure above is just a pure guesstimate based on data available online.
How to start monetizing your site with display ads
With Google AdSense, you can run display ads on your site even if you have low traffic. Though unsurprisingly, the RPM is low, and the payout is probably minuscule.
Where display ads become lucrative is when you join premium ad networks, and each of them has a minimum traffic requirement to join:
Ezoic — Ezoic used to have a minimum requirement of 10,000 monthly visits, but they removed that!
MediaVine — Minimum requirement of 50,000 sessions per month.
AdThrive — Minimum requirement of 100,000 visits per month.
The hardest part of growing a highly profitable blog with display ads is publishing content consistently and growing the monthly visitor count.
Once you pass that hurdle, joining the abovementioned ad network is relatively easy, as they usually have a dedicated account manager to help you set your site up.
3. Offer consulting services
If you're in the service industry, then the logical way to monetize your blog traffic is to funnel that attention to your service or booking page.
Knapsack Creative Design and Development Services
Knapsack Creative does this well. They're a web design agency specializing in building high-quality websites for clients.
On their blog and throughout their site, you'll find a prominent call-to-action button in the header and footer to book a session with their designer.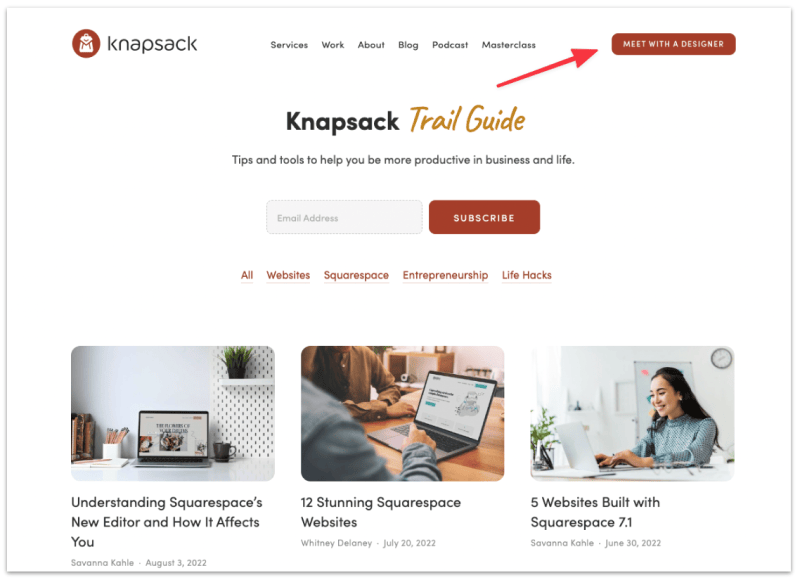 This is a great way to keep your service top of mind and improve conversion.  
As you consistently provide value via blog article and emails, as Knapsack Creative did with their Trail Guide newsletter, clients who're convinced can easily locate your booking page and hire your service.
Christy Price — Squarespace web designer
Christy Price, a fellow Squarespace designer, offers similar services.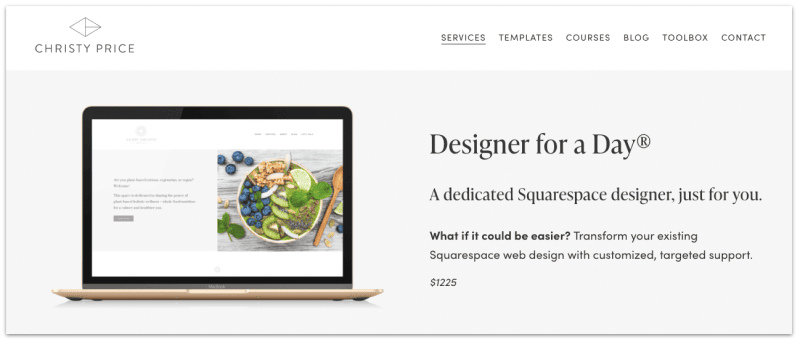 She has over 15 years of web design experience and offers 1-to-1 Designer for a day service to anyone who requires dedicated support for their Squarespace site, whether it's:
Tweaking a page layout
Setting up a blog
Re-brand your website
Make DIY design changes
And just like Kerstin (mentioned above) Christy also sells various digital products, such as business courses and web design templates.
4. Sell eCommerce products
Binging with Babish, one of the most subscribed cooking channels on Youtube (~10M subscribers), launched their branded 'Babish Cookware' back in 2021.
Apart from Andrew's (Babish founder) weird desire to have a kitchen full of bald and bearded man branding, aka Binging with Babish's Babish Cookware, launching a branded cookware makes natural sense to increase the business' top line revenue and extend its brand to farther reach.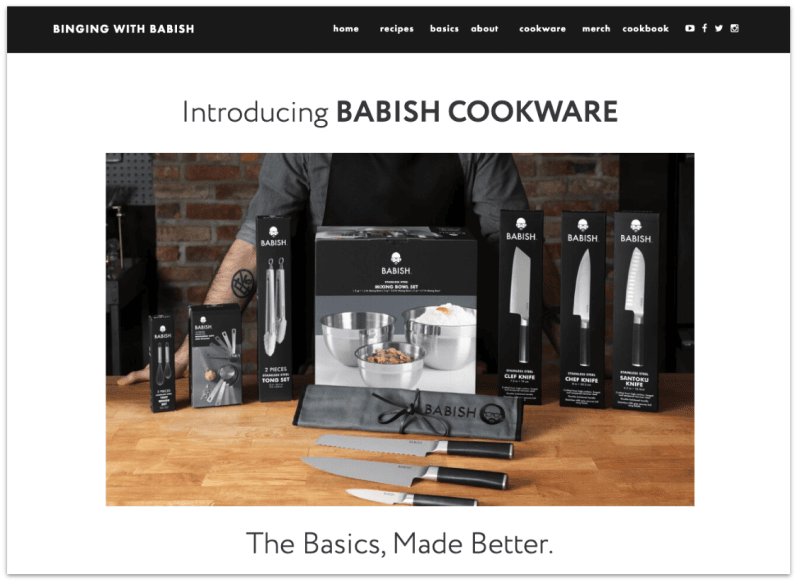 While Binging with Babish didn't set up their eCommerce store on Squarespace (they're on Amazon instead), Squarespace already has Commerce features baked in if you'd rather have full control of the store experience:
Set up a store and add new physical products within your Squarespace site
Edit product information (weights, dimensions, etc) with images
Set product pricing, stock levels, and product variants
Organize your products with tags and categories
Sell physical products as subscription
Set up shipping rates and local pick up
and more
On the other hand, The Sorry Girls, a fashion and lifestyle blog, has fully utilized Squarespace's commerce features.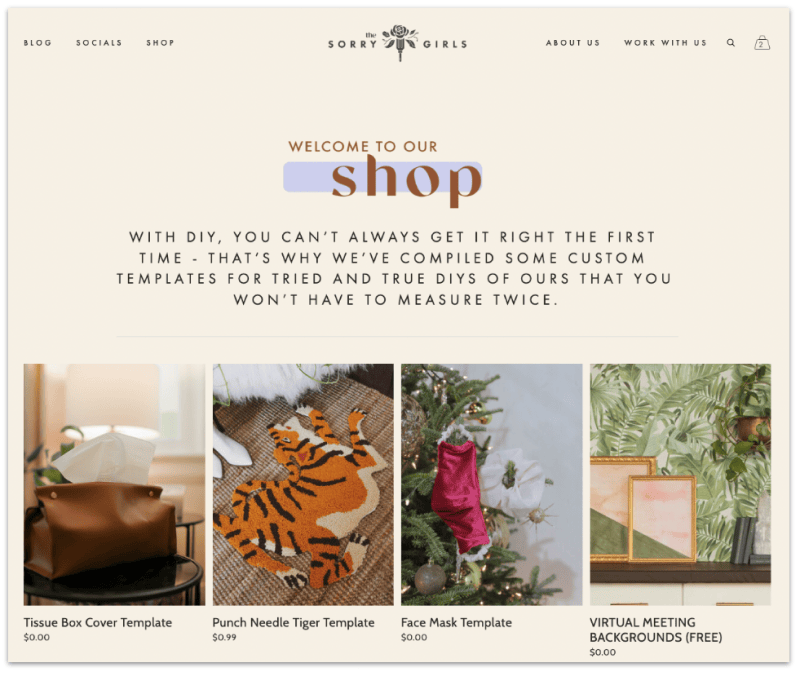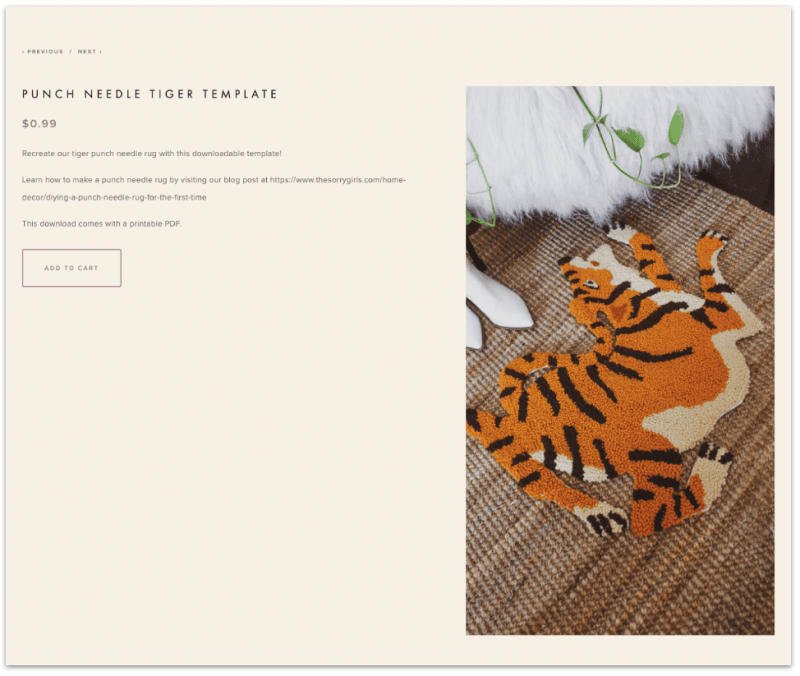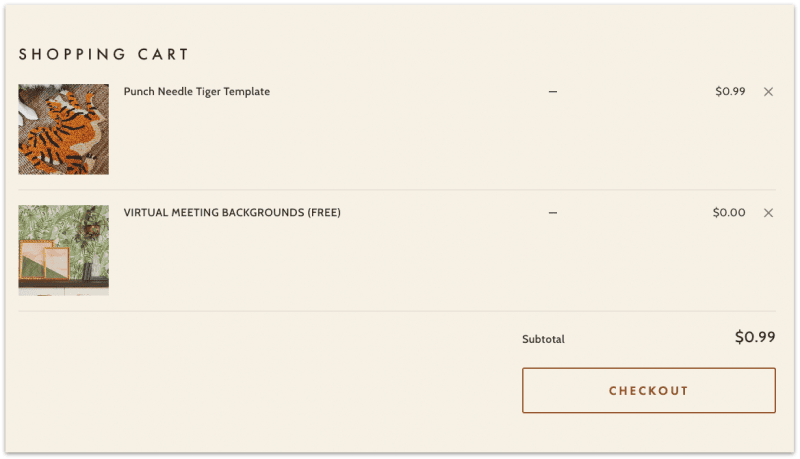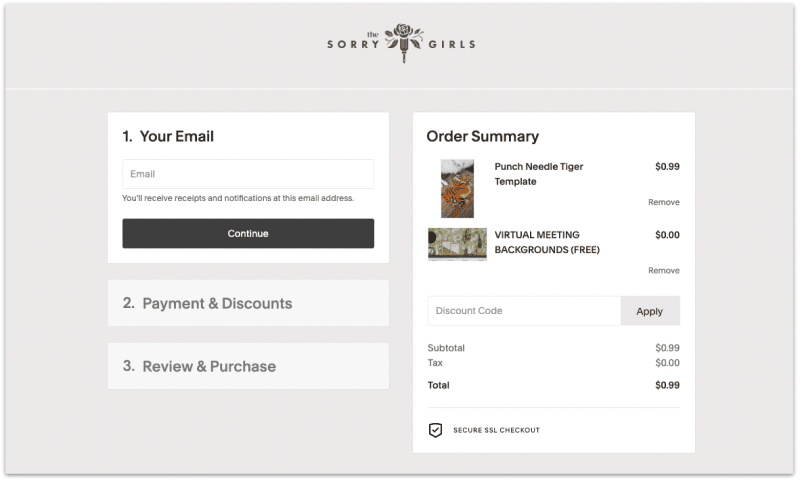 They primarily sell DIY products related to fashion and home living, and you tell from the checkout experience that the whole process is on brand and seamless for the customers.
If you're a subject matter expert and you regularly share content on your site, you're in a great position to recommend other people's products that you use and earn affiliate income from them.
Any company in the world can offer an affiliate program where people can sign up (as an affiliate) and promote their products, and in return, they'll offer a commission to the affiliate.
Amazon has by far the largest affiliate program in the world, where the top 10% of earners make over $100,000 annually.
For example, if you recommend you buy a kitchen tool on Amazon, I'd get a 5-10% kickback as commission from it.
Smaller companies such as Zwilling, a popular kitchen brand, also have their own affiliate program, where you earn a 6% commission for any referral you send to them.
When you sign up as an affiliate, you will get a special link (with your affiliate code embedded) that can track all purchases/referrals originating from you.
All of these are tracked online and automatically, and the payout is usually done over Paypal or direct debit.
Here are a few great examples of how Squarespace bloggers increase their revenue with affiliate income:
1. All the Pretty Pandas recommends outfits from popular brands
Sharleen runs All the Pretty Pandas, a fashion blog where she regularly shares fashion tips and the latest clothing trends.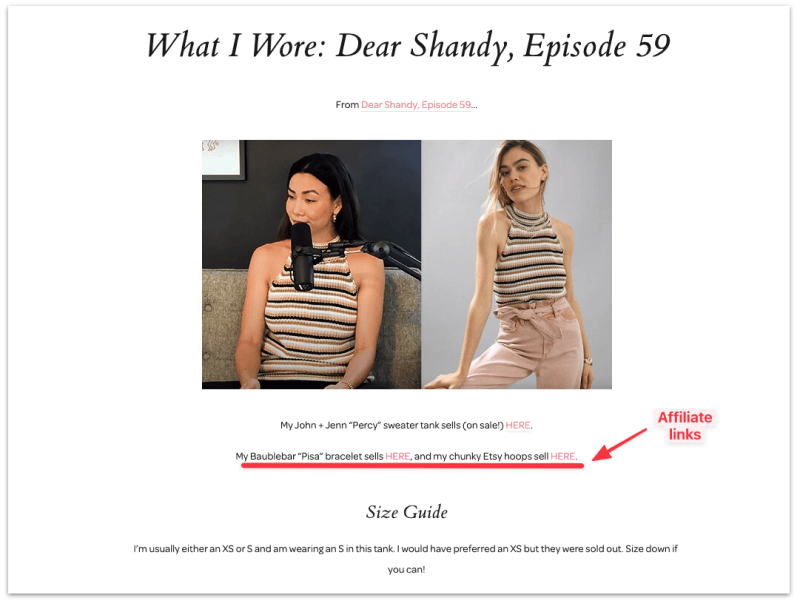 She's also a model and has made an appearance as a contestant on the 18th season of The Bachelor.
She has a dedicated "What I Wore" page where she shares her recent buys and clothing brands she likes.
2. The Sorry Girls recommend Amazon products for DIY home improvement projects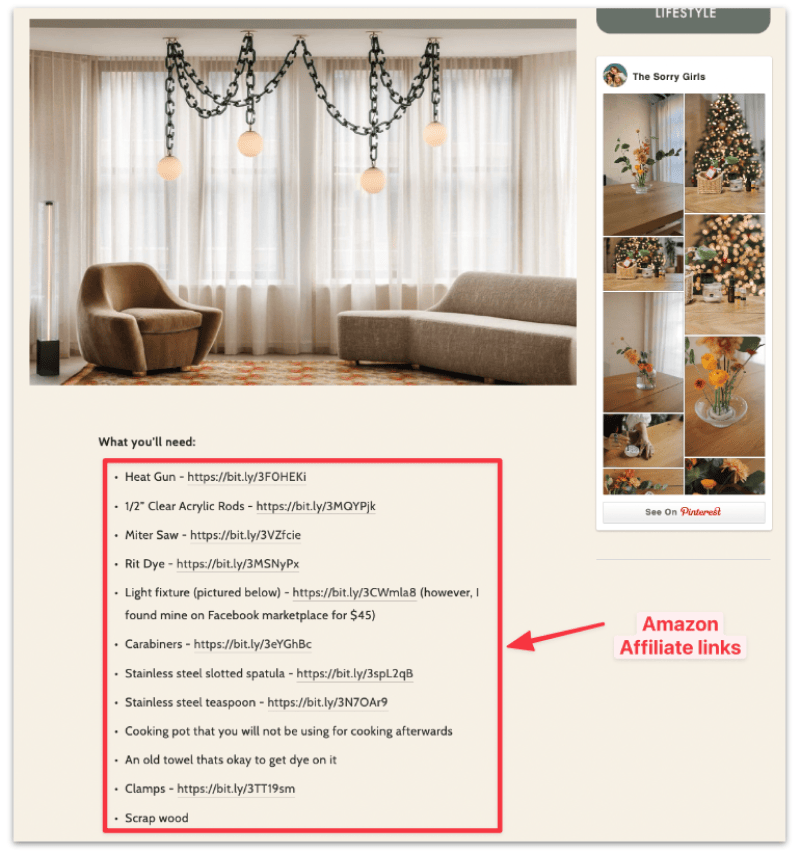 The Sorry Girls, frequently shares DIY tips on her blog and usually has a section where readers can find all the tools she used for her projects.
3. Christy Price recommends software that powers her online business
Christy Price created a dedicated resources page where she shares the online tools that she uses daily for her design business.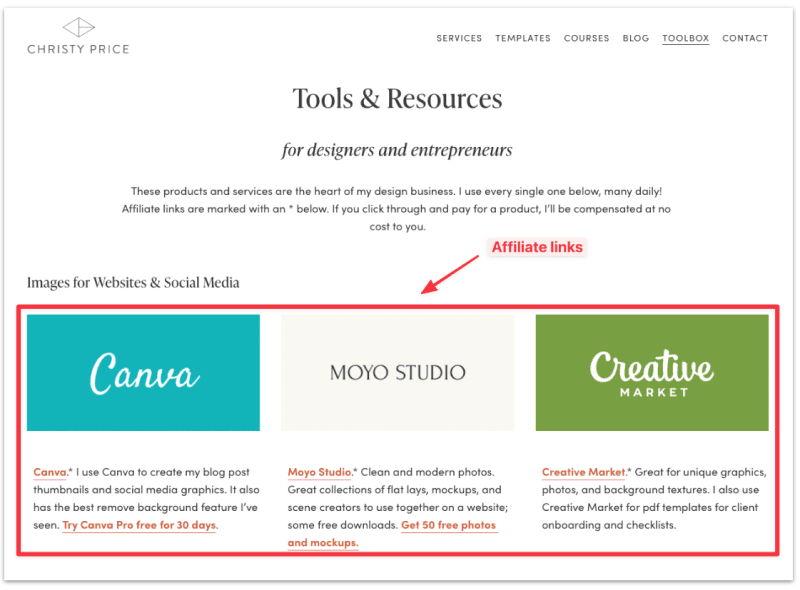 It's great that she also explains how she uses them for her business and shares any discounts that are available for her audience.
Additional Resources
There are tons of free resources to help you monetize your site these days:
Related Articles