Squarespace has long been one of the most popular website-building tools for businesses and online stores, but is it good for blogging?
With over four million subscribers, it's clear that many people are trusting their online presence to Squarespace.
Let's look at how blogging on Squarespace works, its features, benefits, and costs, and whether you should use it for your business.
We'll go over:
Let's dive right in.
Running a Blog on Squarespace - How It Works
Squarespace is a software platform that allows individuals and companies to build and design websites using pre-made templates and drag-and-drop elements.
To get started, you'll choose from one of the 100+ template designs.  You won't need to pay anything to get started (nor will you need a credit card to sign up). In fact, you can set up, design, and preview your blog before you commit.
You're only required to sign up for a paid plan (starting from $16/month) once you've decided to publish your blog.
Once you've selected a design template, getting your blog off the ground is easy; all you need to do is click the pages tab from your home menu, click the + icon, select blog, and choose a layout.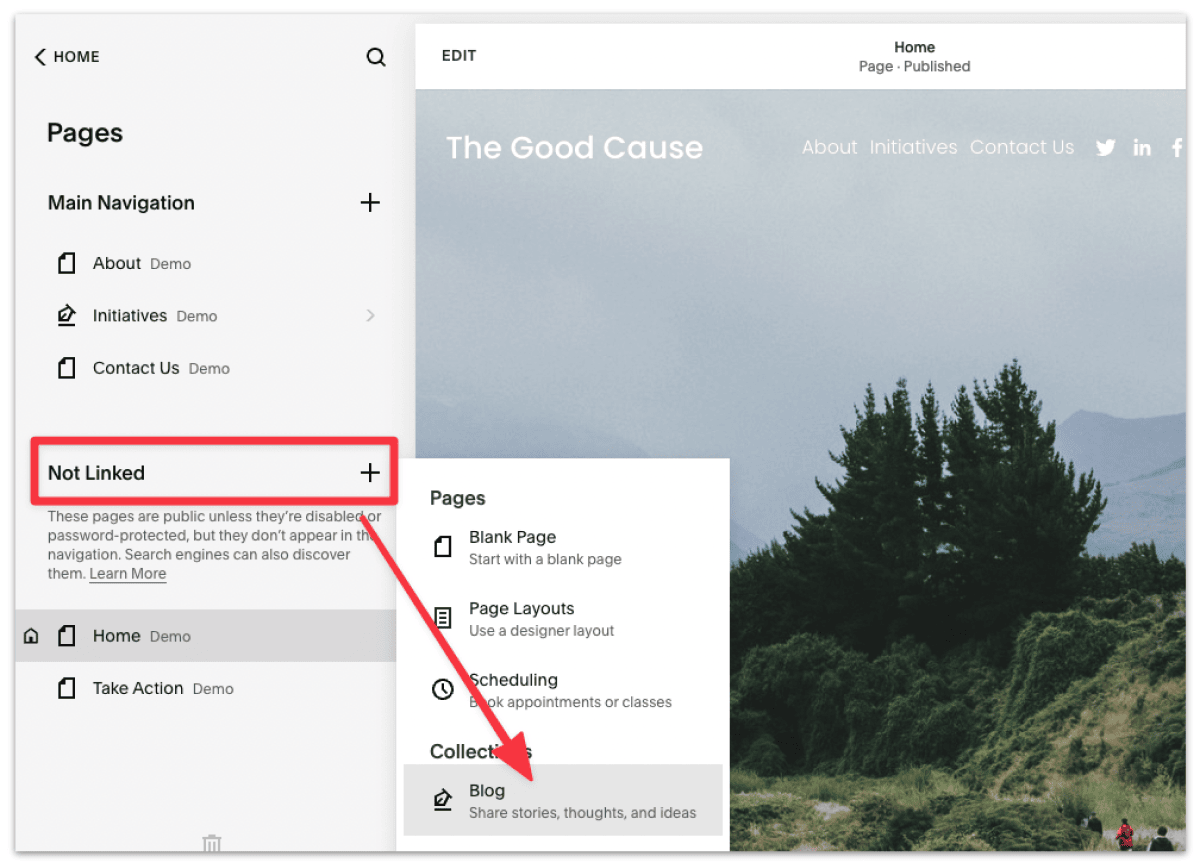 Here's a full step-by-step tutorial on how to set up a Squarespace blog.
Think of the first blog page as the newspaper's front page; you can add a header, some information about yourself or your blog, and any other elements you'd like to hook your readers.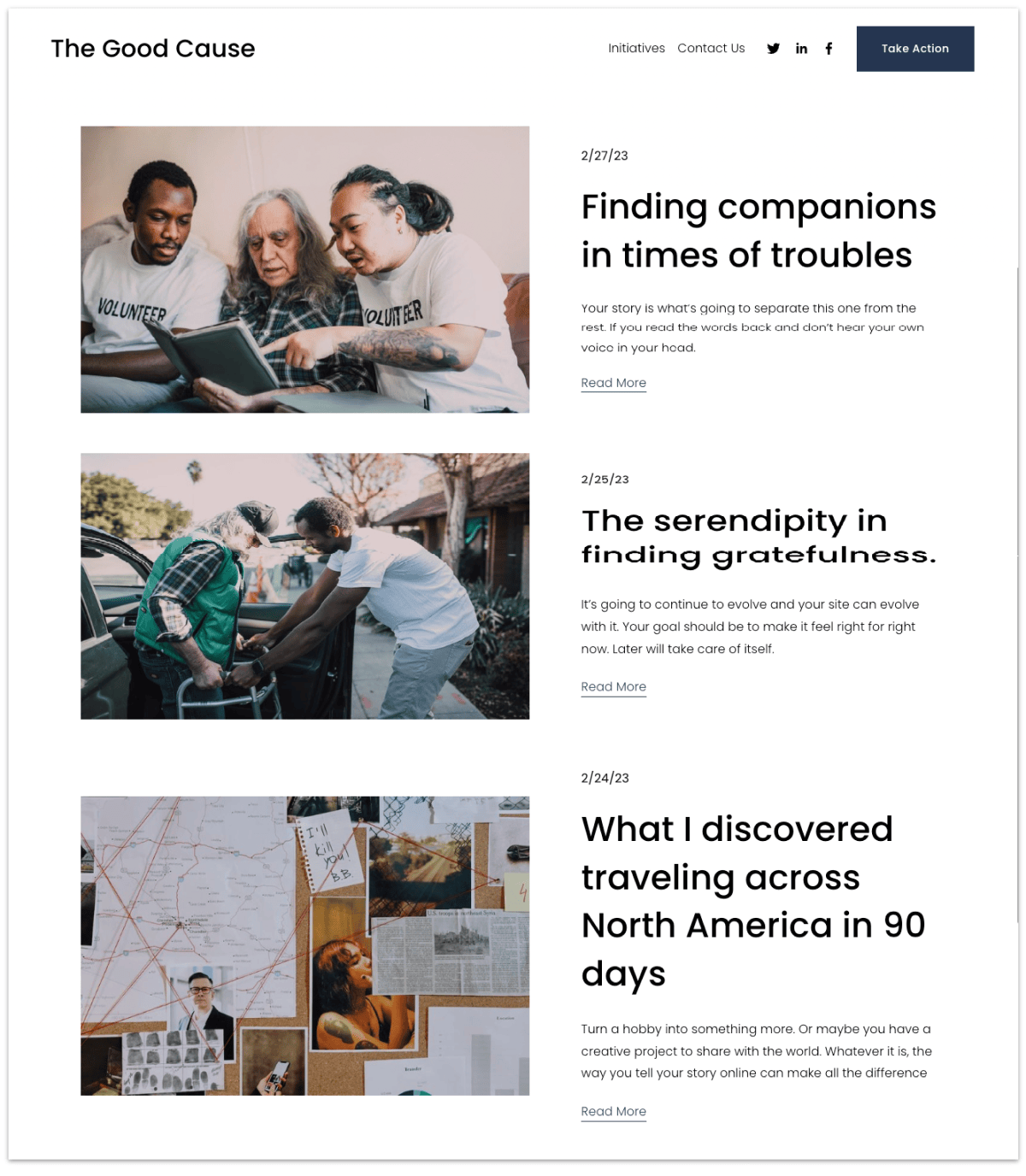 Below the hero image is where all your posts will populate. You can also create multiple blog pages within your site, allowing you to run multiple blogs.
Creating individual blog posts is as simple as clicking the + icon within the blogging page in your Squarespace dashboard. From there, you can add a title, text blocks, and other blog elements, such as photos, videos, or embedded content from other sites or apps.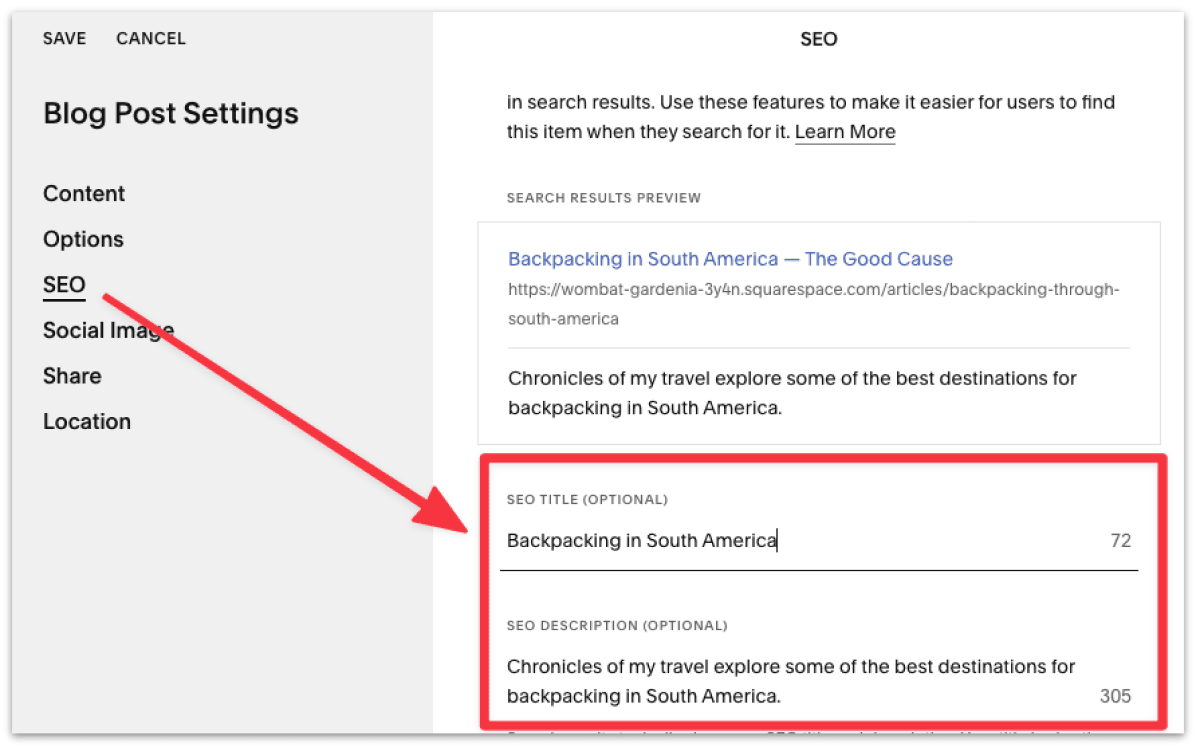 Squarespace also features built-in SEO tools to maximize your site's prominence in search engines and help guide website visitors through page titles and descriptions.
They even provide a handy SEO checklist you'll want to run down after creating each post, and make sure you're checking all the boxes.
Beyond SEO, other Squarespace bloggers use a bunch of marketing tactics to grow their blogs too. I've covered them in detail here: Strategies Squarespace bloggers used to grow their site beyond 10K visits.
Squarespace in the Wild: How Other Bloggers Are Using the Platform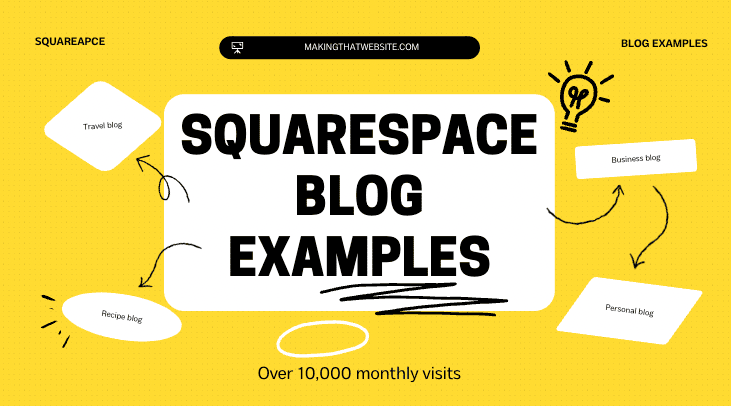 While it's one thing to say how easy setting up a Squarespace blog is, it can be helpful to look at other sites on the platform to see how other site owners leverage the platform to create successful blogs.
With millions of Squarespace sites online, there's no shortage of beautiful and well-made blogs on the platform. Here I've included my favorite Squarespace blog examples:
Each of these blogs garners over 10,000 visitors per month and has monetized their sites by running ads, selling digital product, more.
Squarespace Speed Concerns
If you take any popular Squarespace site and run it against a site speed measuring tool, it will return subpar speed loading results:


Not only that, Squarespace sites also frequently fail Google's Core Web Vitals test.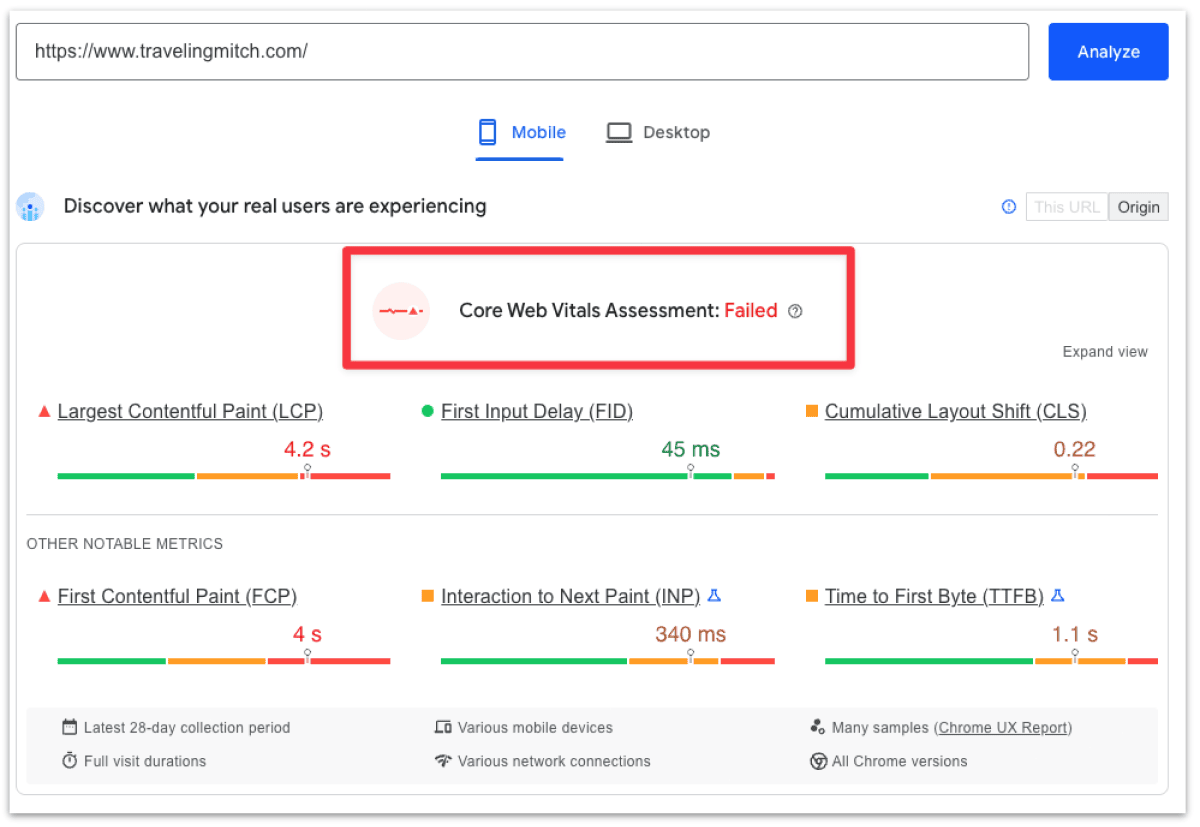 Core Web Vitals are Google's own page performance testing tool for measuring user experience on your site, such as loading speed, mobile responsiveness, etc.
In short, if your site fails the test, Google is less likely to promote your website in their search results.
This has become such a prevalent issue that there's a dedicated thread on the Squarespace forum discussing this very issue.
That said, this issue mostly affects users who are on a slow internet connection speed or using less able smart phones and tablets.
This doesn't stop those who want to build a high-traffic blog that makes a full-time living for them; even companies are using Squarespace to power their marketing blog.
Squarespace's Blog Features
Squarespace won't give you the level of customizability that Wordpress provides, but it has all the features you'll need to launch and maintain a successful blog for a fraction of the effort required.
On Wordpress, you'll be able to:
Publish or schedule blog posts.
Allow comments and utilize comment moderation tools to help you curate what visitors are saying on your page.
Multi-author support allows multiple writers or writing personas.
Make your blog easily searchable with robust tagging and categorization features.
All blogs are adapts to mobile and tablet screen sizes default (despite failing Google's Core web vital tests).
Add images or embed videos within your pages.
Optional third-party add-ons that allow you to incorporate social sharing, appointment scheduling, and reservation system on your site.
View all of Squarespace features here.
Cost of Running a Squarespace Blog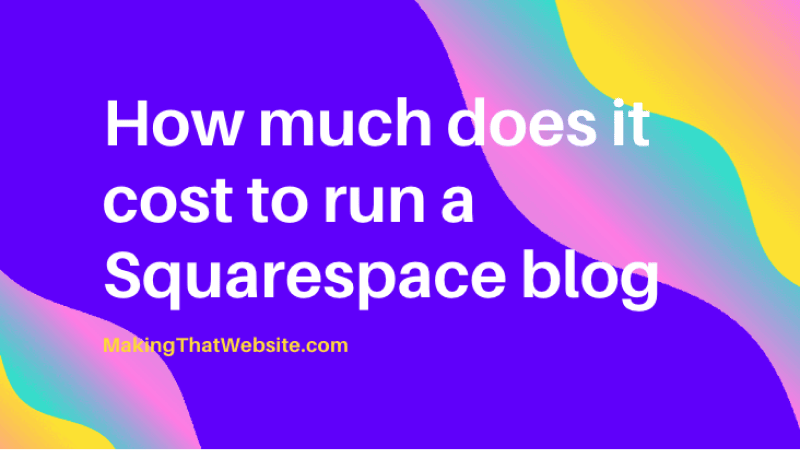 The cost of your Squarespace blog will largely depend on the type of blog you choose
It comes down to if you're running a:
Personal blog
Business blog
E-commerce blog
Personal
The Personal Squarespace plan is ideal for creating a basic blog with custom add ons. You get unlimited traffic, but the cost starts from $16 a month.
Business
The Business Plan starts from $23 per month. The main difference between Squarespace Personal and Business is that the Business plan allows you to add custom code and integrate with other platforms.
E-Commerce
If you plan to sell anything on your blog, go for the eCommerce plan. You'll incur 0% transaction fees instead of 3% on the business plan.
There are 2 Squarespace Commerce plans to choose from:
The Basic Commerce — costs $27 per month,
Advanced Commerce plan — costs $49 per month.
The biggest difference is that the Advanced plan allows you to sell subscriptions. Choose the Advanced plan if you'll be selling products or services regularly to generate revenue.
Other Costs To Consider
You'll also need to factor in the cost of domain registration. For new Squarespace subscribers on an annual plan, Squarespace will cover your first year's registration costs. After this first year, domain registration costs $8-20 per year.
Once you know the best Squarespace plan for your site, you can estimate most of your costs. Plans are available monthly or annually, and month-to-month subscribers will incur 30% higher prices than yearly subscribers.
The final cost you'll need to consider are any paid tools you use on your site, such as Squarespace Email Marketing, Squarespace Member Areas, or other tools to monetize your Squarespace blog.
Depending on the particular tool and the needs of your website, these features can carry costs of up to $48 per month, although most will cost $5-15 per month.
For a more details, here's a dedicated post with full breakdown of all costs involved in running a Squarespace blog.
Benefits of Blogging With Squarespace
Squarespace is your one-stop shop for growing your personal brand and business. Their purpose is simple: provide a low cost blogging solution that individuals can manage and customize independently to meet the needs of their business.
Squarespace has a simple value proposition; all the tools you need are in one place. You'll be hard-pressed to find another option allowing you to launch a professional-looking blog quicker, easier, or more painlessly than Squarespace. Use the site to build your business, book appointments, and create your business portfolio.
Squarespace also has a dedicated customer service and support team. Their knowledge base is the best in the business, which empowers you to quickly solve problems on your own. The Squarespace team is available 24/7 via live chat if you require hands-on support.
Squarespace also delivers a suite of beginner-friendly SEO features you can apply to each page on your blog, which helps save you time while ensuring you have each page on your site in a position to rank well in search.
Drawbacks of Blogging With Squarespace
For all the things Squarespace does incredibly well, there are also some drawbacks to this blogging platform, including:
Page limits
Template changes
Speed and performance
Page Limits
Squarespace imposes a page limit on their blogs of 1,000 pages. For many sites, this won't be a problem. But, if you have a ton of content on your blog or plan on frequently updating over the long haul, you may run out of room.
If you outgrow your Squarespace blog, migrating to another platform is somewhere can be quite difficult.
Template Changes
Another drawback with Squarespace is you're unable to change templates or themes easily. You will still be able to update the site template, but it's not as easy as being able to update a new template in one click as you would on Wordpress.
Speed and Performance
As mentioned, Squarespace also falls short on page load speeds and site performance, and since Squarespace is an all-in-one web platform.
You have limited control over how much you can improve these issues yourself. To use WordPress as an example, their users have complete control over making improvements to page speeds and site optimization and a much larger ecosystem of apps and plugins.
Conclusion: Should You Use Squarespace for Blogging?
You should use with Squarespace if:
You prioritize convenience and don't mind spending more to outsource maintenance work.
You prioritize setting up a blog as quickly and as conveniently as possible.
You want to focus on your craft, and you don't want to spend time learning web development.
You don't mind the lack of customization as long as the site looks clean and professional.
Squarespace is great for those with no coding experience who want to start a blog quickly but still want it to look and function the way they want.
There's no need to pay someone else to help you create or maintain your blog or purchase plugins or themes from a potentially unreliable third party.
Just be mindful that if blogging is a long-term strategy and you want to maximize your blog's full potential, then there may come a time when you outgrow Squarespace, and you may need to migrate to a more advanced blogging ecosystem like Wordpress.