Recently, I've published a list of successful Squarespace blogs that got me thinking...
How did they use to grow their site to 10K, 50K, 100K monthly visits and beyond?
In this guide, I'll share some of the marketing strategies and tactics these bloggers use to grow their Squarespace site.
In summary, they:
Let's dive right in.
1. Follow SEO best practices and publish quality content
Search engine optimization, or SEO, is the process of improving your site's visibility on search engines like  Google.
The better your site is optimized for SEO, the greater the visibility.
And to what point, you may ask? Growing a high-traffic site can be a lucrative business, as shown by these successful Squarespace bloggers (and how they monetize their sites).
Ideally, your site should appear on the first page, at the top of the Google search result, when a user is searching for a topic that's relevant to your business.  
Luckily, Squarespace has several SEO-friendly features included by default. For example:
💡
Follow Squarespace's very own
SEO checklist
to maximize organic traffic
That said, to maximize the SEO potential of your site, you ought to follow Squarespace's SEO best practices, such as:
But the most important task you can do to increase website traffic via SEO is to publish quality content.
How Binging with Babish runs a recipe blog with 400K monthly visits
Binging with Babish started as a Youtube food channel about 10 years ago. He's been religiously publishing online recipes that have garnered him ~10 million subscribers over the years.
He also publishes all his recipes, along with the cookware he uses and his recently-published cookbook, on the main site, which now has over 400K monthly visitors.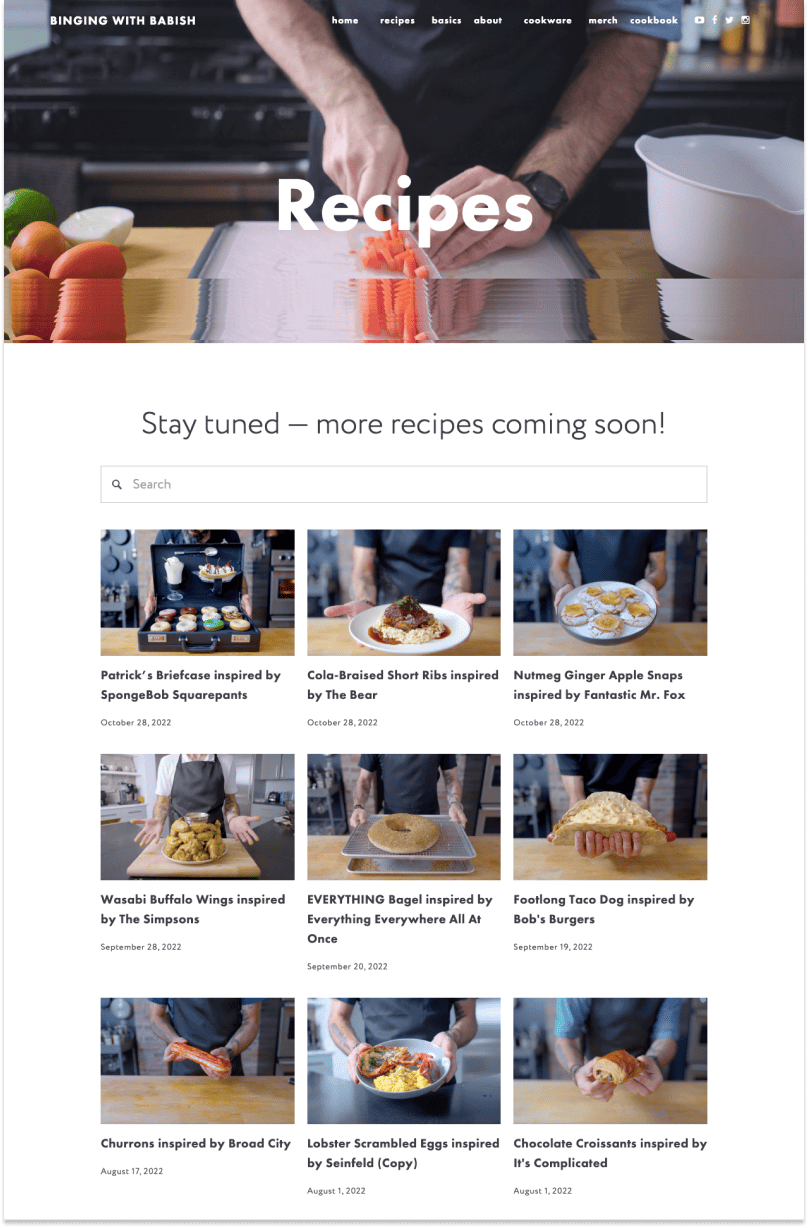 The (not so) secret to gaining such high web traffic?
Publishing quality content.
Binging with Babish has published over 250 recipes that follow Squarespace SEO best practices.
Well, having over 10 million Youtube subscribers doesn't hurt, which brings us to our next point.
2. Start a Youtube channel
Youtube plays a key role in Google Search.
Ever notice the (increasing) number of videos that appear in the search results? Yeah, I did too. This is true, especially when the user is searching for how-to tutorials and product recommendations.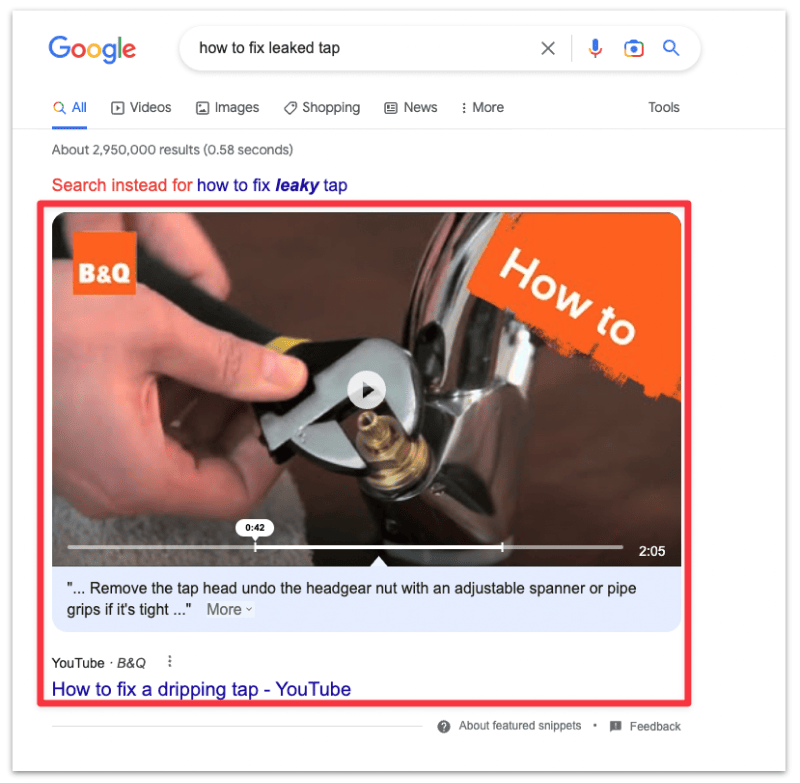 Google controls  ~90% of the search engine market share with no sign of slowing down; here are a couple more reasons to get on the largest search engine bandwagon and maximize your web traffic: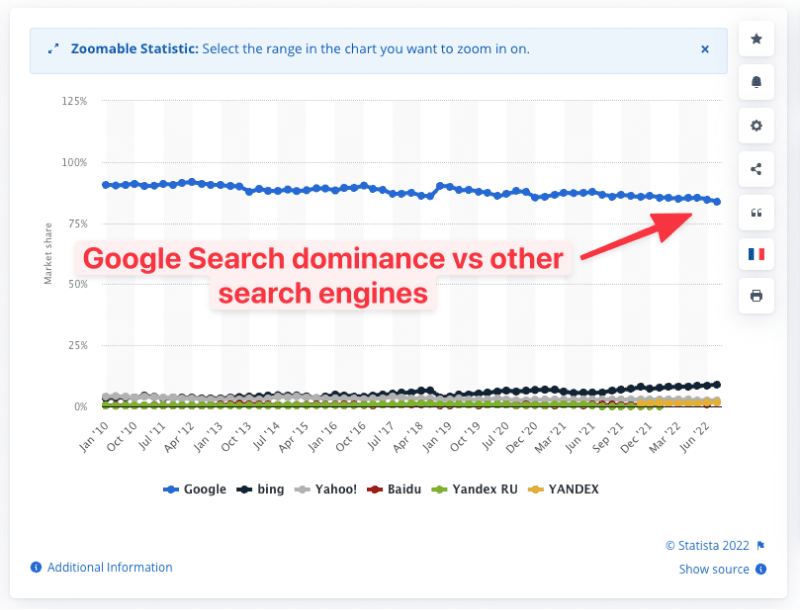 How popular Youtubers drive traffic to their Squarespace site
Binging with Babish and The Sorry Girls, with over 400K and 50K monthly website visits respectively, employ this strategy.
They both have been publishing Youtube content for many years, acquiring millions of subscribers along the way, and they always direct their viewers to their websites or embed the video directly in their articles.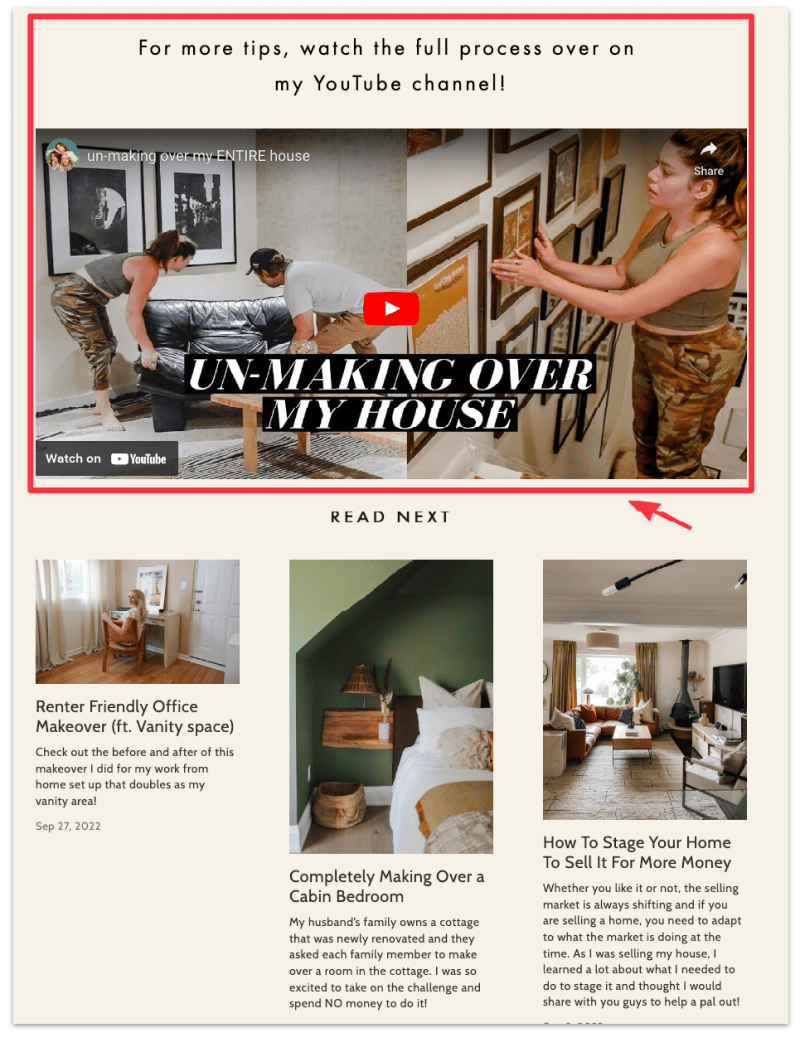 Granted, making Youtube videos on a consistent basis is not easy. Far from it, recording, editing, and publishing videos takes serious commitment and probably a team to pull off.
And don't expect to grow your subscribers, engagement, and ultimately web traffic overnight. It could take months or years before you see the effort pays off.
However, if you're comfortable and ENJOY speaking about a passionate topic, this strategy could pay off in the long run.
Learn how to start and grow a Youtube channel from Youtube's very own creator academy
3. Collect email subscribers and build an email list
If you're getting traffic on your site but don't have a signup form to collect emails, then you're likely leaving money (and subscribers) on the table.
Traffic that comes from your emails is one of the most valuable traffic you can get.
Why?
First, they're interested in what you have to say; that's why they subscribed in the first place!
And second, these people behave differently than a new person coming onto your site. They are more likely willing to come back to your site and potentially buy your products since you've already built trust with them.
You can sign up for a Squarespace email campaign plan (which starts at $5 per month, which is separate from the site subscription), or you can use any of the free marketing tools in the market.
A list of popular free email marketing tools:
Tip: If you've been thinking of building an email list on a budget, these email marketing tools allow you to send automated emails for free.
How Squarespace bloggers and content creators collect email
Knapsack Creative, a design agency with over 27,000 monthly visits to their site, uses Squarespace's built-in email campaign and newsletter feature.
A simple email sign-up form on their main blog page will do for visitors who want in on the latest business and web design tips.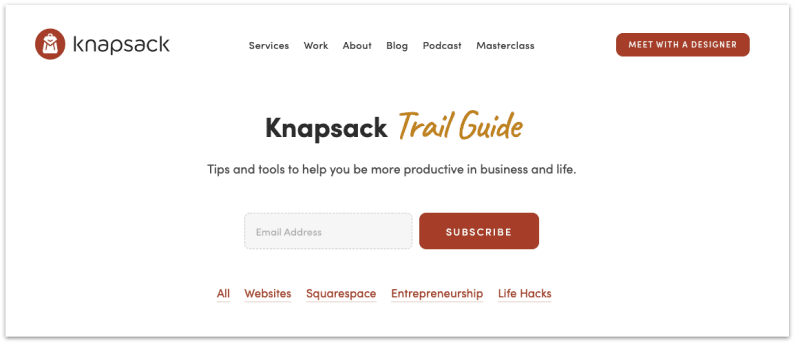 One cool tip: Give your email newsletter a name to make it memorable.
Other effective ways to incorporate email sign-up forms on your site?
Consider adding a subscribe button at the top navigation and direct visitors to a  dedicated subscribe page.
That's exactly what Kerstin Martin did. A fellow Squarespace designer and course creator whose website gathers over 16,000 monthly visitors (estimate).
A dedicated email subscription page allows you to pitch your newsletter and include helpful social proof (i.e testimonials), which could increase the signup rate.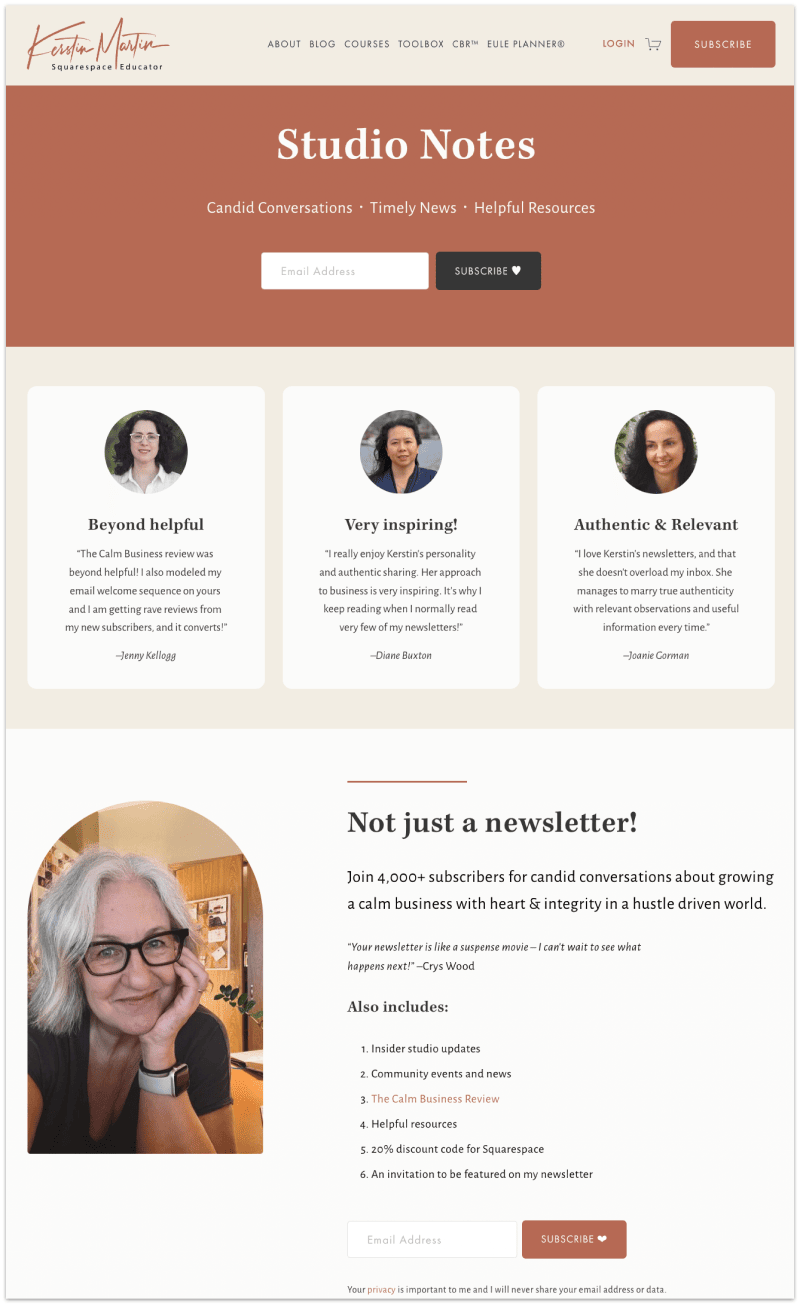 Here, Kerstin branded her newsletter 'Studio Notes', where she shares candid conversations, timely news, and helpful resources about the design industry.
She also shared how she made over $100,000 in yearly revenue from selling courses.
For a more aggressive approach, Squarespace has a promotional pop-up feature that appears when visitors land on your site.
You can easily use this feature to invite visitors to join your mailing list or advertise your latest blog post or products if you have one.
4. Syndicate post on LinkedIn and medium
Kerstin Martin took one step beyond email marketing and syndicated her posts on other social media and publishing platforms — LinkedIn and Medium.com
This works particularly well for an online creator with a personal brand. Not only will this build your reputation and authority, but these platforms will also reward you by sending viewers to your posts, increasing traffic along the way.
How Kerstin syndicated her blog posts
On LinkedIn, Kerstin shared her biggest lessons after being an online entrepreneur for 7 years. She noted down her experience transitioning to a new office, how she dealt with troublesome clients, strategies she used to grow her business and more.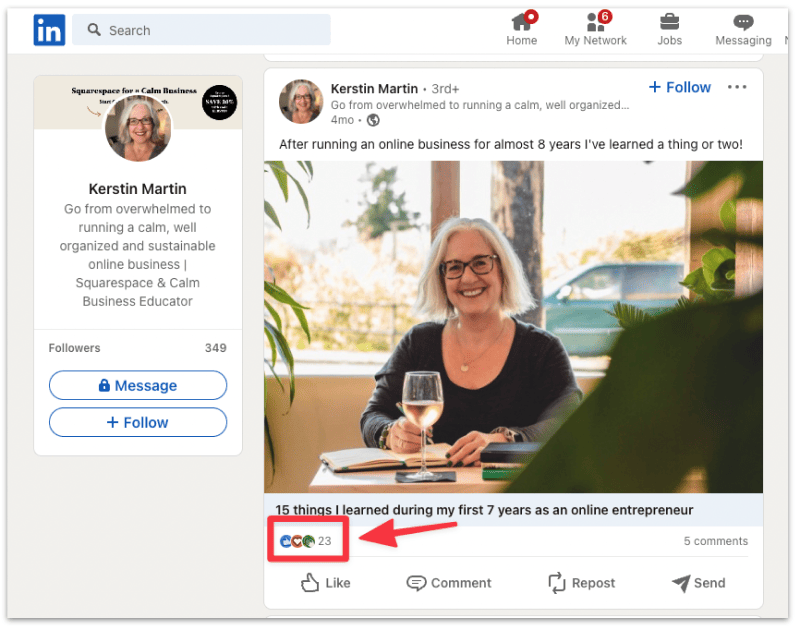 Naturally, the post was well received on LinkedIn and resonated with many fellow creators.
Here's the original post on her blog.
Leveraging Medium's massive audience
Medium is a popular online publishing platform that has somewhere between 85 and 100 million monthly active user.
Anyone can publish their article or write on Medium, and if it's a great article that garners a lot of interest (either from an editor or from existing readers), Medium will distribute it to their daily digest's millions of subscribers.
While Kerstin isn't as active on Medium as she is on LinkedIn, her Medium article on Wordpress vs Squarespace was really insightful and resonated with me as a fellow Squarespace designer.
5. Leverage Pinterest to extend reach
Squarespace has a native Pinterest integration that allows you to automatically create pins for your article and push content to Pinterest.
Pinterest, being a visual search engine, has the potential to blow up your blog posts and bring your Squarespace website tons of new traffic each month.
How 3 Squarespace bloggers leverage Pinterest on their site
1. Knapsack Creative (estimated 27,000 monthly visits) enabled saved Pins on every image on their blog articles, so when a user is interested in the image, they can pin it on their own Pinterest dashboard.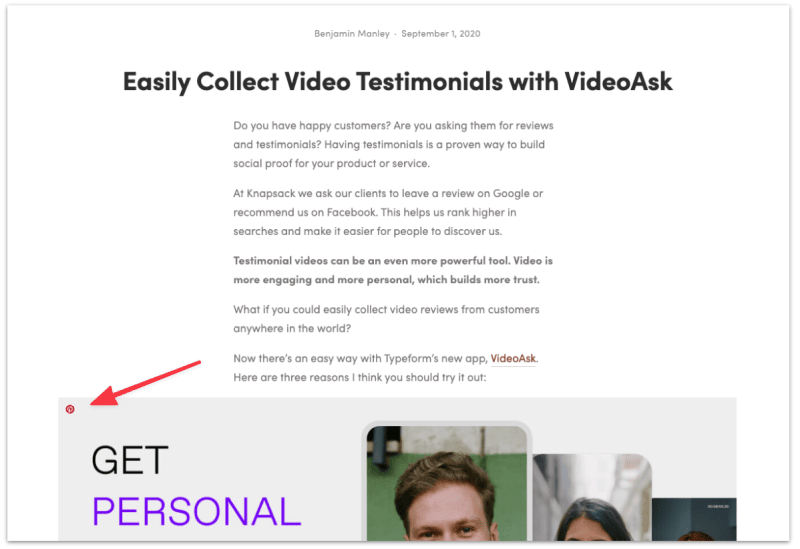 2. Traveling Mitch, a travel blog with an estimated 15,000 monthly visits creates Rich pins for all his blog posts.
Rich pin is a type of pin on Pinterest that features your blog article. It'll display your blog's cover image, title, description, link to your site, and more.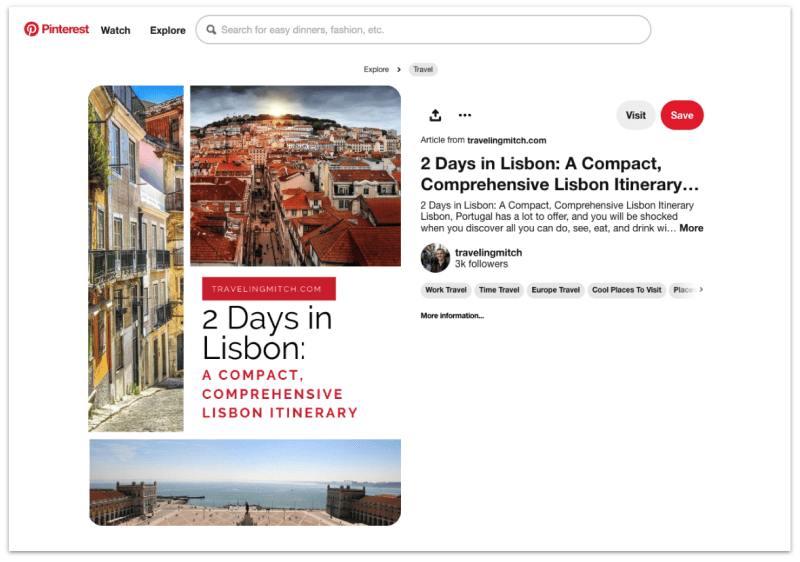 Squarespace does this automatically for your articles if you've connected and validated your Squarespace site with Pinterest.
3. All the Pretty Pandas is a fashion and lifestyle blog with an estimated 9500 monthly visits.
As you may know, fashion and lifestyle are big on Pinterest, so the team at All the Pretty Pandas makes full use of all Pinterest features on Squarespace, including Saved Pins, Rich Pins, social share icons, and more!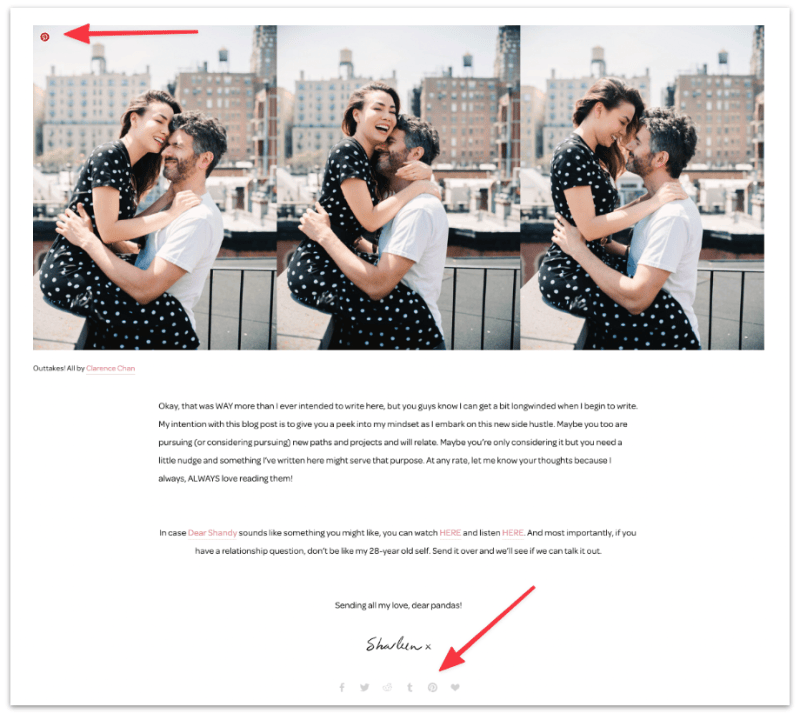 Pro Tip: You have the option to add Pinterest tags and track sales that come from Pinterest using their dedicated analytics tools. This a very handy feature if you're running an arts and craft-related eCommerce store on Squarespace.
Frequently Asked Questions about growing a Squarespace site
Does Squarespace rank on Google?
If you've been reading up until this point, then it's obvious that a Squarespace site can rank on Google and grow into a large media site with over 100K monthly visits. Binging with Babish is a testament to that.
What other ways to market and get traffic to my Squarespace site?
Beyond SEO, Youtube, and other organic channels, paid marketing work for Squarespace just like any other site.
Here are some learning resources for you to learn paid marketing strategies and tactics from the social media giants:
Related articles you might be interested