Thinking of starting a blog and not sure if you should go for Squarespace or Wordpress?
This article is for you.
Having created blogs on both Squarespace and Wordpress for businesses, I can tell you the choice falls to how you prioritize convenience, price, and flexibility; you can't have all three!
We'll be comparing:
Let's dive right in.
What It's Like Creating a Blog on Squarespace vs. WordPress
First, let's discuss what it's like to create a blog through the Squarespace and WordPress platforms. With Squarespace's built-in ready-to-go features, there is less for you to do to get the finished product you desire.
Squarespace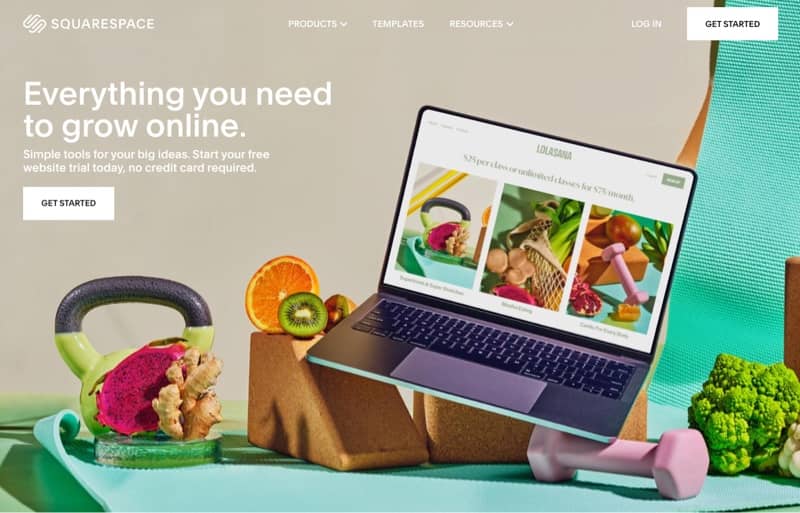 To create a Squarespace blog, you must create an account with Squarespace. It's free to sign up for a Squarespace account (no credit card needed), and you get to try out Squarespace as much as you want.
After creating an account, you'll decide the blog's direction and goals. From there, you can select one of Squarespace's free templates to get you started. After which, you'll receive a quick breakdown of how Squarespace's editor works, and then you can start using the drag-and-drop features to edit your blog by changing anything you want and adding in pages such as a blog or article pages.
Since you only need minimum computer knowledge, technical skills (or lack thereof) won't hinder your blog creation through Squarespace. However, it would help if you still clearly understood how you want your blog to appear. Creating a blog through Squarespace can take an estimated 30 to 45 minutes.
All in all, you get to design, set up, and preview an actual blog on Squarespace. And when you decide to publish your blog, they will nudge you to sign up for a plan, which is optional by the way.
WordPress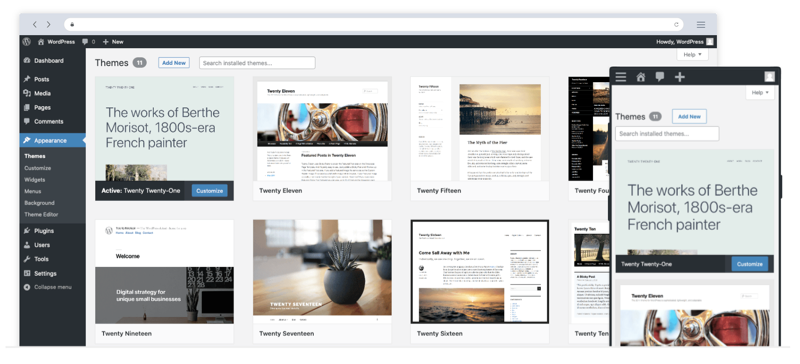 To create a WordPress blog, you must download the latest version of Wordpress from the official website. As opposed to Squarespace, Wordpress is free software that anyone can download.
From here, you can follow the official installation guide for setting up a Wordpress site.
In Summary, you need to:
Download and unzip the Wordpress package on your computer.
Purchase a web server (aka hosting) from a reputable provider.
Upload the Wordpress files to your web server.
Run the Wordpress installation script.
Once you've installed Wordpress, you can proceed to purchase a domain name and set up the domain name server (DNS).
You can already tell, that setting up a Wordpress site is a pretty involved process. Granted, there are hosting providers that offer one-click Wordpress installation services.
If you can afford the time and effort to learn about Wordpress development, you can set up a Wordpress site for a very low cost:
Web hosting: $3-$10 a month for hosting.
Domain Name: $5-$8 a year for a domain name.
Wordpress comes with plenty of free website templates, but most of them are limited in features and customization. If you're ambitious with your site, you'll quickly realize that you're better off buying a premium theme from a Wordpress theme marketplace.
Most of the time, you can customize a premium Wordpress theme through simple clicks or drag-and-drop options, but if you need a truly unique layout, you will need to take up programming skills or hire an experienced Wordpress developer.
Once you've established the actual appearance of your blog, you can purchase and install (countless) plugins to completely customize your blog's flow and functionality.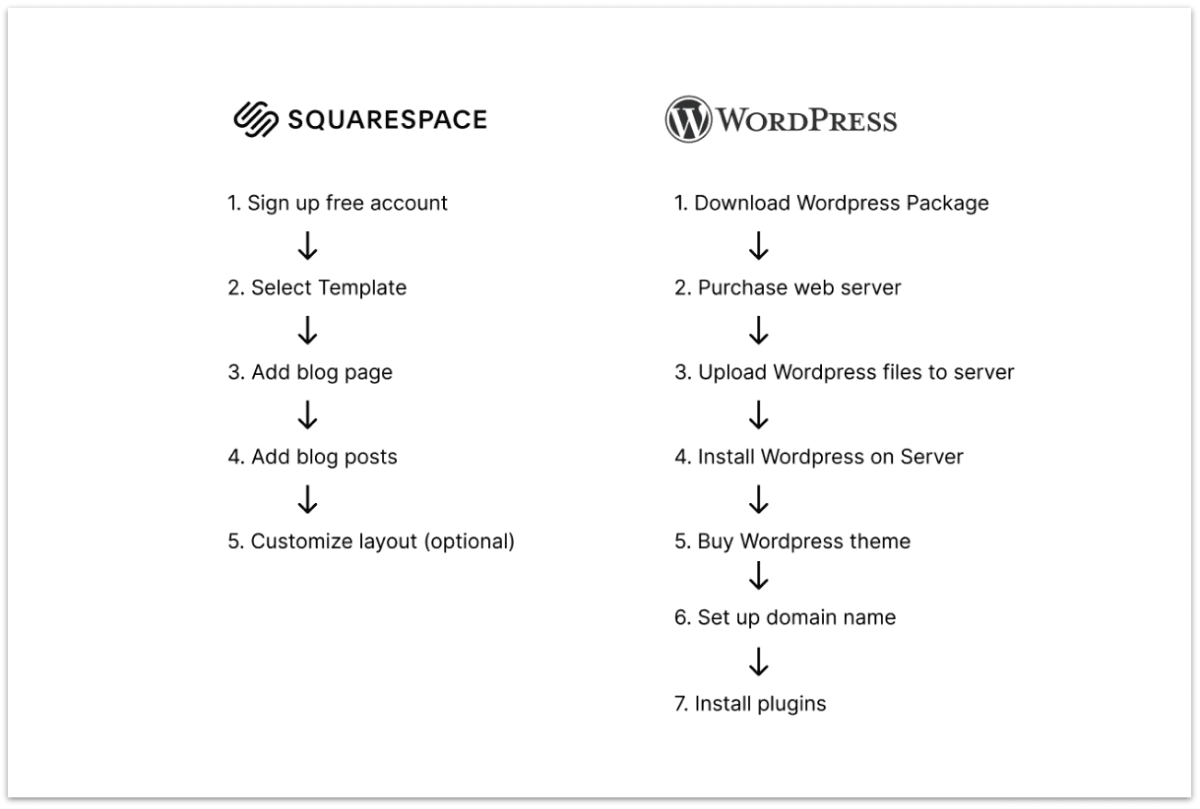 Depending on how computer savvy you are, and if you clearly understand what you want your blog to look like, it can take an hour or two or longer to create a blog through WordPress.
WordPress allows for complete customization, but you need to know a bit of coding to get your finished product.
Writing on Squarespace vs WordPress
Next, let's dive into what it's like writing on Squarespace vs writing on Wordpress as they both offer very different experiences.
Squarespace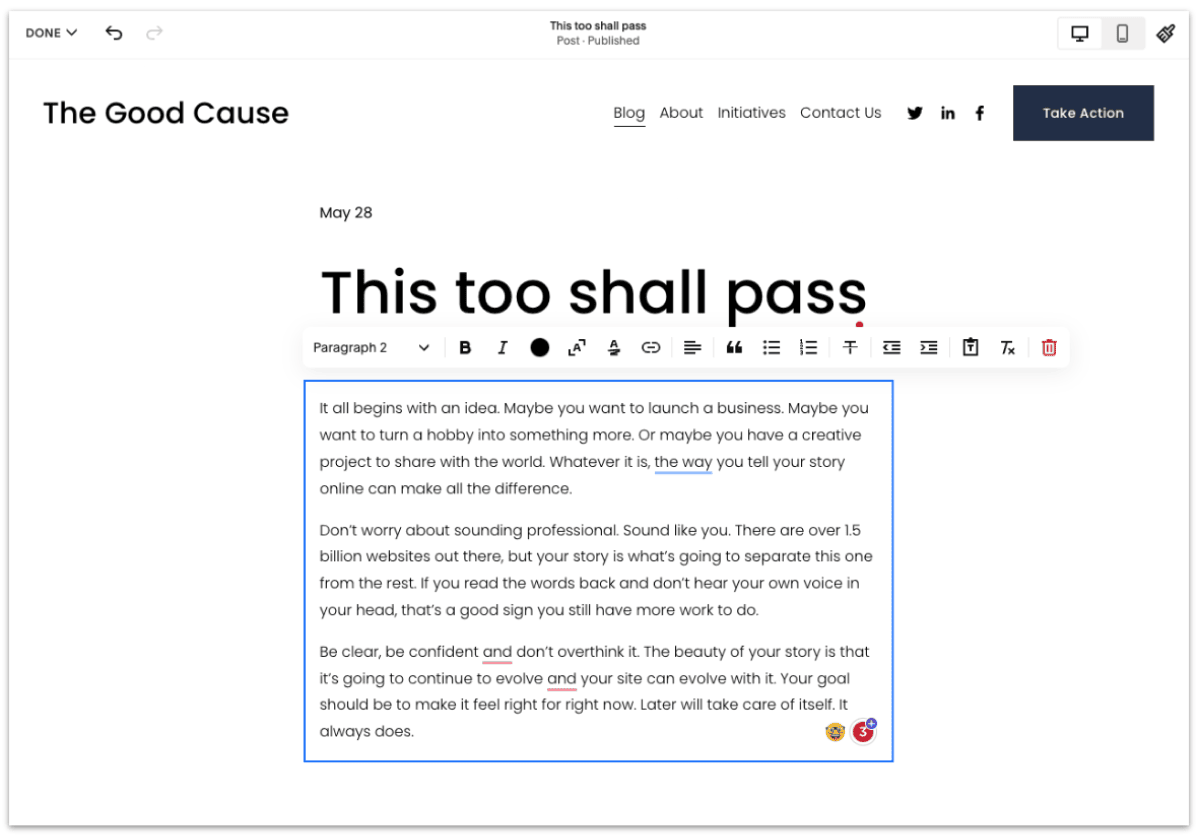 Squarespace offers a what-you-see-is-what-you-get (WYSIWYG) editor, which simply means you get a live preview of how your blog post would look as you edit it.
Other than that, it's a pretty standard editor that allows you to add new paragraphs, edit links, insert images, etc.
What makes Squarespace editing experience great, though, is its simplicity. The interface is clean, the editing section is highlighted, and you can move blocks of text or images with just a drag and drop.
You can even edit your site on mobile with the accompanying mobile app, which you can download on both Android and iOS platforms.
The only gripe I have with Squarespace editor is there is NOT an autosave function at the moment. So you have periodically save your work, otherwise, you'd lose it!
Once you're done editing, you can easily categorize and tag specific blog posts in the post settings, so your viewers can easily find the content they want. You also have the option to schedule and publish at a later date or time.
From the post's settings, you can easily set it as a featured post to draw your viewer's attention or add an excerpt to the post to give your viewers an initial sense of the post's essence. Additionally, Squarespace makes it easy to monetize your blog with paid newsletters and gives you the ability to sell content such as selling recipes.
WordPress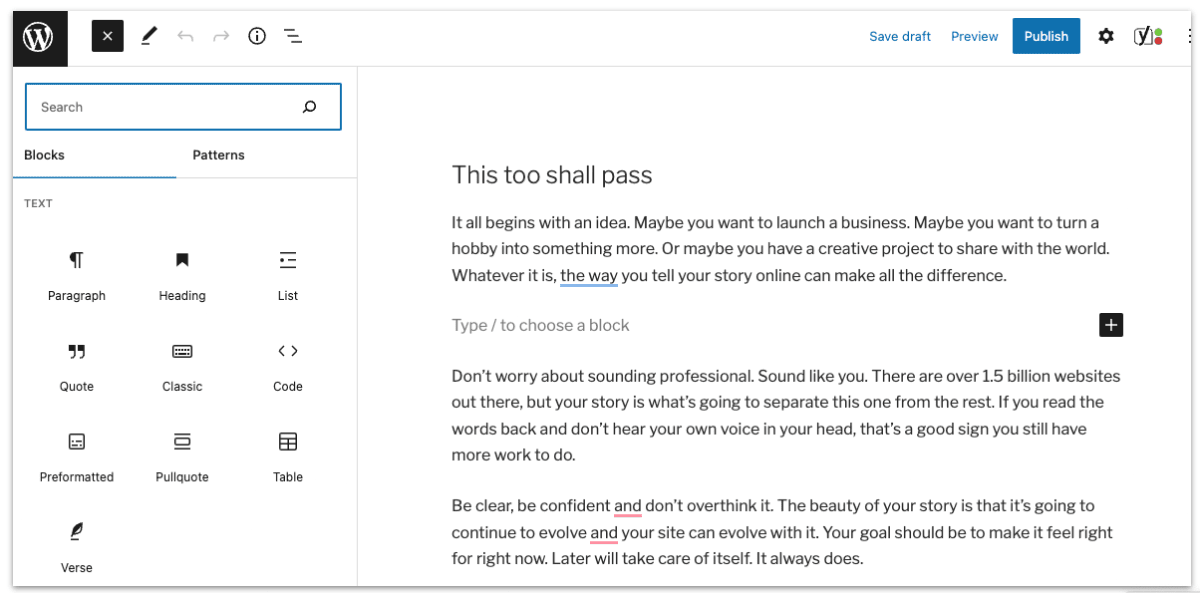 Ever since the introduction of Gutenberg, WordPress' latest editor to emulate drag-and-drop website buiders, the reviews are mixed.
On one hand, bloggers can now add rich media directly to their blog post. For example, users can now add video, audio, code, and even upload files without having to install third-party plugins.
On the other hand, the editor has become even more complex than before.
Take this fellow blogger's experience for example. What initially set out to be uploading a simple image ended up him grappling with formatting issues for his blog post.
In short, Wordpress' new editor allows you to create far more interesting blog posts at the expense of convenience.
Wordpress has a fundamentally different editing philosophy than Squarespace — Wordpress prioritizes maximum flexibility at the expense of usability, and conversely, Squarespace prioritizes convenience over customizability.
This is how the editor looks like in Wordpress.
One sweet feature that Wordpress has that Squarespace doesn't is the ability to autosave blog posts before you can publish them.
Additionally, WordPress allows you to see the different revisions of your blog posts to determine how a post started out and in what ways it changed. You can also determine if a blog post is public or private.
Managing and Maintaining a Blog Squarespace vs. WordPress
Now, let's look into how you manage and maintain blogs on Squarespace and WordPress.
Squarespace
Frankly, aside from publishing new blog posts, there isn't much you have to do to maintain a Squarespace blog; that's what you're paying the monthly subscription fee for!
There are no plugins to maintain.
You don't need backups — Squarespace backup your sites for you and make sure you're site is always up.
You don't even need to renew your domain name, unless you bought it via a separate domain provider.
Important: You can only export parts of your blog if there's a time when you outgrow Squarespace and want to export your blog to another platform. Something to be mindful of.
Besides that, Squarespace maintains its platform by performing its updates and managing security protocols for its clients. They complete regular backups of your blog, so you don't have to.
On top of that, Squarespace's dedicated support team ensures you're never alone when managing and maintaining your blog through its service.
WordPress
On Wordpress, you do need to spend more time on monthly maintenance, which involves:
Updating the plugins on your blog — Because plugins developers regularly publish new changes to their software for security reasons and to add features.
Updating template — For the same reason, developer constantly patch new security flaws and add new features to their template.
Backing up sites — You can manually back up your site or pay hosting provider to back up for you automatically.
All these seem very tedious, and it is, but the upside of managing all these is the control you have over your site.
You get to change hosting providers to save cost, change template to fits your business needs, having your own backups so it's easier to export your site in the future.
You don't have the same liberty if you were on Squarespace.
Cost of Squarespace vs. WordPress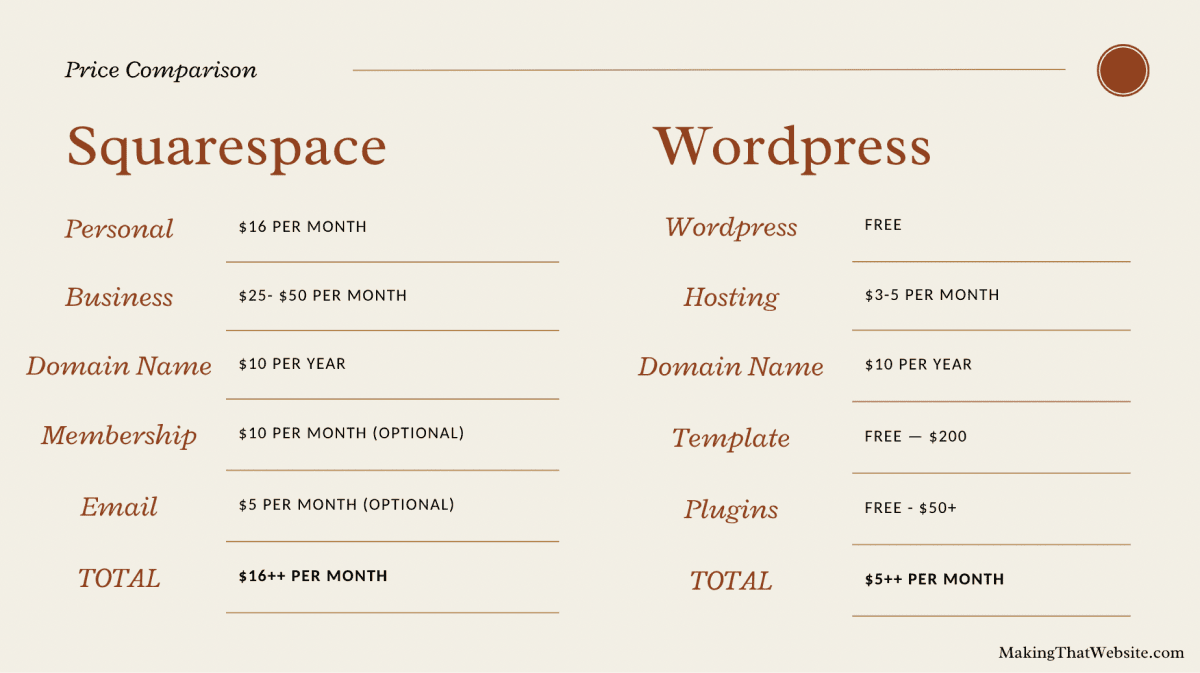 Next, let's look at the cost of using Squarespace and WordPress. I've written an extensive article with a breakdown on the cost of running a blog on Squarespace.
Here's the summary:
If you run a personal blog on Squarespace, you can expect to be around $18 per month.
But if you were to run a business blog, to be able to sell merchandize, or run a membership site, then you can expect to pay anywhere from $30 - $100 per month.
Squarespace pricing plan options
When you first start using Squarespace, the first 14 days are free, but once your trial is up, you must purchase one of Squarespace's four plans. Below is a simple breakdown of the four plans Squarespace offers:
Personal
The monthly plan costs $23, while the annual plan costs $192 ($16 monthly). This plan is best for a simple blog.
Business
The monthly plan costs $33, while the annual plan costs $276 ($23 monthly). This plan is best for a simple business blog.
Commerce Basic
The monthly plan costs $36, while the annual plan costs $324 ($27 monthly). This plan is best for a simple online business.
Commerce Advanced
The monthly plan costs $65, while the annual plan costs $588 ($49 monthly). This plan is best for a more complex online business.
WordPress
You do save quite a bit using Squarespace.
The two compulsory costs for building a website on Wordpress are hosting and domain name.
Here are a few examples:
$2.95/month on BlueHost
$2.59/month on DreamHost
and $3.95 for SiteGround.
At the same time, domain names cost ~$10 per year.
Compared to Squarespace, where you're paying $16 onwards per month, you will only need to pay $5/month to get a full-fledged website with unlimited traffic, custom branding, and URL on Wordpress.
In short, you're saving on Wordpress because you'll be responsible for the work required to get it up and running and maintain it.
How To Choose Between Squarespace or WordPress for Your Business Blog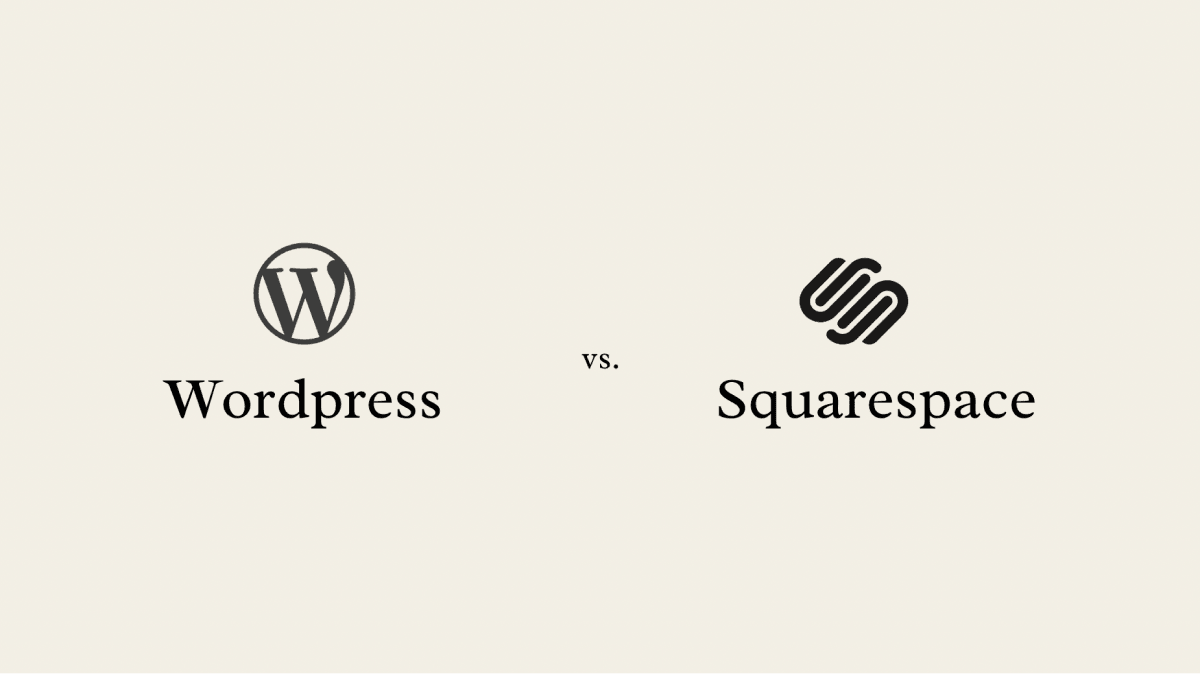 Now, let's dig deeper and examine which platform is better for a business blog, Squarespace or WordPress.
Since each type of blog has different requirements and needs, it is essential to use the right platform that offers the necessary features your blog requires to succeed.
For example, a simple writing blog requires fewer features than a business blog.
However, to determine which platform is best for your business blog, you need to understand the purpose of a business blog.
In its simplest terms, a business blog is a marketing tactic that aims to provide valuable information to its readers and encourage them to purchase that business's product or services.
While both Squarespace and WordPress offer plans that help businesses create an online blogging presence, Squarespace makes it less of a hassle to maintain a blog that allows viewers to purchase a business's products online because there is less for you to do to keep it going.
Main Differences Between Blogging on Squarespace vs. WordPress
Lastly, let's break down the main differences between blogging on Squarespace and WordPress.
So, Which Platform Should You Use?
Here are your considerations.
Go with Wordpress if you:
Need to customize your blog heavily
Pay the absolute minimum,
Maximize SEO/marketing performance for your blog
Don't mind spending extra time learning web development concepts
Don't mind maintaining the blog, which gives you full control
You should go with Squarespace if you:
You prioritize convenience and don't mind spending more to outsource maintenance work.
You prioritize setting up a blog as quickly and as conveniently as possible.
You want to focus on your craft, and you don't want to spend time learning web development.
You don't mind the lack of customization as long as the site looks clean and professional.
Squarespace is perfect for those with no coding experience who want to start a blog quickly but still want it to look and function the way they want. There's no need to pay someone else to help you create or maintain your blog or purchase plugins or themes from a potentially unreliable third party.
While WordPress is ideal for those with coding skills who want complete control over their blog's creation, appearance, and functionality. However, if you don't have the coding skills but still want complete control over your blog and possess the funds, you can always hire a reputable developer to achieve your perfect blog.
Related articles you might be interested in