Let's figure out how much exactly the total yearly or monthly cost is to run a Squarespace blog.
The cost will largely depend on the type of blog you plan to set up since different setup requires a different Squarespace plan, which makes up the bulk of the cost (details below).
In short, we'll go over:
Later on, I'll share a discount code you can use for your Squarespace blog.
Let's dive right in!
What you should know about Squarespace pricing plans for your blog
3 things to know about Squarespace pricing when it comes to running a blog:
Blogging features are available in every plan. Regardless of any plan you choose, you will be able to run a blog. The only difference is if you're running a personal blog, a business blog, or a blog with eCommerce. We will evaluate this in the next section.
Every plan listed above is for individual websites. So one website or blog needs one plan.
Squarespace displays the yearly price by default. So the $16 Personal Plan is actually $192 paid upfront ($16 x 12 months) and will automatically renew yearly unless you cancel the subscription. You have the option to pay monthly, which is 30% more expensive than the yearly price.
Which Squarespace plan to choose for your blog?
How much you're paying for a Squarespace subscription depends on the type of blog you plan to run.
There are only 3 types of blogs you should consider, and they are:
PERSONAL  — Choose the Personal plan if you're fine working with existing Squarespace blog templates and layouts without extensive customization.
BUSINESS — The main difference between Squarespace Personal and Business is that the Business plan allows you to add custom code and integrate with other platforms. Choose the Business plan if you plan to add custom features and tracking to your site.
E-COMMERCE  — If you plan to sell anything on your blog, go for the eCommerce plan. You'll incur 0% transaction fees instead of 3% on the business plan.
More details on each plan below.
1. Personal Blogs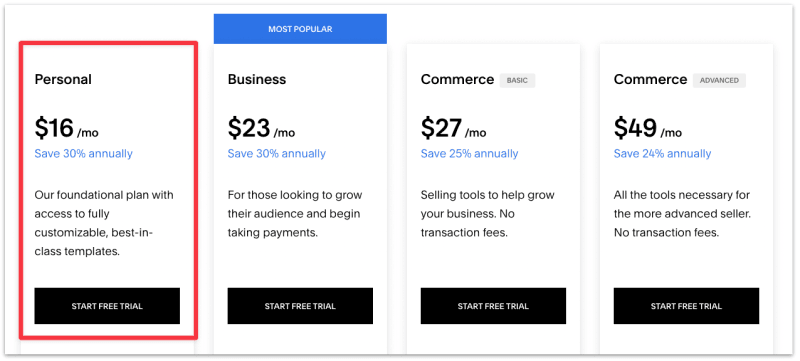 Squarespace has an extensive catalog of templates you can use for your blog right out of the gate.
Whether it's a home recipe blog, a personal travel site, a newsletter, a school project, or an NGO news site, you can pick a Squarespace blog template off the shelves and immediately start publishing articles.
That's the main value proposition of Squarespace — it just works.
Note that you can freely customize any Squarespace template and layout thanks to their new drag-and-drop website editor. You just won't be able to add custom code (e.g., add tracking code or custom newsletter sign-up form) as you would on the Business plan.
Here are some examples of Squarespace blogs on the Personal plan:
The Cost of running a personal blog on Squarespace
Assuming you opt for the annual plan with a 30% savings and a custom domain (Cost $20/year — recommended). The yearly cost of running a personal blog on Squarespace is $212, or about $18 per month.
2. Business blogs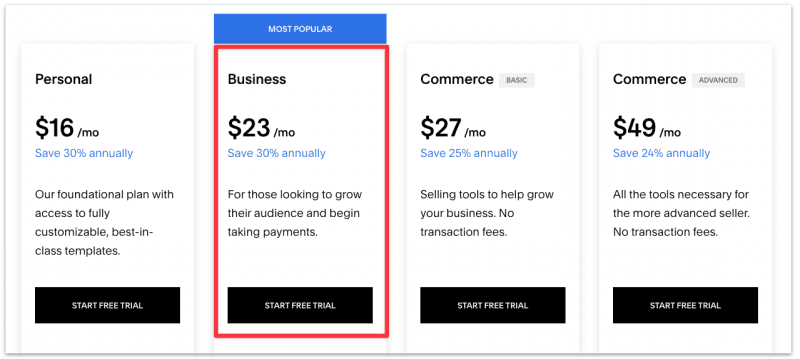 The Squarespace Business plan offers a few more features compared to the personal plan, such as:
Adding custom CSS and Javascript code throughout the site — Great for creating a custom layout, adding tracking code, embedding Youtube or Vimeo videos, etc.
Integrating with third-party platforms such as Twitter, Instagram, Open Table, Soundcloud, Wistia, Google Maps, and others.
Accepting donations if you're an NGO or non-profit.
Adding customized Amazon shopping links on your site.
Click here for a full list of Squarespace premium features.
Some examples of Squarespace Business blogs:
The Cost of running a business blog on Squarespace
It's slightly more complicated to estimate the cost of running a business blog on Squarespace.
That's because Squarespace offers add-ons that businesses tend to subscribe to, which adds to the overall cost.
For example:
Knapsack Creative (A creative agency with over 25,000 monthly visits), uses Squarespace's email marketing campaigns to send newsletters, which costs $10 a month for 5,000 subscribers.
Kerstin Martin, a designer who runs a successful Course & Membership site, utilizes Squarespace's Member Areas to offer course membership for her students. That will cost $35 per month since she's running multiple courses.
Kat Harris, an author who runs The Refined Woman, offers coaching calls and books clients via Squarespace scheduling, which costs $14 per month.
As you can see, these costs add up.
💡
At the minimum, The Squarespace Business plan and custom domain will set you back about $284 a year, or about $24 a month.
But it's safe to assume that if you're running a business with a blog on Squarespace, the expected cost should be around $284 - $1200 a year, depending on the plugins you need.
Note: There are several third-party, alternative plugins (e.g., for email marketing, booking, and membership) that are more price competitive than Squarespace add-ons.
So you don't have to subscribe to them unless you prefer to save the headache and have everything managed under Squarespace
3. Online Store / Commerce blogs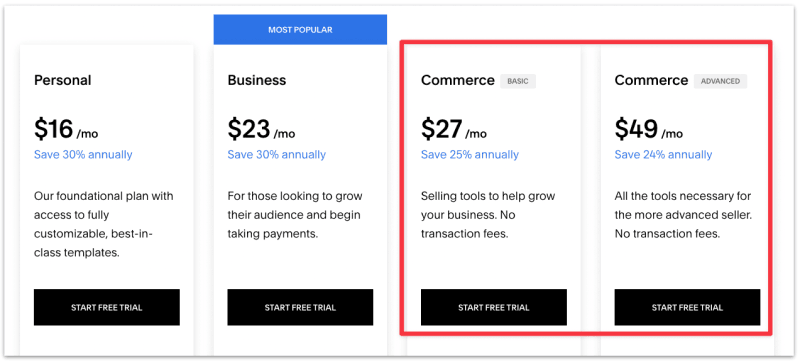 If you plan to sell anything on your Squarespace blog, you're better off getting the Commerce plan with 0% transaction fees. Otherwise, if you're on the business plan, Squarespace will charge you a 3% transaction fee on all sales.  
As for whether you should choose the Basic Commerce or the Advanced Commerce plan, the most important feature on the Advanced plan is to sell subscriptions.
In short, choose the Basic Commerce unless you plan to sell subscriptions to products and services on a weekly or monthly basis and generate recurring revenue. More info on selling subscription products on Squarespace here.
Examples of Squarespace online store with blog
The Cost of running an online store with a blog on Squarespace
The minimum cost to run a functional eCommerce store with a blog (with a custom domain) on Squarespace is $332 per year, or ~$28 per month. Again, that's assuming you opt for the annual plan.
Optional add-ons are available if you consider adding email marketing or selling digital products and courses. This would add at least $20 - $50 to the monthly cost.
So, you can expect to spend ~$350 to $1200 or more on your Squarespace online store.
Miscellaneous cost
I've highlighted a few of them above, but here's the recap of additional tools and add-ons you might need to run your Squarespace blog:
1. Custom domain (recommended)
There are a few ways to get a custom domain with different Pros and Cons:
Get domain directly from Squarespace (free 1st year) — Applicable only if you subscribe to an annual plan. After the first year, your domain renewal will cost $20/year. Not the cheapest, but you save the hassle of managing a third-party platform.
Get a custom domain from NameCheap — I bought all of my custom domains from NameCheap as the user experience is good (in my opinion) and they're one of the most reputable domain registrars in the industry. Their custom domain usually costs $6-$8 per year and renews at the same price.
Get free domains from Freenom — It's free forever, but you won't be able to get a .COM domain.
Email marketing is an area you can save since many email marketing companies offer a generous free plan. Although, I wouldn't write off Squarespace Email Campaigns just yet.
Squarespace Email Campaigns ($5 - $48 per month)
The biggest advantage to using Squarespace's native email marketing tool is the clean, crisp, mobile-responsive email template and beginner-friendly email editing tools that everyone loves Squarespace for.
Side bonus: The analytics that tracks your campaign performance play nicely with other analytics on your site.
If you prefer to save and use other free email marketing tools instead, then:
3. Membership / course software
I wrote a detailed guide about Squarespace membership Areas and its alternatives, but in short:
Squarespace Member Areas — Costs $9 - $35/month depending on the number of products or courses you sell.
Memberspace — Costs $29/month onwards
Memberful — Free to start but limited to 2 products or courses with a 10% transaction fee.
MemberStack — Costs $25/month onwards with 4$ transaction fee.
Final Cost Breakdown
We've covered quite a bit on all the related costs to run a Squarespace blog, but here're the tables to summarize them all.
Squarespace Personal blog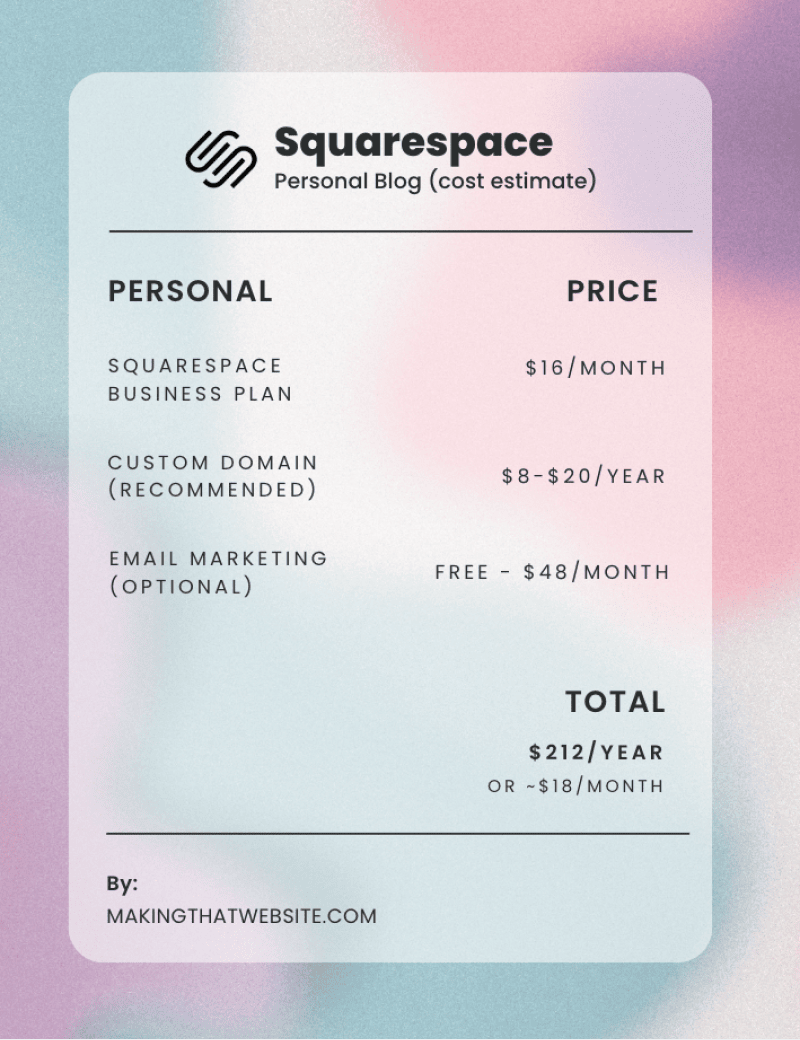 Squarespace Personal plan: $16/month
Custom domain: $8-$20/year
Email Marketing: Free — $48/month
Total Cost: $212/year
Squarespace Business blog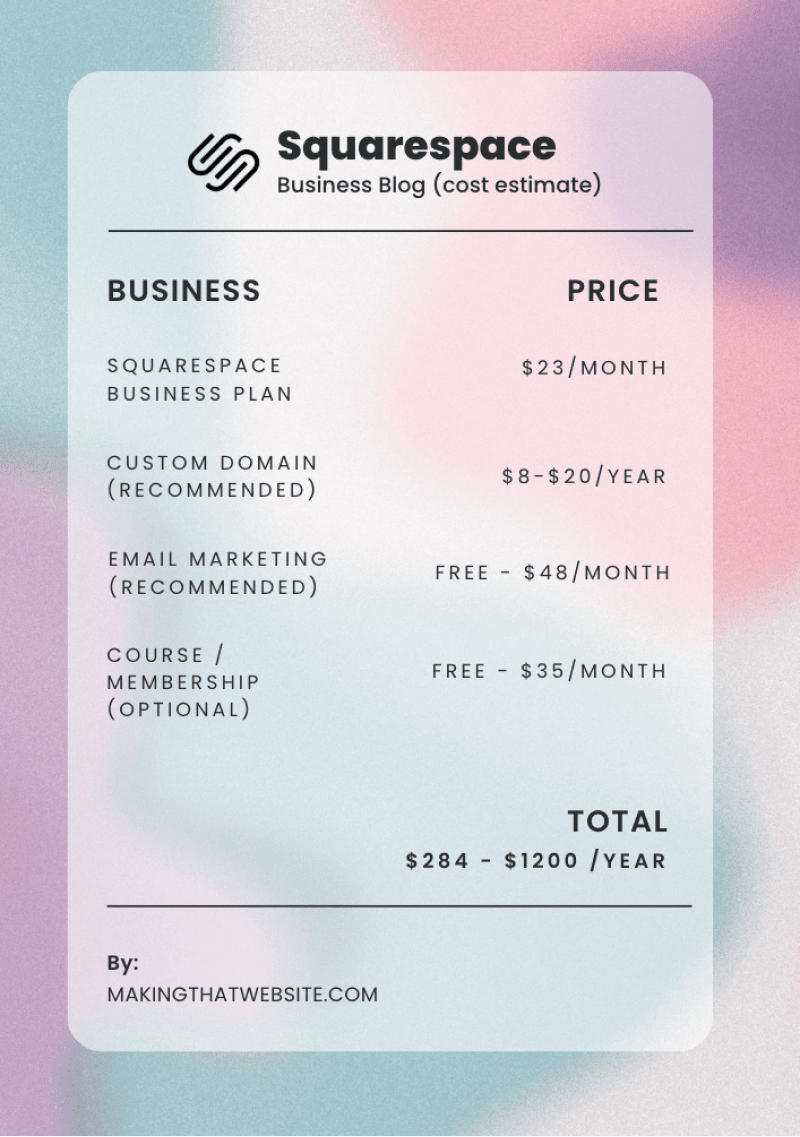 Squarespace Business plan: $23/month
Custom domain: $8 - $20/year
Email Marketing: Free - $48/month
Course / Membership (optional): Free - $35/month
Total Cost: $284-$1200/year
Squarespace Commerce blog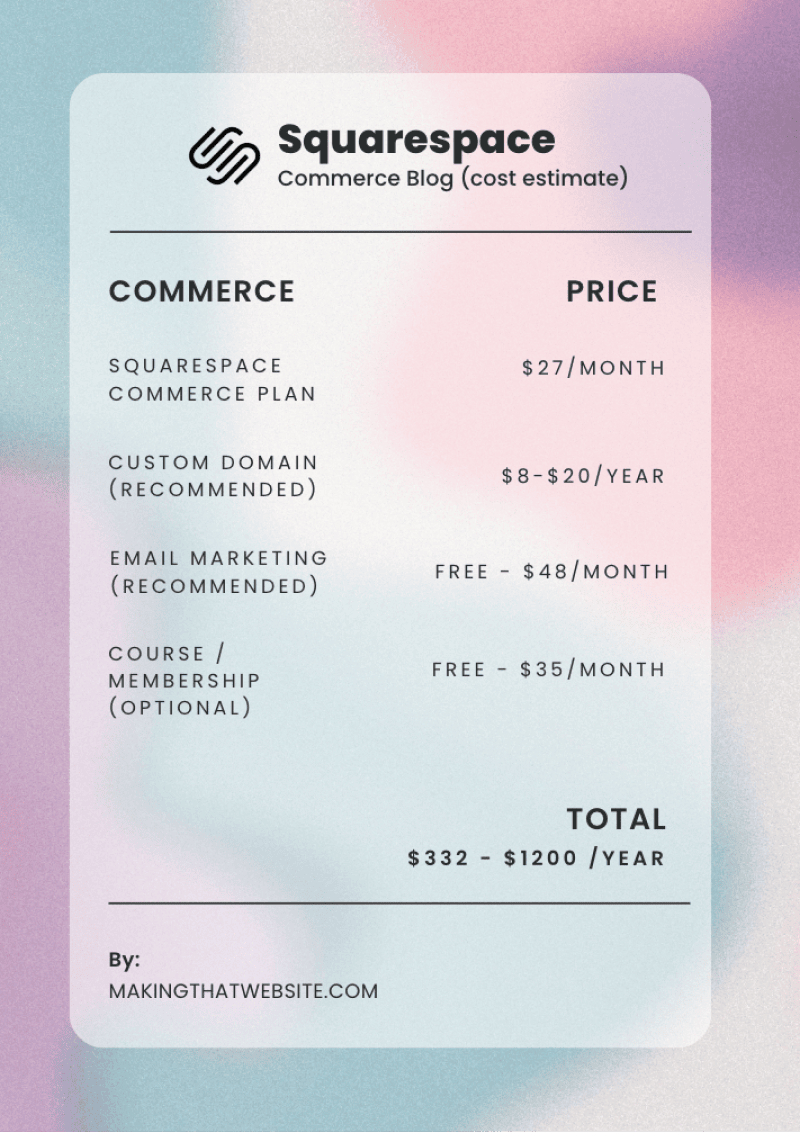 Squarespace Commerce plan: $27/month
Custom domain: $8 - $20/year
Email Marketing: Free - $48/month
Course / Membership (optional): Free - $35/month
Total Cost: $332-$1200/year
Save money on Squarespace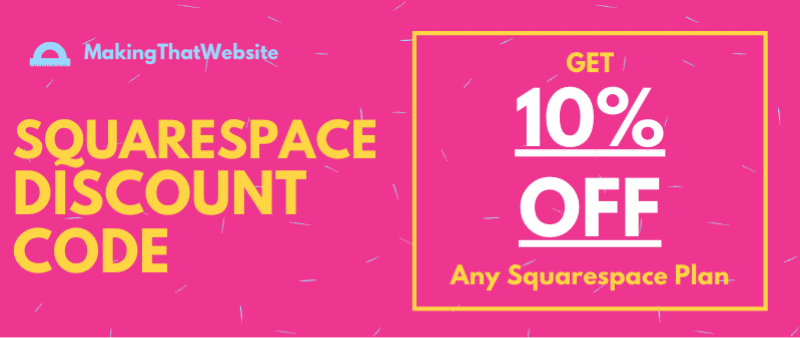 Squarespace isn't the cheapest website builder, but you can still save quite a bit by clicking the link below and use the discount code: MTW10 at the checkout pato save 10% off your bill.
Save 10% on your Squarespace blog with the discount code: MTW10
Frequently asked questions about running a Squarespace blog
Can Squarespace blog handle high traffic?
Yes, according to Squarespace, their website is hosted on the same server as everyone else's. And Squarespace is a top 1000 website worldwide with over 35 million monthly visits.
With that, your Squarespace site can certainly handle most traffic loads.
The only fee that Squarespace charges is the 3% transaction fee if you're selling products on the business plan.
If you're selling any product on Squarespace, I recommend going for the higher-priced Commerce plan with 0% transaction fees.
Note that even if you add affiliate links or run ads on your Squarespace site, they don't take a cut on any sales generated via those methods.
Should I use Wordpress for my blog instead?
You can if you prefer to DIY your web hosting, backup, and web design.
If you're willing to spend the time learning to set up a Wordpress site, the actual startup cost is pretty low, as low as $30-$50 per year.
Here, I've written a detailed comparison between Wordpress, Squarespace, and other popular website builders.
Related articles