Back in 2020, Squarespace released version 7.1 which made every new website use the same system for creating new designs.
In version 7.0, some sections like blogs, gallery, layouts, etc are tied to a specific template so you won't be able to customize them without switching the entire template.
Now in version 7.1, since every new website is using the same design system, there won't be any layout, page elements and design that are exclusive to a specific template.
You can change your website design (in 7.1) to however you want. They also introduce pre-made layouts and page sections to help you design faster and more efficiently.
This change gives you more flexibility when customizing your design, but it comes with a few downsides:
Squarespace won't allow you to switch to another pre-made templates.
It takes much longer to overhaul (start over) the design because you now have to customize every element on your site.
It can become overwhelming for beginners now they have way more options to customize their site.
If you're currently using a Squarespace template in version 7.1, the only way to completely switch your template is to start from scratch using a template in version 7.0.
Note: Here's how to check which Squarespace version you're on.
However, if you want to stick with version 7.1, here's a few ways to quickly customize your template and change your site to another template's design.
How to change template design in Squarespace 7.1
First, login to your Squarespace account and select a site to edit.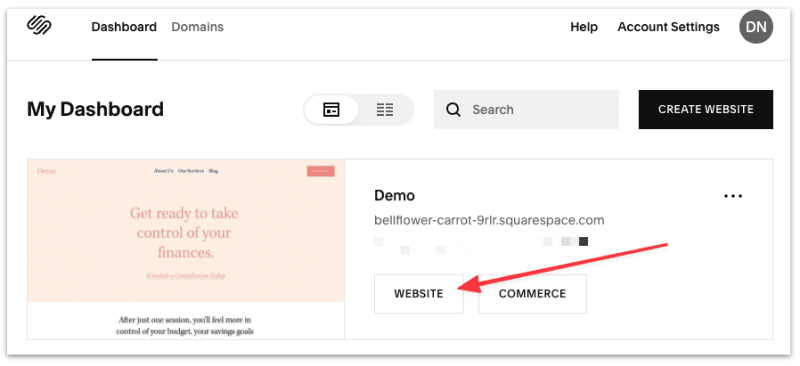 On the left panel, select Design ➞ Site Styles.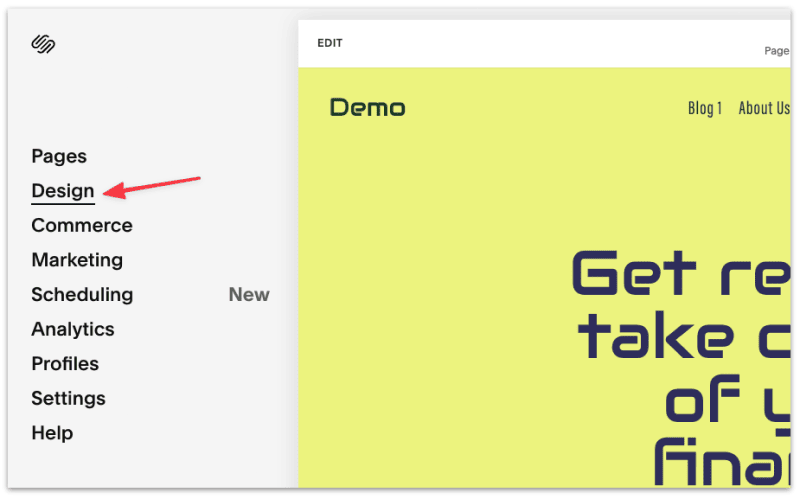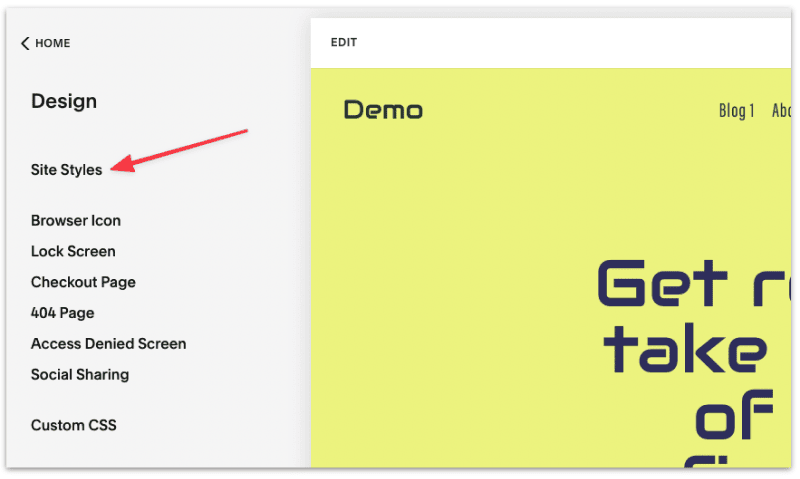 You will then see the Site Styles setting pull up from the right panel.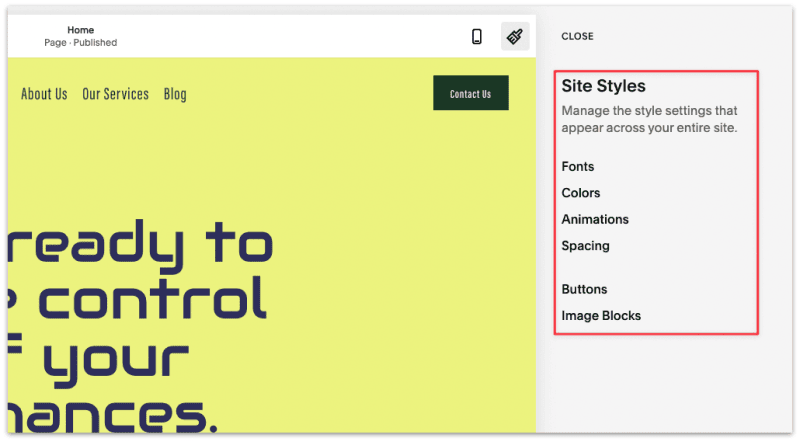 Squarespace now allows you to completely customize the outlook on your site with these settings:
Note: These settings apply changes to the entire site.
Fonts — Choose from a list of font pairings that look good together. You can then customize the font size, line height, spacing, and more for headings, paragraphs and headings individually.  
Colors — Choose from set of pre-defined color palette. These palletes look good by default but you can customize them as you like. You can also drop an image (e.g. a logo or branded image) and Squarespace will generate a color palette for you!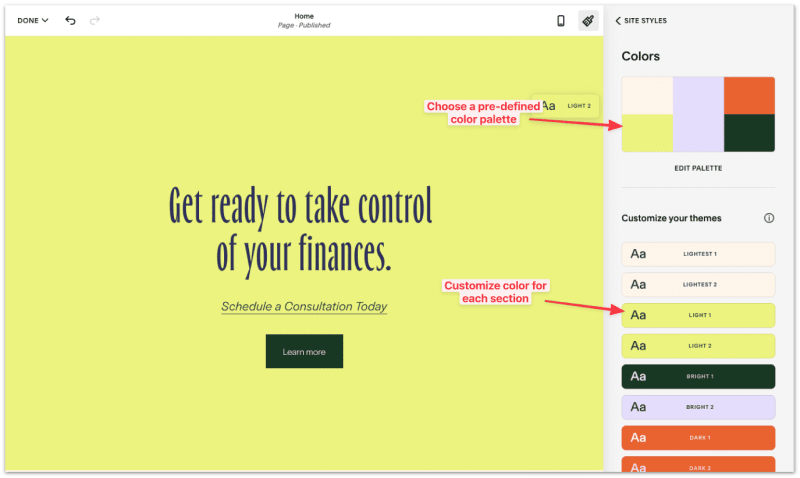 Animation — Select an animation style to animate site elements as they appear on the page.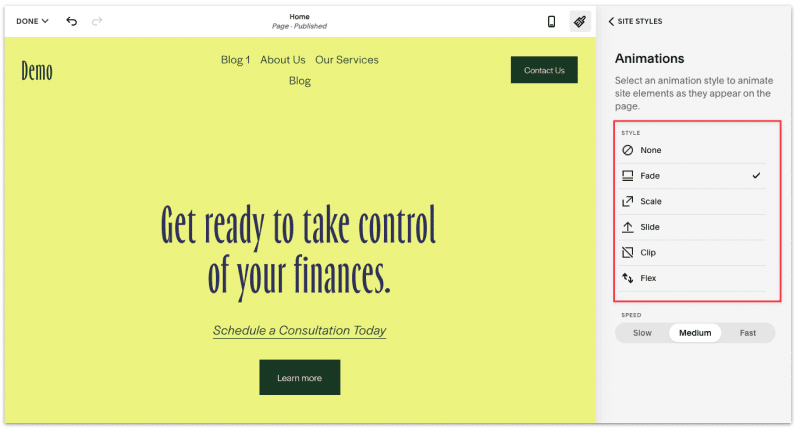 Spacing — Customize the width of the content within the page page.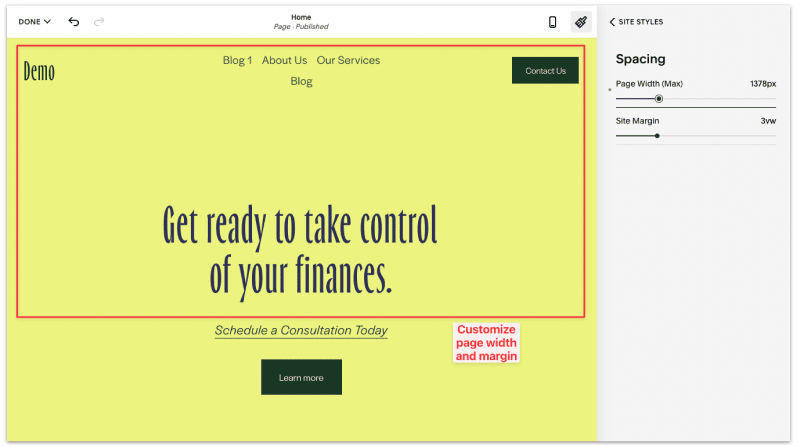 Buttons — Customize the shape and style of every button on your site.
Image Blocks — Customize the style of how your images are presented in a collection (e.g. Collage, Card, Stack).
You might notice Squarespace has made the conscious decision to pre-define certain elements (e.g. color palette, font pairings) so that it's easy for beginners to design an aesthetic site with minimal efforts.
That's one of Squarespace's design philosophy for its users. Give ample control but easy enough to design a good looking site effortlessly.
Within a couple minutes of tweaking the site style you can end up with two completely different looking site: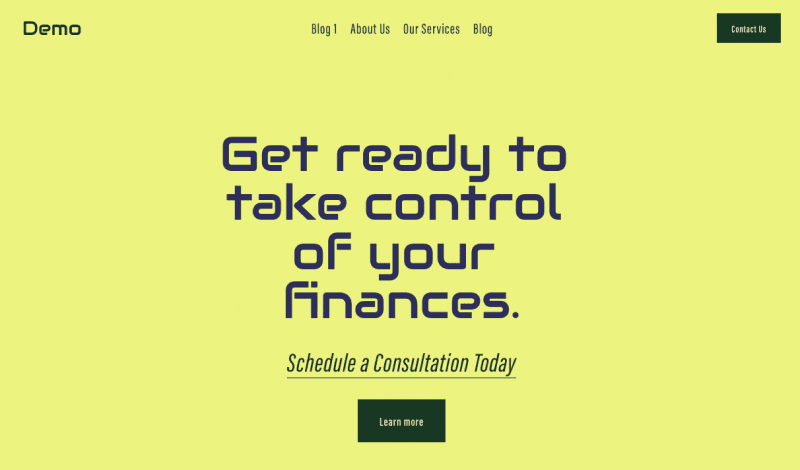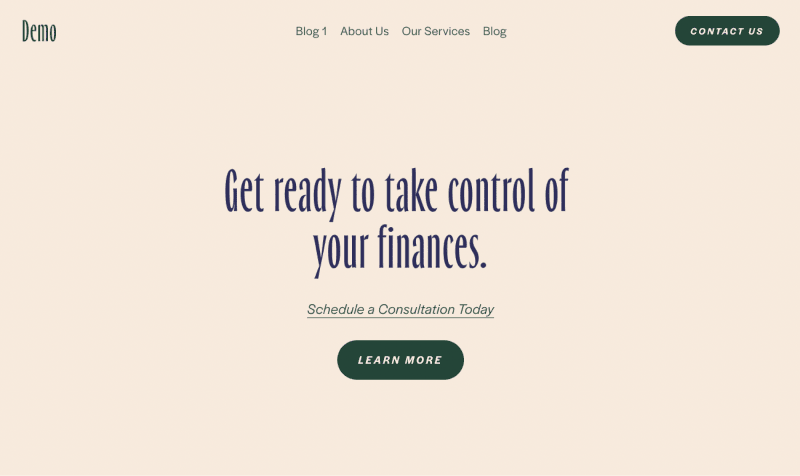 Better yet, find a template you like and just emulate its site style. That way you could technically change your site to another Squarespace template.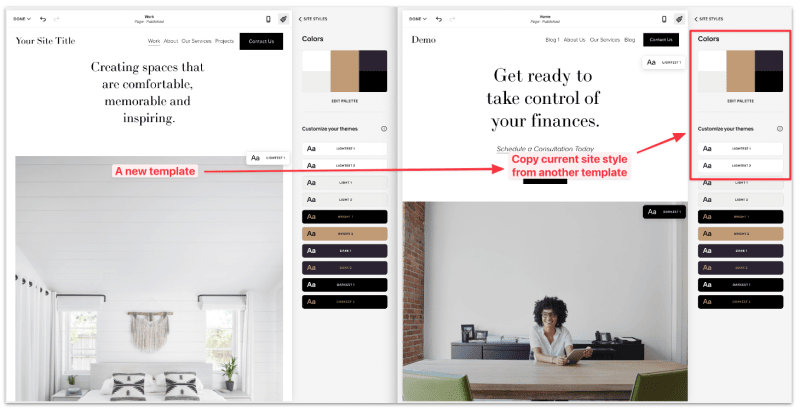 You can change every aspect of your current site to look exactly like the new template you find. That's what the new design system in Squarespace version 7.1 allows you to do.
From the site header, content layout, buttons, images, footer layout, checkout page, social sharing, and more.
Every aspect of your site is customizable and Squarespace has done the leg work of pre-designing all these layouts so you can arrangement on your site like legos.
Frequently Asked Questions
Can I change template on Squarespace?
Yes you can. If you're on Squarespace template version 7.0, changing template is relatively simple, just follow the instructions in the official documentation. However, if you're on template version 7.1 then you have to change the design manually.
How to change template on Squarespace v7.1?
If you're using template version 7.1, the only way to change the template is to start from scratch using templates from version 7.0.
Can I use both templates from Version 7.0 and 7.1?
Yes you can use templates from version 7.0 and 7.1 under one Squarespace account.
Where do I find Squarespace templates?
Here's the link to templates from version 7.0, and here's the link to templates from version 7.1.
Conclusion
Ever since Squarespace released version 7.1, they have removed the ability to switch to another template.
Even though they claimed you no longer need to switch templates, that every template is now the same, it's undeniable that changing a site's design has become more cumbersome.
Some might argue it's overwhelming given the vast options to customize every element on the page.
But, there are genuine effort in making the design process easier by offering pre-made layouts, page sections, buttons, color palettes, etc so users can just assemble these design blocks like lego pieces.