After years of community requests, Squarespace has finally released Member Areas — A membership add-on for your site.
Here's everything you need to know, including:
If you're looking for inspirations, here are some real world examples of membership websites using Squarespace Member Areas.
Let's dive right in.
Squarespace Member Areas pricing
Since Squarespace Member Areas is an add-on feature, you need to pay extra on top of the existing Squarespace pricing plans.
Here's the pricing plan for Squarespace Member Areas: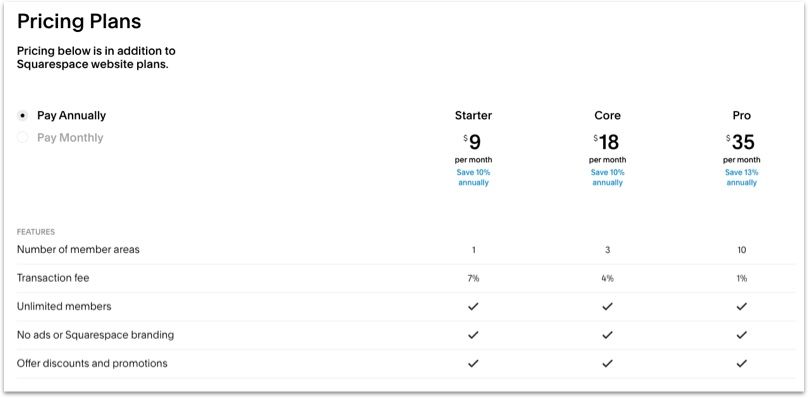 All Member Areas plans come with:
Free, one-time, or recurring fee structure.
Member management (Custom navigation for members, add them to a mailing list, create a tagging system, and more).
Analytics (Total sales, sales by membership plan, conversion funnel, traffic sources, most popular content page).
Accept payments via Paypal and credit card (Stripe).
24/7 Customer support.
Scroll to the bottom for my take on Member Areas pricing and who it might be suitable for.
So what can you do with Squarespace Member Areas?
Set up paid membership with a recurring or one-time payment
Well, that's the point of Member Areas! Squarespace allows you to add recurring membership subscriptions (Weekly and monthly payments for now) and a one-time-payment membership.
Alternatively, you can also set up free membership for your customers.
Unfortunately there's no option for setting a fixed number of payments (eg. 3 payments every month), which other platforms like Memberspace offers.
Create members access only content
In Member Areas you can specify which page your members can access based on the membership they're subscribed to.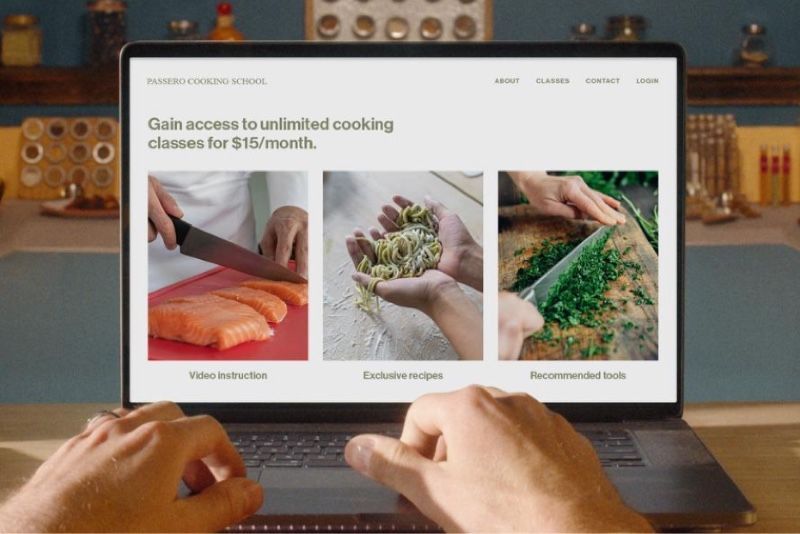 This is pretty straightforward, as you'll in the how to set up Member Areas section.
But one thing to note, especially for a new Squarespace website, is to select one of the membership templates. As these are templates specifically optimized for Member Areas and will work better (members navigation, content access etc) once enabled.
Send emails to your members
Squarespace has a built-in mailing list so you can set up email marketing campaigns for your members.
You can add unlimited members to your mailing list, though you have a quota for the number of emails you can send.
This is great if you use Member Areas as other membership platforms require you get a third party email marketing platform, which adds cost for the business.
How to set up Member Areas on your Squarespace site
Follow these steps to set up paid membership for your Squarespace site.
Note: You should already have a Squarespace account and have a website set up. If not then sign up for free here.
1. Enable members area in site settings
To activate membership features for your Squarespace site, head over to your website Home Menu > Settings > Members area and flip the toggle button.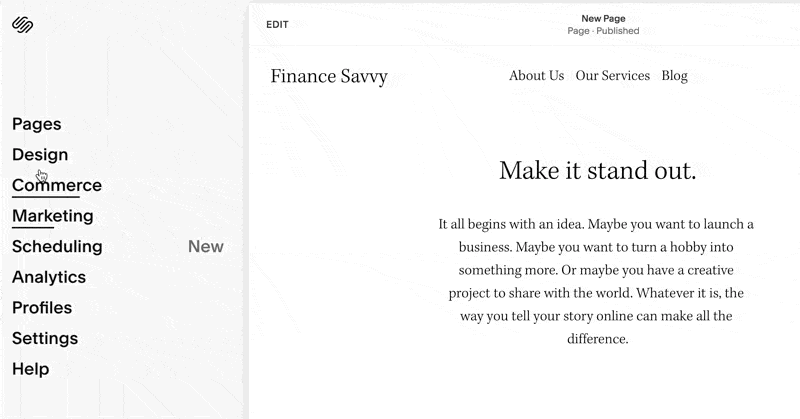 Once you've enabled Member Areas on your site you should have access to its features:
Create a membership plan
Manage your members' access
Payments setup
Members Discounts
Members navigation
And more
2. Create a new membership plan on your site
There are 3 types of membership you can set up:
Free membership (Members can access with email only)
A one-time-fee membership (Member pay once for lifetime access)
Recurring fee membership (Members pay every month for access)
You can create a new membership plan under Members area > Create member area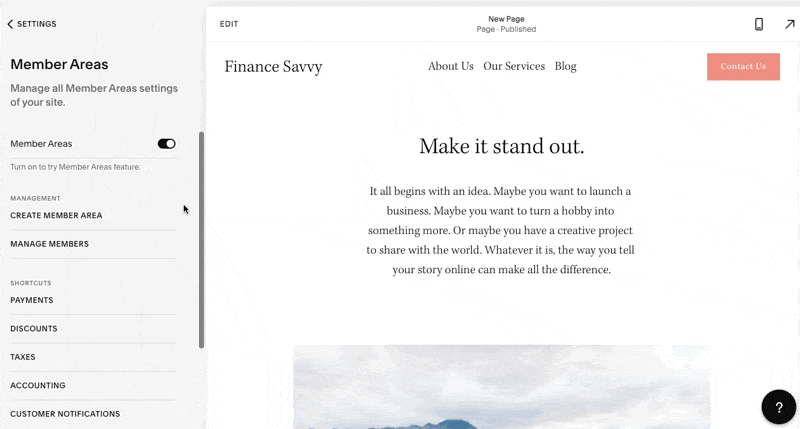 Then give your member area a name (eg. Free, Unlimited Access, Pro), description, and set the membership fee.
Note: The minimum fee for paid membership is $1.
3. Create your member sign-up landing page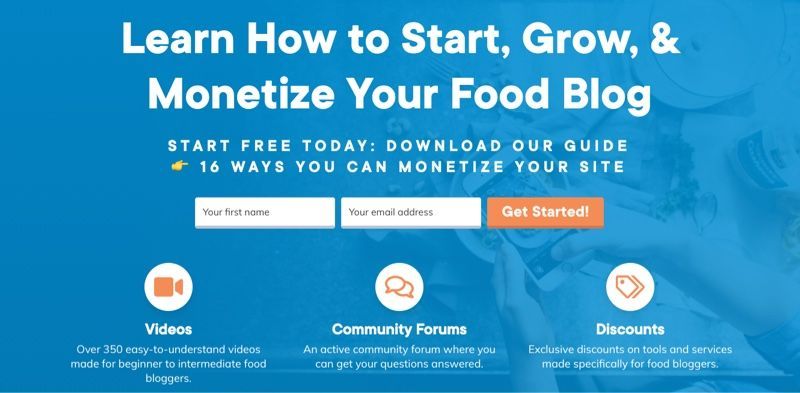 It's time to create your members sign up landing page with details about what you offer.
At the very least, your landing page should have:
A Headline that describes the main benefits for becoming a member.
Membership plans that people can sign up for.
What premium content they have access to.
Testimonials from existing customers.
An FAQ section about your membership.
Check out a sample membership sign up page on SquareSpace.
Adding membership plans on your landing page
Obviously, this landing page needs to allow people to sign up as a member.
Squarespace has made this incredibly easy to do.
Simply edit your page and add a member sign up block to your landing page. This content block can be located under More > Member sign up block.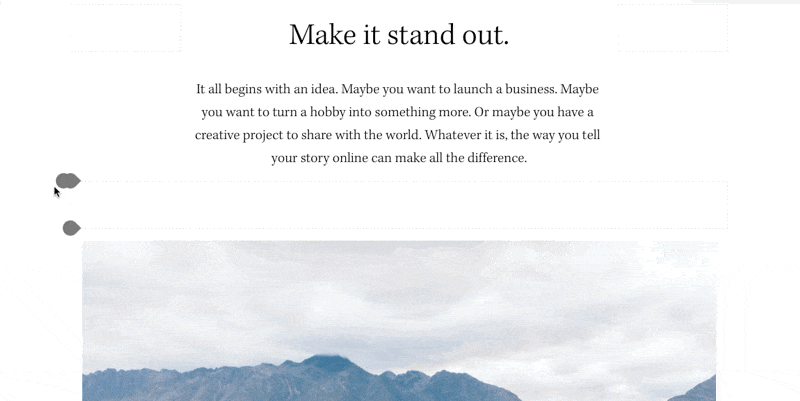 Add your landing page in the main navigation
There are 2 ways to create this landing page In Squarespace:
Create your landing page in Main Navigation — This page will then show up in the site navigation.
Create your landing page in Not Linked — This page will not be found (or linked) anywhere on the site, unless you specifically add it. Note that search engines (i.e Google ) will still be able to discover them.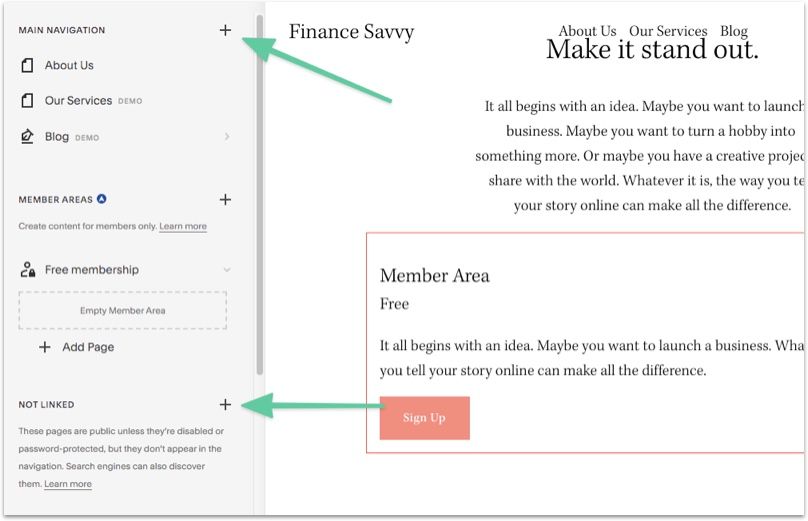 4. Add members-only content
Once your landing page is ready to go, the next step is to create members-only pages (aka gated content) on your Squarespace site.
Simply create or add the members-only page in your respective membership plan and you'll be able to control the access to your gated content.

12 types of content to add your SquareSpace membership site
Exclusive blog posts and early-access to written articles
Edited transcripts for your  podcast
Video course (Embed via YouTube, Vimeo and Wistia)
Online masterclass or webinar
Downloadable ebook
Professional templates (Excel, PDF)
Podcast episodes and exclusive audio recordings
Swipe files (Google Drive files)
Private community forum (via discourse and other community platforms)
Private newsletter
Premium downloadable photographs
Presentations (Powerpoint slides, Google presentation)
5. Connect your preferred payment processor
At this point, you want to connect your Squarespace account with a payment processor so you can start receiving payments, if you're planning to create paid memberships that is!.
SquareSpace allows you to connect to Stripe, Paypal or both, which should be plenty enough for all online transactions. You can also add Square POS (for cash and credit card) if you operate a physical store.
Connecting payment processor with your membership site
Head over to Member Areas > Commerce Settings > Payments and connect your Stripe and Paypal account.

Important Note: Adding Stripe or Paypal to your SquareSpace site requires a Business and Commerce plan. If you're on a SquareSpace personal plan you will need to upgrade in order to accept payment.
Once you've added the payment processor, your new membership site is ready to roll!
SquareSpace Member Areas alternatives
Member Areas is a relatively new membership feature on SquareSpace. There are other membership platforms that integrate with SquareSpace and they have been doing it for a long time.
The most notable ones are Memberspace (since 2009), Memberful (since 2013), and MemberStack (2018).
Now let's take a look at the main differences between these membership platforms
Squarespace
Memberspace
Memberful
Memberstack

Pricing

Core: $18/mo

Pro: $35/mo

Starter: $25/mo

Growing: $50/mo

Thriving: $100/mo

Unlimited: $200/mo

Pro: $25/mo

Premium: $100/mo

Pro: $25/mo

Scale: $49/mo

Established: $199/mo

Transaction fee

Starter: 7%

Core: 4%

Pro: 1%

Starter: 4%

Growing: 2%

Thriving: 1%

Starter: 10%

Pro: 4.9%

Premium: 4.9%

Pro: 3%

Scale: 1%

Established: 1%

Number of membership plans

Starter: 1 plan

Pro: 10 plans

Starter: 2 plans

Unlimited for Pro and premium

Member payment options

Free

One time payment

Recurring subscriptions

Free

One time payment

Recurring subscriptions

Free

One time payment

Recurring subscriptions

Free

One time payment

Recurring subscriptions

Members management

Custom navigation headers

Tagging system

Tiered plan membership access

Group membership

Custom billing date

Custom membership expiration

Free trials for paid membership

Group membership

Automatic plan upgrade & downgrade

Multiple language support

Custom page element based on membership

Automatic plan upgrade & downgrade

Zapier and Integromat automation

Payment processor

Stripe

Stripe

Stripe

Stripe

branding

Remove at $50/mo

Remove at $25/mo

Collect tax

N/A

Set a fixed tax % o

Automatically calculated for EU, UK, AU, US, CA

Set a fixed tax %

Affiliate program

N/A

Platform

Squarespace only

Squarespace

Wordpress

Webflow

Wix

Weebly

Any custom HTML or static website

Squarespace

Wordpress

Webflow

Wix

Weebly

Any custom HTML or static website

Squarespace

Wordpress

Webflow

Any custom HTML or static website
Squarespace vs Memberspace vs Memberful vs Memberstack

SquareSpace Member Areas offers the easiest membership setup for your site. You're just a few clicks away to add paid membership to your SquareSpace site.
That's hardly surprising but one of the biggest benefits to using Member Areas is to accept payments from Paypal.
First, Paypal could easily make up 20-30% of the revenue transaction for merchants so you don't want to lose customers who prefer paying with Paypal.
Second, not everyone has a Stripe account as they're not available in every country just yet. So if Stripe isn't supported in your country, Member Areas would be an ideal fit for your membership site.
Other key benefits of SquareSpace Member Areas
Processing Fees — You get 1% transaction fee on the most expensive plan at just $35/month, you'd have to pay at least $50-$100 to get the equivalent benefit on other membership platforms.
Integrated mailing list — Another cost saving benefit for using Member Areas is email marketing.
You have unlimited subscribers in your mailing list in SquareSpace, while other membership platforms require third party email marketing platform which would cost you even more.
Why you might not want to use SquareSpace Member Areas
While SquareSpace Member Areas can save you a few bucks and earn more through Paypal. You want to consider these factors that might turn you away as well.
Limited functionalities — It's pretty obvious if you compare the table above. SquareSpace Member Areas is good if you just need a simple, cheap, and easy-to-maintain membership site.
Platform lock in — Naturally, Member Areas is only available on SquareSpace. And it can only take you so far. If you plan on working on you membership site long term, then starting it on a platform like MemberSpace, which has way more functionalities for you to grow into, would be a better choice.

MemberSpace is hands down the best of them all in terms of flexibility and functionality, it's also one of the most expensive membership platforms out there. But here's the main reason why it's worth it:
You can build the best membership site with Memberspace.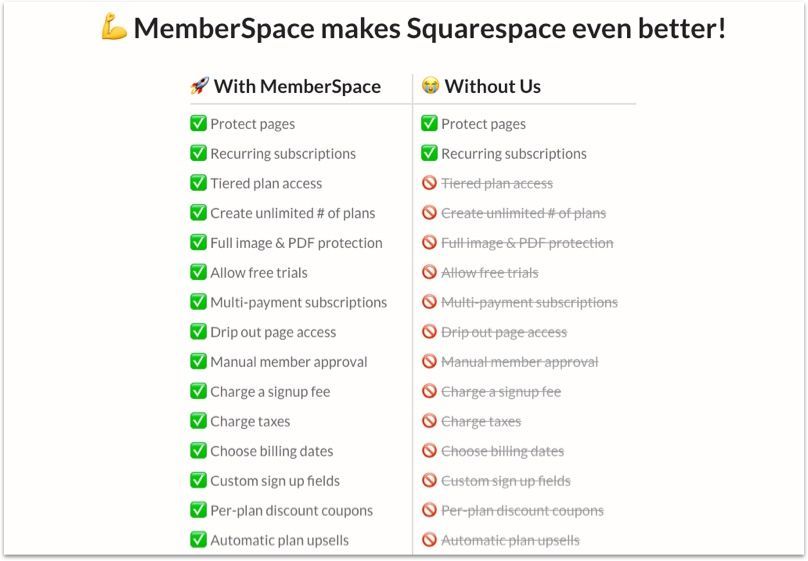 The most expensive plan, which cost $200/month, is easy to swallow when you have thousands of paid members.
You have maximum flexibility on how you want your members to pay, what content they get access to and when, you can migrate your site to another platform and all your members will still be intact, plus you get the cheapest transaction fee.
It's the membership platform to use if you plan to work on your membership site long term.
The icing on the cake is the affiliate platform MemberSpace support via Rewardful, which is a great win-win for you and your members.
Here are some great examples of membership website built on Memberspace.

Memberful is great for international membership. Not only do they support languages like Dutch, French, French, German, Japanese and many others, they automatically take care of all the associated tax for these countries too.
This is super helpful for receiving payment from countries with mandatary tax such as the VAT for EU and the UK.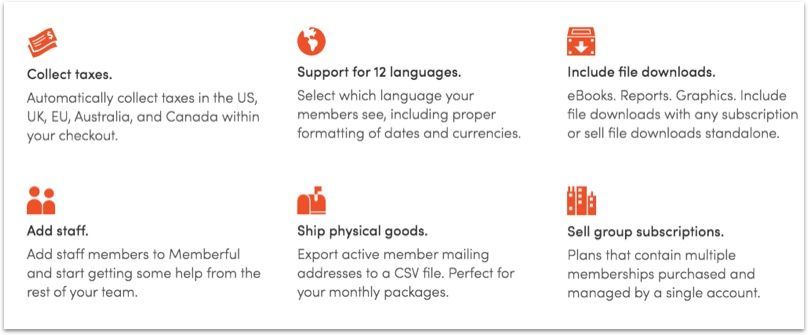 Memberful is also the only membership platform to offer a free starter plan, as opposed to free trial before paying eventually on MemberSpace and Memberstack.
Their free plan is pretty generous in terms of features. You get to create 2 membership plans of your choice and you get a lot of the features that MemberSpace has to offer. The only downside is they charge a pretty substantial 10% transaction fee on their free plan.
Why you might not want to get Memberful
Memberful is relatively cheap (or free) to get started, but the savings won't be appealing once your membership grows a certain size.
On their premium plan (highest tier), Memberful charge a 4.9% fee on all transactions for your site. This is hefty in comparison to SquareSpace, Memberspace and Memberstack, who's charging 1%, 0.5%, and 1% respectively on their highest tier plan.
At some point you'd want to move your membership platform to save 5-10x on transaction fees which can be substantial for a huge membership site.

Memberstack is the cool new kid on the block, founded by designer Duncan and Tyler back in 2018. While they have way less functionalities than MemberSpace, what they lack in features they make up with modern, beautiful, and intuitive UI.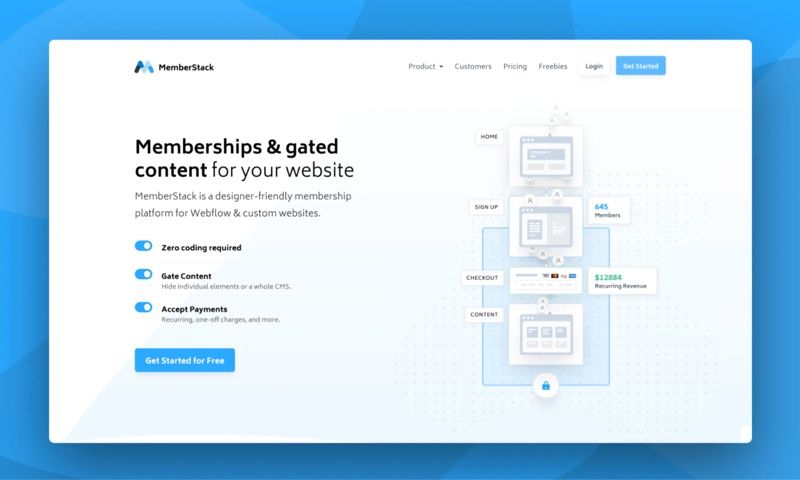 Did I mention they also get tremendous reviews from their raving fans?
Thanks to its design root, Memberstack get lots of advocates from the design and no-code community.
But don't let the pretty design fool you, their membership features are nothing to sneeze at. One of MemberStack's best features is the ability to customize every page element for different membership plans.
Which means you get 100% control over design & branding, even if you don't know how to code. You'll be less dependent on a developer PLUS you get to build all the marketing automations you want.
MemberStack offers extensive integrations with Zapier and integromat, and for those more technically inclined, you can even set up a custom webhook.
As Duncan, the co-founder of MemberStack, says:
Memberstack is especially useful for:
Creators who want design control of their sites.
Makers who want to get their product to market quickly.
Marketers who want to create personalized user experiences.
MemberStack offers unlimited free trial — so you don't worry about paying until you're ready to go live.
Related articles: