Kartra claims to be the all-one-one platform to help you launch an online course business and membership site.
If you just take a peek at the list of features on their home page, you know they mean business.
Essentially you can think of Kartra as a bundle of tools rolled into one:
Membership course platform
Website and page builder
Email marketing platform
Sales funnel and lead generation tool
Helpdesk
Affiliate management platform
Video hosting
Calendar
That's pretty impressive if you ask me. And they offer all these tools at a competitive price.
If you're short un budget, here's a complete tutorial on how to set up and sell courses for free.
To save you some time, here's the table of content. Feel free to skip ahead.
Kartra Online Course Website Examples
Here's a list of successful online course membership websites built on top of Kartra.
Max Shank — Max teaches simple strategies to maximize your life through movement.
Math Celebrity — Teaches students how to learn math easily.
The Ultimate Spine — Online course on how to take care and strengthen your spine.
Bite Size Languages — Language courses to level up listening and pronunciation skills.
Ecommerce Empire Builders — Teaches you how to design, build, and grow a profitable eCommerce business.
Iluminado — Portuguese online course that teaches how to start a
digital business from scratch.
6 powerful Kartra features to build a kickass online course business
1. Course builder
The Kartra course builder offers a good balance between customizability and ease of use.
On the one hand, you can click and drag a bunch of different components into your page — headlines, text blocks, videos, bullet points, audio podcasts, links, and resources, etc. You can visually build your membership site and craft your post articles to whatever you want!
You can also customize your logo, brand color, and site structure to make your membership site unique.

On the other hand, all content is built on top of a fixed template. And these templates are mobile responsive, designed to fit any device screens.
You can get creative with all the content placement, and you can be sure there's a baseline aesthetics for your membership site, and it is guaranteed to work.
What's helpful about these templates is that header, navigation, sidebar, and main post are separated. This compartmentalization helps reduce complexity and prevents you from getting overwhelmed with all the design choices.
For example, when you drag a featured post component, you're only allowed to add it into the sidebar since that's where featured posts are usually found.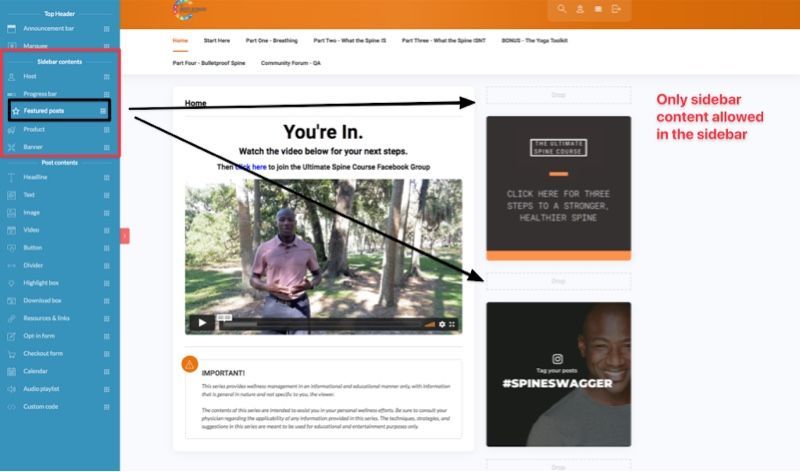 There's a bunch of nifty features that help with the overall user experience too:
Search — Your members will be able to quickly search for some specific content through the entire membership portal.
Sitemap — A quick overview of the whole membership portal map for quick navigation and access.
Comments — Enable comments and comment moderation to help students get the most of the course.
Membership access levels — Grant access to the content a user has paid for while also allow users to discover other premium content you have to offer.
Drip content — Control the timing for which each content is released to prevent people from consuming all your content in one go and refund.
Progress bar — For users to track how far along they are in the course.
And so much more.
2. Members management
In the Kartra member management dashboard, you can see, filter, and manage all your users from within one centralized console.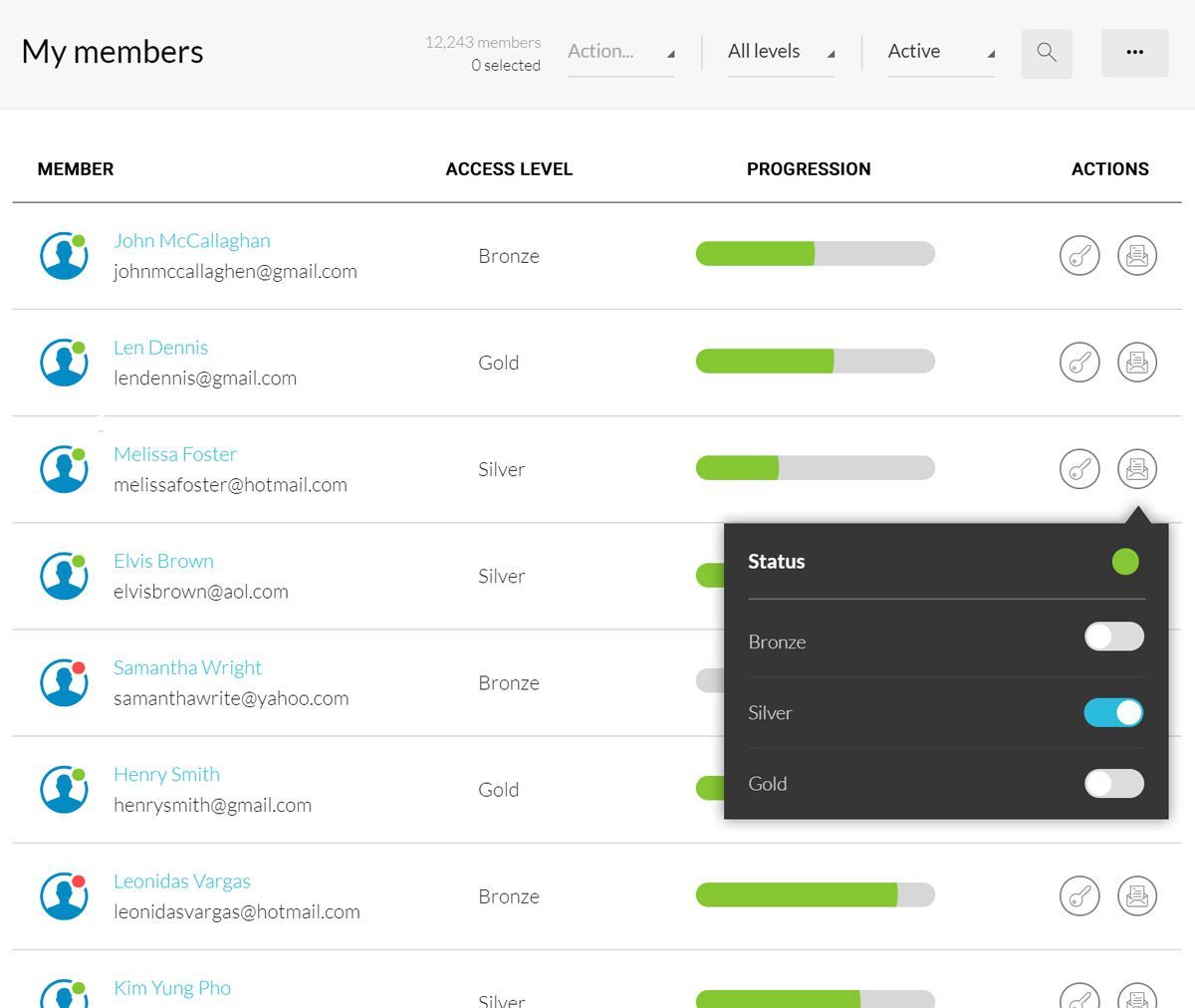 If you need more control, you can also manually grant and or revoke access for a particular user. For example, if you want to upgrade a specific user or block a problematic member, you can full manual control to do that.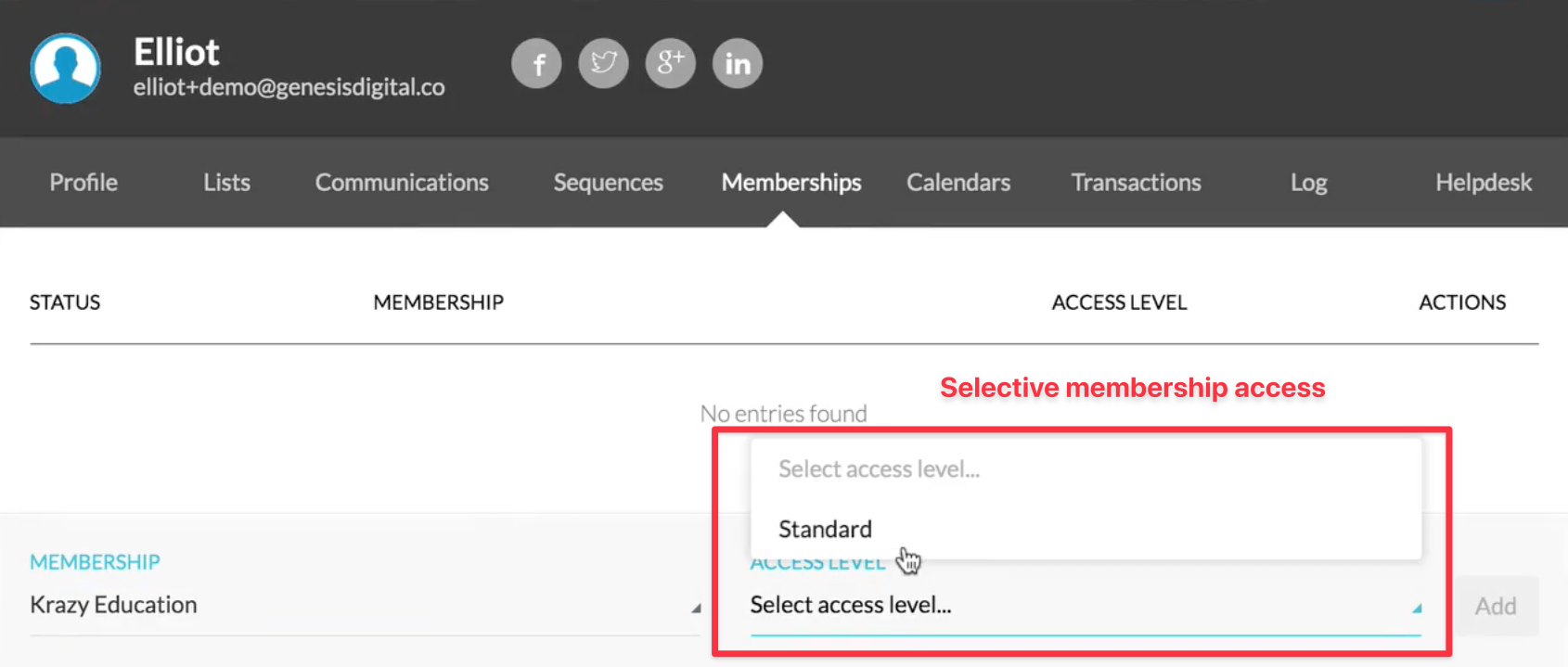 Also, just for your information. Kartra knows when a user has canceled (or even refunded) a paid subscription and will automatically revoke the membership access.
3. Get insights into members behavior.
Kartra logs every single step members take and composes a timeline with all their actions.
You'll a bird's eye view of how members interact with your membership site after they signed up.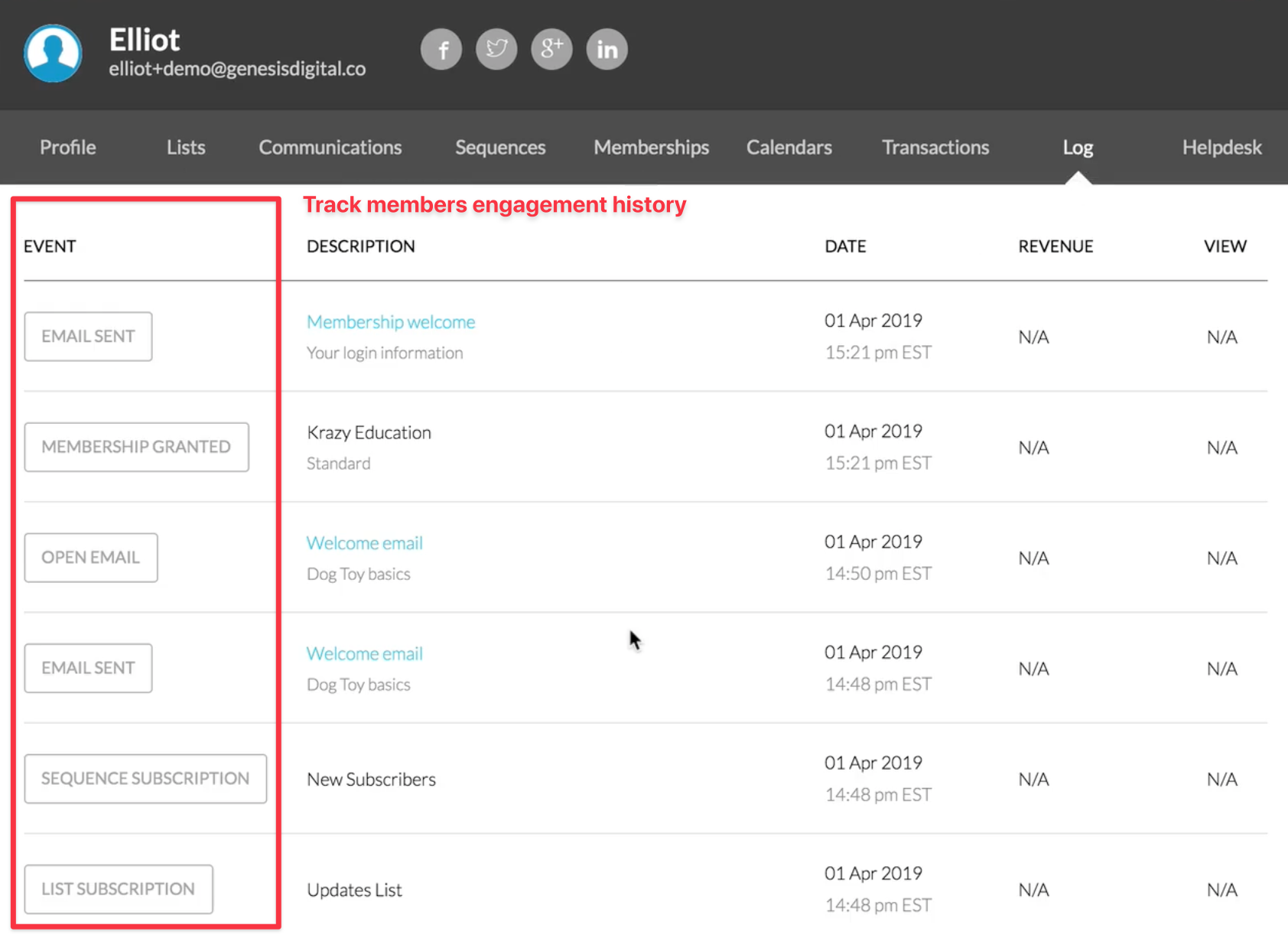 This is particularly helpful for your onboarding, sales funnel, and promotional campaign. You'll learn how they click into your landing page, when they exit, which link they click, and the journey leading up to the checkout and purchase.
You can also validate whether your sales funnel is performing as expected. Did the user follow up sequence? Did they jump ahead? Did you lose engagement at any part of the flow? Spot any breaking points early and address them to bring your users back on track.
Should your users run into any problem, you or your support team can backtrack your user's steps and help resolve the issue more effectively.
Lastly, you'll get tremendous insights into the type of content that resonates with your user. Use this intel and customize content for your lead which helps bring in more revenue.
4. Provide stellar support
The more ways customers can reach you, the more assurance you'll give them, which means happier and more satisfied customers.
Kartra offers several ways for customers to reach you — Live chat, support tickets (email), phone, and Skype. All these communication channels are built into the platform, and you can manage all these conversions in one dashboard.
Kartra support ticketing system features:
Organize tickets by departments (e.g., technical support, billing, sales, etc.)
Multi-agent collaboration. Pass private message or ticket to another agent or department.
Canned responses.
Access customers' profiles, transaction history, and billing actions right from the helpdesk ticket.
Kartra live chat features:
Allow customers to create a ticket when you're offline
Invite another agent into the live chat in real time.
Download the chat logs for your record, compliance, or training needs.
Wiki Page
What's better than your support team solving issues for customers? The customers solve their problems themselves!
Take all your most common questions that you get from customers and create a Wiki page for it so you can offload some of the burdens from your support team.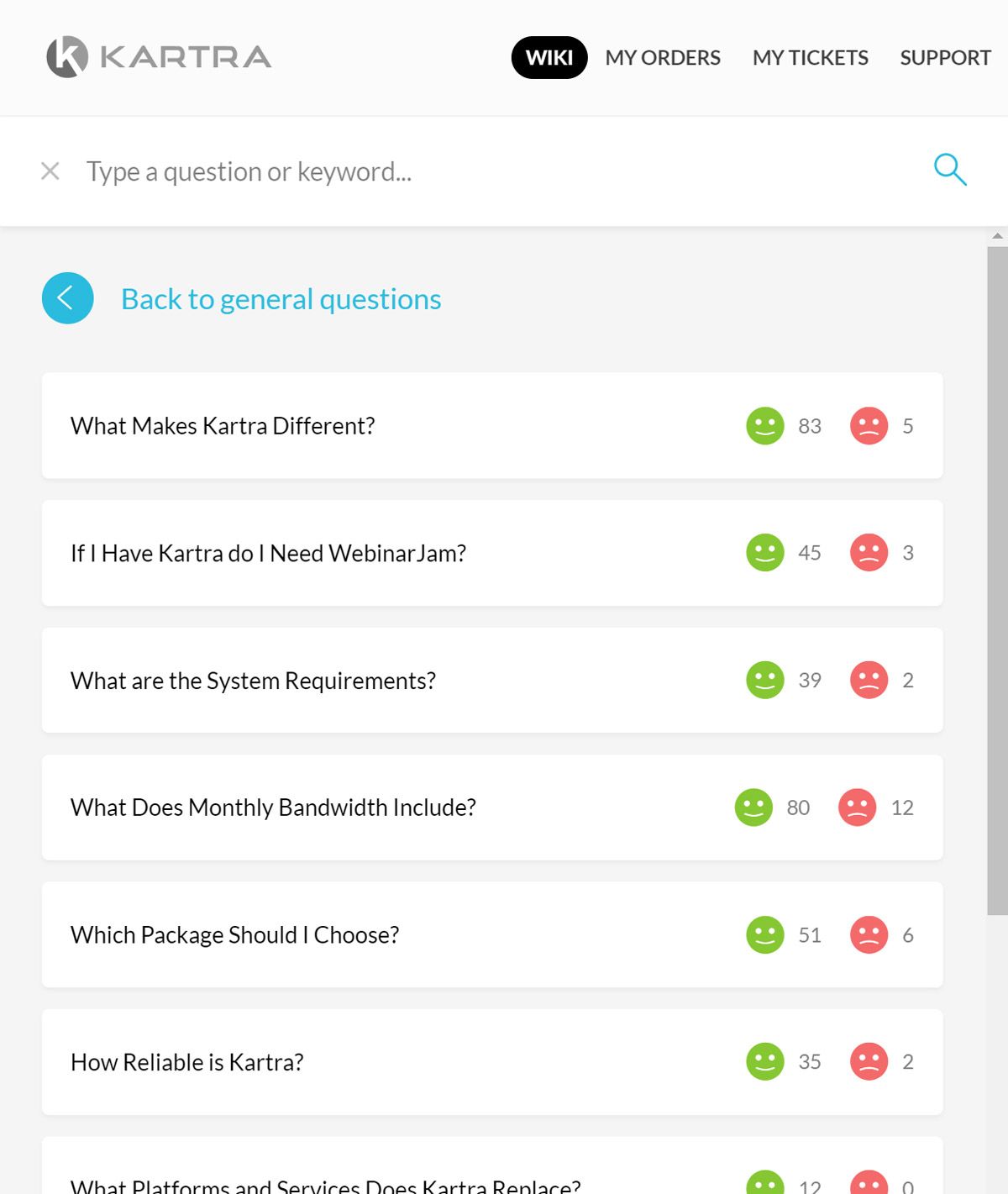 5. Lead generation
Lead generation starts with landing pages and signup forms. On Kartra, you have plenty of options for both.
First of all, you always have the option to create a landing page from scratch. Kartra's drag and drop page builder is incredibly flexible. There are over a dozen page elements to choose from, so you have a lot of creative freedom to build your page.

Alternatively, you can save time by dragging pre-built page sections or even use the entire landing page template (over 100 templates to choose from).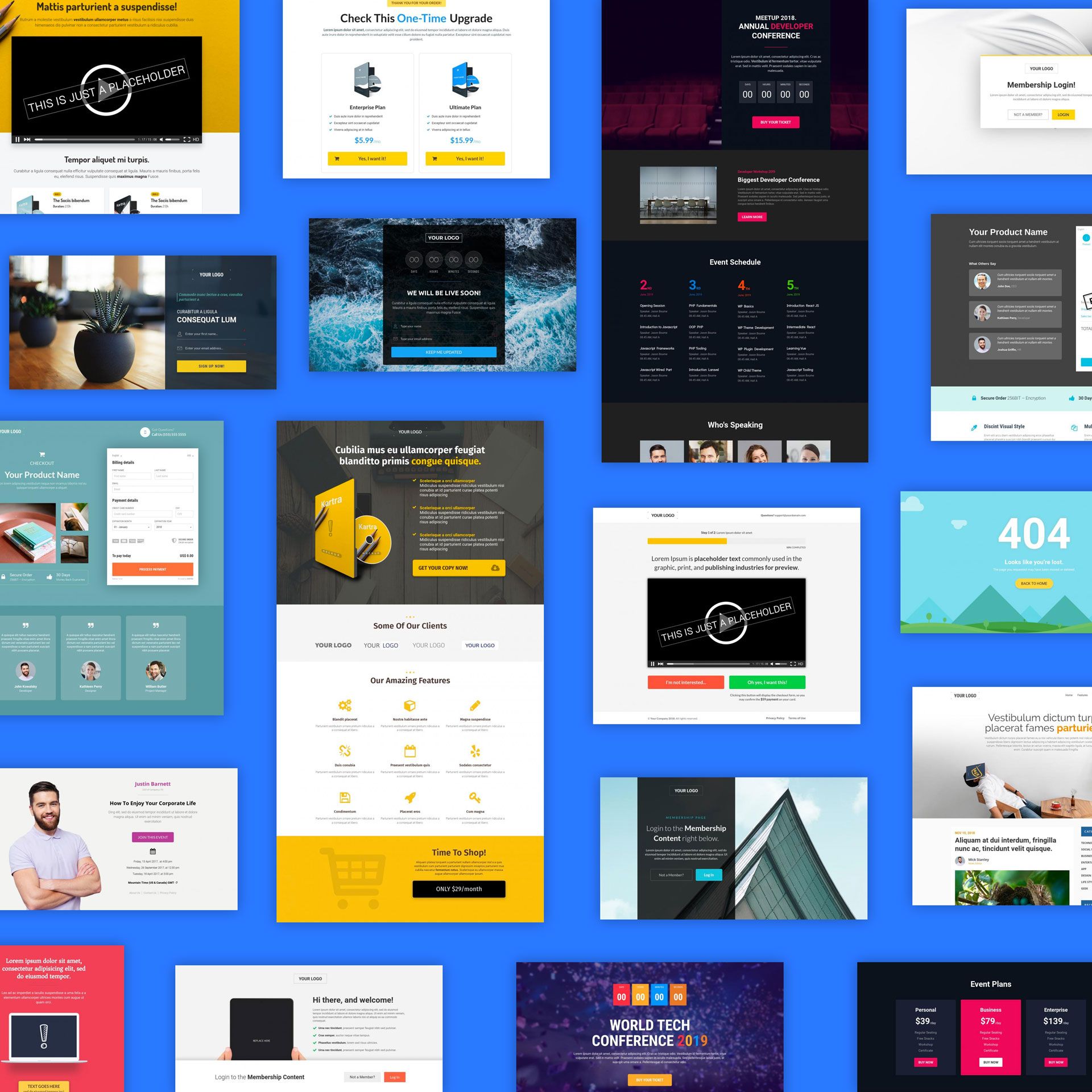 Other notable features to supercharge your landing page and lead generation efforts
A/B Split Testing — Design up to 4 versions of the landing page to test against each other and find the highest converting page.
Dynamic count down timer — Add scarcity element to your page to increase signup rate.
Custom page content for mobile devices — Go beyond mobile responsive by customizing the content users see in mobile devices to create a mobile-optimized page.
Optin form in video — Embed your form in a video. You can set the call to action to show up at a certain time or the end of the video.
Customizable pop-ups — Show a pop-up message at any point of the customer journey — The moment they visit the landing page, when they're about to exit, or even a button for them to click for more info.
6. Sales optimization
Kartra offers a variety of ways to customize the purchase experience for your customers, and in the process, increase revenue and bottom line for your business.
Flexible membership pricing
Let's start with membership pricing. Kartra gives you the flexibility to set up your membership with just about any pricing structure:
Single, one-time payment.
Recurring payments for every month, two months, quarter, or year.
Installment payments, with as many installments as you like.
Recurrent Installments — several monthly or bi-monthly payments that are made each year or every two years.
Initial pricing, so you can have an introductory price or trial before payments increase to the full amount.
Multiple price points for any product — So you can segment your customer's list based on the price they paid for.
Plenty of checkout pages available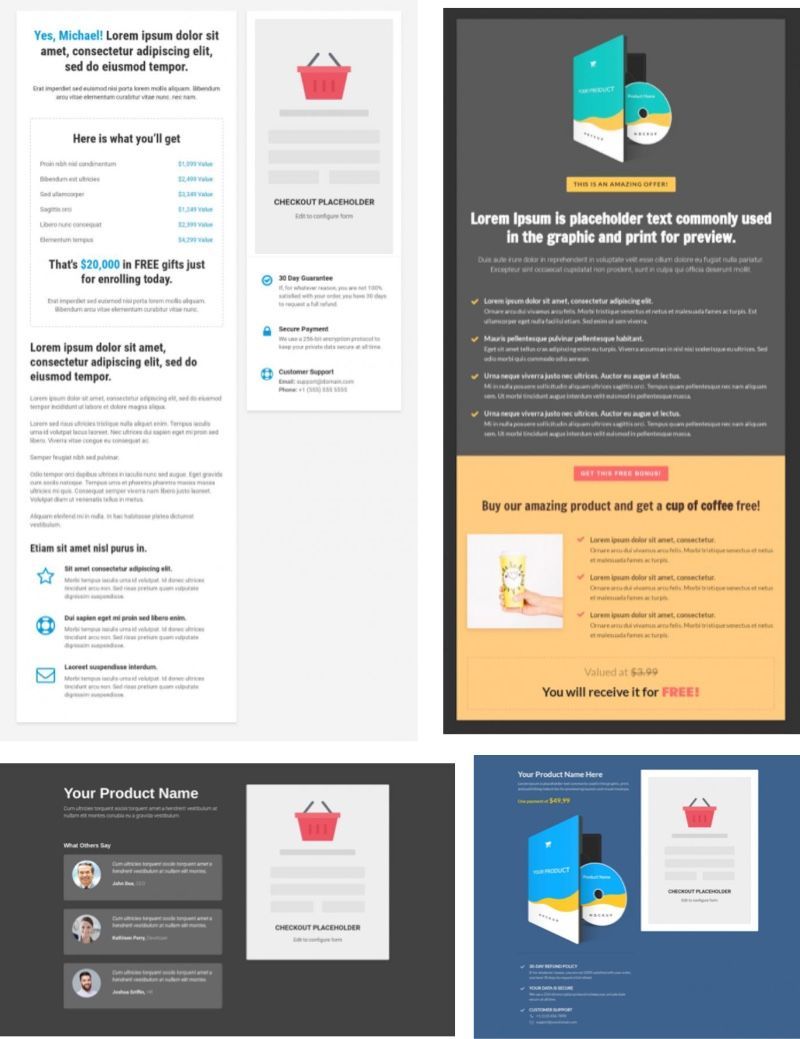 Once you've decided on the pricing structure, building the checkout page for it is pretty simple. You have the option to build the checkout page from scratch using Kartra's drag and drop builder, or you can use one of the 40+ pre-built checkout pages available.
Express checkout
You also have control over how your customers experience the checkout flow, either one-step or multi-step checkout.
This may seem trivial. But did you know one-step checkout has the potential to increase your conversion rate by 21%!? Simply because there's less friction to completing the checkout form.
Of course, you have to A/B test yourself, which is a feature that Kartra offers.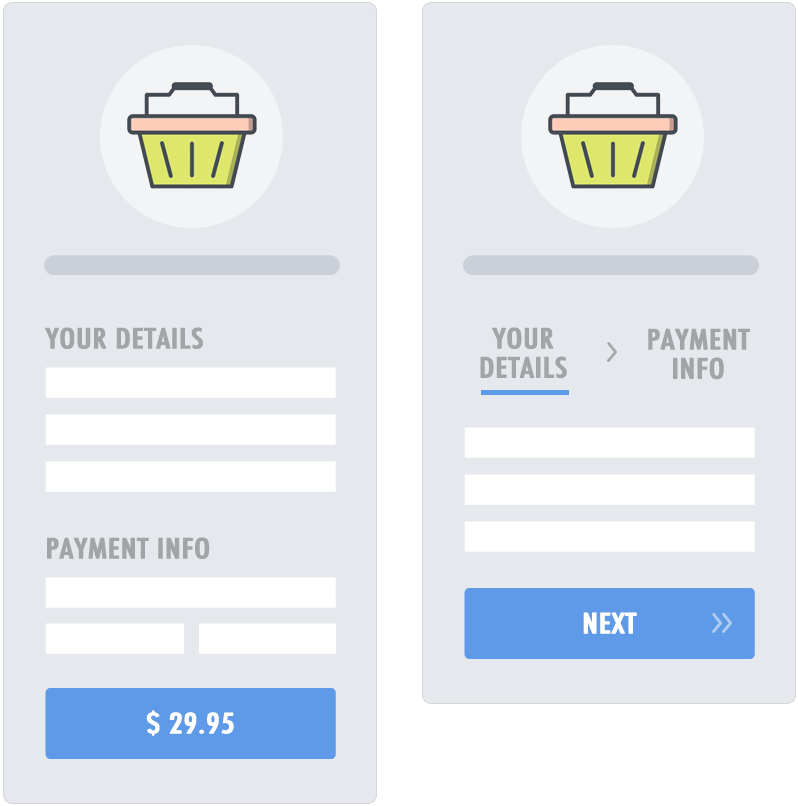 To simplify the checkout experience even more, Kartra remembers previous users and customers, so the next time they visit your checkout page, everything will be pre-filled and ready for them to complete the checkout in one click.
Cart abandonment
In the unfortunate event that your customer didn't complete the checkout, you can set up an auto-tagging system for those who saw your checkout but didn't complete the purchase.
That way, you can send automated reminder emails to recover some of the lost sales.
Upsells
On the flip side, if you've successfully scored the first sale from your customer, you can maximize the revenue-per-customer by adding upsells, downsells, or any last minute "add on" offers.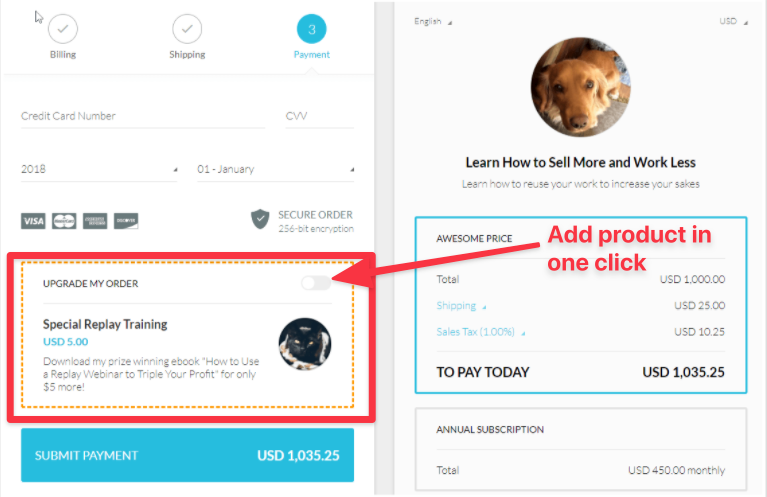 Kartra's product bump feature allows you to display supplementary products at the last stage of the checkout. Essentially, customers can add the upsell to their final order with a single click.
Coupon
Promo coupons are excellent for convincing customers who are on the fence. Luckily, it's easy to set up in Kartra and it's flexible.
Here are several ways to customize your coupon:
Set the custom coupon code
Add a percentage or fixed amount for the discount.
Specify which product which the coupon is for.
Set the coupon for different types of payment (e.g., coupon only for one time payment or recurrent payment)
Set the coupon to expire based on date or after a certain number of sales.
Set the coupon for specific customers or affiliates.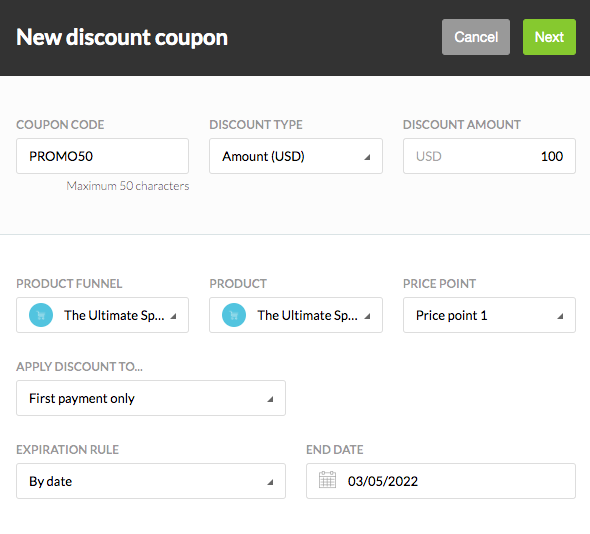 Set up an affiliate program for your membership
Nothing grows your revenue like a network of affiliates spreading the good word and Kartra's built-in affiliate management system gives you all kinds of options for incentivizing, paying, and communicating with your affiliates.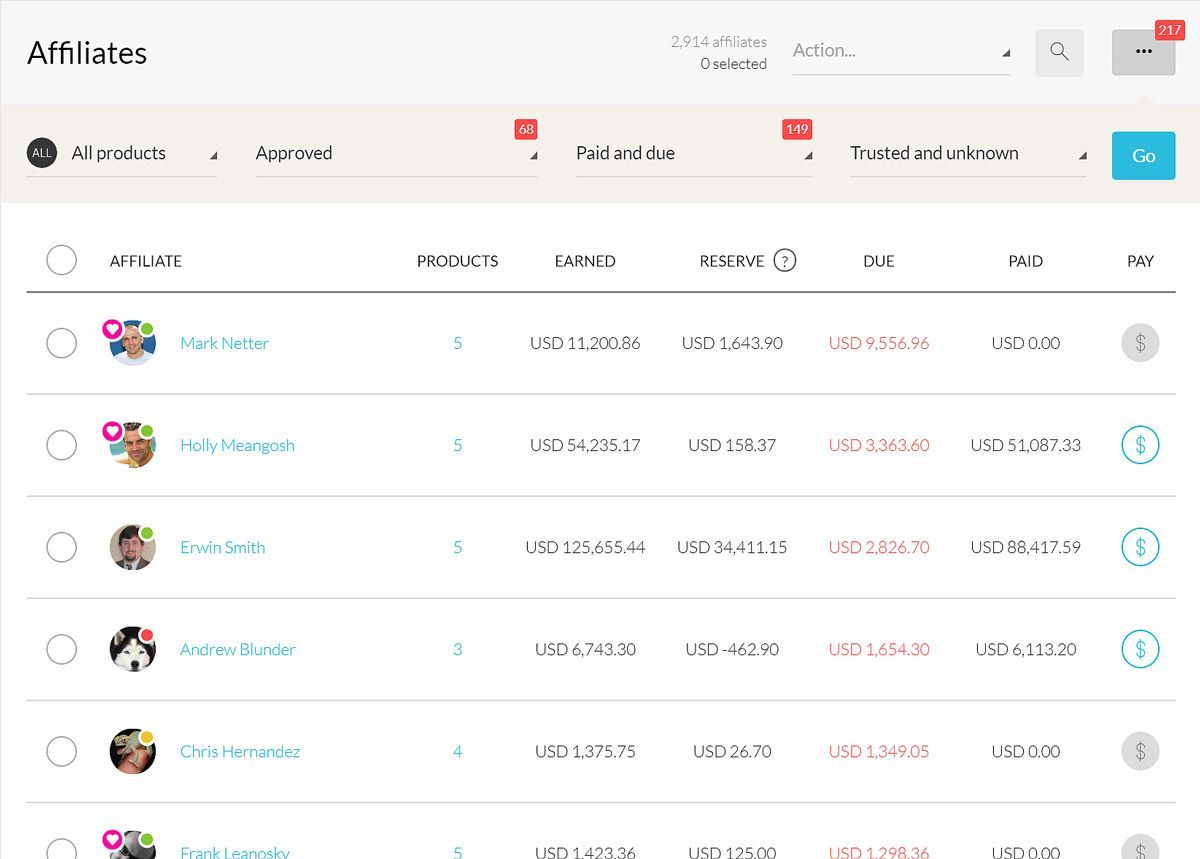 Here are some of its best features:
Set flexible commissions for each product and affiliate, based on either based on fixed dollar value.
Grant affiliate commission when they generate a sale or a lead for your business.
Control how and when affiliates get paid. Set minimum amount of sales to release commission.
Manually review or approve every single affiliate who signs up.
Pay affiliates via Paypal.
Build custom landing pages for your affiliates.
Custom mailing list for affiliates.
Set multiple affiliate commission tiers (e.g., Top affiliate earns a custom percentage of the sale)
Automated, Sales-Driving Funnels

A well designed sales funnel can drive revenue for your business 24/7 on autopilot.
How does it work?
First by adding tags to the users.
If someone signs up on your landing page, tag them as a lead.
If someone purchases your membership, tag them as a customer.
Once you've tagged these people, it's easy to automate emails based on their behaviors.
When someone signs up, send them a welcome email.
When someone watches one of your free videos, send them a discount offer.
When someone leaves the checkout page without buying, send them a cart abandonment email.
etc
In Kartra, you can build this automation visually in their sequence builder.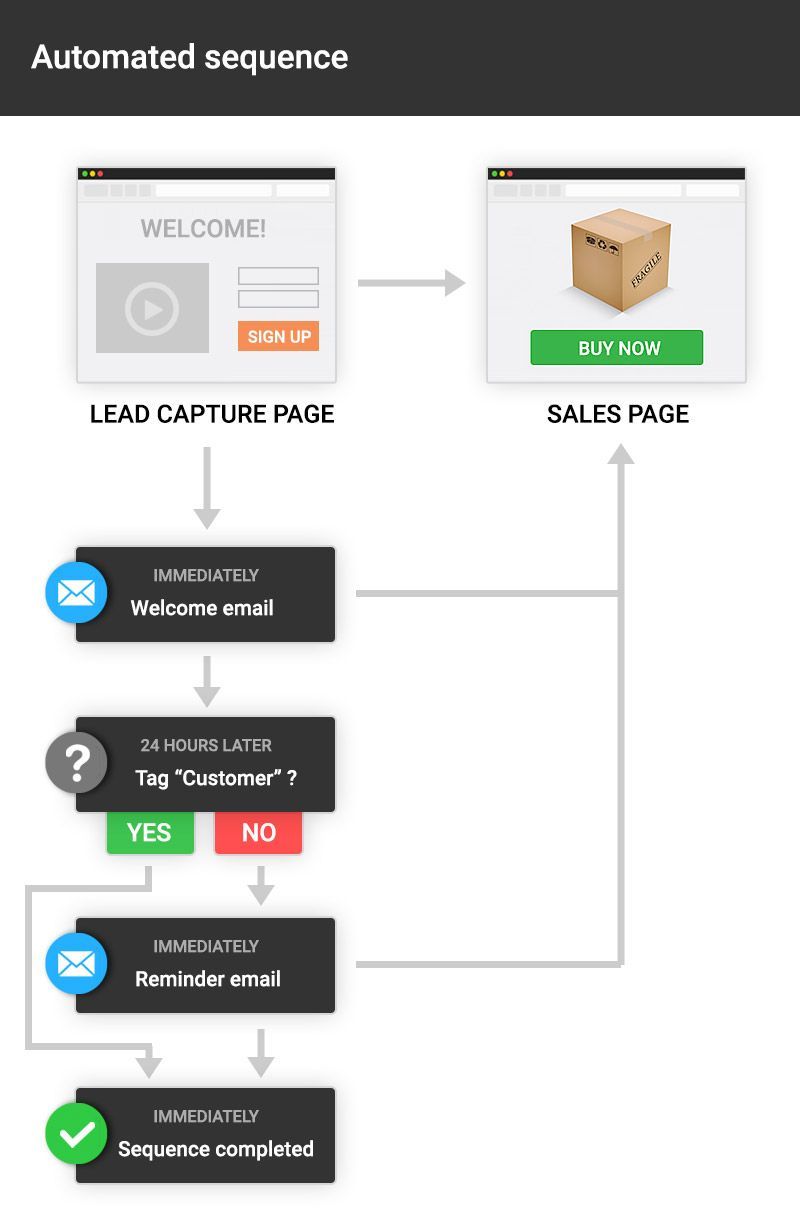 Using pre-built marketing funnels
Building a funnel from scratch can be a lot of work. There's copy to write, pages to design, emails to send, automation to configure. In short, it can take quite a bit of time, and not everyone has the time or patience.
Luckily, Kartra has a library of pre-built sales funnel and marketing campaigns that you can readily import into your project.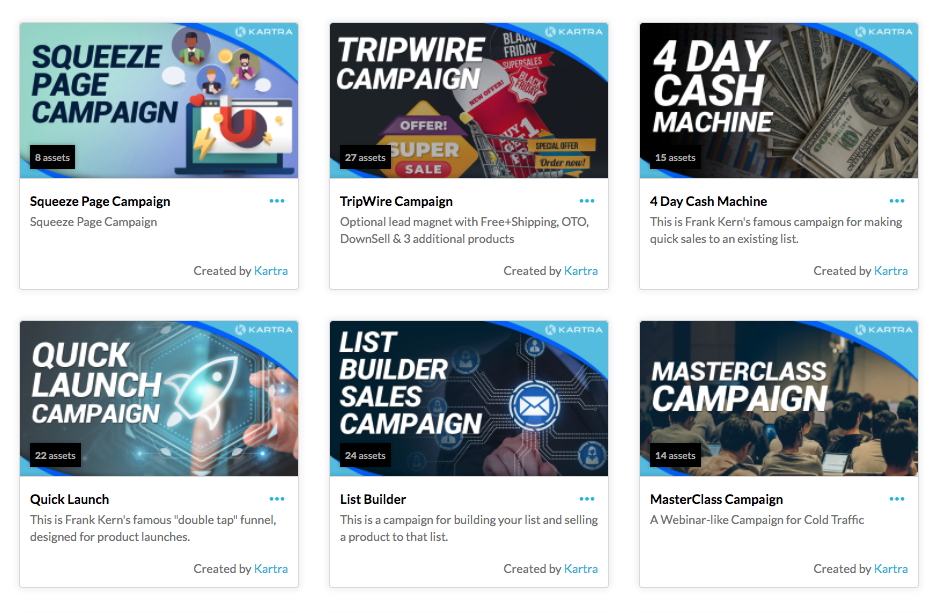 What's great about these pre-built campaigns is that all the components required — pages, tags, email sequences, automation settings, forms, tracking, etc. — are all set up for you. So all you have to do is customize them to your product.
Kartra comes with all the typical membership site features: sign up & login form, password handling, upgrade & refunds, etc. On top of that, your customers have access to all the memberships they sign up for in one dashboard.
Also read: Squarespace membership vs Memberstack vs Memberful
Kartra Pricing
Kartra offers 4 plans.
Starter — $99/month or $79/month for the yearly plan. You get to sell 20 products, collect 2500 leads, and send 15,000 emails per month.
Silver — $199/month or $149/month for the yearly plan. You get to sell unlimited products, collect 12,500 leads, and send unlimited emails per month.
Gold — $299/month or $229/month for the yearly plan. You get to sell unlimited products, collect 25,000 leads, and send unlimited emails per month.
Platinum — $499/month or $379/month for the yearly plan. You get to sell unlimited products, collect 50,000 leads, and send unlimited emails per month.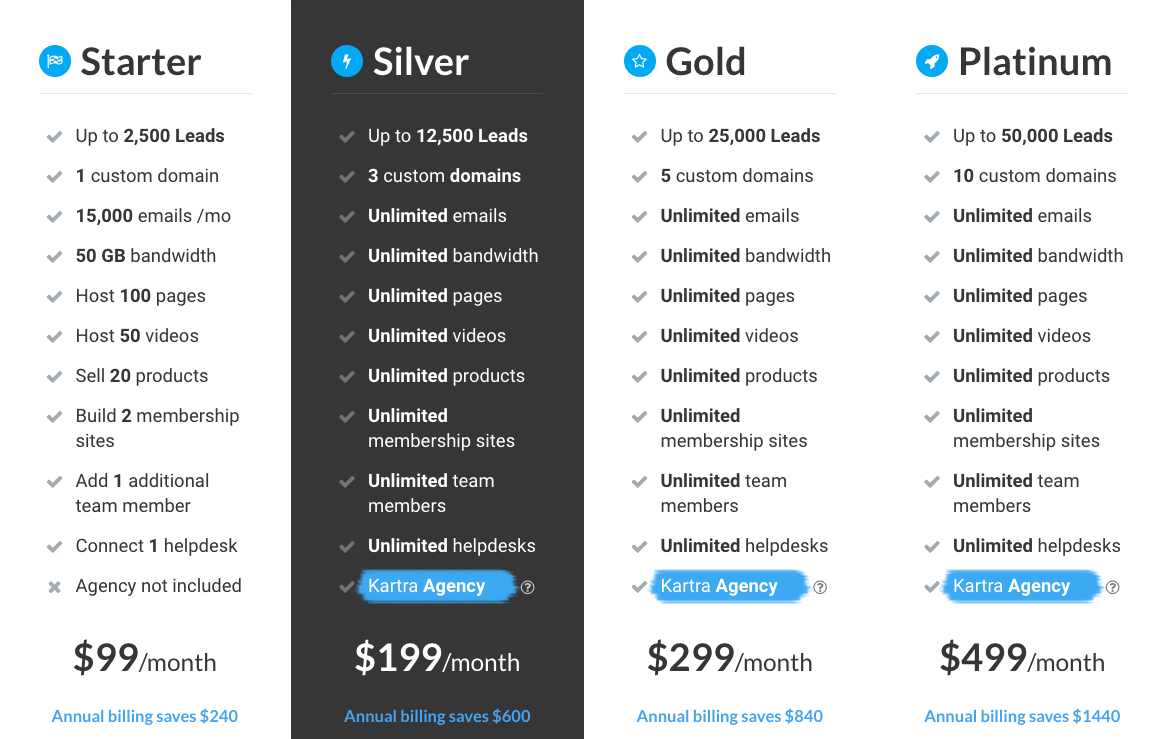 Here's how you should evaluate whether Kartra is worth it.
Essentially, Kartra is a lot of marketing tools rolled into one, and it replaces a lot of these tools that you'd have to pay for otherwise:
Membership course platform (Average cost: $20/month)
Website and page builder (Average cost: $19/month)
Email marketing platform (Average cost: $25/month)
Helpdesk (Average cost: $20/month)
Affiliate management platform  (Average cost: $30/month)
Video hosting platform (Average cost: $10/month)
Calendar (Average cost: $10/month)
You can see how all these costs add up.
If you don't need all these tools, there are cheaper membership platform alternatives such as Podia and Teachable.
But if your goal is to maximize the revenue for your course and membership business, Kartra has all the integrated tools to help you achieve that.
How to create a Kartra course membership in 8 simple steps
Step 1 - Add basic info for your membership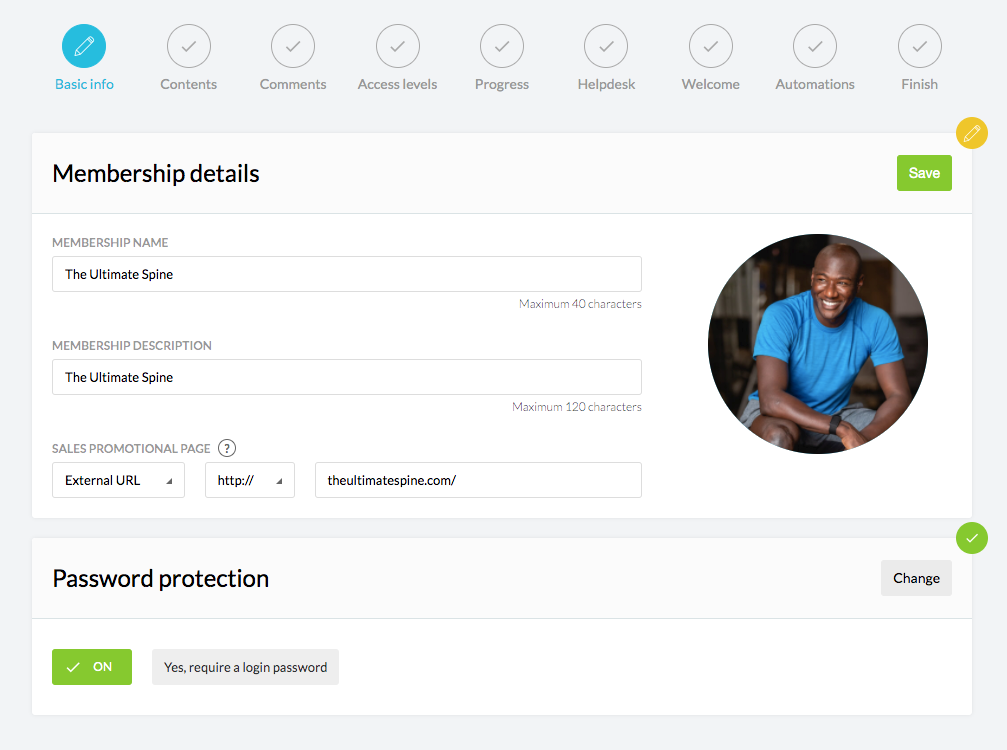 The basic info section for your membership is pretty straightforward. Just give it a name, description and add the URL for the sales promotional page.
The sales page is where you pitch, promote, or encourage your users to join this membership program.
Optionally, you can also set if your membership page is password protected. If checked, Kartra will automatically generate login credentials for each registered user. This is the way to go if you charge for your membership.
Step 2 - Add course content

This is where the bulk of the work is. Here you will configure a full-fledged membership portal with all its common elements: navigation menus, sidebar links, post contents, etc.
Everything is based on an intuitive click-and-drag interface so you can visualize your membership portal right as you build it.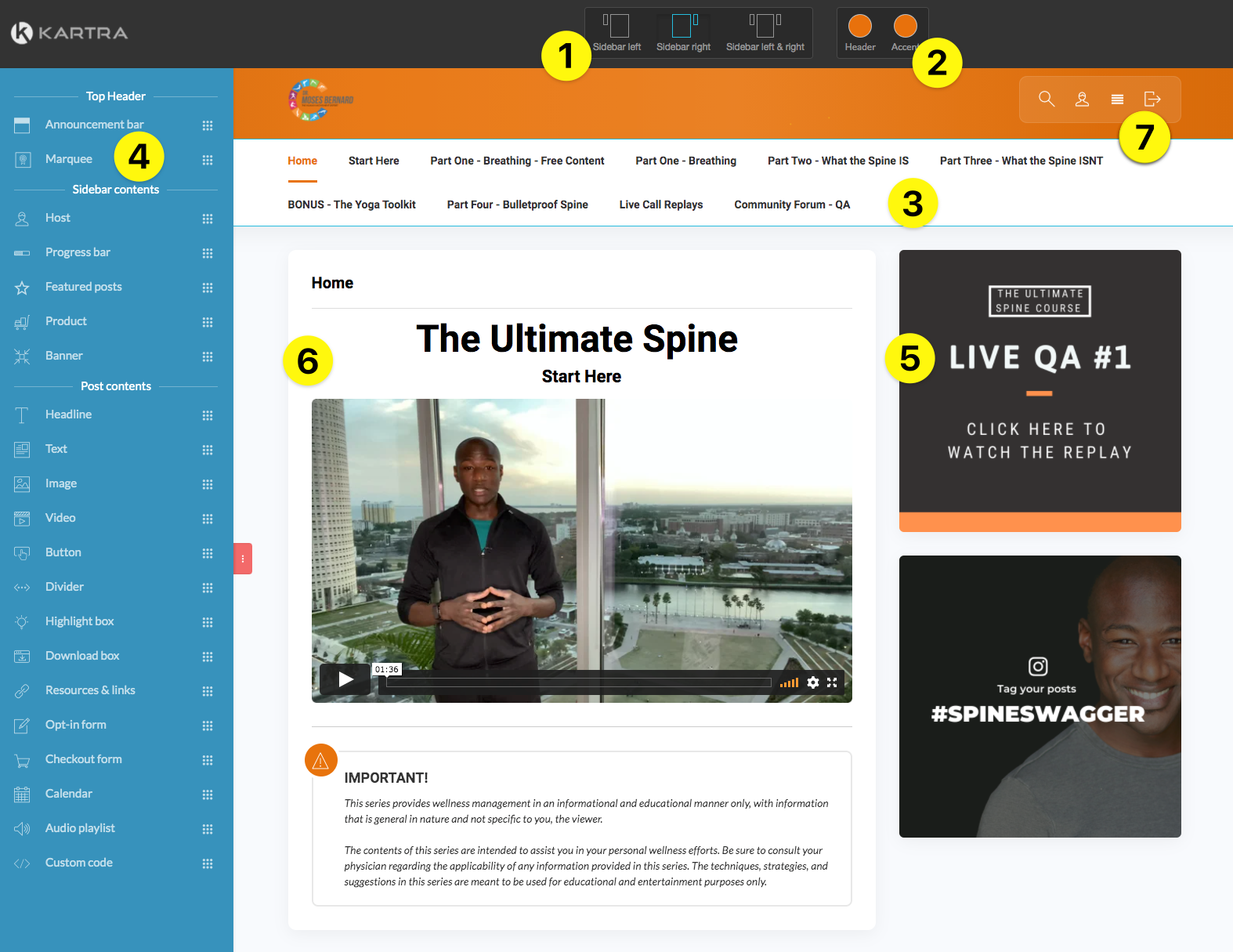 Select the page layout you prefer — You can have the sidebar either on the left, right, or on both sides.
Logo & topbar color — Personalize the membership branding by uploading your logo and color palette.
Navigation menu —Create as many new pages and subpages as you like for your members. You can then click into each page and edit the post content accordingly.
Top header content — Add announcement bar or an image banner across the top area of the page.
Sidebar content — Important content (author profile, featured post, new product, etc.) you want to highlight in the sidebar.
Main post content — Click and drag a bunch of different components into your posts: Headlines, text blocks, videos, bullet points, audio podcasts, links, and resources, etc. You can craft your membership content to whatever you want.
Preset features for members (Search, Sitemap, Profile) — Your members will be able to search for specific content through the entire membership site quickly. They can also use the sitemap to get a quick overview of the whole membership portal. And lastly, they can edit membership details such as their password, profile picture, etc.
Once you've created the course content, you have the options to enable comments for any or all of the pages you've made.
You can either auto-approve all comments, or, if you rather moderate the comments yourself, you can have all comments reviewed by an admin before they're posted.
Step 4 - Manage membership access levels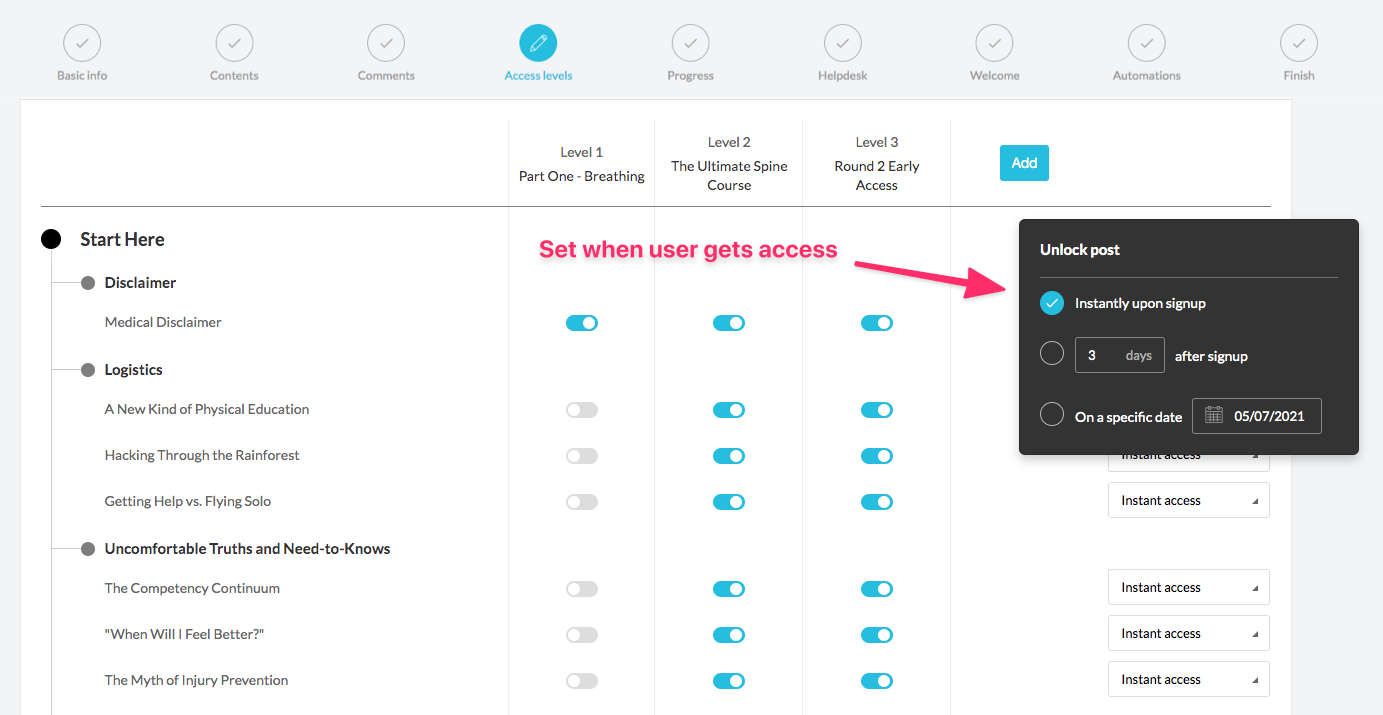 Here you configure different membership tiers to give your users access to different predefined sets of content.
You can also set a schedule to release your content over time, and Kartra will sequentially drip it to your customers.
Step 5 - Members progression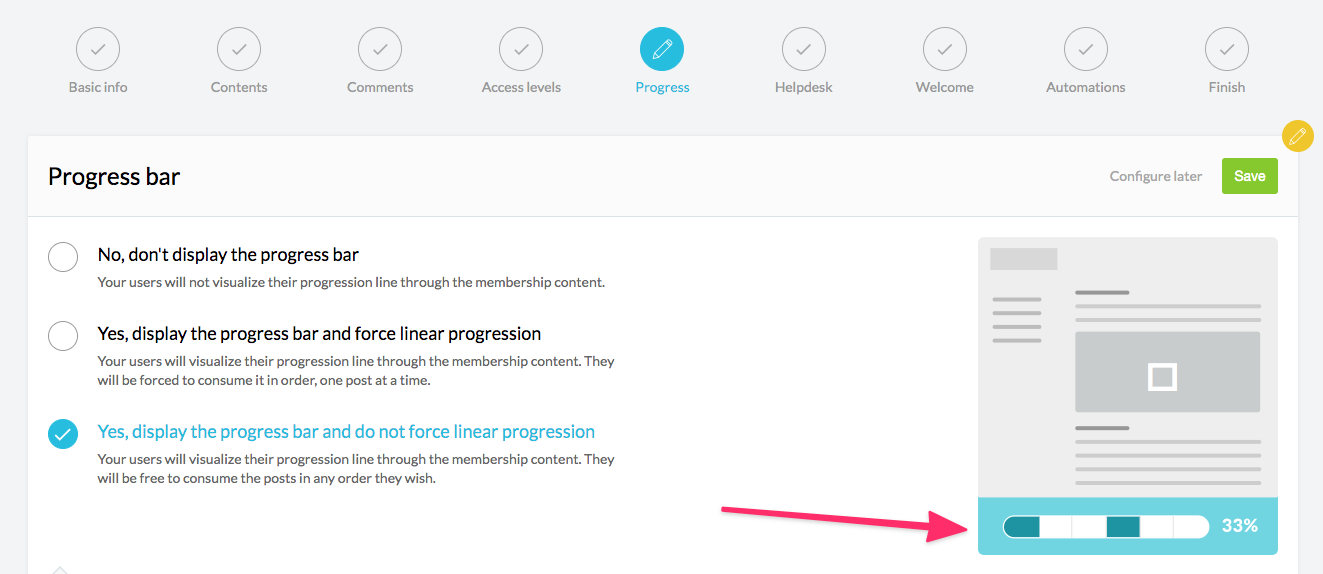 Next, you can display your user's progress as they go through your membership site.
Progress bars are a powerful way for users to visually see what they've completed and how much of the course is left.
There are currently 3 settings available:
Don't display the progress bar.
Show the progress bar and force the user to consume the content in order.
Show the progress bar, but DO NOT force the user to consume the content in order. They are free to skip ahead.
Step 6 - Activate customer support

If you have the capacity or personnel, activating the customer support or helpdesk option will significantly improve your member's experience overall.
Once activated, your membership site will display a "Contact support" icon in the top header of the page.
That icon can point the user to your Kartra helpdesk (which you need to configure beforehand), or it can simply redirect the user to an external URL or email.
Step 7 - Add a welcome message for new members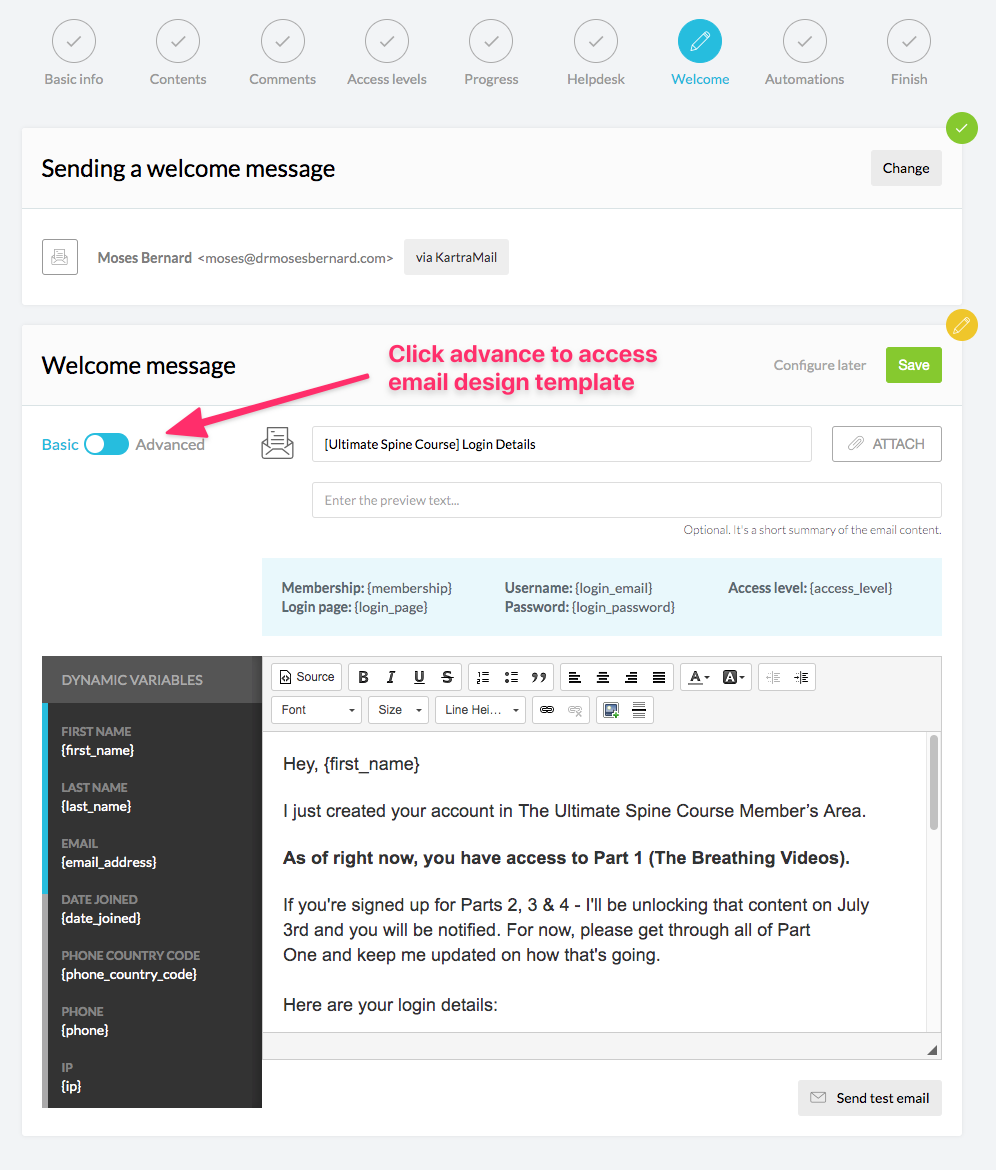 Who doesn't like to be welcomed to a new membership site? As the adage goes, first impression counts, and this is where you'll set the tone for the rest of the course.
Adding a welcome email is just like writing an email on any email platform.
You get an editor, and you have access to dynamic variables such as first name, last name, etc., which allows you to address the user by their name.
You also have the advance option to send the welcome email in a design template to jazz it up, so to speak.
Step 8 - Automation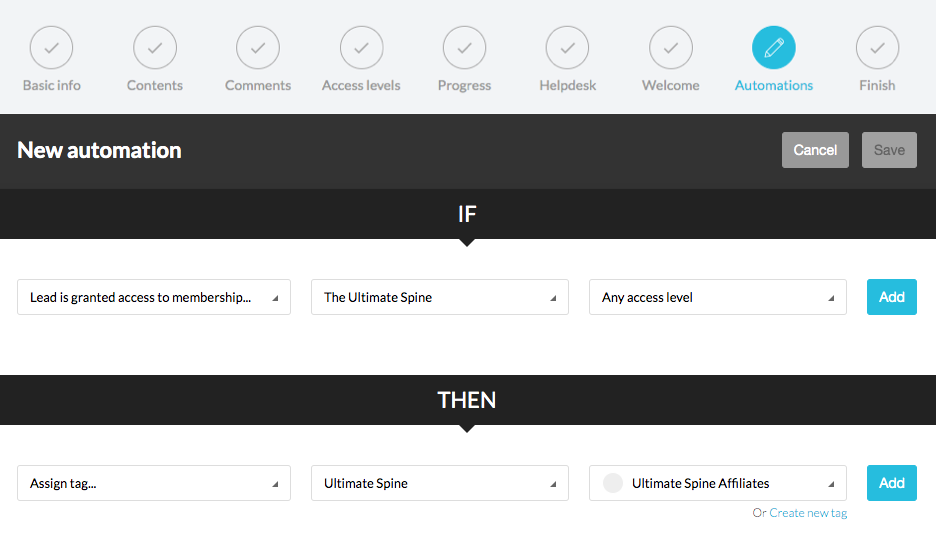 Automation is one of Kartra's most powerful tools for membership. Using this, you can create custom but immediate response to users' behavior, set up follow-up sequences, funnels, and campaigns to personalize their journey.
You can set this automation using the IF, THEN rule statements. So IF a user took action, THEN the Kartra system will respond in some way.
For example, if a user joins your membership, then tag them as a customer and offer them the opportunity to become your affiliate.
There are tons of options to set up automation; you can check out Kartra's documentation to learn more.
And you're done!

Kartra alternatives for online course membership
Let's be clear. Kartra isn't the only platform that can help you sell online course membership. There are plenty of good alternatives like Kajabi, Teachable, Podia, and Thinkific, just to name a few.
Here I'll summarize the key differences between each platform so you can make an informed decision.
Kartra vs. Kajabi
Kajabi is the closest Kartra alternatives in terms of features. Both allow you to create full fledge online course platform with subscriptions, email automation, page builder, analytics, affiliates, and more.
Key differences between Kartra and Kajabi:
Kartra allows you to use ALL its features even on the cheapest plan, while Kajabi limits them. You need to upgrade to Kajabi's Growth plan ($199/month) vs Kartra ($99/month) to remove its branding and use its advance automation and affiliate management platform.
Overall, Kartra provides better value for money across all pricing tiers.
Kajabi has a better user interface and is easier to use, while Kartra can be overwhelming for beginners.
Kajabi has a mobile app that allows you to manage your membership on the go. Kartra doesn't have a mobile app at this point.
Kartra vs. Teachable
Teachable is an affordable online course platform for creators. Similar to Kartra, you can build a full-fledged online course and membership site with integrated email marketing, custom pages, and more.
Their key value proposition is that they can offer incredible course experiences for your members.
Key differences between Kartra and Teachable
Teachable starts at $29/month, while Kartra starts at $99/month.
Teachable charges a 5% transaction unless you upgrade, while Kartra doesn't charge any fees on all plans.
Teachable has more features that enhance the customer's learning experience (e.g., completion certs, community). In contrast, Kartra has more marketing tools (funnels, AB testing, etc.) to help sell the online course membership.
Kartra vs. Podia
Podia is a closer alternative to teachable than Kartra, mainly because they focus a lot on offering the best experience for course creators and their members.
Podia is an excellent platform to sell online courses nonetheless.
Note: Podia doesn't offer membership unless you upgrade to the middle tier plan at $79/month compared to Teachable ($29/month) and Kartra ($99).
Key differences between Kartra and Podia
Podia has a much lower entry price at $39/month vs. Kartra at $99/month
Podia offers unlimited products, messages, and file upload even on its lowest plan, while Kartra places a limit.
Kartra offers better control/customization for pages, emails, and pricing.
Kartra has better marketing and sales tools overall with funnels, AB testing, upsells, third-party integrations, etc.
Summary
All things considered. If you can afford Kartra's $99/month entry price tag, you should highly consider it. Simply because you have better marketing and sales tools at your disposal, all of which help you build a profitable online course membership business.
You can easily compare Kartra's price against Kajabi (closest competitor), and you'll find Kajabi cost almost twice as much as Kartra. In that sense, Kartra is a better value for money.
However, Kartra isn't the most user-friendly platform to use. It can be overwhelming for beginners considering there are a ton of features to get used to. Brace yourself for a significant learning curve if Kartra is your preferred choice.