Making the right choice for building an eCommerce store largely depends on a few things:
What's your average monthly sales?
How custom does your site need to be?
Do you have budget for a developer?
What kind of products are you selling?
Are there existing templates that solve 99% of your website needs?
Because BigCommerce, Shopify, and WooCommerce have their own advantages and disadvantages. You'll see that by knowing what you need you can quickly narrow down the choices between these 3.
Read on to learn more, or go to the summary.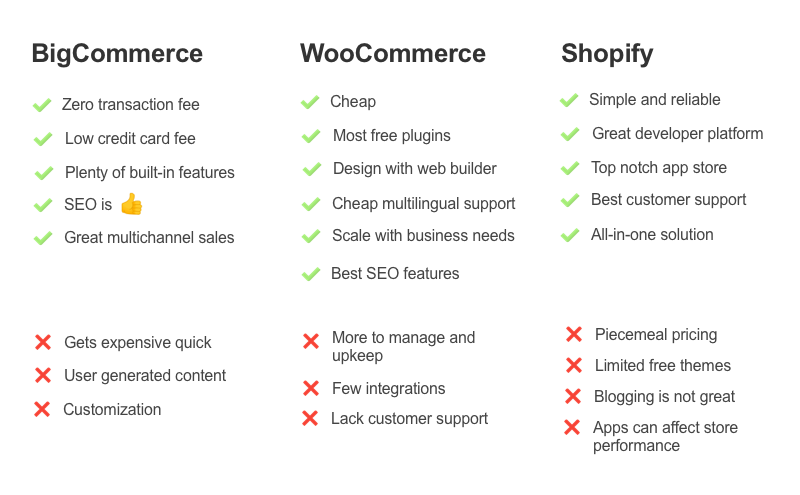 BigCommerce Advantages
1. Zero transaction fee
eCommerce platforms usually charge transaction fees to cover the cost of processing sales. BigCommerce, however, charges ZERO transaction no matter which payment solutions (eg. Paypal, Stripe, Apple pay, Authorize.net, Square, Amazon Pay, etc) you use, and regardless of the countries you're from.
So putting numbers in perspective, how much do you save with BigCommerce zero transaction fee?
If you make $10,000 in online sales, you'd have to pay Shopify $200 (2%, assuming you're on Shopify's basic plan) in transaction fees. And you pay nothing nothing to BigCommerce.

Granted, Shopify does have Shopify Payments, which charge zero transaction fee as well, but it's limited to select countries. Not only that, some types of businesses and services are not allowed to use Shopify payments as well.
For example, in the U.S you can't use Shopify payments to sell events ticket (festivals, theme park tickets, and etc), amongst many others.
In contrast, BigCommerce offers zero transaction fees no matter the type of business or where your business is located.
2. Low credit card fee
Not to be confused with transaction fee, which eCommerce platform charges for processing your orders, credit card fees are collected by banks in which ALL merchants in the world have to pay.
If you want to accept payments through Paypal, then BigCommerce has negotiated a pretty good deal for you.

You get as low as 2.2% + $0.30 (on the pro plan) for each transaction on Paypal.
Note: These fees are for each transaction (not per item sold).
3. BigCommerce has lots of built-in features you don't need to pay for
BigCommerce has a lot figured out for store owners. They do have an app store, though not as big as Shopify, but the upside is a lot of the essential eCommerce features are baked right into the platform so you don't have to worry about paying more.
Here's a sample list of features that BigCommerce have built-in that you'd otherwise have to pay on Shopify:
Multi-language support
Customer registration account
Product recommendation
Set up recurring payments
Real-time inventory sync
Products search filters
Product comparisons
Recently viewed products for customers
Built-in product reviews
Custom fields in checkout
Automating sales tax and shipping rates in check out
Edit products before checkout
Built-in shipping tools
In store pick-up option
That's a pretty big list. On top of that, you won't need as much support because unlike WooCommerce or Shopify, most the functionalities on BigCommerce aren't third party plugins.
4. BigCommerce is very SEO friendly
Amongst the three, WooCommerce has the best SEO features, but if we're comparing online store builder, then BigCommerce has the edge over Shopify.
One of the main differences is the url structure. BigCommerce allows fully customizable URL structure whereas Shopify has a fixed URL structure. For example, /collections, /products, or /pages that cannot be removed from the URL.
Here's an example from one of Shopify featured store: Greats.com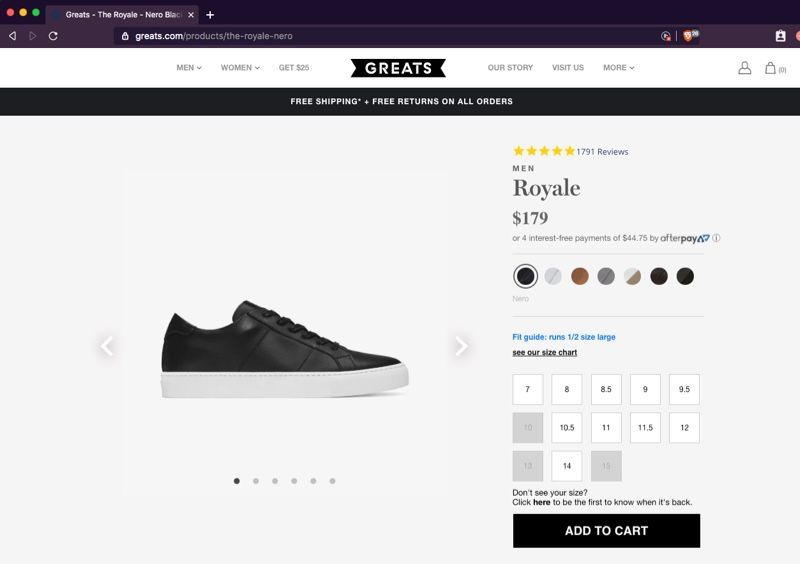 All of their Shoes pages has a URL structure of greats.com/products/product-name.
While this isn't bad, it's certainly not ideal. A well-optimized ecommerce site architecture will give clues to search engines (eg. Google) by utilizing product categories.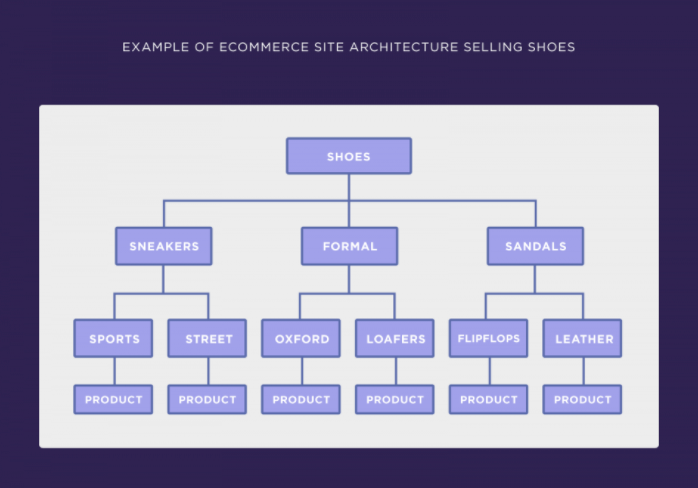 So a well-optimized might have the following URL structure: greats.com/sneakers/nike/air-jordan-ten
Not only is this great for SEO, but users will love it too. That's because a simple URL architecture makes it easy for browsers to find the products they want.
Local SEO Get Google review badges
This didn't affect much before, however some of my shops are also physical stores - so I'd really like to be able to add the google review badge, and have options capture those 5-star reviews more easily. One of the requirements is having your cart on your domain.
Also read: Best website builder for SEO
5. Multi-channel sales is a beast on BigCommerce
BigCommerce has pre-built integrations with Amazon, eBay, Facebook, Instagram, Pinterest and Google Shopping so you can sell everywhere right from a single dashboard.
If someone buys a product from your BigCommerce store then it will ship to them from an Amazon warehouse And your stock levels will automatically be updated.
The same goes for Facebook, Instagram, Pinterest, and Google Shopping.
You can even auto-sync offline sales data too, thanks to partnerships Square, ShopKeep, and Springboard Retail, you now have a POS system that automatically updates inventory. Otherwise, you'd have to manually merge sales data which is painfully slow.
So whether you sell on marketplaces, social media or in person, BigCommerce allows you to set it all up in just a few clicks (because all integrations are already pre-built), you can then manage all sales and inventory from a single dashboard. Easy peasy.
Here are a few case studies if you want to dive into the specifics of how running a multichannel sales strategy drives revenues:
Related: These email marketing platforms allow you to send automated emails for free, which is crucial for growing an email list, nurturing them, and eventually retargeting them with offers and cross-sells.
Big Commerce Disadvantages
1. It gets expensive quickly
BigCommerce is very quick on graduating you to their top $299 monthly plan if your business is on a roll.
That's because they impose a hard limit on the sales volume on your current plan. If your sales volume goes over the limit, you are automatically upgraded to the next plan and forced to pay 3-4x for negligible benefits.
Here's the limit for the individual plan:
Standard ($29.95) — Sales up to $50,000
Plus ($79.95) — Sales up to $180,000
Pro ($299.95) — Sales up to $400,000
This can be a real deal breaker for small business owners. Case in point, this solo trader small business was forced to switch because they can't pay 3x more on their current plan.
Also, it doesn't help that you need to write to their client services team or call them if you want to downgrade your current BigCommerce plan.
2. Limited user generated content features
The only user generated content you can get on BigCommerce are product review apps. Sure, that's fine for some people, but know that user generated content can make a huge difference for your store strategy. It promotes trust and can showcase how you interact with your customers, and most importantly it drives conversions.
You won't be able to add:
Product FAQ — Where people ask questions about your products before purchasing.
Chat forum — Where your customers can post content about your products.
Discussion board — Where customers request features/products from you.
The only way to do these is to custom build it yourself (or with a team). On the other hand, this is something that's easily done on a better content management system (CMS) like Wordpress/WooCommerce.
Recommended read: Wordpress vs Wix vs Weebly vs Squarespace
3. Customization is hard and painful
BigCommerce' default eCommerce is pretty good. They can handle large amount of SKUs (50,000 - 100, 000++), and it comes with plenty of built-in features: multichannel sales, POS, social media integration, one page checkout, blog, coupons, automated shipping, etc.
But customizing BigCommerce store is hard.
1) It's hard to customize themes — BigCommerce insert a bunch of code in different css files that are spread out all over the theme files. This makes it hard to search for the right file and you can end up breaking the theme file if you accidentally delete any custom code. Editing WooCommerce theme on the other hand is much, much, much simpler, every theme file is organized and named appropriately.
2) It's hard to customize mobile experience — Many BigCommerce themes doesn't have a mobile setting, i.e the UI to customize your store's mobile experience. So you can easily run into issues like product pages not showing properly on mobile, or product images doesn't resize correctly on different screen sizes. The fact that it's cumbersome to cuztomize theme file doesn't help as well.
In short, if you need a lot of customization, BigCommerce is not the best for you.
WooCommerce
WooCommerce is a WordPress plugin, that means you need a WordPress website for which you have to pay a hosting fee, install the WooCommerce plugin, and set up the store.
1. WooCommerce is much cheaper to set up than Shopify and BigCommerce
This is not even close. While Shopify and BigCommerce charges you ~$30 a month just to get a store set up, you can set up a WooCommerce store under $10 a month! Yep, you read that right.
So what's the cost breakdown for setting up a WooCommerce store?
Pretty much the same cost you'd pay to set up a regular Wordpress site.
1) You will need a domain name, which goes from $8 - $12++ a year.
2) You will also need hosting, that keeps your website/store online. Popular hosting solutions (like BlueHost, SiteGround and Hostgator) starts from $3 a month.
Do the quick math, and you can start a viable online store for as low as $5 a month, if you're really frugal.
Of course there's caveat here, if you're paying so little you'd expect to put in more effort to manage your online store. Because Shopify and BigCommerce has spent a lot of time and money to simplify the eCommerce process on their platform. So what you don't pay in money, you're paying with time and effort.
2. WooCommerce has the most FREE plugins
Shopify has the biggest app store but almost 70% of all the apps are paid. Imagine paying $20 extra for every functionality you need. Not to mention Shopify default features are pretty limited, so you will most likely need to pay more for a well-optimized store.
In comparison, there are almost 1000 free WooCommerce plugins that can cover most ground.
Unless you're running a very sophisticated store, you will probably find a plugin you need. Even if you run into a problem and you need a customized plugin, it's much easier to hire a Wordpress developer because the ecosystem is so well established, there's no shortage of good developers with a reasonable price.
3. No Coding required. Plenty of drag-and-drop builders to design your store.
A lot of business owners shy away from Wordpress because they are not "technical" and they don't know how to code.
Well Wordpress has come a long way. You're one Google search away to learn how to download and install Wordpress. Yes you do need to get your own hosting, but so many hosting providers are providing one-click Wordpress install you pretty much don't have to do anything.
Heck you don't even need to know how to code to launch your online store. Most popular page builder solutions like Divi, Elementor and Visual Composer integrates with WooCommerce.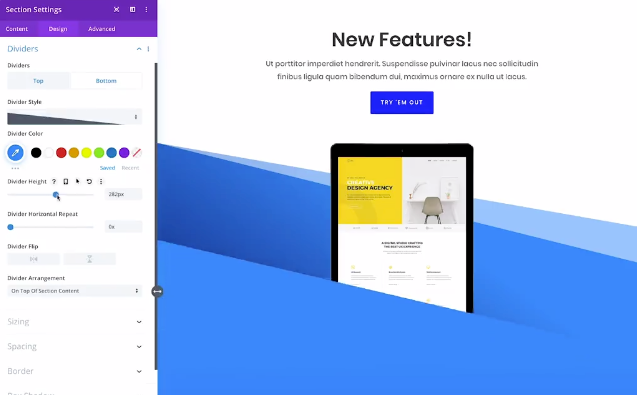 Basically with these page builders, you'd just need to drag and drop to visually change your website. What's more is they usually have professional templates for you to start with so you won't have to spend too much time tweaking.
4. Cheapest to build Multilingual store on WooCommerce
There are lots of eCommerce features but this one's worth a special mention because so many eCommerce owners intend to build a multi-language supported store. A big reason is because translating your store for foreign markets will help you reach new customers and increase your online sales.
Supporting multiple languages for online store is an advanced feature, and it's not a default option for most website builders. Most of them are paid, but you can quickly find out if you can afford them or not.
On Shopify, most of the multilingual translation apps cost $18++/month, this is pretty hefty if you're a new shop owner, considering you're also paying ~$30/month to set up a Shopify store.
On the other hand, BigCommerce support multiple language by default, which you pay ~$30/month for. This is one of many good things about BigCommerce, where a lot of essential eCommerce features are already baked into the platform.
WooCommerce doesn't support multiple languages by default though. You'd have to get a third party plugin, but the good news is most of them are priced reasonably.
The most established multi-language support plugin is WPML, costs $79 a year and $59 to renew, would easily support all your translation need and is compatible with all major themes and plugins.
5. WooCommerce is capable to scale despite being the cheaper option
You ought to know by now that WooCommerce is cheap. But will it scale? Will the store become slow when it becomes larger and gets more traffic? Can WooCommerce keep up with a small business that becomes an enterprise eventually?
Those are legit questions, and we will look at some legit examples.
WooCommerce claims to be able to support 100,000+ products and handle thousands of transactions per minute. While there's no way to verify that, we can look at some real world examples that has more supporting data.
Automotive store with over 20,000 SKUs
Let's take a look at our first example: ksportusa.com. A company that specializes in selling automotive parts.
Automotive parts can be tricky because every item can be categorized by its make, the year they were manufactured, and the car model. This can easily leads to a permutation of over 100,000 SKUs. But, they specialized in motorsport and can easily support 20,000 SKUs for now.
Also, check out their awesome pagespeed score despite the huge amount of products:

WooCommerce store that keeps up with millions of visitors a month
I bet you won't see this coming. One of the largest affiliate platform in the market, ClickBank, with an Alexa world rank at 2455, is running WooCommerce as its storefront.
ClickBank literally gets over a million visitors a month, and there's no problem whatsoever navigating through their product pages.

Of course, we can't just credit WooCommerce for this scale of traffic. Managing web traffic has a lot to do with optimizing database, servers and hosting (they're using Cloudflare just FYI) too.
But it proves that with the right combination of infrastructure, scaling the WooCommerce store is not impossible.
WooCommerce scales with business needs too
As your business is doing real volume in sales, eventually you will need more flexibility with store features as well, for example, customized checkout, upsells, advanced marketing, etc.
You won't run into these problems because WooCommerce is endlessly customizable. Here are a few examples:
As you can see, there's no real limit to what you can make your store do, only if you find capable enough developers to create it for you.
6. WooCommerce has the best SEO features
Ranking Shopify, BigCommerce and WooCommerce SEO capabilities, from best to worst:
WooCommerce
BigCommerce
Shopify
Even if Shopify is worst the among the 3, it is by no means doing a shitty job at SEO. In fact, Shopify has most ground covered, unless it's critical for you to have every single fully optimized.
BigCommerce is slightly better as it allows more customization, for example: customizing the URL for your product pages.
But WooCommerce? You have way more flexibility:
You have full control over all titles, meta tags on very single page.
You can control how your pages are being crawled by search engines.
Optimize all your images for image search.
Optimize your site speed (yes this is a factor in SEO).
Have any URL structure you want (Also important for international SEO).
Customized structured data for rich search results on Google, Bing and etc.
And that's just the tip of icebergs.
You can do all these with WooCommerce because you own all the assets of your website. Yes it's more difficult to set up and manage, but you have full control of how your store perform and scale.
WooCommerce disadvantages
1. There's more to manage, upkeep and upgrade
With any Wordpress/WooCommerce site, you own the entire set up of your website. That means renewing your domain name, the SSL certificate, making backups for your site, and possibly hiring someone to keep an eye on security.
The setup is approximately the same level of difficulty for all. However, once you're up and running the difference will be that with WooCommerce you'll continue to spend 5-10% of your time maintaining your website: upgrades, security, etc.
With Shopify and BigCommerce, that number goes to zero, which is why you're paying them a monthly fee.
So unless you want to add a custom features to Shopify/BigCommerce, 100% of your time can be spent building your business.
Just ask yourself, how much is your time worth?
2. WooCommerce integrations are less seamless
Adding plugins for WooCommerce is kind of like picking outfits from different store and hopefully they will all come together looking nice.
Not all plugins are compatible with each other, and if you run into an error (which you likely will),  you will need to hire a Wordpress developer to fix it for you.
With Shopify and BigCommerce, you won't run into compatibility issue, because each plugin has to be reviewed and approved to make sure it will work with your site.
On BigCommerce, you can cross-sell on eBay, Amazon, Instagram and Pinterest, while keeping your inventory in synced without a hiccup. It just works.
Similarly, you can integrate suppliers' product data directly into your Shopify store and sell through multiple platforms as well.
You just save a bunch of time and hassles not worrying if the new eCommerce feature will work, which is not a privilege you have with WooCommerce.
3. Lack of customer support
If you run into problems with setting up a WooCommerce store, you won't be able to contact their support unless you become a paid Wordpress.com customer. Your best bet is to either join the WooCommerce community forum, or hire a Wordpress developer.
Also, some WooCommerce plugins are just a developer's side project and if they're running it solo, their support can be pretty limited, slow or both.
On the other hand, Shopify and BigCommerce has a reputation for great customer support, with dedicated teams answering your tickets around the clock across different timezone, it's just one other thing you won't have to worry about if you're not very tech savvy.
Shopify
Shopify is a SaaS platform, basically your paying for the software, hosting, and SSL in one. The perk of this is no server side / database configuration, 100 times better security, more intuitive CMS, and less maintenance. Shopify also has a store of apps that can pretty much add any advanced functionality you want.
Shopify Advantages
1. It's simple and reliable. Period.
That's the promise for most eCommerce platform, but Shopify has done an exceptionally good job at that.
As the late Steve Jobs once said: "It takes a lot of hard work to make something simple".
Shopify has spent over a decade changing the way eCommerce was done in the late 90s. In fact, Shopify has an entire publication focused on the creating better user experience, design and content for their customers.
The result?
Shopify has become one of the best and easy to use eCommerce platform for beginners and pro alike:
In short, it's easy and there's a lot less to worry about compared to other DIY solutions like WooCommerce. You can sign up, put up your products and be selling in ten minutes.
2. Shopify has a great developer platform
Why talk about Shopify's developer platform?
Well, first, Shopify developers are a great part of the ecosystem, this is in large part due to their easy to use and comprehensive documentation (sometimes known as the developer experience). And developers around the world give praise to Shopify all the time:
What's more, Shopify has a rich set of API library that allows eCommerce business add/extends a deeper later of functionality. As a result, Shopify is a more extensible platform then BigCommerce and will have better tools due to its highly active developer community.
3. Shopify's top notch app store
What happens when you invest in your developers and the ecosystem?
The app store flourish (20x growth in 5 years), developers get to write high quality apps, and provide high quality support for your customers.
Developers are more eager to design beautiful templates too. All default Shopify templates just look very professional, and feel more modern.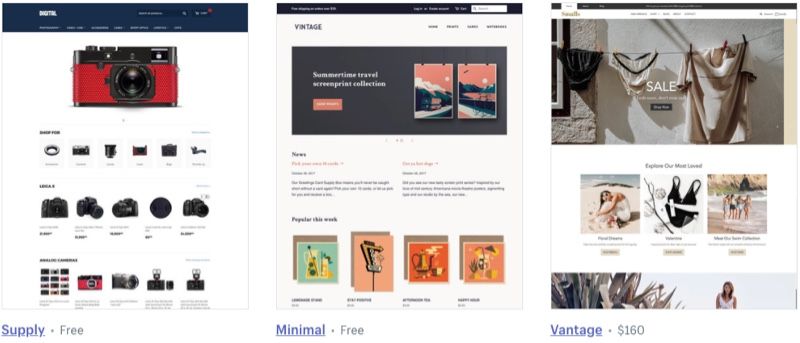 This can translate into a huge time saver for store owner. Even though Shopify allows for less customizable than BigCommerce, you have find yourself having to make less changes using Shopify.
4. Best in class customer support
Does Shopify have the best customer support? That's hard to argue, but it's a fact that they consistent rank high on delivering great customer experience and support.
Here's a research done by Priceonomics on software companies that deliver great customer service. Guess which eCommerce platform has the highest customer satisfaction?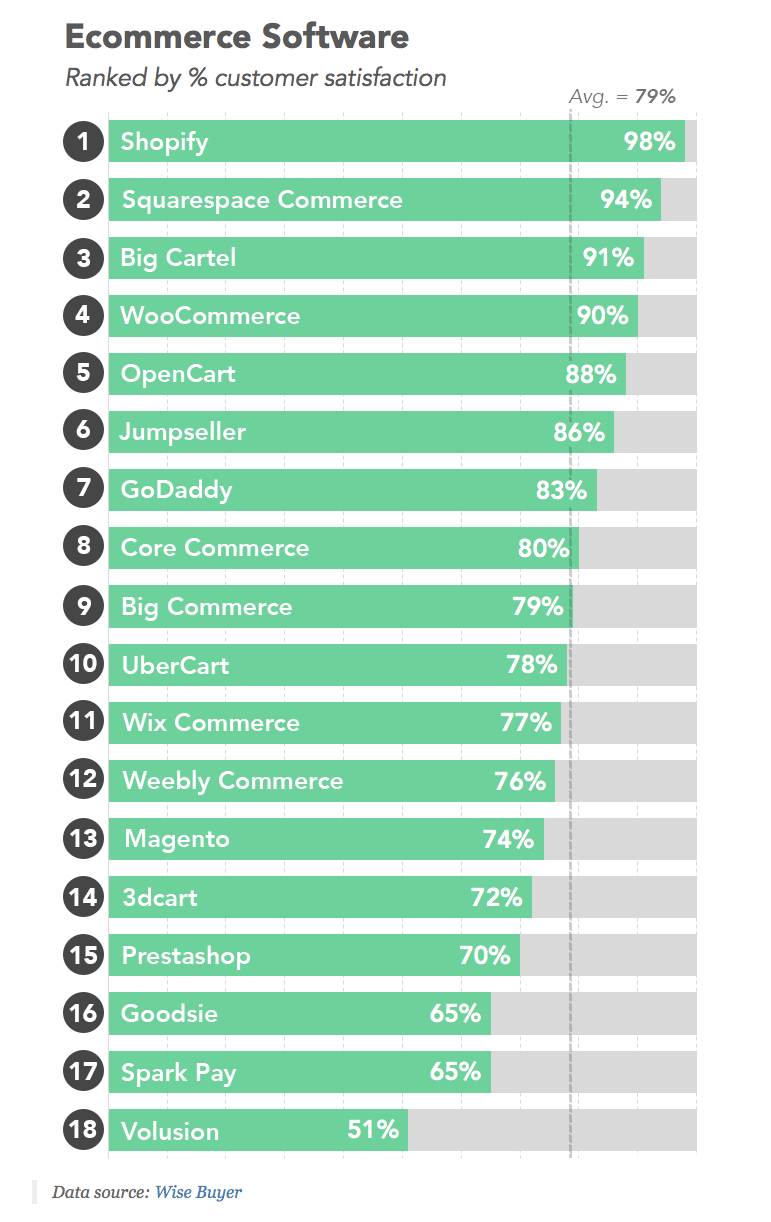 Yep, it's Shopify. A whopping 98% customer satisfaction. And if you read further, 98% is the highest customer satisfaction percentage across all industries. That's a pretty impressive feat!
And if you need further proof, look over their support account on Twitter. Who even has a dedicated support account on Twitter?
Twitter is a good source for real human feedback/comments (apart from Reddit). Unlike customer rating websites which are usually biased, or worse, paid. Check out some of these Twitter love Shopify gets from customers:
Convinced?
5. End-to-end, all in one solution
You're in for a surprise if you think Shopify merely offers an online store solution. Truly, no other company is providing a holistic eCommerce solution like Shopify.
Need a supplier? Shopify bought and integrated Oberlo so you can browse over a million products import directly into your store.
Need a logo and a domain name? Yep, they got you covered.
Where are you going to distribute you product? How about eBay, Amazon, Facebook, or  Instagram?
What about marketing? You can directly create Facebook ads right from Shopify (with courses), or have your products directly integrated in Google Shopping. It's simple to deploy, and you do't have to worry about maintaining it.
They've formed partnership that takes care of payments and shipping for you.
Heck, even if you don't have money you can get a loan from Shopify.
All in all, you're in good hands with Shopify.
Shopify Disadvantages
1. Cost add up quickly
One of the main downsides for Shopify is that their apps are usually not free. In fact 66% of all apps on Shopify app store are paid apps. Each app adds anywhere from a couple dollars to over a hundred per month. And you will almost certainly want to add at least a few apps, since the barebones Shopify store experience is pretty lacking.
So if you're not careful, your monthly additional cost can really add up.
if you want see just how much Shopify ends up costing for a moderately featured ecommerce site. Here are some reddit threads that might be able to give you some ideas:
2. Limited free themes and a lot less Control
Speaking of cost adding up, you'll be surprised to find that out of all the Shopify themes, only 8 are available for free!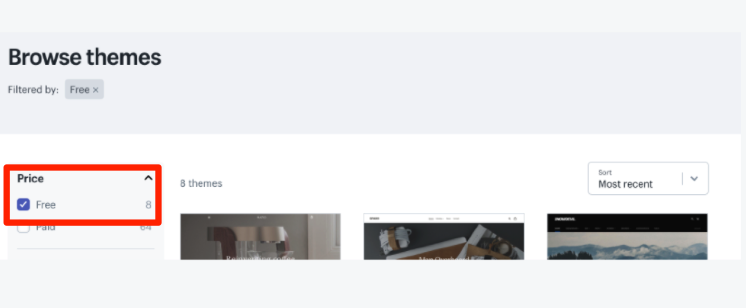 This is probably not a big deal for a lot of eCommerce owners out there, BUT if this bothers you, you should seriously think twice about using Shopify because you're expected to pay for a host of other things as well to have a decently featured store.
You also don't have as much control as BigCommerce and WooCommerce, for example:
Shopify does not support FTP, so you cannot access your root directory and cPanel for transferring files.
Shopify forced a certain URL structure on your store. Every page you create on your site will have a folder that cannot be changed, for example: /collection, /products, /pages, and /blog.
You cannot modify the checkout page.
For SEO, you can't control how search engine crawl your website. This can make it more challenging to fight against spammers.
Shopify has figured out a lot of essential features for eCommerce owners, just know that Shopify is also heavily opinionated on certain aspects of running an online store and you have to play by their rules.
3. Shopify blogging features are very limited
If content is a major part of your eCommerce strategy, you might run into some challenges down the road.
While Shopify does offer blogging features, they're pretty limited. For example:
All your blog pages will have /blog in the URL and there's no way to change that.
You can't add custom meta tag (eg. noindex tag) to individual blog post without diving into the code base
Text editor is pretty limited, a lot of times you need to add custom code just to get text formatting right.
Your blog post won't have featured images.
You can't export your blog in case you wish to move it in the future.
If you have comments on your blog, you can't reply to visitors' comments as an admin!
I'm probably nitpicking at this point, but all these can add up. Again, if content is a big part of your growth strategy you wouldn't want to spend too much time figuring out basic blog stuff that other platforms like WooCommerce provide by default.
4. Shopify apps can compromise performance
Shopify is one of the best ecommerce platforms but it also heavily relies on its app ecosystem. Most Shopify stores need to add at least a handful of additional apps/plugins to make it really functional.
To get to anything that BigCommerce or Magento can do, you're coming out of the gate with at least a dozen "apps", but every single one takes a toll on the store performance.
Of course, store performance is influenced by other factors as well:  
Where your hosting company is located
How do you cache your website
How do you manage your images
If you've added any third party code to your site
Bottom line, most of the performance issue can be fixed, but it's likely you will need to spend extra resources to get your store load fast. A point worth considering while migrating your new store.
Summary
WooCommerce is great if you don't want to spend $~30 a month but will require some knowledge of Wordpress (setup, shortcodes, etc). You can expect to hire a Wordpress developer down the road for upkeep, maintenance, or to scale your store.
If you want to focus on selling and not have to worry about your website, go with Shopify. On top of that, they have the best customer support in the industry. But prepare to pay a lot more.
If you want a best value eCommerce platform, where you don't need to pay up for every single extra feature, then go with BigCommerce, they have most of the features pre-built. The downside is the user interface is not the best, and so are their customer support.