Weebly is an incredible (did I mention Free too?) platform to build just about any website.
Surprisingly, thousands of people use Weebly to build their portfolio to showcase their work and experience.
Here, I have collected 21 portfolio websites built on Weebly to inspire you.
Here are the types of the portfolio sites you'll find here:
Student portfolios that the teacher created for them.
Design portfolio created by interior, graphic and industrial designers.
Art projects designed by college students.
Professionals in education and scientific fields who have created a portfolioCV site to promote their work.
Writing portfolios by aspiring authors
Professionals and students alike who've created a photography portfolio on their own.
Click on the image to head to their sites.
Enjoy!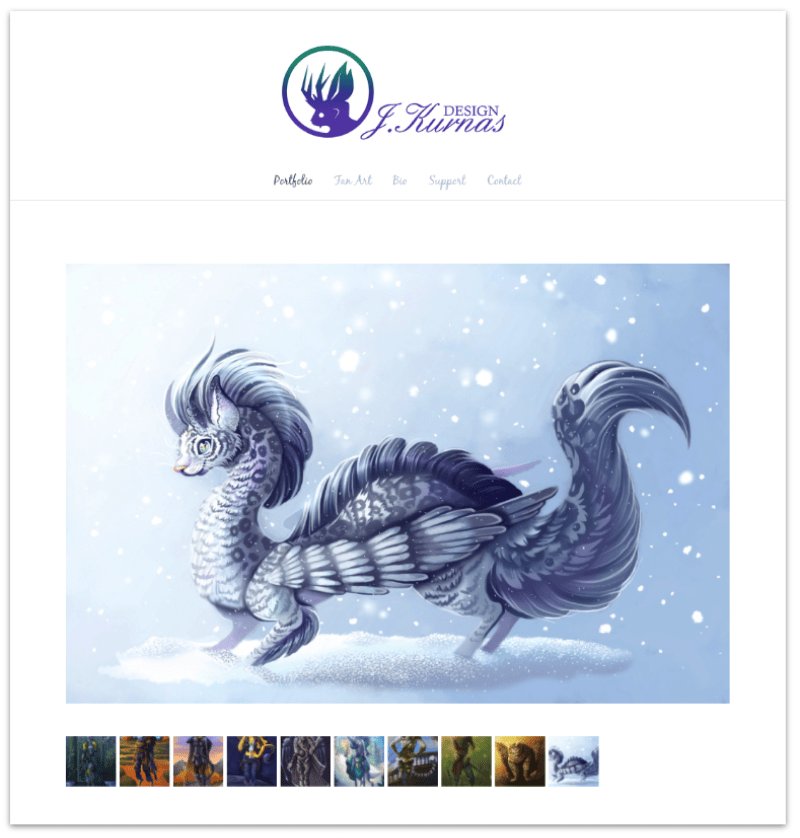 Jessica Kurnas' design portfolio focuses on character and creature design. Currently based in Colorado, she works at a little art gallery in Breckenridge part time while taking design requests from home.
From sculpture and sign repair, live demonstrations, workshops, logo and tattoo designs, she intends to expand her services into the world of sewing and knitting, book cover designs and selling her work through the gallery.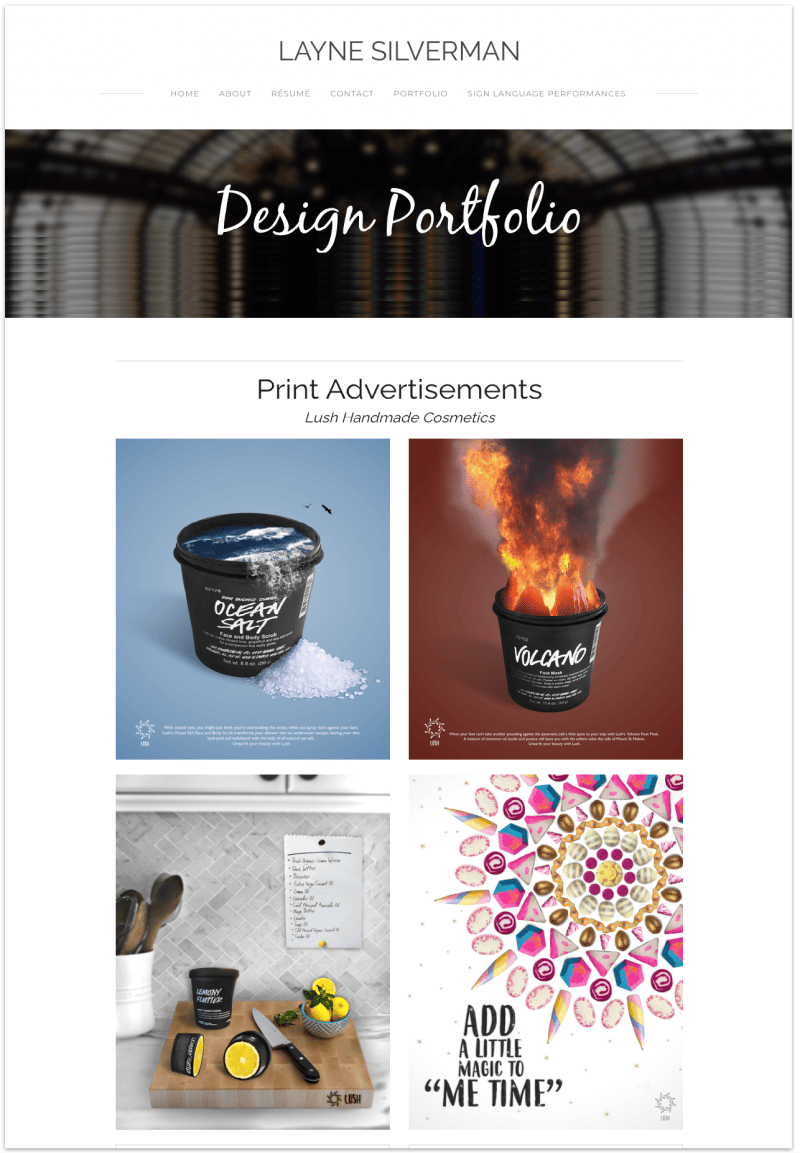 Layne Silverman is a recent graduate of the University of Missouri. She discovered her passion in creative design and copywriting, and while studying, learned about the process of advertising and all of the components involved in making a successful campaign.
Check out her stellar print advertising portfolio!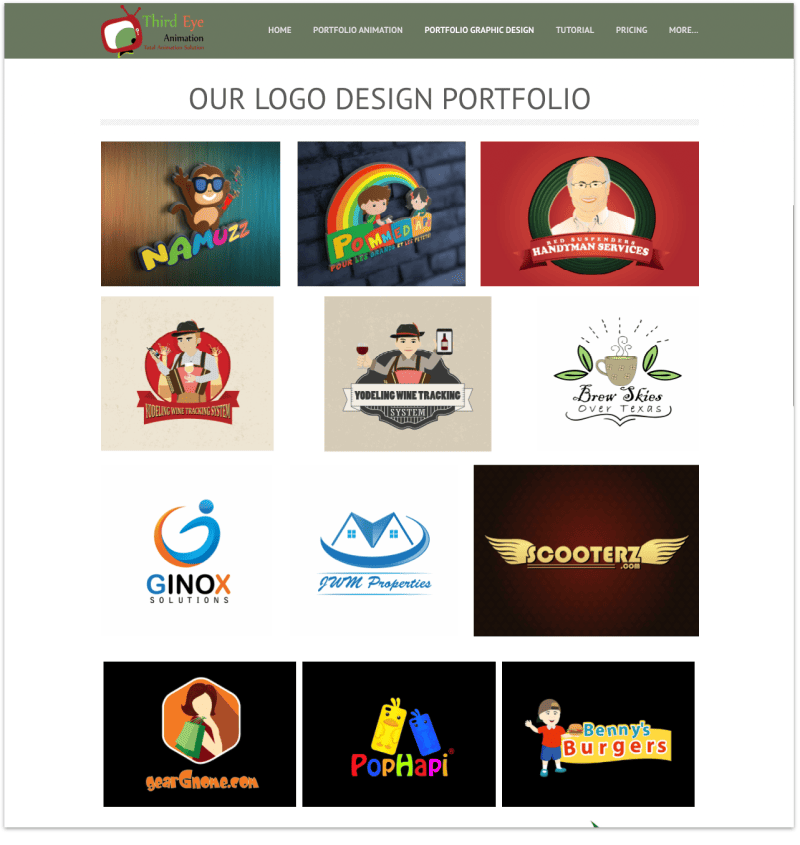 Third Eye Animation is a graphics design Studio founded by Saiful Alam in Dhaka, Bangladesh. They primarily create cartoons, logos, company presentations, and visual effects in 2D and 3D animation.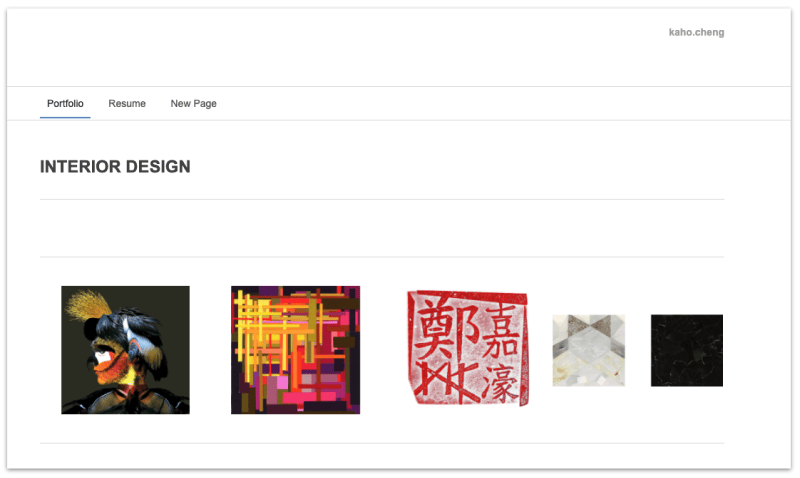 Kaho Cheng is an interior designer based in New York. His portfolio features a minimalistic design including some of his best works in digital media, overlap concept study, texture designs and more.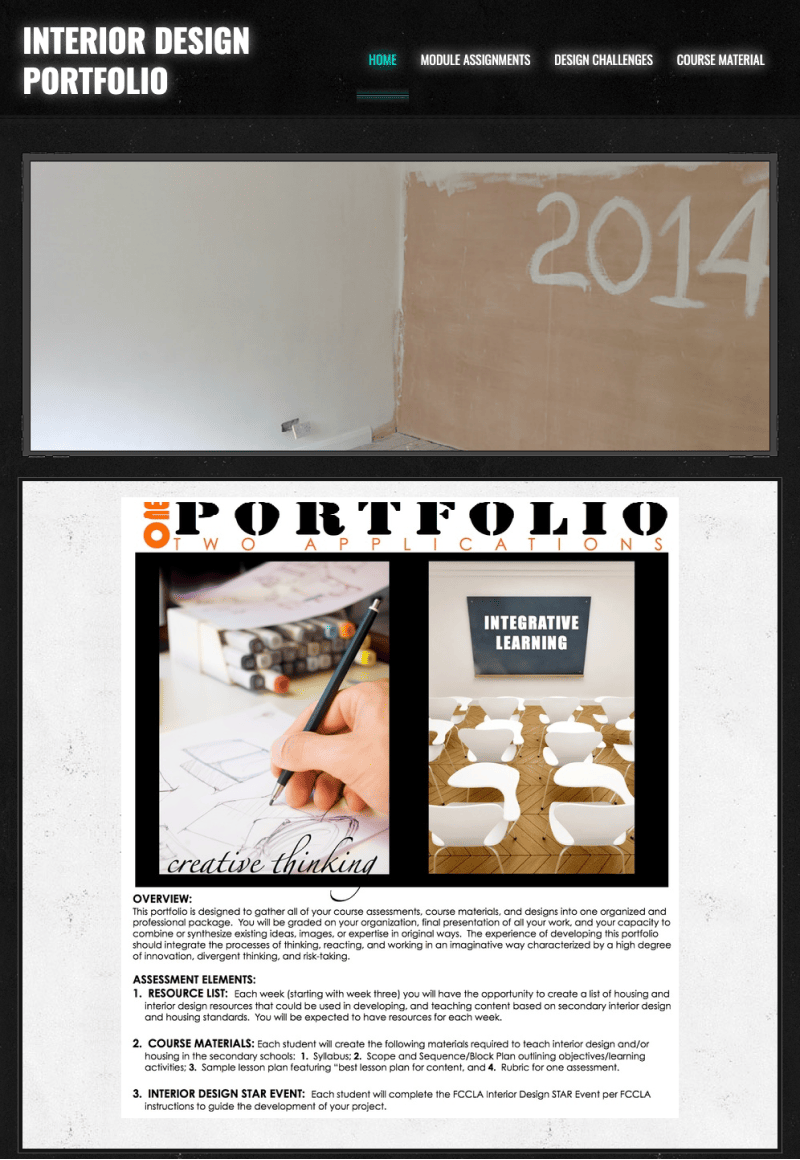 This portfolio site was designed to gather all the course materials for their students interior design challenge. Each student will complete the interior design Star Event challenge based on the module assignments.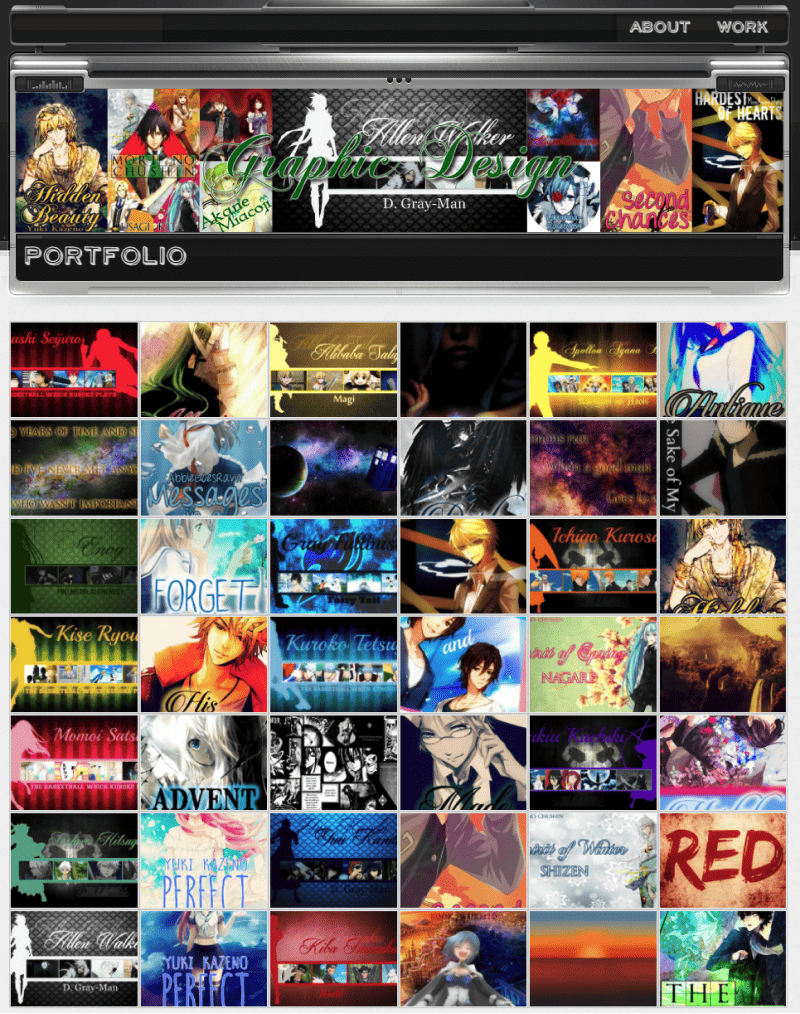 Carolyn is a high school student in Brewster Washington who spends most of her free time reading, writing, taking pictures, doing some other miscellaneous hobby. She's also an amateur writer, photographer, and graphic designer.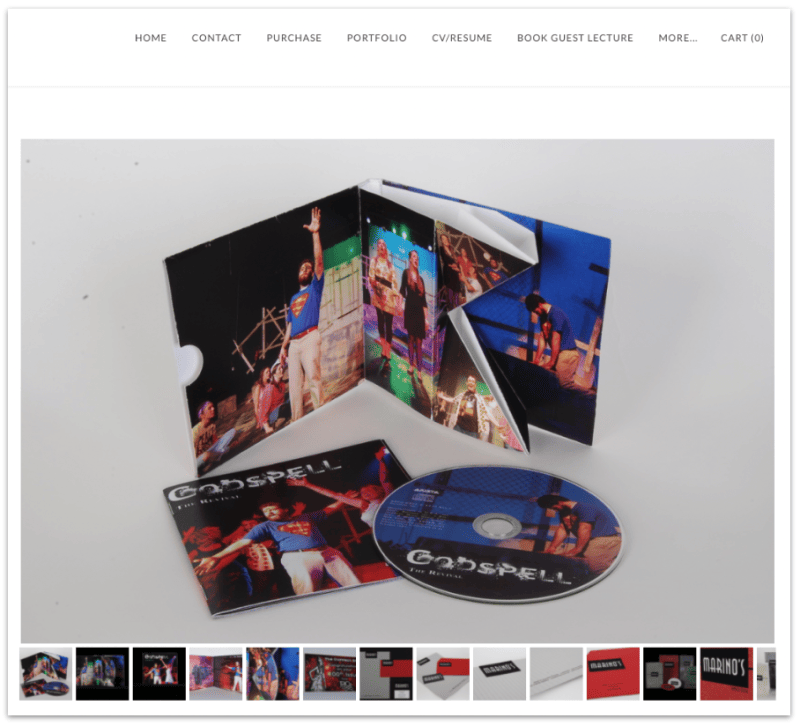 Sarah Serio is a printmaker creating in the traditional methods of hand carved, hand inked, & hand pulled works. She is a also native of Neosho, a Cum Laude graduate of Crowder College in Neosho where she received Associate of Arts degrees in both Journalism and Public Relations.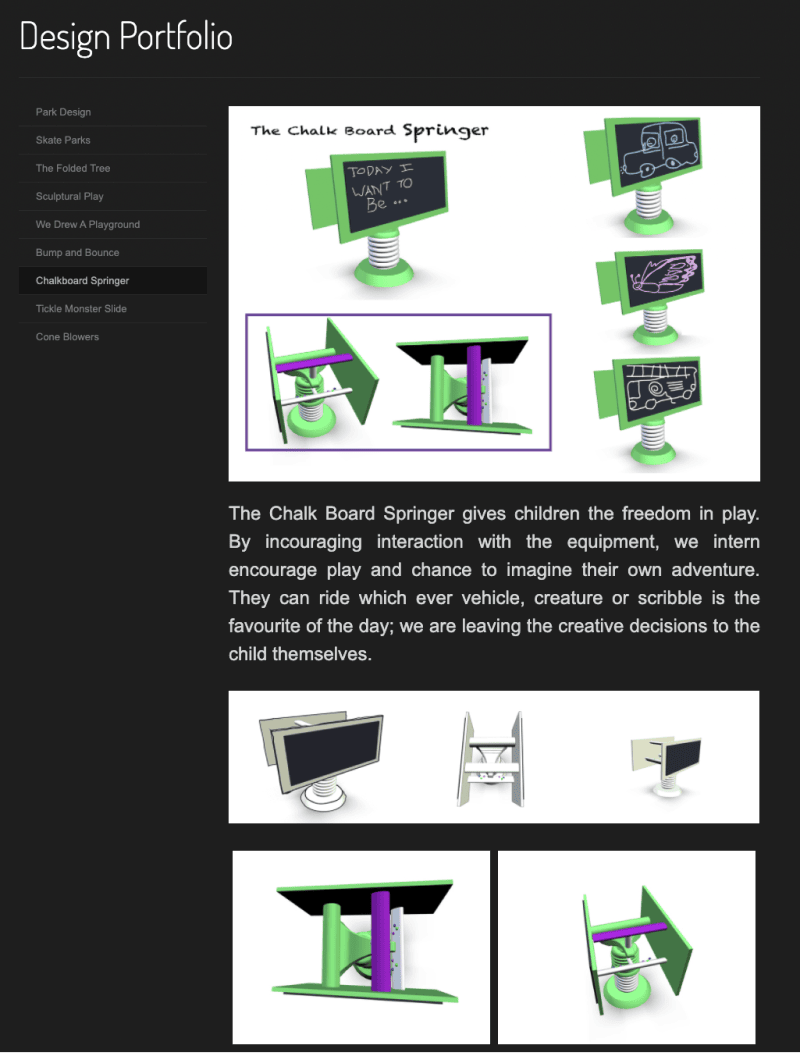 Emma has an extensive industrial design portfolio including skate parks , children playground, metal sculpture, and land scaping to name a few. She even designed an interactive playground which incorporate blackboards, allowing the children's to design and draw on their own park.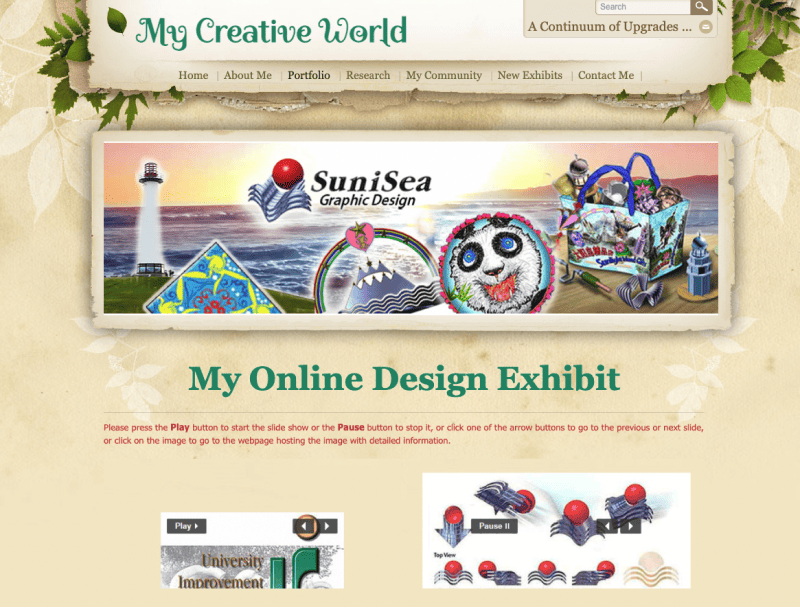 Edward Locke founded SuniSea design studio to display some of the commercial graphic design he created and publish research papers on commercial arts, tips, knowledge and skills. He also frequently publish good-quality graphic design works completed by his graphic design students.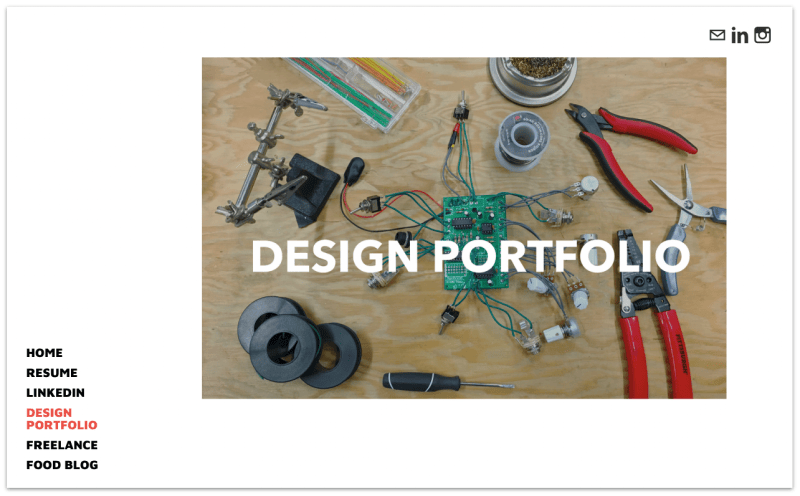 While Jenny is now a culinary instructor, she used to be a prototype enginner at Adidas and spot an impressive product design portfolio.
One of her most impressive works is the DOWEL CLOUD, an  architectural installation hangs in the Superfab lobbies in  Redmond, Washington.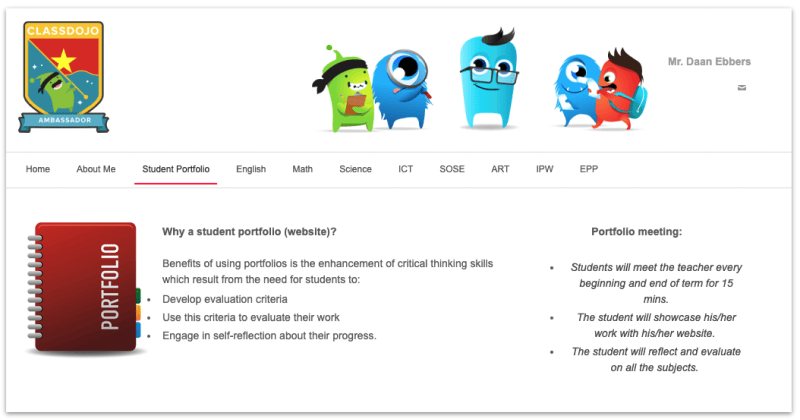 ClassDojo is a classroom tool created by Daan Ebbers to help improve behavior in his classrooms quickly and easily. It captures and generates data on behavior that he can share with the parents and administrators.
He created a portfolio collection for his students so they can engage in self-reflection about their progress in school work.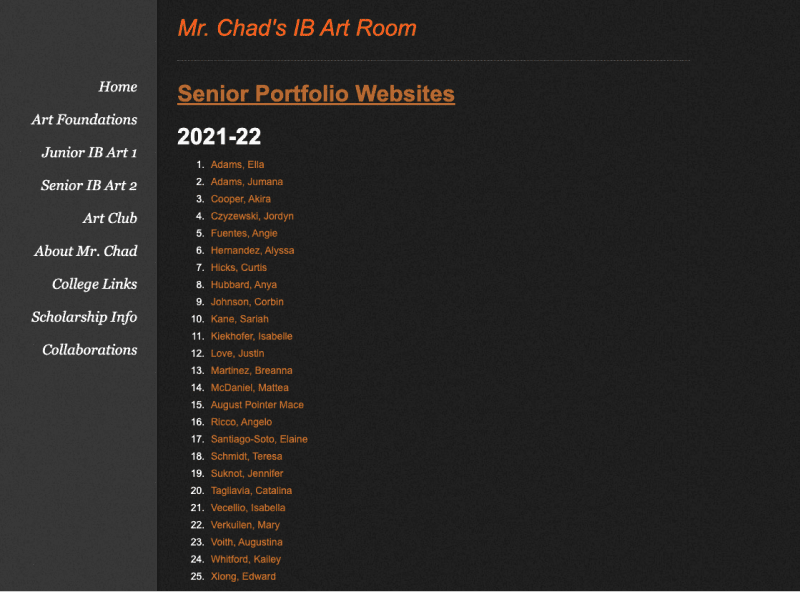 Mr Chad encourages his visual art students in Reagan high school to create a personal website and created this portfolio site to help keep track of their progress.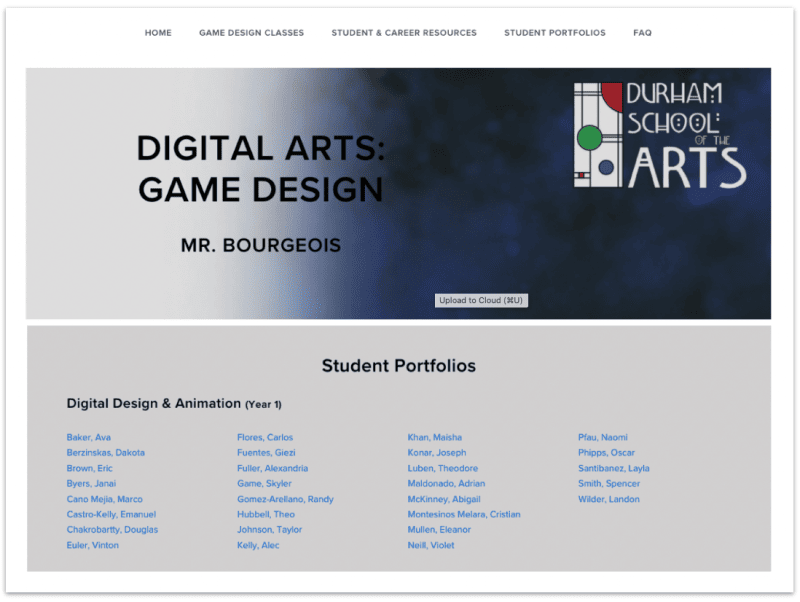 Mr Bourgeois created this Weebly site for his game students at Durham school of Art to prepare them for the upcoming year and also to kickstart their game design career early.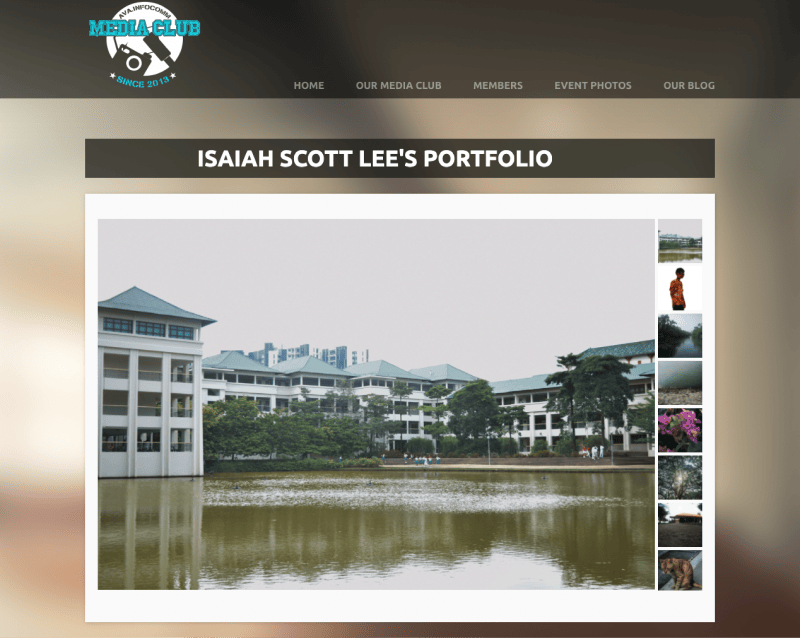 Ava Infocomm is a media club at Chung Cheng High in Singapore. Most of the students there have a keen interest in photography and journalism. This portfolio site documents its students' skills and visualisation as a photographer.
Professor Yuan Xu is an associate professor in the Department of Geography and Resource Management in the Institute of Environment, Energy and Sustainability, The Chinese University of Hong Kong (CUHK).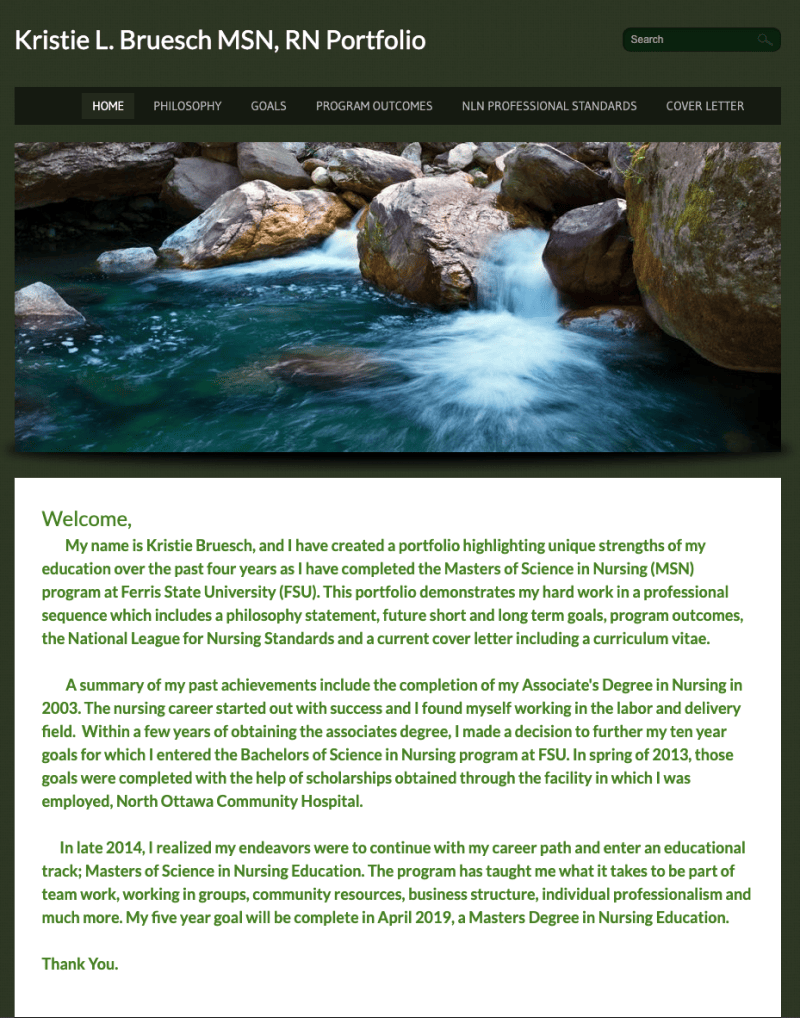 This portfolio highlights Kristie Bruesch's unique strengths as she has completed the Masters of Science in Nursing (MSN) program at Ferris State University (FSU).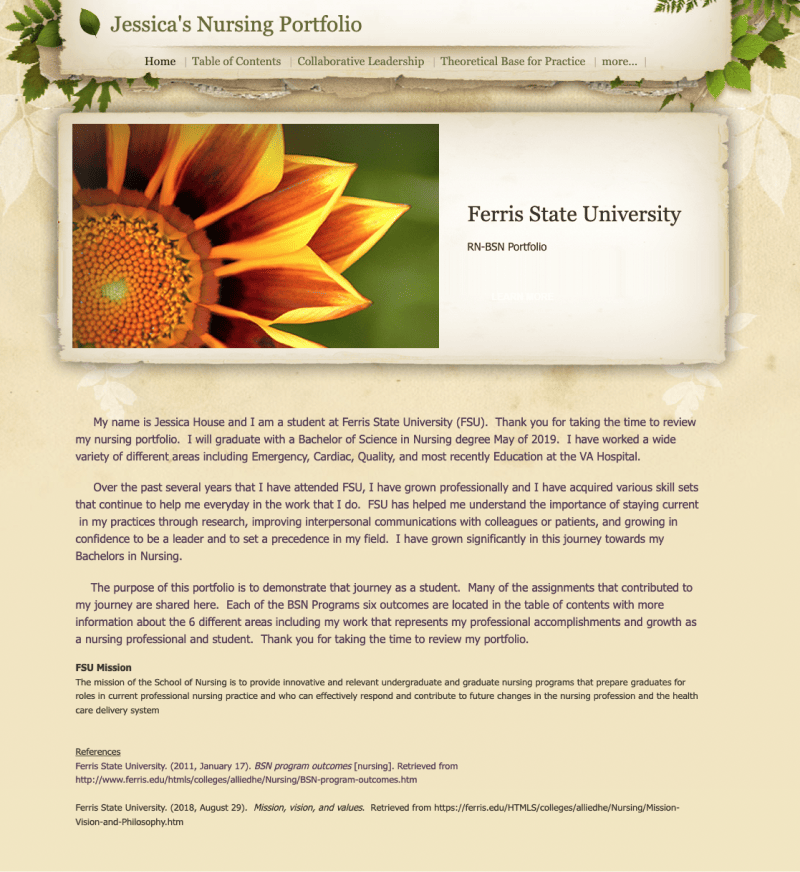 Jessica House graduated with a Bachelor of Science in Nursing degree. She has worked in a wide variety of different areas including Emergency, Cardiac, Quality, and most recently Education at the VA Hospital.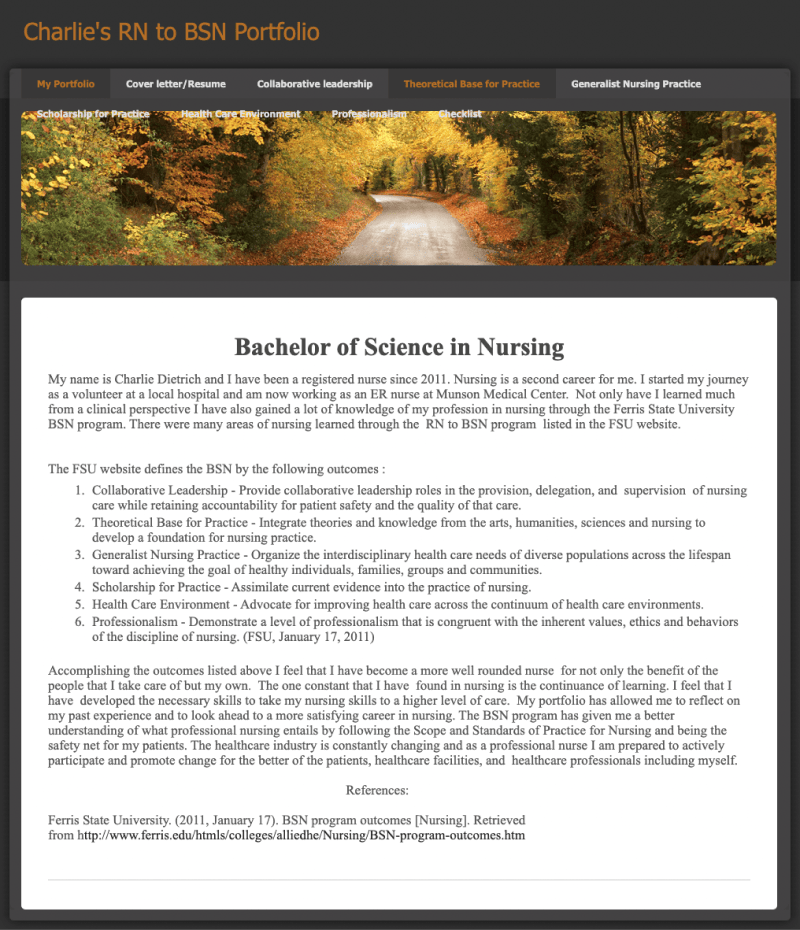 Charlie Dietrich has been a registered nurse since 2011. She started her journey as a volunteer at a local hospital and is now working as an ER nurse at Munson Medical Center. This portfolio/resume site highlights her past experience as she applies for the coordinator position at the said hospital.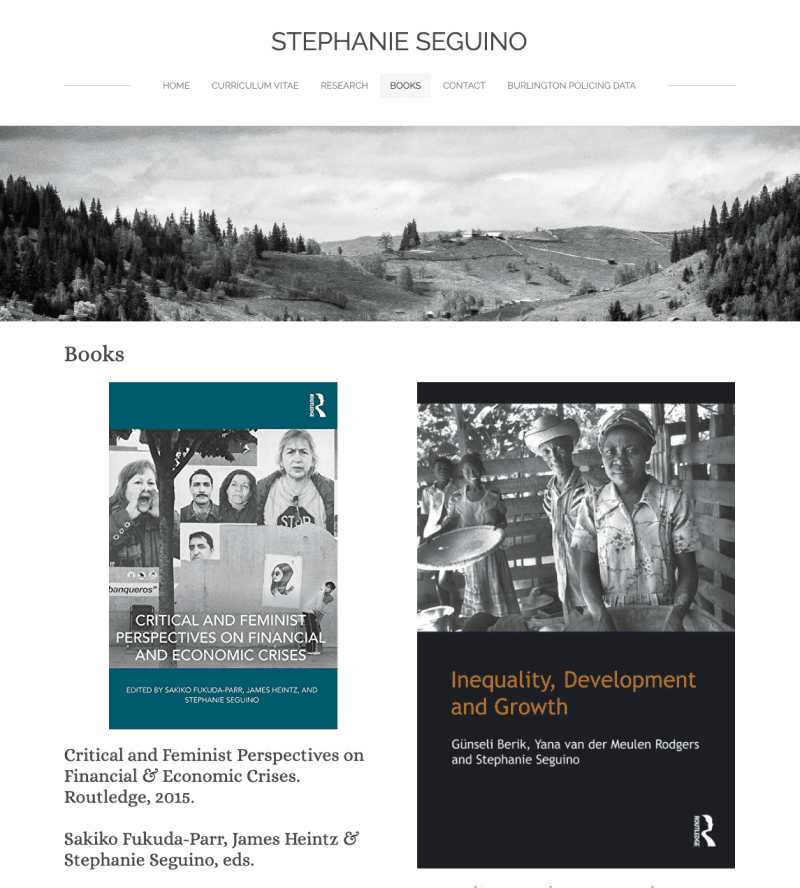 Stephanie Seguino is a Professor of Economics at the University of Vermont. Prior to obtaining a Ph.D. from American University in 1994, she worked as an economist in Haiti in the pre- and post-Baby Doc era for USAID.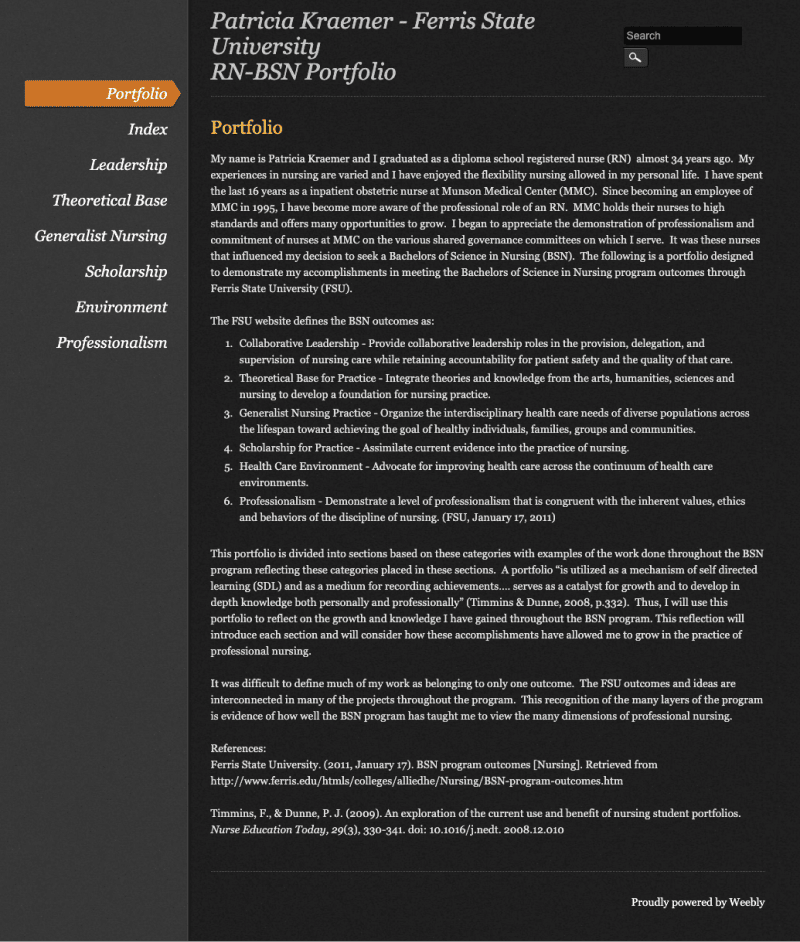 Patricia Kraemer has been a registered nurse (RN)  almost 34 years ago. She  spent the last 16 years as an inpatient obstetric nurse at Munson Medical Center (MMC).
This portfolio reflects her growth and knowledge gained throughout the BSN program.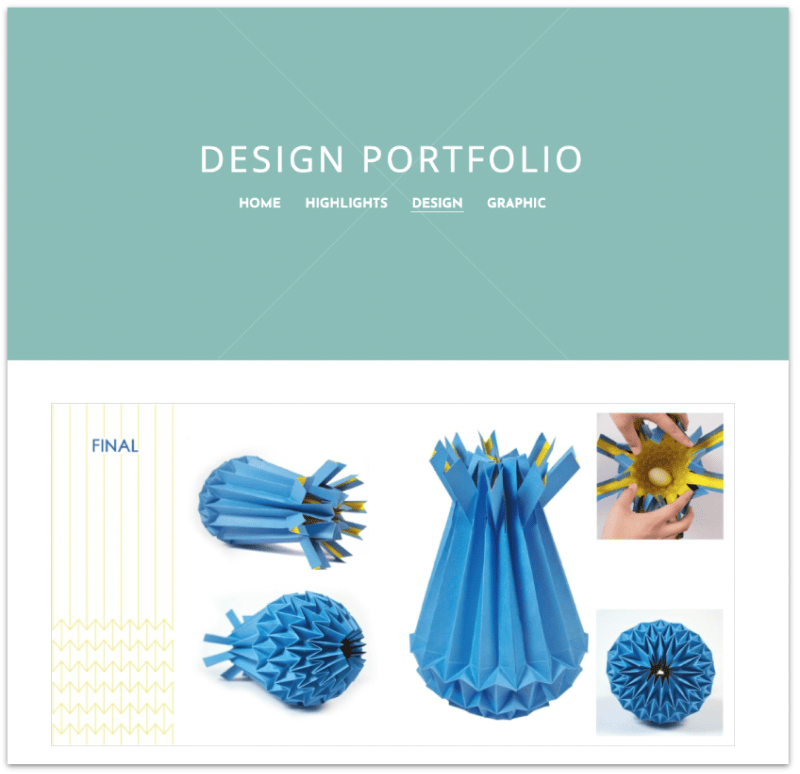 Kristina is a graphic designer located in California. She ha been designing for 11 years working for studios, corporations, small businesses, non-profits and is now running her own graphic design business.