Here are some of the best therapist websites I've found online.
Most of them are licensed professional counselor, psychotherapist, and private mental health practice centres.
They are handpicked after scouring over a hundred therapists websites on the internet.
All of these websites are built using a variety of website builders and content management systems (CMS) such as Squarespace, Wordpress, and Wix. They're highlighted in case you're curious.
If you're wondering if you should build a website for your practice or hire someone else, I've written an in-depth guide on the best website builders therapist use as well as professional design services you can hire.
Enjoy!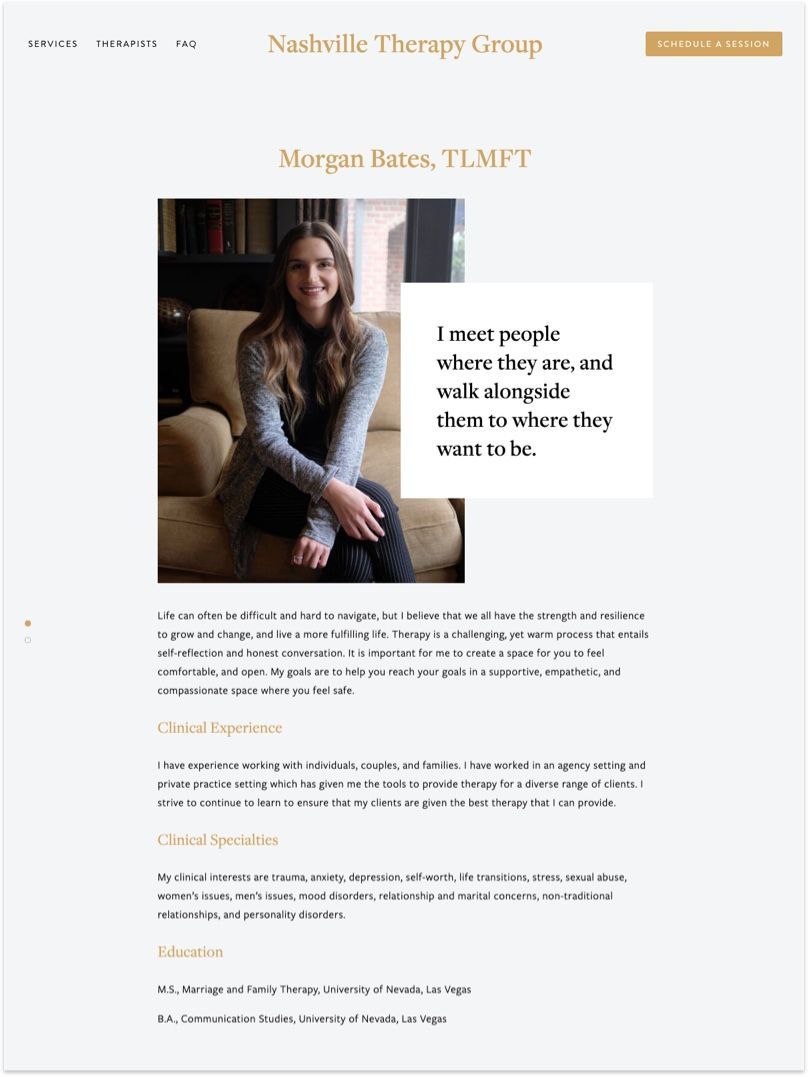 The Nashville Therapy Group is a team of therapists dedicated to providing high quality, modern mental and relational health care to the Nashville community. They help individuals, couples, children & adolescents, and creative professionals work through complicated relationships and difficult experiences.
Check out some of the best Squarespace templates therapists use.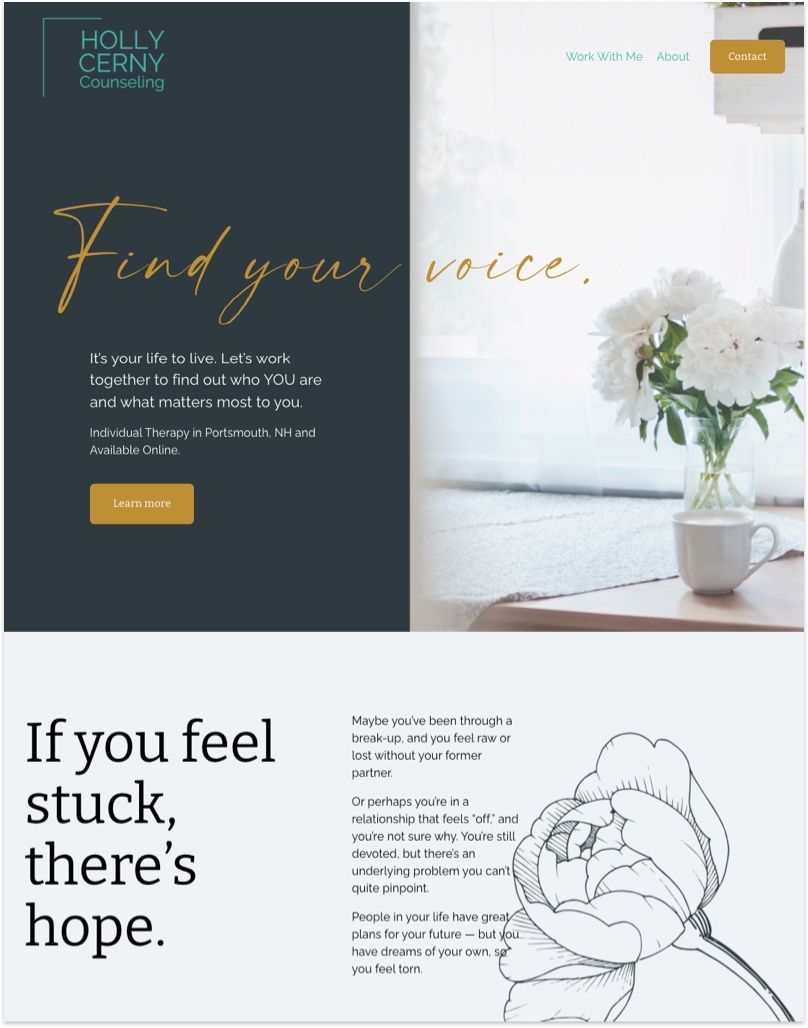 Holly Cerny is a licensed clinical mental health counselor. She helps adults (young and seasoned alike) understand what is happening inside themselves for a more fulfilling existence.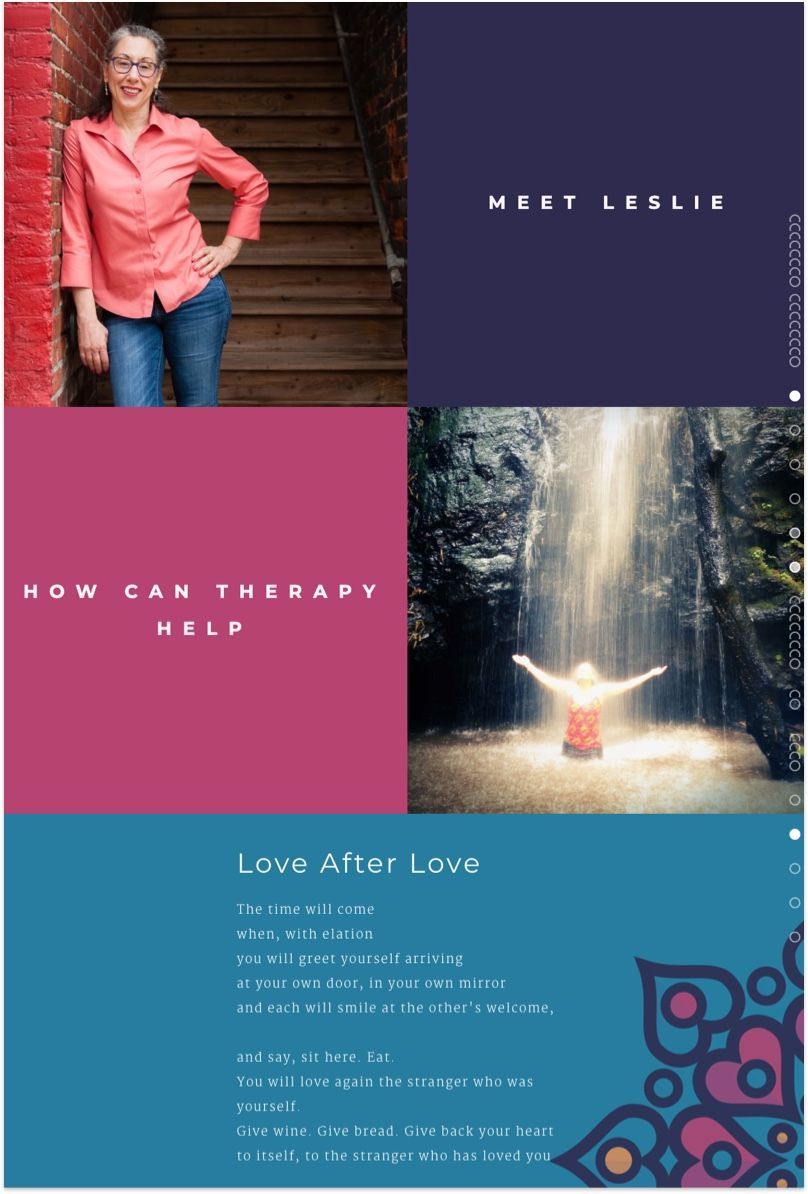 Leslie Binch is a licensed professional counselor based in Tennessee, Colorado where she worked as a Primary Therapist at the Recovery Ranch and at Integrative Life Center. She specialized in treating eating disorders, addiction and trauma.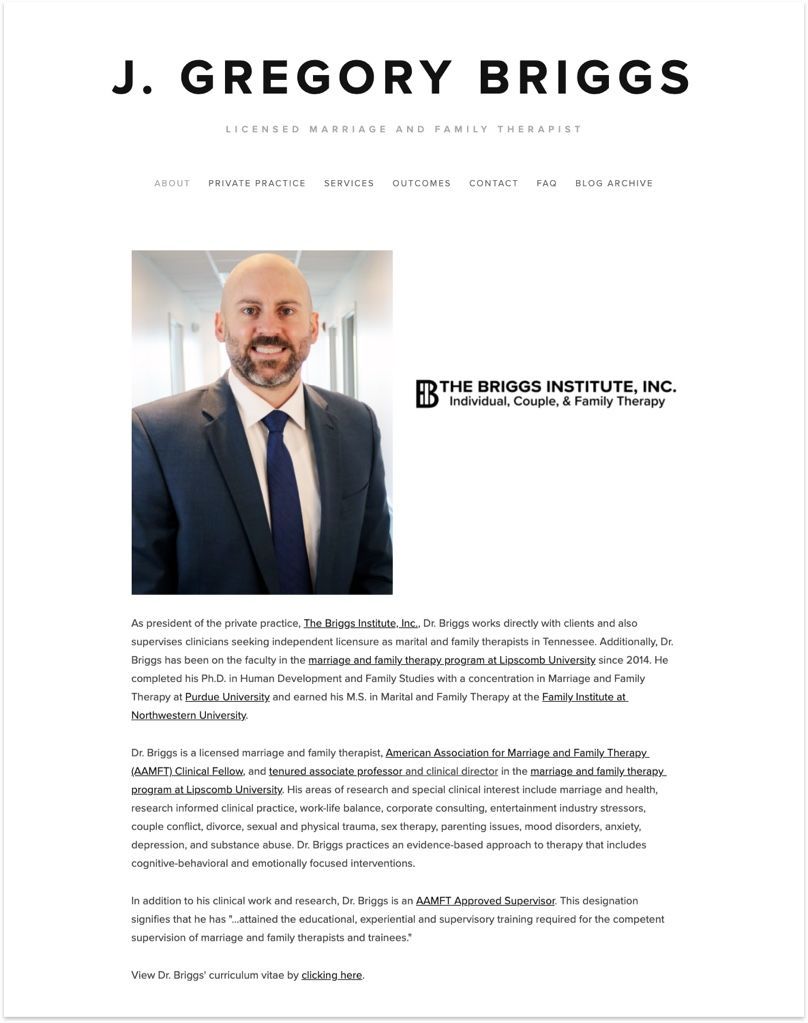 As president of the private practice, The Briggs Institute, Inc., Dr. Briggs works directly with clients and also supervises clinicians seeking independent licensure as marital and family therapists in Tennessee.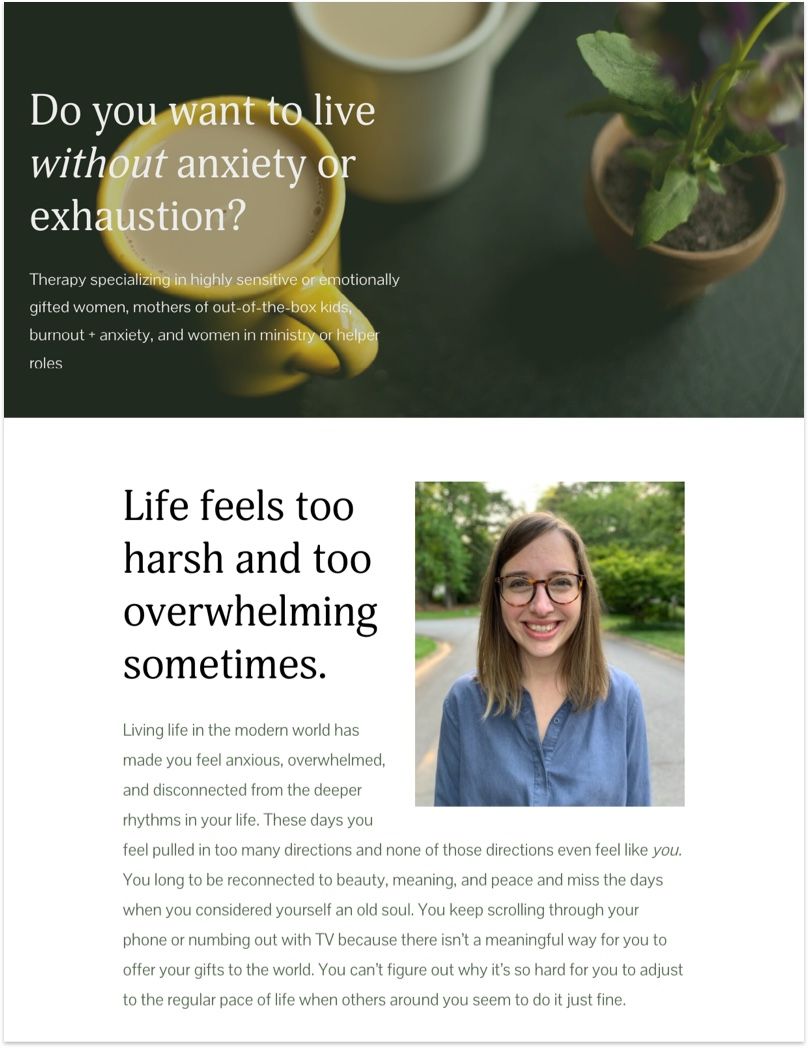 Kim is a seasoned licensed professional therapist who works with women who are emotionally gifted or highly sensitive, women who are raising differently-wired kiddos, and women who are exhausted in helper roles or ministry roles.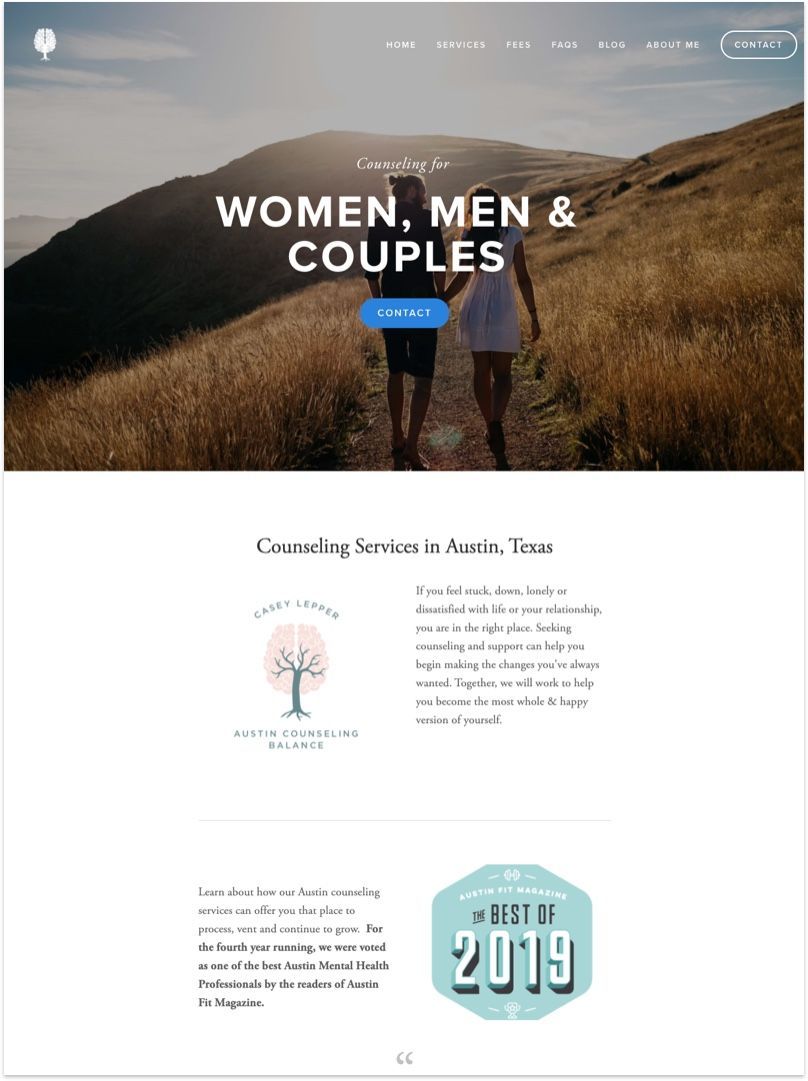 Austin Counseling Balance is run by Casey Lepper, a licensed marriage and family therapist who help couples build basic relationship and  conflict management skills as well as helping create shared meaning.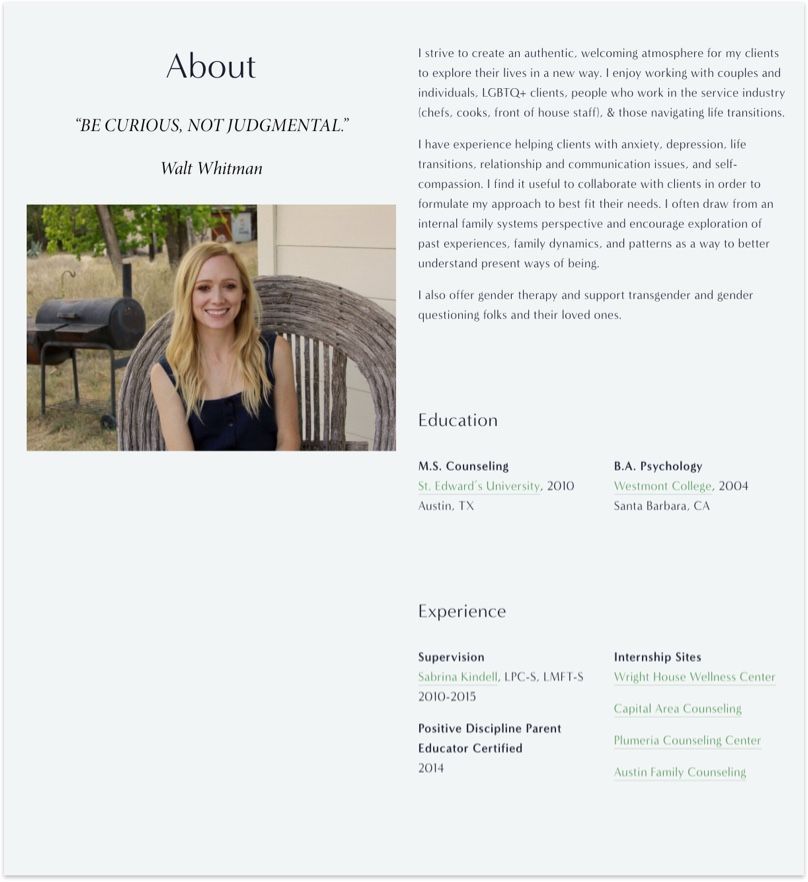 Natalie helps her clients explore their lives in a new way. She enjoys working with couples and individuals, LGBTQ+ clients, people who work in the service industry (chefs, cooks, front of house staff), and those navigating life transitions.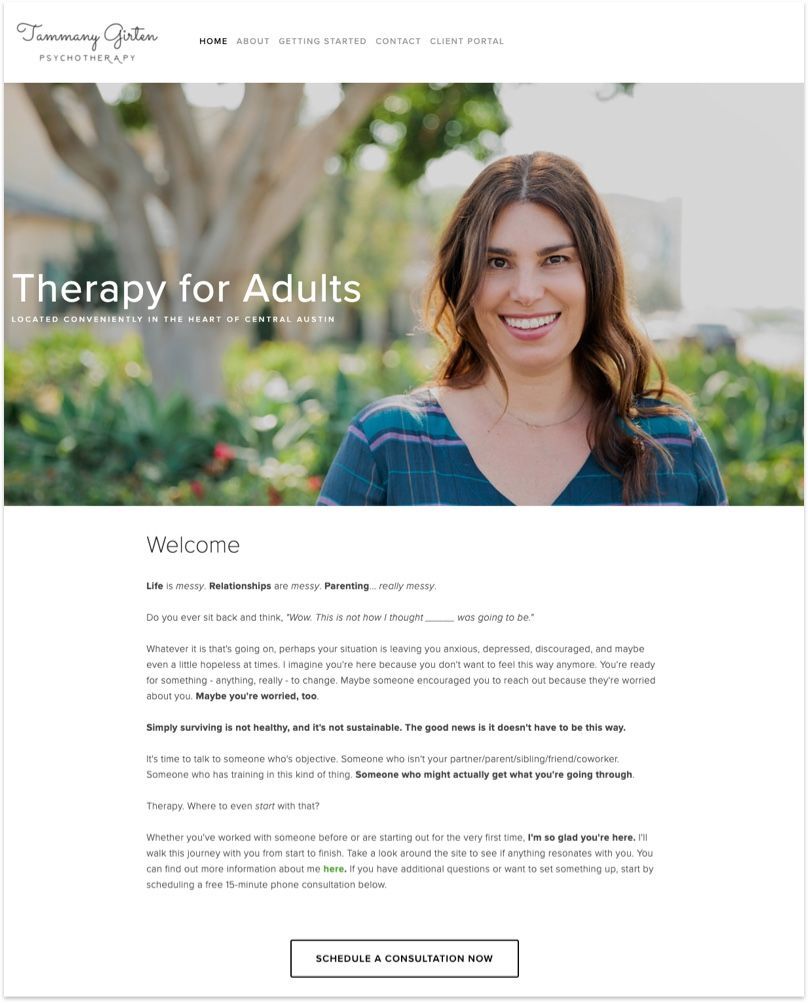 Tammany a Licensed Clinical Social Worker (LCSW), and I have nearly a decade of experience providing mental health services to individuals with a range of life experiences.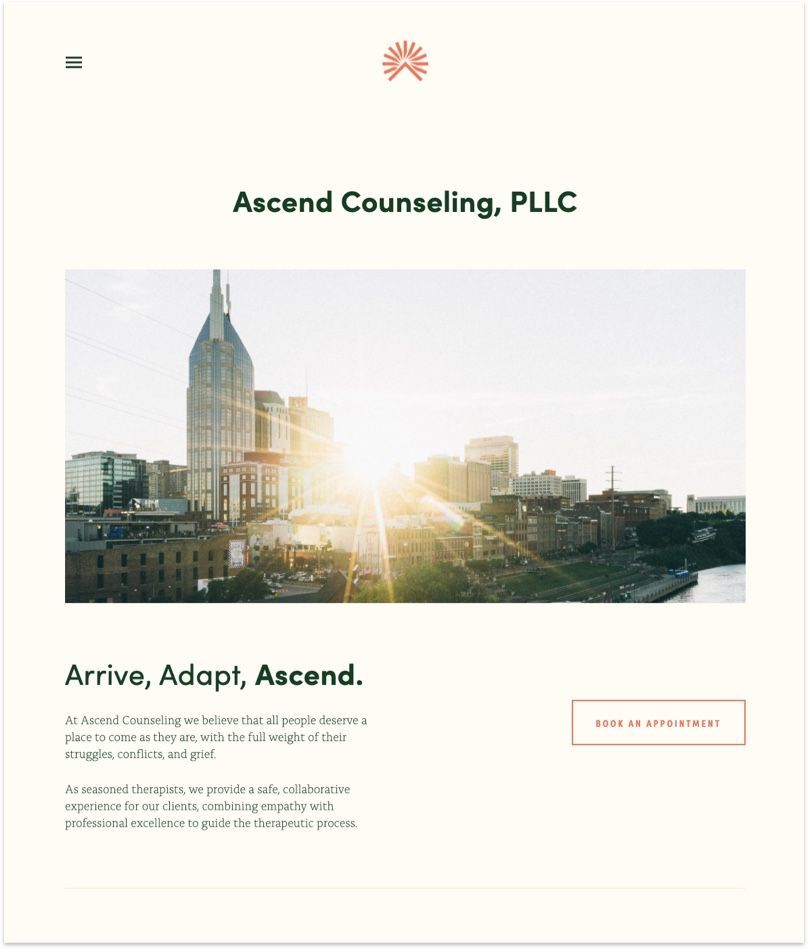 Ascend Counseling believes all people deserve a place to come as they are, with the full weight of their struggles, conflicts, and grief. As seasoned therapists, they provide a safe, collaborative experience for clients, combining empathy with professional excellence to guide the therapeutic process.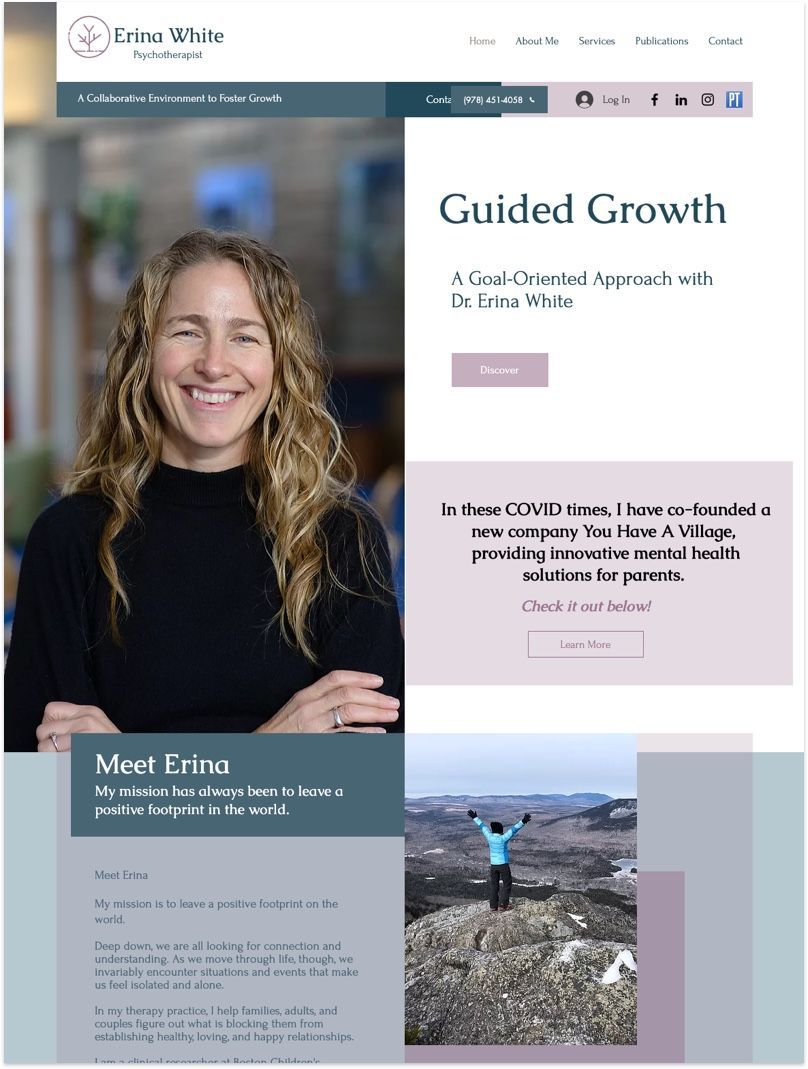 Made with Wix
Erina's mission has always been to leave a positive footprint on the world. By helping people understand and work through their emotions, I hope to create greater peace between humanity and our environment.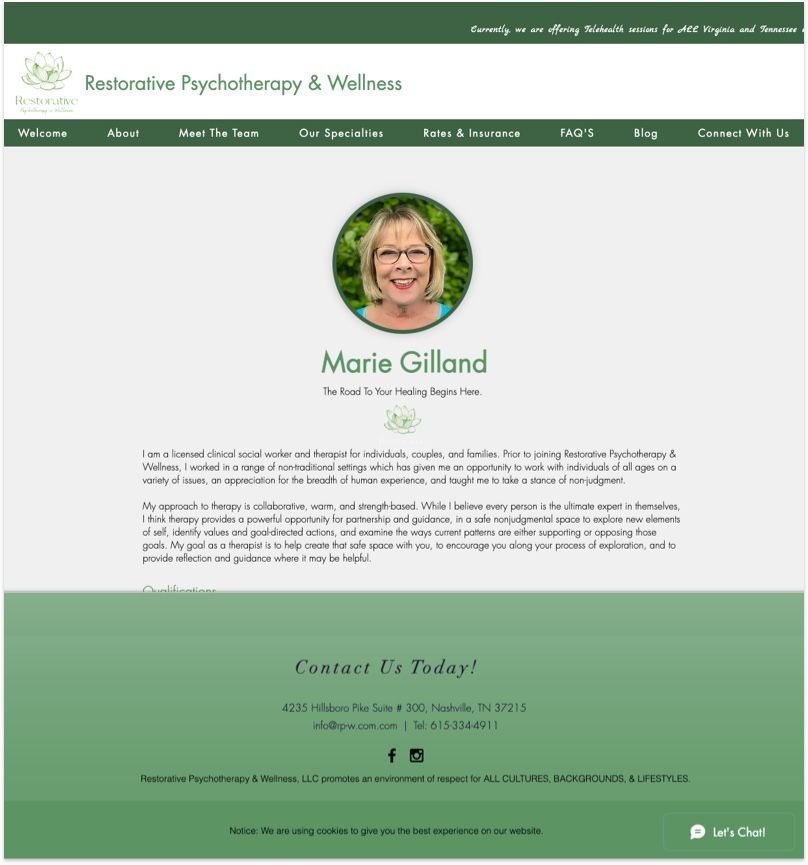 Made with Wix
Marie Gilland is a licensed clinical social worker and therapist for individuals, couples, and families. Prior to joining Restorative Psychotherapy & Wellness,  she worked in a range of non-traditional settings which has given me an opportunity to work with individuals of all ages on a variety of issues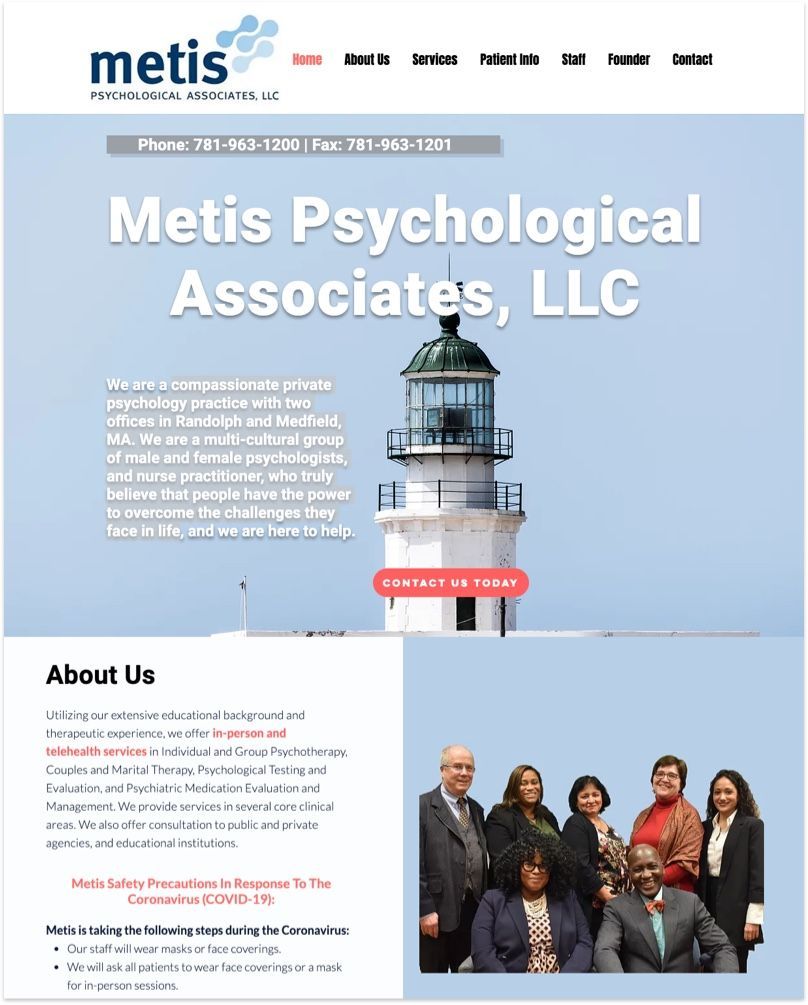 Made with Wix
Metis Psychological Associates is a multi-cultural group of male and female psychologists, and nurse practitioner, who truly believe that people have the power to overcome the challenges they face in life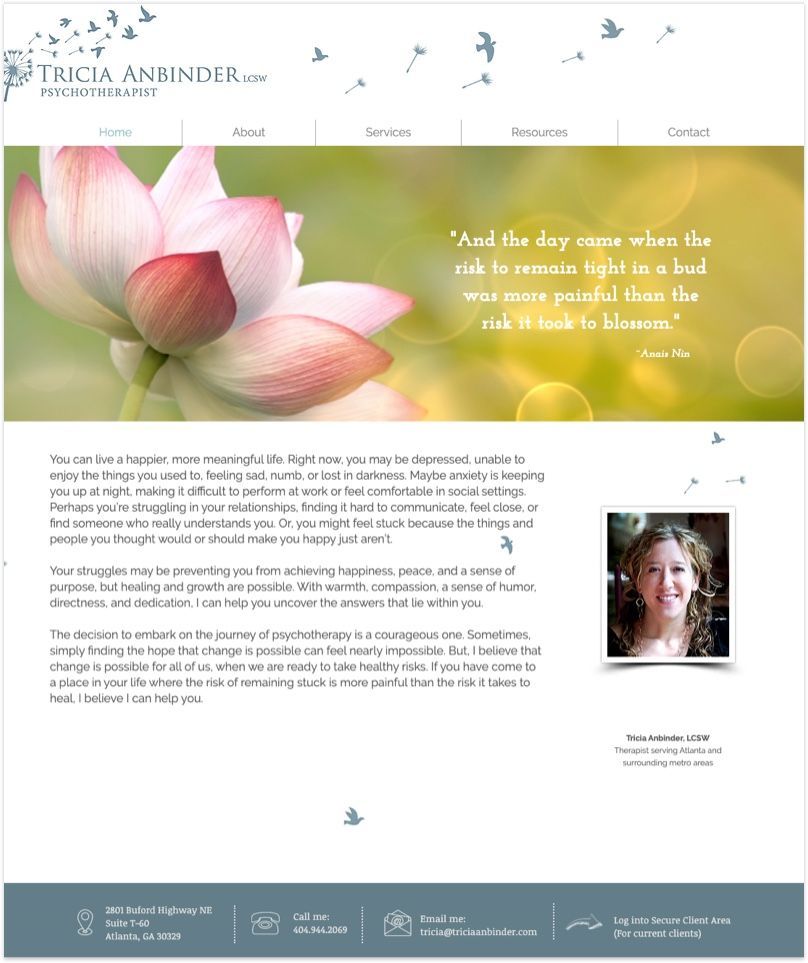 Made with Wix
Tricia specializes in working with women and men experiencing the roller coaster of infertility. She provides individual therapy, groups, and consultation for individuals and couples at any stage of the journey towards parenthood.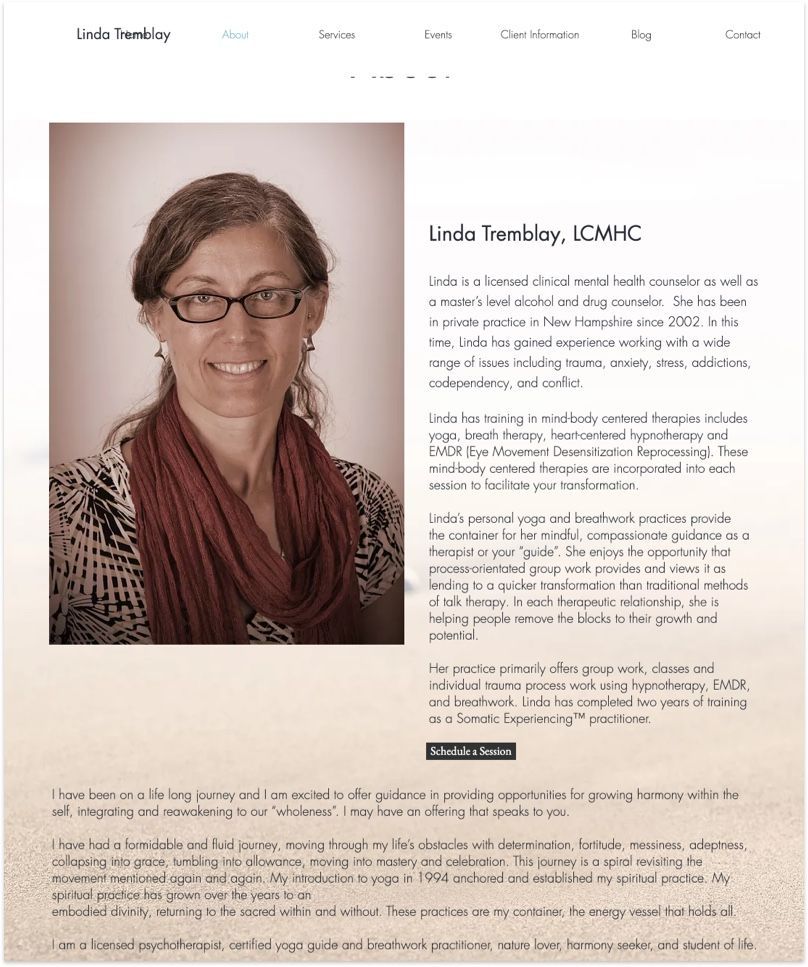 Made with Wix
Growing Harmony Services is run by Linda Tremblay, who is a licensed clinical mental health counselor as well as a master's level alcohol and drug counselor.  She has been in private practice in New Hampshire since 2002.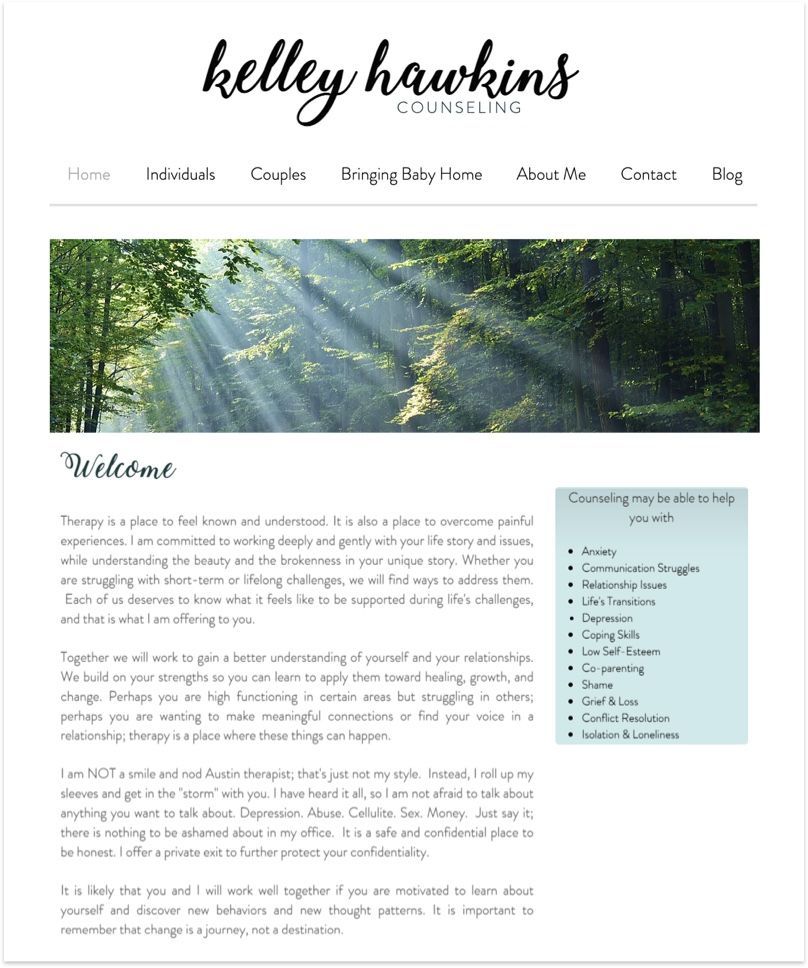 Made with Wix
Kelly helps individuals and couples find relief from their struggles and the strength to move forward. Her area of expertise includes anxiety, communication struggles, relationship issues, life's transitions among many others.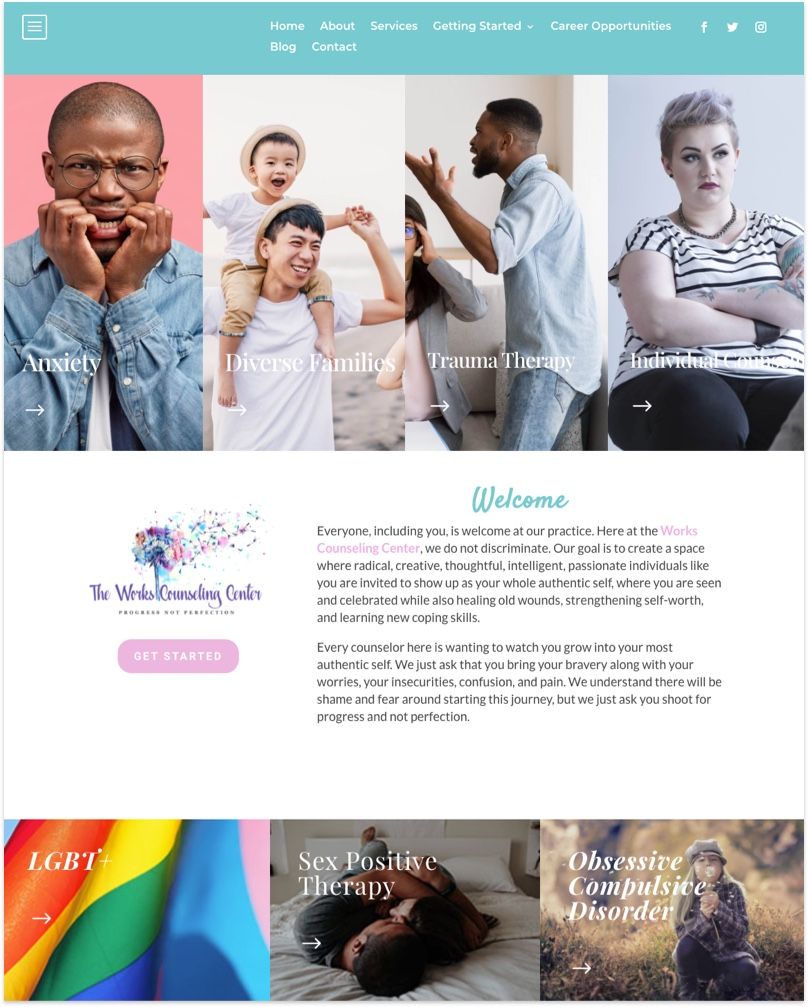 Works Counseling center's goal is to create a space where radical, creative, thoughtful, intelligent, passionate individuals are invited to show up as your whole authentic self, where they are seen and celebrated while also healing old wounds, strengthening self-worth, and learning new coping skills.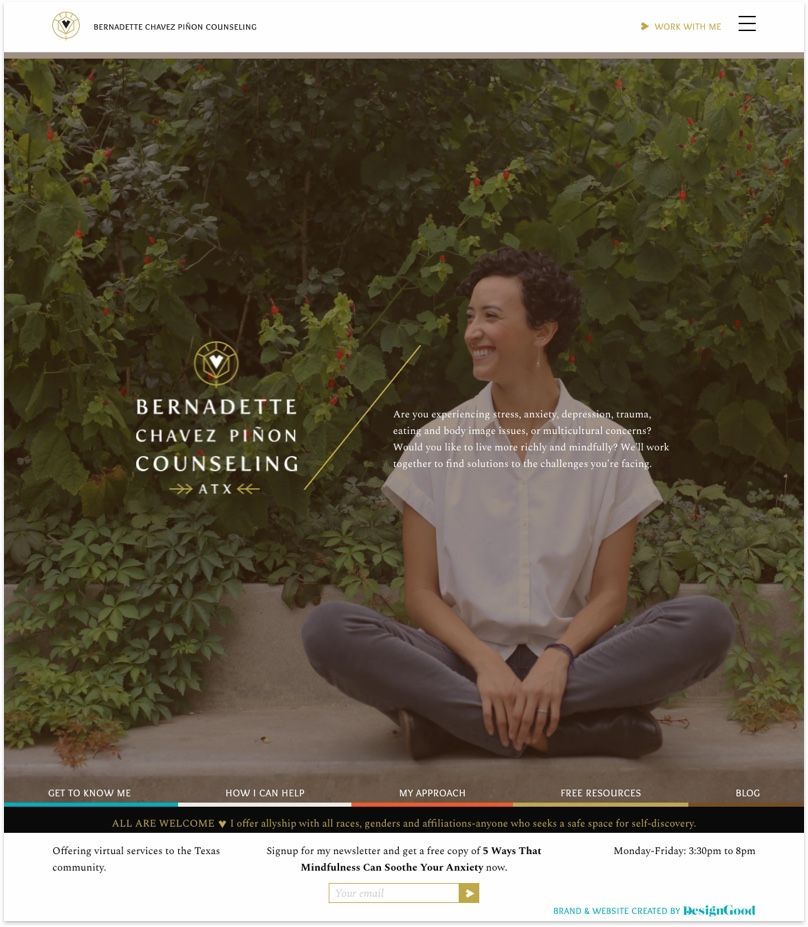 Made with Wordpress and hosted on WPEngine
Bernadette's mission is to support individuals in their journey to have a healing connection within themselves so that they may have meaningful connections with other.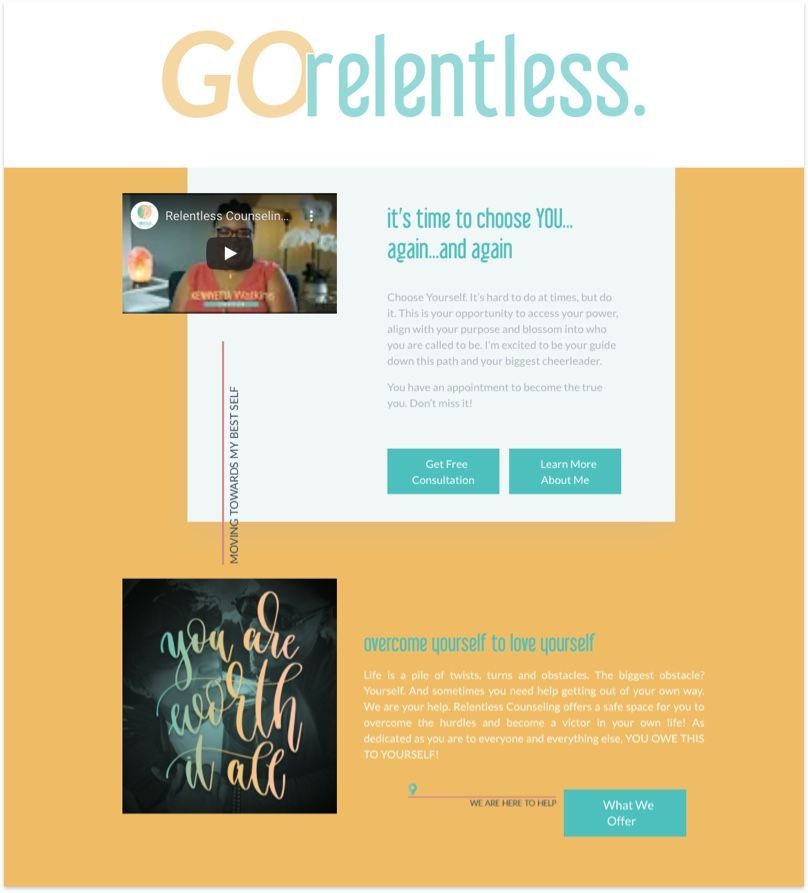 Made with Wordpress and hosted on Bluehost
Relentless Counseling's mission is to foster a safe space and provide support to those who are ready to embark on one of the most rewarding journeys of life - that of growth, evolution and self love.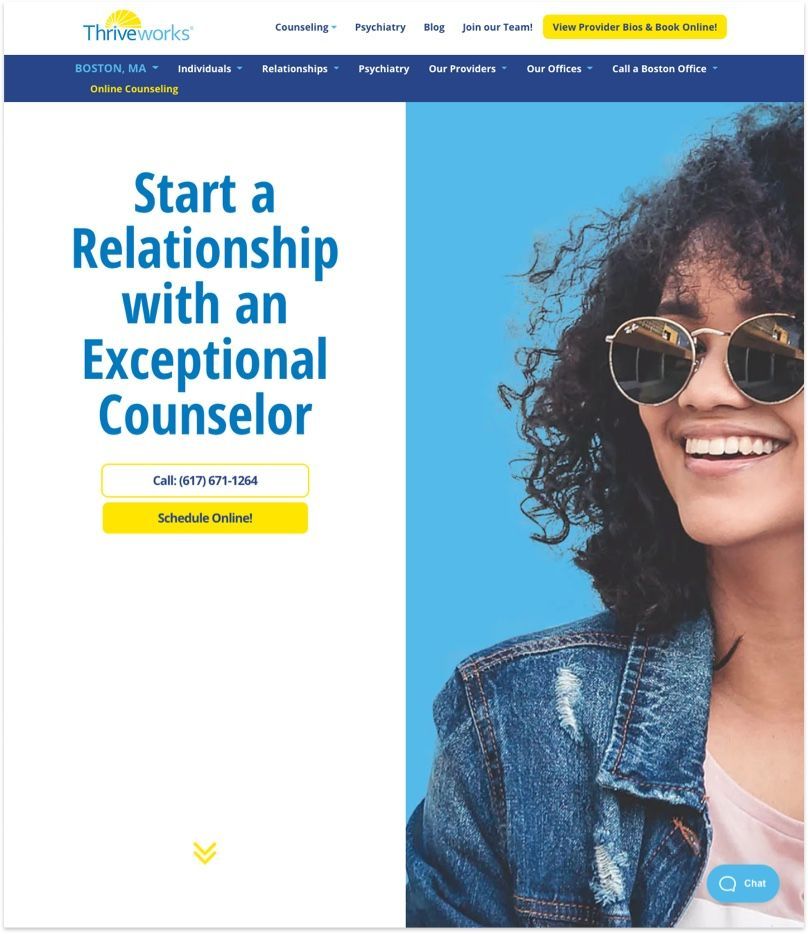 ThriveWorks connect individuals with exceptional providers who help their clients manage challenges like depression, anxiety, relationship issues, major life transitions, and others.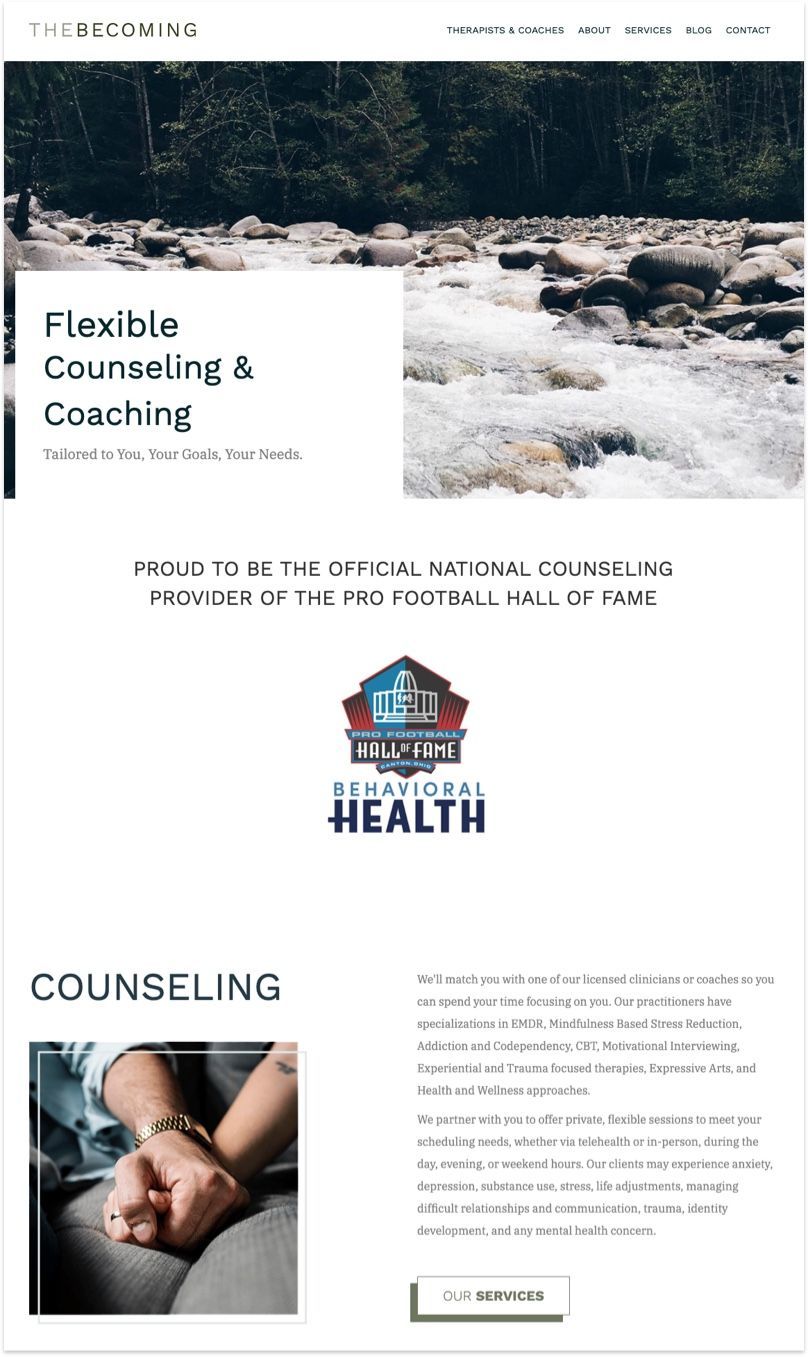 Made with Wordpress and hosted on WPEngine
Thebecoming Counseling offer outpatient mental health therapy, health coaching, telehealth, and clinical assessment services to individuals, couples, families, and groups. Our licensed clinicians have specializations ranging from EMDR, Yoga Therapy, Mindfulness Based Stress Reduction, Addiction and Codependency.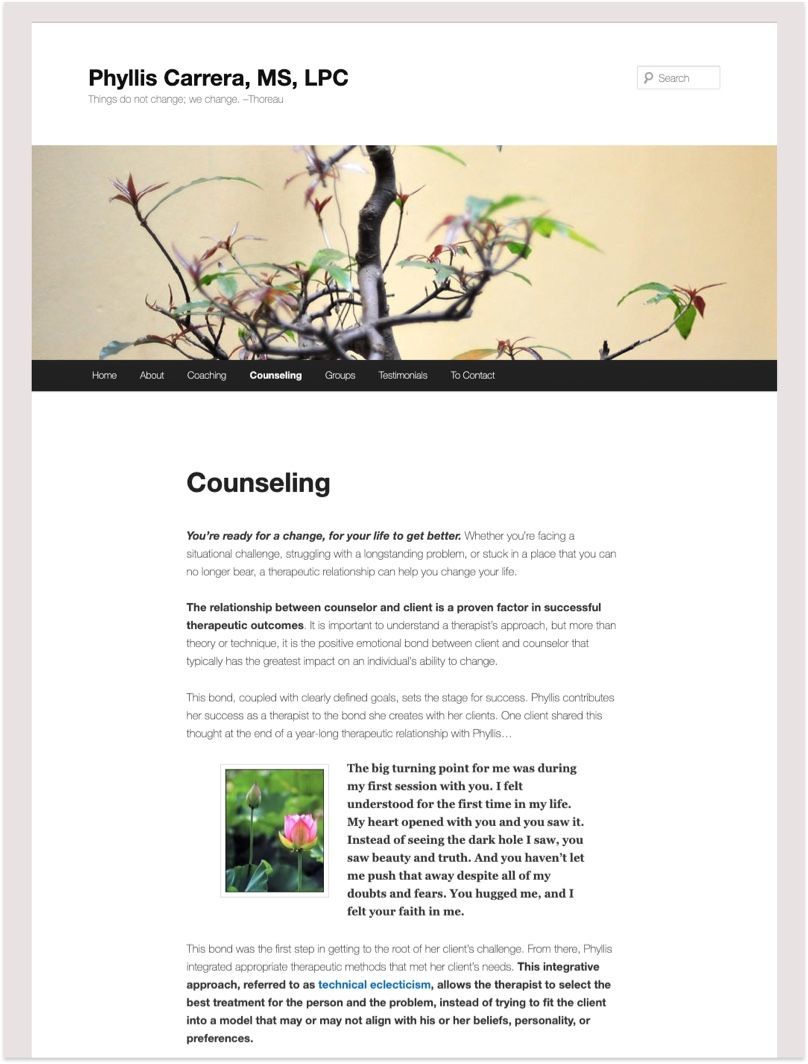 Phyllis Carrera is a Licensed Psychotherapist and Executive Life Coach who believes in a wellness model of psychotherapy.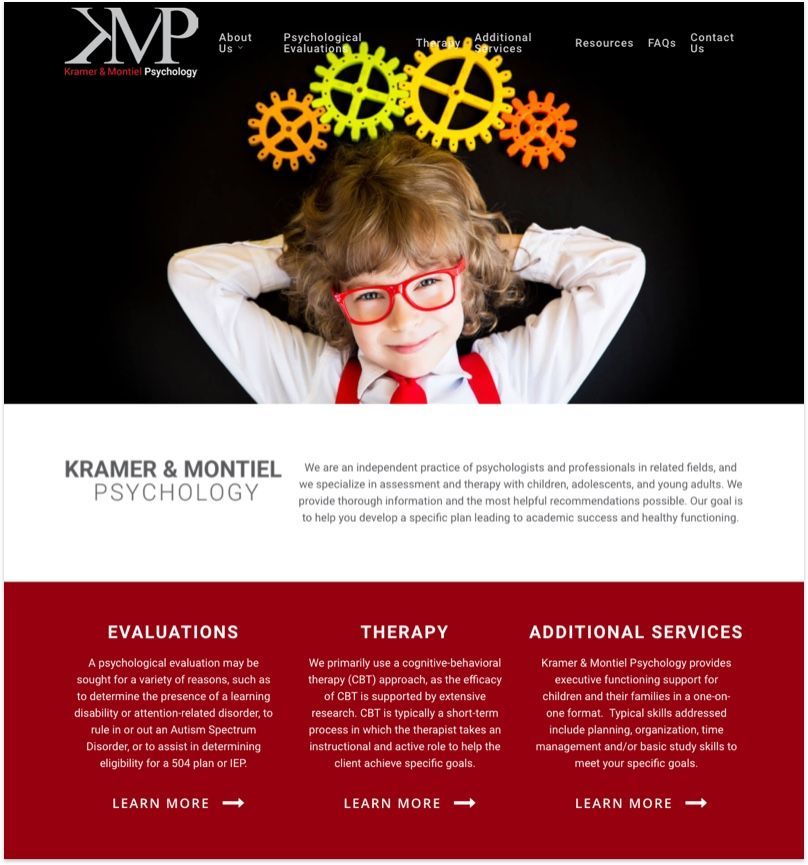 Kramer & Montiel Psychology is an independent practice of psychologists and professionals in related fields, and they specialize in assessment and therapy with children, adolescents, and young adults.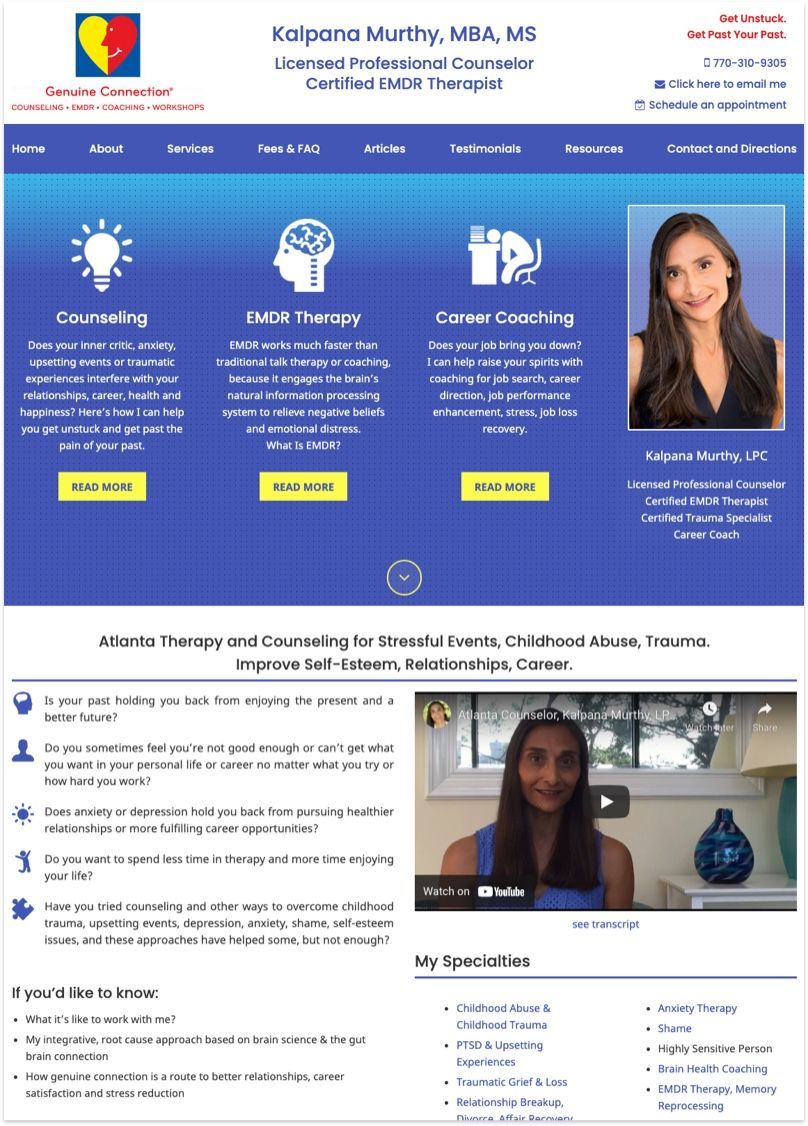 Kalpana Murthy, who runs Genuine Connection is a Licensed Professional Counselor and an EMDRIA Certified EMDR Psychotherapist based in Atlanta, GA. She helps adults overcome the negative effects that stressful or traumatic life experiences have on how a person thinks, feels and behaves.
Made with Wordpress and hosted on Dreamhost
Del Marillac Counseling provide professional psychotherapy services to adults in a confidential, therapeutic, and culturally responsive setting.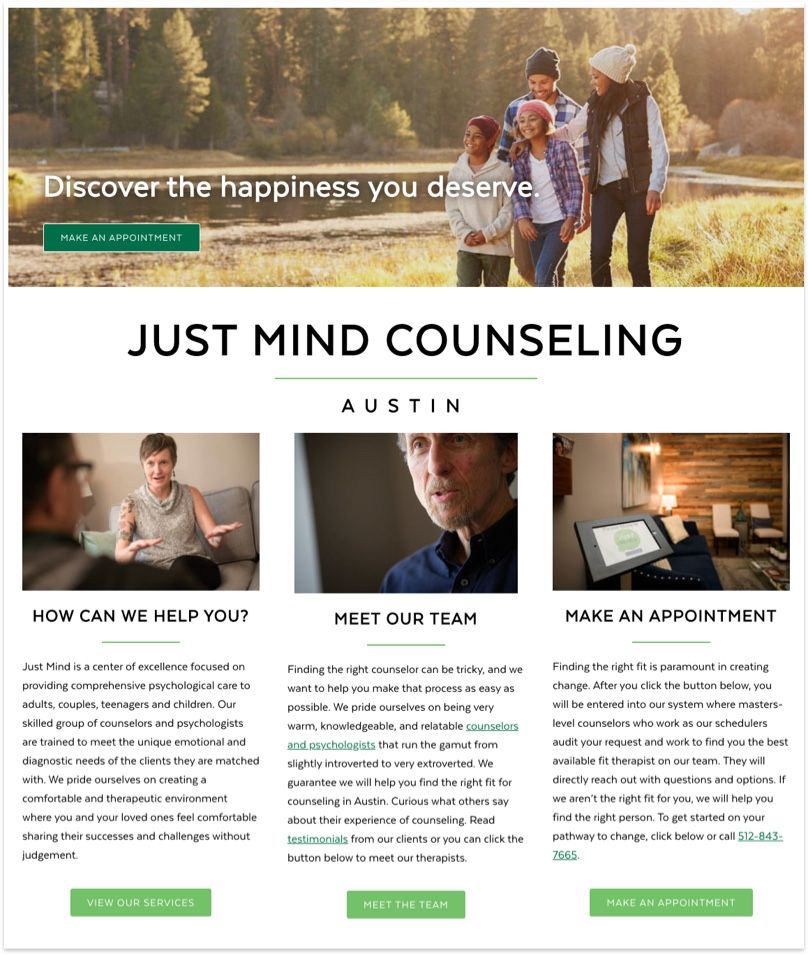 Made with Wordpress and hosted on WPEngine
Just Mind is a center of excellence focused on providing comprehensive psychological care to adults, couples, teenagers and children.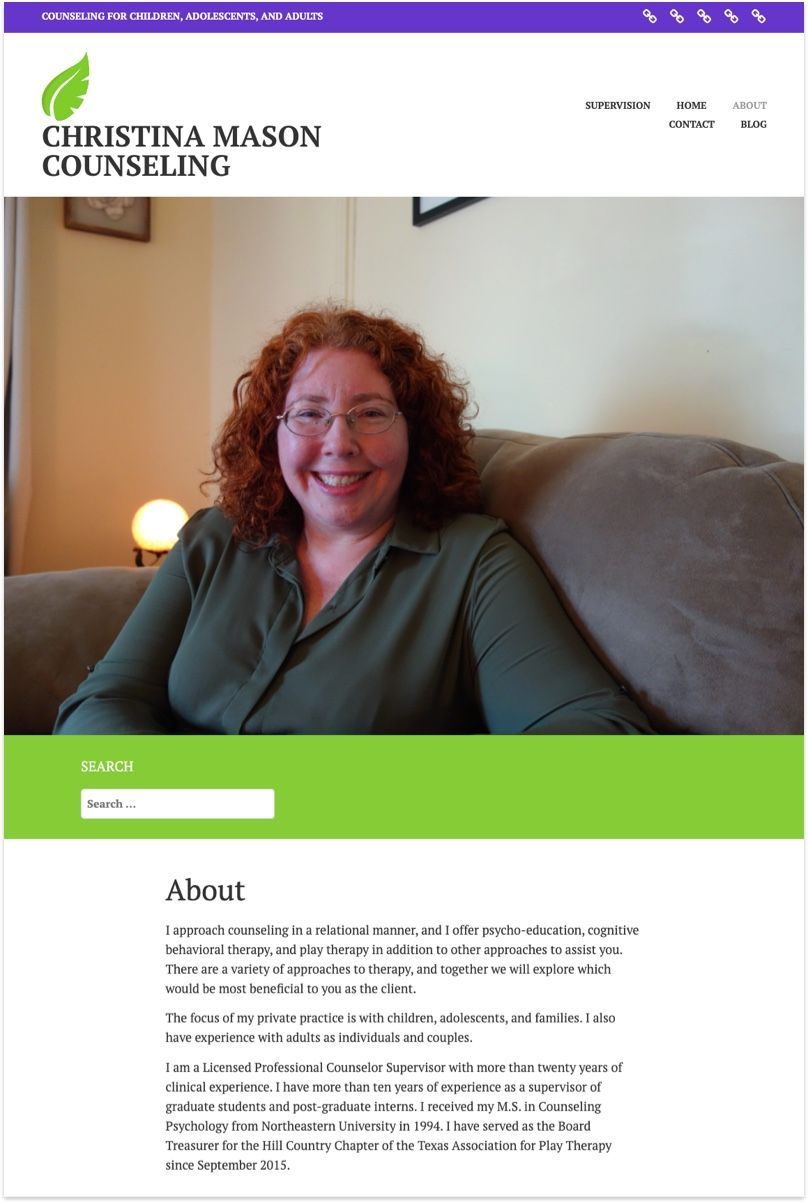 Christina approach counseling in a relational manner, and she offers psycho-education, cognitive behavioral therapy, and play therapy in addition to other approaches to assist her clients.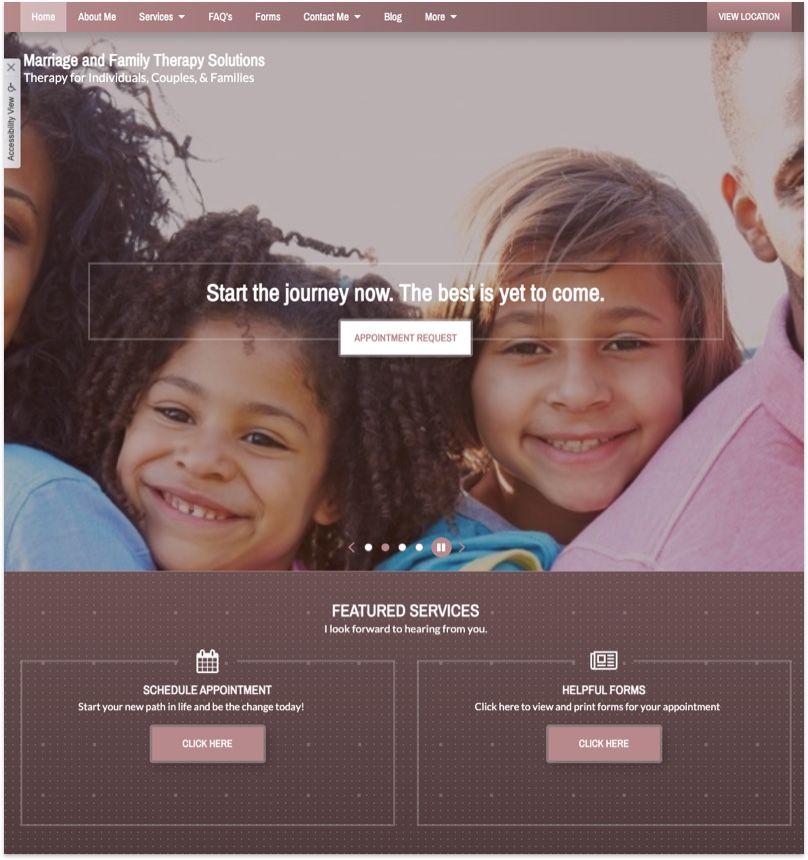 Made with TherapySites
Laurie Wilson is a Licensed Marriage and Family Therapist and Certified Substance Abuse Counselor with over 25 years of experience specializing in individual, couples and family therapy.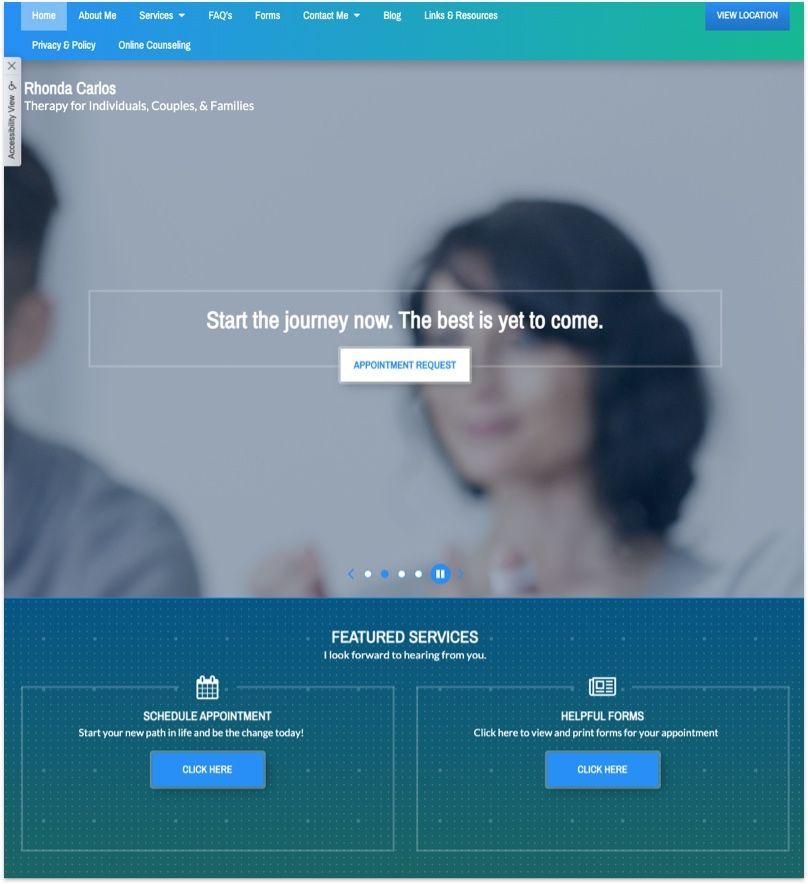 Made with TherapySites
Rhonda Carlos is a therapist specializing in individual, couples and family therapy, and maintains a private practice in Tulsa,OK.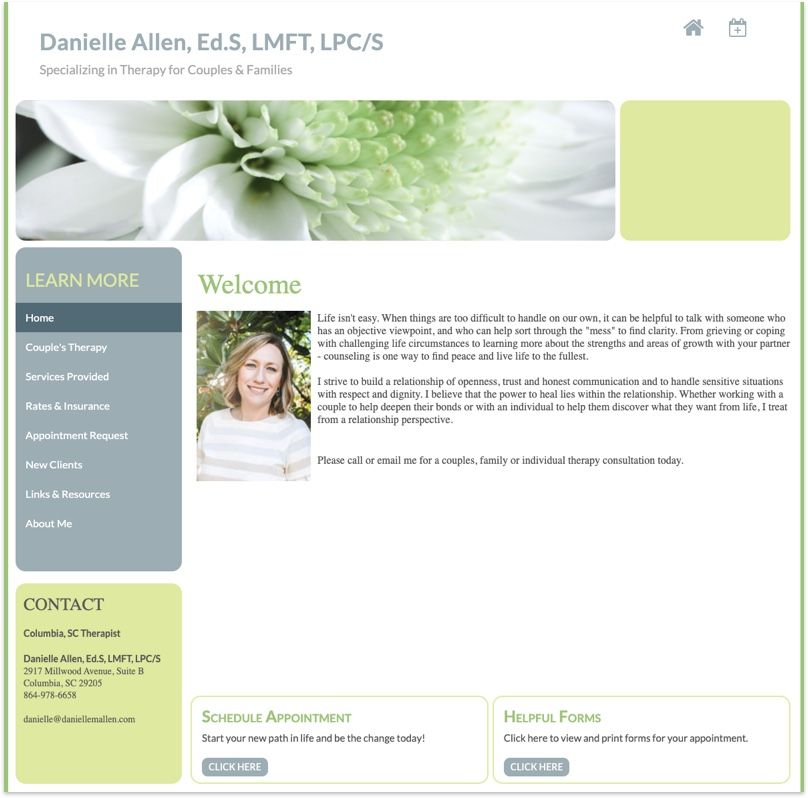 Made with TherapySites
Danielle strives to build a relationship of openness, trust and honest communication and to handle sensitive situations with respect and dignity. She believes that the power to heal lies within the relationship.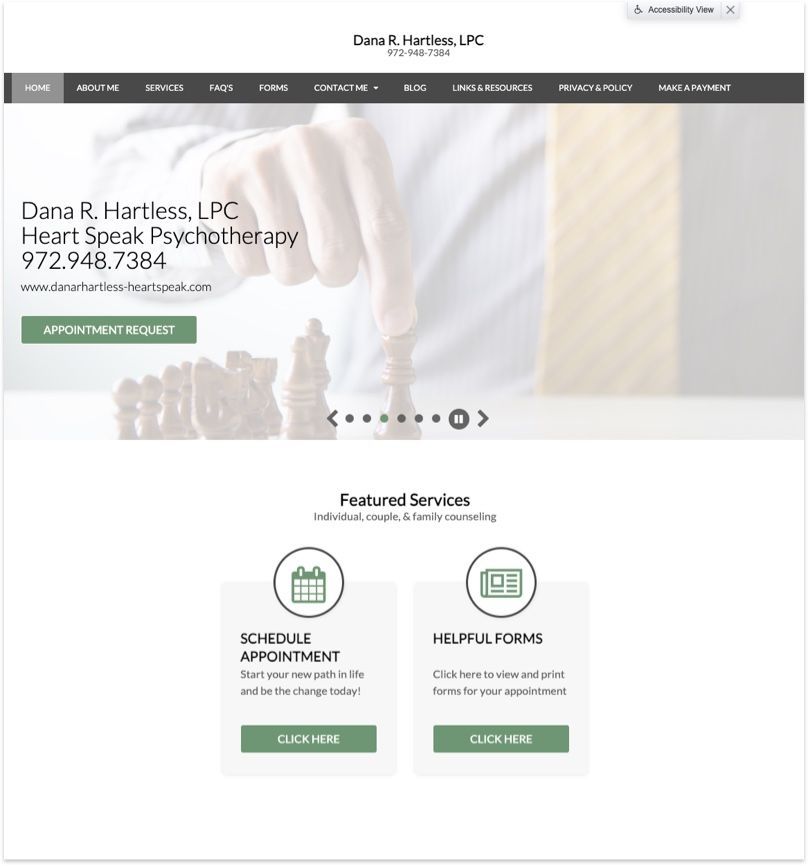 Made with TherapySites
Dana has 19 years experience as a School Counselor in public schools. She started a private counseling practice in February 2015 under the supervision of Dr. Donna Rial-Baker, DMin.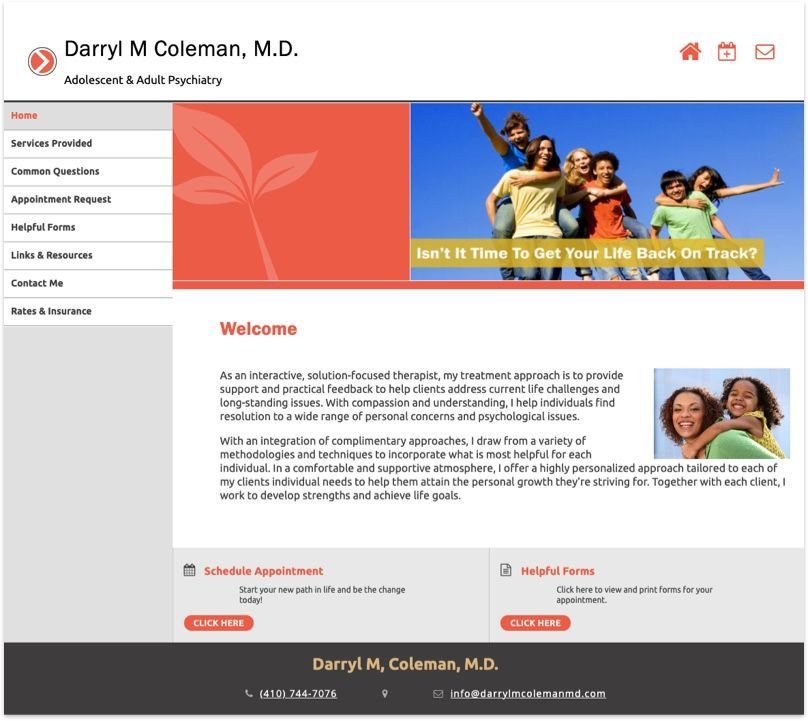 Made with TherapySites
As an interactive, solution-focused therapist, Darryl's treatment approach is to provide support and practical feedback to help clients address current life challenges and long-standing issues.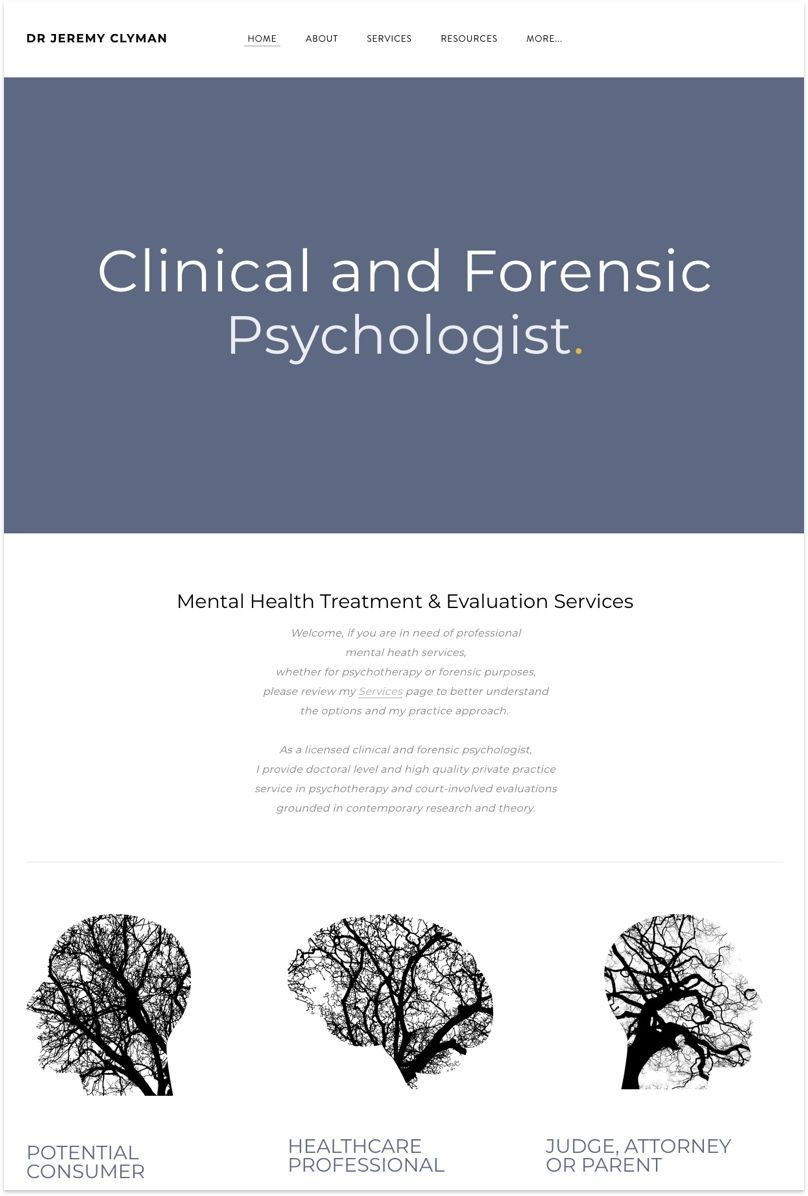 Dr Jeremy Clyman is a licensed clinical and forensic psychologist who provides doctoral level and high quality private practice service in psychotherapy and court-involved evaluations ​grounded in contemporary research and theory.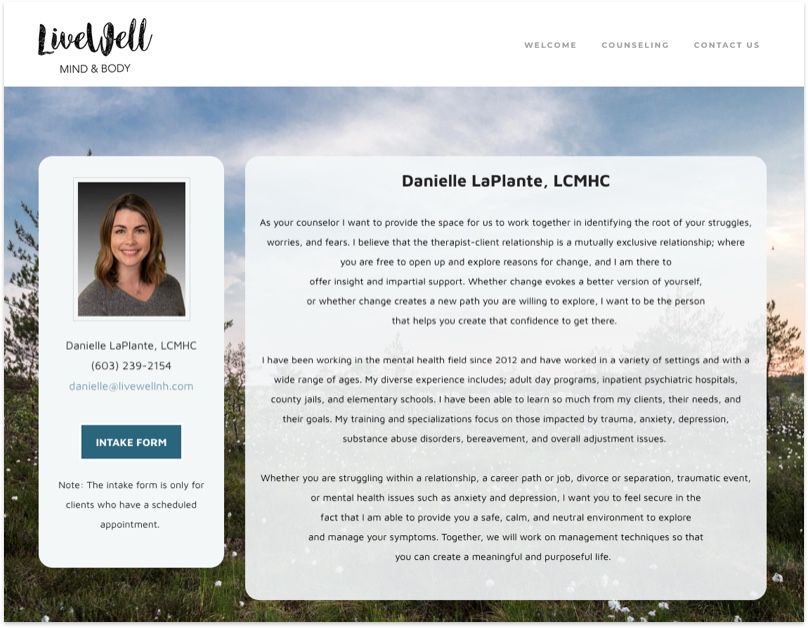 LiveWell Counseling Services offers compassionate and practical psychotherapy and counseling through integrative and strength based approaches.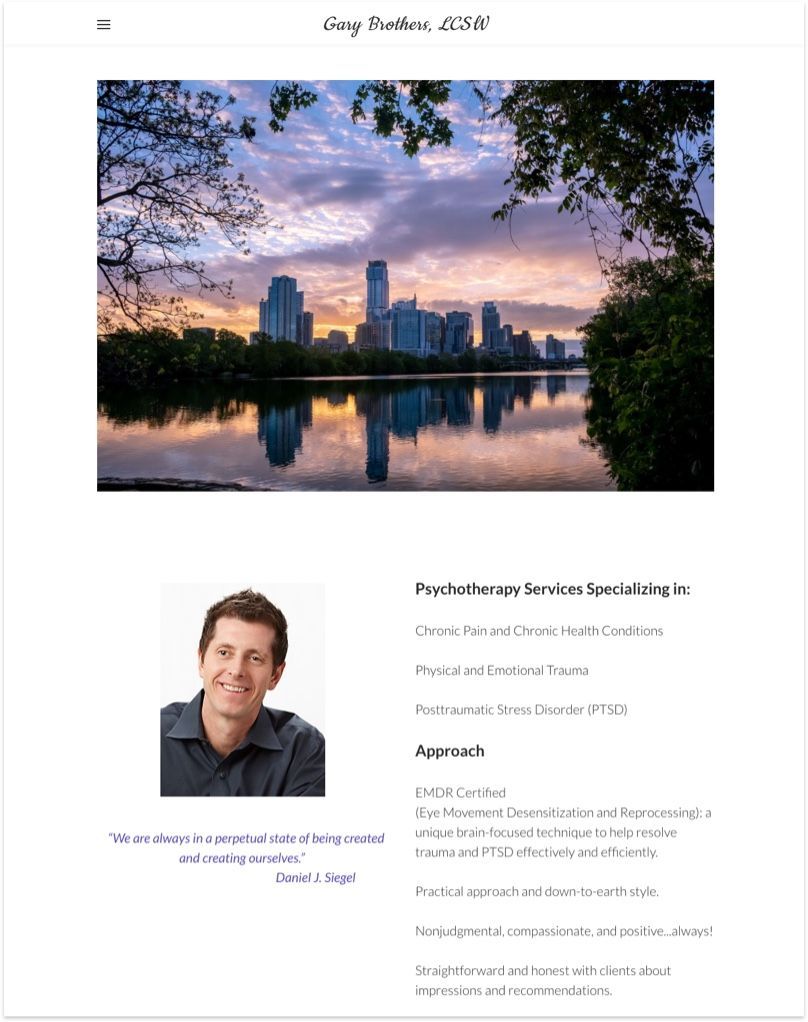 Gary has 26 years of experience treating adults, teens, children, and families at all levels of care and is trained to help clients with most emotional, behavioral and relationship challenges they may be facing.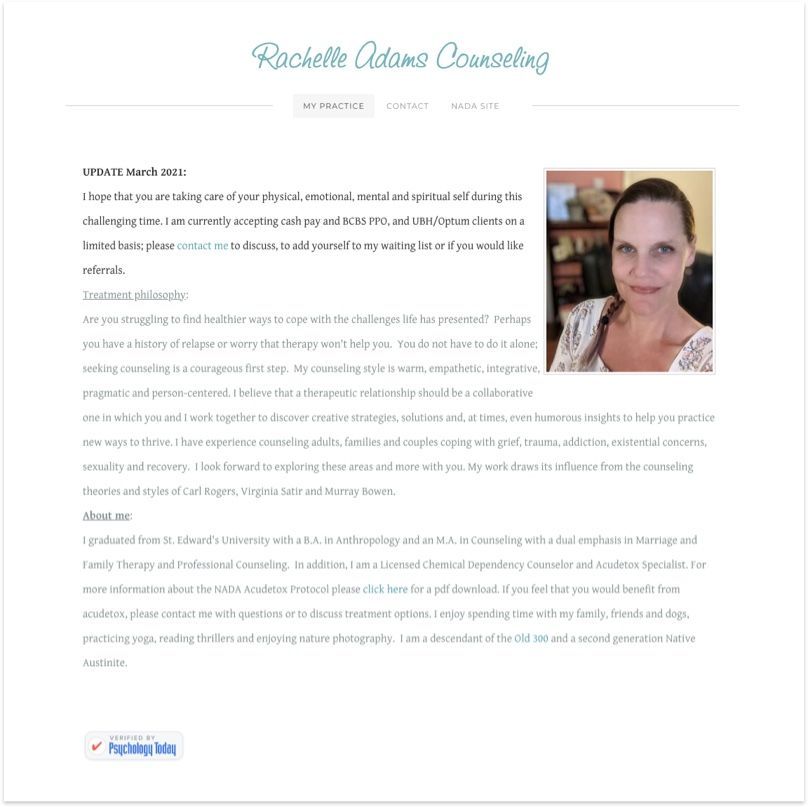 Rachelle graduated from St. Edward's University with a B.A. in Anthropology and an M.A. in Counseling with a dual emphasis in Marriage and Family Therapy and Professional Counseling.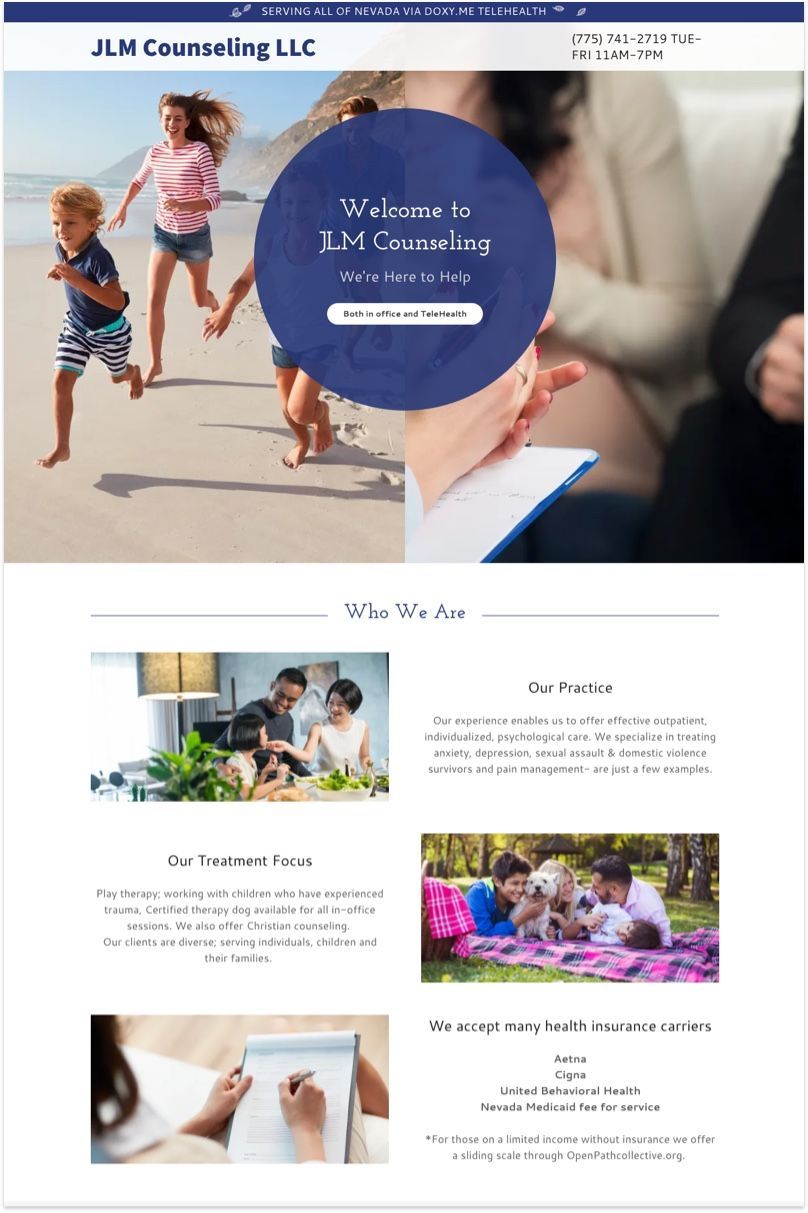 Made with GoDaddy
JLM counsulting is specialized in treating anxiety, depression, sexual assault & domestic violence survivors and pain managemen, among many others.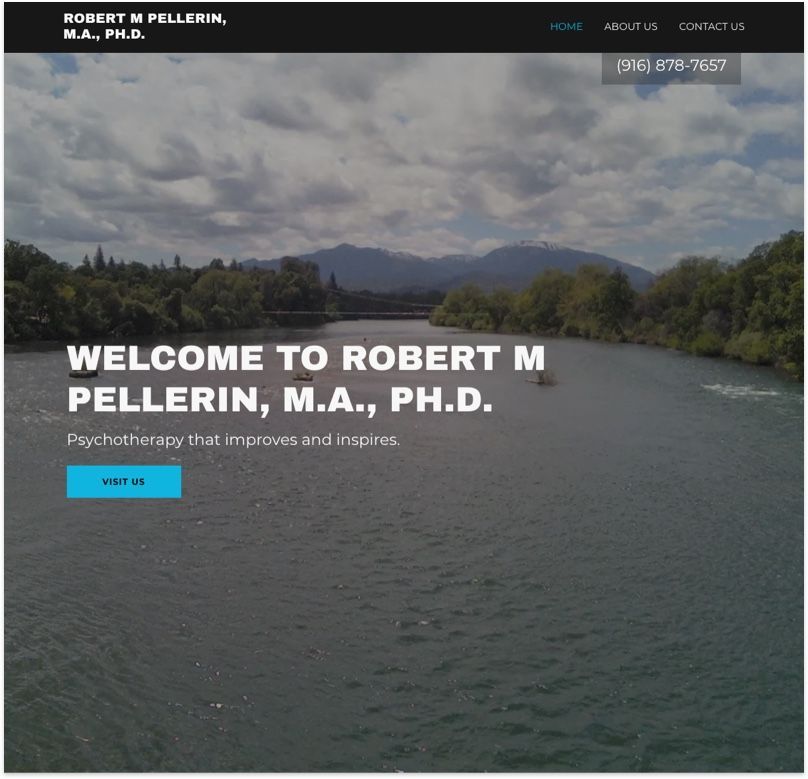 Made with GoDaddy
Robert  worked in private and public school settings, co-facilitating anger management groups, a methadone clinic, and counseling victims of crime. Area of interest include anxiety and depression, grief and loss, and trauma among others.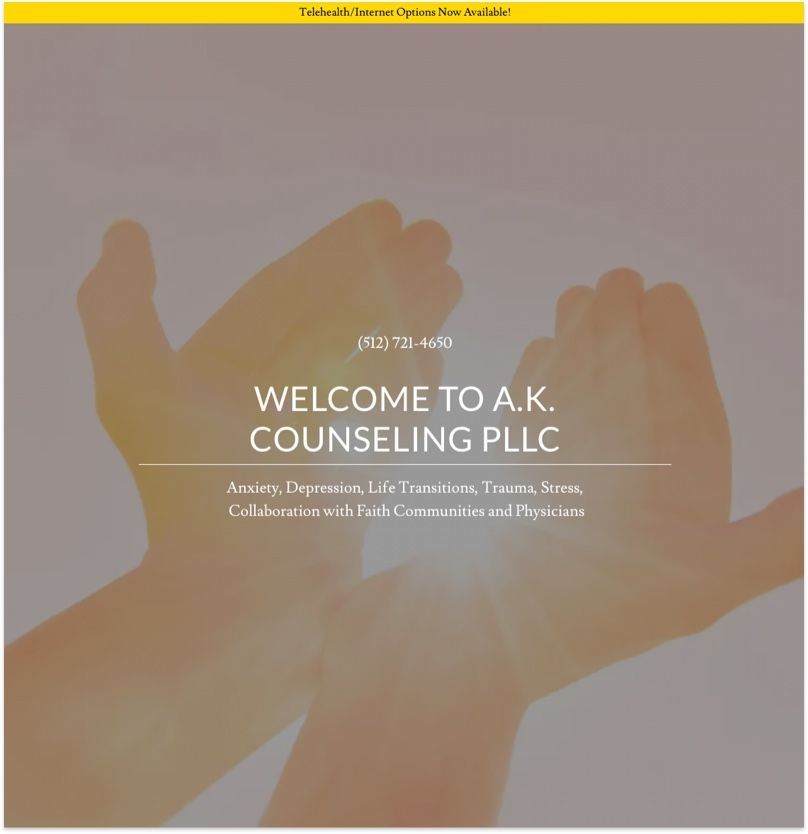 Made with GoDaddy
Allah Nakaj weaves clients' religion and spirituality into evidence-based therapies that work. He also specialize in helping folks manage chronic illness and navigate the changes and challenges as they age.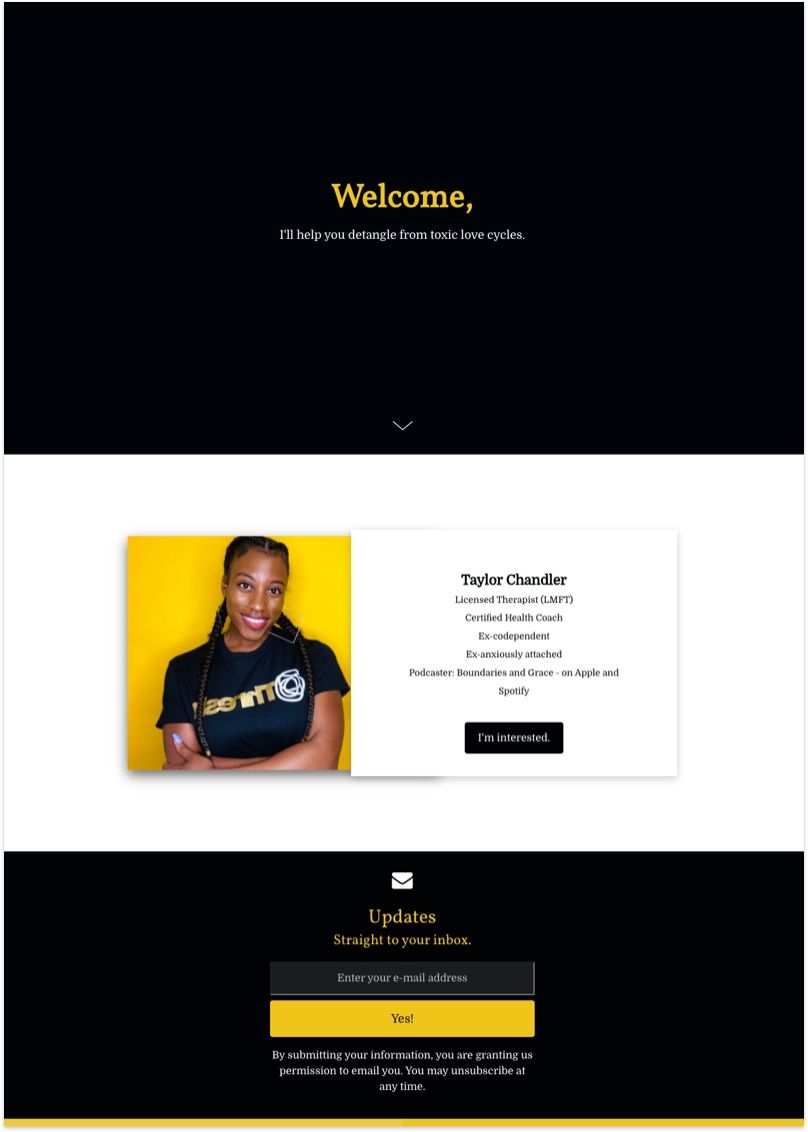 Made with SiteBuilder
Taylor Chandler is a Licensed Therapist (LMFT) Certified Health Coach who helps clients work through and get over toxic patterns of the past.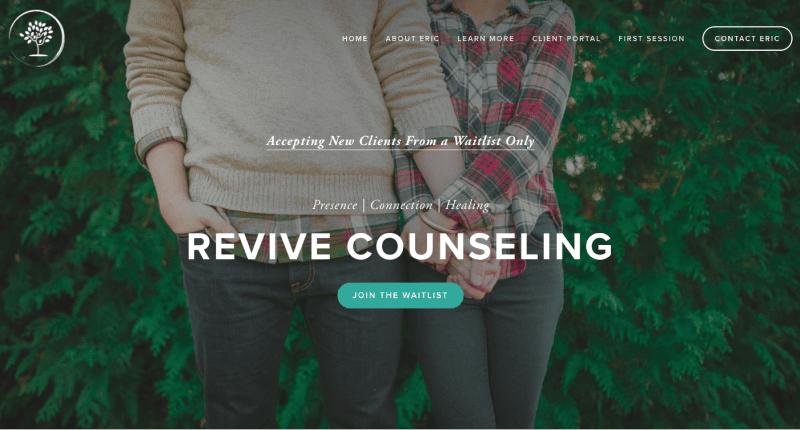 Revive counseling is run by Eric, a combat aviator, trauma survivor and recovering adult child of dysfunction and addiction. Drawing from his personal experience, he enjoys helping individuals and couples experience and practice a true expression of emotional connection and needs with the people they feel safest with.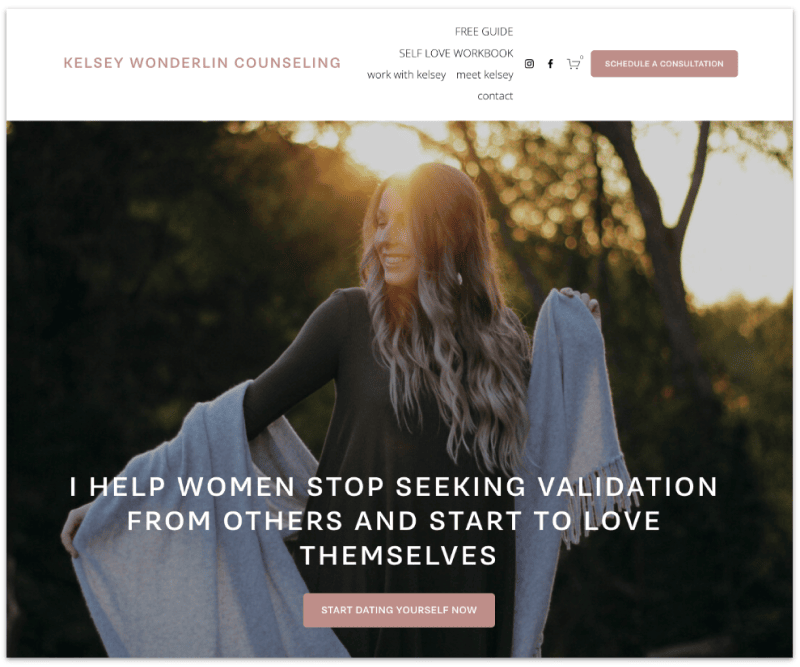 Kelsey is passionate about all things anxiety, self-esteem, and relationships. Having struggled with all three in her own life, she made it my mission to help others work through these issues too. She previously studied Master of Education in Clinical Mental Health Counseling from Vanderbilt University.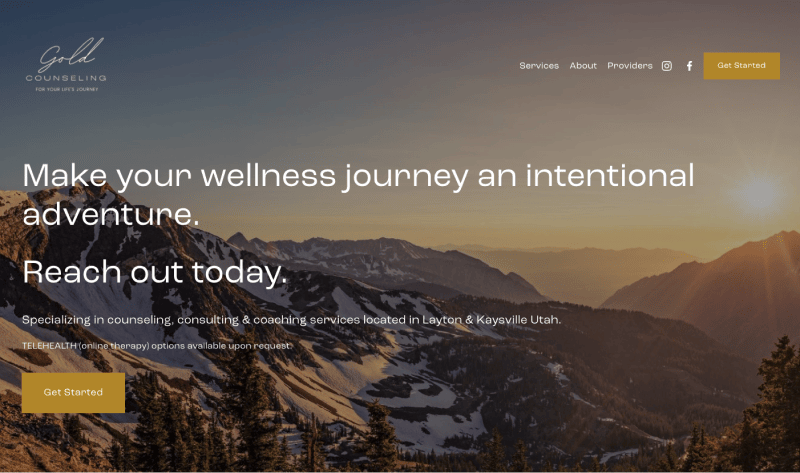 Gold Wellness Counseling is run by Debee, who has worked with clients in many different stages of life and in multiple therapeutic settings over the last 25 years, including children & adolescents, adults, and seniors to name a few. All her clinicians are UAMFT Certified Clinical Supervisor.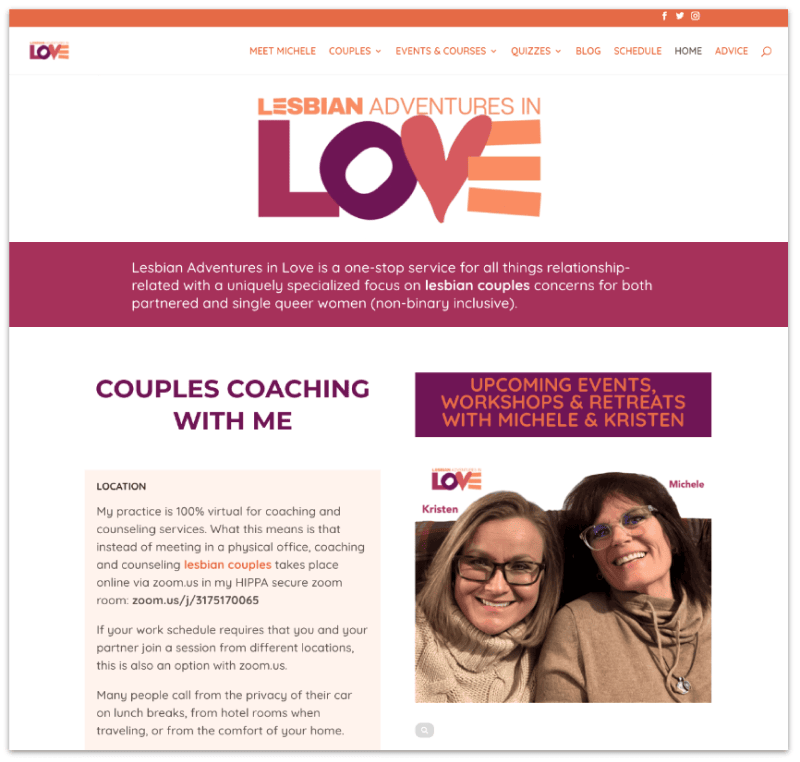 Michele is a happiness advocate, lesbian couples coach, relationship and sex psychotherapist for couples.
She currently offers 100% virtual for coaching and counseling services and is committed to helping lesbian couples cultivate love with courage and authenticity, and  experience passion, love, and connection.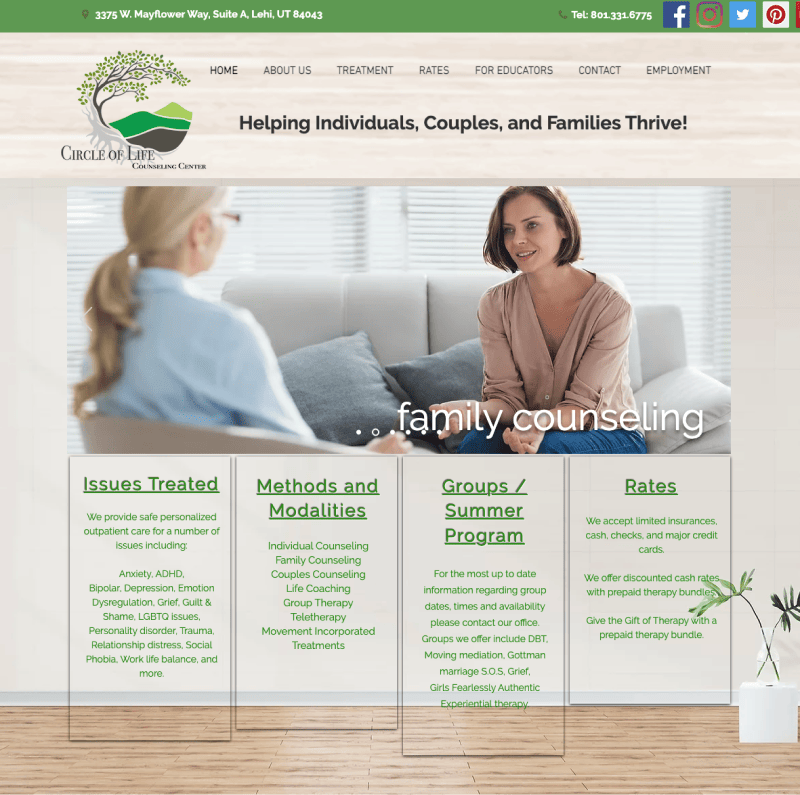 The Circle of  Life Counseling Center (founded by Barbie Riccardelli and Carrie J, Carter) was founded in 2010 to help  individuals and families overcome obstacles and distress.
They are committed to identify and enhance personal strengths and develop abilities to effectively deal with the experiences of life's challenges by offering counseling services serving individuals and families.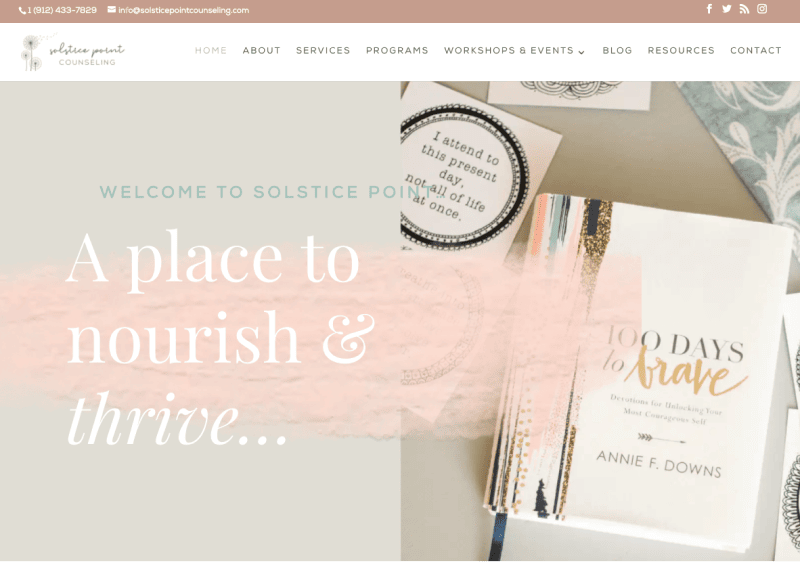 Made with Wix
Solstice Point Counseling was founded by Mieke Kramer, a clinical director and psychotherapist who also has a private practice in downtown Savannah, Georgia.
She's also a licensed professional counselor in the State of Georgia, who earned her Bachelor of Science in Biology at Emory University, Atlanta, GA and Master of Arts in professional counseling at Liberty University, Lynchburg, VA.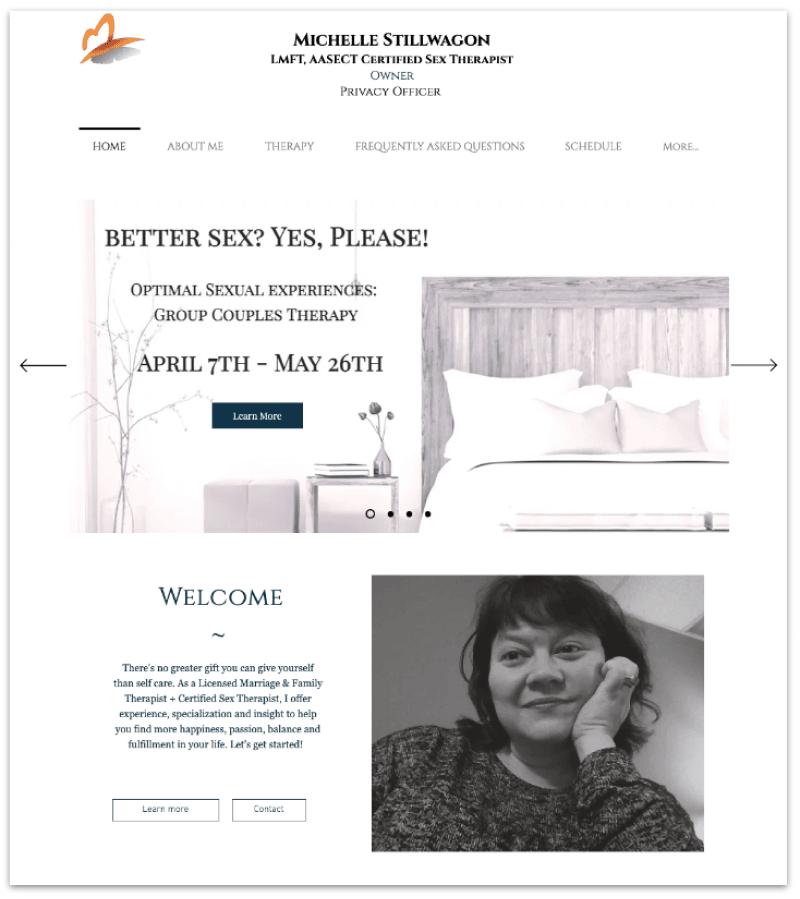 Made with Wix
Michele subscribed to several methodologies that she learned over the course of 13 years in practice which include cognitive behavioral, Emotionally Focused, Family Systems, Narrative, EMDR, Relational and Sex Therapies.
In therapy, she will help you begin trusting your inner resources and building up your toolbox to include compassion, empathy, trust, mindfulness, healthy boundaries, and a rooted sense of self.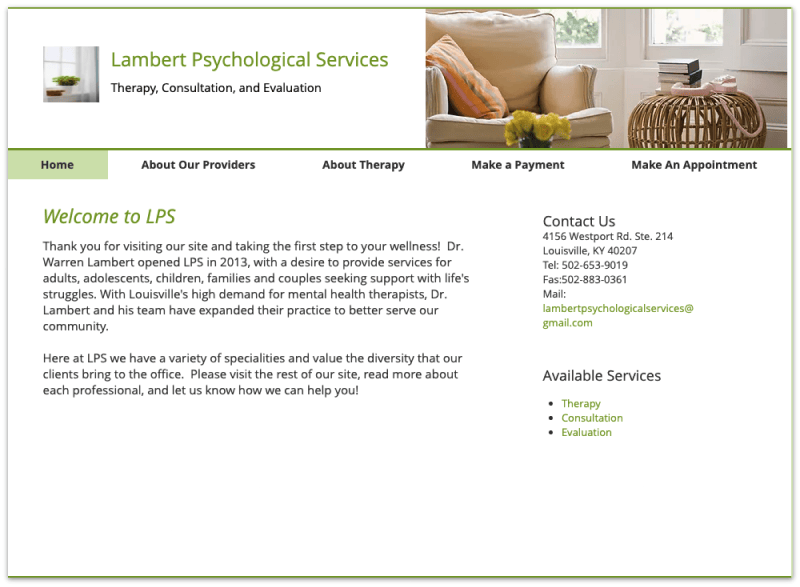 Made with Wix
Dr Lambert has Ph.D. from Fielding Graduate University (APA accredited program) which I completed in 2011.  Since graduating from Fielding he had become a fully autonomous Licensed Psychologist in KY.
He  has worked in a variety of settings, including University Counseling Centers, Community Mental Health Centers, and as a faculty member at community colleges and 4 year institutions. Now, he's happily working in his own private practice in Louisville, KY.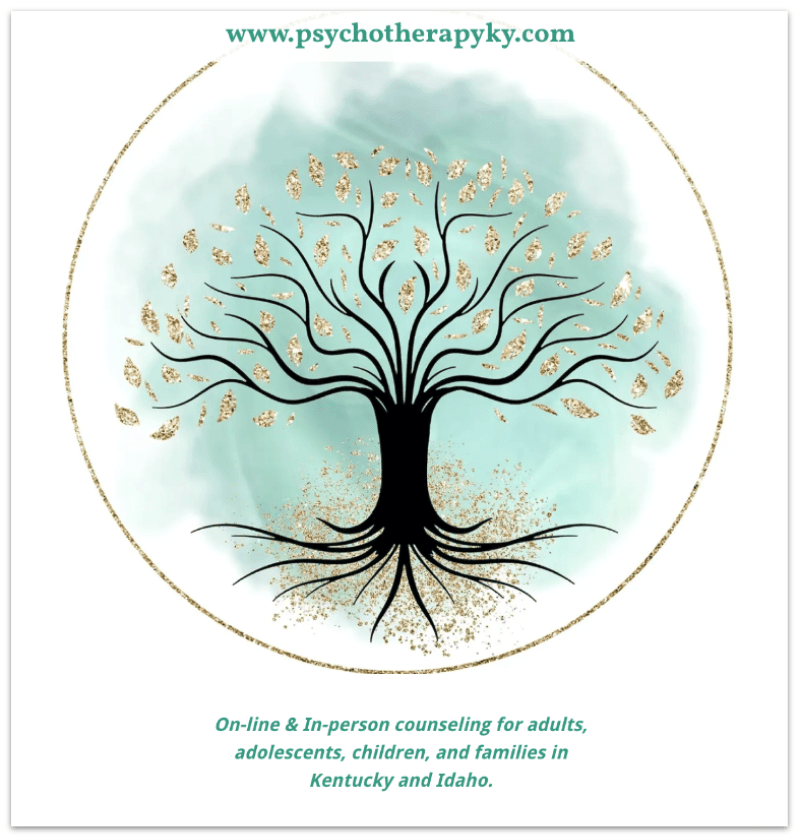 Made with GoDaddy Website Builder
Ashlee Colville runs Psycho Therapyky with a mission to give children and adults a safe space to talk about life's struggles so they can build healthy relationships with themselves and others.
Whether it is just being there to listen, being there to encourage, or being there to give you that little extra nudge to push you forward, she wants to help you along the way and remind you that you are not alone.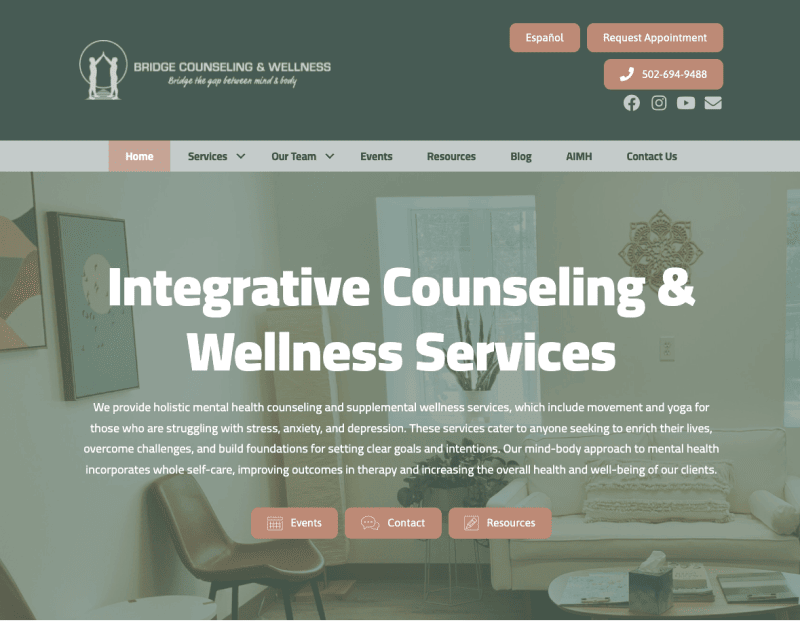 Bridge Counseling provides holistic mental health counseling and supplemental wellness services, which include movement and yoga for those who are struggling with stress, anxiety, and depression.
These services cater to anyone seeking to enrich their lives, overcome challenges, and build foundations for setting clear goals and intentions

Related Articles