If you're trying to evaluate which website builder to use for your wedding, read on.
There are so many wedding management and website builder tools out there with overlapping features that it can be overwhelming, even for seasoned wedding planners.
This guide is the culmination of weeks of research trying different wedding website builders to answer these questions:
Which wedding website builder is the most cost effective and has the best value?
What are their advantages and shortcomings?
Which website builder has the best features, design, and customizability?
Are they beginner friendly?
Are there any good examples of using these platforms?
How's their customer support? Having an excellent support team can be very helpful in managing the wedding chaos.
And more, as you'll see.
Need inspiration? Here's a list of the best designed wedding websites I found.
Here's a quick summary: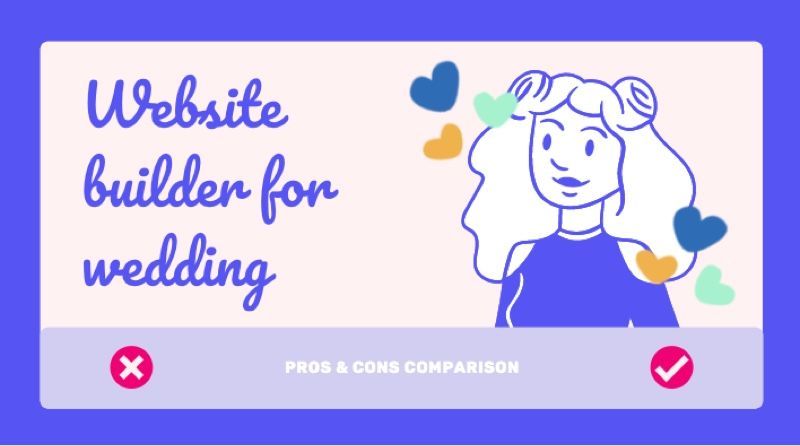 Minted — Best value wedding-focused website builder with the option to work with a dedicated designer.
TheKnot — Wedding website builder with the most features and vendors.
Zola — All in one beginner-friendly wedding website builder with powerful RSVP.
Wix — Most customizable website builder with RSVP and guest management.
Squarespace — Customizable, beginner-friendly wedding website builder. Great customer support.
Joy — Best free wedding-focused website builder.
Riley & Grey — Premium wedding website builder with the best web designs.
Strikingly — Free, easy to use, and highly customizable website builder for a one-page wedding website.
Now let's take a look at the top 8 website builders for weddings:

About Minted
Minted is primarily a marketplace for designers. They source creative content from a global community of independent artists, then sell them in the form of invitation cards, wedding gifts, and stationery directly to consumers.
They also provide free wedding websites for couples to manage their wedding. As a wedding platform, Minted checks all the boxes:
All of their designs (website, stationery, gifts) are unique and diverse. They are sourced from independent artists from around the world.
Their website builder is easy to use.
They offer premium services at affordable prices.
They generate revenue selling high-quality products so you won't see ads.
They have great partners (photographers, wedding planners, wholesalers, and more) who can add value to your wedding.
All these make Minted one of the best value wedding platforms in the market.
💡
Minted Black Friday offer:
Save 15%
on all orders with code BF2022
Minted Price
Minted offers 3 different ​wedding website plans:
1) Free — Choose from hundreds of unique wedding website designs. Features included: guest management, digital invitation cards, RSVP for multiple events, gift registries, wedding party, maps, directions, and more.
2) Premium ($15) — All features in the free plan included, plus custom URL, password protection, photo gallery, and custom pages
3) Custom ($100) — A dedicated Minted designer who will create original artwork for your website.
Minted Pros
Designs crowdsourced by independent artists
Generous free plan
Great value add service: Print save the date, invitation, and thank you card for free
Bespoke web design service available
High-quality stationery to match your website
Cons
The custom design merchandises they sell are rather costly.
5 Inspiring Minted websites
Is Minted recommended?
Minted is perfect for couples looking to create tasteful, custom-designed wedding websites at an affordable price. Although, if you're willing to splurge a little, you'll leave great impressions on your guests with Minted's Luxe quality wedding invitations and stationery.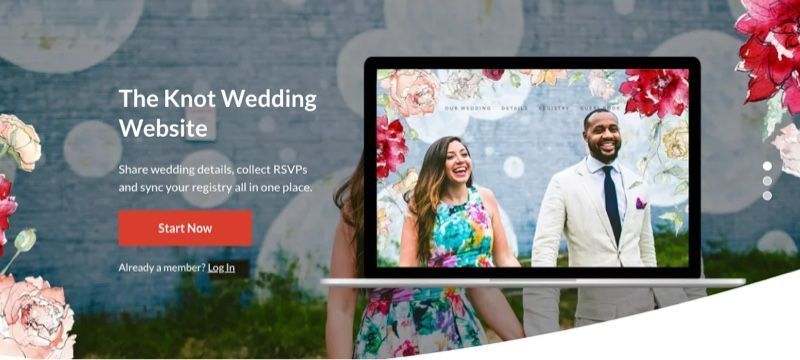 About TheKnot
TheKnot is an all-in-one platform for brides, grooms, and wedding planners. That's probably an understatement, here's why.
When you sign up for TheKnot (free), you get:
A website builder for your wedding
An RSVP list for your guests
A Guest management app
A directory for local wedding vendors
A registry
A vision board for your wedding
An eCommerce store for every wedding purchase imagined: Wedding rings, dresses, jewelry, tuxes, honeymoon vacations.
Helpful resources on how to plan your wedding
Need I say more?
How TheKnot works
Creating a website on TheKnot is like filling out a Google form. You answer a bunch of questions, and TheKnot will create the website with all your answers.
Here's how the process is like:
Step 1 — Create a free account.
Step 2 — Then choose from one of the 100+ wedding templates available.
Step 3 — Add content to different sections of your page, such as your life story, wedding details, photos, etc.
And just like that, your wedding website is done. You'll get a customizable URL to share with your guests, and you can proceed to create an RSVP form or add products (sourced from local vendors on the platform) to your registry.
TheKnot Price
All TheKnot features are free.
However, you should know that TheKnot makes money by charging vendors a subscription fee to get listed on their marketplace. They also make a commission for every product you (or your guests) purchase from their eCommerce store and the registry. So don't be surprised if you see advertisements from vendors throughout the platform.
TheKnot Pros
Generous free plan
Online RSVP for your site
Send messages to your guests and VIPs
Create a registry with products from local vendors
Custom, user-friendly URL to share with your guests
Easy to set up a website
Cons
Lack of website customization
Vendor advertisements throughout the platform
Customers reported frequent bugs when managing their website between the web editor and the mobile app.
6 Inspiring wedding websites built with TheKnot
Is TheKnot recommended?
For someone that just needs a wedding website, TheKnot might be overkill. But if you need an integrated system for managing your wedding, from managing your guest list registry, vendors to sending your invitation card, TheKnot can do it all.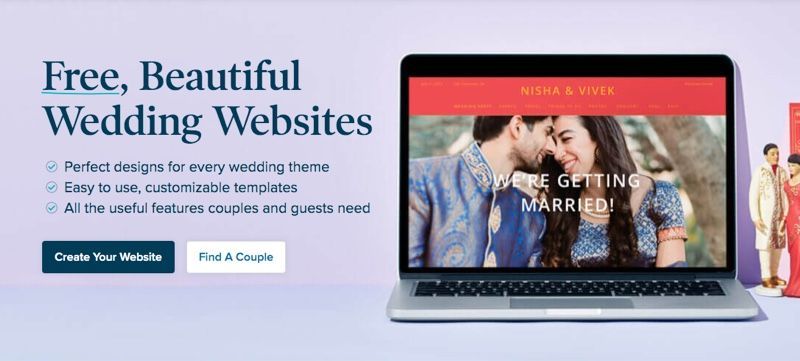 About Zola
Zola has a lot going for them as a wedding planning website. Just like TheKnot, the offer:
Website builder for weddings
Wedding planning tools (Budgeter, wedding checklist, guest list)
Vendor manager
Invitation
Wedding resources, tips, and advice
And more
The main difference between Zola and TheKnot
While both Zola and TheKnot offer very similar services, they vary in quality, user experience, and breadth of services.
Zola's website builder is more user friendly, while TheKnot has better designed templates.
Zola has more brands in their registry, while TheKnot has more local vendors on their platform.
Zola's vendors are limited to a dozen cities, while TheKnot has vendors all over the U.S.
Zola Price
It's free to build a website on Zola, along with managing your registry, making your guest list, sending invitations, etc.
Note that Zola makes money by taking a cut of the purchases made through its site and advertises local vendors to you via email or on their platform. As the saying goes, if it's free, you're probably the product.
Zola Pros
Free
User friendly, instant preview while editing your website.
Over 380 website templates available
Customizable RSVP (Meal preference, group booking, private events, RSVP for selected guests)
Great registry selection (with free shipping)
Great customer service.
Cons
Website not customizable
Local vendors in certain cities only
Shares your data with third-party service
5 Inspiring wedding websites built using Zola
Verdict on Zola
As far as creating wedding websites, Zola is hard to beat. They're beginner friendly, have a great support team, and caters to every aspect of your wedding arrangement.
If, however, you need complete creative control of your website, you're better off using a general website builder like Wix, Squarespace, or Strikingly, as they allow you to customize every part of your wedding website.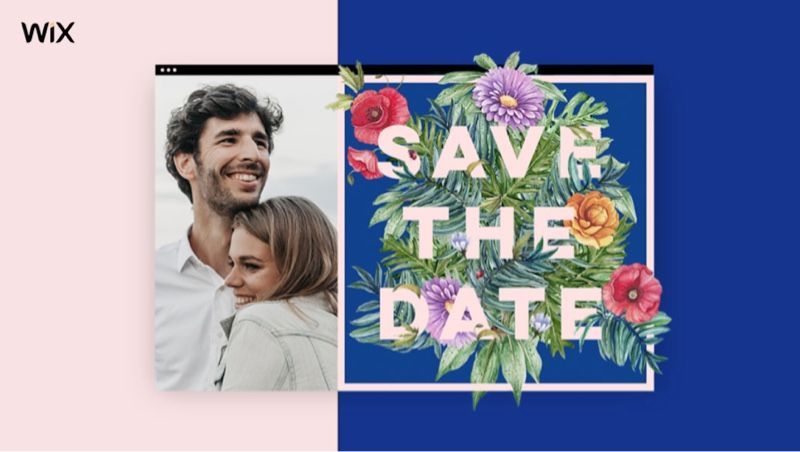 About Wix
Unlike wedding-focused websites like TheKnot and Zola, Wix doesn't offer wedding planning tools, nor does it have an integrated registry (unless you use a third-party registry like Zola), and it certainly doesn't allow you to manage vendors.
Instead, you get to customize the wedding website to your heart's content. It's free, it gets the job done quickly, and you get to show off your design prowess to all your friends and family.
How does Wix Work
When you sign up for Wix, you get to choose one of the 20 wedding templates available. Each of them is professionally designed with a unique layout so you can be sure your website is one of a kind.
From there, you can customize every element of the page through the drag-and-drop interface. You can also add features such as RSVP, guest management, an image gallery to your wedding website if you need them.
Once you're satisfied with the design, you can publish it for free under yourweddingsite.wixsite.com and it'll live forever on the internet.
Wix price
Wix is free to use and they're one of the best free website builders in the market. However, if you need to use a custom domain, you have to opt for the paid plan, which starts at $4.50/month.
Wix Pros
Generous free plan
Highly customizable and mobile friendly
Beautiful wedding templates are available
Free RSVP and guest management apps.
Cons
Slow editor
Hard to migrate a website to another platform
Your website will have the Wix logo unless on higher-paid plans.
Monthly cost for custom domain
4 Amazing wedding websites on Wix
Is Wix recommended?
Wix is great if you want a unique site for your wedding.
While Wix is notorious for its laggy and sometimes overwhelming interface, it does a (surprisingly) good job setting up a wedding website with all the essential features (such as RSVP and guest management).
If in doubt, you can always sign up for a free account first and see how you like it.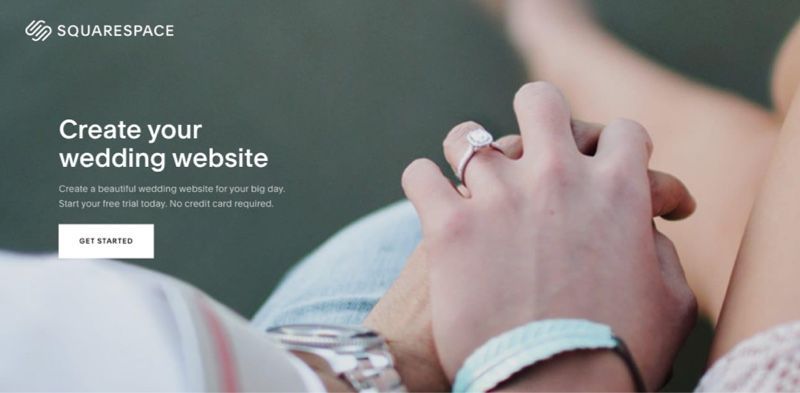 About Squarespace
Squarespace is another general website builder like Wix, except that it's more intuitive to use, with designer-curated website templates. You can think of Squarespace as the Apple of website builders.
How to design a wedding website on Squarespace
Step 1 — Start with a wedding template. All wedding templates on Squarespace feature great typography and image galleries.
Step 2 — Display wedding details. Use the drag-and-drop interface and add content such as location, schedules, and menu on your site.
Step 3 — Show your photos. Upload your cherished memories in the gallery sections, and all your images will be beautifully displayed, even on mobile devices.
Step 4 — Create an RSVP form for your guest list. You can use the native Squarespace customizable form to collect email addresses, contact, and other guest details.
Step 5 — Add Registries. You can create image thumbnails and link out to external registries.
Squarespace Price
Squarespace doesn't offer a free plan, and it starts at $16/month. You get unlimited storage, bandwidth (traffic), a secure website, and you never have to worry about backups or hosting.
Rest assured, you're in great care with their award-winning support (since 2013).
Squarespace Pros
Gorgeous wedding templates
Excellent image gallery for wedding
Easy to maintain & setup
Great customer support
Cons
Moderate learning curve
No free plan
Have to use third party registries
6  Inspiring Squarespace wedding websites
Is Squarespace recommended?
Squarespace is your best bet to create a custom, aesthetically pleasing wedding website with the least hassle. They take care of everything that has to do with website management and even offer great support should you run into issues.
Note that Squarespace doesn't have an integrated registry, so you have to link out to third party sites such as Amazon, Etsy, and Bloomingdales for your wish list.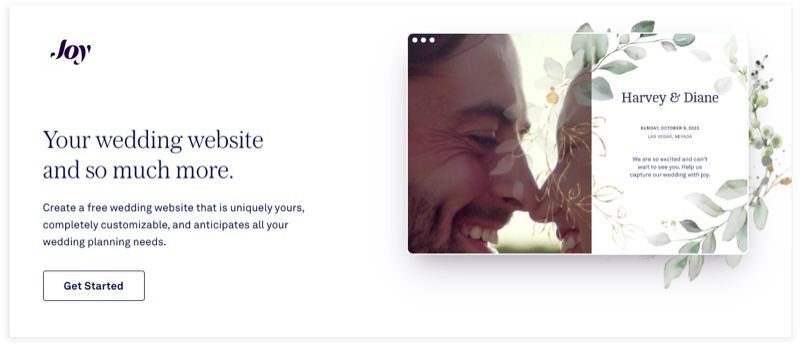 About Joy
Joy is a wedding-focused free website builder without all the frivolous features that nobody uses. Their biggest advantage? It's that they're intuitive and very beginner-friendly. Joy isn't trying to be an all-in-one platform like Zola and the TheKnot. Instead, they focus on a few key wedding website features and execute them well:
Beautiful wedding templates that are easy to customize
Easily add content that is important for guests (Video, image gallery, schedule, couple story, travel info, party details, and guest Q&A)
Powerful guest management and customizable RSVP
Integrated registry with Amazon, Bed Bath & Beyond, Crate & Barrel, Wayfair, and more.
Send beautiful Invitations with robust delivery tracking
Along with excellent customer service, Joy is easily one of the best free wedding website builders in the market.
Since they don't offer local vendor services, there are no ads. You won't have to worry about Joy selling your data to third party services as Zola and TheKnot did.
Joy Price
Joy is free to use, at least for now. But if they aren't running ads, how are they making money?  They aren't.
For now, Joy is funded by venture capital, but eventually, they will charge for premium services. Any Joy wedding created today will remain free for the life of the service. So make one while it lasts!
Joy Pros
Free
Most beginner friendly for building a wedding site
Customizable RSVP with follow up questions
Great customer support
Accompanying mobile app to manage websites on the go
Cons
Sluggish editor
Limited customization
4 Inspiring Joy wedding websites
Is Joy recommended?
If you're looking for a straightforward, fuss-free website builder, choose Joy. It lives up to its name, and many couples find them a joy to use. It's free, and their wedding-focused features are well designed.
However, most of the design and layout are set in stone. If you can live with that (and the designs don't look too shabby), then Joy is an easy recommendation.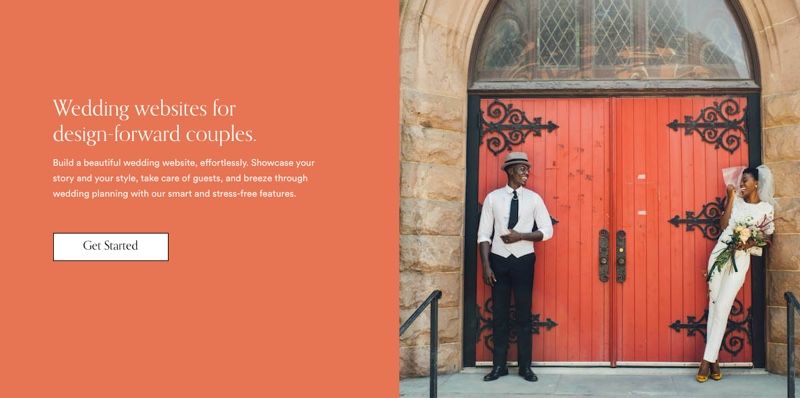 It's rare to find a wedding website builder that ticks all the boxes:
Has great designs
Easy to use
Customizable
Powerful guest management features
Seamless invitation for guests
Free or at least affordable
Contains no ads
Well, guess what? Riley & Grey is pretty damn close to perfect. After reviewing over a dozen wedding website builders, Riley & Grey has some of the best designs (rated by Reddit users). It's easy to use. It packs a lot of customizable wedding management features like RSVP, guest management, invitations, etc.
So what's the catch? It's one of the most expensive wedding website builders out there.
On the flip side, you get to build a beautiful wedding website stress-free without getting spammed by annoying ads.
How Riley & Grey works
You start by selecting one of the 50+ unique layouts for the wedding site. And Riley & Grey has diverse design layouts, each template is not like the other, and all of them are well crafted with attention to detail.
You can then customize the content of the site. Usually, this is when wedding website builders start to get annoying. Either the website editors are restrictive or allow too much customization, and the user ended up with a hideous site.
Riley & Grey strikes the right balance between ease of use for its editing platform and the integrity of the website aesthetics, all while allowing users to add as much content to their site.
Once you're happy with the design and finalize the content, you can preview your desktop and mobile site (in one click) before publishing it live.
Note: You can switch design easily by choosing another template, and all your content will adapt to the new layout.
Riley & Grey Price
It's free to sign up for a Riley & Grey account and edit your site.
You can check out all of the features they offer without any form of payment required. Payment is necessary when you either:
Want to publish your wedding website and start sharing it with friends and family. You have the option to pay $35 monthly or pay a full year upfront at $240 (40% savings).
Or you want to lock down your custom domain name and limited edition design for a $35 one-time fee.
Note: This fee is separate from the cost (monthly or yearly) when you're finally ready to publish your site live.
Riley & Grey Pros
Well-crafted, unique, and diverse wedding website templates.
Luxury paper invitations to compliment your wedding website
Optimized mobile web experience for your guests
Privacy features: Password protect your site or hide it from Google search
Customizable RSVP: Add and remove as many questions as you like
No Ads
Cons
5 Astounding Riley & Grey website examples
Is Riley & Grey recommended?
A resounding YES! If you're willing to fork out money that is. It's not cheap, but if you're willing to part with money for a stress-free, delightful experience building and managing your website, then you can't go wrong with Riley & Grey.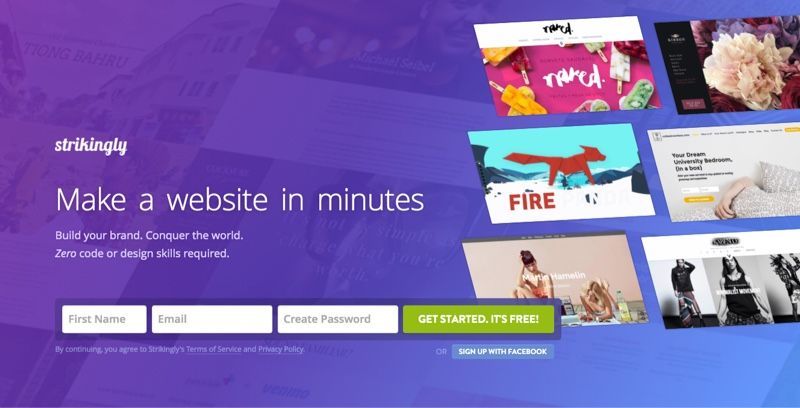 About Strikingly
Strikingly is a website builder for one-page websites that's free, easy to use, and highly customizable — great if you want to add personality to your site (check out some of the examples below).
Strikingly isn't a wedding focused website builder, so you won't find features like guest management, invitation cards, integrated registry, etc. But what it lacks in wedding features it makes up for in user experience.
The Strikingly web editor is very responsive. Everything loads in an instant, and there's virtually no lag between interactions. It makes you feel really in control of the creative process. And that's a feature most of the wedding-focused website builders are missing.
Even though it lacks standard wedding features, you can add a custom RSVP form or create a cash registry with Paypal (or link to an external registry) to your wedding site.
Strikingly Price
Strikingly is free to use forever, and you can create unlimited sites with them. Although, you can upgrade to the paid version for $12/month if you want to:
Add a custom domain
Need more storage and bandwidth (for high traffic site)
Set up an eCommerce store
Strikingly Pros
Unlimited free sites
Fast and snappy web editor
Highly customizable
Great customer support
Diverse website templates
Invite collaborators
Cons
Lack wedding specific template
Lack wedding features such as Guest management, invitation cards, integrated registry)
Your website will have Strikingly branding unless on a paid plan
6 Inspiring Strikingly wedding websites:
Is Strikingly recommended?
If you like the idea of tinkering with your website design and have fun doing it, then Strikingly is a great option.
Look at some of the Strikingly website examples. While not the most professionally designed, they're full of personalities, and you can tell the couple put a lot of thoughts into their site. It's free and you can probably set up a wedding site in a couple of hours.
Know that Strikingly does get the job done: Create a full-fledged info website for your wedding that takes RSVP. Just don't expect it to manage your entire wedding.