Congrats on your wedding!
Here are some of the best wedding websites I've seen designed by real couples.
They are handpicked after scouring over a hundred wedding websites on the internet. I hope they will inspire you :)
All of these websites are built using website builders and wedding platforms.
If you need more detail, check the review I wrote on website builders couple use to design their wedding website.
Enjoy!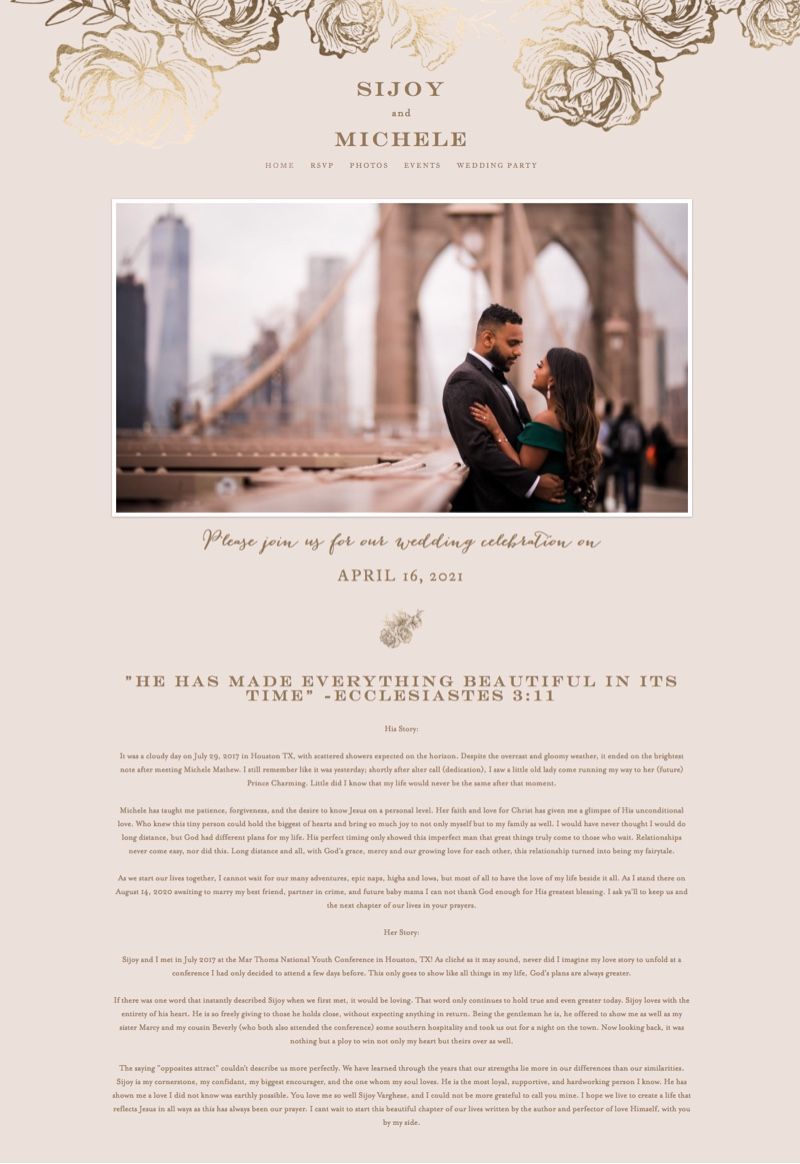 A simple wedding website layout with beautiful custom graphics. Sijoy and Michele highlight the best moment they spent with each other and how they made each other a better person each. Custom art by Jennifer Postorino.
💡
Minted Black Friday offer:
Save 15%
on all orders with code BF2022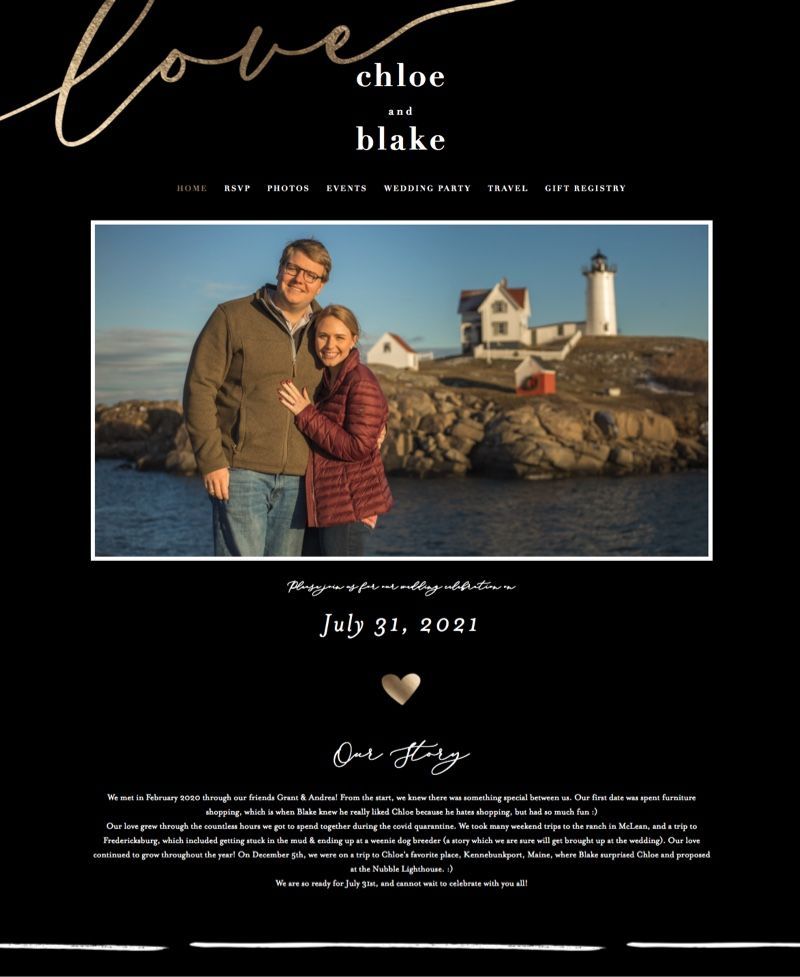 A simple dark themed wedding website showcasing the moment Blake proposed to Chloe! This website was built on Minted's standard theme and the custom art is made by Emily Betts.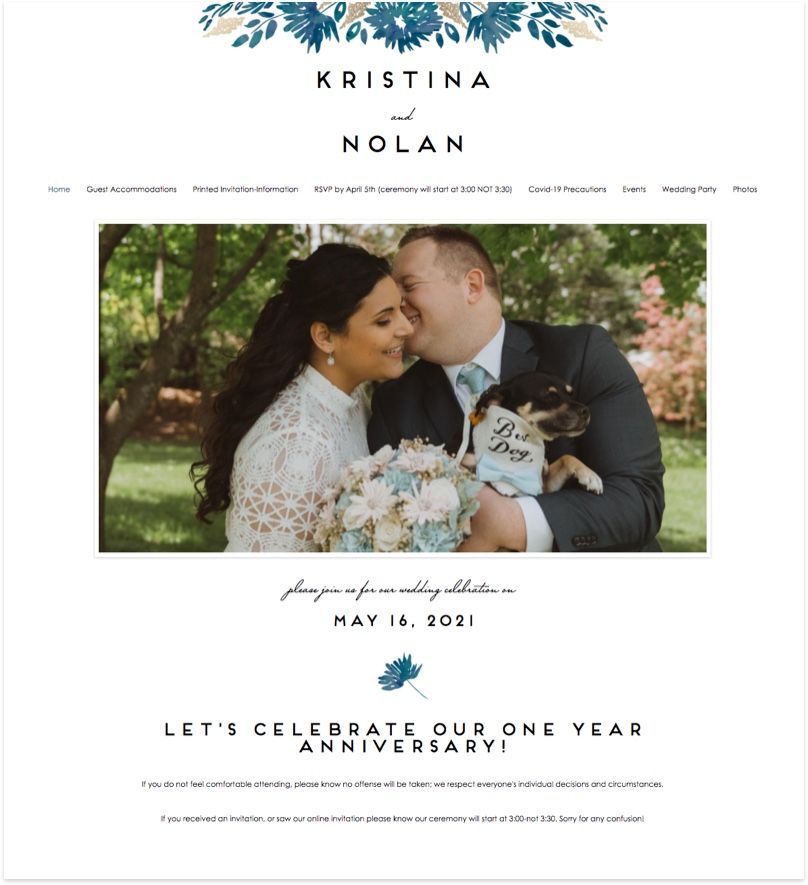 It's cool that Kristina and Nolan created their website with Minted on a custom domain. They even have printed invitation for every guest!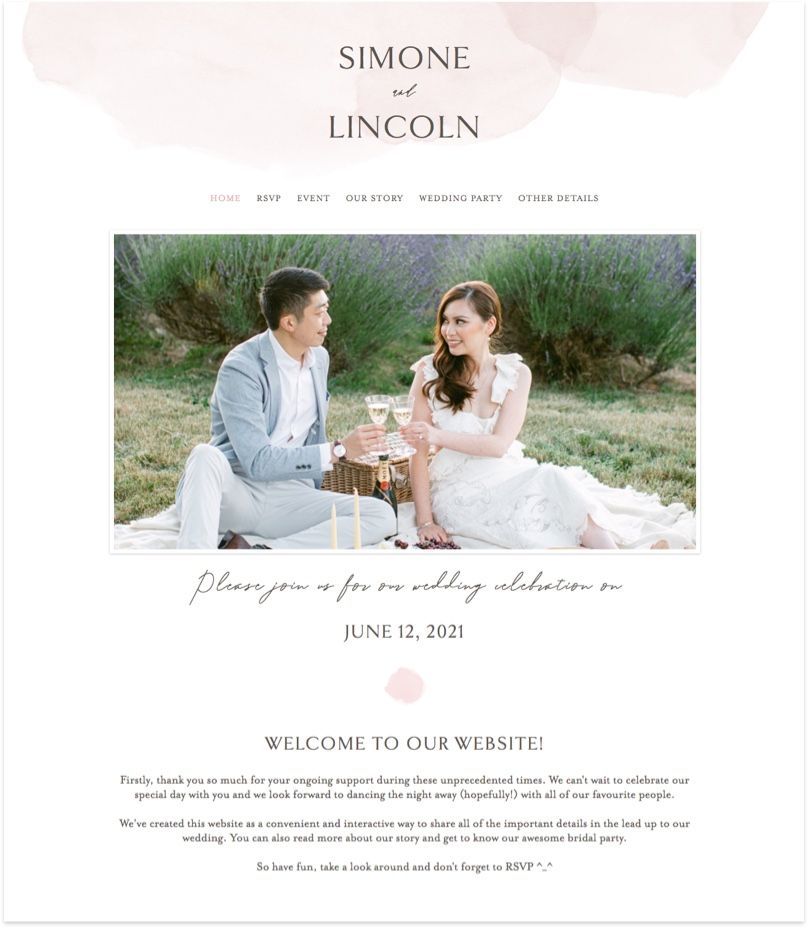 Simone and Lincoln chose a classy, romantic theme to go with their wedding site. That's fitting considering they met each other at the iconic cafe, Brunetti's on Lygon St, Carlton, Australia.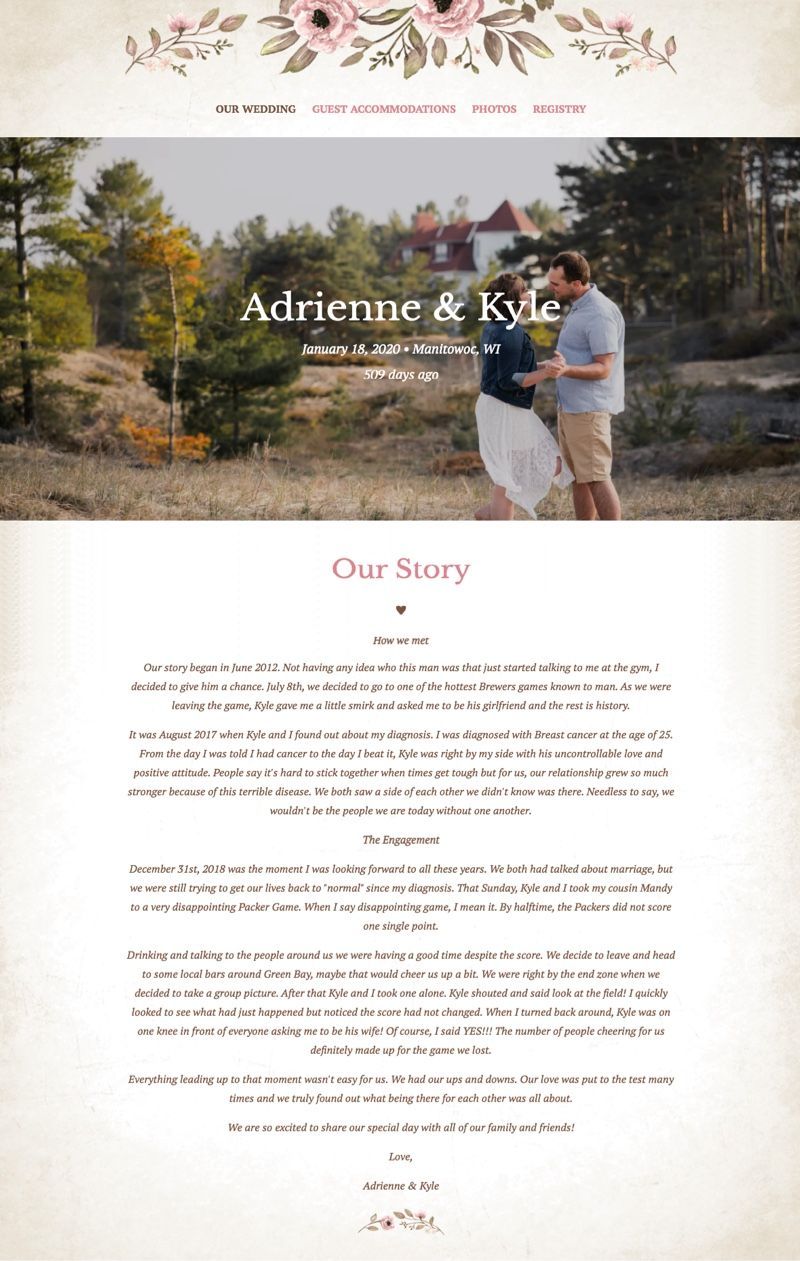 I love this nature inspired and rustic website theme that Adrienne and Kyle chose. The overall wedding site gives a vintage 1970s vibe that capture their love story so well.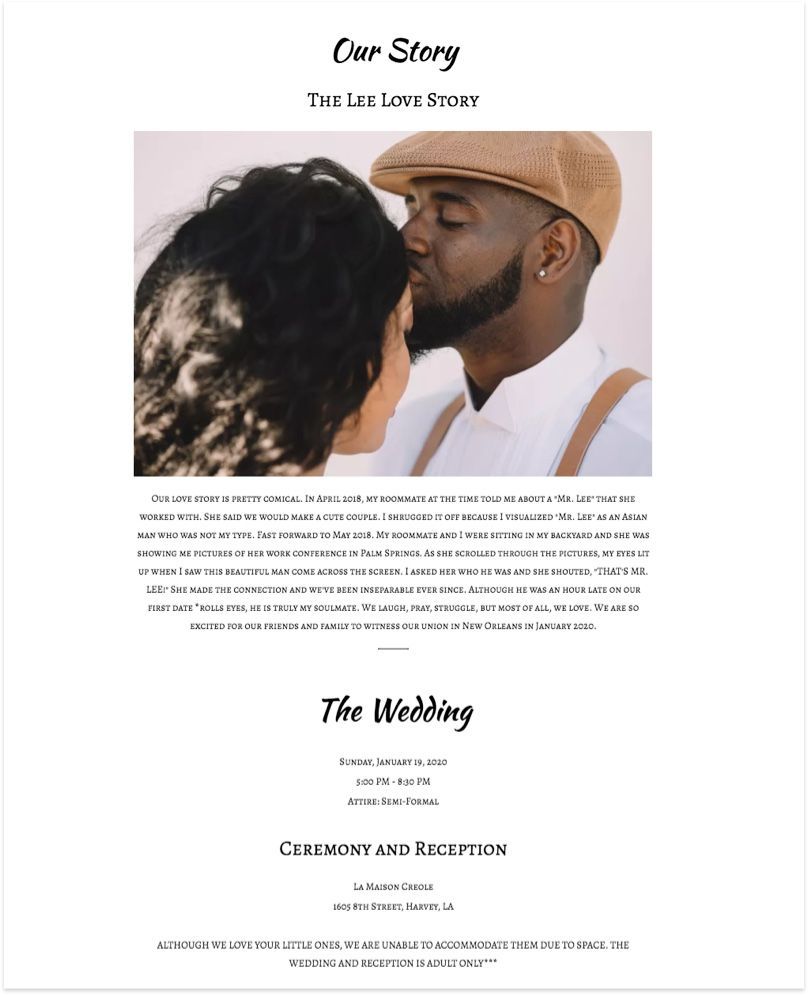 A clean wedding website that features strong typography and photographs speak for itself. Jessica and Curtis detailed their comical love story that involves the most common surname on the planet.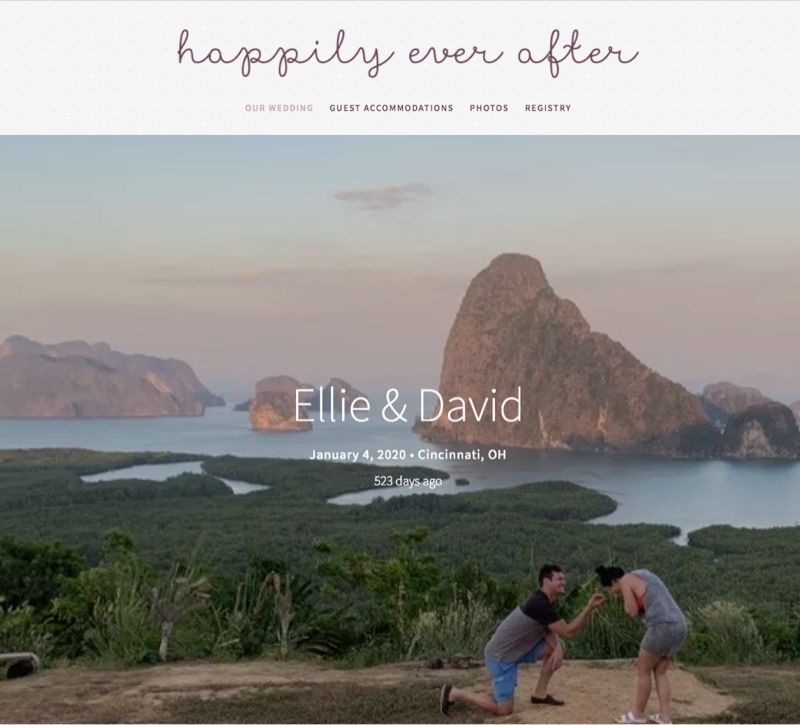 You can't help but grin on Ellie and David's down to earth (literally) website. Sometimes you don't need a fancy website to impress your guests when you have a cool story to tell.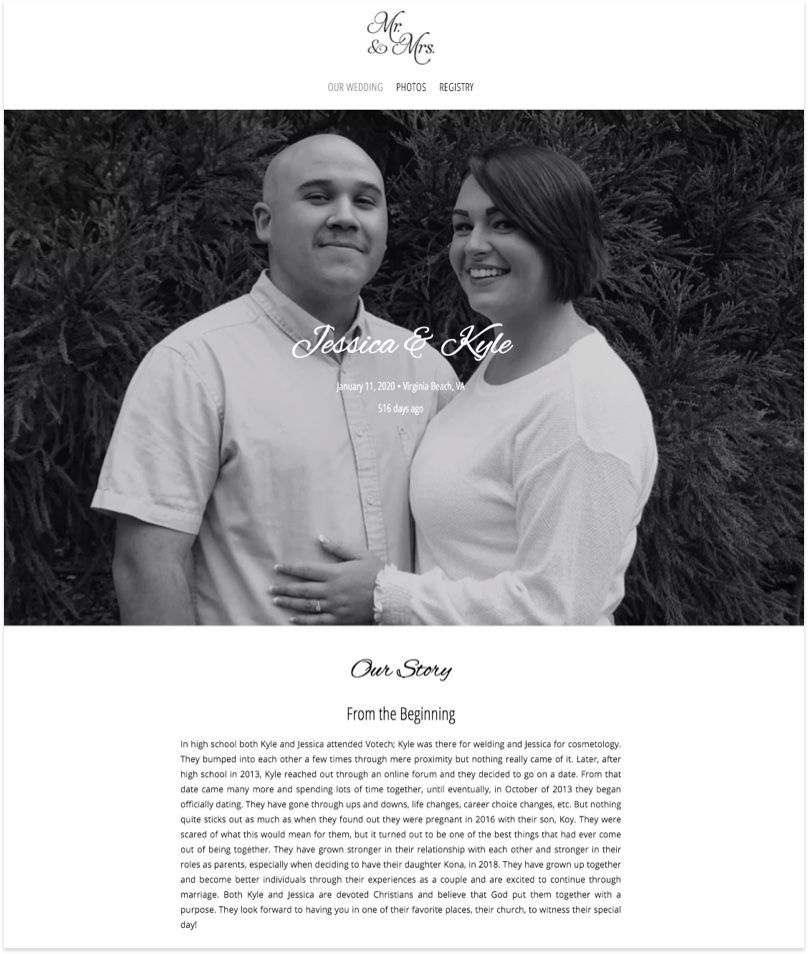 Who doesn't like classic Black & White? Jessica and Kyle did a great job designing a wedding website that look timeless. Fun fact: they met over an online forum! Who needs social media when words will do.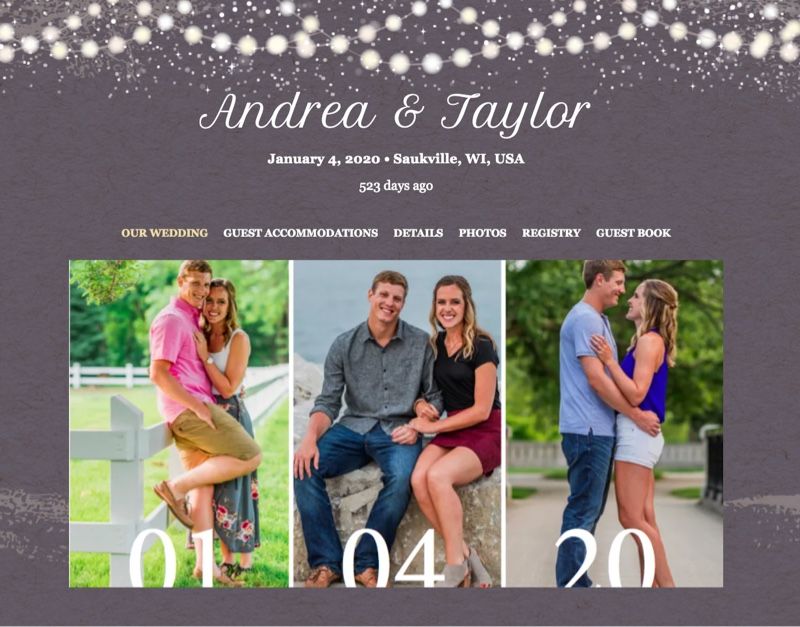 Andrea and Tayor's website is the kind you don't mind showing to your friends and family even though it's not "professionally designed".  It's full of personality and clearly they had a blast making this site.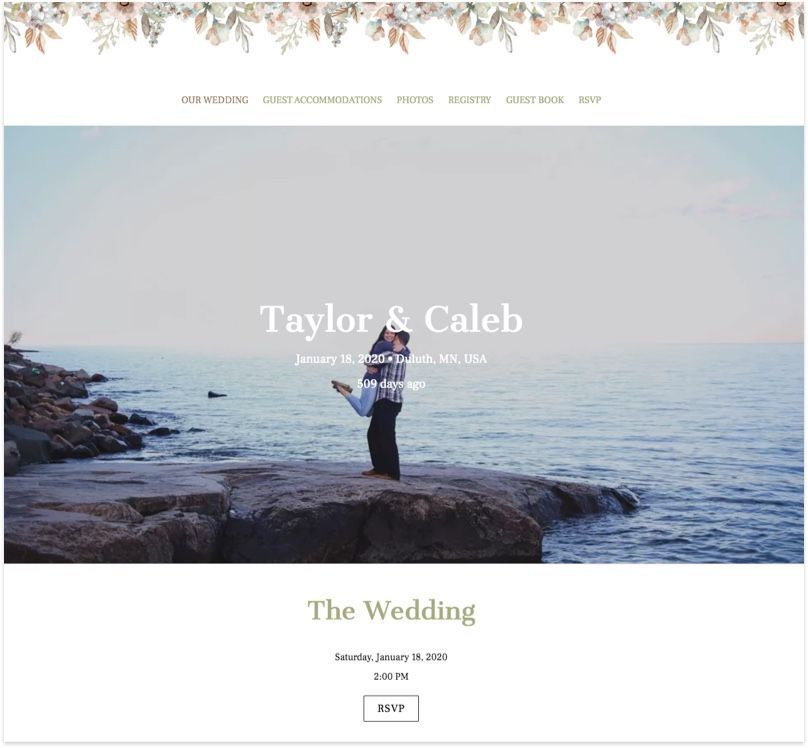 Taylor and Caleb's chose a simple theme to go with their wedding website. But don't be fooled by the simple layout, they have one heck of a registry. You should check em out if you need some ideas for your registry.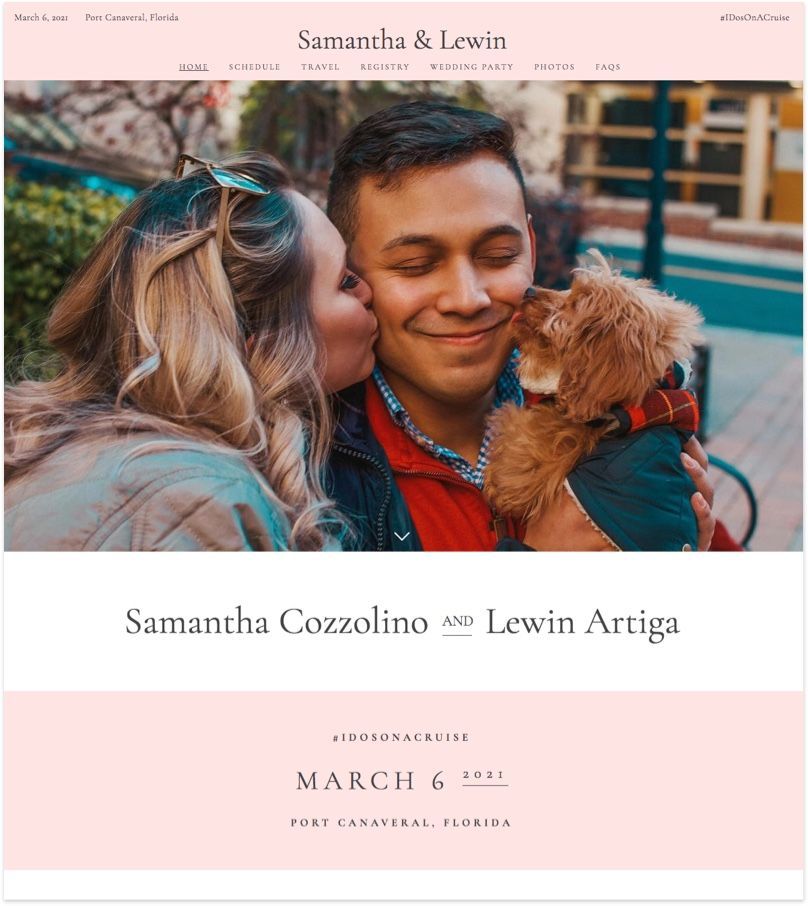 Made with Zola
Samantha and Lewin chose a chic design and it's one of the cutest wedding site around! If that isn't good enough, they held their wedding on the Mardi Gras Carnival Cruise. A moment to remember for sure.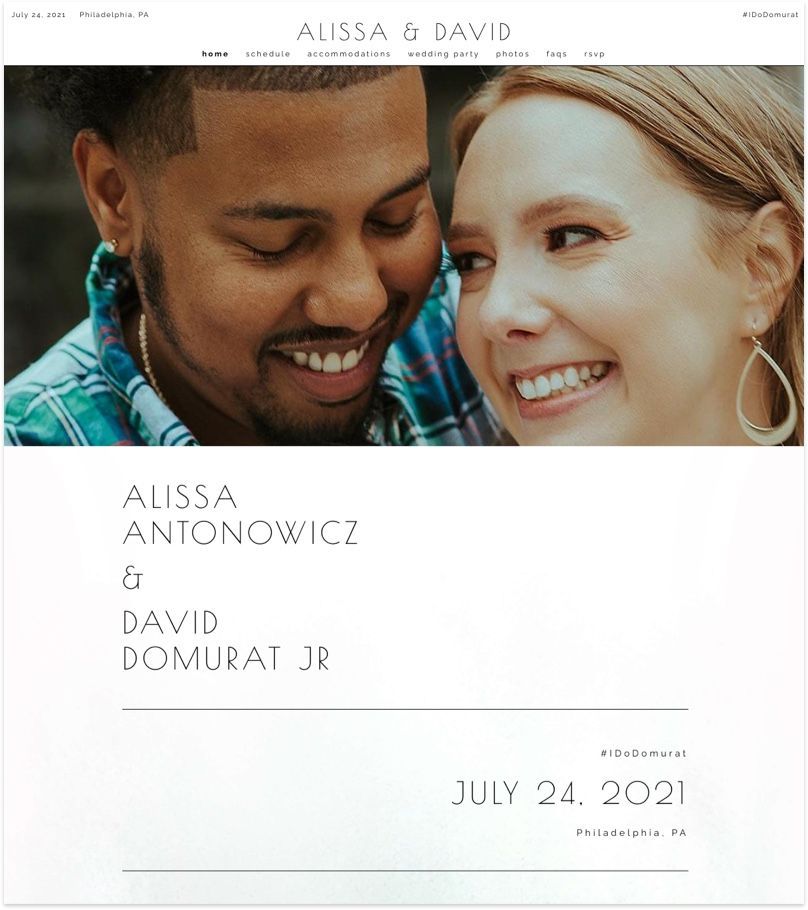 Made with Zola
A simple yet tasteful wedding site impresses alright! It's hard to put a finger on it, but there's a lot inspiration to take from Alissa and David's wedding — the font choice, layout, photo filters, and everything in between.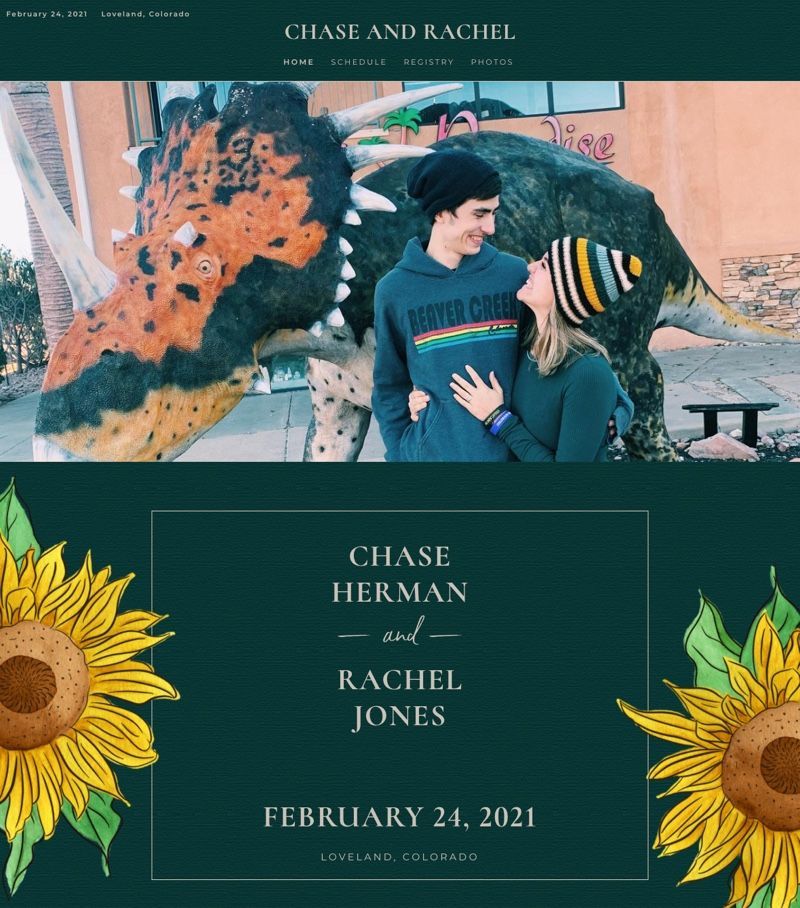 Made with Zola
If you have a great photo, use it to your advantage. That's what Chase and Rachel did with their Triceratops couple pic. It's just an overall good vibe from the couple.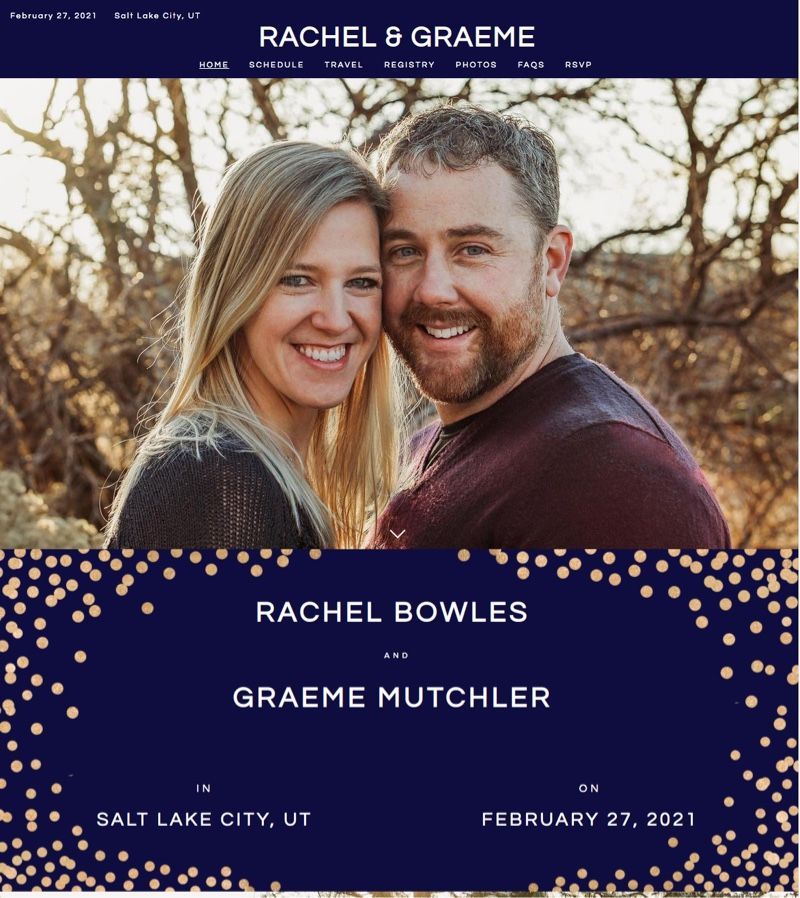 Made with Zola
Someone please find out where did rachel and Grame took their photoshoot. It's breathtaking. Not to mention the site overall is so well made.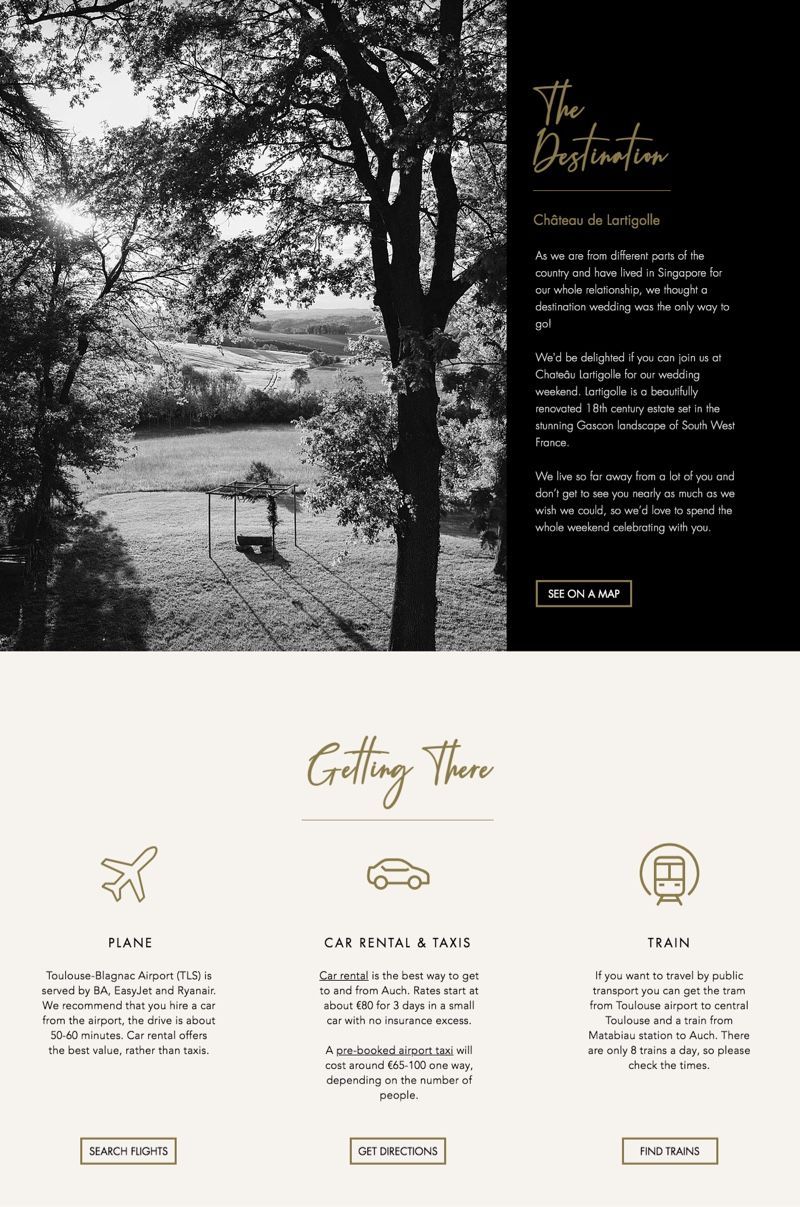 Made with Wix
Looking for a French inspired wedding website? Look no further than Luc and Casey's. What's also cool about their site is that they give careful instructions for guests who are travelling from abroad.

Made with Wix
If there's a wedding website award, it'll go to Philip and Nichole! The entire site is custom built — top to bottom — by the good folks at PopThat. They've even made music video for the couple.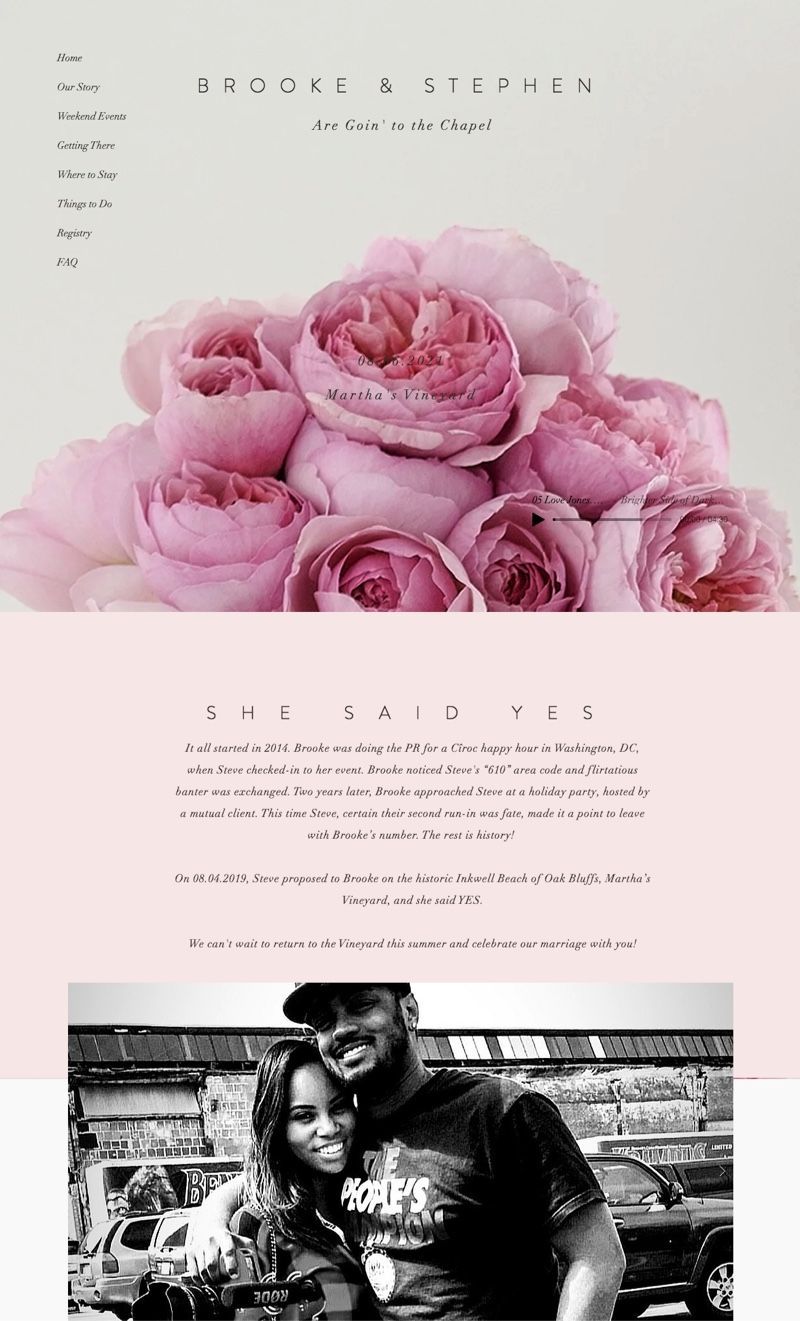 Made with Wix
With just a quick glance, you can tell Brooke and Stephen's website is designed by someone with a keen eye. I love the typography and layout is unique. The best feature is the black and white image carousel with some of their best moments!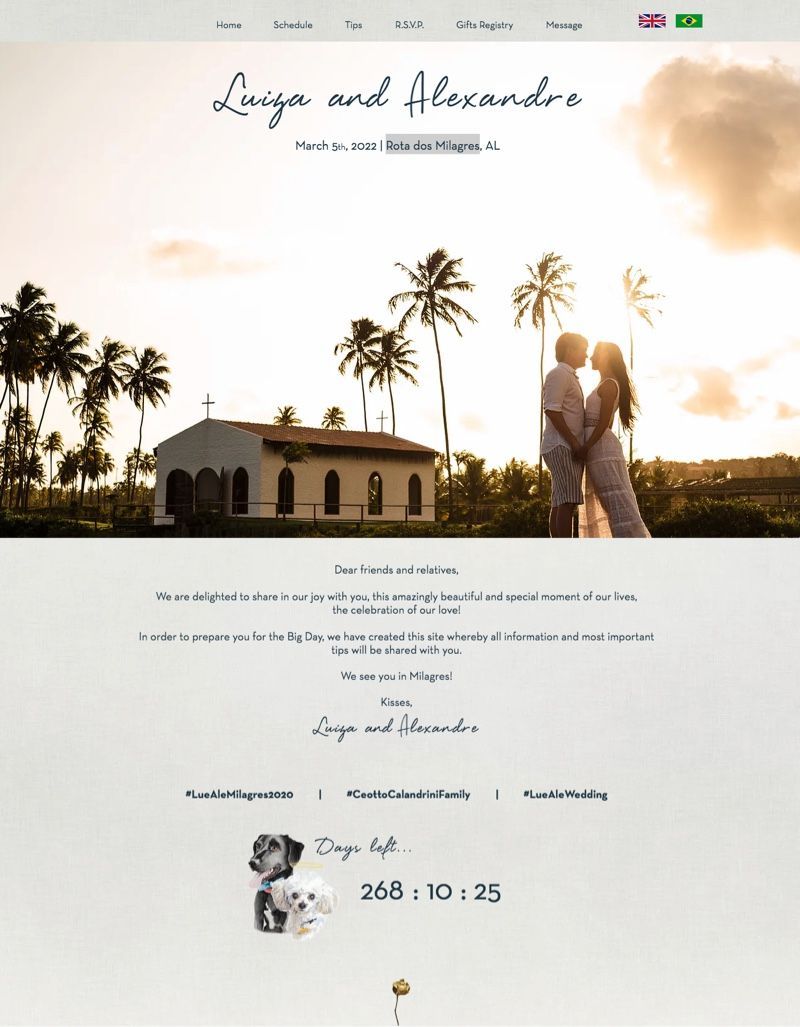 Made with Wix
Luiza and Alexandre's wedding site oozes holiday vibe. Quite fitting when your wedding is held in Rota dos Milagres, Brazil! That aside, the entire site (along with thier photoshoot) is romantic to say the least.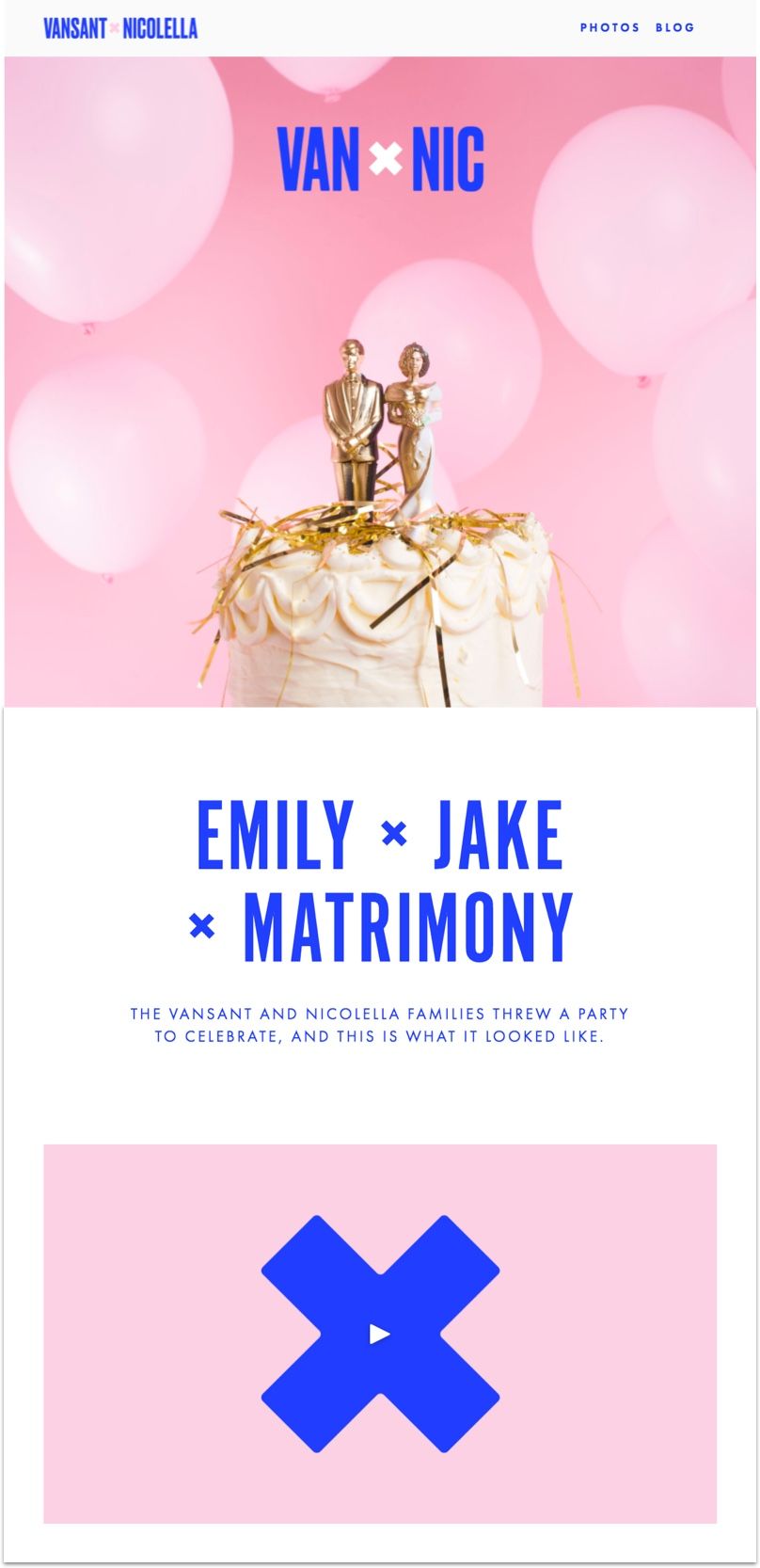 Chic and stylish is how I'd describe Vansant and Nicollela's site. Heck, even their names are cool. I like the fact that they specifically dressed up for the website photoshoot.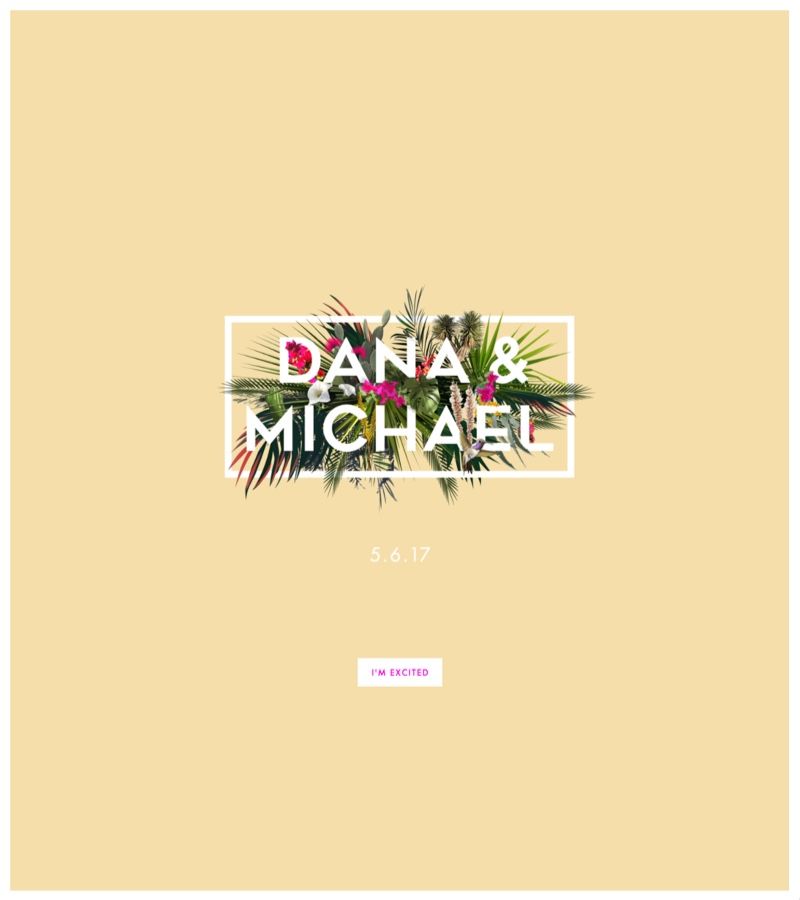 Dana and Michael's wedding site is filled with little quirks and feel good vibes. That's what you get when you host your wedding in Palm Springs!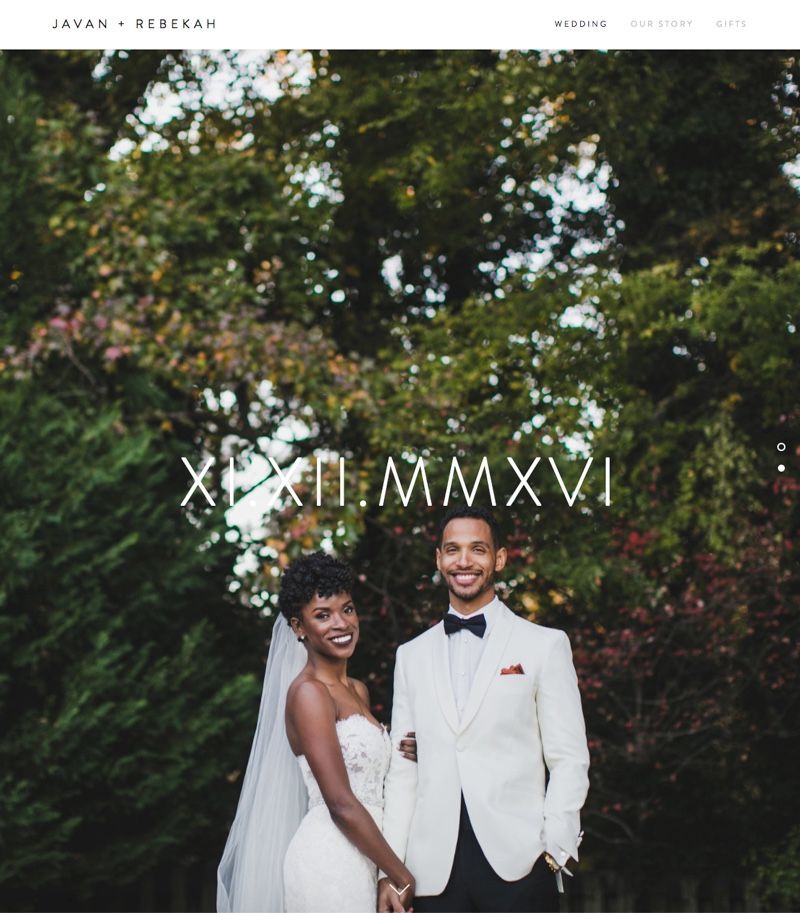 Charming, elegant, and sophisticated.  Javan and Rebekah's wedding site features lots of cool photos from their wedding.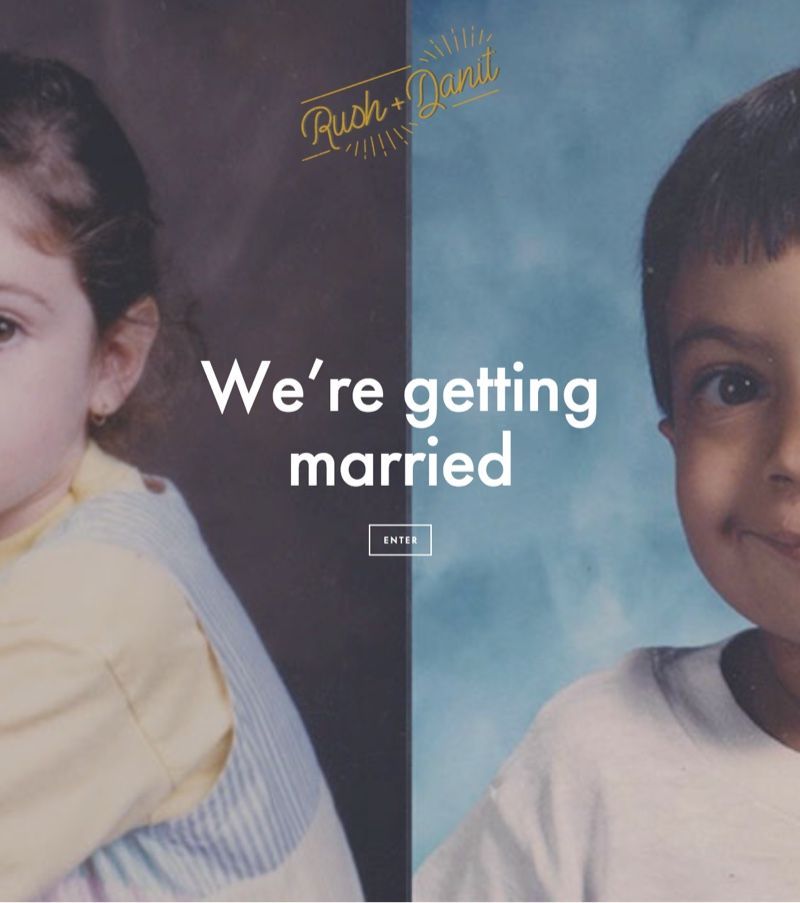 There's plenty of inspiration to draw from Rush & Danit's wedding site. They collect song requests, wrote a local travel guide for their guests, feature their super cute 2 year old Shih tzu!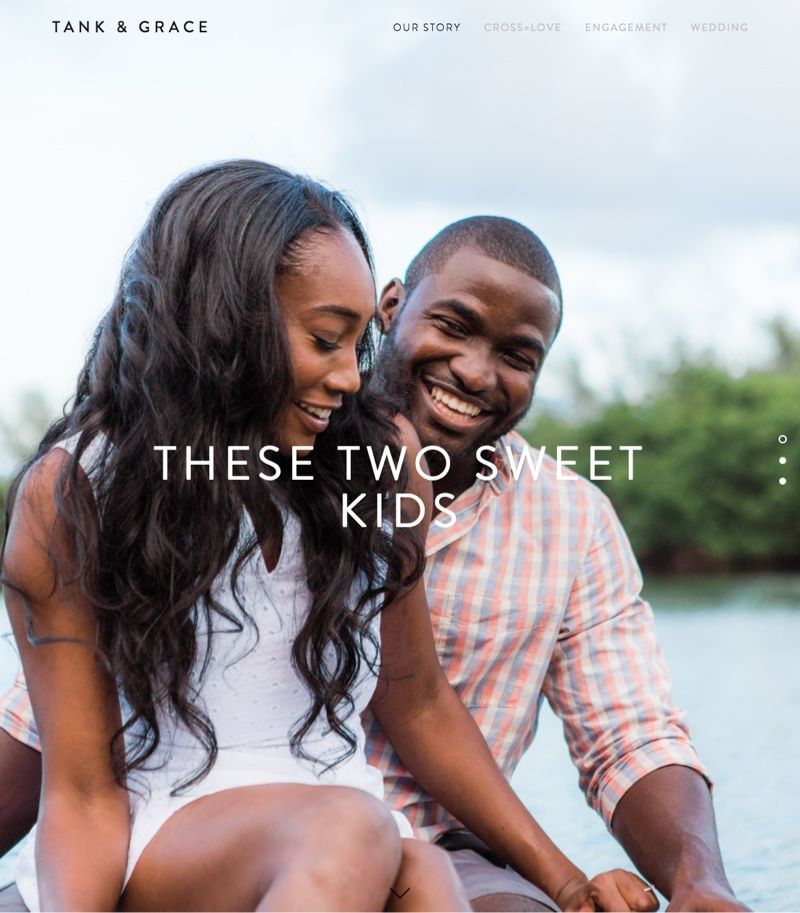 Tanks and Grace held a beautiful jungle themed wedding. I like that they tell their story through a parallax scrolling page. The cute pictures from back when they're young is the cherry on top.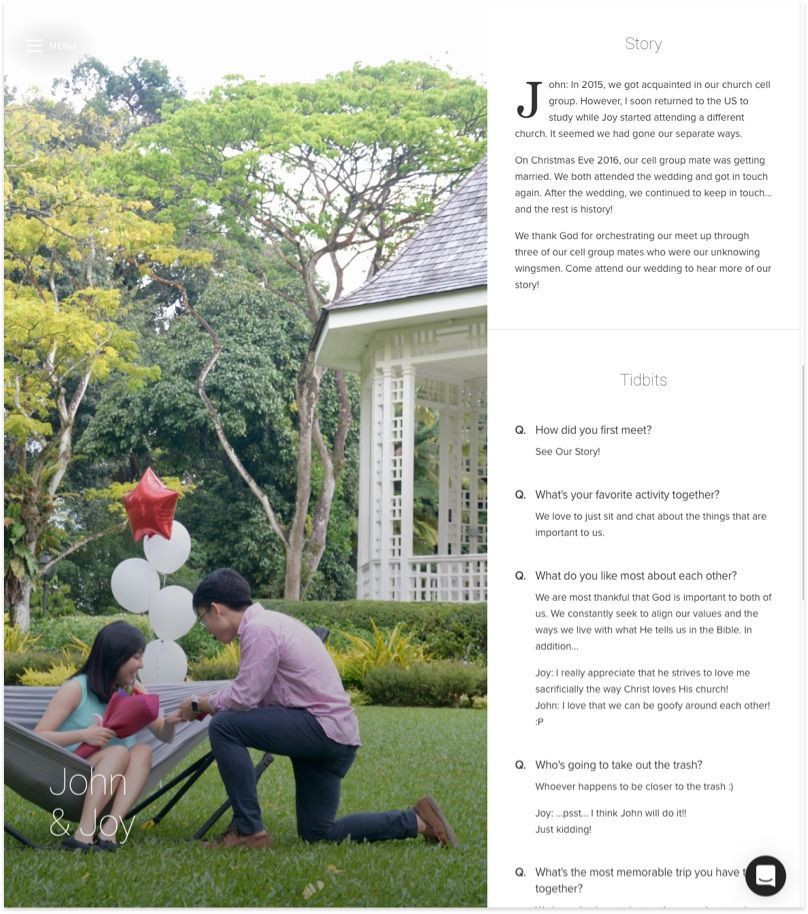 Made with Joy
John and Joy's wedding site is simple yet practical. It's a little unassuming but has all the info a guest would need to find their wedding. They even have a cute story to tell.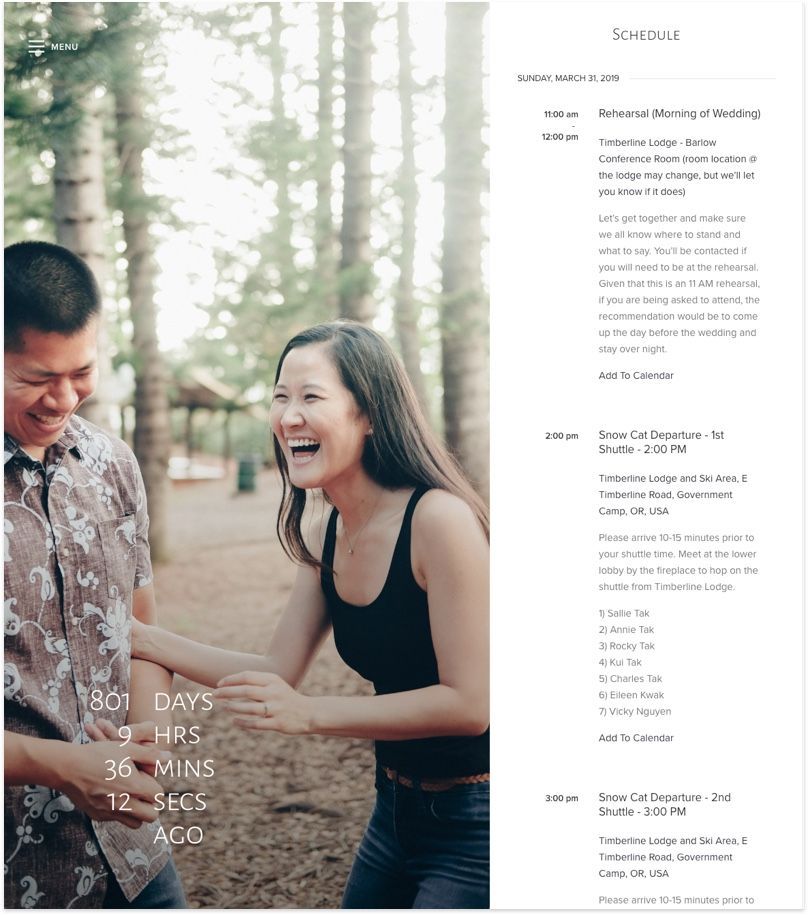 Made with Joy
This is a good example that you don't need fancy design to make a good wedding website. It's fun, it's easy to read, and most importantly, it has everything a guest needs to know.
Related articles: