Here are 20 wedding sites that were built on Weebly and their unique stories.
They are handpicked after scouring over a hundred wedding websites on the internet. I hope they will inspire you :)
While all these websites are built on Weebly (for free!), there are other website builders couple used to build their wedding sites too.
If you're looking for other inspirations, here are a dozen more wedding websites (with incredible designs) built on Minted, TheKnot, Zola, Wix, and more.
Enjoy!
PS: Click on the image to navigate to the wedding site.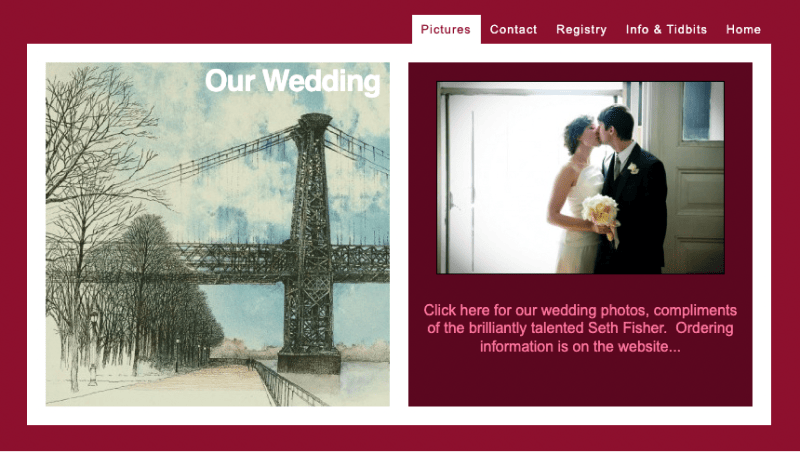 Ryan and Virginia made a very classy wedding site to commemorate their wedding reception, which was going to be held in St. Paul's Lutheran Church in Brooklyn, New York.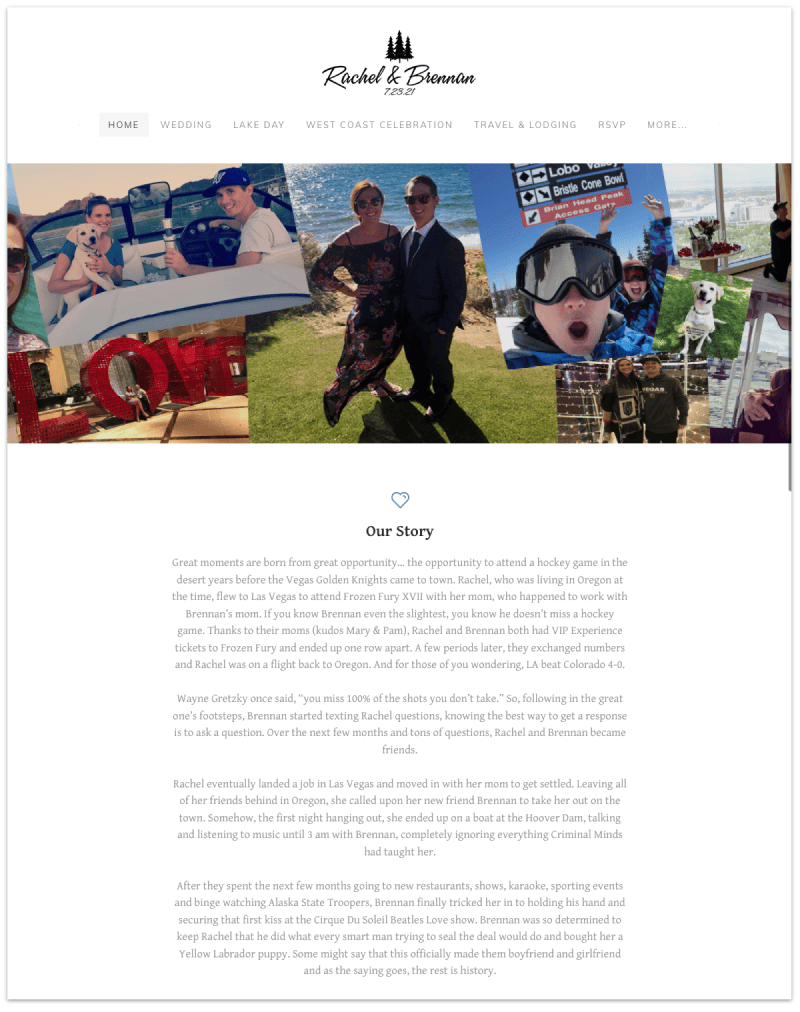 Rachel and Brennan details the heartfelt story of how they met in this very cute wedding site they made in Weebly. Props to Brennan who's being cheeky in "sealing the deal" when he bought Virginia a yellow labrador puppy.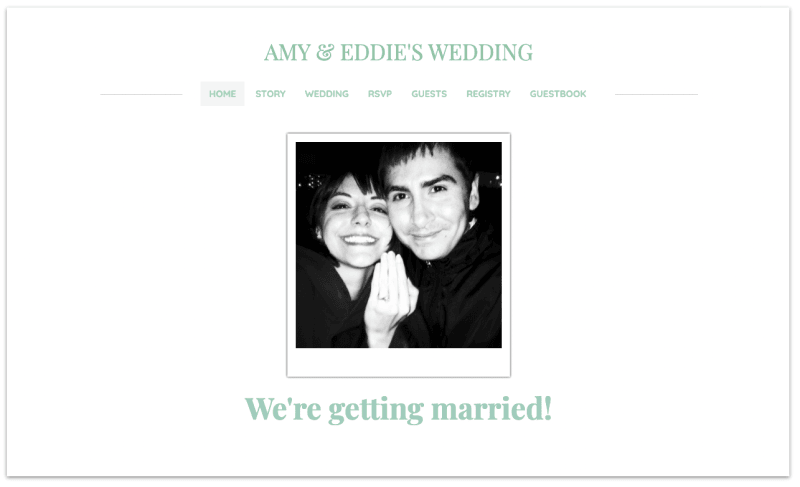 A simple yet classy wedding site. The polaroid holding the memory of their engagement was a nice touch. Check out their story of how they went from coworkers and friends to best friends and sweethearts in one rainy evening and a romantic kiss.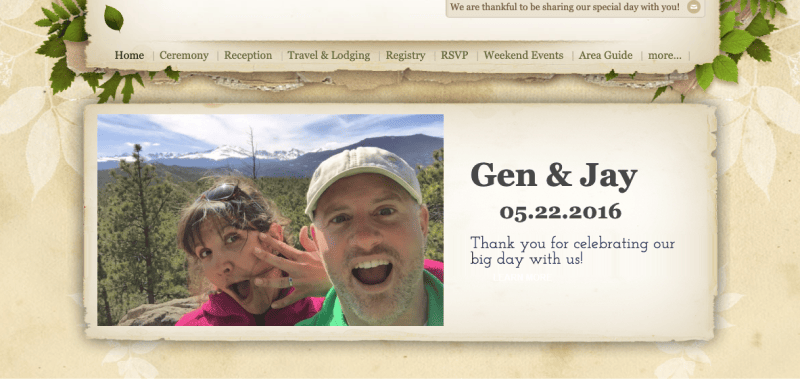 Looking at Gen and Jay you know they're the adventurous kind. Unsurprisingly, they even organized a morning hike and private yoga session for their guests on their big day!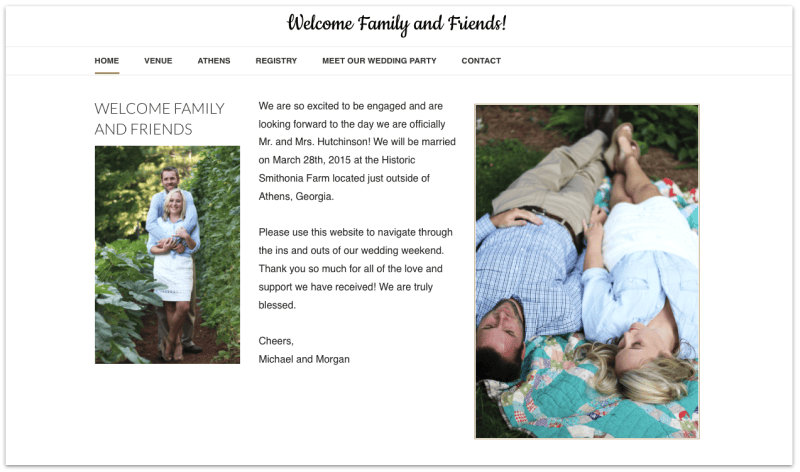 Michael and Morgan held their lovely wedding in the Historic Smithonia Farm in Colbert, Georgia. They even provided step-by-step instructions to help their guests navigate and get to the venue without trouble, which is thoughtful.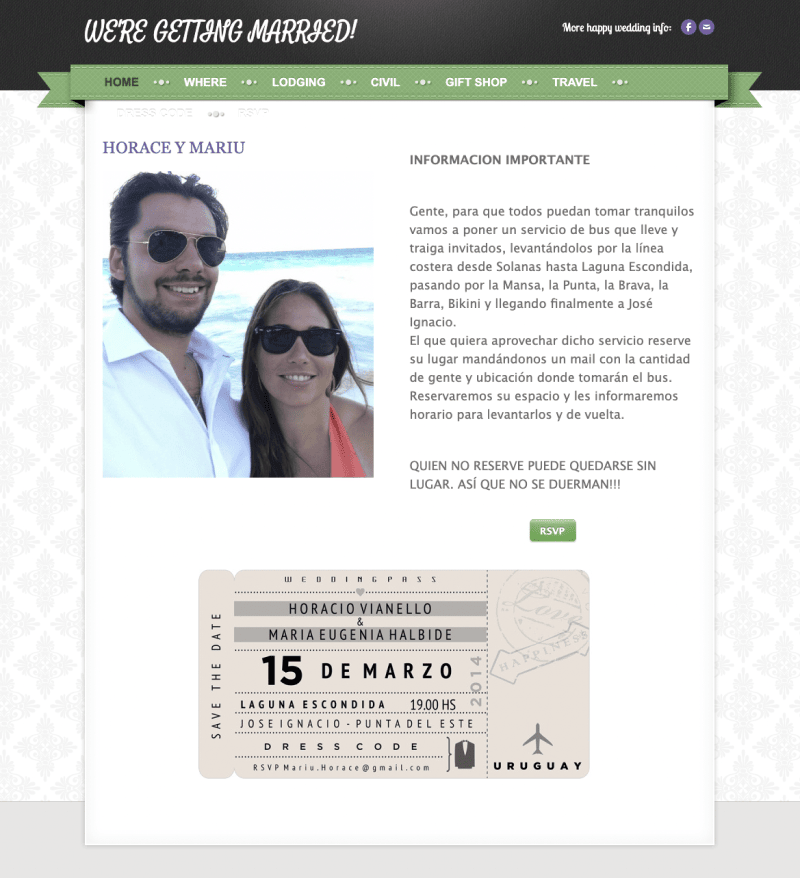 Horace and Mariu commissioned a pretty interesting graphic design piece for their wedding site — a ticket pass to their reception that's going to be held in the Laguna Escondida in Uruguay, which conveniently is located beside a beach.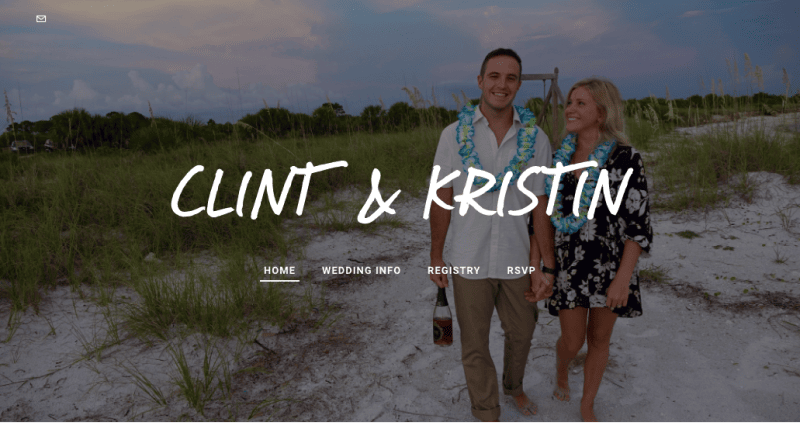 Clint and Kristin invited guests to their reception that was held in the Vinoy Renaissance hotel in St. Petersburg, Florida. Even though it's their big day, they just want everyone to chill, relax and have a good time by the beach.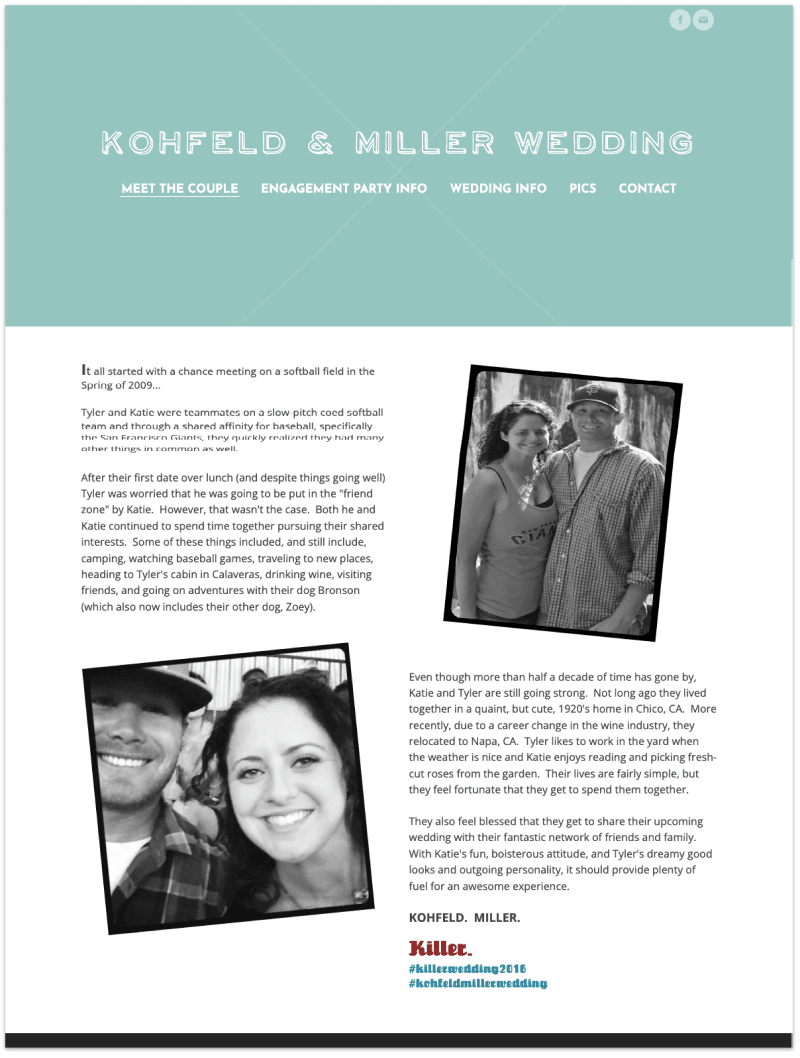 Kohfeld and Miller both live a pretty simple life prior to their engagement. But they spent a great amount of time together pursuing their shared interest which includes camping, watching baseball games, traveling to new places, and going on adventures with their dog Bronson.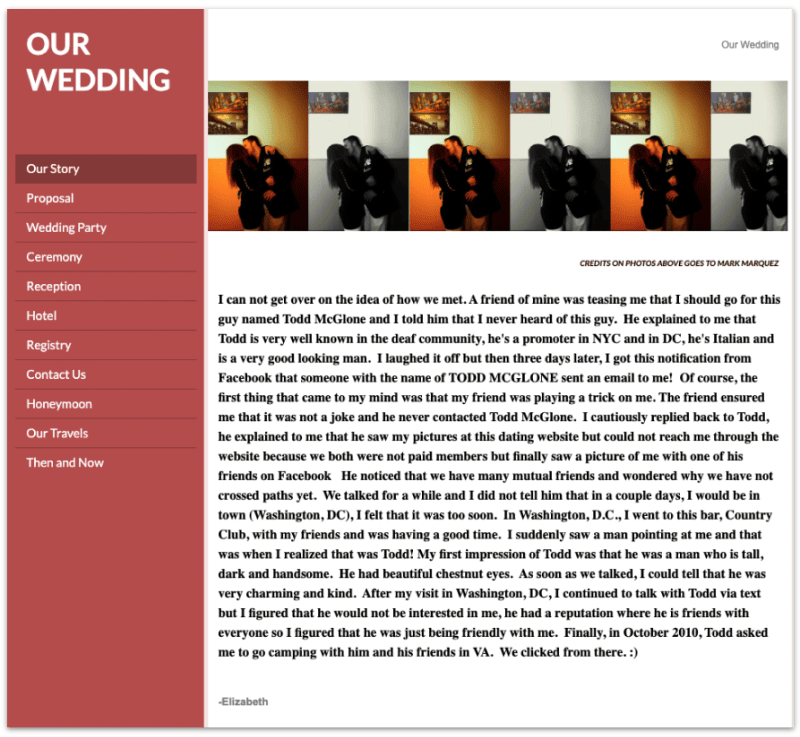 Elizabeth detailed an incredibly adorable story of she met Tod.  After seeing her photo on a dating site, Todd coincidentally bumped into Elizabeth in a bar! Talk about chances. They hit it off right away because well, both of  them found each other cute.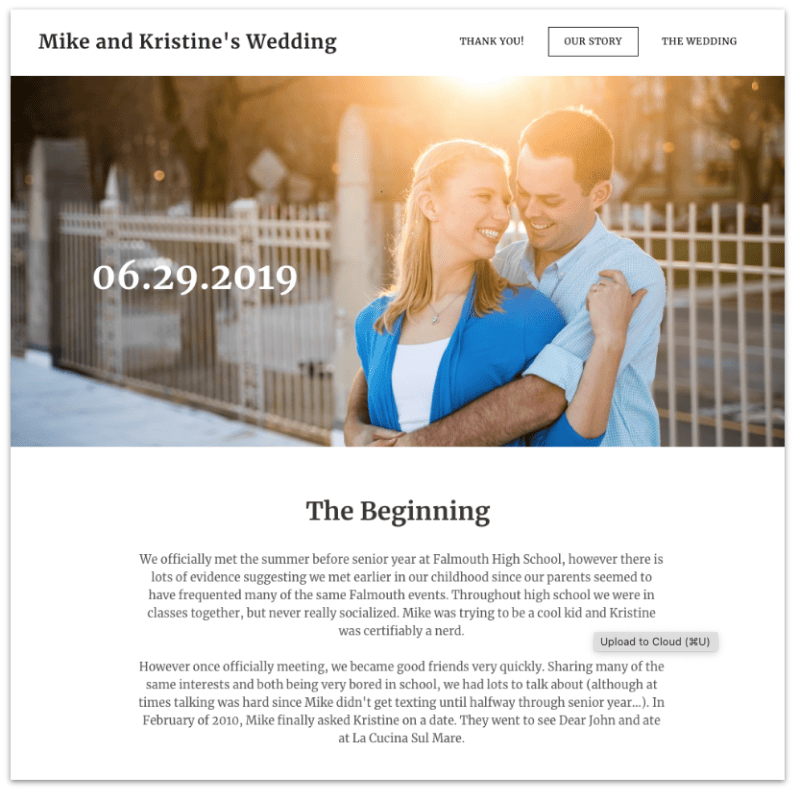 Mike and Kristine met the summer before senior year at Falmouth High School, although some said they met earlier in our childhood because of their parents. They shared many interests and had lots to talk about. In February of 2010, Mike finally asked Kristine on a date and the rest they say is history.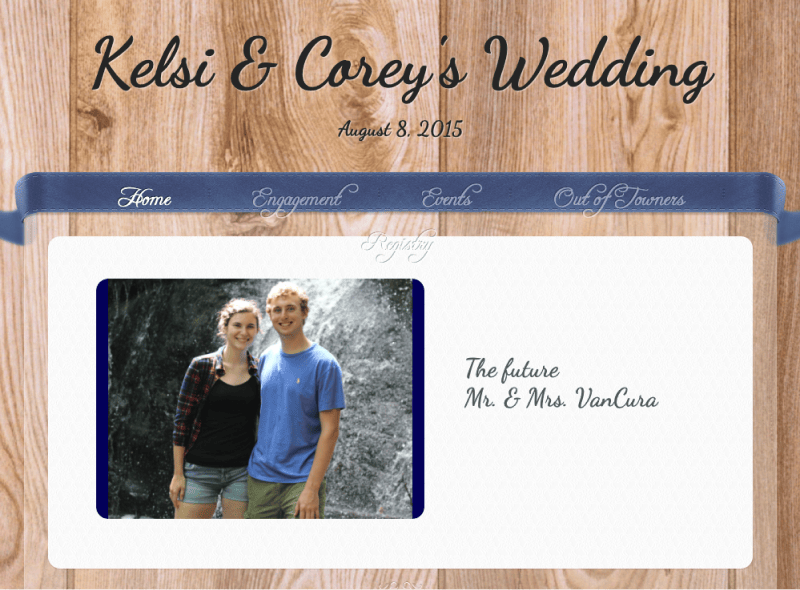 Back in 2014 in Chicago, Illinois, Corey proposed to Kelsi when they went on a date down town. Even though it's in the middle of Chicago winter, you can tell (from the photos on site) that Corey was definitely feeling warm and fuzy that night.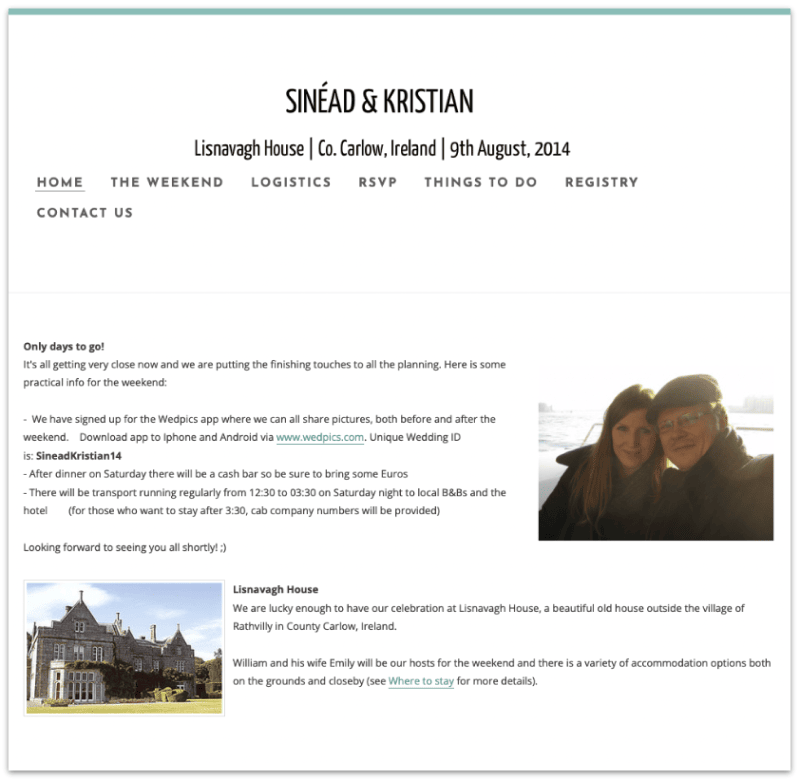 Sinead and Kristian were lucky enough to have their celebration at Lisnavagh House, a beautiful old house outside the village of Rathvilly in County Carlow, Ireland. If that's not enough they even planned a whole weekend for their guests to explore the best things the country has to offer.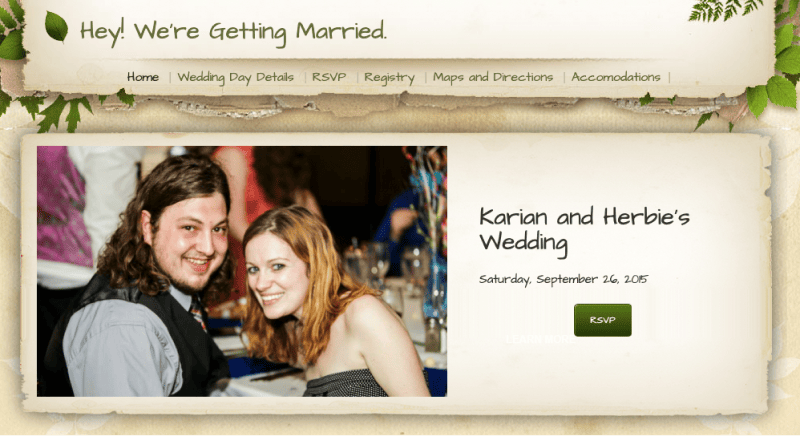 Karian and Herbie got hitched back in 2015 but the memory stays on! The most memorable part of their wedding is the epic hand-drawn map of the Boyce Park located in Pittsburgh, Pennsylvania.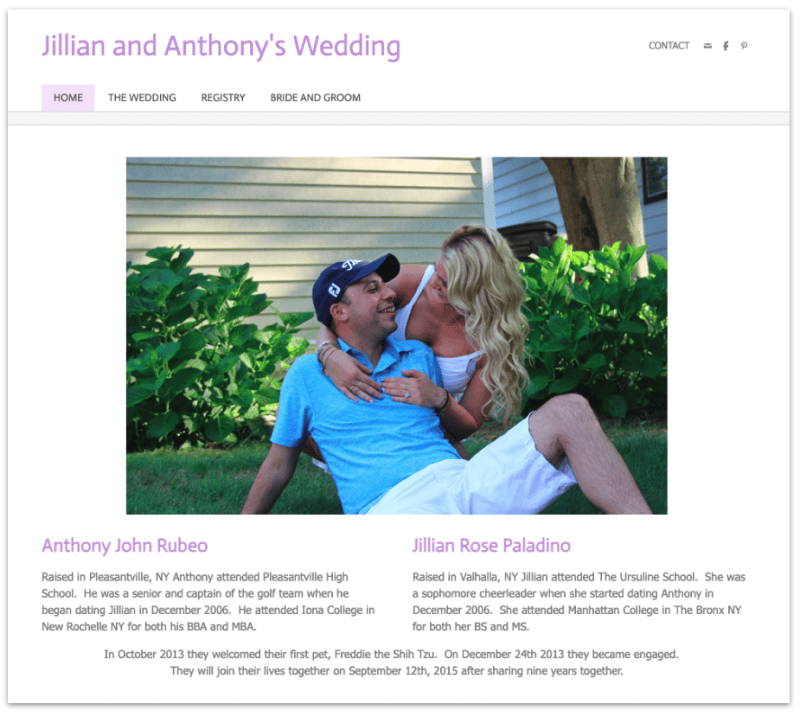 Both Anthony and Jillian were raised raised in New York. They shared lives for nine years before finally tying the knot. They also have a Shih Tzu name freddie, which I must say is incredibly cute!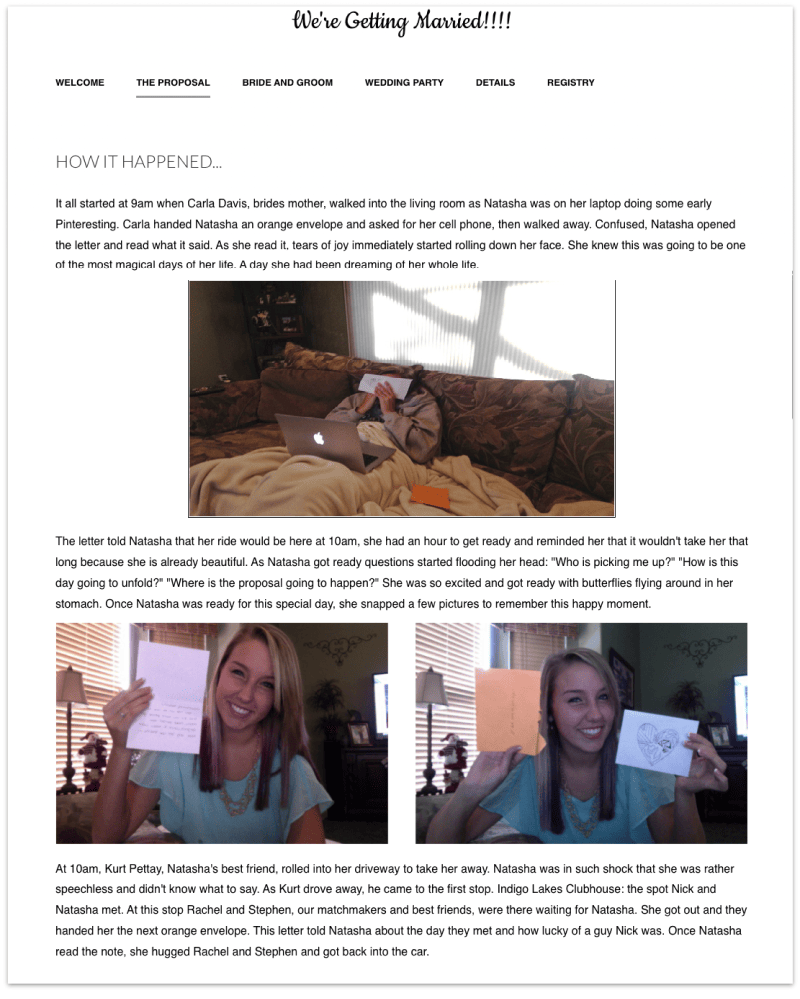 Natasha's proposal was the best kind of surprise. Getting a hand-written card  in the morning and the moment you know it's going to be one of the most magical days of your life. The entire story is real sweet which you should check out (for the lads out there) if you wanted some tips to propose to your future wife.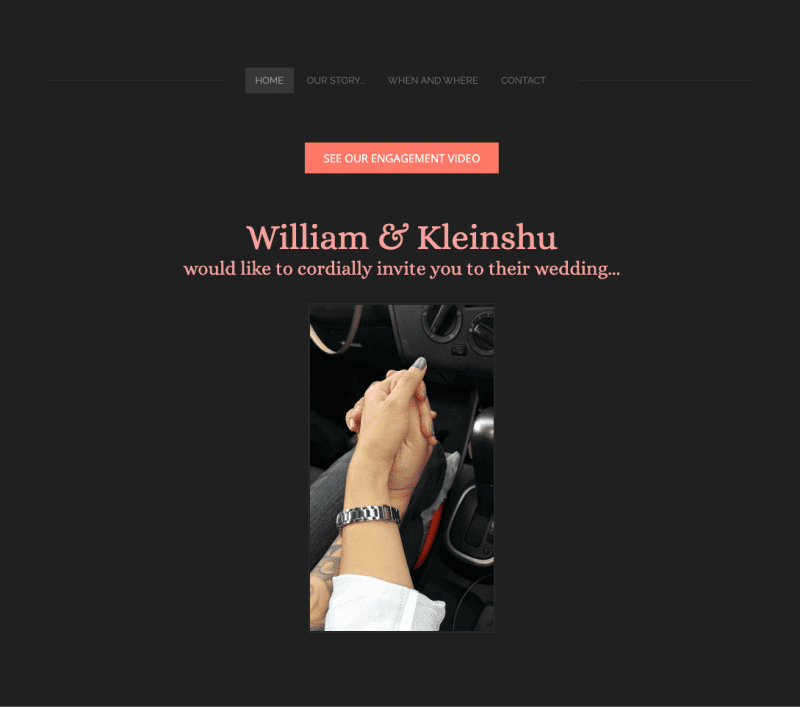 Clearly, William and Kleinshu were made for each other. They said it themselves! Nothing beats a story of how the two was destined to meet and made a life-long commitment to be and love each other.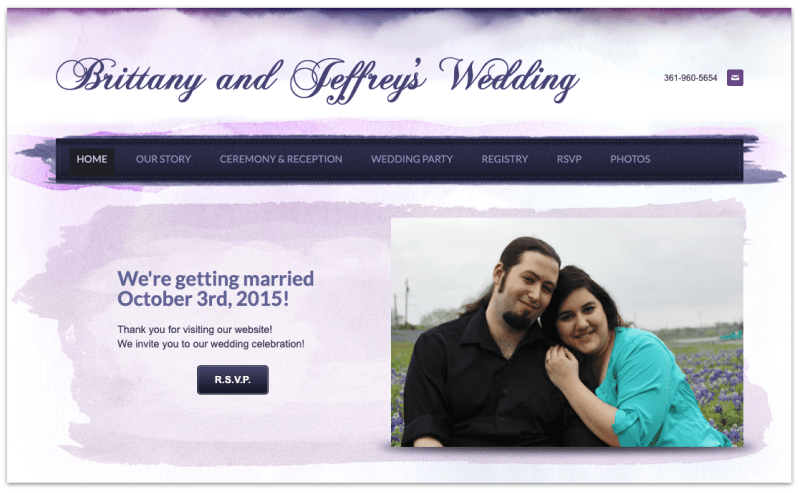 Jeff has been Brittany best friend and confidant since her Sophomore year at Ray High School. Both of them share a blazing passion for video games! While Jeff was Brittany's ex's best friend, they made it in the end despite breaking the "girl code".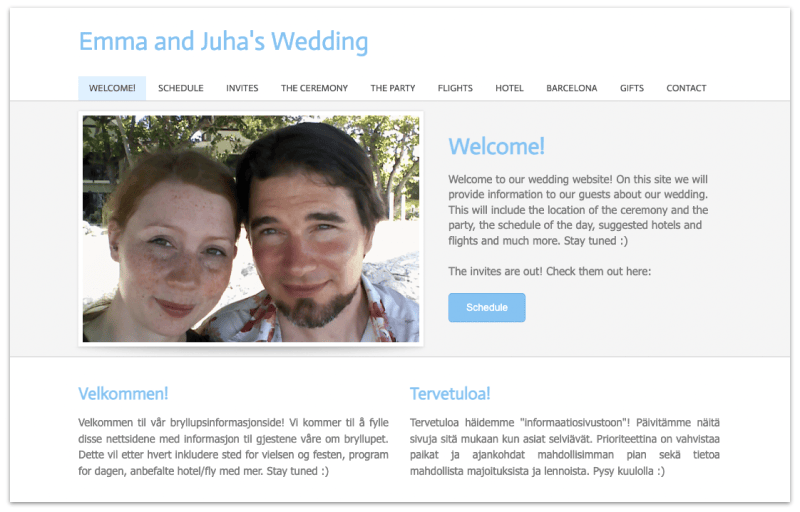 Emma and Juha held their ceremony at a church owned by a monastery in Barcelona. The reception and dinner will be then be held at La Font del Gat, a quaint little restaurant situated in the botanical gardens of Montjuic, also in Barcelona.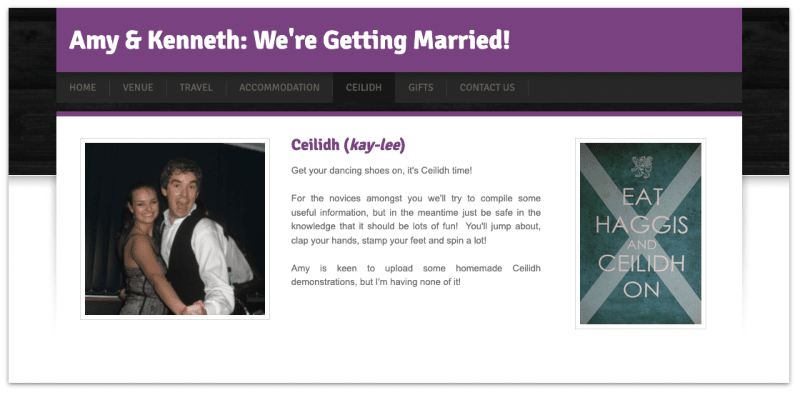 Amy and Kenneth know what's up. They specially told their guests to bring their dancing shoes on because it's Ceilidh time! For those unaware, it's a traditional social event with Scottish or Irish folk music and singing, traditional dancing, and storytelling.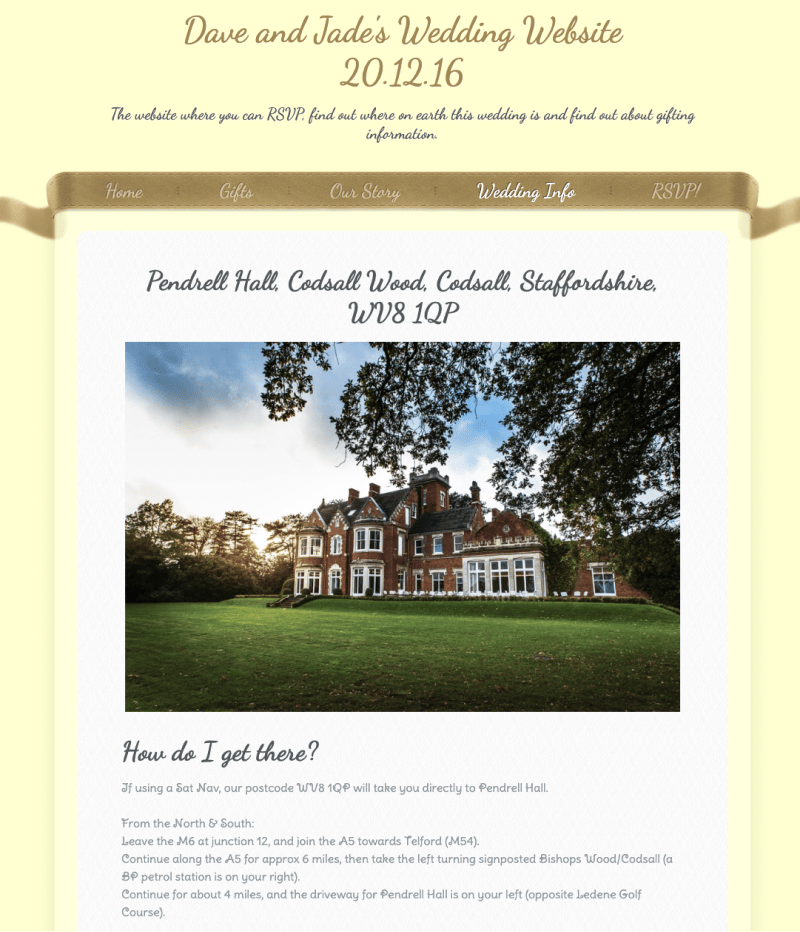 Dave planned a perfect day to propose to Jade in London but of course, London had to rain all over it. Dave soon got over it because Jade had agreed to marry him! The rest is history :)