I've researched over a hundred church websites from around the world (here are the most unique church websites I found), and most of them are built using just a handful of website builders out there.
So if you'd like to save some time, read on and I'll explain why these website builders were chosen in the first place.
In fact if you'd like a quick summary, here it is.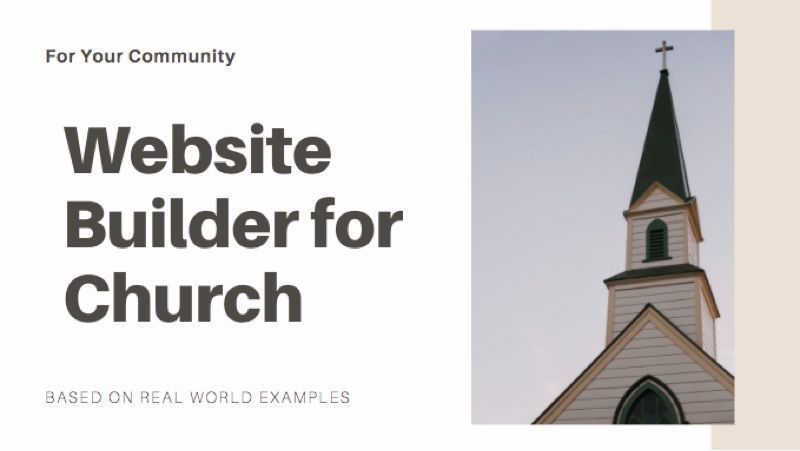 Best website builders for Church
1. Wordpress — Most flexible for building church websites, premium church templates available but require technical help or knowledge to set up. Plus the website needs frequent maintenance.
2. Squarespace — Most intuitive website builder for building a church website (think Apple quality attention to detail), no maintenance, great customer support, but there isn't a church website template for you to start with.
3. Wix — Best free website builder for church (really 100% free), no web hosting cost and no maintenance required. You're able to build feature rich church website like Wordpress, but their web editor is frustratingly slow and customer support is subpar.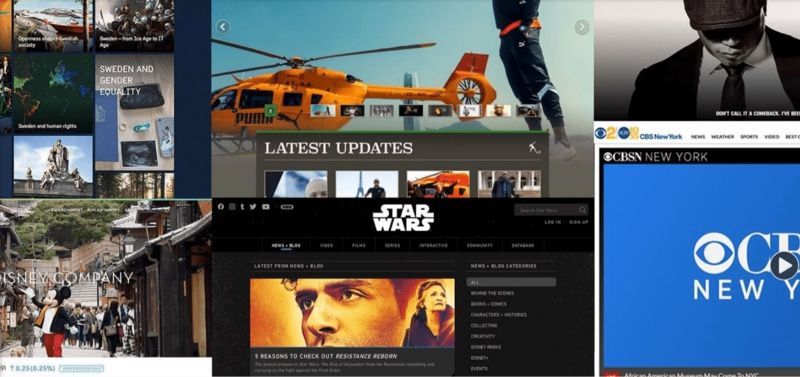 It's not a coincidence that some of the most well known Church websites are built with Wordpress. Wordpress powers a quarter of all websites on the internet afterall, but just because it's the best doesn't mean it's the right platform for you. Hear me out.
Why Wordpress is the best Church website builder
Cost — Wordpress.org (not to be confused with Wordpress.com) is an open source software. And that means anyone can download it for free and build their website as they wish.
So technically you build out your Church website free of charge if you have the technical capabilities. The only other cost to incur for a Wordpress site is web hosting, which can go as low as $4 per month.
Dozens of Church website templates available — Since Wordpress is an open source platform, anyone can create custom templates for all kinds of websites, and yes that include Church websites too.
There over 70 professionally built Church website templates you can choose from.
They look great, though most of them are paid (ranging $30-$70), a fair price to pay considering a lot of features like prayer wall, event manager, sermon manager, donations are built in for you. Plus, this is just a one-time cost which gets you a lifetime update.
Plenty of Wordpress resources online — Wordpress have been around the longest compared to other website builders, and the fact that it powers most of the websites on the internet means people have been making tutorials, video guides for Wordpress forever.
It's safe to say that even if you're not a technical person, if you know how to Google stuff online, you can set up a Wordpress site.
Not to mention there are literally over 80,000 Wordpress freelancers on Fiverr alone, so there will be someone for you if you are ever in need of some professional help for your Wordpress site.
Build beautiful websites even if you're not a designer or coder — There was a time when you can only build a Wordpress site if you know how to set up your own server, or if you're a programmer/designer. Obviously not anymore now.
Third party Wordpress plugins like Divi and Elementor allow Wordpress beginner to design and build website effortly through their drag-and-drop interface.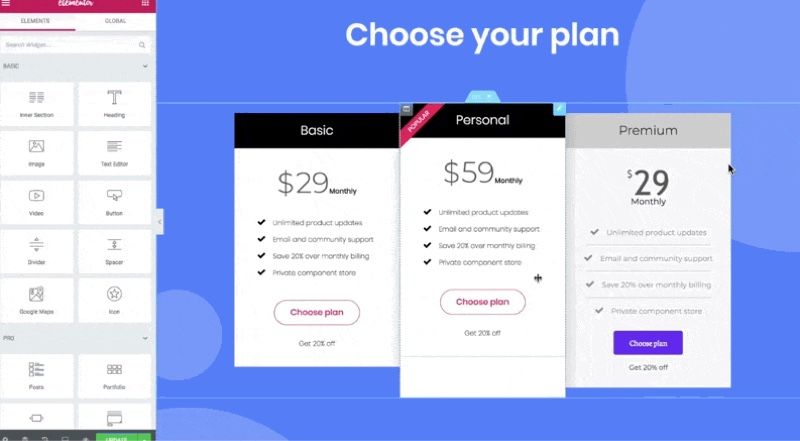 3 Reasons you don't want to use Wordpress for your Church website
As mentioned before, Wordpress isn't for everyone for a few important reasons:
1)  You don't want to maintain the website — With Wordpress, you need update the software, plugins, templates periodically, make backups and even upgrade your server when your site gets popular.
If this is too much work, then it's better to outsource this to other website builders (i.e Wix, Squarespace, Weebly) that would do it for a small monthly fee (usually $5-$15).
It's worth noting that there are managed Wordpress hosting solutions like Flywheel and WPengine that would do that all and more. They charge a higher fee (from $30/month) than other website builders out there.
2) You don't want to rely on Wordpress freelancer — There's no customer support for Wordpress since it's a free, open source software. So if you do run into trouble (most likely you will), you will need to hire someone to help you and that's  one more person to manage.
However, if you were to build your website on a website builder like Squarespace, you'll get unlimited support for free, not to mention they offer the best in class customer support in the industry.
3) You just need to set up a simple website fast — Despite all the tools and resources for Wordpress, it's not that easy to set up. You still need to get your own domain name, and a hosting service. You'll also need to install Wordpress, plugins and set up the theme from scratch.
Compare that to setting up a website on Wix or Weebly where you can literally set up a website in 30 mins - 1 hour.  The difference is website builders have already integrated all the pieces needed to get a website up: hosting, domain, website templates etc, so all you have to do is pick a name, choose a template and change the default copy on your site.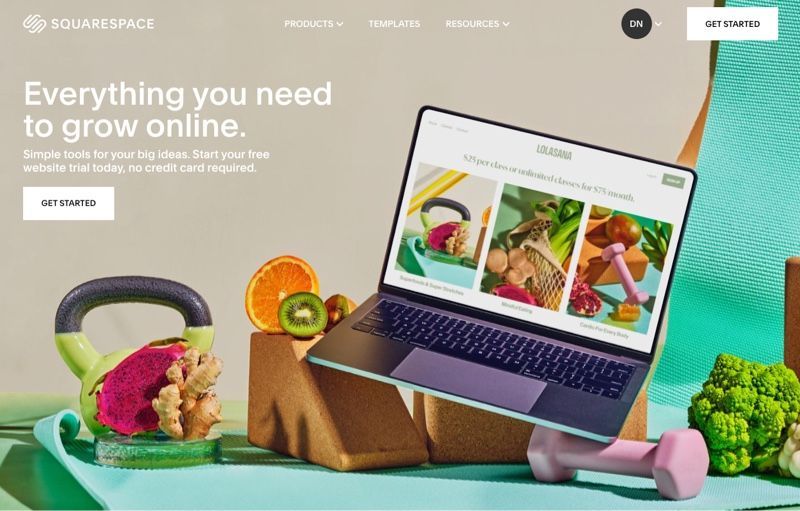 Squarespace is like the Apple of website builders. They pay attention to the detail of user experience, and it's easy to create beautiful websites, take Broadway Church and Archetype Youth, for example.
Squarespace costs $16/month, but If you'd rather avoid the hassle of maintaining a Wordpress website, and want to set up a great looking site with the least resistance, then Squarespace is what I'd recommend to everyone.
Here's why you should consider using Squarespace
Beautiful templates readily available for a Church website — Squarespace templates are curated by designers, so you can't go wrong with any of these templates to build a church website on top of.
Setting up a Church website on Squarespace is as easy as choosing the right template, and updating the default images and copy. Everything else will just fall in place.
Your website will show up perfect on mobile devices with micro interactions when users click on images or scroll around your site.
It's easy to maintain a Squarespace website — You never have to worry about your site crashing or making backups.
And if you want to update your site, the web editor is fast and intuitive. Website builder interfaces are notorious for being slow, laggy, and non-responsive.
If you've ever designed a website with another web editor, you'll know the frustration of having to wait for half a second every time I make changes to a web element.
It's easy to customize — As mentioned before, Squarespace comes with curated web design templates, but it's easy to customize each of them as well.
What makes it easy to customize on Squarespace is that they have a set of pre-defined layouts for you to choose from. These layouts are optimized so that even if you change the content, it will still look great regardless. Of course, this also means you only have control to a certain extent.
2 reasons why you may not want to use Squarespace
1. You need absolute design freedom — Squarespace won't allow you to customize every single thing on the page.
Each template, section, and page element are designed to work together and to look good.
By limiting creative control, Squarespace makes sure that each website they put out on the internet upholds a certain design standard. Which is why you can't go wrong with building a site on Squarespace.
In short, Squarespace is designed for anyone who just needs a website that works, and doesn't want to bother with the intricacies of website management.
2. There isn't a church-specific website template —  While there are plenty of templates available you can use on Squarespace, there isn't one specifically built for churches.
A church-specific website template like the Ministry Website for Wordpress would already have built-in pages for
Sermons
Small Groups
Announcements
Events
Donations
And more...
It just saves that much more time.
However, just because there isn't a church-specific template on Squarespace doesn't mean you can't have a great church website.
Broadway church's website was built on Squarespace, and you can expect all the necessary features for your community: Live sermon sessions, an online learning portal, small groups, donations, online prayers, sermon notes, ministries, and more.
Also read: Wordpress vs Squarespace vs Wix vs Weebly (Pros and Cons)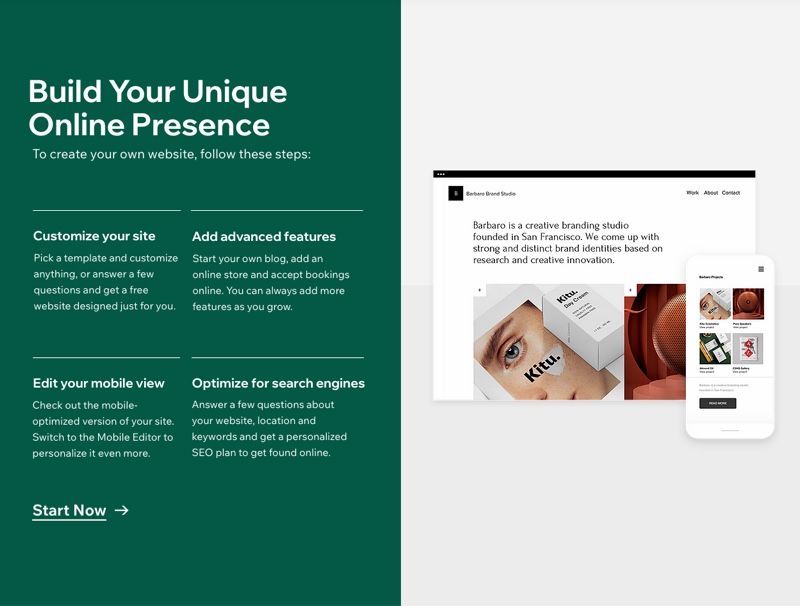 Wix is a lot like Wordpress in the sense that it's cheap and offers a ton of free website templates and features. You get all that minus the headache of having to manage a website.
In fact Wix is a great option for building a church website precisely because they have church specific website templates that you can pick and run with.
Take their Gospel Church Template for example, in it you'll find pre-built pages for
Sermons
Events
Music
Donation
Contact
About
Google map location
So it's really easy to get started, all you have to do is pick one of the church templates, upload your sermons, update the page copy, add music, events and visits info and you'll have a church website in no time.
Advantages of using Wix for a church website
Cost — Wix is one of the cheaper website builders in the market.They offer a generous free forever plan while Squarespace only offers limited time trial. Even if you have to pay for Wix for using a custom domain name, it's starting price is just $4.50/month compared to Squarespace, which starts at 16$/month.
Apps and plugins — Wix has one of the largest app marketplace and it's second only to Wordpress. That means you can add substantial amount of features compared to other website builders. Most of them are free too.
Here are some Wix apps/plugins that are particularly useful for a church website: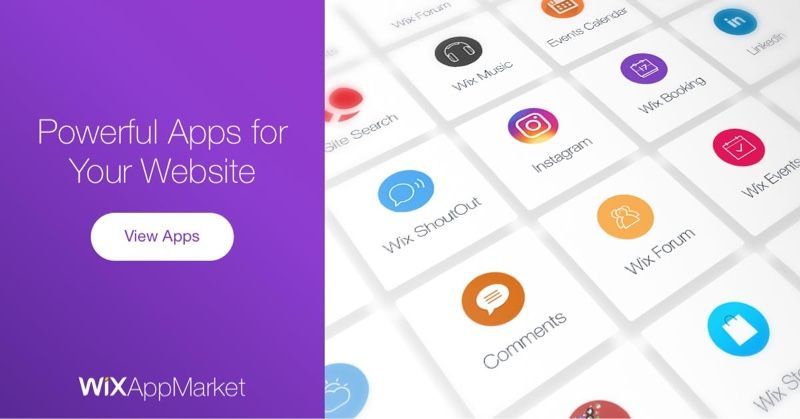 Absolute freedom to customize — Unlike Squarespace where you can only customize up to a certain extent, Wix allows you to customize virtually every single element on your website.
To quote Wix: "You can change so many elements in a Wix website design, it would basically be impossible to find the original template it was made from".
Wix is a powerful tool if you have design chops and would like to show it to the world and impress your community.
2 Disadvantages of using Wix for a church website
While Wix offers great features and flexibility, I'd be lying if I told you Wix is the perfect solution for all. Well it's not and here are a few things to consider.
1) Platform lock in — If you've decided to build your church website on Wix, know that it's very hard to switch to another platform. Wix explicitly state that they do not allow exporting any content/pages/sites.
So the only way for you to change platform is to manually copy all content, images and videos and move it to the platform of your choice. Not to mention you will also lose all the data that is saved in any of the Wix apps you added to your site.
2) Slow editor — Despite the all the great features that Wix offer, its web editor is complicated and can be overwhelming for beginners. The interface is cluttered and the pages load painfully slow when you're working with media files.
Take a look at these reviews from independent third party review site. The most common complaints are how slow the editor is, and that their lacklustre customer support doesn't help either.