Are you tired of paying Linktree for just a simple Link in bio page?
Here are 9 popular Linktree alternatives you can use for free forever.  
Here's a summary:
Carrd — Best-designed link in bio site (customizable layout)
ConvertKit — Link in bio with free custom domain
Buffer — Link in bio that allows post scheduling
Super — Build a link in bio page from Notion
Typedream — Link in bio with a unique masonry layout
Bio.link — Simple list-style link in bio
Beacons — Versatile link in bio with eCommerce feature
Squarespace Bio — Link in bio with an intuitive editor
Link pop — Link in bio that integrates with Shopify
Let's dive right in.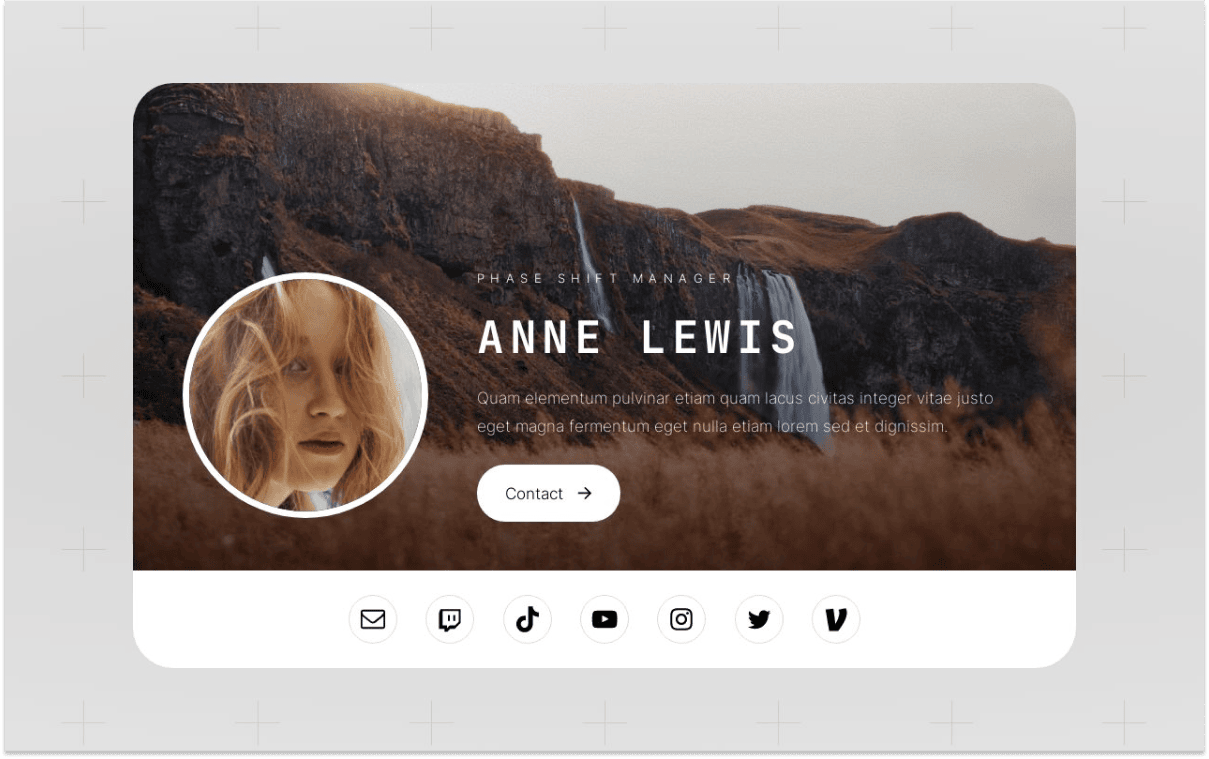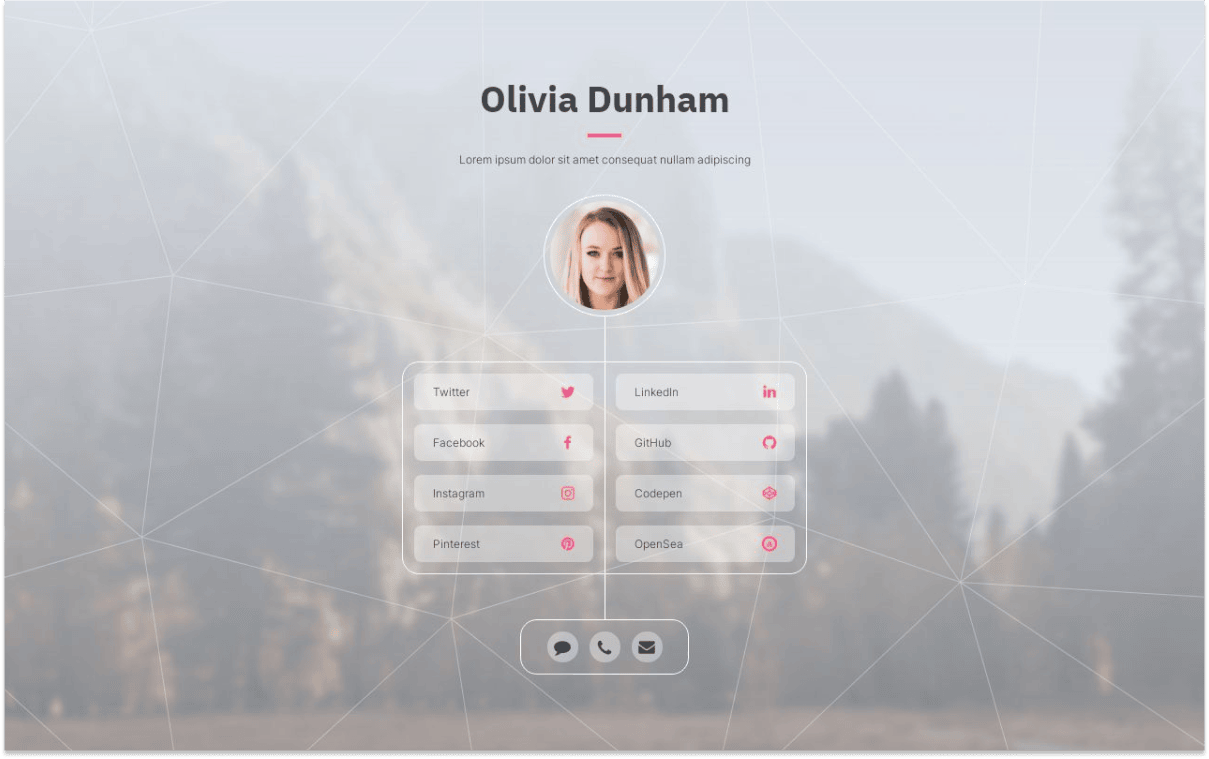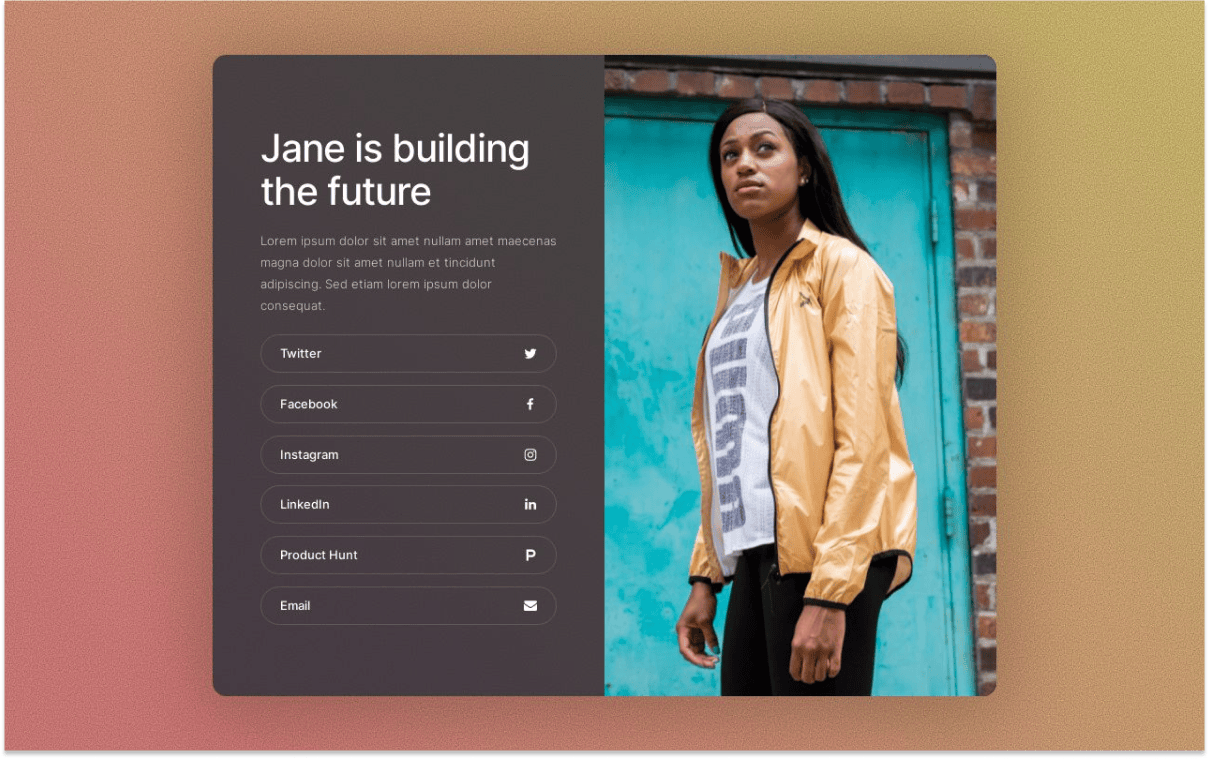 Carrd was originally designed to be an all-purpose, single-page website builder, built by a single founder and designer, AJ.
The biggest reason to use Carrd to the ability to create a great-looking bio page with ease.
There are over 50 absolutely unique 'Link-in-bio' templates personally designed by AJ himself. Each with dedicated sections for your bio, placeholders to link to your social media accounts and your most important work.
Notable features on Carrd (free plan only)
Over 50 custom-designed link-in-bio templates to choose from.
Flexible drag-and-drop editor.
You can custom design your own custom link-in-bio page — Custom layout, gallery, audio, video, tables, and icons.
Over 100 social media platform icons to link your work and profile from.
Optional: Set up a custom domain for your bio page for $9/year (cheapest in the market).  
Check out some of the Carrd 'Link in Bio' templates (login required)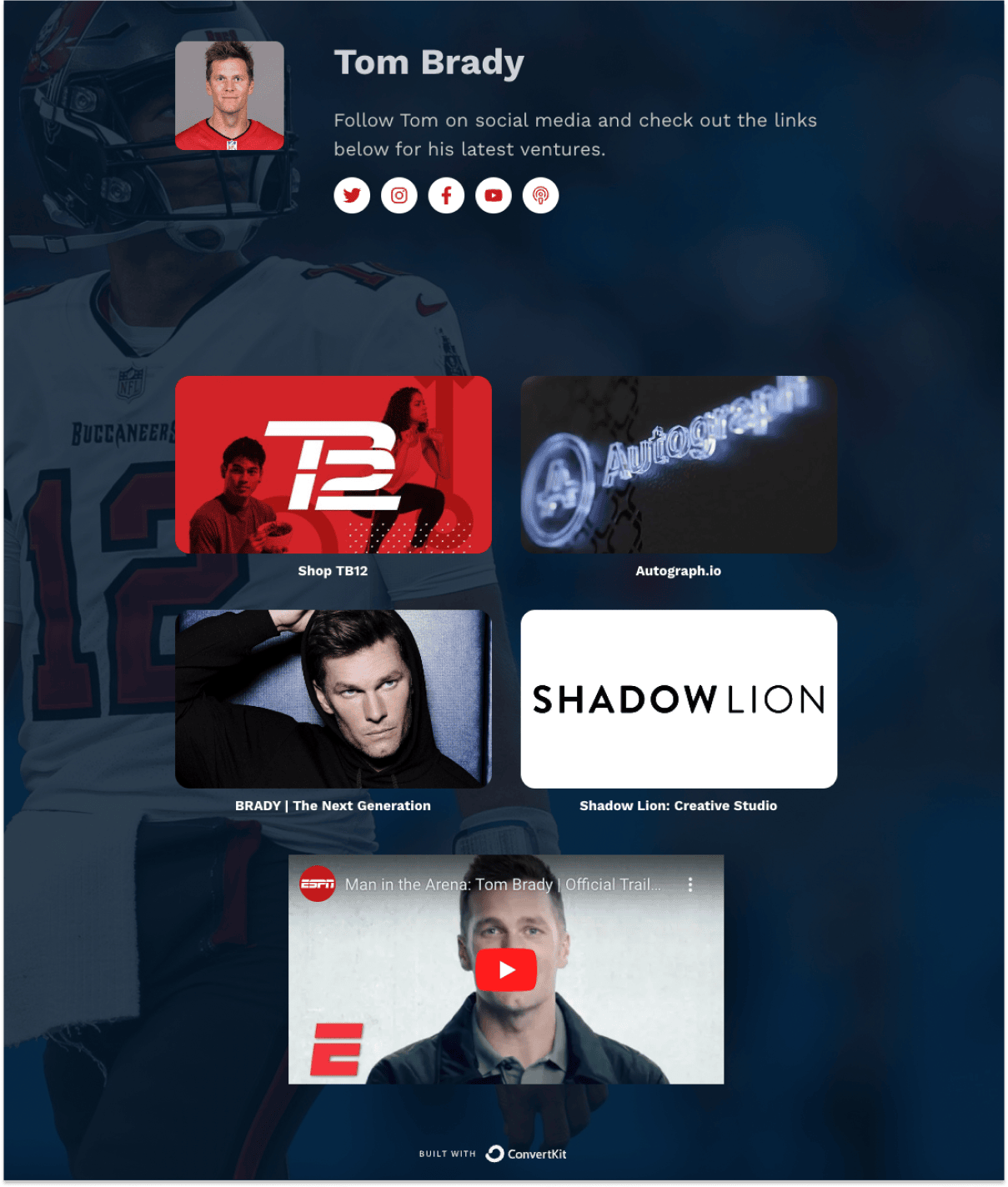 ConvertKit started as an email marketing platform back in 2013 but has since expanded to other verticals such as landing pages, eCommerce, etc.
Their landing page builder is free, and you can use it to set up a link-in-bio page by personalizing their existing template, just like how Tom Brady does it!
They don't have as many bio page templates as Carrd, but they have excellent features to grow your followers.
Notable features on ConvertKit (free plan only)
Best-in-class email marketing tools.
You can set up a custom domain for free.
Directly import from Unsplash (100,000+ stock images to choose from)
Integrates with Google Analytics, Facebook Business, Pinterest, and more
Upload files for your followers to download.
Check out ConverKit's free landing page builder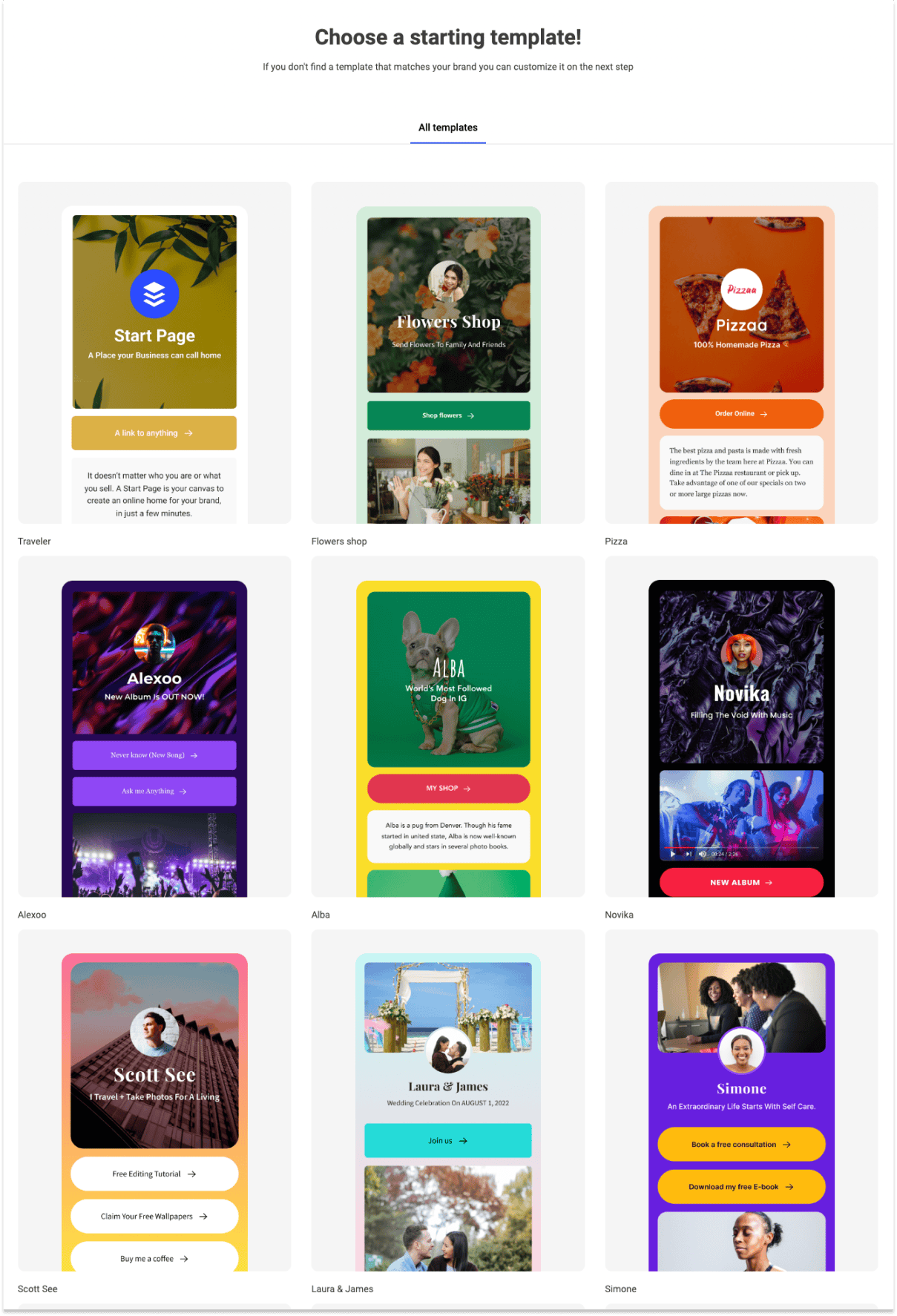 Buffer started as a social media automation platform but has since introduced other tools as well, like the link-in-bio page editor (which they called the Buffer Start Page).
There are over a dozen crisp-looking link-in-bio templates for you to personalize, and they have some great brands using them too. Check out these examples: Marley Spoon (by Martha Stewart), Sebelas Coffee, Ryan Johnson.
Notable features on Buffer (free plan only)
Directly embed Youtube videos and Spotify Music.
Schedule a custom post, announcement, or an offer on your bio page.
Analytics for each link clicks in your bio
Check out Buffer's free Start Page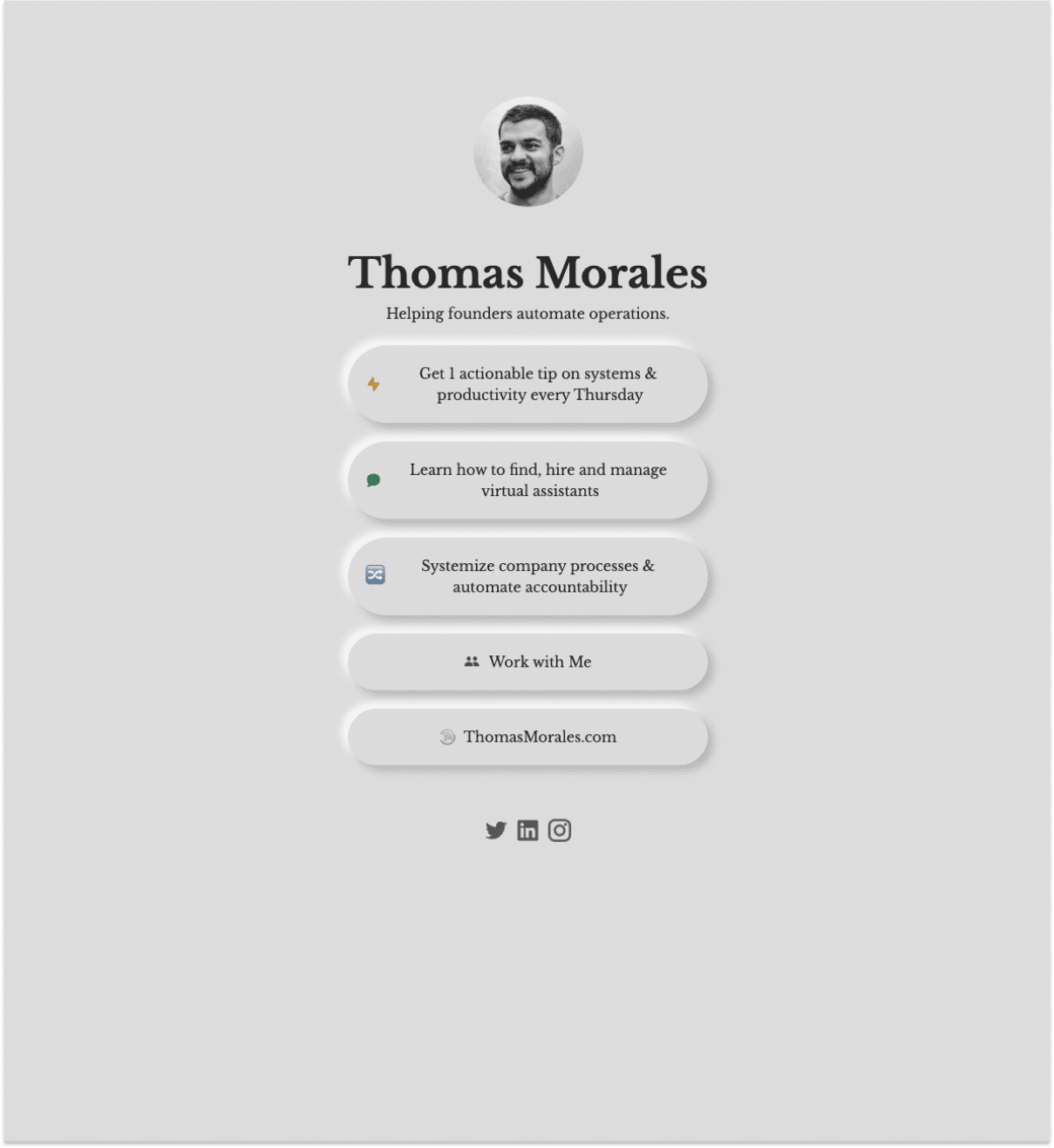 If you've used Notion, then Super is the link-in-bio tool you should check out.
Imagine adding your links in a Notion document and automatically create a website with a click of a button. That's how easy it is to create a site with Notion user Super.
Here's an example Link-in-bio site built with Super.
You can style any aspect of your bio site with colors and fonts, change the layout, add navbars and footers, as well as style galleries. All without knowing how to code.
Notable features on Super (free plan only)
Blazing fast website — Everything loads incredibly fast unlike other website builders.
Personalize the design or use a template
Creates user-friendly URL
Check out some of Super's free template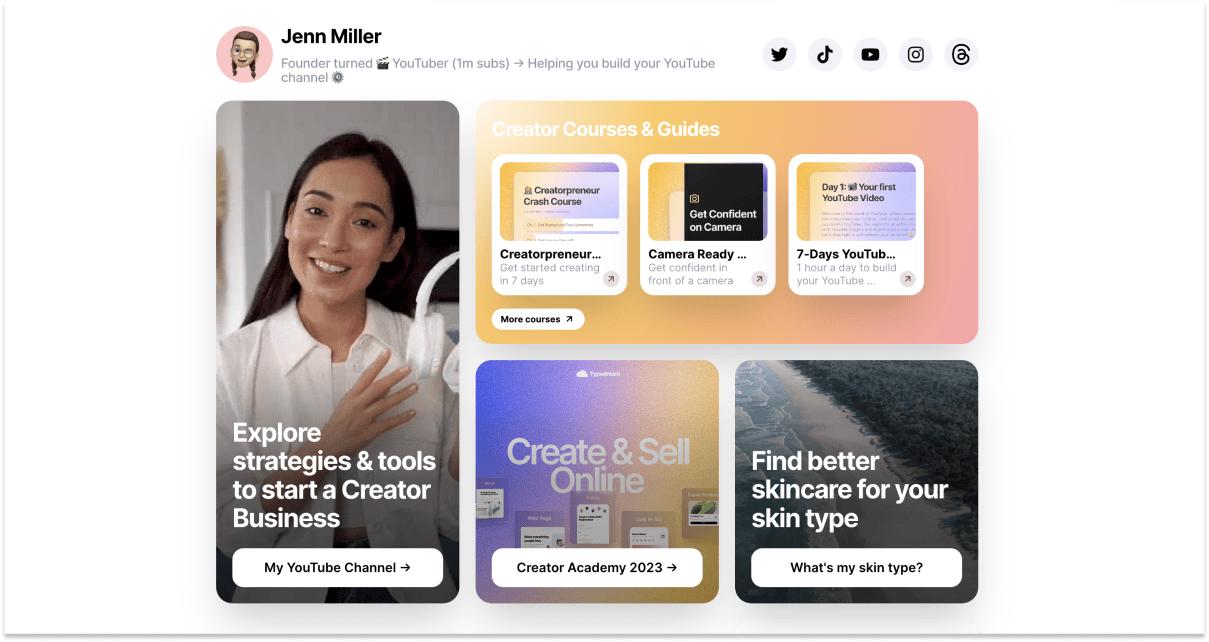 Typedream has a dedicated link-in-bio builder that's designed visually highlights your content.
Your link in bio is organized into different 'cards' in a masonry layout, each with a dedicated background image. Admittedly, they take up more real estate, but this is their key differentiation with our link-in-bio builders.
They also allow you to add a story or reel directly in your bio to attract your audiences.
Notable features on Typedream (free plan only)
Unique masonry card layout
Upload stories and reels
Easy onboarding — They collect your links in the sign up process and automatically generate your bio with all the linked included.
Customizable links, background color, image, and videos
Sell digital products (5% transaction fee apply)
Learn more about creating a link in bio on Typedream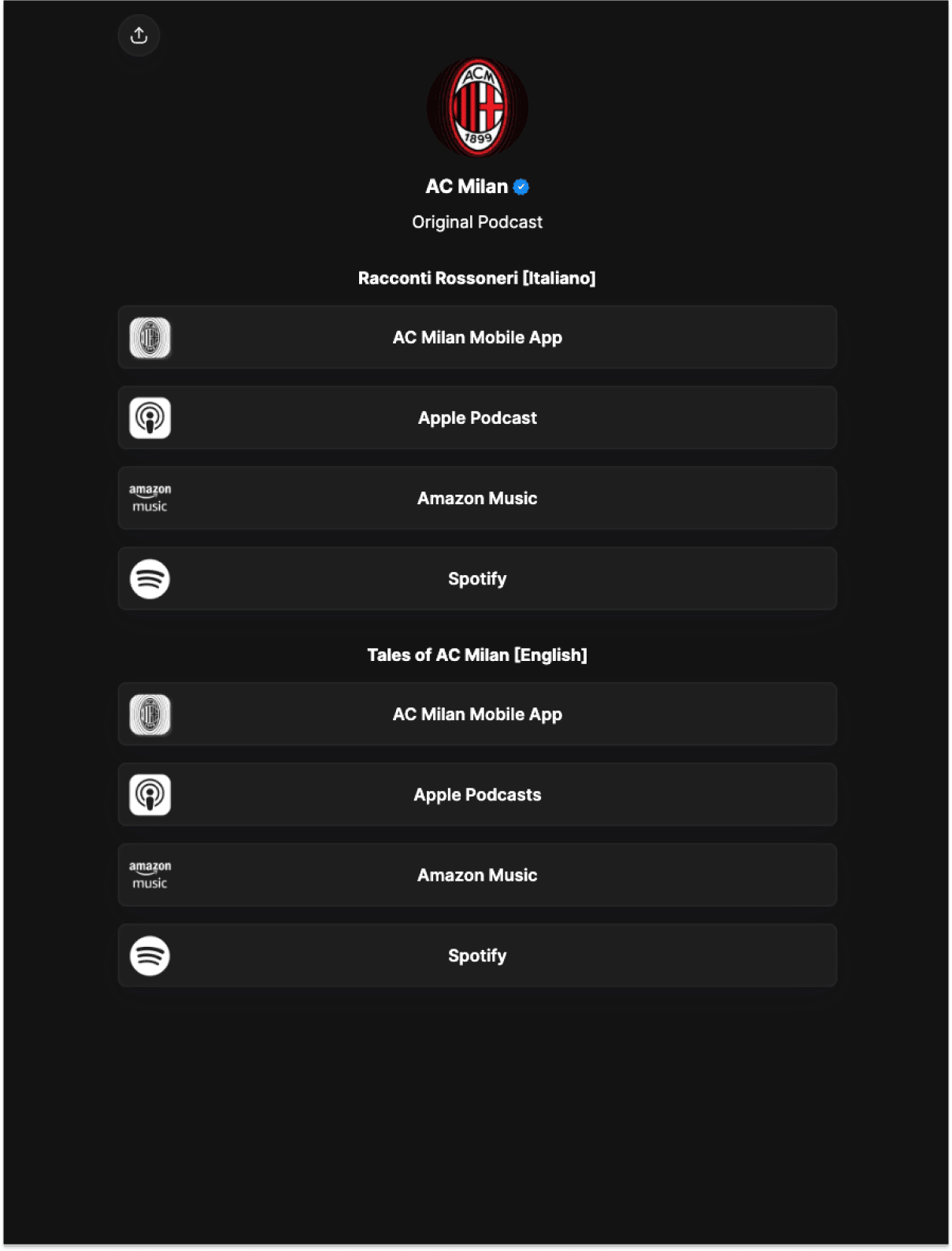 Bio.Link is a super simple list-style link-in-bio site builder. This is probably one of the more popular link-in-bio pages you can find on Instagram given its simplicity.
You basically add all the relevant links and it'll show all of them in descending order.
Notable Bio.link users include Austin Archer, AC Milan, and the Bachelorette.
Notable features on Typedream (free plan only)
Embed content from Youtube, Tiktok, Spotify, Twitter, and other social media platforms.
Customizable background, links, and icons.
Analytics for all link clicks — top traffic sources, location, and page view.
Searchable on Google (SEO)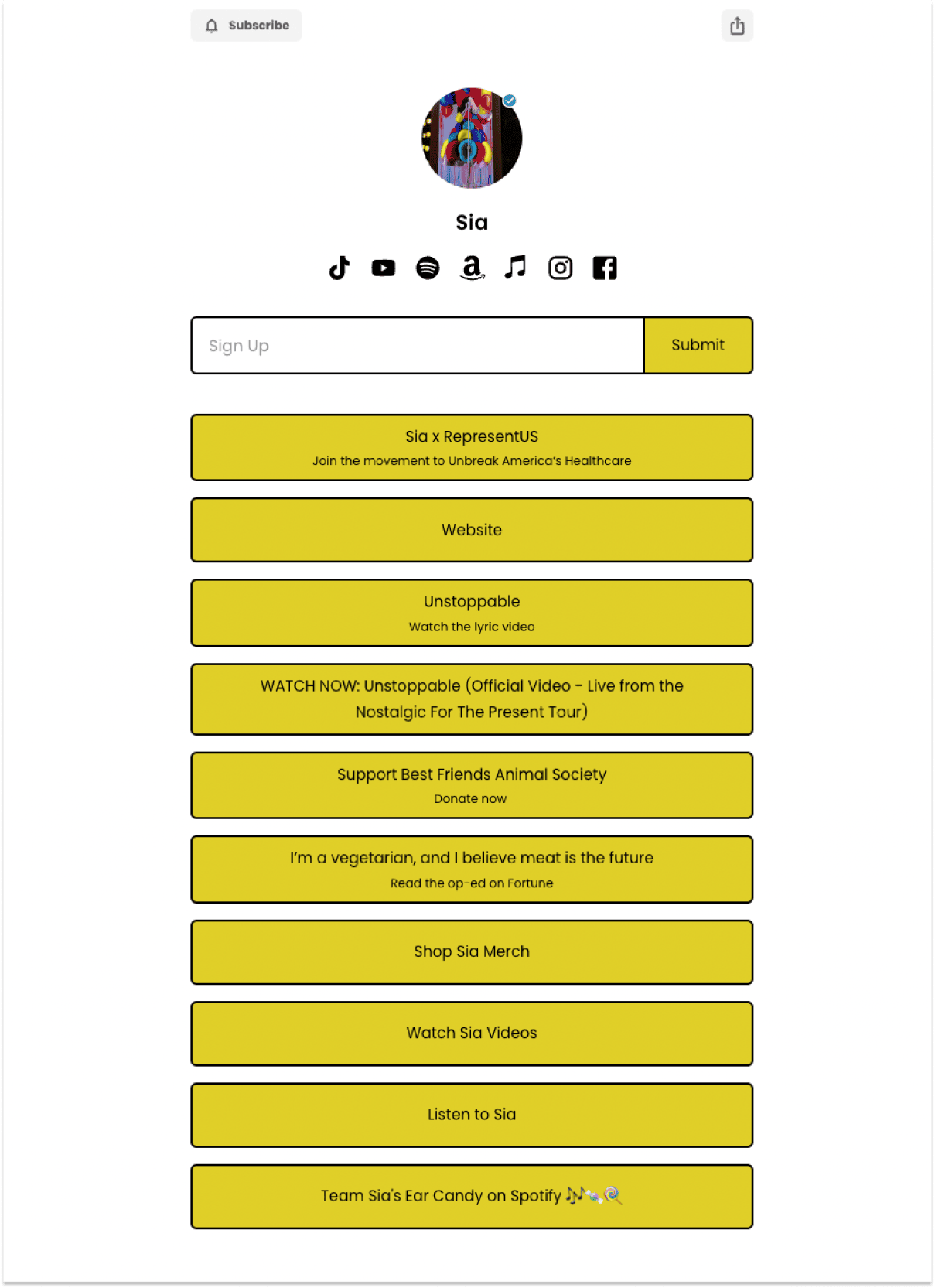 Beacons is a versatile link-in-bio builder that not only displays all your social media links, but also allows you to set up a store, accept donations from followers, and set up paid booking appointments.
Notable Beacons users include Sia (Musician), Fall out Boy (band), and Too Turnt Tony (Creator).
Notable features on Beacons (free plan only)
Customizable colour palette, font style, and background.
Collect emails and phone numbers
Add a booking calendar
Set up a store with built-in checkout
Accept donations from your follower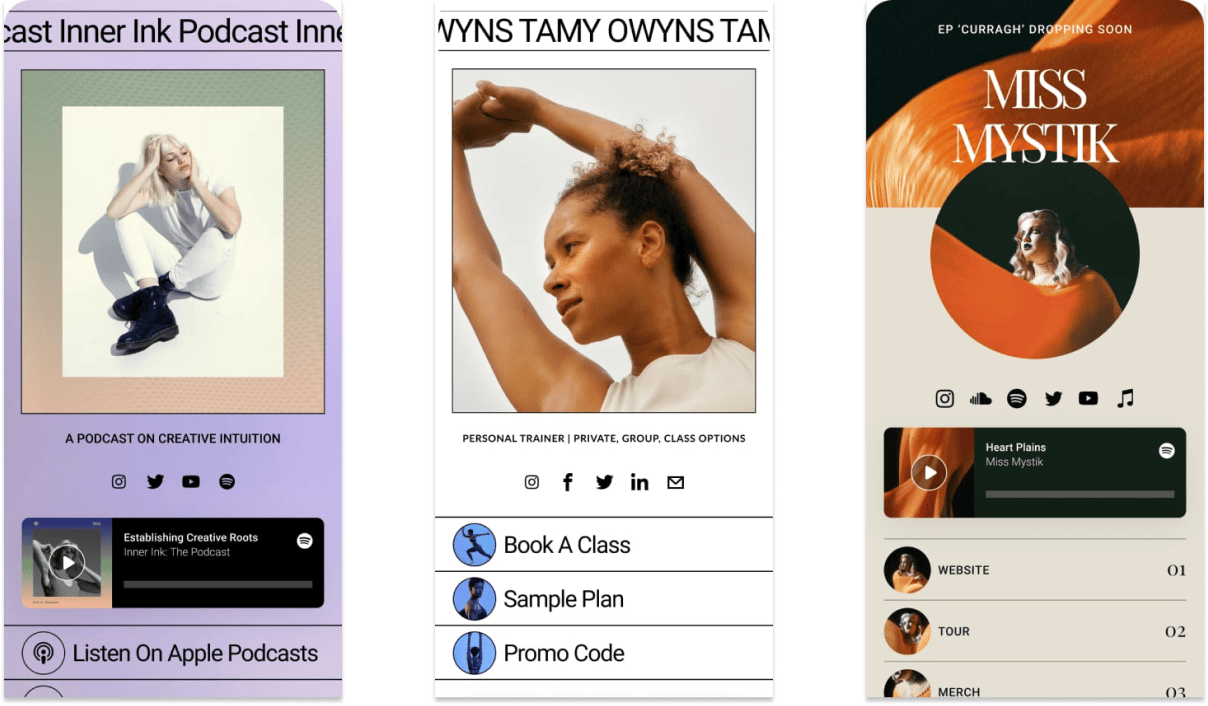 Squarespace Bio is a new free offering from Squarespace that helps you create a simple link-in-bio page.
While the layout is simple, Squarespace is known for its intuitive website builder and clean design, which you can expect in this bio-site builder as well.
Notable features on Squarespace Bio (free plan only)
Embed content from Facebook, Pinterest, Spotify, Apple Music, Instagram, Tiktok, and more.
Dedicated iOS and Android app
Collect tips & donation
Raise fund for a project or a cause
Learn more about Squarespace Bio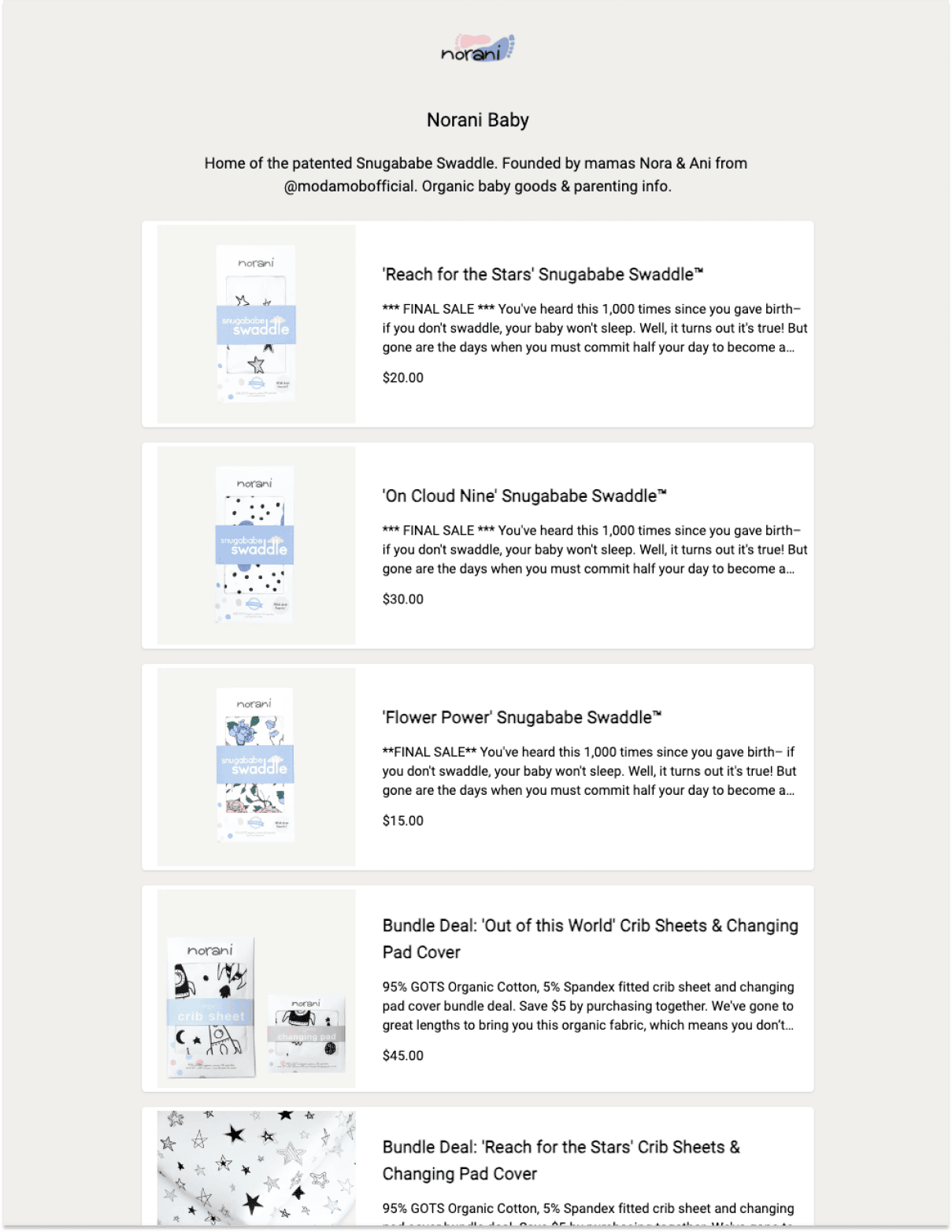 Link pop is a new link-in-bio maker tool by Shopify.
While its design is the most basic out of the bunch, it's becoming increasingly popular thanks to its integration with the Shopify and eCommerce ecosystem.
If you have an existing Shopify store, you can directly set sell your most popular merch directly on your link-in-bio page.
Notable features on Link pop
Sell products directly from your Shopify store
Add affiliate product links directly from Amazon
Basic analytics
Related articles