Here's a step-by-step tutorial on how to generate a free QR code for your Squarespace site.
It's easy, free, and can probably be done in a few minutes top.
We'll use a free QR code generator online since Squarespace doesn't have a built-in feature to generate a QR code for your site.
Let's dive right in.
QR Code 101
Without getting too technical, QR codes work just like a bar code from the grocer. It can store information — text, links, files, email addresses, songs, and images — all this information becomes accessible simply by scanning the QR code with a smartphone.
Generating a QR code for your Squarespace site can easily be done in 4 steps:
Copy the URL of your Squarespace site.
Paste the URL into a QR code generator online.
Download the QR code in any image format — JPG, PNG, SVG, etc.
Print the QR code on a flyer, business card, or even t-shirt, and share it with your customers to get traction on your site.
Here's the step-by-step guide to do that.
Generating the QR code for your Squarespace site
Open up the browser and copy the URL of your site.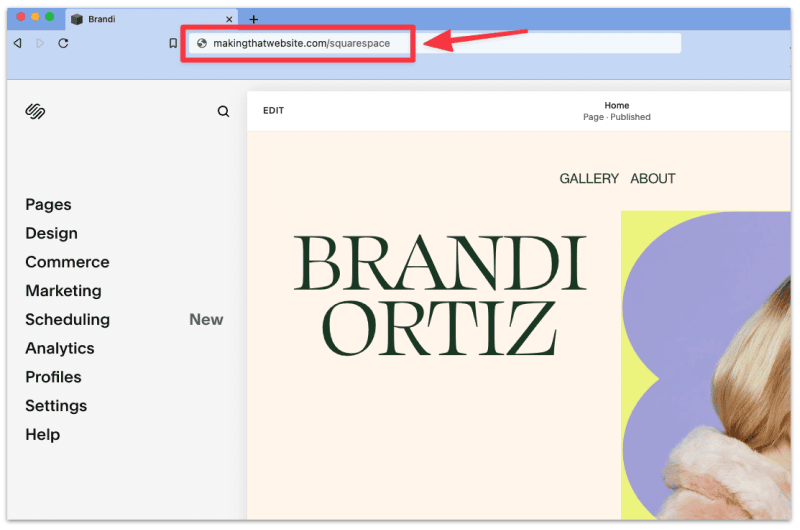 Head to The-QRcode-generator.com, and paste your URL in the main input field.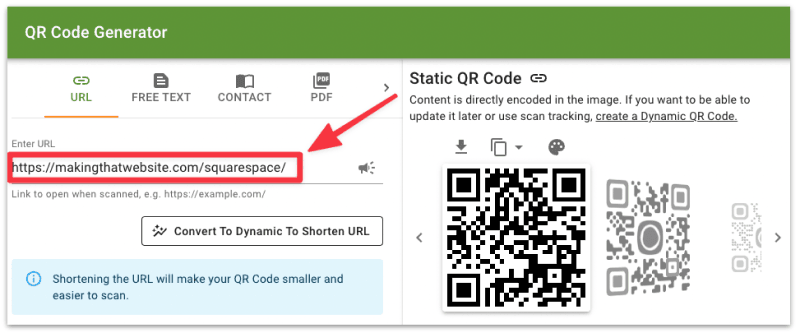 Note: There are several free QR code generators on the market (Google it), but this is one of the few that allows you to download the QR code without signing up for an account.
The QR code will automatically be generated.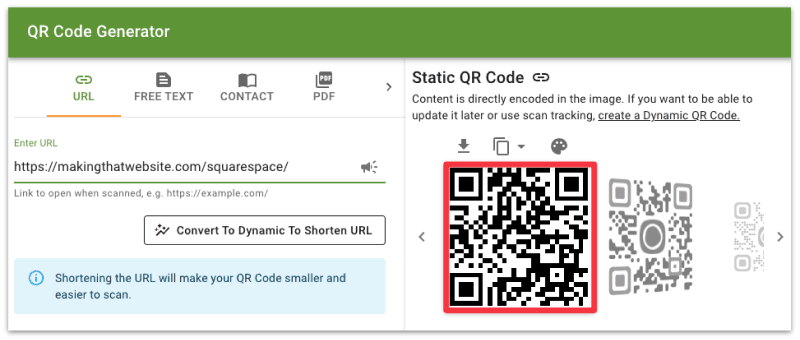 2. Test out if the QR code works (it should). Open up the QR code app or the browser on your phone, scan the QR code, and it should bring you to your Squarespace site.
3. Click on the download icon, name your QR code, and hit DOWNLOAD to save the QR code.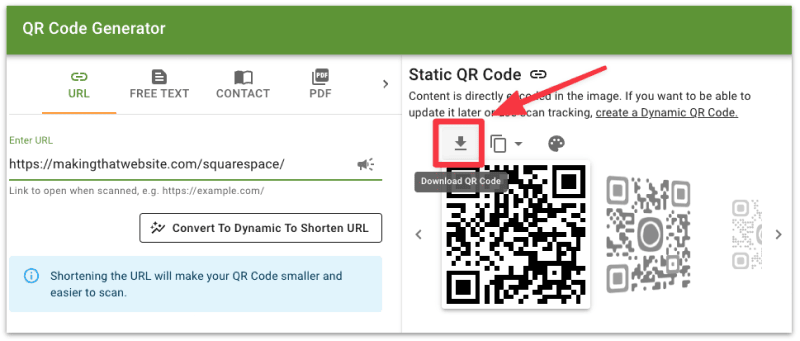 To download the QR code for free, you can only save it as a PNG image file in the size of 1000px square image. This is good enough, in my opinion. Otherwise, you have to pay to unlock other resolutions and file formats.
You now have your QR code for your site, which you can bring to your local shop and print.
But before you do that, I suggest you customize the QR code with a logo, brand name, or any custom design where applicable.
Designing your creatives with the QR Code
Any design software will do, but my favourite hassle-free tool to design any creative is Canva.
Canva has tons of QR-code-ready templates available; just pick one and start customizing with their drag-and-drop editor.
Check out some of these examples.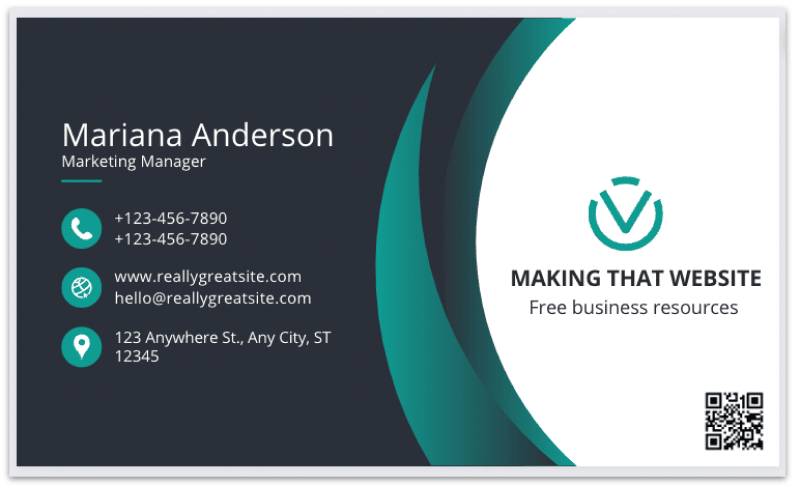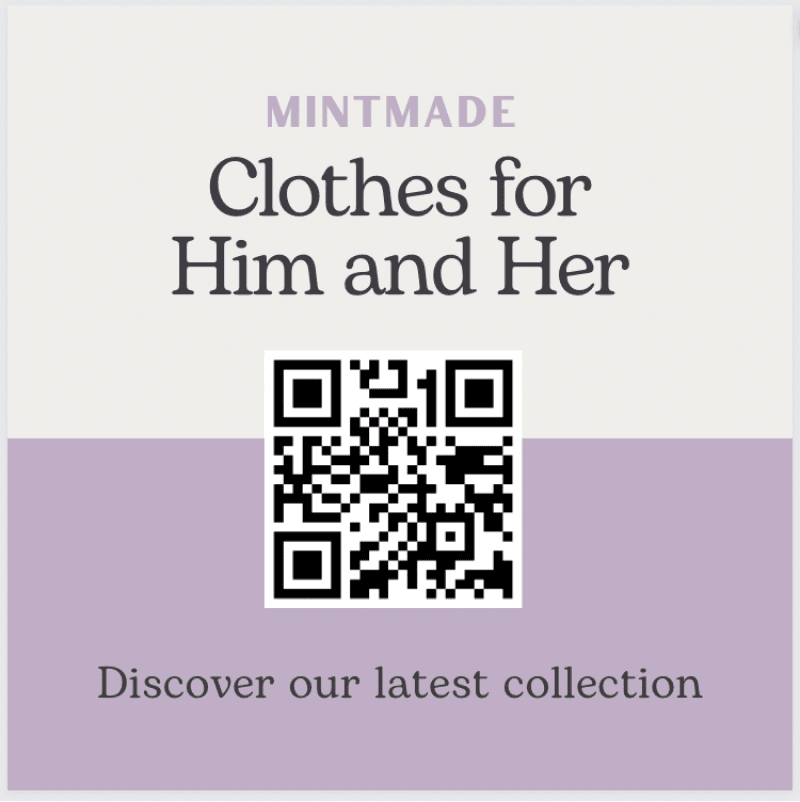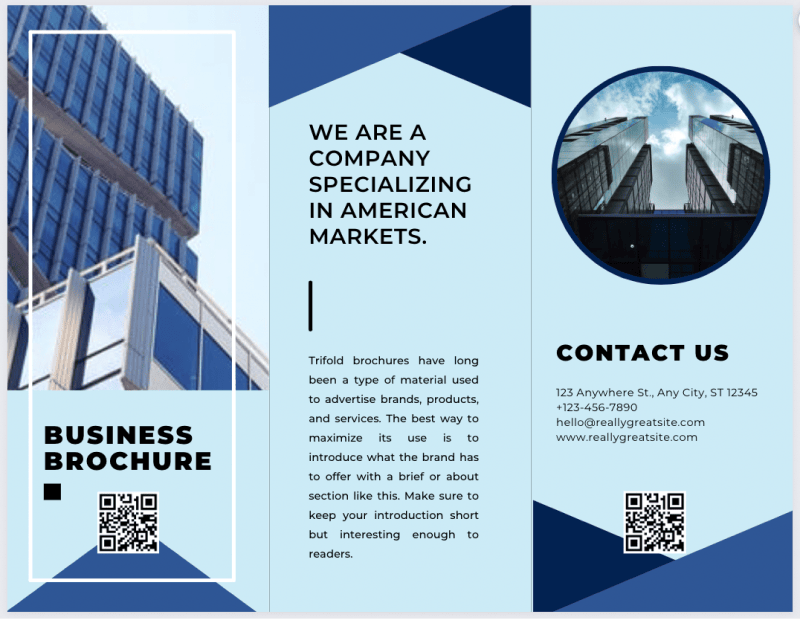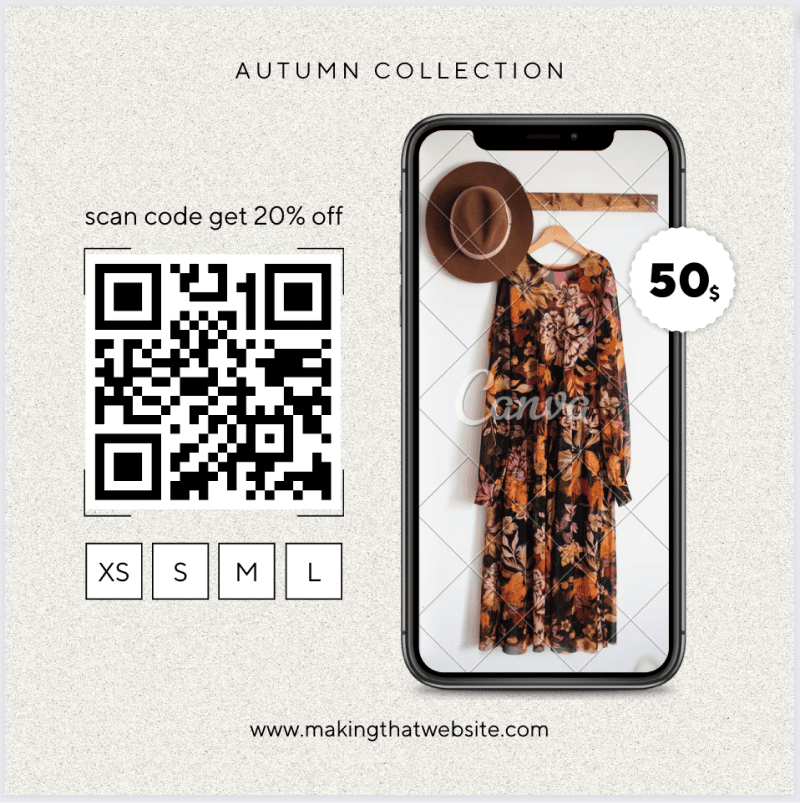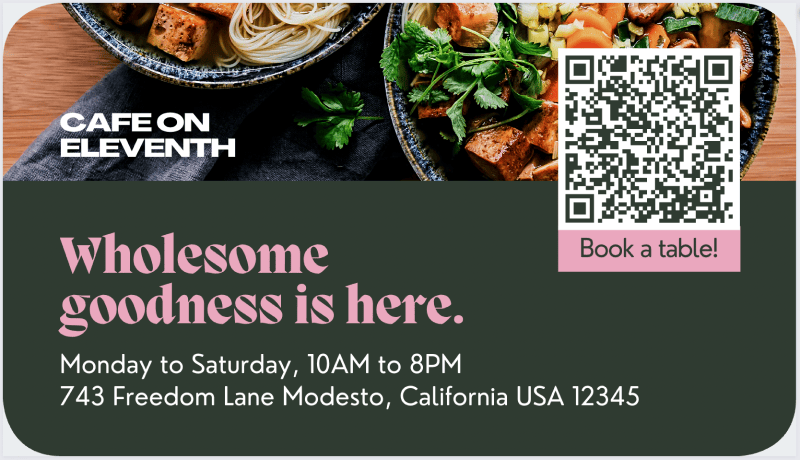 Frequently asked questions about generating a QR code for Squarespace
Is it possible to create a QR code for my Squarespace site?
In short, yes. However, Squarespace doesn't have a built-in function to automatically generate a QR code for your site. So you will need to rely on a third-party QR code generator like The-QRcode-generator.com.
Do I need to use a Squarespace-compatible QR code generator for Squarespace?
No. Any online QR code generator will do.
Is it free to generate a QR code for my site?
Most QR code generator online allows you to generate a QR code for free, but they restrict you in terms of the size and format you can download. For example, you can only download a 1000px square image. If you want a higher resolution, then you have to pay for it.
Some other QR code generators offer premium features, such as adding a border, branding, changing the color of the QR code, etc.
Related articles: