Are you evaluating if Squarespace is the right website builder for your organization? Then this guide is for you.
I recently wrote about how nonprofits, charities, and non-governmental organizations (NGOs) use affordable website builder tools for their sites.
Unsurprisingly, Squarespace was a popular choice.
But is Squarespace good for nonprofits or should you blog a popular platform like Wordpress?
The answer is that it depends. Below I'll explain when a nonprofit can benefit from a builder like Squarespace and when it falls short.
We'll go over:
By the time we're through, you'll know whether Squarespace is right for your nonprofit.
Related: If you're convinced Squarespace is right for your organization, then check out these Squarespace templates that were designed for nonprofits and NGOs.
Let's get started.
Is Squarespace a Good Fit For Your Foundation, Charity, or Nonprofit Organization Website?
Squarespace is a tempting pick as far as nonprofit website builders go.
It offers an easy-to-use website builder and a straightforward e-commerce platform. Plus, Squarespace nonprofit websites tend to be visually stunning, thanks to their elegant template collection.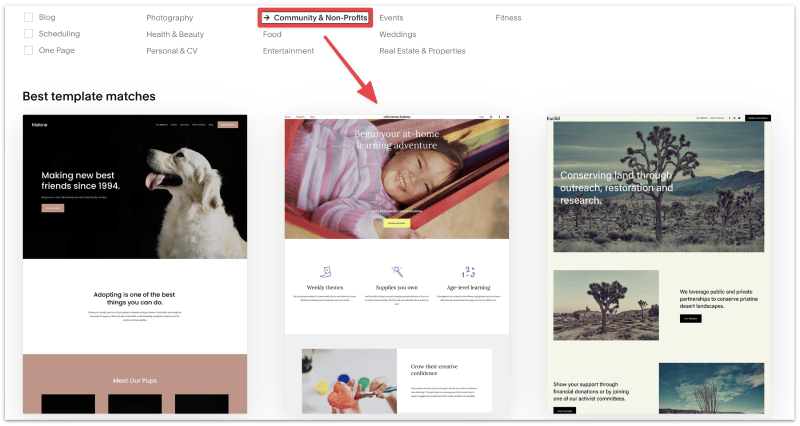 However, this popular website builder isn't always the best fit for a nonprofit site.
If your site is large or you're on a particularly tight budget, Squarespace might not be the best pick. The same can be said if you have tech-savvy employees or volunteers.
So, is Squarespace good for nonprofits?
Let's dig into that question.
Squarespace Is a Great Fit If:
1. You want to create a conventional brochure or business-card site.
If your site needs to list your organization's name and contact information alongside other standard details, like event dates, Squarespace is perfect.  
Squarespace offers standard features (that work great off the shelf), like a blog, an e-commerce section, e-mail marketing tools, and an event calendar, all of which are easy to use.
A site like Bob's Charity is a great example of Squarespace's functionalities.
2. You want to start your website fast and don't have website-building experience.
If the idea of purchasing a domain and managing a hosting service makes your head spin, Squarespace is a great option.
You don't need much design experience to work with Squarespace.
To start, they have a few nonprofit website templates that look great from the get-go.
They also have a ton of pre-made layouts, such as FAQs, reviews, privacy policies sections, etc., that you can add directly to your site.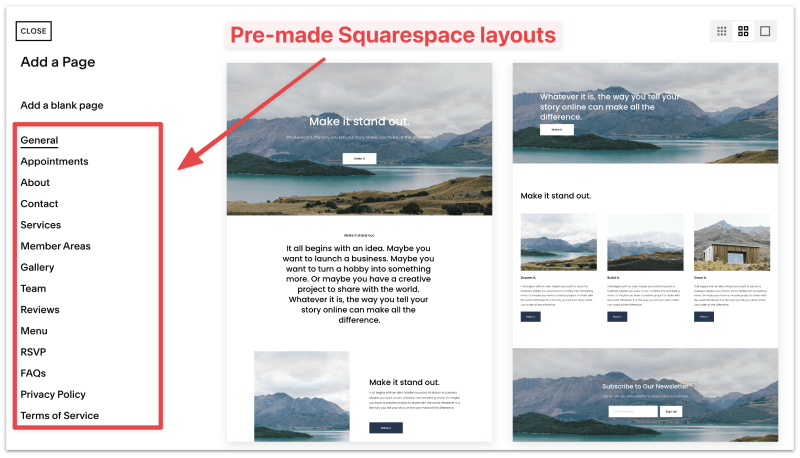 Moreover, they provide everything you need, including hosting services and a domain name. Several nonprofit templates look great right away, and you won't need any coding knowledge to get started.
3. Your nonprofit's administration isn't tech-savvy.
Maybe you understand a little about website design, but your organization's employees don't.
Chances are those employees will need to update the site now and then. A platform like Squarespace makes that easy for them with drag-and-drop, point-and-click interface.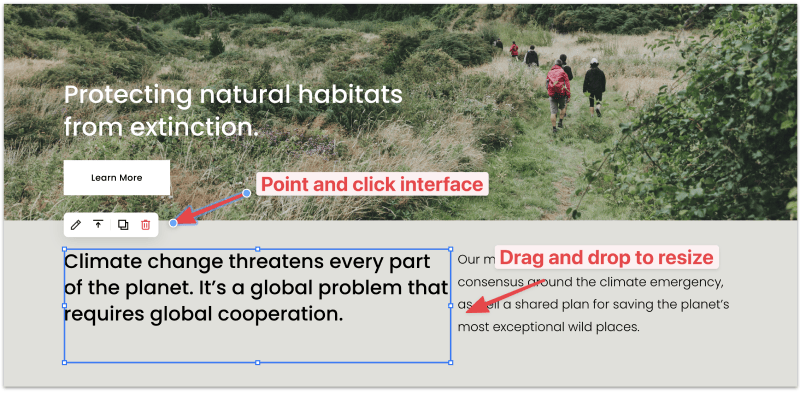 Even for small business owners without technical coding skills, you can reasonably set up a basic decent-looking Squarespace site (with a handful of pages, blog, and a newsletter) from scratch within 15-20 hours.
4. Your website is less than 50 pages.
If you have a large website or plan to host lots of media files, then managing the creative assets (images and videos) may become a huge hassle down the road.
Squarespace has recently introduced Assets library to help users reuse and browse uploaded assets. However, you still won't be able to reuse those images and videos in sub pages and product images.
More importantly, you can't bulk download your images and videos.
That said, many nonprofit sites that are relatively small do great on the platform.

5. You're okay with a third-party donation platform. Squarespace allows organizations to accept donations (as shown here), but they don't have a recurring donation feature.
So, to accept recurring donations, you'll need to integrate another platform, like PayPal or GiveButter. The In Her Shoes Foundation does this on their Squarespace site as an example.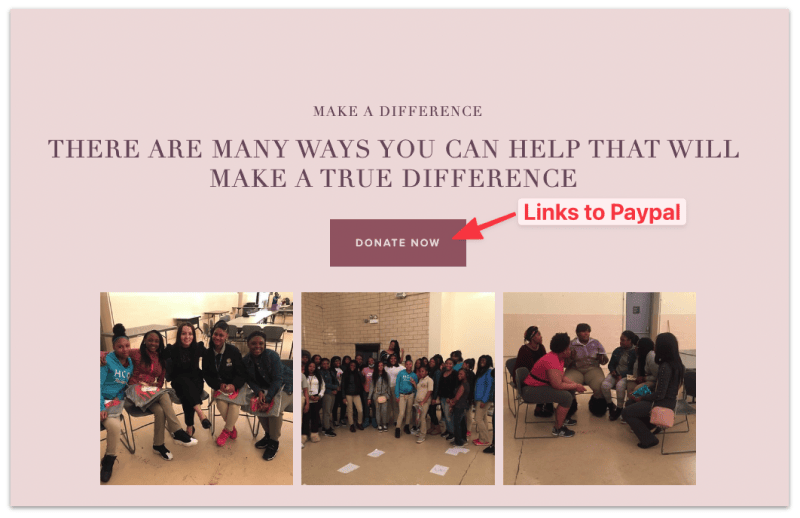 Related: How to set up recurring donations on Squarespace for free using GiveButter.
Squarespace Is NOT a Great Fit If:
1. You have a very limited budget
Squarespace isn't free. In fact, they can be somewhat expensive for organizations with tight budgets.
Squarespace costs $23 a month or $192 if you pay yearly ( 30% savings). So if you want to create a site with absolutely zero cost, then you ought to go for a free website builder like Wix instead.
Here's a detailed comparison between Wix and Squarespace.
2. You have a complex site.
If your website design features multiple levels of sub-navigations, you should avoid Squarespace.

Ask your marketing team to outline your site requirements and choose a website builder that can accommodate the complexities.
3. You need custom features and layouts for your site
In Squarespace, you have limited options to customize your site.
For example, you cannot create custom forms, connect to your organization's database, or add custom maps for your organization's different locales.
They also impose limitations on site layout, some might think it's too restrictive, but they do so to ensure your site works well across various devices.
For custom features, you'd have to rely on third-party integrations and solutions instead, which might be an additional cost to your organization
Here's a list of all integrations that are currently supported in Squarespace.
4. You plan to use SEO (search engine optimization) as a foundation for your success.
Squarespace has improved its SEO tools over the years, but they're still not the best. Basic SEO practices like inputting image alt text are still a headache.
Estimated Cost to Run a Nonprofit Site on Squarespace
If you're thinking of creating a Squarespace nonprofit site, the cost is probably one of your biggest concerns. Here's what you can expect.
Option 1 - Standard Brochure Site on Squarespace Personal Plan ($16/month)
For $16 a month (paid yearly in advance), you can use the Squarespace Personal Plan. With this plan, you can access all of Squarespace's templates, and you'll get a free custom domain name.
However, you won't have any website analytics or eCommerce capabilities. So, you'll need to link to PayPal to accept donations.
Option 2 - Merchandise Sales on Squarespace Commerce Plan ($27/month)
For $27 a month, you can have everything the personal plan offers, plus robust analytics and eCommerce capabilities. That means you won't need to link to PayPal to receive one-time donations, and you'll be able to sell merchandise to raise funds.
Though there is a less expensive business plan that allows for e-commerce, it's not ideal for nonprofits as there is a 3% fee on every transaction.
Even with the commerce plan, it's crucial to note that there are hidden fees from credit card processing companies that will cost you about 1.5%.
Luckily you can use Paypal's Giving Fund since it has zero fees.
Optional Add Ons
With each Squarespace plan, there are a few optional add-ons nonprofits will want to consider.
Member Areas - Membership-only areas for Squarespace sites start at $9 per month and go up to $35 per month depending on the number of members areas you need.
Acuity (Online Booking) - Acuity allows people to sign-up for classes, workshops, and other nonprofit events through your site. The cost varies from $14 to $45 per month, depending on your needs.
Does Squarespace Have a Discount for Nonprofits?
Squarespace does not have a nonprofit discount. You'll have access to their free trial period, and Squarespace is scalable.
You can start with the most inexpensive plan and scale up as you grow. You can also save money by purchasing Squarespace annually rather than by the month.
Nonprofit Squarespace Website Examples
Many nonprofits use Squarespace effectively. Here are a few of our favorite examples:
Check out more nonprofit website examples and how they're made.
15 Squarespace Features That Work Well for Nonprofit Organization Websites
Squarespace has several features that are perfect for nonprofit organization websites. Here are a few you'll love.
1. Drag and Drop Functionality
With pre-made layouts allowing drag-and-drop, designing a simple yet elegant website is easy on Squarespace.
All of your text, images, and menus will look clean and organized across desktop and mobile devices, creating a great user experience.
2. Existing Design Templates
Squarespace has many nonprofit templates, and they all look fantastic. You can easily customize the fonts and colors to match your organization's brand standards.
3. Blog
Blogging on Squarespace is simple. You'll be able to let your organization's donors and volunteers know about projects, goal progress, and upcoming events with their intuitive blog editor.
4. eCommerce Functionalities
It's easy to sell merchandise with Squarespace. Their clean design templates highlight products, making them more appealing to buyers. So, you can sell charity t-shirts, hats, and other logoed items to help fundraise and build awareness at once.
5. Great User Experience
Building a site from scratch or maintaining a site in Squarespace is relatively easy, even for those without web design skills.
It's easy to set things like font size and colors to be uniform across pages. So even if you have people from different departments making changes to the site, you won't have to worry about the pages looking different.
6. Affordability
Compared to other website builders, Squarespace is pretty affordable. You can start with the low-cost personal plan and upgrade as your organization grows.
7. Customer Support
Squarespace customer support should be exemplary for other businesses. They're professional, and competent. They also frequently offer help in Squarespace's very own forum for customers.
8. Donation
You can accept one-time donations using Squarespace's e-commerce functionalities or set up recurring donations using third-party platform.
9. Integration With Other Donation Platforms
Squarespace also offers third-party integrations with donation platforms like PayPal. That allows you to accept recurring donations for your nonprofit or charity.
10. Security
With Squarespace, you can protect data for your site easily. Plus, they offer a team of governance, risk, and compliance professionals that will ensure your site meets the required laws and regulations.
11. Basic Analytics
Once you upgrade from the personal plan, you'll get access to basic analytics. These allow you to analyze visitor behavior and enhance your site accordingly. You'll also have access to performance tracking, helping you reach your marketing goals.
12. SEO Capabilities
Squarespace may have a few SEO flaws, but overall they still do well in this category. Thanks to an abundance of SEO tools, even someone inexperienced in web design can ensure their site shows up in search results.
13. Membership
It's a paid add-on, but the ability to add membership areas can greatly increase your site's usability. With member-only areas, you can build loyalty and develop tighter partnerships with donors and volunteers.
14. Event Scheduling
Event scheduling is also another paid add-on on Squarespace. This Squarespace app allows people to sign up for fundraising events, classes, and workshops online is a game changer! It will make running events so much easier.
15. Support Custom Domain
With other website builders, you may have to purchase a domain name separately. With Squarespace, you don't have to worry about that. A site that's "YourOrganizationName.org" is included.
Verdict —  Is Squarespace good for nonprofits?
Squarespace is not a one-size-fits-all platform. As their name suggests, you have to work within squares, quite literally.
For many nonprofit organizations, Squarespace offers a quick, intuitive, and efficient solution to build a branded site. For others, they find the lack of customization too restricting.
If your organization can afford the $16-$20 monthly cost, then Squarespace is a great solution to build a branded site that collects donations and emails.
However, if you run a larger foundation or need custom integrations, functionalities, and design layouts, you'll be better off with a more flexible website builder such as Wix or Wordpress.
Check out how Squarespace fares against other popular website builders like Wordpress, Wix and Weebly.
Or if you're already convinced, check out these Squarespace templates that were designed for nonprofits to get started.