Here are some of the best makeup artist websites I found online that'll give you a unique perspective on how top makeup artists build their websites.
Here you will find examples of:
Portfolio site of independent makeup artists
Makeup studio and beauty bar websites
Online profile for a freelance makeup & hair stylist
and more.
They are handpicked after scouring over a hundred professional makeup websites on the internet.
Most of these websites are built using affordable website builder tools such as Squarespace, Wix, Wordpress, Weebly, and Webflow (which are highlighted above their profile description).
If you need more detail, I've written an in-depth article comparing all the pros and cons between website builders like Squarespace, Wix, Weebly, and Wordpress.
Let's dive right in.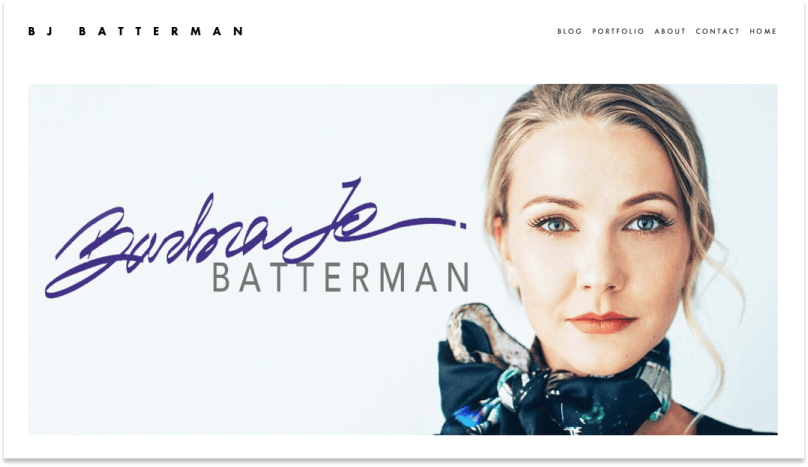 Barbra Jo Batterman is a multimedia makeup artist and lifestyle consultant based in Las Vegas.
She primarily works with producers, directors, and photographers to help their talents look their best for film, TV, commercials, and more. Fun fact, she even did President Bill Clinton's makeup prior to his interview!
You can find dozens of Batterman's portfolios on her site, neatly presented in a carousel with professional photography. Something that's easily done in Squarespace.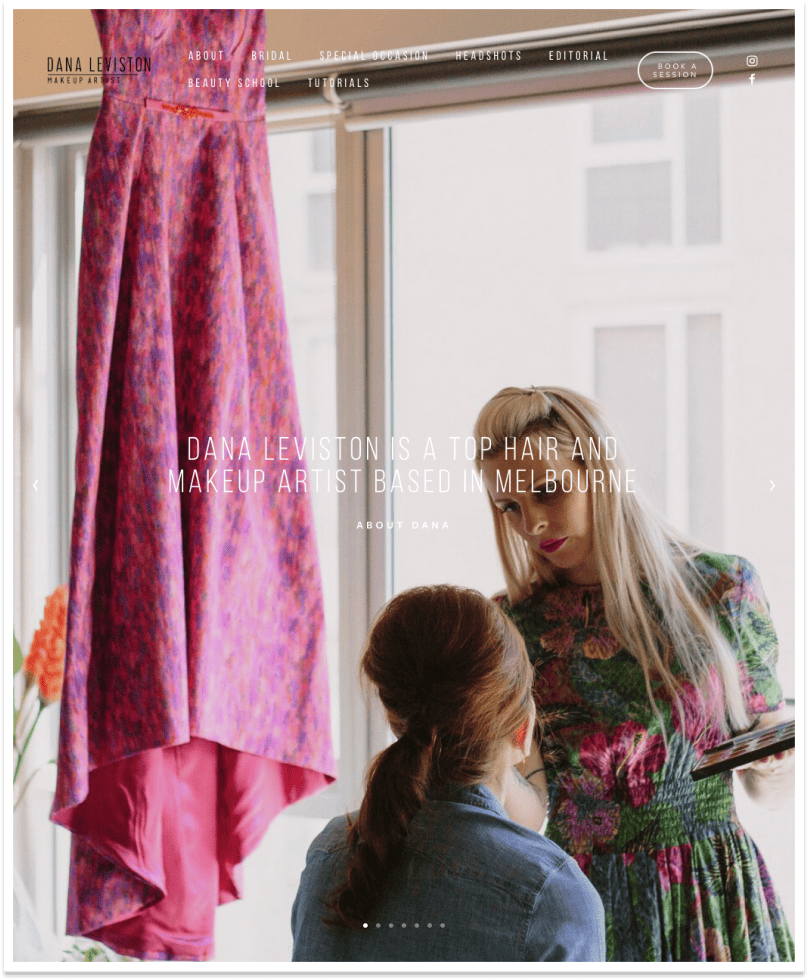 Dana Leviston is a hair and makeup artist based in Melbourne, Australia. She owns a makeup studio in Fairfield, Melbourne, where she provides complete look makeup for editorial, portraits, events, and weddings.
On her site, she has a dedicated page for every type of service with a detailed write-up about the process. On top of that, she also provides behind-the-scene photos while she's working with her clients and the completed looks.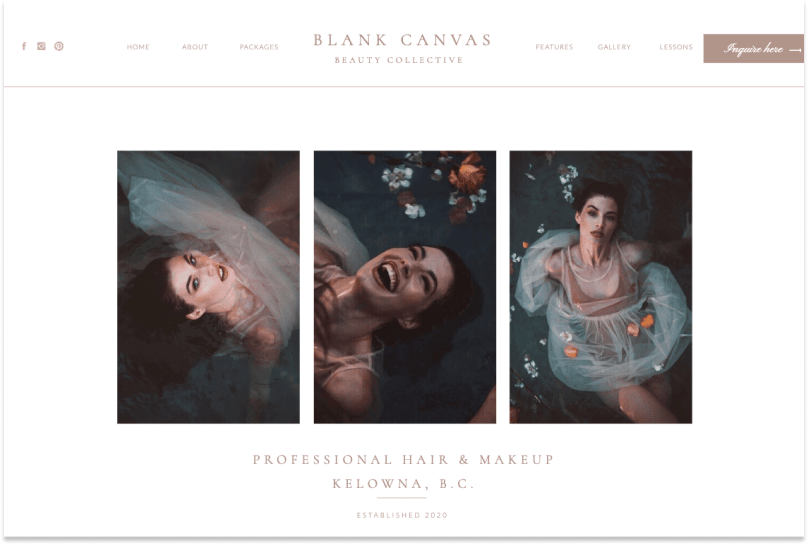 Becca started Blank Canvas Beauty back in 2020 with a full-serviced team specialized in doing hair & makeup for weddings, film/television, portrait sessions, boudoir, and concept shoots.
Her site exudes warmth yet professionalism with the pink undertone. The customer testimonials, or love notes, as they put it, are a nice touch. They specifically highlight how the customers felt after the session and the compliments they received at the event.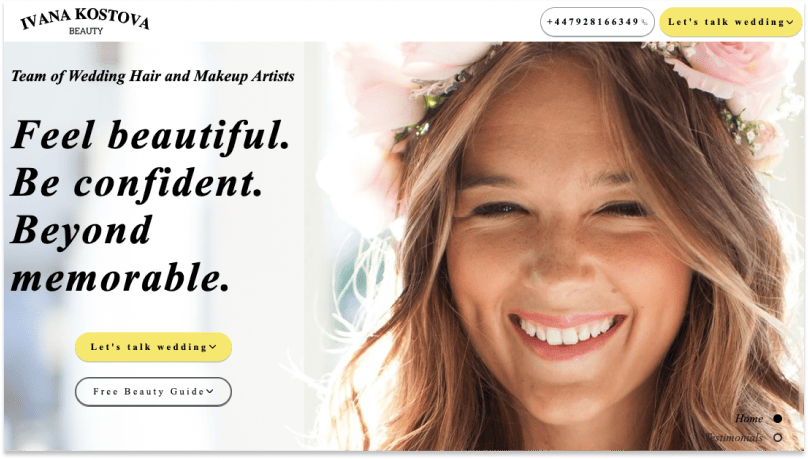 Ivana is a London-based hair and makeup artist specializing in weddings. While she works with a team of specialists, she often provides free 1-to-1 consultations for her clients to achieve bespoke hair and makeup styles for the bride.
Her simple one-page website has everything to help her secure leads and clients —  how the process works, testimonials, portfolio, pricing/packages, and a booking form to schedule the free consultation.
She even offers a free guide to help brides-to-be choose the best hairstylist and makeup artist based on their needs.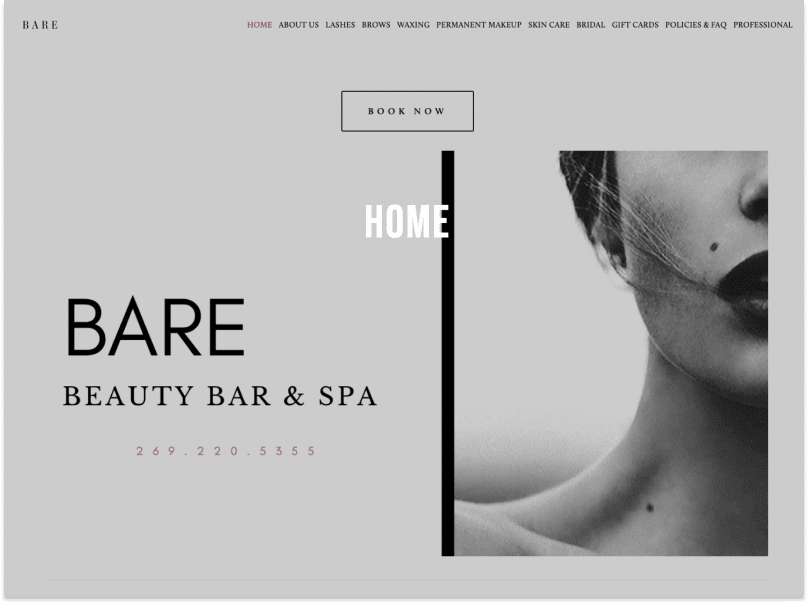 Sadie founded Bare Beauty & Spa with her team to offer lash and brow services, permanent make-up, and bridal services in Michigan Avenue, Chicago.
Her site (built with Squarespace) features a monochromatic design with elegant typography (Ambroise).
Aesthetic aside, the site is also practical. Highlighting straightforward pricing and close-up, before-and-after photos for every service.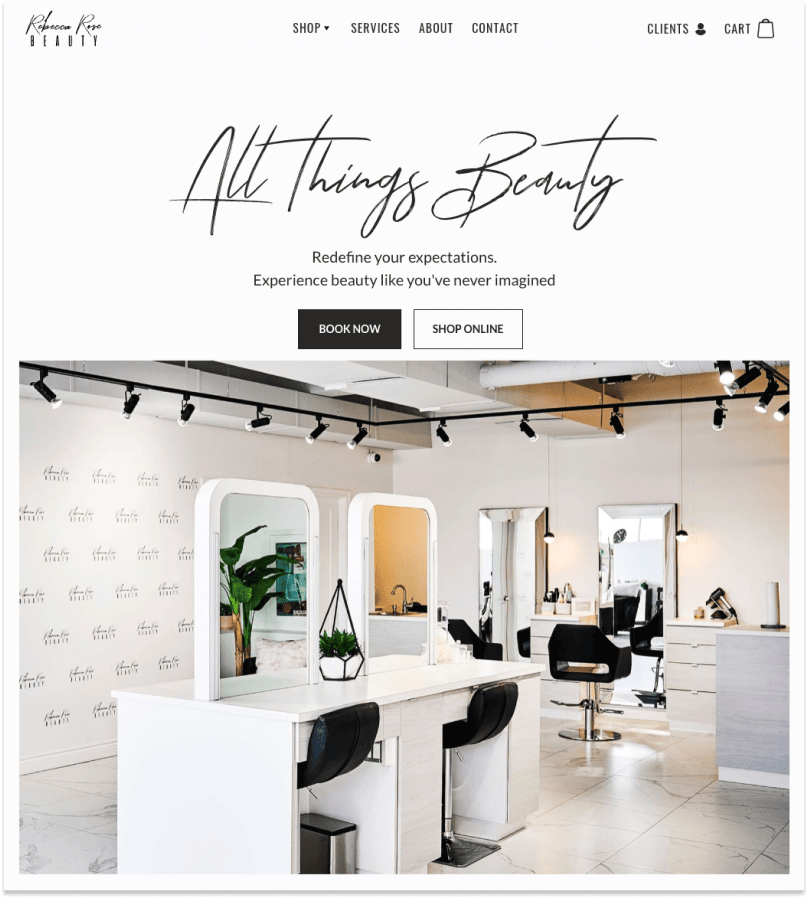 Rebecca Rose is the founder and lead makeup artist for Rebecca Rose Beauty, an award-winning, full-service beauty lounge based in Ottawa, Canada.
While customers get a glimpse of her luxurious beauty lounge via the site's virtual tour, they can also shop for a variety of cosmetic and beauty products used by the professional team at Rebecca Rose beauty.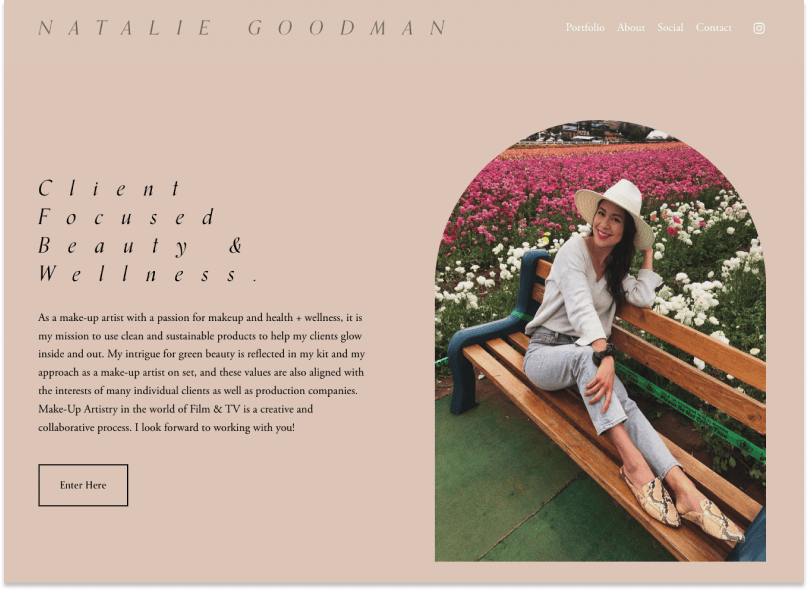 Natalie is an independent freelance make-up artist based in New York specializing in film and TV production makeups.
As a make-up artist with a passion for beauty and wellness, she exclusively uses clean and sustainable products to help her clients look great while also being considerate of the environment.
Her site features an extensive portfolio of make-up services she did for artists, actresses, and models, all of which are professional close-up portraits with good lighting that highlight her work.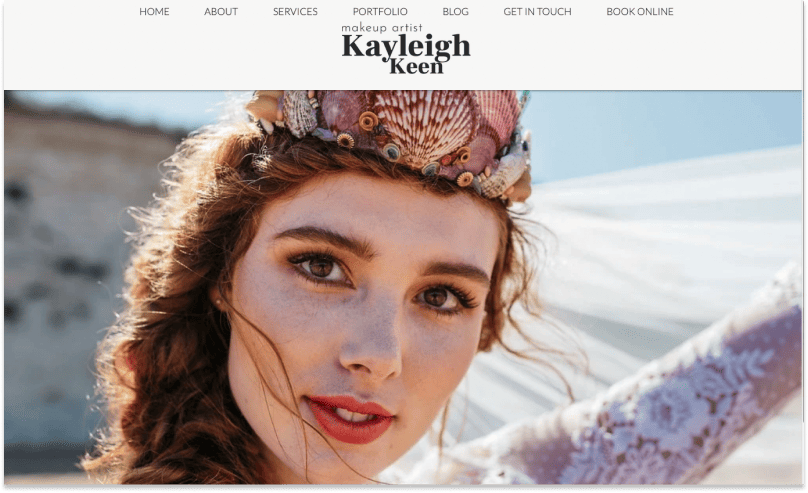 Kayleigh is a London-based makeup artist with over 10 years of experience specializing in bridal and commercial makeup services.
She also happens to be the mother of 2 incredibly adorable fur kids, who obviously are not good at makeup but make up by being great test subjects for lighting.
One unique feature of Kayleigh's site is that she compiles all her client's photos in a masonry layout categorized by the different types of services. This gives an interesting perspective in presenting her portfolio. Her celebrity clientele did help, of course.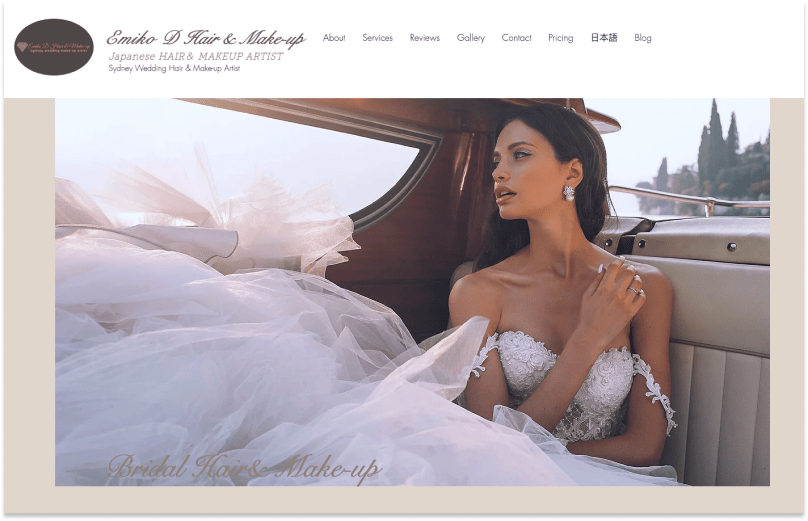 Emiko is a Japanese hair & makeup artist based in Sydney specializing in soft, elegant, and natural makeup for Australian brides.
She also provides private make-up lessons for women who want to improve their makeup skills.
To cater to her Japanese clients, she has a dedicated page where all her services, pricing, and reviews are written in Japanese.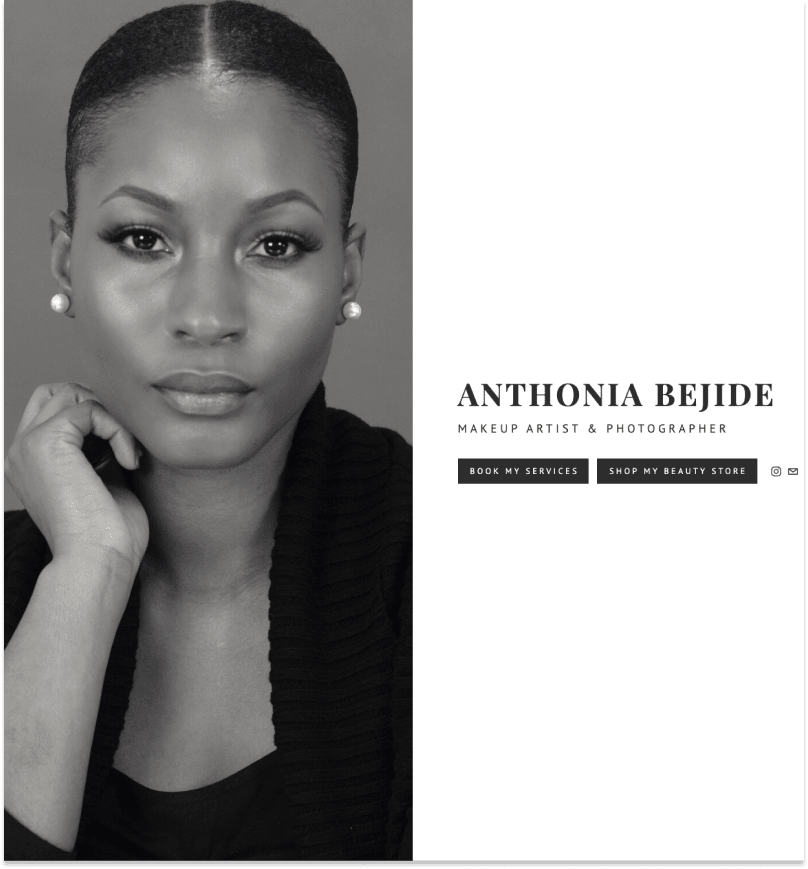 Anthonia Bejide is an Ottawa-based, self-taught makeup artist, photographer, and beauty educator.
She specializes in event and commercial makeup and has worked her way up in the industry with partnerships with Mac Cosmetics, Urban decay cosmetics, and more.
Her monochromatic home page looks unassuming, but she wrote an incredible profile on her about page along with her portfolios. Moreover, she has a full-fledged e-commerce store with a wide range of beauty products.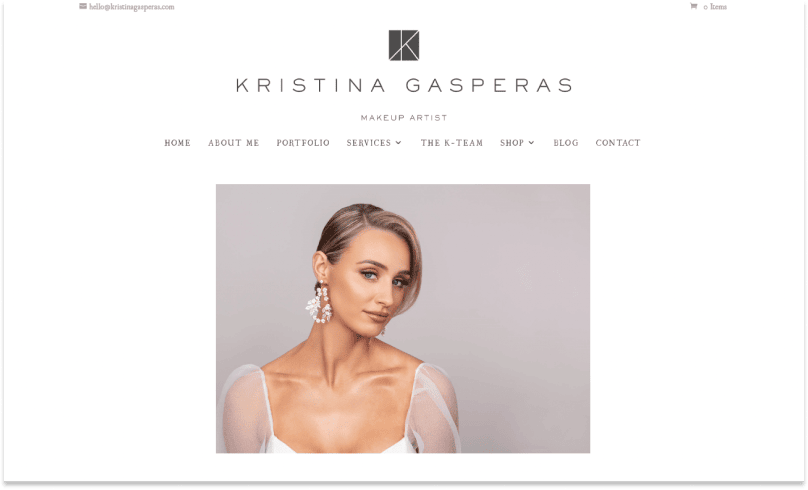 Kristina found her calling as a makeup artist whilst sitting in the makeup chair on the morning of her wedding.
Since then she and her team (the K-Team as she calls it) won the National Award for best bridal makeup in the UK and became the Wedding Industry Awards judging panel.
Her site features a dedicated Before and After gallery where customers can see examples of how Kristina and her team skillfully apply makeup and hairstyling for her clients.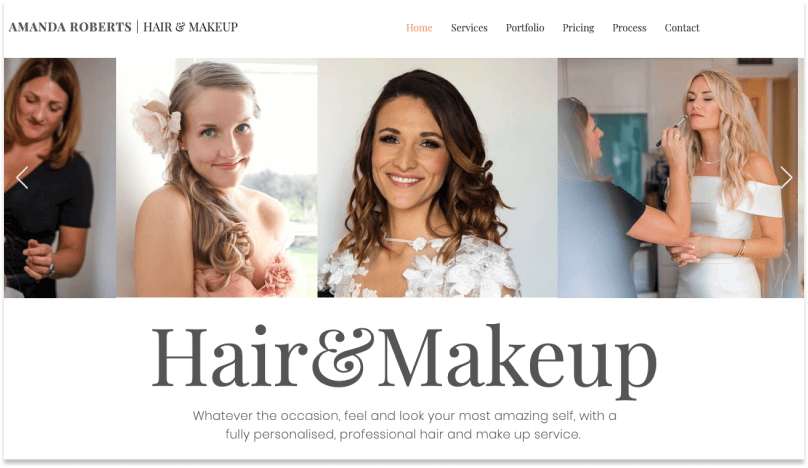 Amanda Roberts is a London-based professional hair and makeup artist with over 25 years of experience in theatre, film, and TV.
Her site features a feminine color palette with plenty of award certificates to showcase her expertise.
She also has a dedicated pricing page for all her services (one-to-one makeup lesson, wedding day makeup, etc) where interested customers can make a direct booking.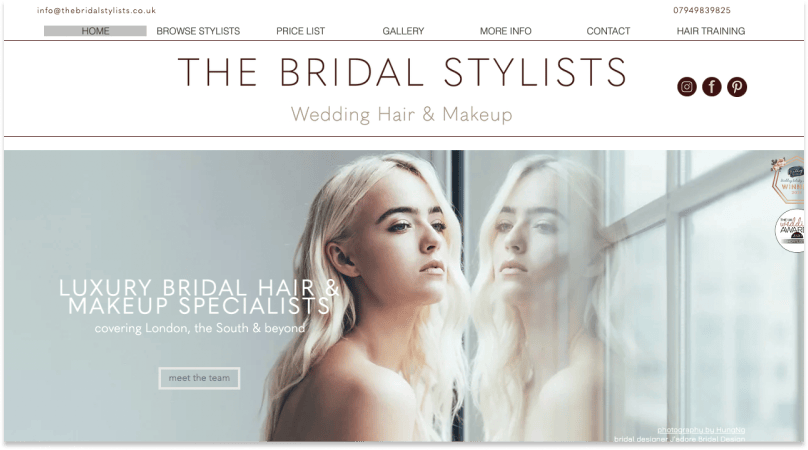 The Bridal Stylists are a team of bridal hair and makeup specialists based in the south of England. They primarily offer mobile services covering London and the South East, including Oxford, Surrey, Sussex, and more.
Customers can view and select from a group of expert stylists on their site based on the location, pricing, and experience, whichever that suits them.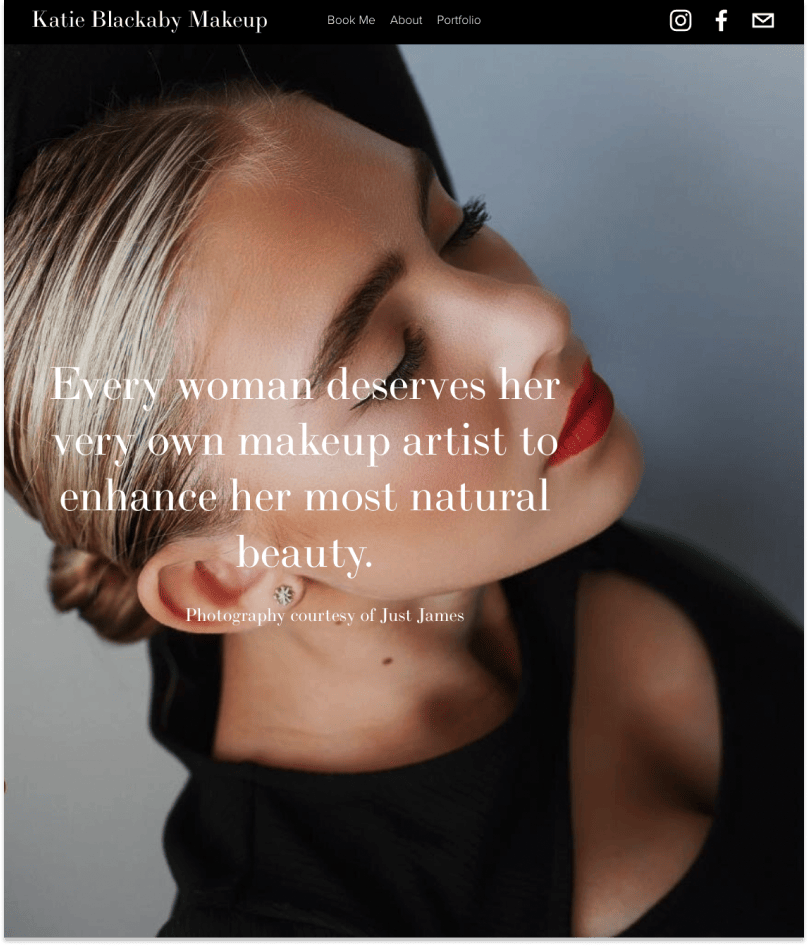 Katie is a professional makeup artist based in North Dakota providing makeup services for weddings, professional portraits, and special events.
While her site isn't flashy, she communicates her services well with details. Most importantly she manages her client's expectations, such as highlighting her specialty, how long the service will take, the entire process, etc, prior to the customers making a booking.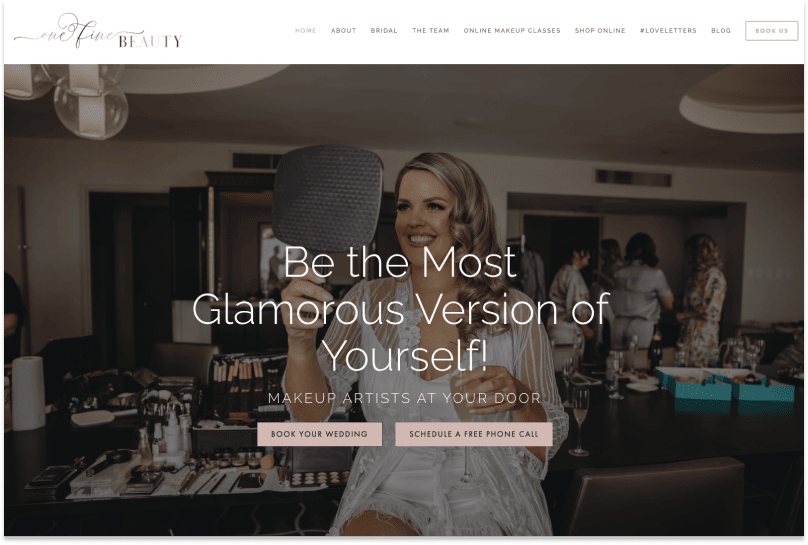 Shannon Ranger founded One Fine Beauty in Ottawa after having worked in the industry for over 2 decades.
What sets her team apart from other makeup artists and studios in Ottawa is the number of experienced members working together for the bride. One Fine Beauty has over 150 years of professional bridal makeup experience.
They are so in demand that they are already collecting next year's bookings, which customers can book via a calendar on their site.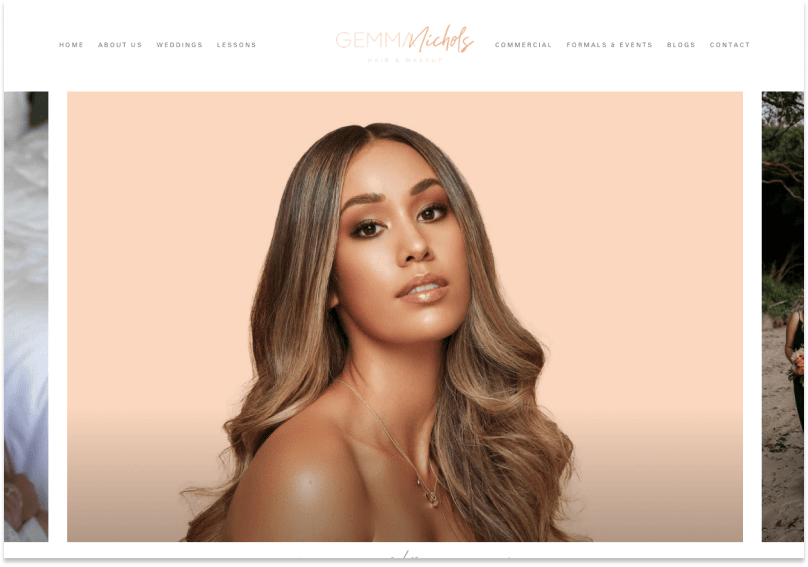 With over 15 years of experience in the hair and makeup industry, Gemma started Gemma Nichols Hair and Makeup with a team of expert stylists offering premier bridal services in Sydney.
Gemma Nichols now a leading name in Sydney's beauty industry after having won the ABIA (Australian Bridal Industry Academy) awards and was named by Elle magazine as one of Sydney's top bridal artists.
One thing that her team did, that few other makeup artist or studio do, was listing their favourite wedding vendors in Sydney. Establishing partnerships within the industry gives them a competitive edge while providing added value to their customers.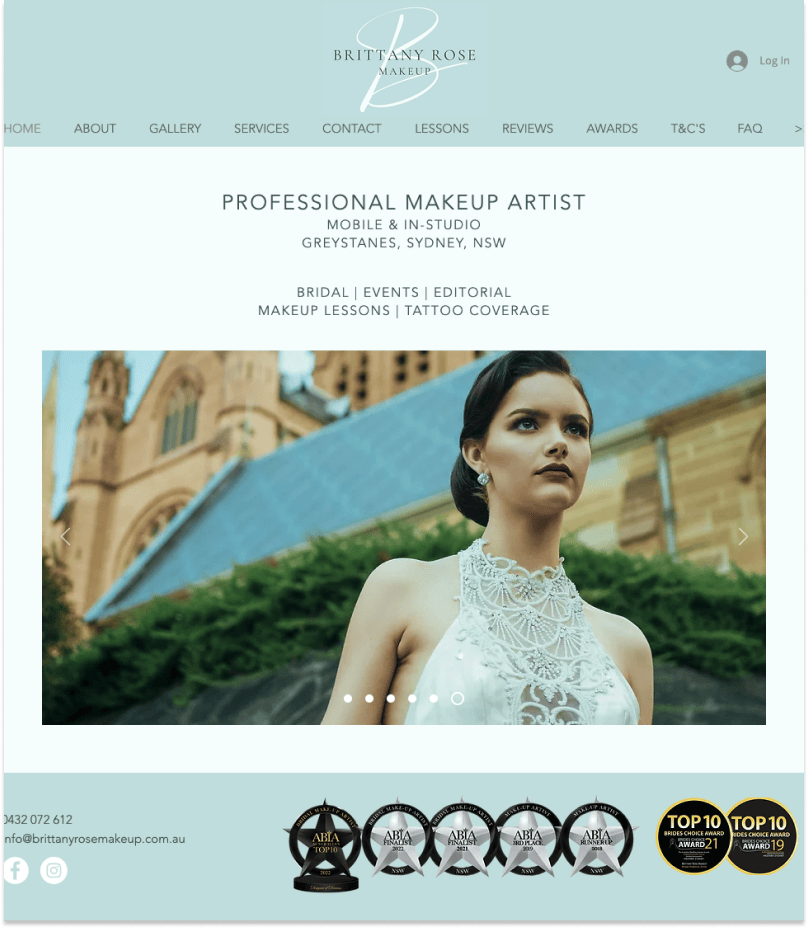 Brittany is a professionally trained and Award Winning Makeup Artist based in Sydney Australia, specializing in Bridal, Event, and Editorial Makeup.
She started Rose Makeup studio back in 2015 and has since won several Australian Bridal Industry Academy (ABIA) awards.
Brittany's website features a soft, pastel green color palette with professional photography all throughout. She also makes the extra effort to feature customer reviews submitted on ABIA which further improves her credibility as a professional makeup artist.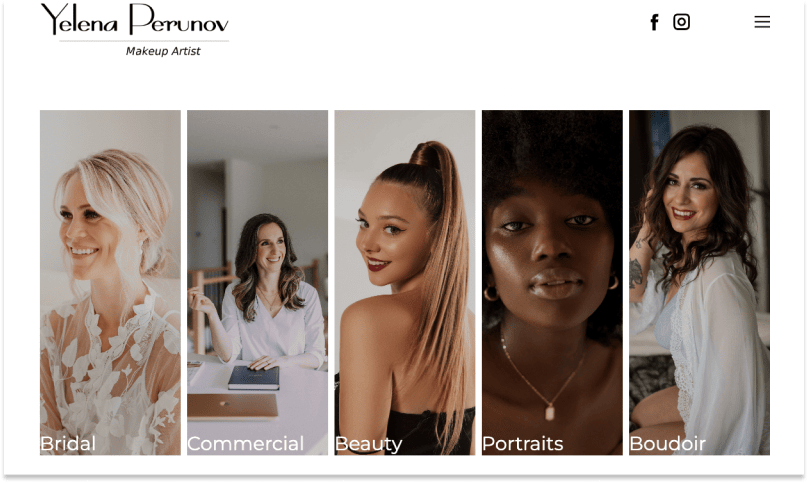 Yelena is an award-winning freelance mobile makeup artist with 17 years of experience in the industry. Her work is featured in international publications such  as Creators Magazine, Mob Journal, Elléments Magazine, and more.
Her site is simple yet professionally designed. Mainly highlighting her portfolio across different genres: Bridal, commercial, Portraits, and Boudoir.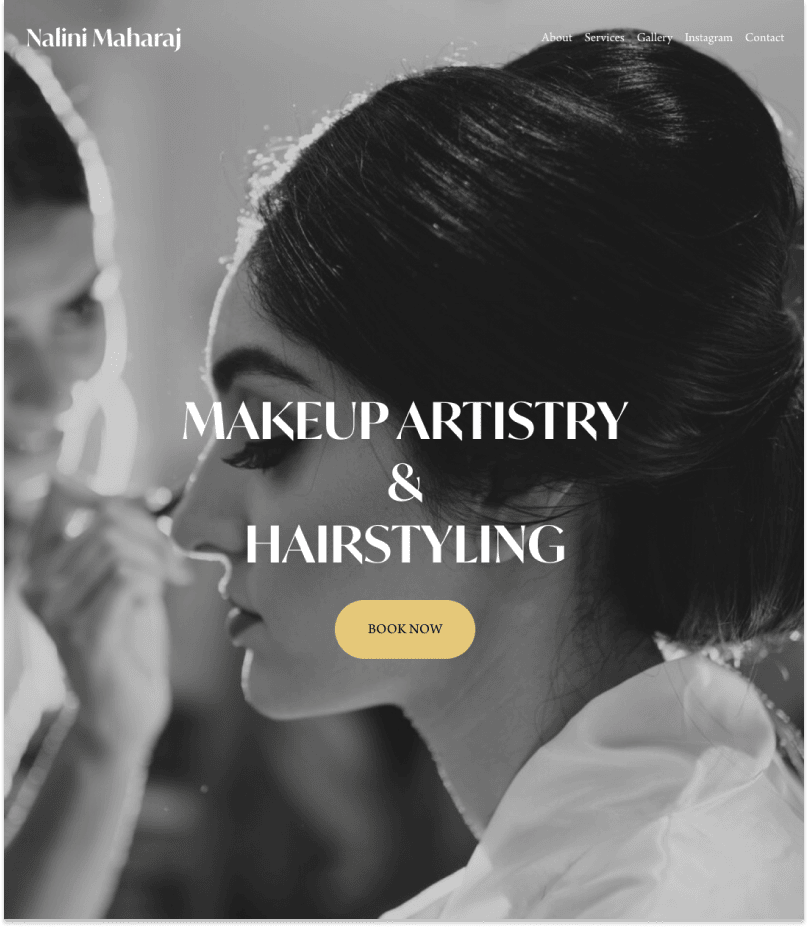 Nalini Maharaj is a Vancouver-based makeup artist and hairstylist specializing in weddings and events. She started practicing makeup back in 2009 and has since built an impressive portfolio of work for brides in Vancouver.
Her site, built in Squarespace, features a ton of close up portraits that highlight her clients' makeup.  This is a great example of a portfolio site for makeup artists who want to keep it simple.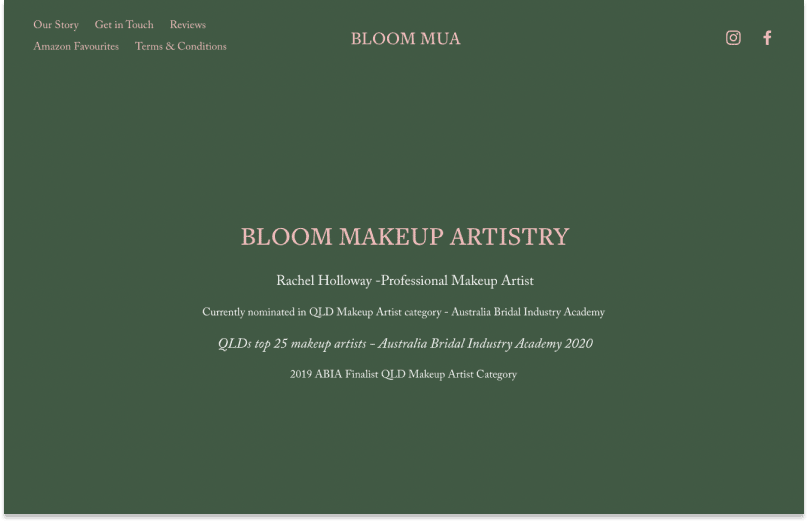 Rachel Holloway founded Bloom Makeup Artistry in Queensland, Australia to provide brides and special event clients with a boutique makeup experience.
Since completing her makeup course in 2014, she has been involved in hundreds of weddings and editorial campaigns for brands such as Kora Organics, Brando Shoes & TV commercials for the Together Union.
Despite her credentials, Rachel decided to keep her site simple with a basic home page and a contact form to get in touch. Having a presence online is better than none!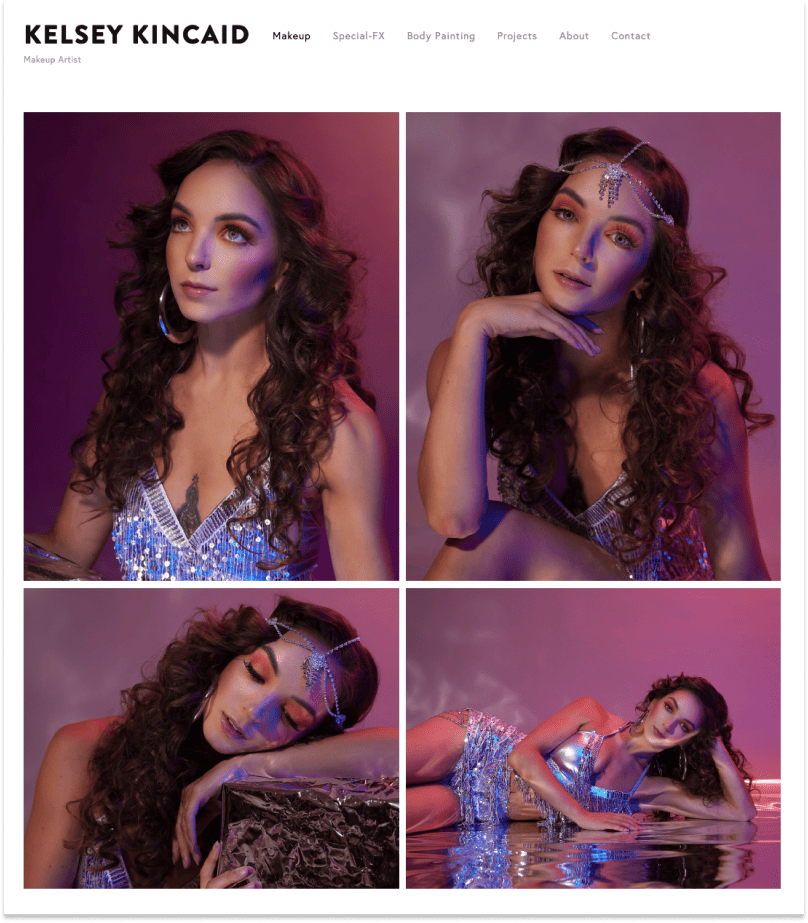 Kelsey Kincaid specializes in special effects (fx) makeup and body painting. Having done makeup for models during Halloween and key characters in fantasy films, Kelsey has amassed an impressive portfolio in this niche.
Like most other makeup artists, Kelsey features her best body painting and special effects work on her portfolio site, each taken and touched up by a professional photographer.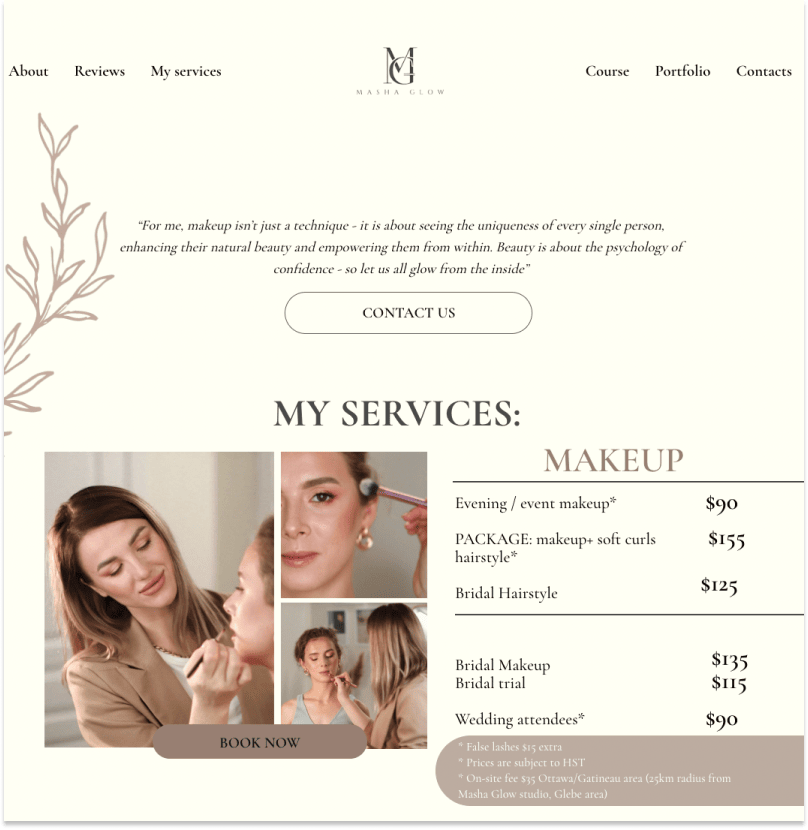 Masha offers professional makeup and brow service in Lansdowne, Ottawa. Her competitive advantage? She started practicing makeup since she was 14! and she has won the hearts of raging fans over the years.
She then uses that to her advantage and displays personalized customer testimonials on her site as a form of social proof. At first glance, her site exudes a DIY feel, but she definitely lets her personality come through!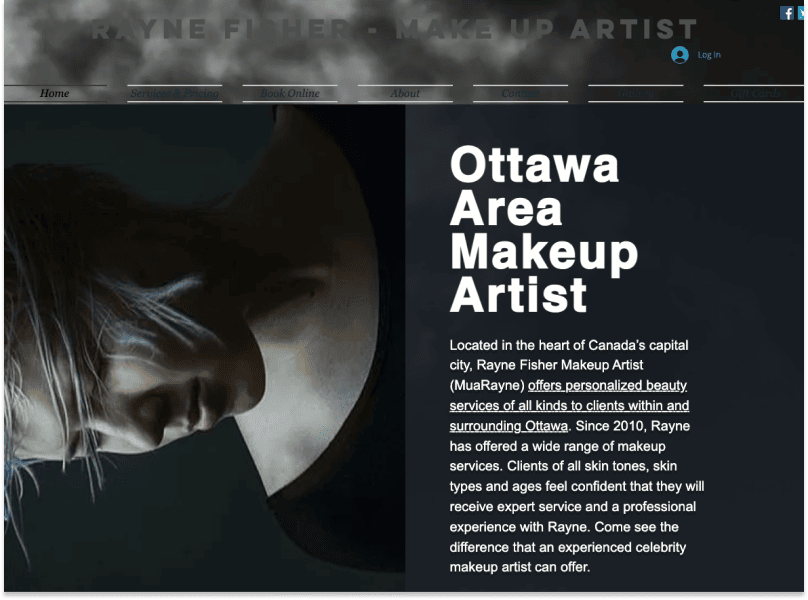 Rayne Fisher is a freelance makeup artist based in Canada specializing in makeup for creative and editorial photo shoots.
With over 10 years of experience, she's built a well-rounded portfolio working with local TV stars as well as world-famous film celebrities.
Since she built her site on Wix (with the Wix Booking plugin), her customers can book a schedule for makeup sessions and personal makeup classes directly on her site.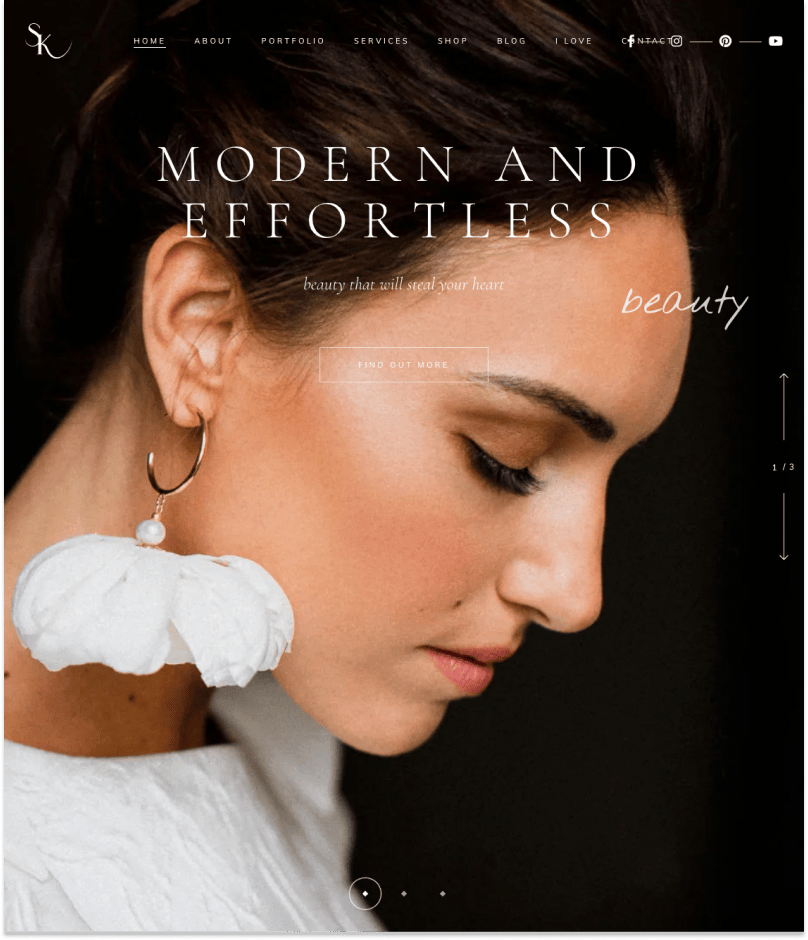 Sylwia Kuynisz is a London-based makeup artist who also happens to be a beauty therapist. She primarily offers bridal makeup services and makeup lessons, but customers can request a quote for non-bridal services as well.
Sylwia's website spots a contemporary chic design with beautiful typography. It also comes with an e-commerce store and a blog where she frequently shares makeup tips and advice for photoshoots.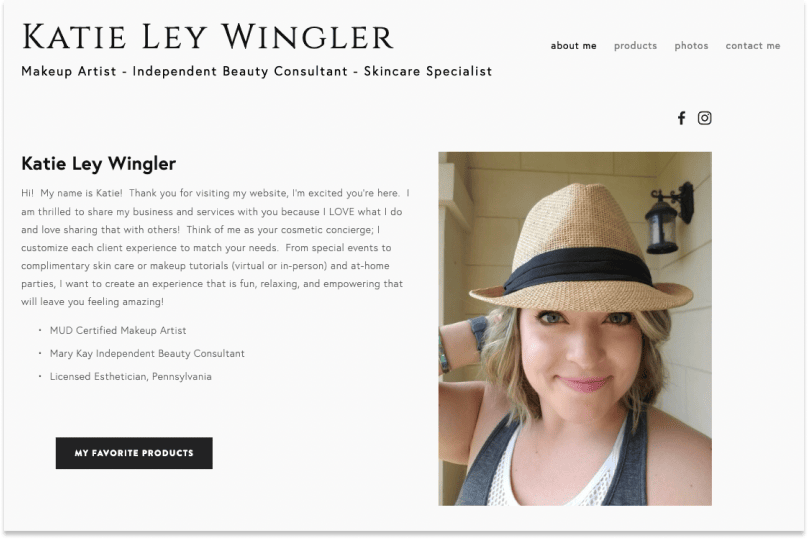 Katie is an independent beauty consultant and licensed esthetician. She primarily offers professional makeup services in Pennsylvania, from special events to complimentary skincare or makeup tutorials (virtual or in-person), and at-home parties.
Katie's website, while basic, has all the right info a potential client would need:
A well written about page
A portfolio of her past work
A list of products she uses and recommends for her clients
Link to social media profiles for other references
A page with contact details should the client be interested in working with her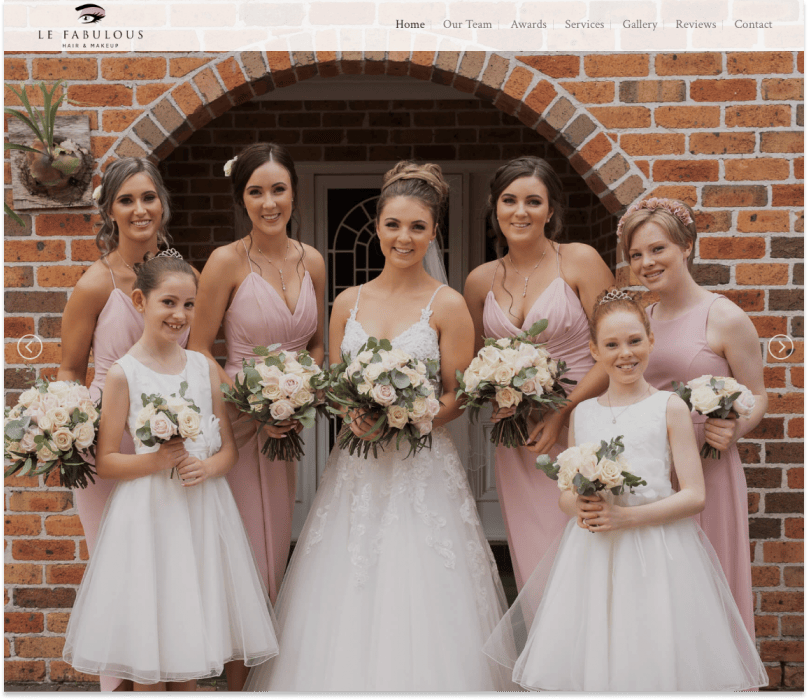 Jenny started Le Fabulous in 2009 offering makeup and hair styling services for brides in Sydney.  Since then she and her team have won several ABIA (Australian Bridal Industry Academy) awards over the years, including Australia's top 10 makeup artists in 2022.
Leveraging her credentials on ABIA, Jenny's design team specifically included top customer reviews that were submitted on ABIA weddings on the Le Fabulous site, which improves her social proof as a top makeup artist in the region.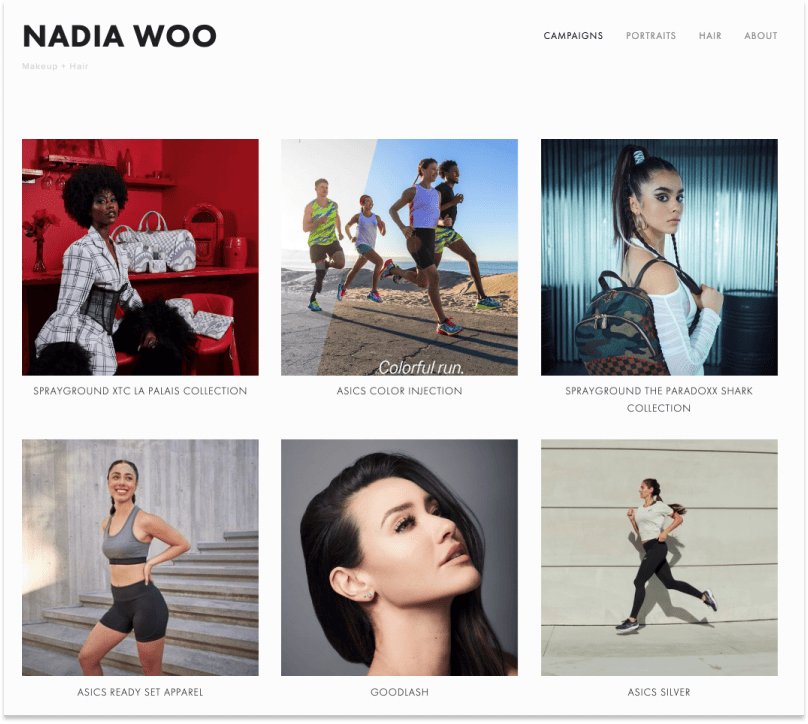 Nadia is an LA-based makeup artist who specializes in beauty, e-com, campaigns, and special events. She's also the founder of Goodlash, an e-commerce store selling high-quality artisan mink lashes.
To get clients, she created a makeup portfolio site featuring her most prominent partnerships and campaigns, including ASICS Color injection runner series and Sprayground the Paradoxx Shark collection.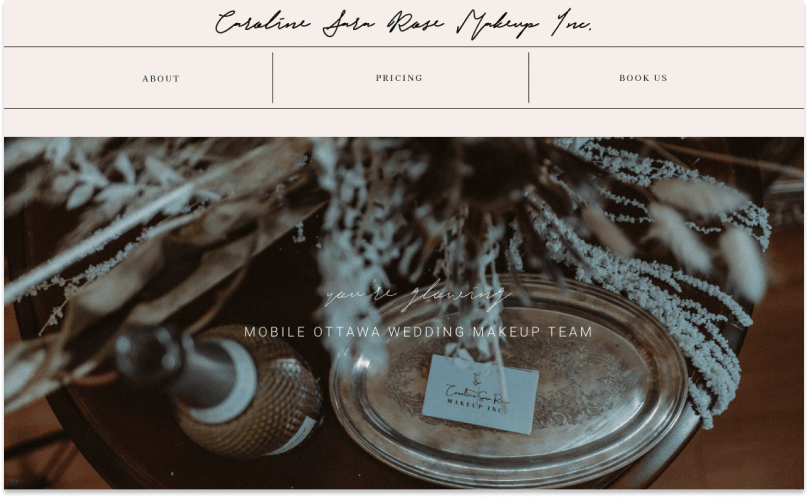 Caroline is an award-winning makeup artist specializing in weddings and events in Ottawa and surrounding areas. In 2017, she founded CSR Makeup Inc which has expanded since the pandemic.
Her site is aesthetically pleasing, to say the least, but on top of that, she also laid out her services and pricing on a neat table for ease of browsing. She even listed a list of Ottawa vendors she worked closely with to provide assurance for her clients.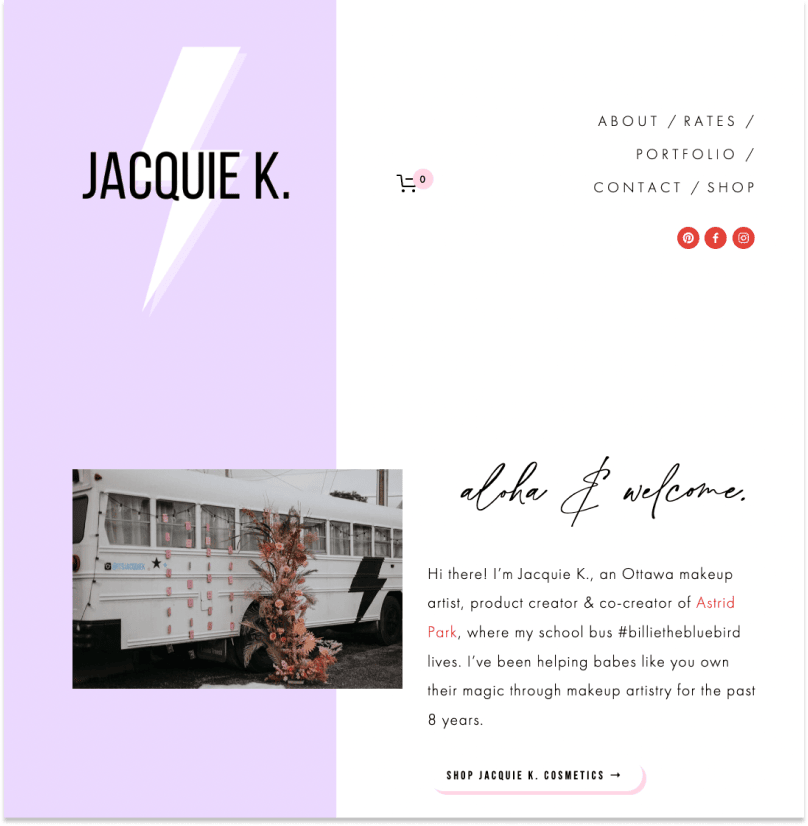 Jacquie K is an Ottawa-based makeup artist with her own vegan, ethically sourced cosmetics line in Canada.
Both her portfolio and e-commerce site was made in Squarespace and follows her signature pastel purple theme and palette. They're well designed, to say the least, but it's the little details: unique call-to-action buttons and creative use of white space that make the site stands out.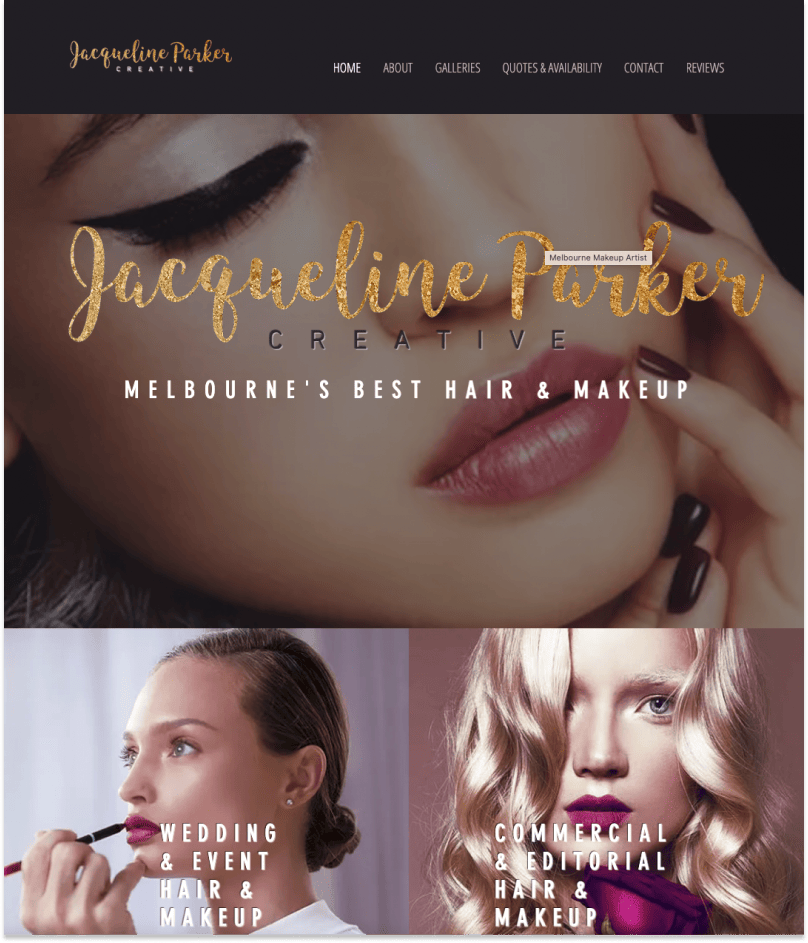 Jacqueline Parker Creative is a premium hair and makeup agency that works with stylists in Melbourne offering mobile services in the area.
A clever strategy they employ to gather customer reviews is sending feedback form right after each service, which they then include the screenshots in full on their site.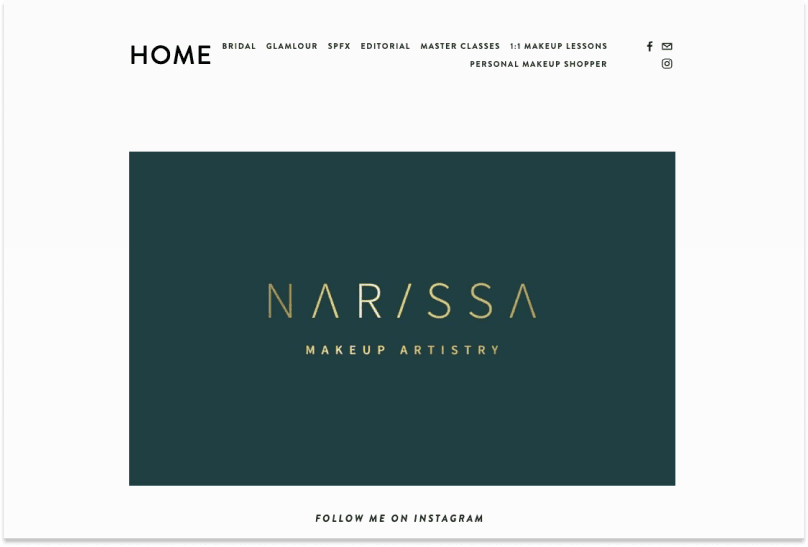 Narissa is a professional makeup artist specializing in bridal, glamour, and editorial photoshoot makeup for her clients.
She also provides 1:1 makeup lessons, teaching basic makeup skills for women who enjoy doing their own makeup.
A unique service she offers that most makeup artists don't is providing personal makeup shopping services for clients after they've completed her makeup lesson. This is for those who want to revamp their makeup kit without the stress of picking makeup supplies themselves.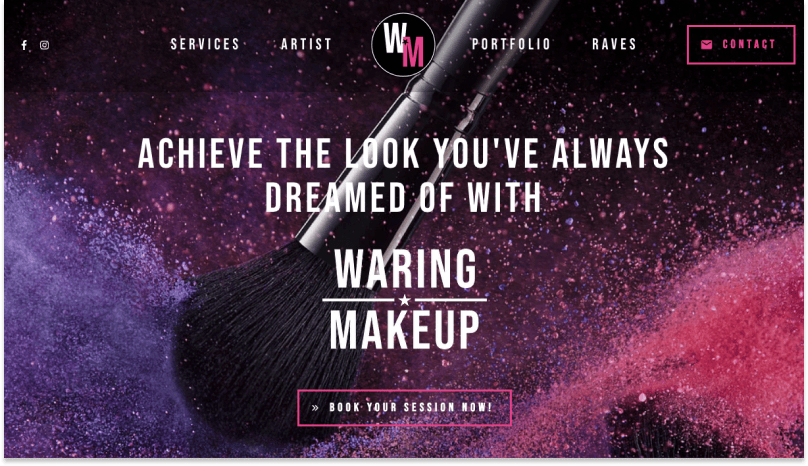 Gen Waring is a professional makeup artist with over ten years of experience.
She's previously on the management team at Mac Cosmetics and has worked with a diverse clientele for bridal, corporate, lifestyle, or editorial makeup services.
Her site is professionally designed, but more than that, she's put in the effort to create a dedicated page for each makeup service she provides: bridal, editorial, corporate, and lifestyle.
All of which include a detailed writeup of the package options, pricing, and frequently asked questions about the service.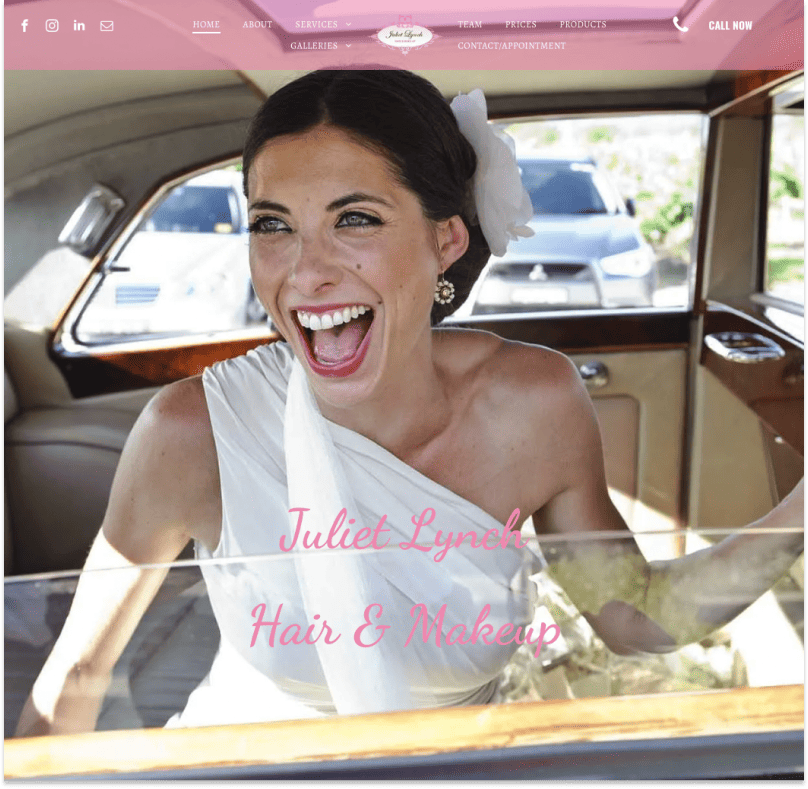 Juliet Lynch is a Sydney-based professional mobile hair and makeup artist specializing in corporate, fashion, and bridal photoshoots.
She's worked on several high profile advertising campaigns with clients such as Kerastase, Nissan, Qantas, Oakley, and more.
To increase her online bookings, she's made online scheduling available for potential clients who want to pay and prebook a session with her.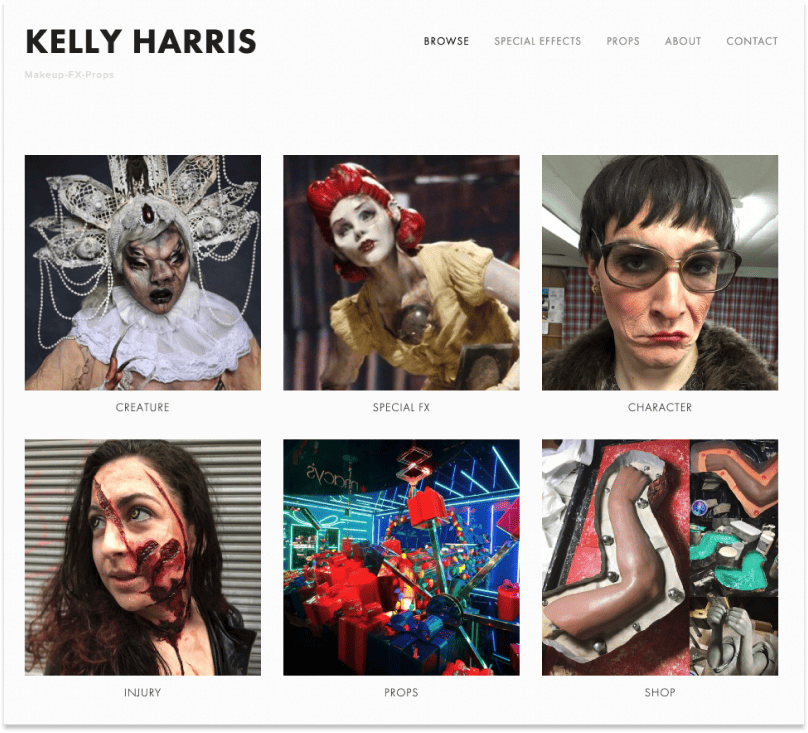 Kelly Harris is a freelance special effects makeup artist and prop maker local to the NYC area. With over 10 years of experience in the art department industry, she works for both the film and commercial world.
Kelly lets her work speaks for itself by displaying all her past work on her portfolio site. They're meticulously organized into different genres, such as Creatures, Special FX, Injury (for Halloween), or special characters in films or movies.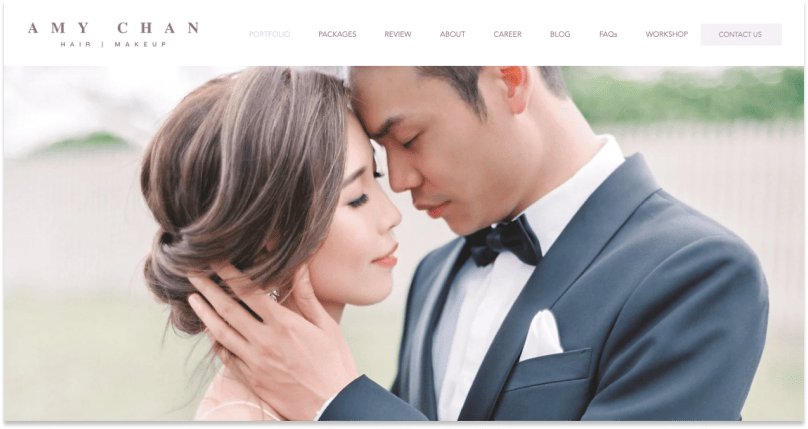 Amy Chan is a Wedding Makeup Artist based in Sydney. She is a specialist in Bridal Makeup artistry and is considered as one of the best Asian Makeup artists in Sydney, Australia.
True to her bridal theme, Amy's website exudes femininity and romanticism with a soft color palette and cursive. Her portfolio is also astounding. Featuring magazine covers of her photoshoot and editorial campaigns.
Related Articles