Here are some real-world examples of how photographers use Squarespace to build their portfolio or for their production company website.
Some of them own a full-fledged production studio, some of them sell prints and presets online, and others want to showcase their portfolio to potential clients.
I'll also share the Squarespace templates that they used for their site, how they go about customizing it, and additional resources from Squarespace you can use to make full use of the templates.
Let's dive right in.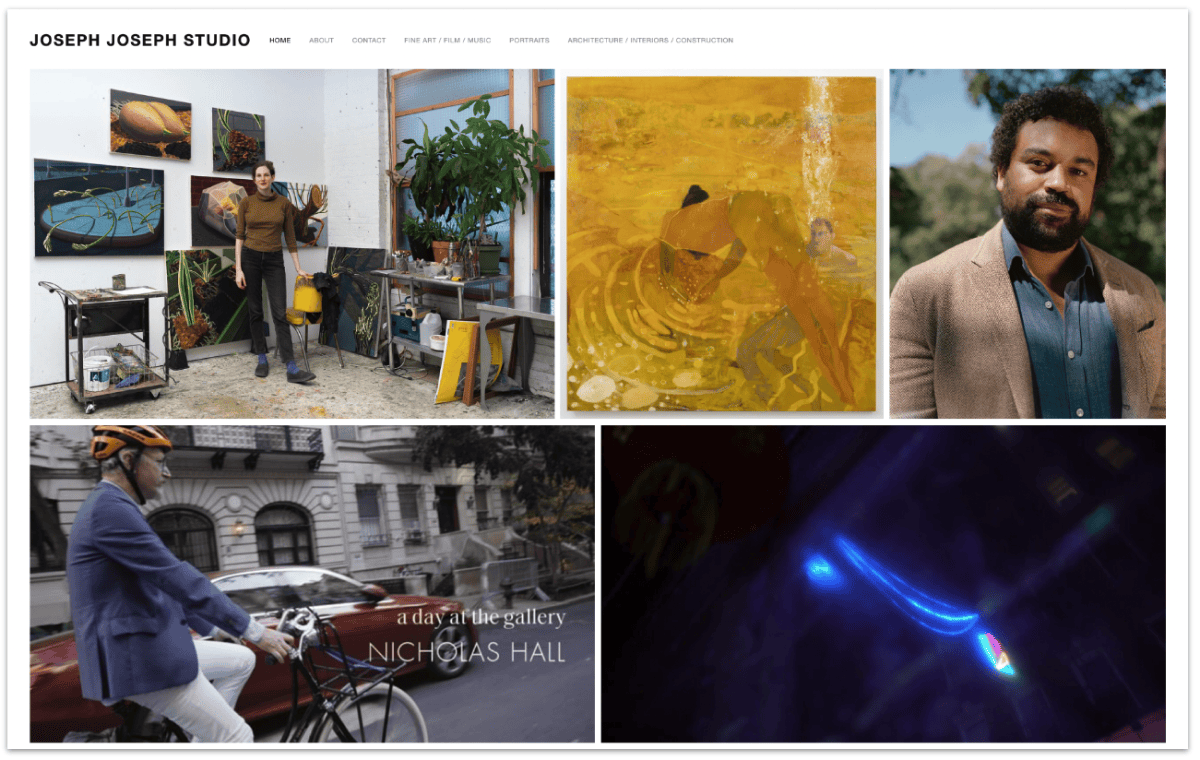 Joseph runs a photography and video studio by herself in Brooklyn, New York.
Her Squarespace portfolio site is very impressive, and she produced some amazing interior design shots for Shake Shack and Hublot. She also dabbles in fine art, filmmaking, and music.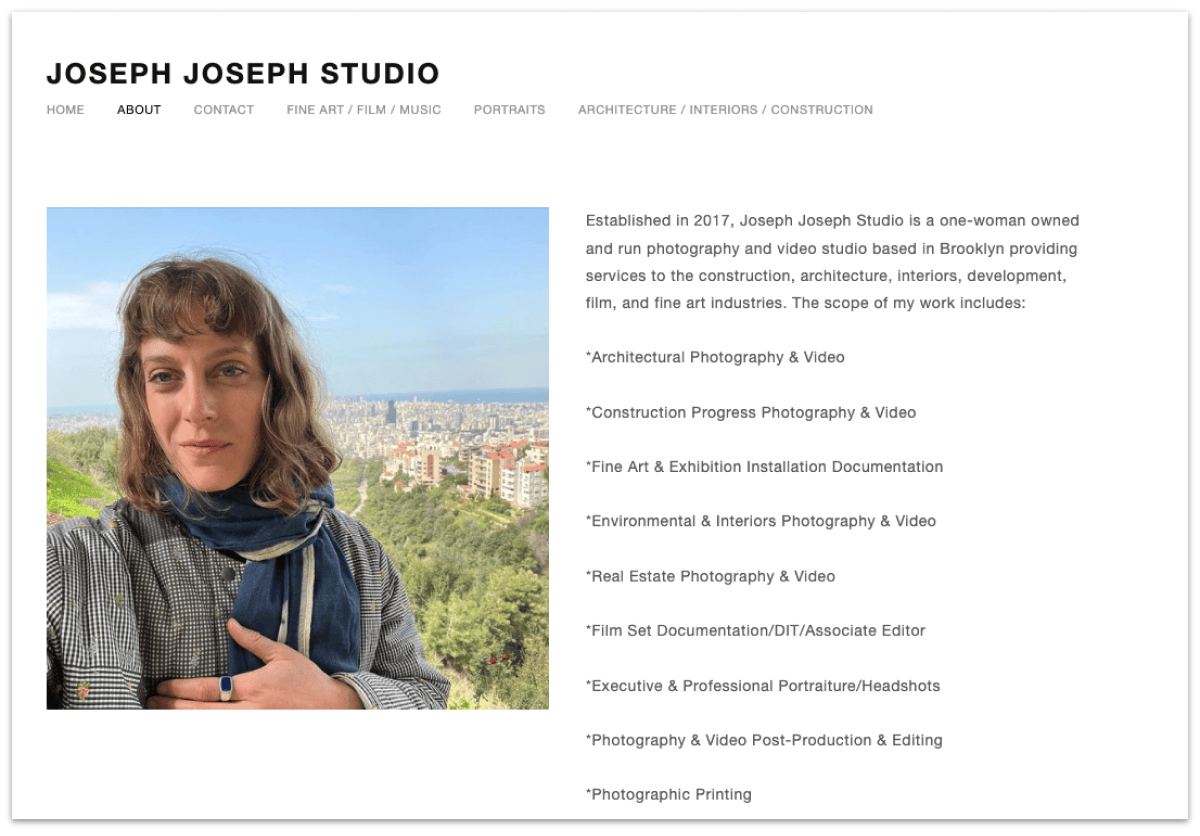 Her site is built using the Squarespace Wexley template, a popular template among photographers for their portfolios. It's a minimalistic template that features a mosaic of images and videos, making it perfect for creative professionals to showcase their work.
Squarespace has a guide on how to utilize and tweak Wexley to get the best out of the template.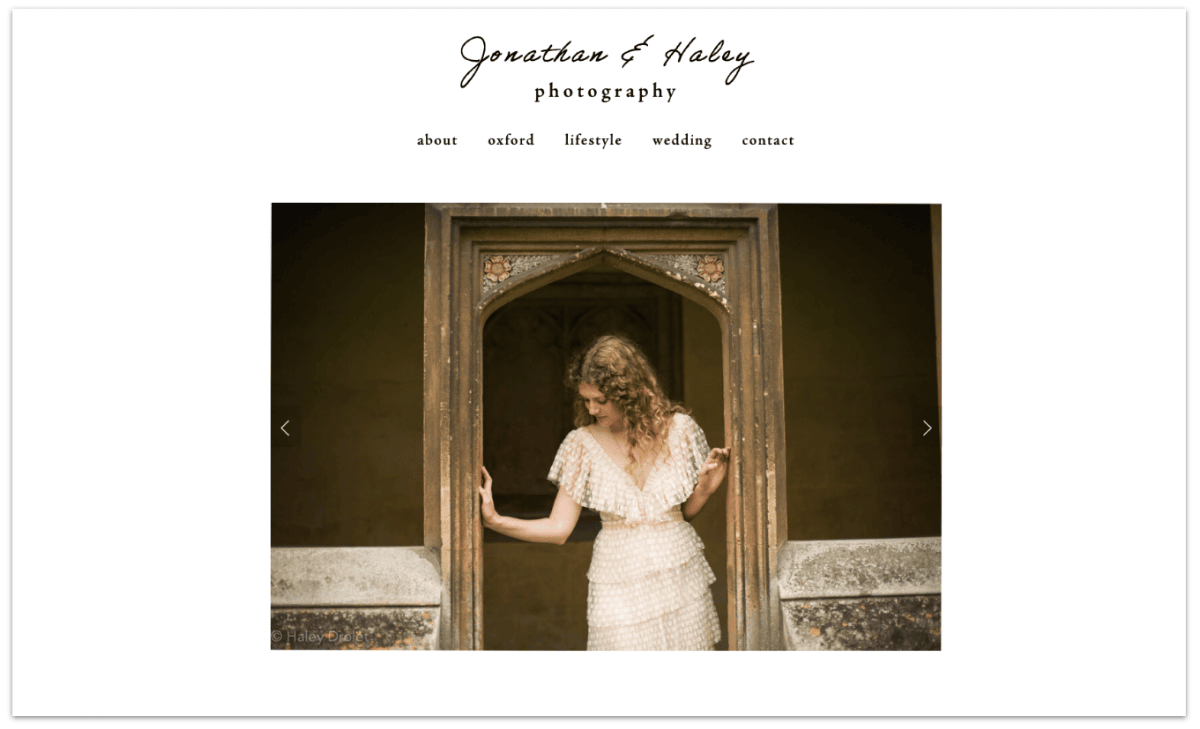 Jon and Haley are freelancer photographers working together specializing in wedding, lifestyle, and events. They're based in the UK but frequently travels to the US for clients' shoot.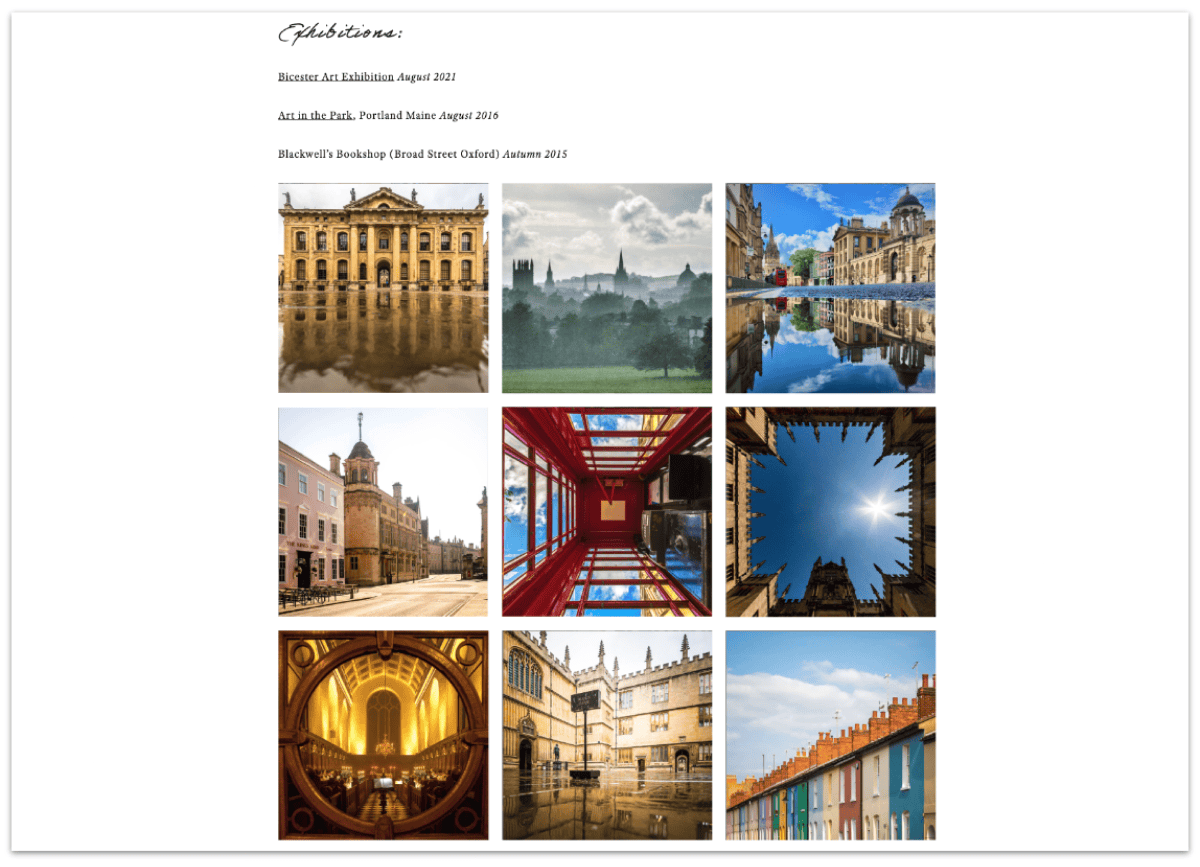 The Squarespace template that they used for their site is Native, a clean, professional, and versatile template that heavily relies on photography, perfect for wedding photographers.
You can learn more about the Native template features in Squarespace official documentation here.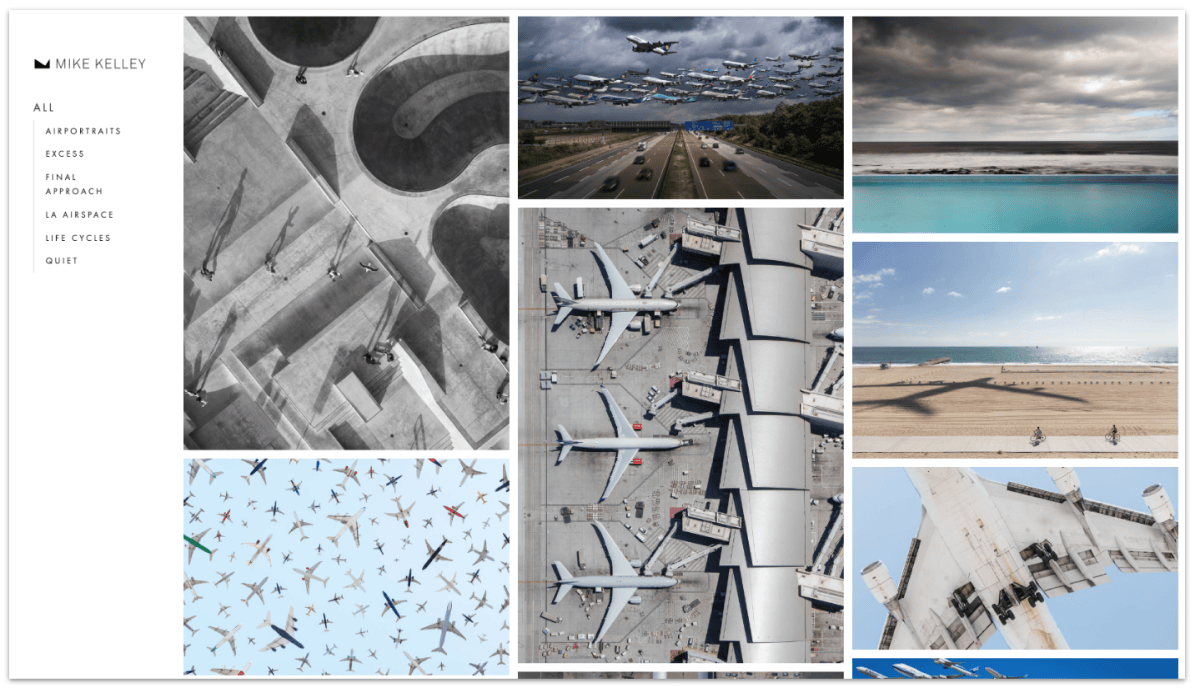 Mike Kelly is a native of Ipswich, Massachusetts, where he studied Studio Art and Environmental Science at the University of Vermont.
He had an opportunity to photograph a few homes for a realtor friend over the weekend which turned into a deep passion for photographing architecture and interiors.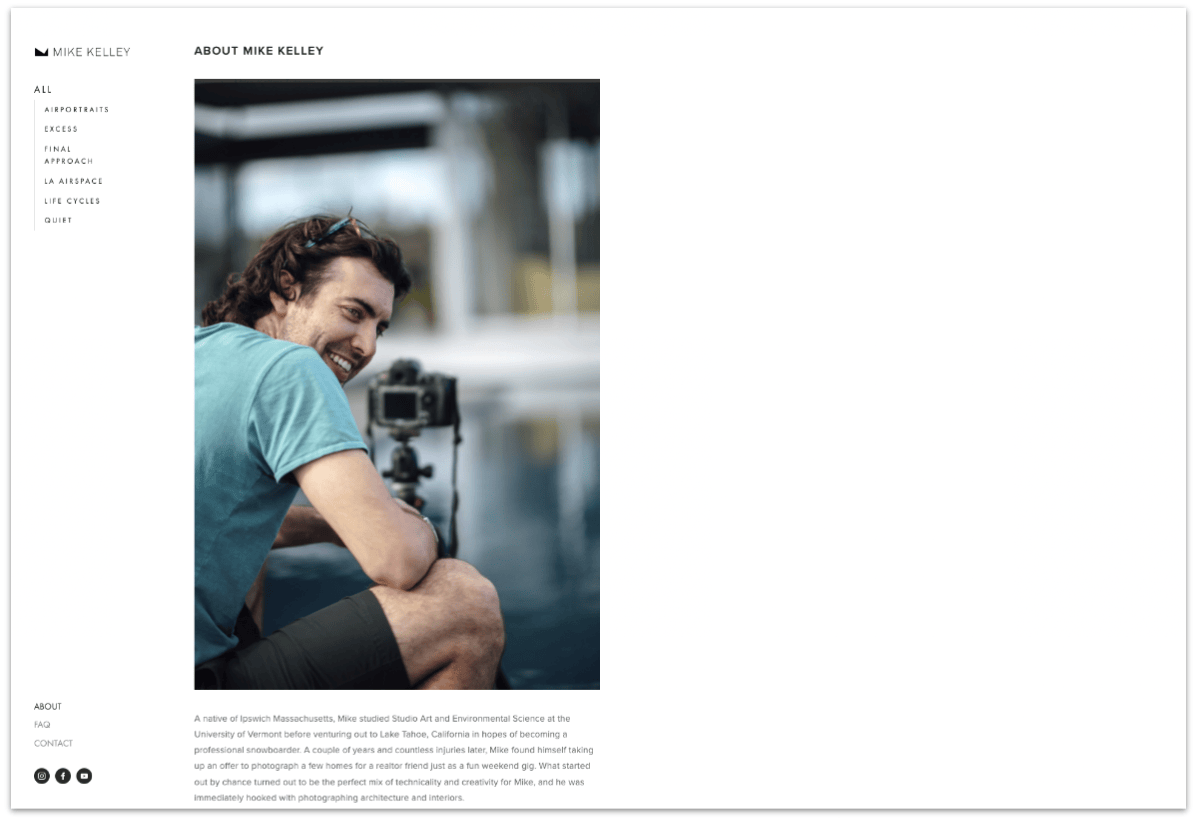 Fast forward several years, he's been made one of 200 best Ad Photographers Worldwide 2016/17 by Luerzer's Archive.
The Squarespace template that Mike used for his site is Supply. Originally a template for eCommerce stores, Mike has adapted the template to feature his breathtaking architecture and landscape photographs.
Learn more about the Supply template on Squarespace.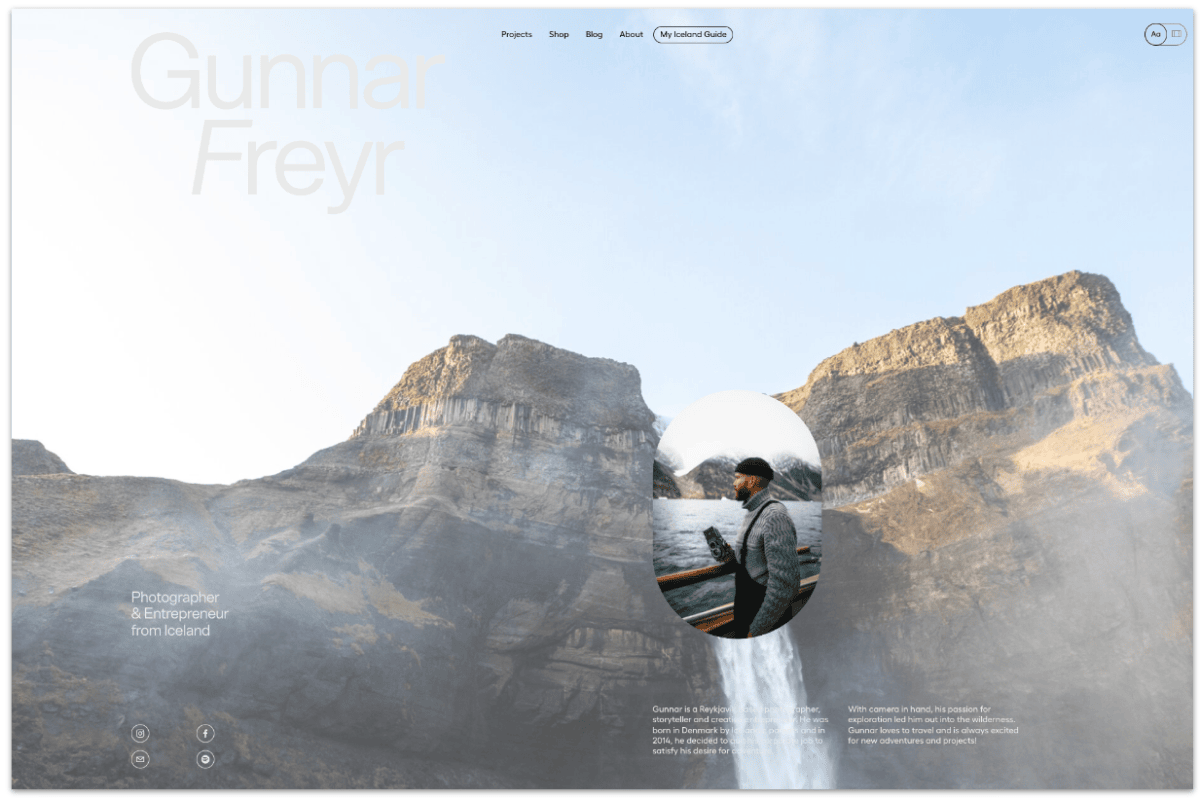 Gunnar is a self-taught photographer who became Canon's official Nordic photographer.
Born and raised by Islanding parents, he had always wanted to explore his home country. This brought him to found Icelandic Explorer Media, a production company specializing in expeditions and tours in Iceland and Greenland.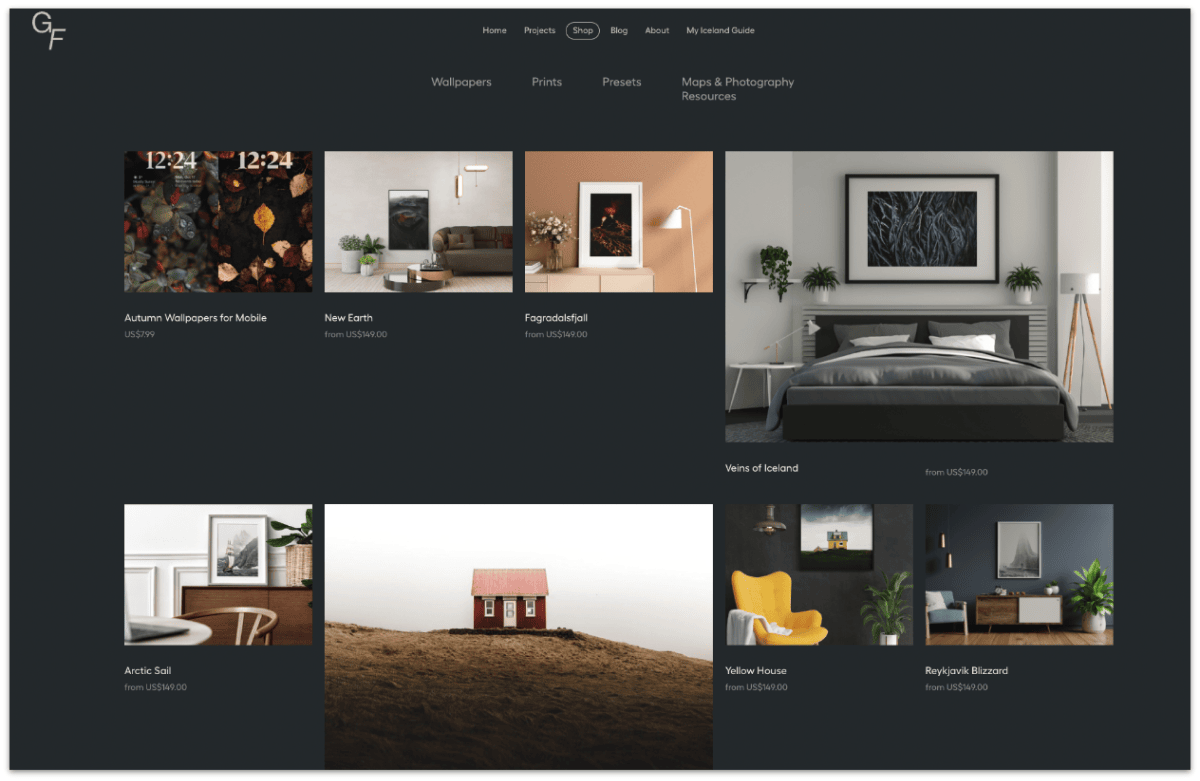 The site is custom-built using Squarespace and you'll find tasteful animations and cinematography sprinkled throughout the site.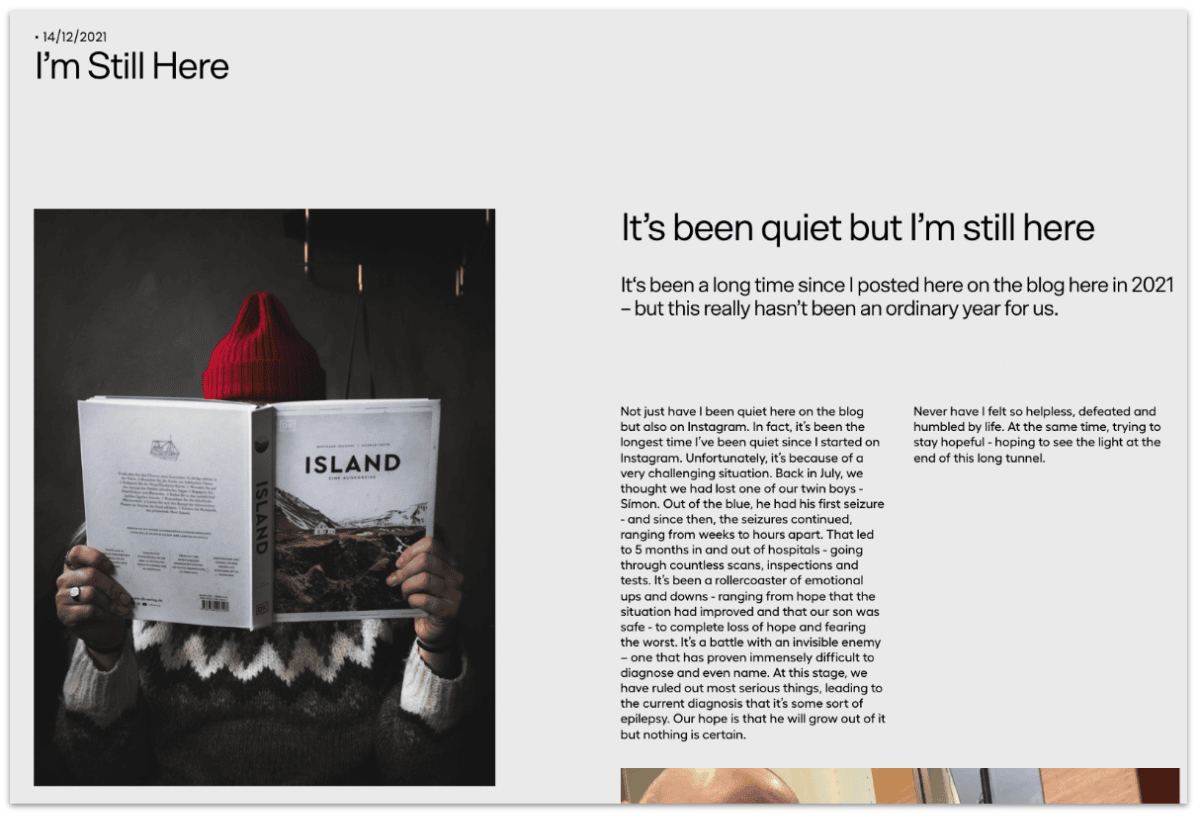 Gunnar also sells wallpapers, prints, presets, and other photography resources right on his site. Occasionally, he'll blog about his adventures in Iceland and experience living up north.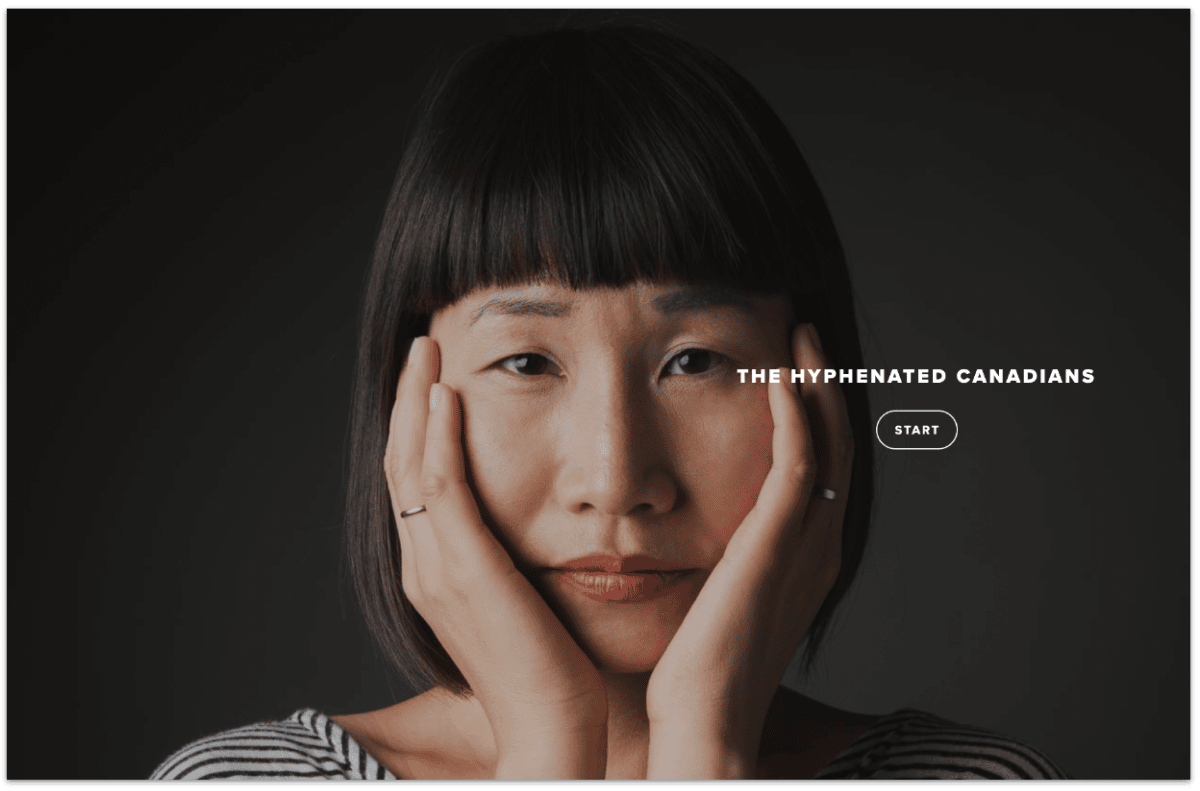 The Hyphenated Canadians is a project started by Shy Alter who migrated to Canada in the 1990s.
His goal with The Hyphenated Canadians is to meet, talk with, and photograph immigrants in Canada, featuring their unique personal history and stories.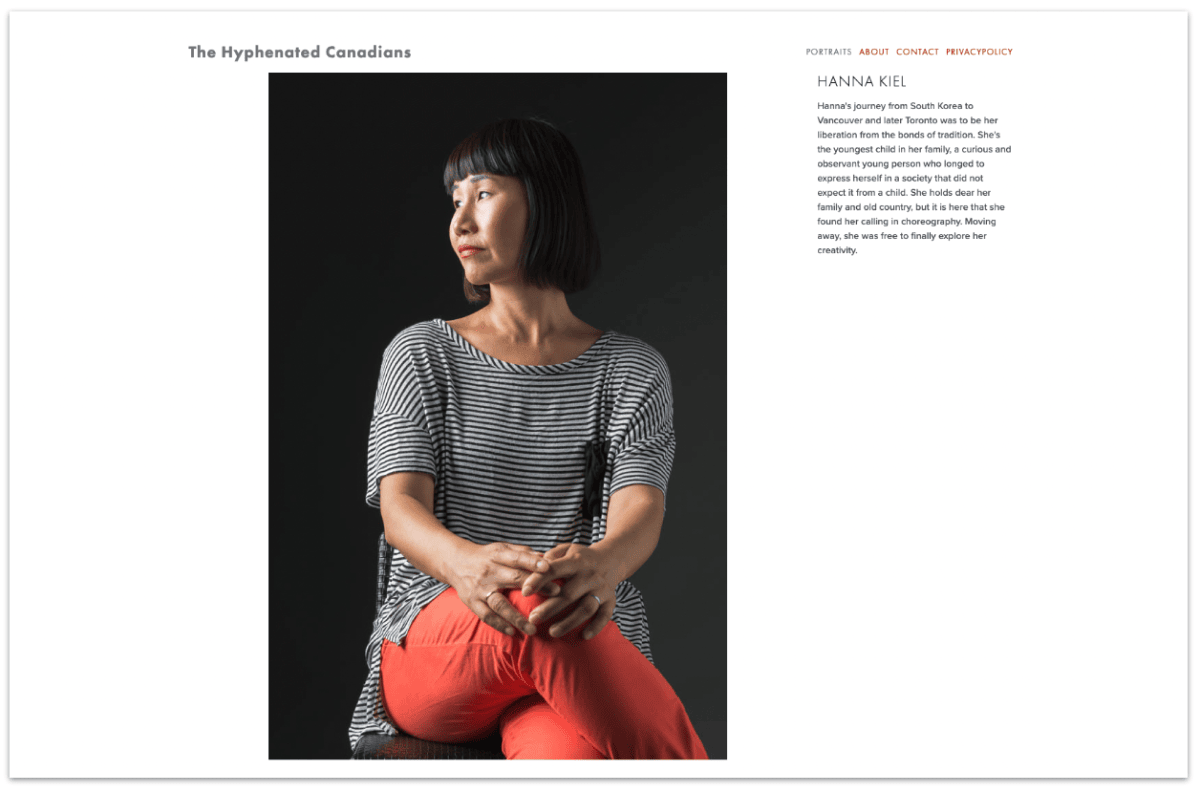 Shy built the site on Squarespace using the Avenue template.
Avenue organizes photos in a grid-based layout and has a dedicated individual post section. That makes it a great photography template for featuring individual portraits like the ones in The Hyphenated Canadians project.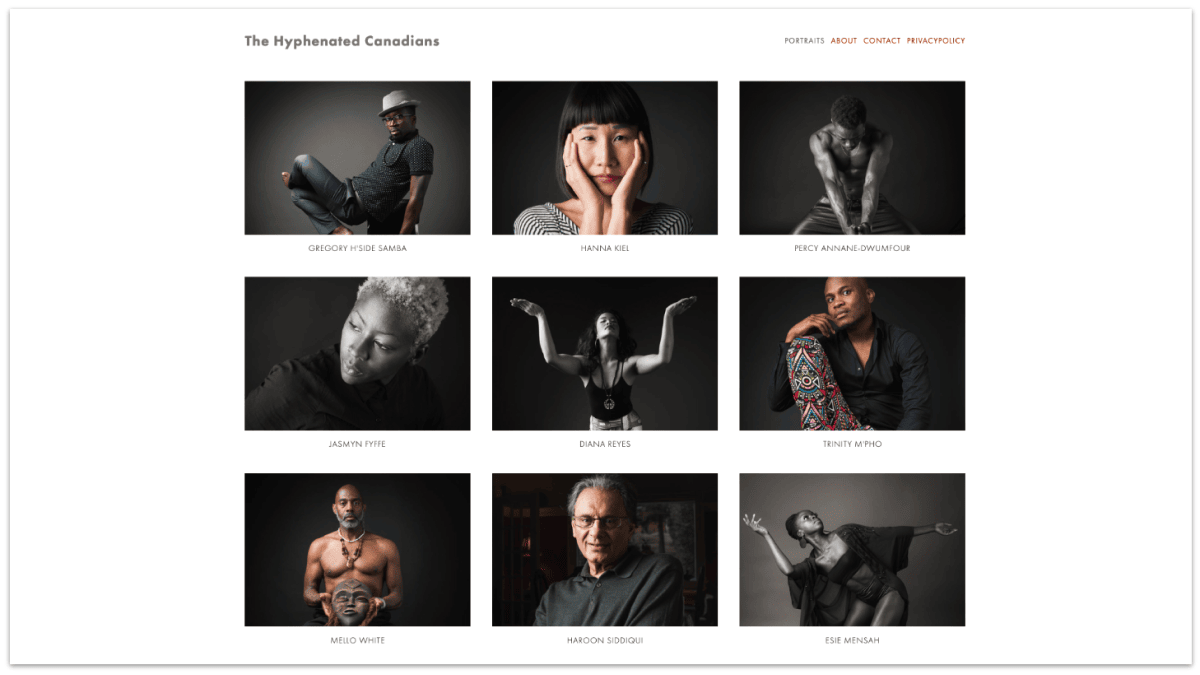 On top of that, Shy has created a custom slideshow featuring the various portraits right on the home page.
Learn more about the Avenue template on Squarespace.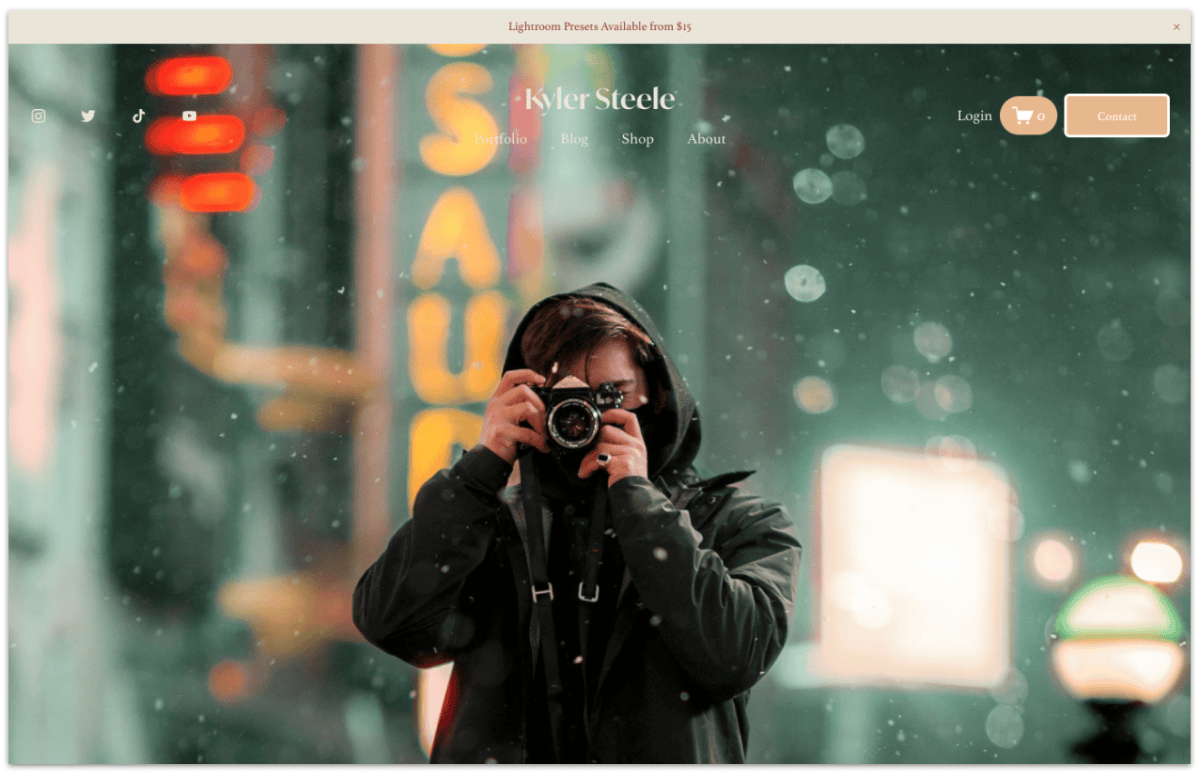 Kyler Steele is a travel photographer from New Jersey with an impressive list of clientele, including Leica, Hasselblad, and FujiFilm.
His journey as a photographer was a winding one. Having not gone to a photography school, it took years to self-studying and mentorship to get to where he is today.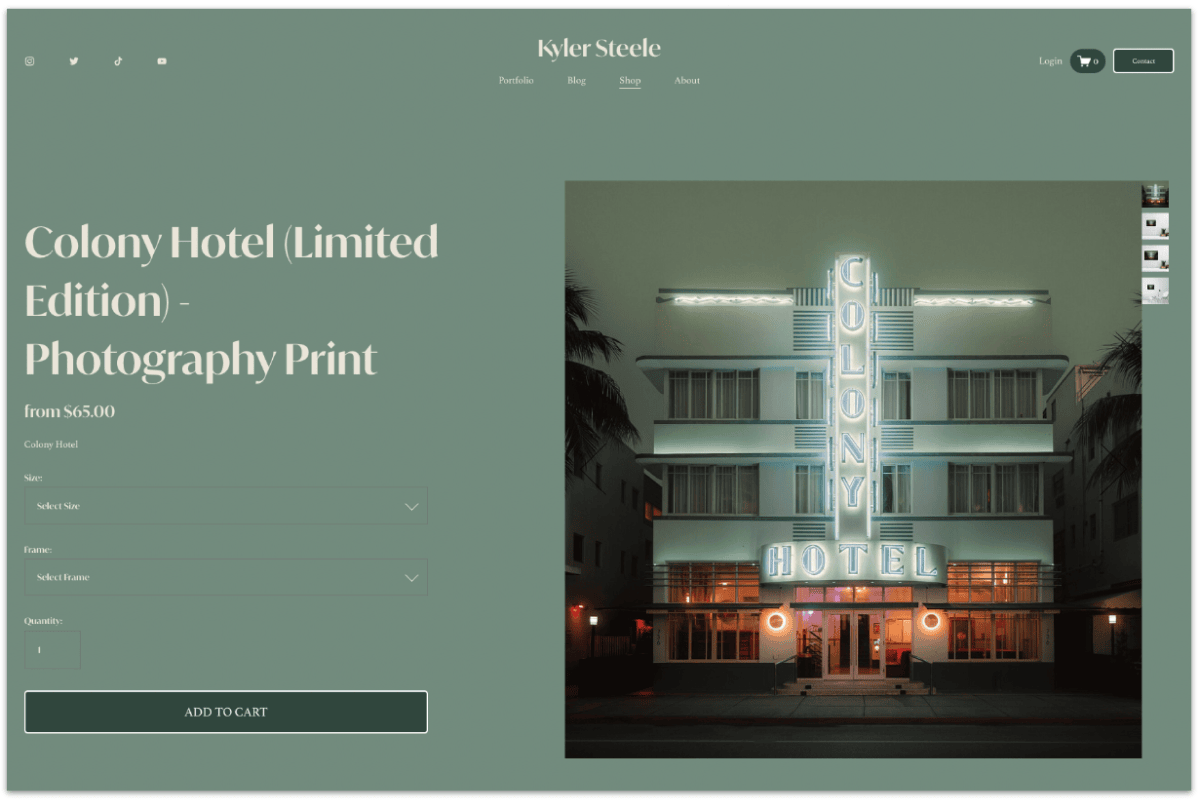 His personal site is custom-built on Squarespace. It has a calm, subdued color scheme, and features a lot photographs from his personal travel. I especially like the portrait someone took of him with the camera in the city snow.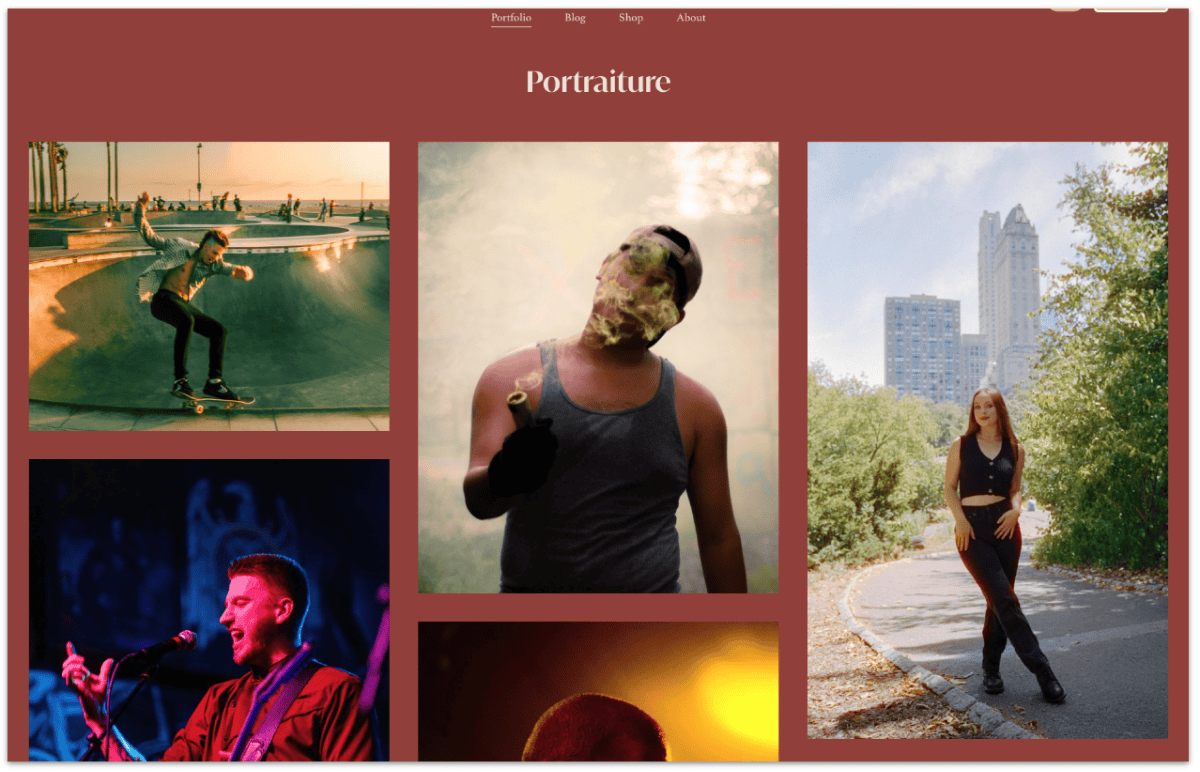 Besides using his site for his portfolio, Kyle also sells Lightroom presets and limited-edition prints, which he personally ships to his customers.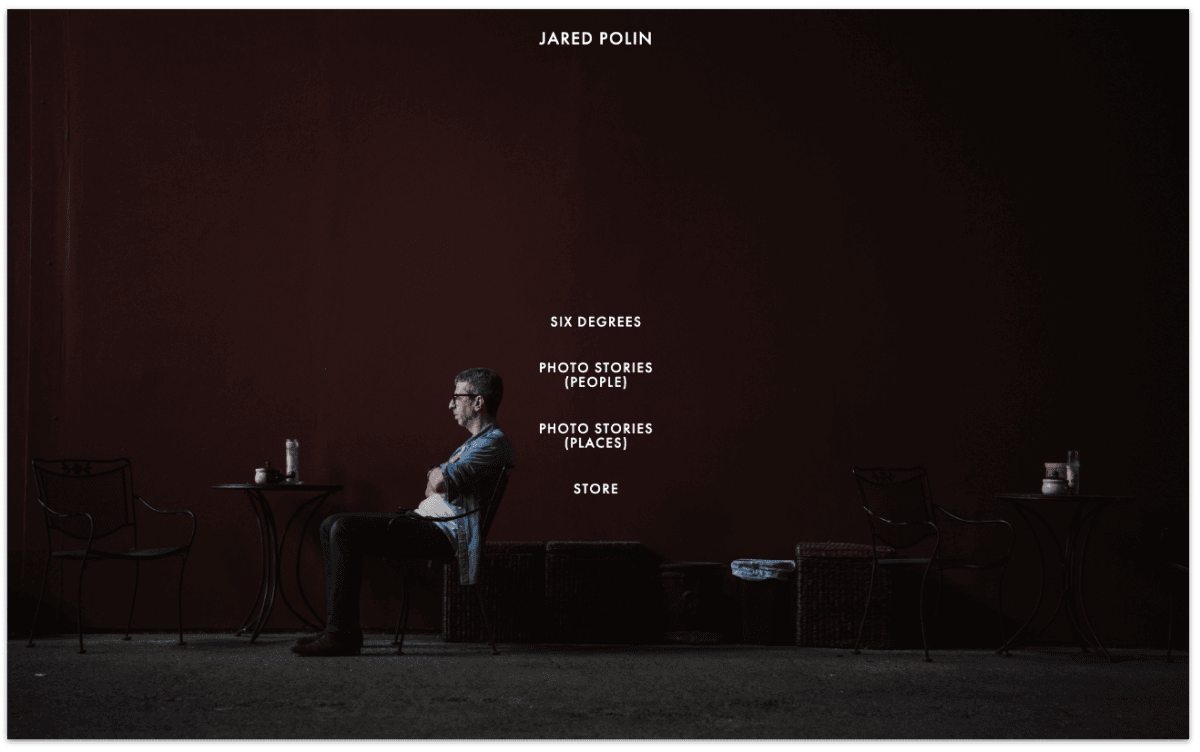 Jared Polin is a photographer with a massive following across his social network profiles — 1.4 Million subscribers on Youtube , 300K followers on Facebook, 260K followers on Instagram, and 60K followers on Twitter.
With such a huge following, you might think he'd go with a complex website solution for his personal site.
Instead, he kept it simple with Squarespace, built using the Squarespace Momentum template.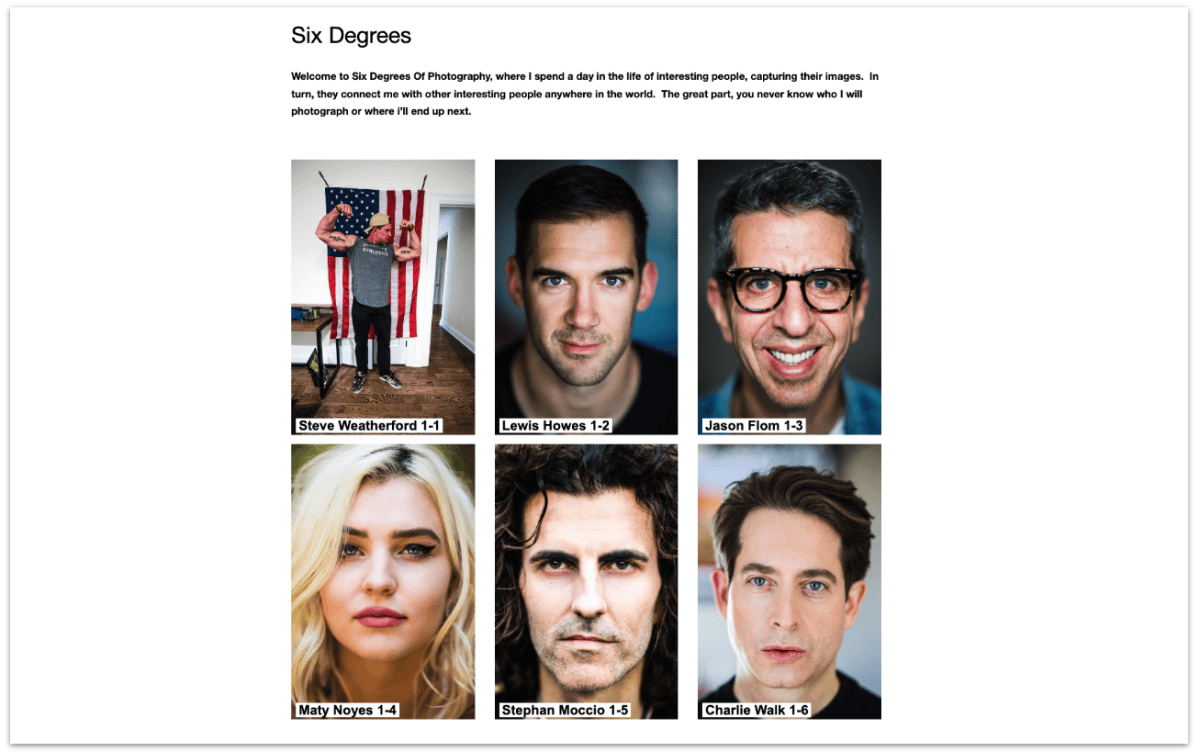 Even though Youtube has become Jared's major focus, he kept a few very interesting photography projects on his site, such as the 6-degrees project where he photographed interesting people like Steve Weatherford, Lewis Howes, and Charlie Walk.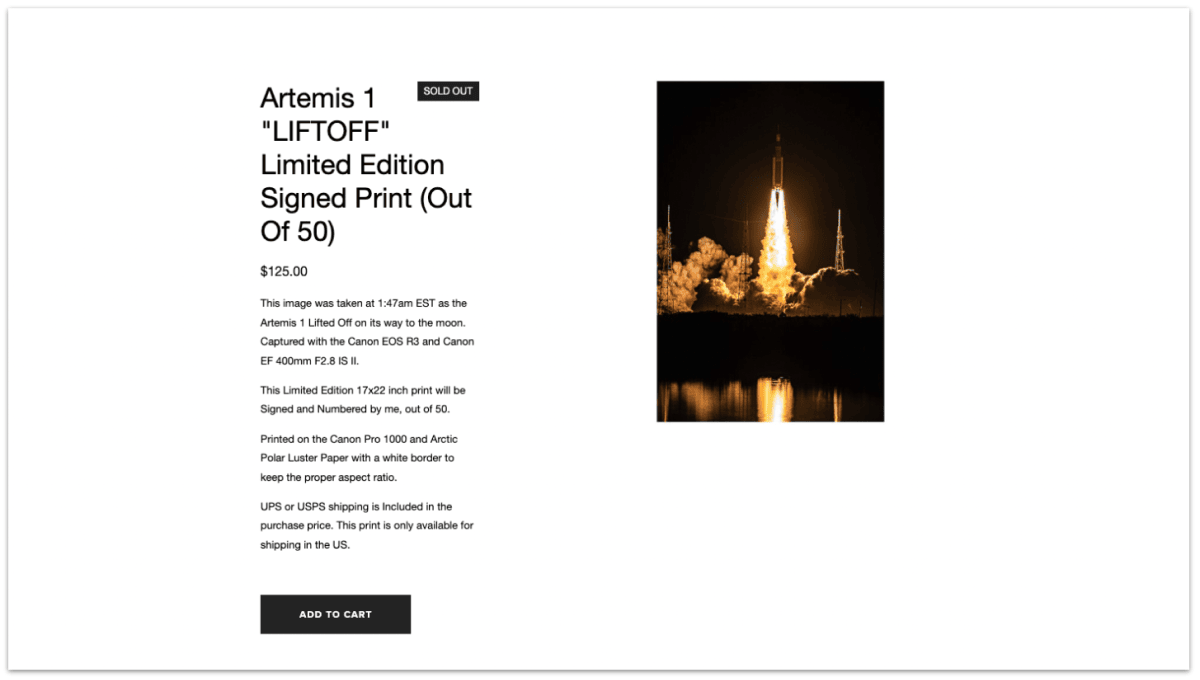 He also sells a limited-edition print of the Artemis 1 lifted off on its way to the moon.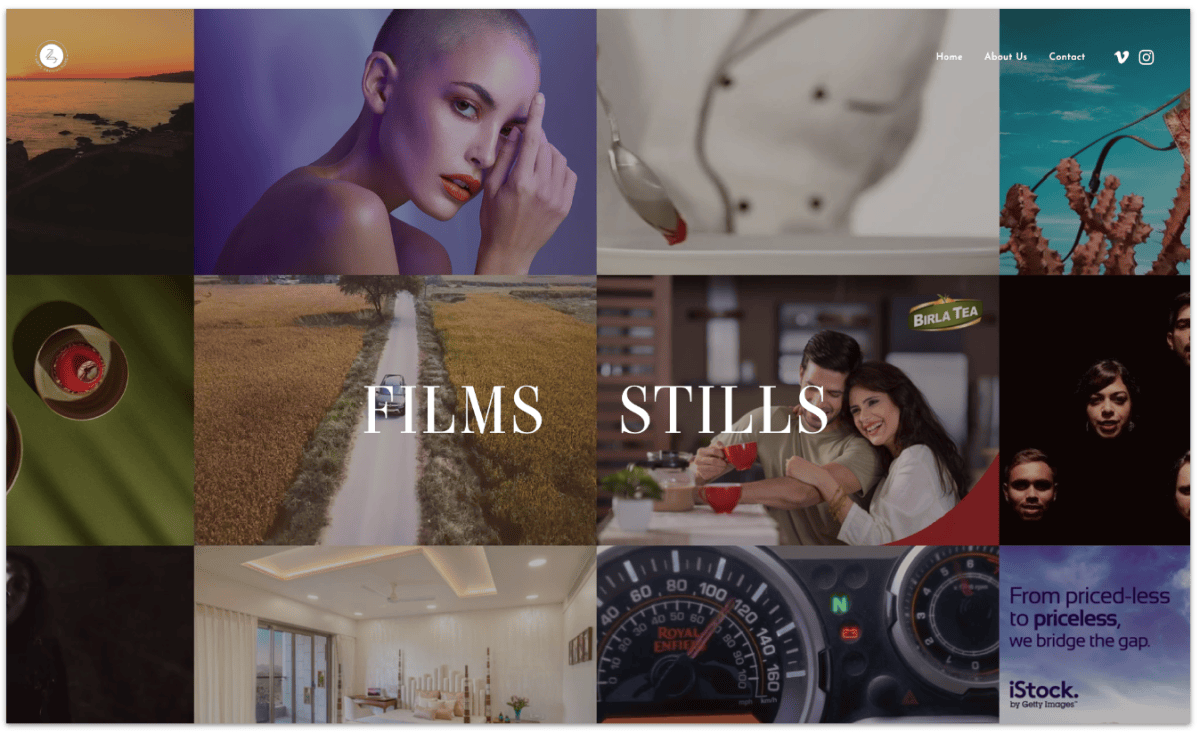 42 FPS Productions is an independent production house based in Mumbai. Founded by Adityaraj Mehta, he and his ambitious team has worked on several creative projects featuring cultures, food, and festive celebrations around India.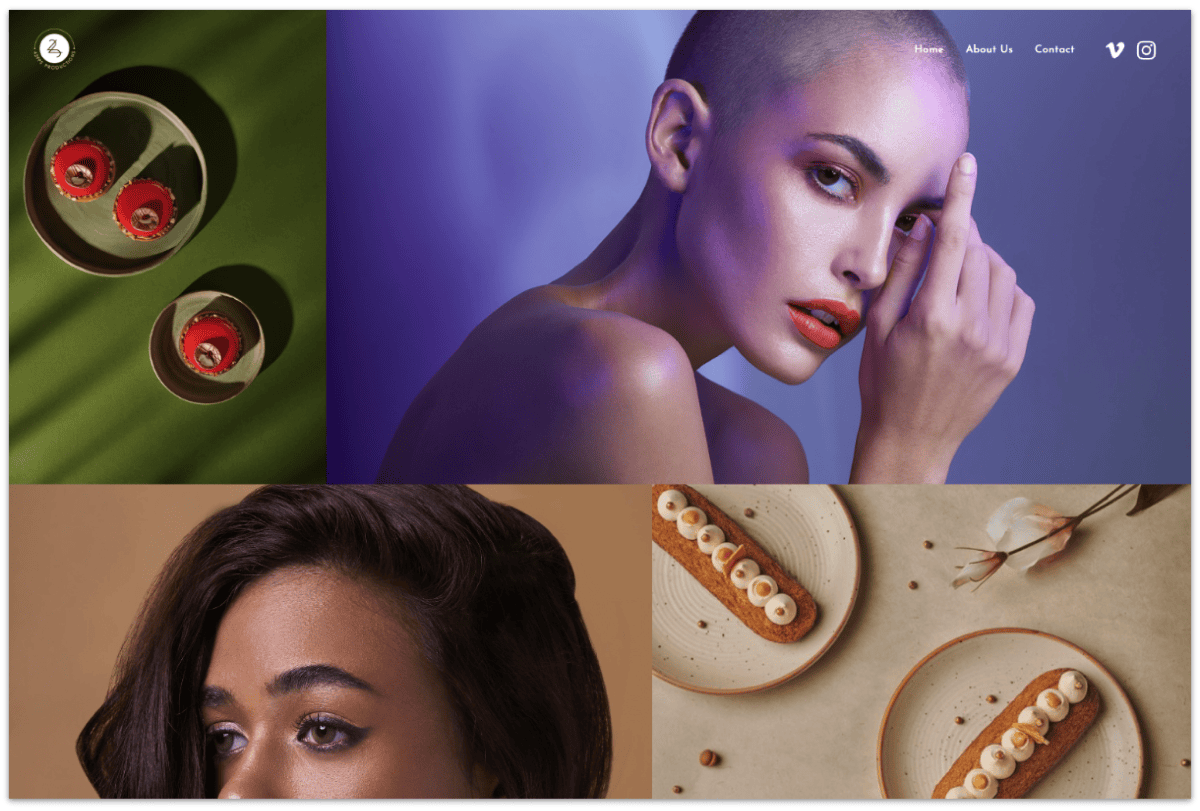 They built their site on Squarespace using the Tremont Template, which is usually a great choice for creative services as it showcases bull-bleed images in a masonry layout.
Learn more about the Tremont template on Squarespace.
42 FPS Productions primarily use their site to showcase their portfolio, but they also have a dedicated section to showcase their film projects. They've worked on cinematography and advertisement projects for popular brands like Figaro Olive Oil, One Plus One, and SpyKar.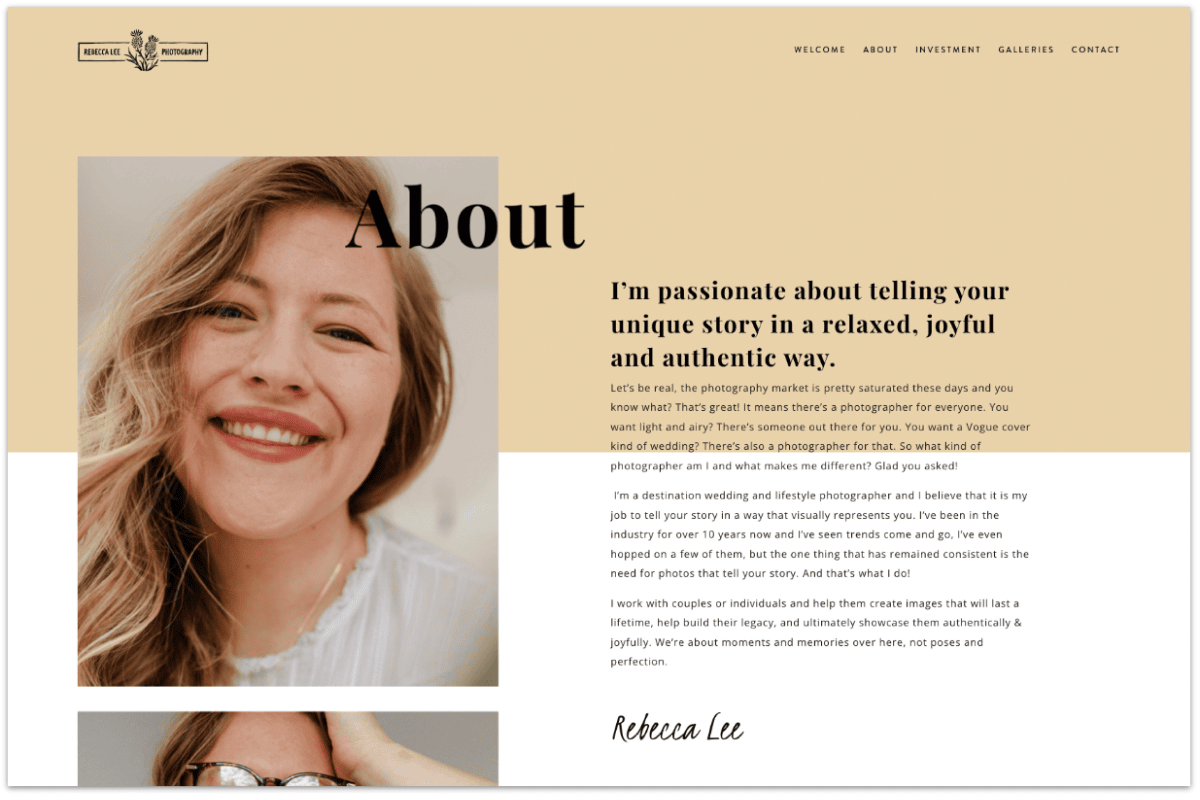 Rebecca is a destination wedding and lifestyle photographer who's been in the industry for over 10 years.
She primarily works with couples or individuals and helps them create images that really showcase them authentically & joyfully.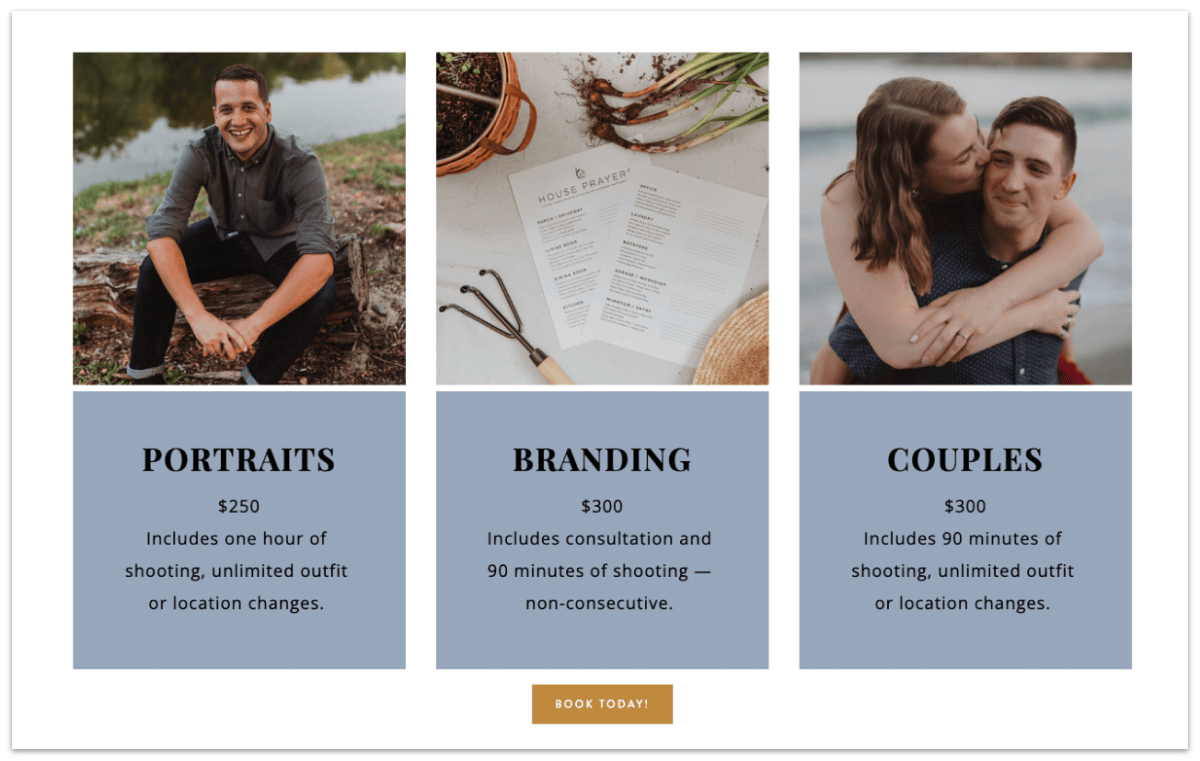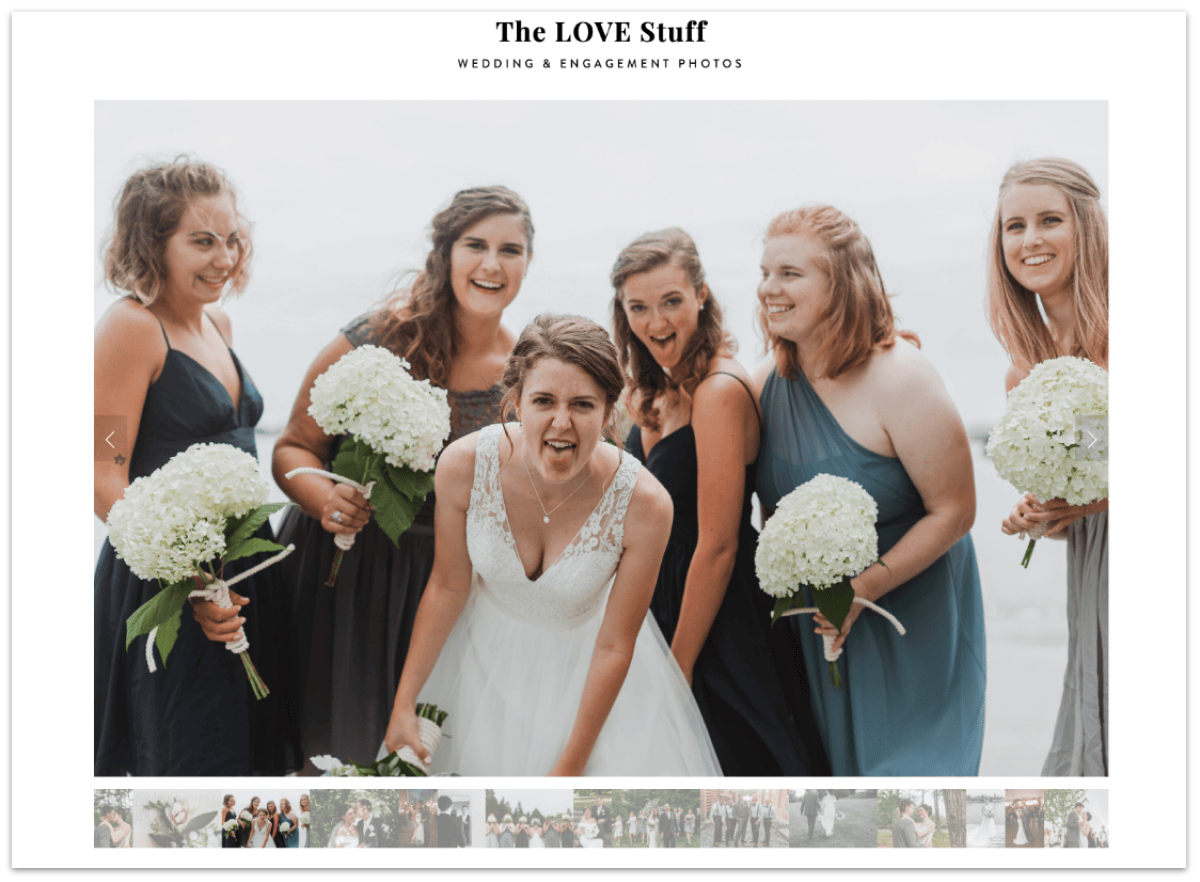 While Rebecca's site is built on Squarespace, she didn't just use the template as is. She started with the Rally template and customized most parts to suit her personal styles.
One notable aspect that I really like about her site is the way she positioned her services as an Investment. It's carefully written, and she's transparent with the price, so potential clients know what to expect from her services.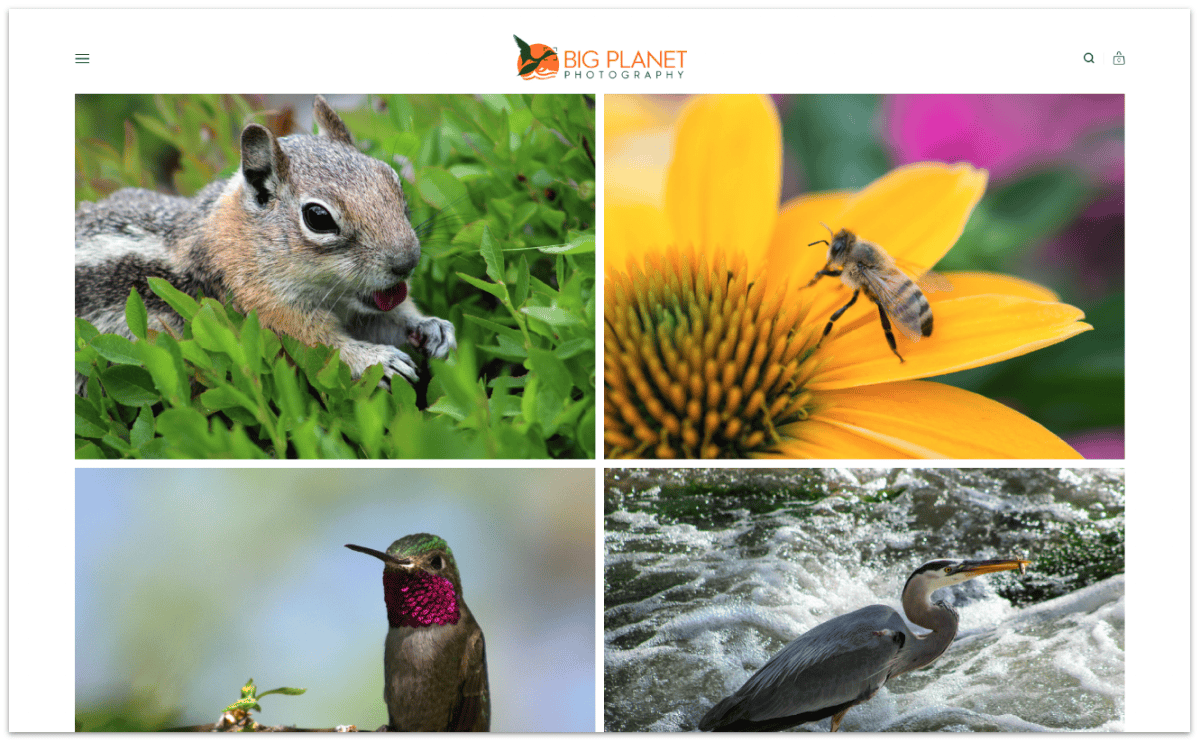 Mallory Kemme and Adam Johnson sell gorgeous nature-inspired photographs on Big Planet Photography.
It's also cool that they send a portion of their sale proceeds to organizations that help protect the planet. These organizations include The Nature Conservancy, Natural Audubon Society, and the National Wildlife Federation.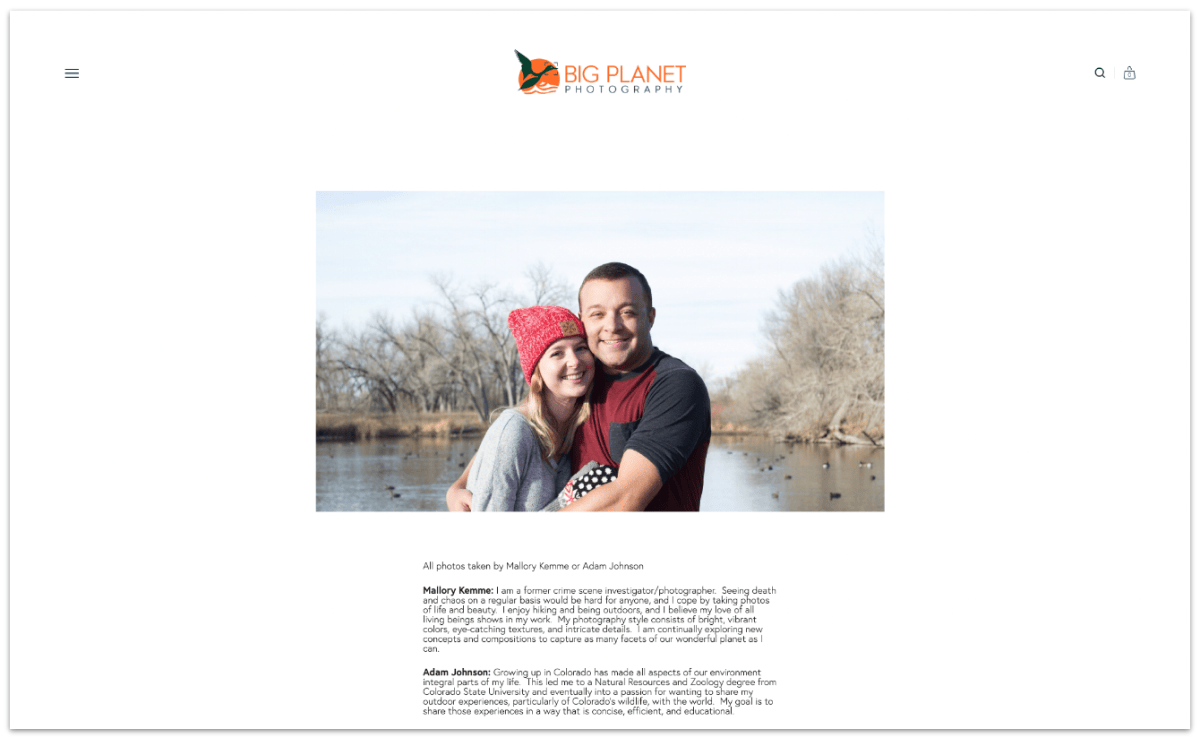 For their Photography eCommerce site, Mallory and Adam kept it simple.
They started with the Squarespace Indigo template, all they had to do was customize the headers, add their custom logo, upload their photographs, and set up the checkout flow to sell the prints.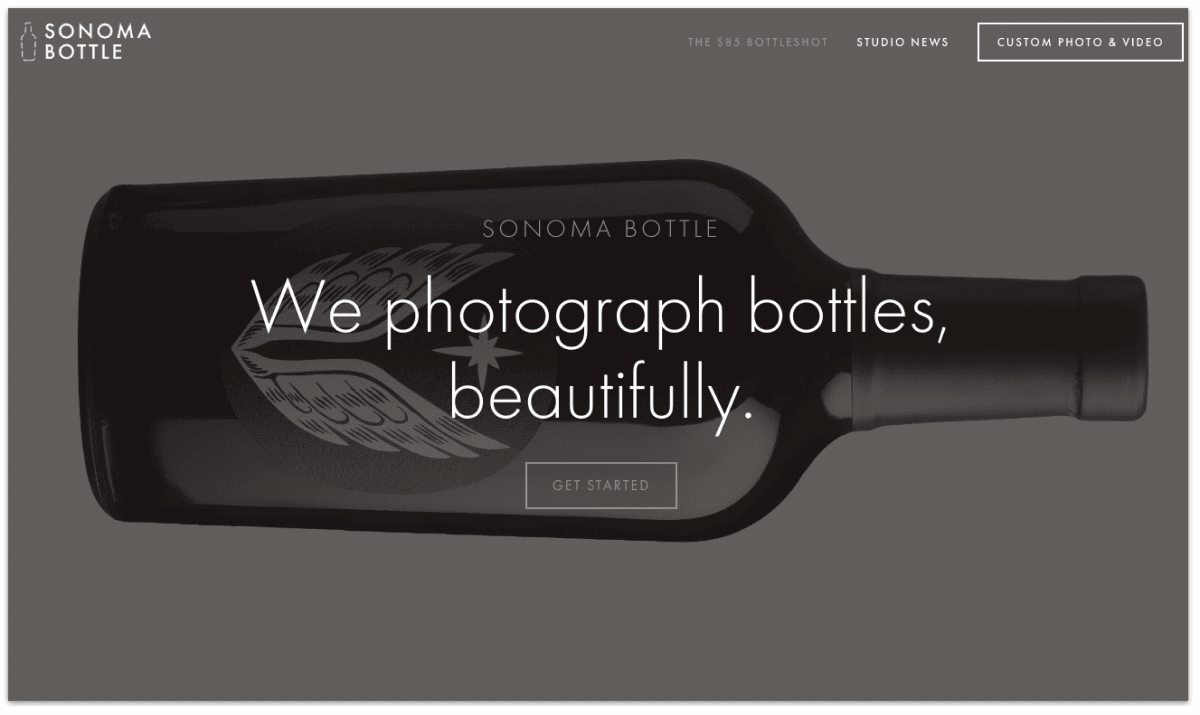 This is one photography studio you don't see around very often. Sonoma Bottle specializes in photographing, you guessed it, bottle shots.
Unlike other media production companies, Sonoma Bottle specifically works with the Wine and Spirits industry, helping eCommerce stores with their product photography and prints.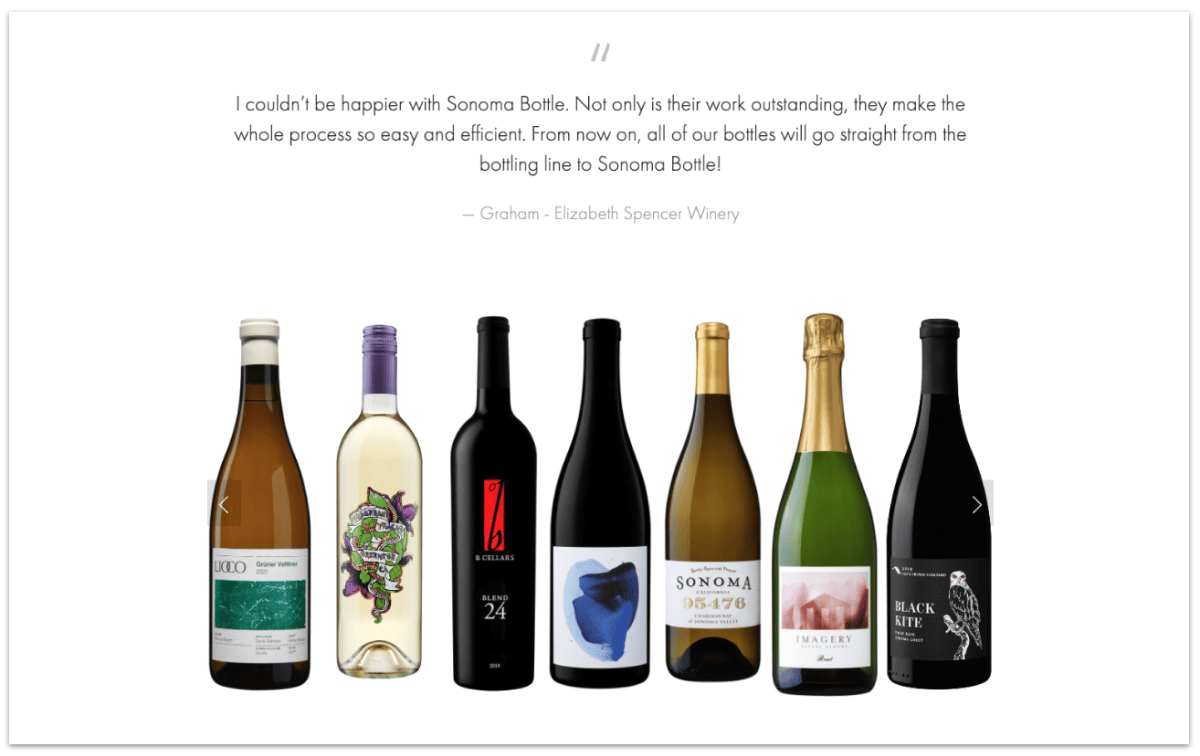 They also provide custom-styled group bottle shots, video, and post-production services.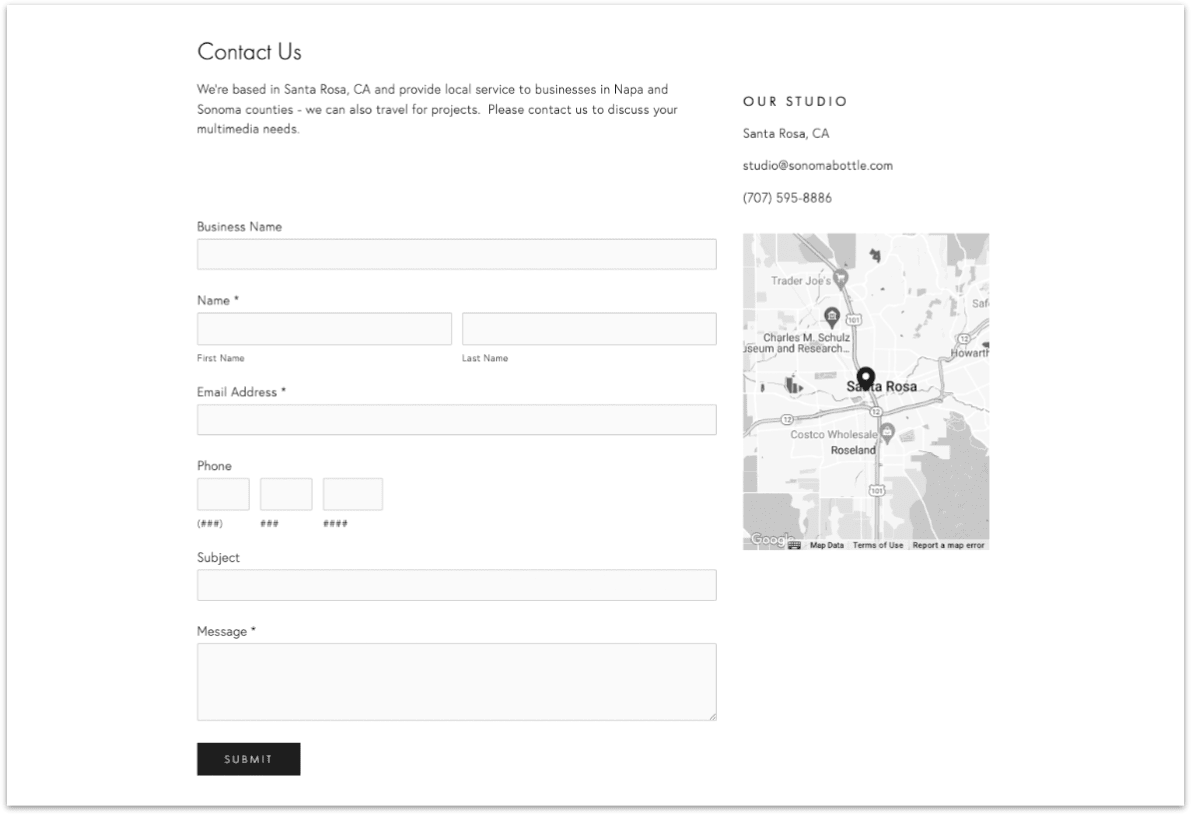 The Squarespace template the Sonoma Bottle used is the Bryant Hill template.
This template has a large banner in the header section and a call-to-action button in the navigation area.
It also comes with several built-in features that are useful for a marketing site, such as a page banner slideshow, a sidebar for main pages and blog, as well as dedicated page styles for events and products.
You can check out the full list of features this template has to offer on Squarespace.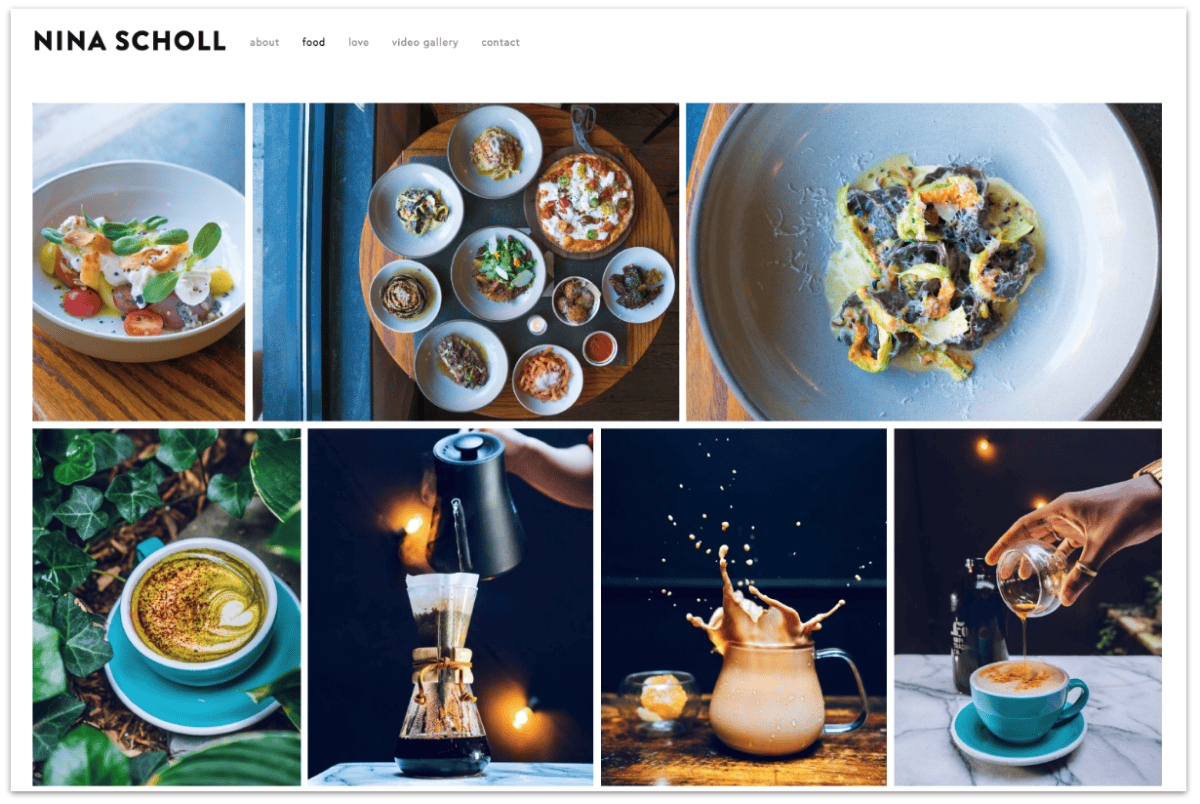 Nina is a foodie and traveler based in Brooklyn.
Based on her bio, she had a variety of professional camera experience ranging from reality TV, to live music videos, live sports broadcasts and food photography.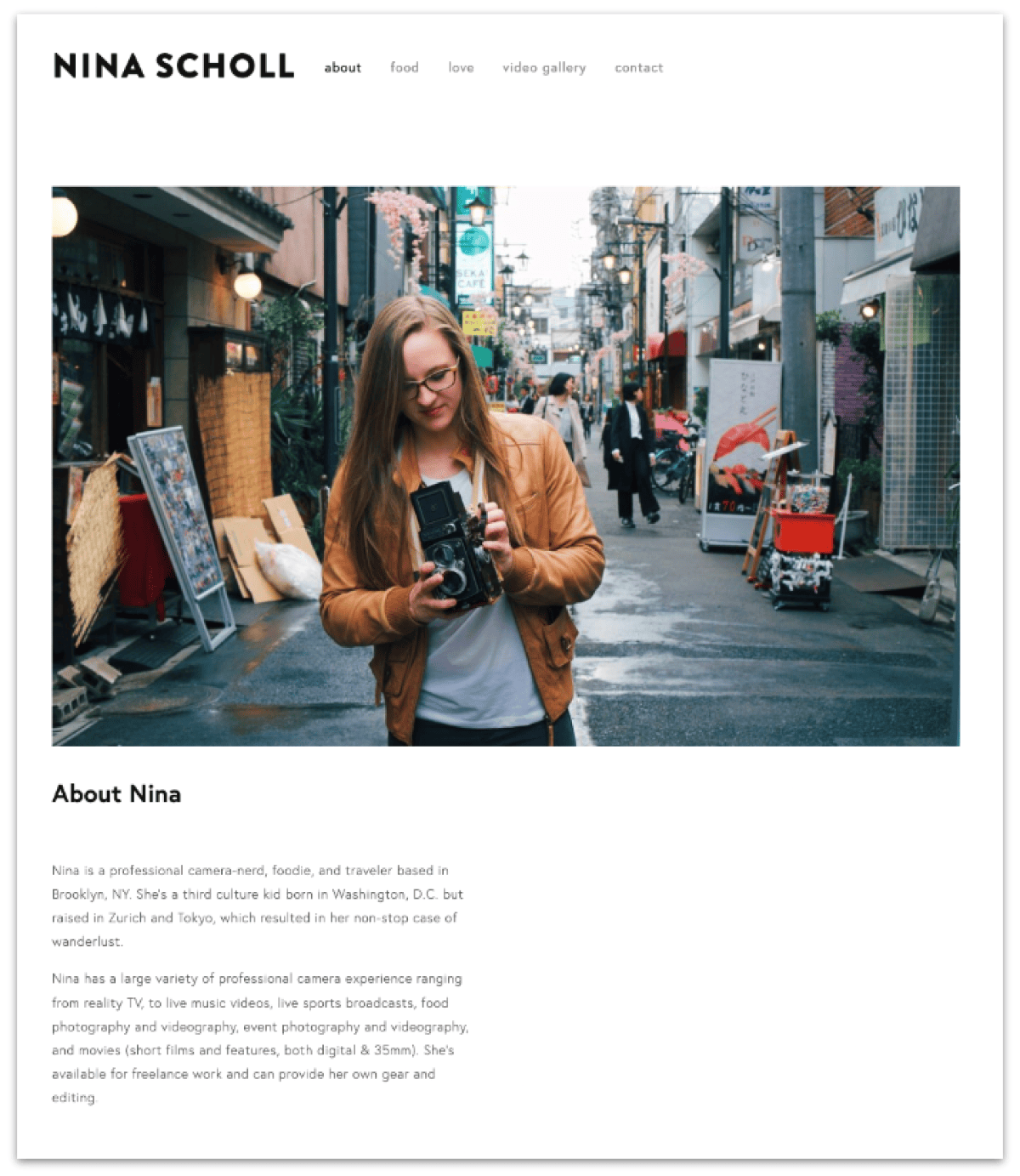 She now offers freelance photography and videography services to restaurants, event managers, and even couples for wedding photography.
Nina has also kept it simple with her portfolio site using the popular Wexley template from Squarespace.
The Wexley template is great for photographers who need a simple but creative way to showcase their work. The gallery creates a dynamic layout based on the crop size and dimension of your photographs, as you can see from Nina's portfolio.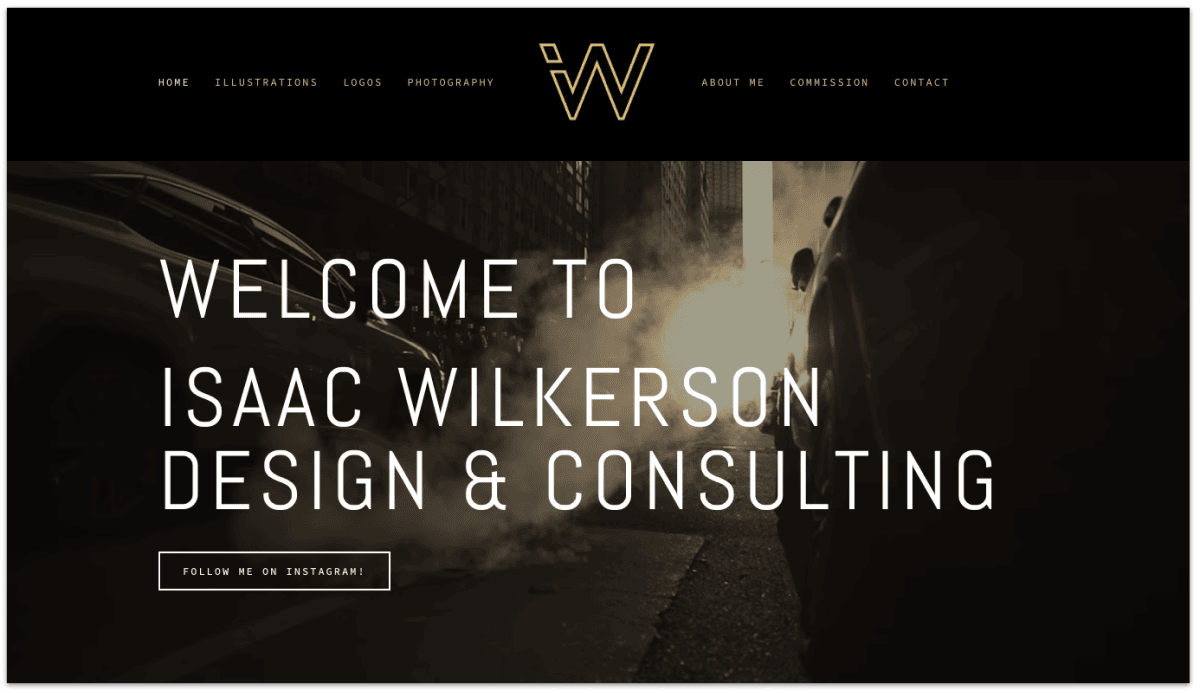 Isaact is a freelance graphic designer and photographer who has a knack for traveling, adventuring, and experiencing different cultures around the world.
From his portfolio, you can tell he has formidable design skills and good taste in photography, a powerful combination to earn a living freelancing.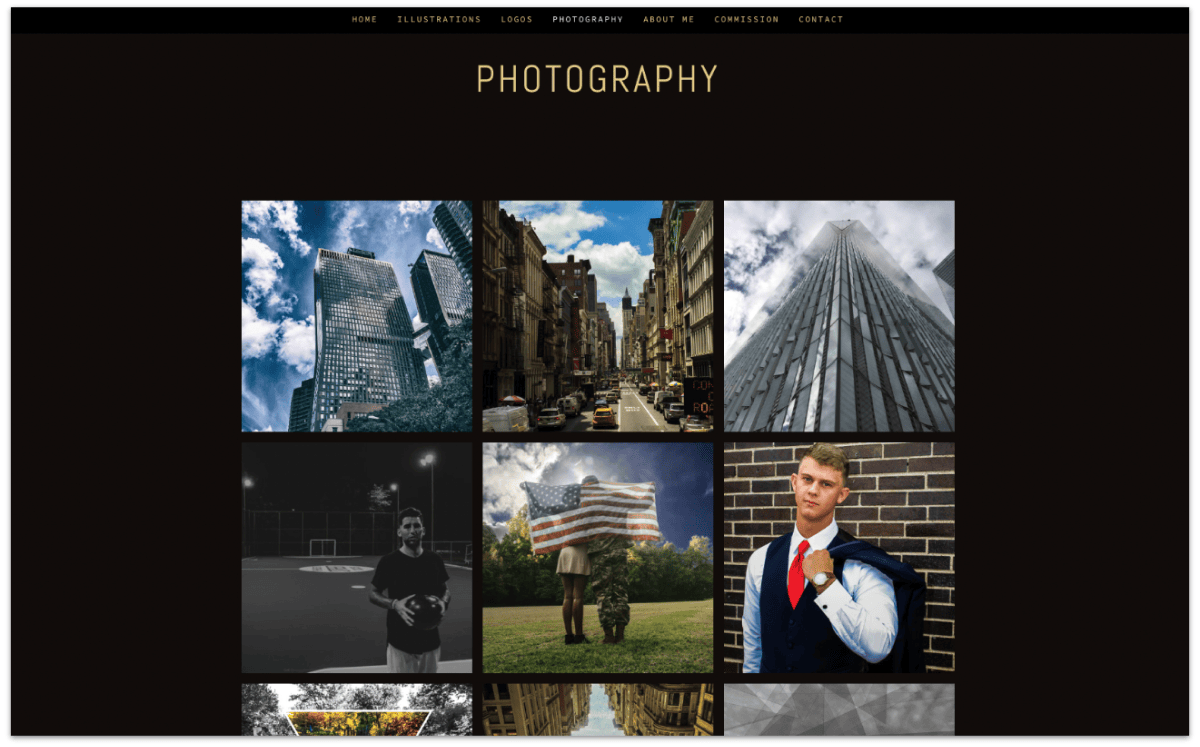 Isaact built his one-page portfolio website using the Squarespace Horizon template. It's great for photographers who prefer a dark-themed website with a slick font.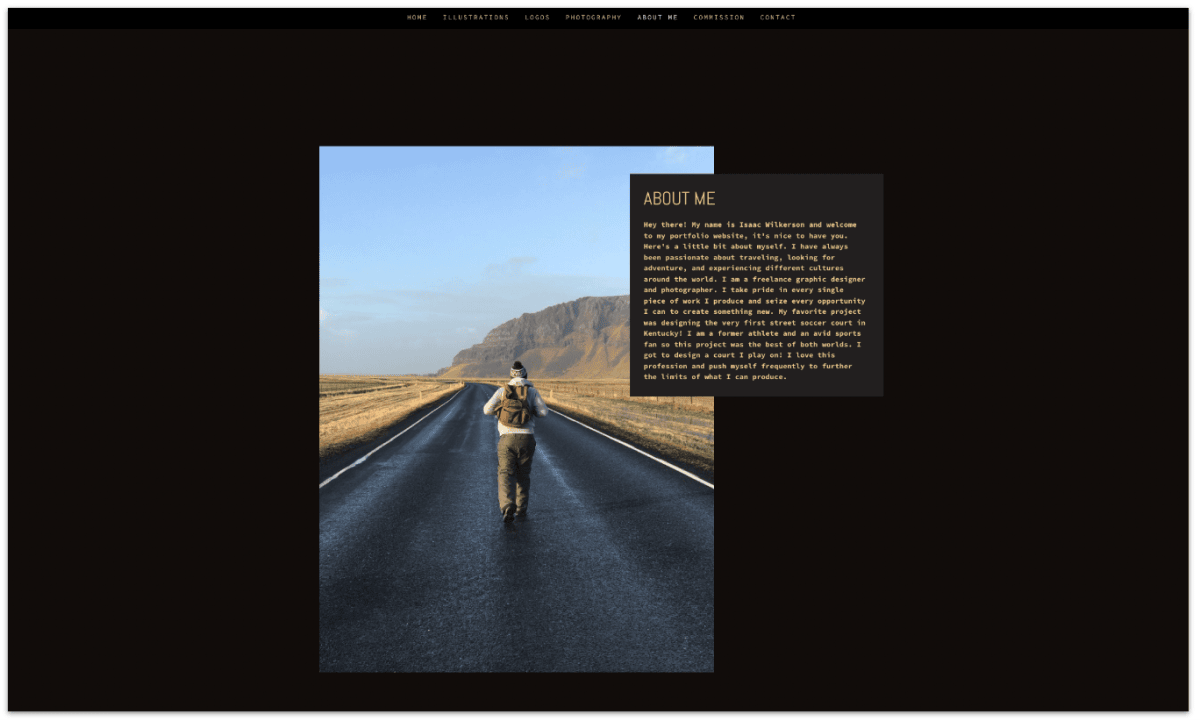 The navigation area transforms to save space as users scroll down the page, and the gallery makes it easy to feature your portfolio.
Check out the full feature list and guide for the Horizon template on Squarespace.
Here are some other helpful Squarespace resources