Here are 5 free Squarespace templates that would help kickstart your coaching business and build a brand for yourself.
These are handpicked from the Squarespace gallery, and I tried my best to explain the pros and cons for each template so you can decide if it's best for you.
2 things to know before you read on:
The templates mentioned below are for Squarespace 7.1. They are free, but you will still need a Squarespace plan to use them.
These templates are handpicked for what I personally think is best for artists based on my experience working with previous clients. Opinions are subjective, is what I'm saying.
Let's dive right in.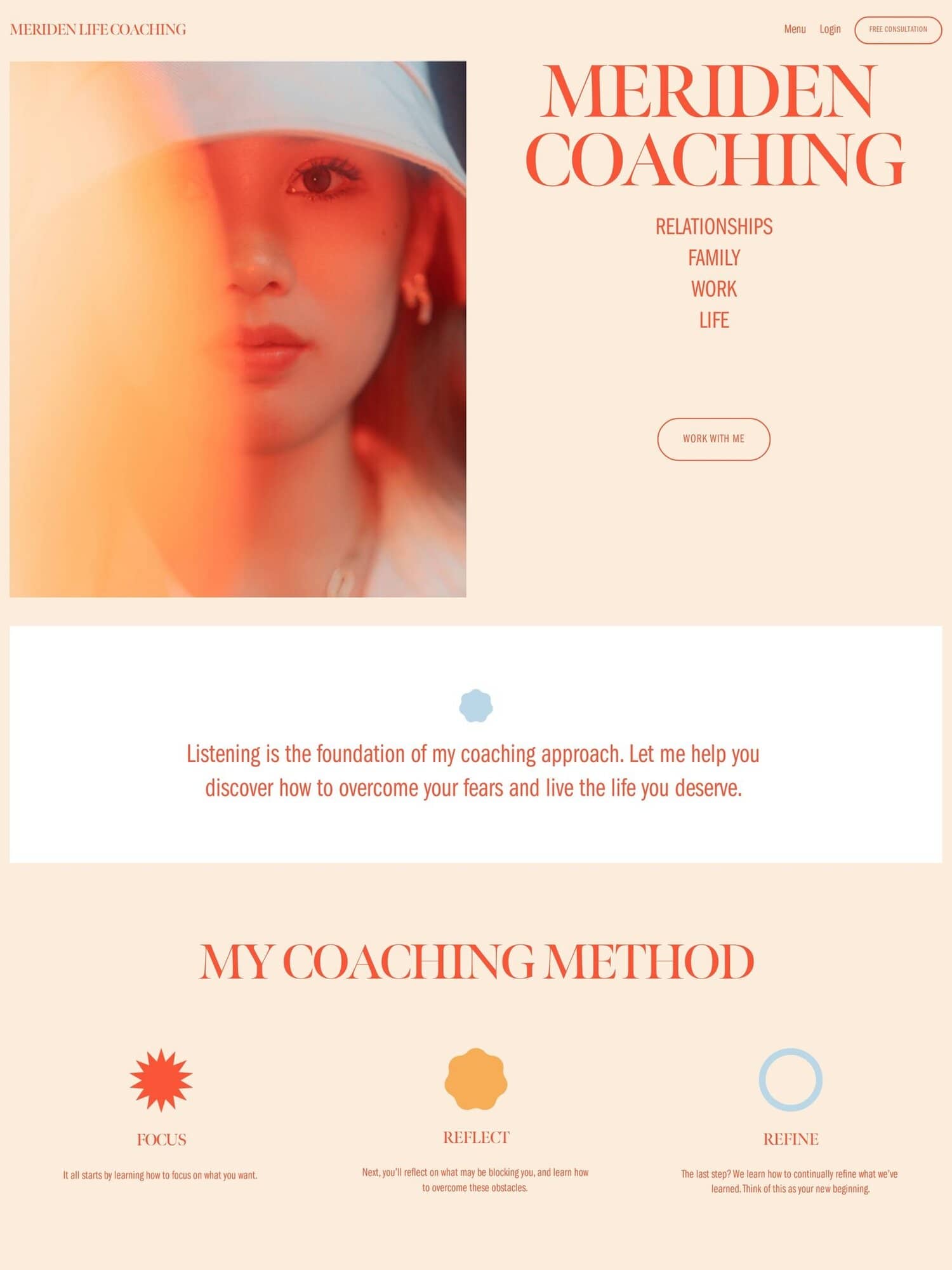 Meriden is a template that's made for coaches, specifically life coaching, as the demo copy has already been written.
On top of that, the template also has a few key pages pre-built, such as:
A course page
A consultation booking page
A page for workshops (1:1 private, mentorship, group coaching, etc)
A page for podcast episodes
Privacy and Terms & conditions page
All of these on top of the usual about, home, and contact page.
The overall color scheme is vibrant (though customizable), and features a slew of slick animations throughout the site.
✅ The Good
A template built for coaches with key pages already built
Vibrant color scheme
Clean typography
Email subscribe form included
Slick animation
❌ The Bad
The site design heavily relies on a single color tone.
Key pages are hidden with a submenu
⭐ Bottom Line
Template specifically made for coaches, you can't go wrong with it.
Preview Meriden on Squarespace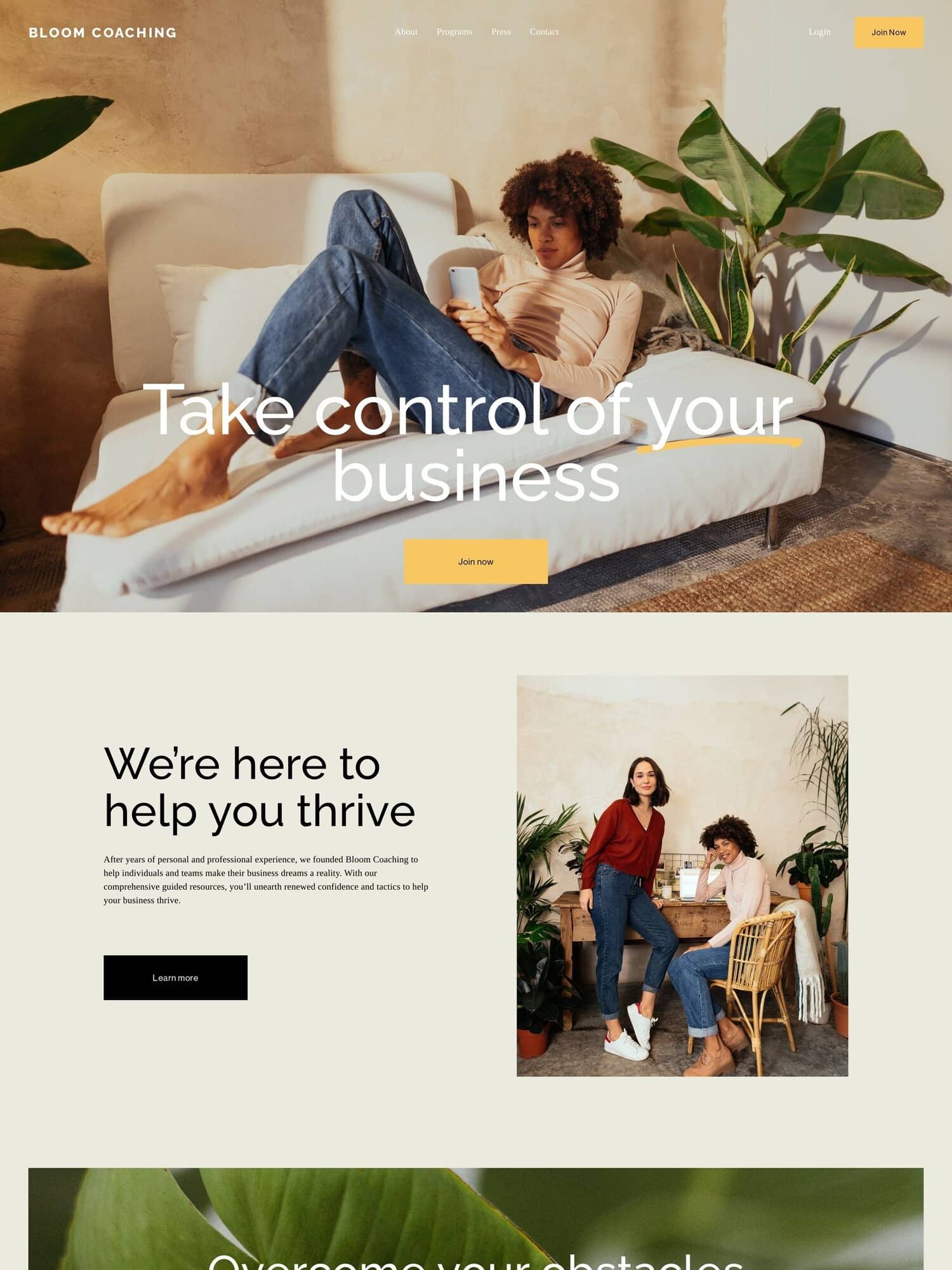 Bloom is a Squarespace template that's specifically made for business coaches.
I like that the home page is designed just like a high-converting landing page, with:
Big call-to-action button at the top of the fold.
A section to describe yourself and your coaching experience.
A section for your USP (Unique selling point)
The offer section (with pricing)
Testimonial section
Additonal Call-t0-action buttons in between and at the end of page.
On top of that, there are Courses, 1-to-1 coaching, and Membership pages prebuilt.
✅ The Good
A template built for coaches with key pages already built
High-converting landing page layout
Blog pages are included
Good balance of image use
❌ The Bad
⭐ Bottom Line
This template is great for coaches with multiple product or service offers.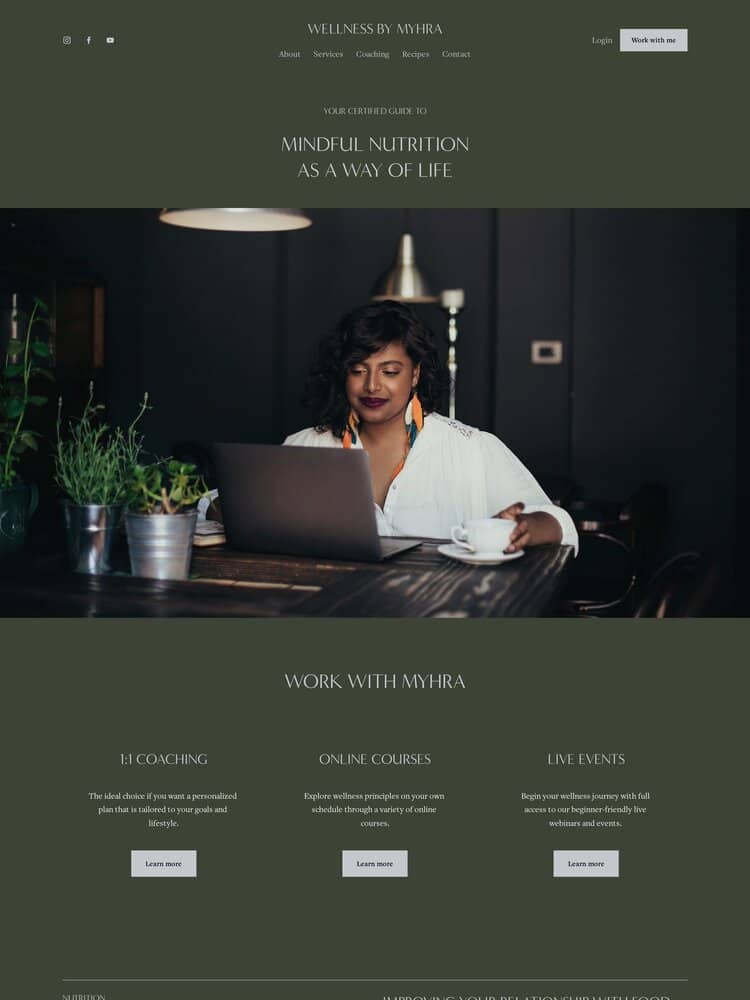 Myhra is a Squarespace template for coaches in the health & wellness space, such as mindfulness, nutrition, etc.
Personally, I think the template background color is a little dark, but you can easily change it in the Squarespace site styles settings.
Apart from that, I like the overall construction and layout.
There are dedicated sections for live events, online courses, and 1:1 coaching. There's even a dedicated page for recipe and meal plans.
✅ The Good
Comprehensive template for health & wellness coach.
The only coaching template with an FAQ section
Various section layouts for membership, services, courses, etc.
Social media integration
❌ The Bad
No blog
The overall color palette is monotonous and relies on images to bring contrast.
⭐ Bottom Line
A professional and versatile template for health & wellness coaches.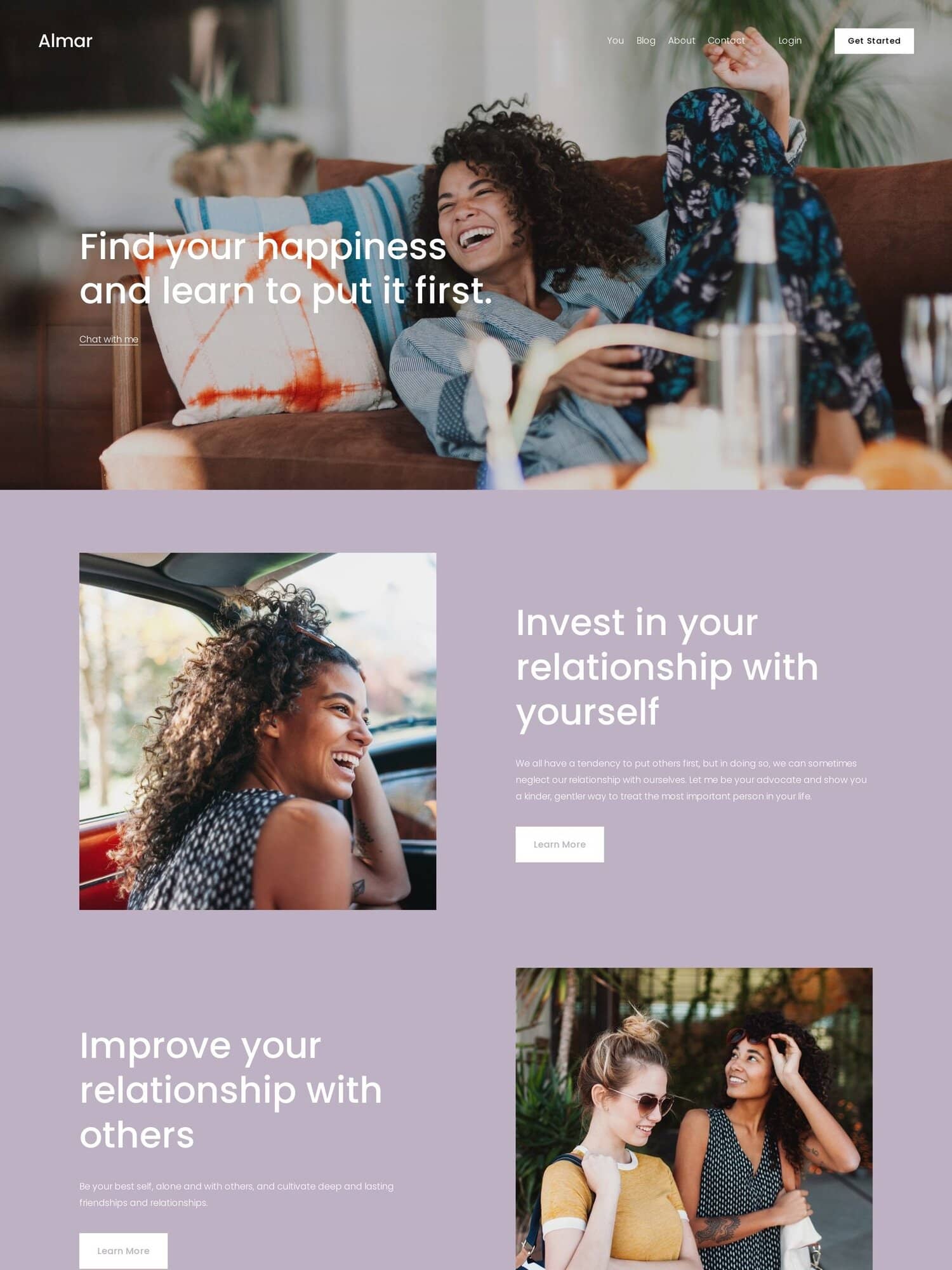 Almar comes with a few pre-built pages for coaches:
A Home page with multiple sections to describe your services,  how you work, social proofs, etc. It also features call-to-action buttons for clients to schedule a call with you.
An About page for your background.
A booking page to book your services with various prices.
A blog page for your writings.
A contact page with your contact details.
Note that even though Almar comes with a service booking page, to get it working, you will need to subscribe to the Squarespace Scheduling add on.
✅ The Good
Clean booking and service pricing page.
Smooth animation throughout the site.
Pre-built blog page and articles.
Various section layouts for testimonials, services, content, etc.
❌ The Bad
Need to create extra pages for individual services
No search functionality.
No social sharing integration.
⭐ Bottom Line
Great starting template for coaches of all kinds in general. A lot of the basic pages, such as About, Service, and booking pages, are there, so all you have to do is add your own content and you'll be ready to launch your service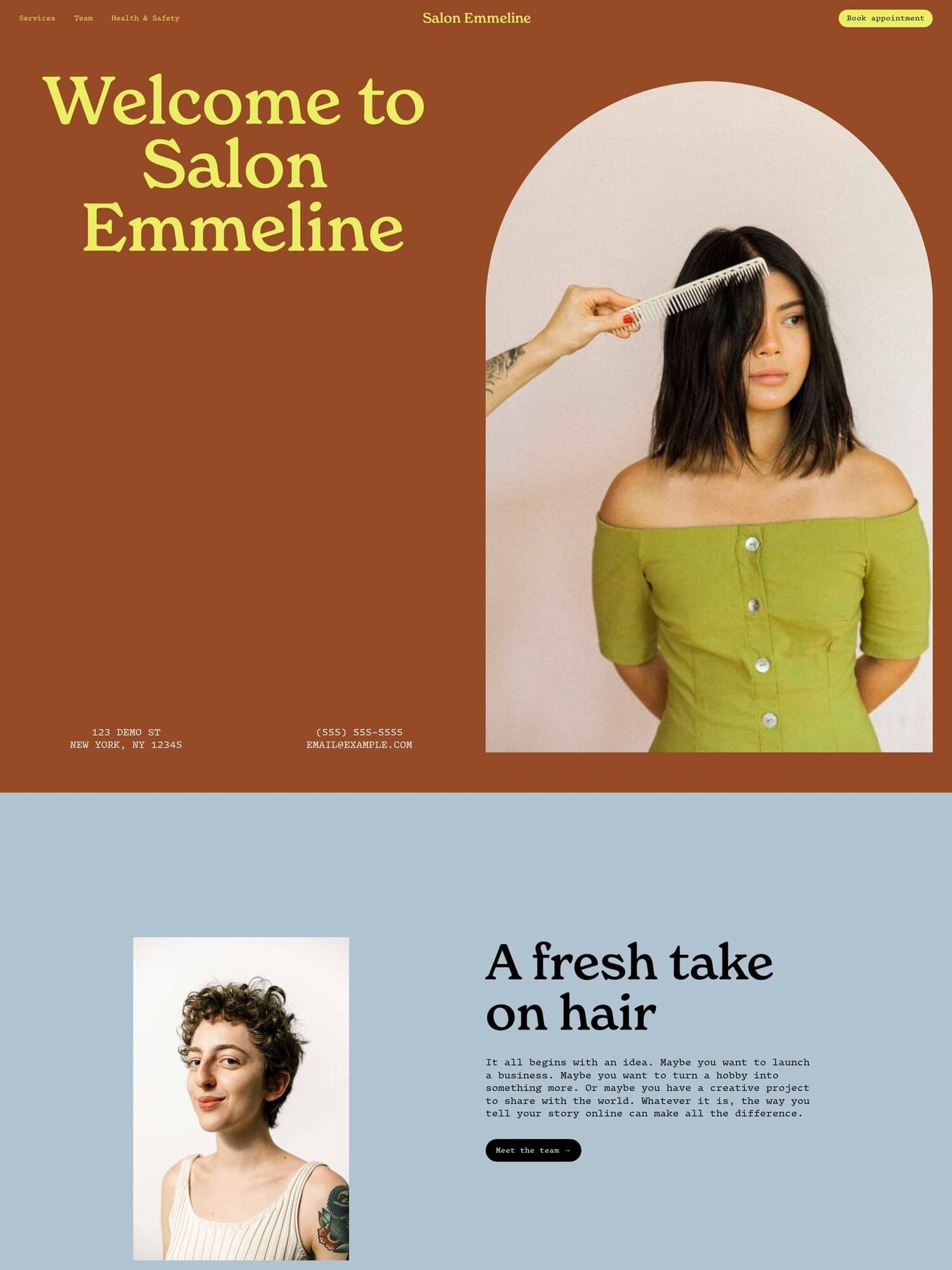 Emmeline was made as a template for Hair salons, but it can very well be converted for coaches as well.
The template has a lot of components you can adapt for your coaching service, such as the individual service page, an appointment booking page, a page for past clients and testimonials, etc.
One additional bonus page that this template offers is the gift card page, where you offer the option for customers to purchase a gift card. You can easily use this page to sell coupons or mini coaching sessions.
✅ The Good
Great color scheme
Various page and section layouts
Pre-built booking, service, contact, and about page.
Unique gift card page
Great typography
❌ The Bad
Some images occupy a large amount of real estate on mobile
No blog
⭐ Bottom Line
A great branded template to get started with for coaches.
Preview Emmeline on Squarespace
Honorable mentions
There are over a hundred templates on Squarespace. While not all of them are made specifically for coaches, but with a few tweaks (thanks to Squarespace's fluid engine), they can make a great site for your coaching business.
Here are a few honorable mentions:
Related articles