You're thinking of making a website but wondering how you should go about it. Perhaps you've heard of Wix, Wordpress, and other website builders; what's the difference anyway? And how should you choose one that suits you?
As a business owner, there're a few considerations: Budget (obviously), time it takes to set up, ease of maintenance, speed, and impact to the business.
There are dozens of website building tools out there but I'm just going to focus on 4 of the most popular ones: Wix, Weebly, SquareSpace and Wordpress.
Side Note: If you need a pure eCommerce website and is serious about making it a successful one, I can wholeheartedly recommend Shopify. It has the most mature ecosystem for eCommerce entrepreneurs to succeed and will make your journey much easier.
That said, let's take a look at Wix, Weebly, Squarespace, and Wordpress and compare which is best suited for you.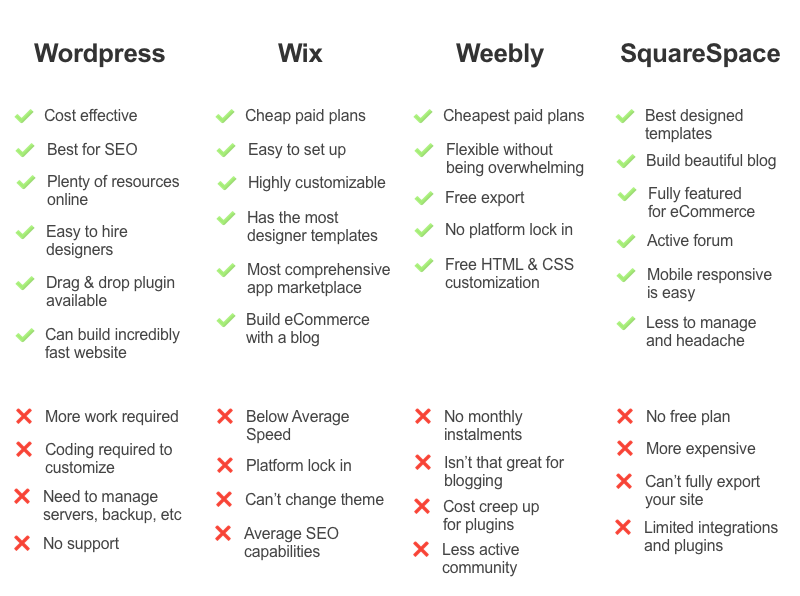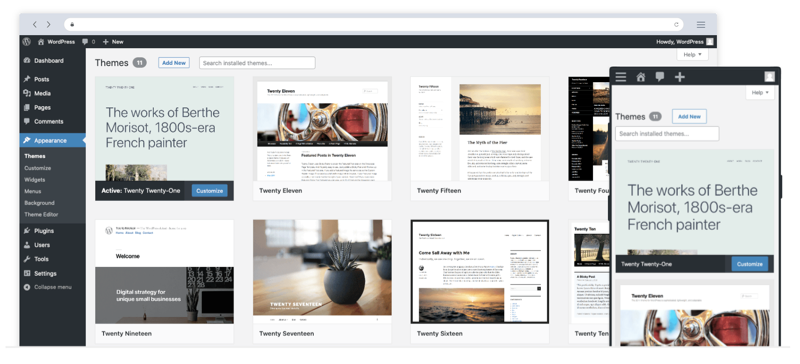 Wordpress is great if you're very hands-on with your website. You don't mind learning the ins and out of how a website works. You're not afraid of learning to code.
And more importantly, you want to be really cost effective when it comes to setting up your website.
With Wordpress, you have a lot of control on your website. You can optimize your website to be really fast, have great SEO performance, and scale for hundreds of thousands (even millions) of visitors.
The downside is that you need to manage a number of things that are usually handled by website builders. If that's ok with you, you can have a pretty sweet website at a fraction of the cost.
Side note: There are 2 versions of Wordpress: Wordpress.org and Wordpress.com. Wordpress.org is the one that allows you to design your website with great flexibility and low cost (and the one referenced in this article). Wordpress.com, on the other hand, is a website builder just like Wix, Weebly, and SquareSpace.
The difference between Wordpress and a website builder
There are 3 major differences between managing a Wordpress site VS a website built on Wix, Weebly, Squarespace and etc.
1. Hosting
A website is basically made up of a bunch of files — HTML files, images, videos, etc. And all these files need to be stored in a computer that's accessible (when someone visits your website).
Web hosting services, or server hosting services, are companies that provide computing resources to store all your website files.
With a website builder like Wix or Squarespace, the website you build will be hosted on their computers/servers.
Whereas with Wordpress, you need to get third-party web hosting services. Popular web hosting companies for Wordpress sites are Bluehost, Hostgator, SiteGround, DreamHost and many others.
Do these third-party web hosting cost more? It depends. Which you can read more later in the price comparison section.
2. Admin/Editor
You need to edit your website, upload photos and etc. How do you do it? On a website builder like Squarespace, everything is built in-house and all you have to do is just login end edit way.
Wordpress, however, you need to download the editor from Wordpress.org and manually install it on your hosting server.
Installing Wordpress on a server may sound intimidating, but several web hosting companies like Hostgator and Dreamhost have 1 click wordpress install to simplify the process.
3. Templates
Website builders curate their own website templates, usually from a handful of designers.
Squarespace has 40+ highly visual templates, most of them designed to showcase photography in the best light.
Wix tries to cater to every business with 500+ templates in popular business niches such as restaurants, travel, design, artist, sport, and a dozen more.
Weebly has 60+ templates focused on simplicity and ease of use.
And Wordpress?
Wordpress is open source, which means everyone can contribute to its ecosystem and source code. If you check out ThemeForest, a Wordpress template marketplace, it has 12,000 website templates from designers around the world!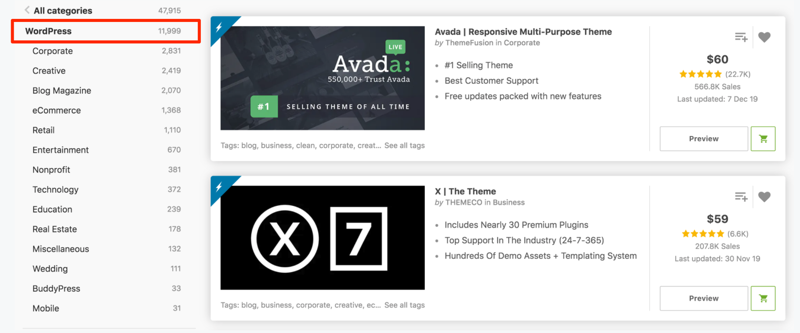 How much money do you save with Wordpress?
Two compulsory costs for building a website on Wordpress are hosting and domain name.
The cost for third-party web hosting starts from $2.95/month on BlueHost, $2.59/month on DreamHost, and $3.95 for SiteGround. At the same time, domain names cost ~$10 per year.
In short, you're paying $5/month to get a full fledged website with unlimited traffic, custom branding and URL on Wordpress.
In contrast, getting similar features from website builders would cost you $12/month at the minimum.
Wordpress advantages
1. Very cost effective
This is one of the top reasons most people choose Wordpress over website builders. You're paying 1/5th of the price (or less) to get a more performant, more customizable website.
Read how much money do you save with Wordpress.
2. Cheap eCommerce solution
If you'd like an affordable eCommerce solution, then WooCommerce on Wordpress is your best bet.
WooCommerce is a free plugin for Wordpress site for running an online store. And just like a regular Wordpress site, you can run a WooCommerce store for as low as $5/month.
3. You can build an incredibly fast Wordpress website
There's a number of factors that can influence a website's speed: Images sizes, the location of your server, caching and more..
There are over a hundred Wordpress plugins to improve the speed of your website. From image optimization to compressing your website to the smallest, most efficient file size possible. You can even change the physical location of your server.
If you care about delivering the fastest web experience for your customers, Wordpress should be one of your top choices.
4. SEO
If you think 100 Wordpress plugins for improving website speed are a lot, there are over 900 Wordpress plugins for SEO!
You won't get a perfectly SEO-optimized Wordpress website out of the box, but you can easily take care of SEO best case practices even if you're a beginner.
5. There are plenty of Wordpress resources online
Setting up a Wordpress site requires more time, perhaps even some technical skills. But Wordpress has been around for a LONG time, and it powers more than a quarter of ALL websites on the planet. Anything you need on a Wordpress site, you can be sure there's a tutorial/guide/plugin for that.
6. You can design your website with drag and drop
Want to design your own website but don't wanna learn how to code? There's a plugin for that. Some popular drag and drop website builder for Wordpress are: Divi, Elementor and SiteOrigin's Page builder.
They have pros and cons, but the point is you can have the ease of building and customizing your own website design just like a website builder.
7. Easy to hire developers and designers
Like I said. Wordpress has been around for a long time and many people have made a career out of it. It's much easier to find a Wordpress developer or designer on Upwork or Freelancer.com than say a Squarespace or Wix designer.
If you need SEO help, there are developers and marketing consultants who prefer to work on Wordpress than other website builders.
Wordpress disadvantages
1. More work is required to set up
Unlike website builders where a lot of things are done for you, you need to:
Get your own domain name
Get a hosting server
Download and install wordpress on your server
Add/build/buy a template for your website
Install all the required pluginsa
and more...
It's quite a bit more work, but that's what you need to do when you're not paying 5-10x more for a website builder.
You don't need to be intimidated by it though. There are plenty of step-by-step resources on how to set up a wordpress site.
2. Coding skills required to customize
All Wordpress websites require a template (or a Wordpress theme as they call it).
While you can customize your website design to some degree, for example: changing the font size, or the color of a background, but if you'd like to change any aspect of the layout you will need to dive into the code base.
And For that you will need to know some HTML, CSS and possibly Javascript.
If you're learning from scratch, I highly recommend Shay Howe's free learn to code guide. Shay does a great job explaining code and web terminologies into simple terms laymen can understand.
3. There's more to manage
Security update, backup and system optimization are something most people take for granted when building website on website builders.
Business owners don't have to worry about any of these things because website builders company have taken care of all that.
If you have a Wordpress however, you need to update and backup your own website because it's your property. Some hosting companies do it for you, but usually you'd need to pay more for that.
4. No Support
Wordpress.org is an open source software. By definition, anyone has access to its content and its source code, and certainly there isn't one company running the whole platform, so you won't get support like you would from a private company.
When you need help, you can certainly post questions on Wordpress facebook community, or on Wordpress reddit, or hire someone on upwork or freelancer.com.
Verdict: Should you use Wordpress?
You should use Wordpress if you care about the long term success of your website. And you want to have the option to build a high performance website that's scalable. You don't mind having to manage (or hire someone to manage) the website.
You expect your website to be the main driver for your business in the future, and you prefer not to be locked in by one vendor.
If however, you need a website quickly to set up to test business ideas or to display company information, then a website builder like SquareSpace or Weebly would be a better choice as you'd save a lot of time getting a website up and running.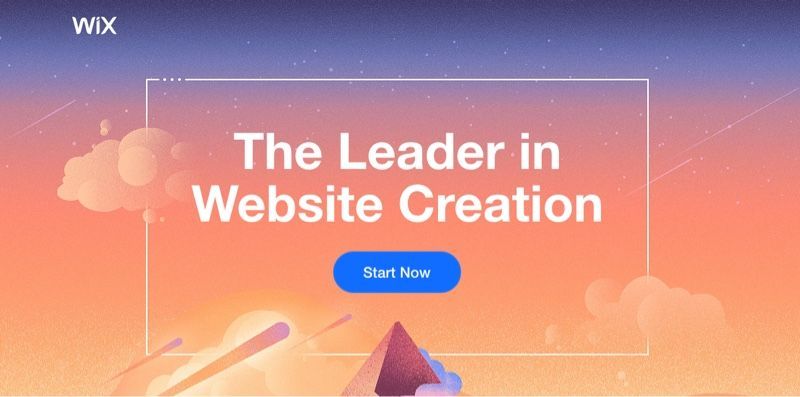 Wix is a jack of all trades. It has the most features, the most templates for every business, and possibly the most number of users for a website builder — excluding Wordpress.
Despite all that, Wix also get a lot of flak from the web design community. Wix was known to perform badly for SEO, has an overwhelming editor and websites built on top of Wix is notoriously slow.
In my experience, all things considered, Wix can still be a viable option for a few reasons:
It truly has everything a business website needs and the owner doesn't need much technical skills. This is due to their extensive app store, which we will discuss later.
It's fast to set up. Imagine this, you can set up a restaurant website with a menu, reservation functionality, with all your food images, contact page, maps, and more in one single weekend. All on your own.
The Pro plan is relatively cheap. I wouldn't recommend the free plan on Wix for any business website apart from testing. But, if you're seriously considering to maintain a professional business website (with no ads, has enough bandwidth for site visitors, and etc) then getting a Wix pro plan is a relatively cheap option compared to its competitors.
Wix advantages
1. Easy to set up
Wix is a blank canvas. You can set, edit and add every single page element however you like. It's both a blessing and a curse.
If you have a keen eye on design, you will find Wix to be an extremely powerful tool, otherwise, you will be endlessly frustrated with the hundreds of options Wix present to you. The fact that Wix interface isn't the fastest didn't help too.
Luckily, Wix has got it figured out for those less design savvy.
Start with a template
Wix has over 500 templates. From restaurant, fashion, business consulting, to events, personal website and more... There's a template for most business needs.
Most of them are well designed and you can simply edit them to suit your business. And you can be sure that they will look great on every device.
Or you can let AI do the work
Wix has a nifty little tool for those who absolutely do not know what they want. It's called Wix ADI. Simply answer a few questions such as the type of website you want, the name of the site, and what design style you would like, and it will generate a website based on your answers using machine learning.
The verdict? It's pretty good. It's a lot faster to get a site together, though you will be limited by the amount of apps you can add to your site. This is because Wix ADI automatically generate a template and they provide you with a selection of apps they think will be best for the template.
Once you're done and happy with it just hit the publish button and your site will be live with a Wix subdomain: your-user-name.wixsite.com, assuming you're on the free plan.
2. Relatively cheap Pro plan
I did a price comparison on on Wix, SquareSpace and Weebly. All three website builders have paid plans under $10/month. But in my opinion they are not worth it since they are severely limited plus you don't get to remove their ads/branding.
Things get a little more interesting when you get on a decent plan starting at $12.50 for Wix, $16/month for SquareSpace (non-annual plan), and the same for Weebly at $16/month (also non-annual plan).
On this plan you get unlimited bandwidth (i.e you can have unlimited visitors on your site), add custom domain, remove branding plus other advanced features they provide.
3. Highly customizable
Wix uses a drag and drop interface. But more than that you can customize virtually every single element however you want. Which can be overwhelming if you are less design savvy, otherwise you will find immense freedom in Wix
4. Wix has the most designer templates
If you're in one of these industries:
Real estate
Finance
Fashion
Jewelry
Restaurant
Electronics
Kids
Pets
Music artist
Designer
Wedding
Sports & Health
Performing Arts
Then you can find a pretty good designer template for your website. Setting up a website would just be as simple as picking one of these templates and customize to your business needs.
You can probably get your website set up and live over the weekend.
5. You can build a membership website on Wix
You can build a fully functional membership website with login, registration,  account, and content management right in the Wix dashboard.
You can even collect paid subscriptions on your membership site, although you will need a premium Wix plan starting at $17/month.
6. You can build an eCommerce store with a blog
Wix is good solution if you need to quickly set up a small eCommerce store to test product ideas. Starting at $17/month, you get all the features an eCommerce store needs:
Customize your store, add products to your store card
Sell products on multiple channels, like Facebook and Instagram
Dropship products
Accept payments in 40+ currencies
Custom shipping
Inventory tracking
Add a blogging platform
and more...
7. Wix has a comprehensive app marketplace
Wix has a good selection of apps/plugins specifically in these categories
Blog
Bookings
Events
Hotels & Travel
Music
Restaurants
Online Store
Photography
So if you need a website in any of these categories you are in good hands. Plus, there are myriads of other apps that's found on general websites like: forms, comments, site search, video, analytics, marketing tools and more...
Wix disadvantages
1. Below average Speed
Sometimes web designers complain that Wix websites are slow. Are they truly? Let run some tests ourselves.
Here we have 2 Wix websites:
A test website I created on my account using one of Wix templates: https://davidnnck.wixsite.com/mysite
Karlie Kloss' (Wix Ambassador ) website: https://www.karliekloss.com/
We ran the pages against speed tools like Pingdom, Web Page Test and GTmetrix for comparison and here are the results:

In short? Wix websites' page speed is below average, loading at an average of 4-7 seconds. It's not surprising given that the page size for Wix is about 4.5mb while the "average" page on the internet is around 3mb.
2. Platform lock in
Quoting Wix' help page: "Your Wix site and all of its content is hosted exclusively on Wix's servers, and cannot be exported elsewhere."
So if you have decided to build your website on Wix, you won't be able to change to another website builder or wordpress without losing your site content.
This can be a deal breaker for a lot of people unless you are pretty certain your website's future lies with Wix or you just don't care at all.
3. You can't change theme
Wix has over 500+ themes, but once you've decided you can't change it without losing the content. If you would like to use a different template, you need to create a new site with a new template.
Which sucks.
Most of the website builders allow you to change theme easily and the fact Wix doesn't mean it's less flexible than you think.
4. Wix can be very frustrating for non-design savvy business owners
Because Wix allows you to customize every single element on your site, you can easily get overwhelmed. Plus, Wix editor isn't super fast and requires a lot of loading (everything is a plugin).
5. Average SEO capabilities.
Wix used to have really bad SEO capabilities,  they have improved over the years. Although, are they good enough now?
Ahrefs did a comprehensive study for 6.4 million domains on Wix SEO vs Wordpress to find out which is best.
The conclusion?
Both Wix and SEO can get you ranked for popular keywords. But Wix is great for launching and maintaining a basic website.
If you intend to use SEO as a long-term strategy and potentially manage a large site or hire an agency in the long run. Then you should get Wordpress for scalability.
6. Hard to make mobile responsive.
As mentioned before. Wix is super flexbile, almost too flexible, that it requires you to manually adjust all elements on mobile and tablet view of your website too.
Even if you use a template. If you've added custom content on your site you need to double check and make sure that it looks good on other devices too.
Other website builders like weebly and squarespace are more lenient when it comes to auto-adjusting templates to mobile responsive, that's just the difference in how their editor work.
7. Average blog and eCommerce capabilities
You can create a blog, an eCommerce store, membership site, and etc on Wix but it won't get you far if you're ambitious with your project.
Eventually you'll hit a roadblock not being able to implement a certain feature or not being able to support your customer.
If you're serious about your project. You're better off using Wordpress/Ghost.org for blog, Shopify/BigCommerce for an online store, and Memberstack for a fully featured membership site.
Verdict: Should you use Wix?
In short, Wix is suitable if you need something set up quick and easy. Where you don't need to update it too frequently. It will get the job done, perhaps even exceed your expectation because of all the bells and whistles it comes with.
But if the website is your main business driver, I'd recommend you to go with Wordpress or Shopify instead. Since Wix doesn't allow you to export code or transfer your website in the future, should you decide to.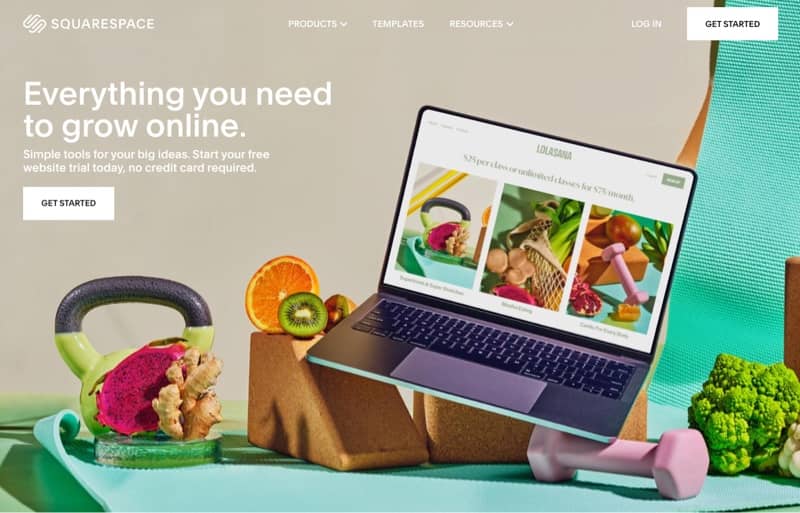 Using SquareSpace is like using Apple products. It's beautiful, the user experience is top notch, and it certainly doesn't come cheap.
There's a good amount of out of the box functionality for a non-tech person to get off the ground and enough flexibility to do pretty much anything you want if you're tech-savvy.
Design wise, SquareSpace websites look professional as if you've invested quite a bit into your branding (when you actually didn't). If you're tired of clunky website builder interfaces, you'll be thrilled to find how simple and clean SquareSpace is for building websites. As the late Steve Jobs said: "It just works".
SquareSpace Advantages
1. Best looking templates of any website builder
Okay, "best looking" is is subjective. But in  my opinion, most (if not all) templates SquareSpace put out make great use of photography and and have excellent taste on font choices.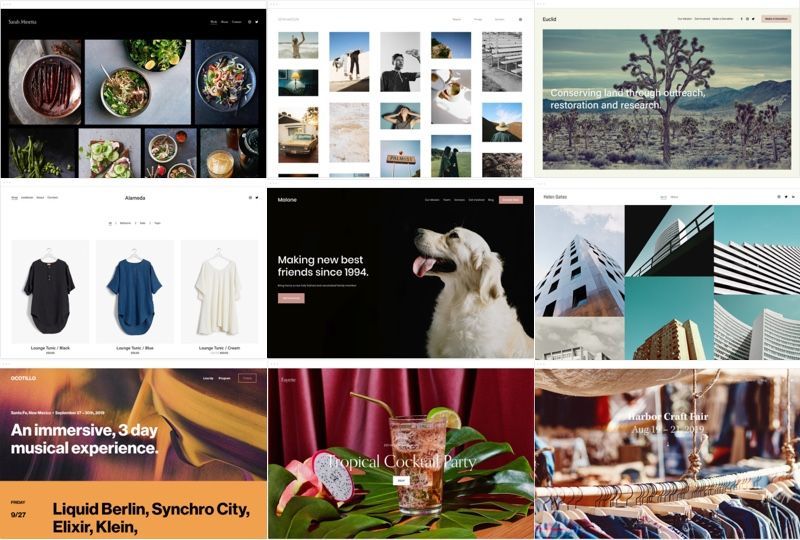 You'll be surprised how easy it is to put up an eye-catching restaurant, or photography portfolio website without putting in too much effort.
In comparison, Wix has over 500 templates, but its quality are inconsistent. On SquareSpace however, all template designs are curated so you'll always have a great design to work with from the start.
2. Build sophisticated blog on SquareSpace
Blogging on SquareSpace comes second only to Wordpress, the largest blogging platform in the world. It has all the blogging features you need: multiple authors, post tagging, categories, comments, RSS, social sharing, and much more... All packed in a beautiful interface.
While Wordpress definitely trumps SquareSpace in terms of flexibility and feature extensions, I would argue the writing experience in SquareSpace is much better.
SquareSpace allows you to add different types of media while enforcing constraints so that the design will still look good. With this, you can make a much richer blog post without having to worry making it look good (SquareSpace automatically does it for you).
3. Fully managed eCommerce solution
Whether need to sell a subscription service, digital products or physical goods, SquareSpace provides an elegant way to run your business.
SquareSpace understands that payment and checkout is the most critical part of the buying process so they've put a lot of thoughts into making it dead simple.
It also integrates with popular payment services in the market today: Stripe, Paypal, Apple Pay and also in-person payment like Square payment.
SquareSpace also goes one step ahead to help your business tax compliant. You'll be able to automatically collect GST and VAT by simply adding the countries/ US states you ship to.
All of these are pre-built into SquareSpace and need no third party manual integration.
4. An active forum to get help from
SquareSpace maintains a pretty active forum where you can get the latest product update and where members go to for help.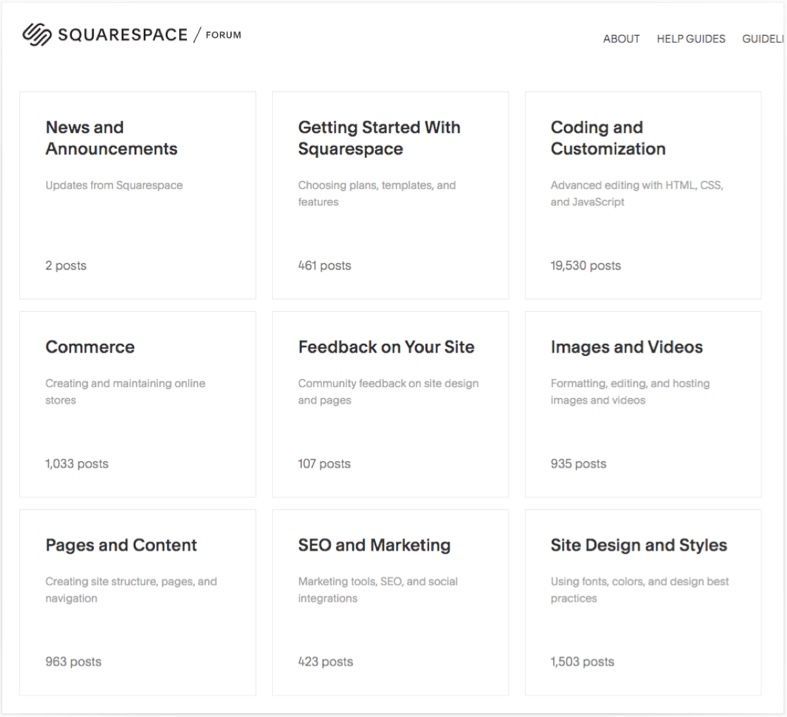 Whether it's issue with marketing and SEO, website design/customization, or feedback to your site, you can expect to receive a reply from the community within 12-24 hours.
It's good to know you can get quick answers from a forum and that there's a thriving community behind the software for your website.
5. Everything is mobile optimized
As mentioned before, all website templates on SquareSpace are curated, so you bet they aren't just mobile responsive, but also optimized. That means image are resized for different screen size, layout is optimized for mobile or tablet viewing, and clutters are removed where it's not needed.
6. There are less to manage
One of the primary goals of SquareSpace is to help users create a premium, functional, and beautiful website with the least effort. And that's not empty talk.
Take a closer look at all the features you get with SquareSpace, and you'll notice they put a lot of effort into making the website building experience seemless, kind of like what Apple did with the iphone.
You don't need to integrate third party payment, or install any third party analytics or create a pop up banner, it's all built right into the interface and you have fair control over some customizations to make it unique but still look beautiful.
You also don't have to worry about getting a custom domain name elsewhere, you can buy one right within SquareSpace.
In short, if you care about design and user experience of building a website, then choosing SquareSpace can save you massive frustrations and headache.
SquareSpace disadvantages
1. There's no free plan
Unlike Wix, Weebly and other website builders, SquareSpace doesn't have a free plan. They do offer a 14 day trial, and once that's up you will either have to pay or no longer be able use their platform.
You can try out their editors, themes and even set up an email marketing campaign. But you won't be able to set it live where anyone can see it via a URL.
2. SquareSpace is more expensive
SquareSpace aims to separate themselves from cookie cutter website builders and really invest in building a premium solution end to end. For that they're commanding a premium price.
There's no free plan and the cheapest SquareSpace plan (Personal) starts at $16/month, compared to Weebly at $5/month, and Wix at $12.50/month.
And if you need to start an online store and accept payments online, SquareSpace business plan starts at $26/month, compared to Wix at $17/month, and Weebly at $12.
That said, SquareSpace does provide the most intuitive and hassle free web design experience. You'll be able to set up a very professional, aesthetically pleasing website that just works.
3. You won't be able to fully export your website
It comes with notice that whenever you create a site on website builders, you won't be able to switch platform easily. Website builders like Wix and Weebly won't allow you to export any of your website content at all.
Luckily, you can export some parts of your SquareSpace website. For example: comments, gallery pages, certain texts and project pages.
You won't be able to export:
More than 1 blog post
Audios and videos
Custom code
Blog drafts
Product pages (eCommerce)
and more...
As you can see it's pretty limited. It's probably not a good idea to build on SquareSpace if you plan to build a large website with tons of customization and propriety assets (images & videos), or if you prefer not to be locked down by one vendor in the future.
4. Limited extensions/integrations
SquareSpace doesn't have a plugin/widget/app marketplace like Wix and Wordpress. All third party platforms have to go through SquareSpace' official integration channel, i.e they have to be integrated and approved by the team at SquareSpace.
That means there are limited choices when it comes to certain tools. For example, you won't be able to run A/B tests on SquareSpace site since they don't integrate with any of conversion testing tools like VWO, optimizely or Google Optimize.
If that's a deal breaker, you'll need to look elsewhere. Don't let that discourage you though, SquareSpace has most ground covered when it comes adding enough integrations to build a functional website. There are integrations for blogging, commerce, social media, forms, images, analytics, and email marketing.
Verdict: Should you use SquareSpace?
SquareSpace is great for artists, makers, independent entrepreneurs who cares about creating a beautiful brand online. Sure it's more expensive but considering the hassle and agony you save from building a website, for many it's definitely worth it.
SquareSpace has put a lot of thoughts into building an intuitive user interface and making the whole website building experience as seamless as possible. From building a full featured eCommerce store, personal blogs, a brochure site, SquareSpace has figured out most of the steps to create a beautiful site, all you have to do is sprinkle some personality and write your own story.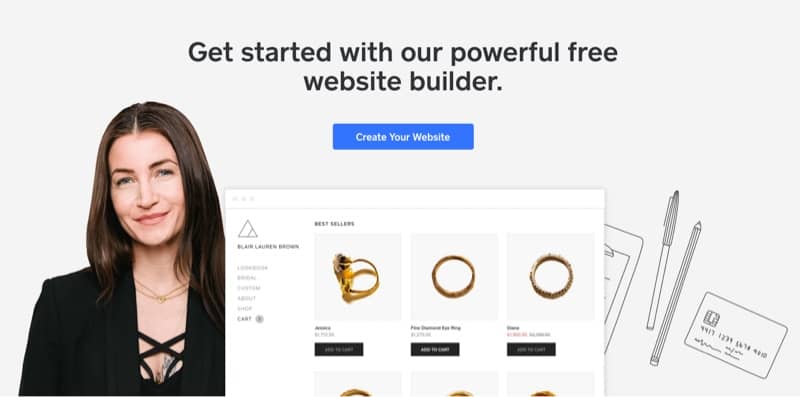 Weebly doesn't have as many features as Wix, SquareSpace, or other website builders but it is the cheapest and easiest to use amongst all.
Review from business.org: If you're a low-maintenance kind of site (like a restaurant that just needs a place to list their address and current menu), if you can put up with a few glitchy bugs, and if you're willing to put in the time to get that Weebly website builder working for you, then the platform can offer a lot of perks.
Weebly Advantages
1. Cheapest website builder in the market
Most website builders have a free plan, albeit with limited features. If you want a custom domain, remove their brand logo, or run an eCommerce store then Weebly offers one of the cheapest plan in the market.
Here's a quick price comparison for running an online Store:
Weebly: Starts at $12/month, or a maximum of $38/month for all eCommerce features.
Wix: Starts at $17/month, or a maximum of $35/month to get the full eCommerce suite.
Squarespace: Starts at $18/month, or a maximum of $40/month for advanced features.
BigCommerce: Starts at $29.95/month, or a maximum of $249.95/month for all the pro features.
Shopify: Starts at $29/month, or a maximum of $299/month for all the pro features.
If you're looking for a basic online store solution that's affordable. Then look no further than Weebly, as they also easily integrate with Square, Stripe, and Paypal.
2. A web editor with a good mix of structure and flexibility
Most website builders have a drag-and-drop interface for building web pages, which means users can build web pages without knowing how to code.
But each website builder has a different approach (and philosophy) for how users should build their website. Most business owners are not design savvy, so they need a website builder that provides some structure yet is flexible enough for them to build a unique website.
How user friendly is Weebly's editor compared to Wix and SquareSpace?
Wix is by far the most flexible. You can virtually re-arrange, resize and edit everything single element on the page. This gives tremendous control  for the user. The downside? It can get overwhelming for non-designers since you have to customize every single element on mobile and tablet devices too.
SquareSpace is pretty restrictive. You don't get to add individual element on the page, instead you add a pre-configured, pre-designed section (i.e FAQ, gallery, list) to your website.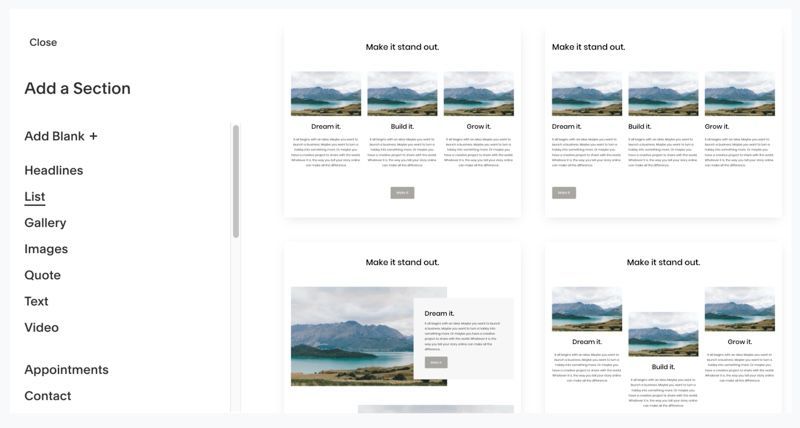 SquareSpace is opinionated in the style of website users create so they don't get the option to customize individual element.
In short, SquareSpace is great if you like their design and style . You save a lot of time and it's pretty effortless to design a good looking website. The downside is you won't get as much control as you like.
For example, you can add a clean, mobile optimized about section but you can't change the style of the "Learn more" button.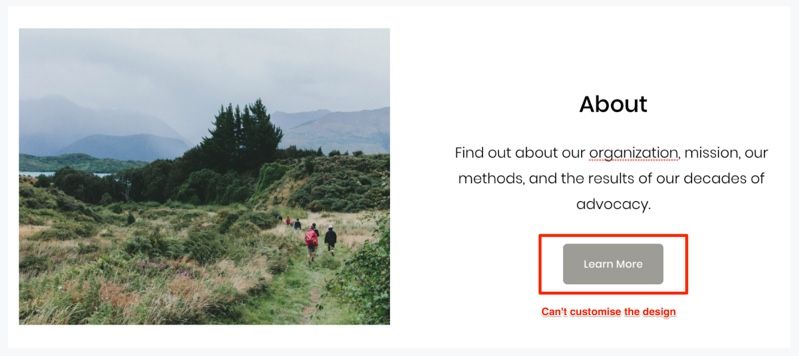 Note: You can customize the SquareSpace pages with custom CSS and Javascript code, but that option is only available on the Business plan ($18/month) and above.
What about Weebly's editor?
With Weebly you can drag and drop, and customize all elements on the page while  don't have to worry about making it pixel perfect. Weebly's editor will snap the element into place (Example: To center an element) when you drag to the approximate location.
Plus, you don't have to worry too much about making the site mobile responsive since Weebly's template have a structure in place. That means when you change the position of an element, Weebly will automatically figure out which position it should be at on mobile devices.
Weebly also has user-friendly SEO tools to help make your site discoverable on Google Search and it's easy to add tracking codes as well.
One other notable Weebly perk is that they have hundreds of Google and premium fonts that allow you to customize the fonts for free.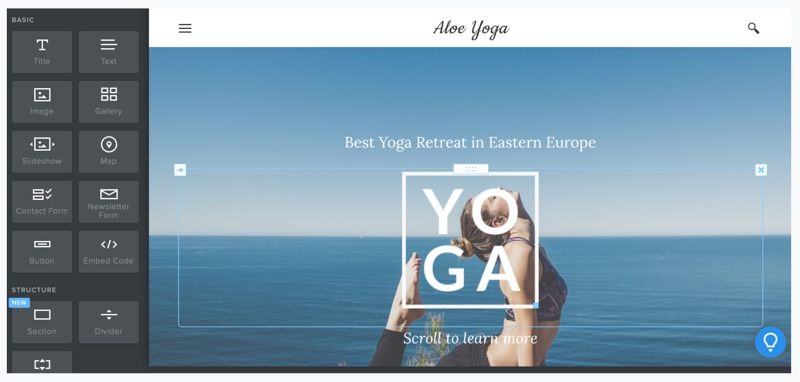 3. Free export, no platform lock-in
One of the downsides for most website builders is that there's no easy way out when you change your mind. Either you're not allowed to export your website at all, or the exporting feature is pretty limited. i.e most of the content is still locked inside the platform.
Unlike Wix and SquareSpace, Weebly allows you to easily export most of the content and your theme source code. Just go to the settings, scroll down to the archive section and enter your email address to send a zip file archive of your website.

This is super handy when you want to migrate to a more powerful and flexible platform like Wordpress in the future.
4. Free HTML & CSS customization
A huge plus point for those who want more customization through HTML, CSS, and Javascript. If you prefer to code instead, Weebly gives you access to the theme source code right from the dashboard.
Unlike Squarespace where you have to subscribe to the business plan ($18/month) and above to have access to CSS customization, Weebly does this free of charge.
That means you get a website builder's simplicity and ease of use, but if you have the coding skills, you can create virtually any website design you desire.
Weebly disadvantages
1. No monthly installments
Weebly doesn't have a monthly installment plan (even though the pricing page might suggest otherwise). You could only opt to pay for 1 month, 1 year, or 2 years.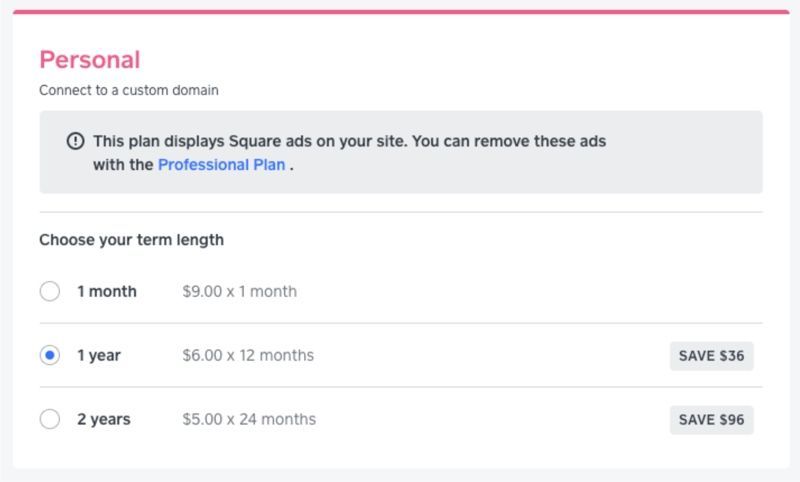 Weebly does have a pretty generous free plan: Making a live website (with their subdomain),  SEO features, custom code editing, and free export if you could live with that, great.
If you need a custom domain URL for your website, then you can opt for the Connect plan ($60 per year). Otherwise, if you need eCommerce capabilities, you can select the Pro ($144 per year) or Business plan ($300 per year).
2. Weebly isn't great for blogging
You can create a blog site with Weebly, but I wouldn't really recommend it, for these reasons:
If blog is going to be a long term strategy, you're better off with other platforms such as SquareSpace, Wordpress, or Ghost.
3. Cost can creep up for add ons
Some of the things you might need to pay for your Weebly site:
Email Marketing. You need to upgrade to use Weebly's promote feature, which starts at $8/month. You can send 2 emails as trial.
Need to add animation to your site? Unless you know how to code with CSS, you'd need a paid plugin ($10).
Need social share button? Yep, you need to buy an add on for that too.
Overall, Weebly's app market is pretty limited, there aren't lots of choices and most of them are premium. If you'd rather have lots of features and on a limited budget, consider Wix instead.
Weebly's community forum is not as active as Wix, Squarespace and Wordpress. Take a look at a screenshot of their recent posts: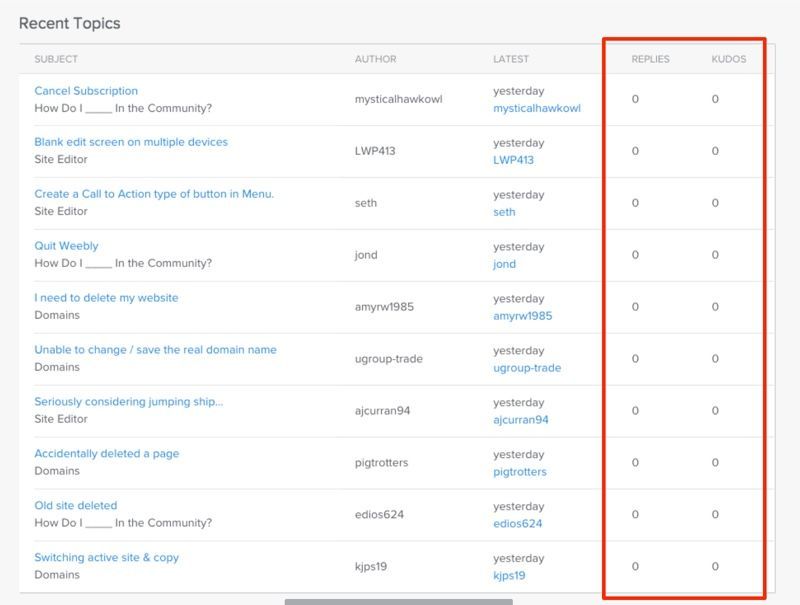 None of them get any replies after 24 hours. This can be very discouraging if you're new to website builder and have general questions about using the platform.
That said, I did find lots of great response from Weebly's community manager from time to time; just know that it can be a hit or miss sometimes.
Verdict: Should you use Weebly?
Weebly offers the lowest cost to start a website or an online store. Weebly is good if you need to set up a company page , or a basic website for your business (restaurant, yoga studio, personal instructor, etc). You can set up a Weebly site  Weebly quite affordably (or even free).
I would even suggest getting the connect plan ($60 per year) to connect a custom domain with your website. Other website builders are charging way more for this functionality.
It is also the cheapest option to get a basic store set up. If you want to sell some merchandizes or just to get a minimum online store set up (without fancy marketing and checkout features), Weebly can save you quite a bit in the short term.
If, however, you're thinking of setting up a permanent online store and it's your main business driver, you can start with a Weebly site to test some ideas, but eventually, you'll have to move to other (eCommerce focused) platforms such as Shopify, BigCommerce or even Wordpress (with WooCommerce) to grow your business.